EUROPEAN TOUR 2009 PART I - Germany
Munich to Rothenburg
May 14 to May 28, 2009
Start 52,981 miles (84,769 km):
End 53,267 miles (85,242 km) cumulative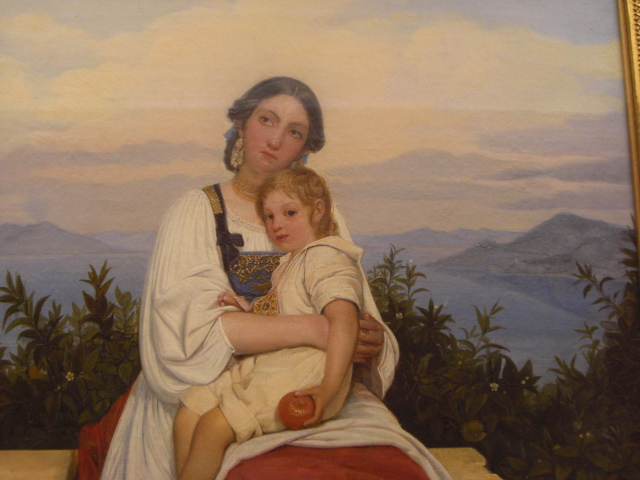 TEASERS
| | |
| --- | --- |
| | We arrive but half of the bikes don't, literally. |
| | Ludwig's fairytale castles are quite the tourist attraction |
| | Cruise north along the Romantische Strasse |
| | Gape at mad Ludwig's crazy fantasy |
| | Cute town after cute town beckons for your precious Euro |
| | Stroll the walls of Rothenburg am Tauber |
| | Grimace at devices of torture in the Crime and Punishment museum in Rothenburg |
Section 1 - Munich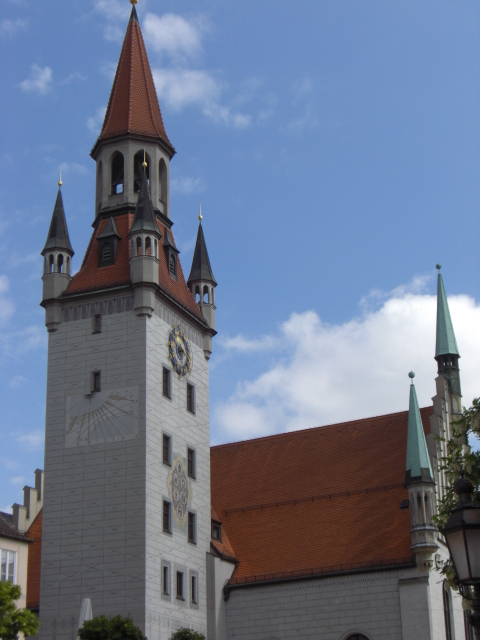 May 14 to May 18
Once again we split the bikes into 2 pieces, removed just about every bolt on part, and stuffed them into 2 large boxes. Off we go for our 2009 adventure back to Europe. After 2 years hiking, it feels great to be back to biking. Our plan, ride north from Fussen, Germany along the Romantic road, take the Main and Rhine to Rotterdam, head over to England for a short stretch along the coast, return to Netherlands, ride to Hamburg and on to Vienna, and then head along the Danube to finish at the Black Sea. This would give us a connected route from the most western point of Portugal to the Black Sea.
We arrived in Munich on time, even a bit early. Much to our chagrin, one box was missing. We had the rear halves of the bikes, three wheels, one handle bar, both seats, pedals, cranks, and racks. But we can't go anywhere without those all important front bike halves, second handle bar, and last wheel. So as we waited and worried in the hotel we wondered, is it possible to turn the back half of a bike into a unicycle? Or even more important, could we even ride a unicycle. Fortunately the second box arrived, 28 hours late but in tact.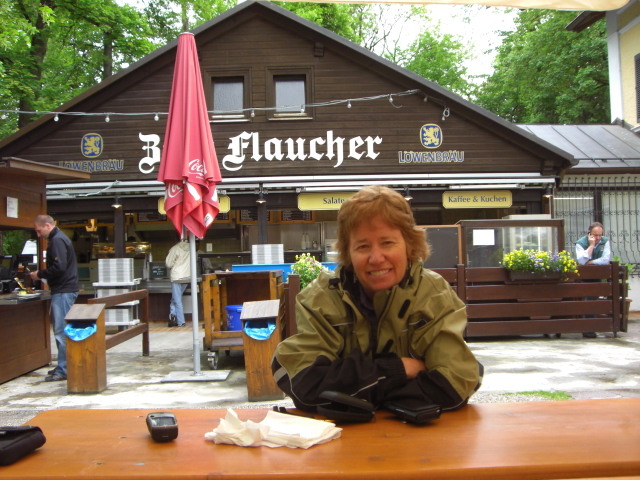 With a short day ride to the campground and a first stop at a biergarten along the way, we settled in for a visit to Munich. Munchen, as it is known locally, was originally founded by some monks. It was a crucial hold out for the catholic church during the 30 years war when followers of Martin Luther broke away to form the Protestant church. It has seen Emperors and kings all residing in the opulent palaces the Residenz and Nymphemburg. The last was unseated in 1918.
Munich became a major center in Germany and, consequently attracted the attention of the allies in W.W.II. Much of its center was completely destroyed. Yet rather than build new, Munich worked for decades to return the city to its past appearance. In the case of the Residenz palace this was a huge task. The Munich you see today is pretty much a complete recreation of the old.
Perhaps the most anticlimactic and famous site in all Munich is the Glockenspiel. This is a mechanical clock that won't be giving the folks at Disney nightmares any time soon.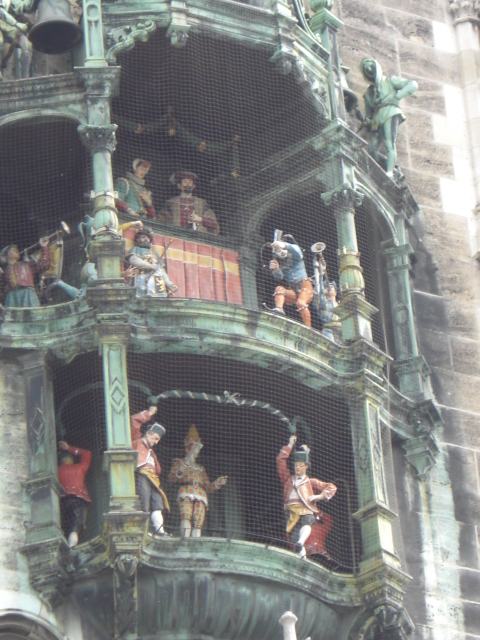 There are two levels of mechanical characters. The top level has the king and queen overlooking a joust between a knight from France and one from Bavaria. On the lower level are dancers in red jackets holding up boughs of flowers between them.
At about 5 Minutes before all the action begins, the newly tuned bells in the tower start clanging. This is when most tourists raise their cameras in anticipation. Those cameras sag pretty quickly as nothing happens for a long time. Finally the top figures start their slow rotation. The knights go around once, nothing happens. Anticipation builds. Who will win the battle?
They go around again ever so slowly. This time the action really steps up. The France knight tips back on his horse as he gets speared. Fight over. Bavaria wins as it has for over 100 years now. The dancers on the lower row now turn round and round for another five minutes. The whole performance is topped off with a half-hearted hoot from the owl perched above the entire contraption.
That's it. Show's done. You came thousands of miles for just that.
All right, there are other things to do in Munich besides watch the Glockenspiel. There's the huge Deutches Museum. This is Germany's main Science and Industry museum. Back some 27 odd years ago we visited it on our first whirlwind European tour. We managed to get through about 2 rooms.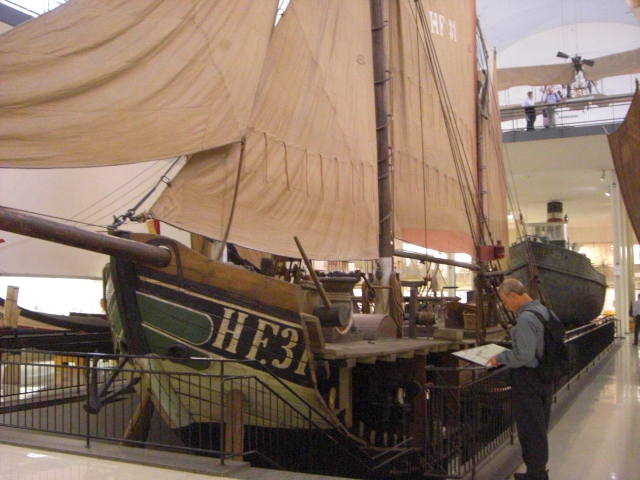 This time we did a little better managing to see the rather tired looking exhibit on oil and gas, part of the much newer materials display, the center piece history of boats room, and a teeny-tiny part of their mechanical measuring device collection. This represented only a fraction of this 5 floor museum. And there's still two entirely separate buildings for transportation and aerospace. You could easily spend weeks getting through it all.
There is also a palace or two to visit. Having previously seen Nymphenberg palace which is located on the outskirts of town, we elected to see the closer Residenz this time.
The Residenz started as just a small palace on the edge of the walled city. Over time it grew and grew until it encompassed hundreds of rooms in a maze of buildings enclosing several courtyards. These were the private residence quarters for the elector, then king, then even the holy Roman Emperor. It was occupied from the 1100s straight through to about 1918 by the Whittlesbach dynasty.
Today the Residenz houses a museum with a large set of valuable paintings, furniture, table settings, tapestries, etc. With free English audio guide in tow, it took us a good 3 hours to get through some 90 rooms currently on display. Even that was a reduced number as several of the rooms were under renovation.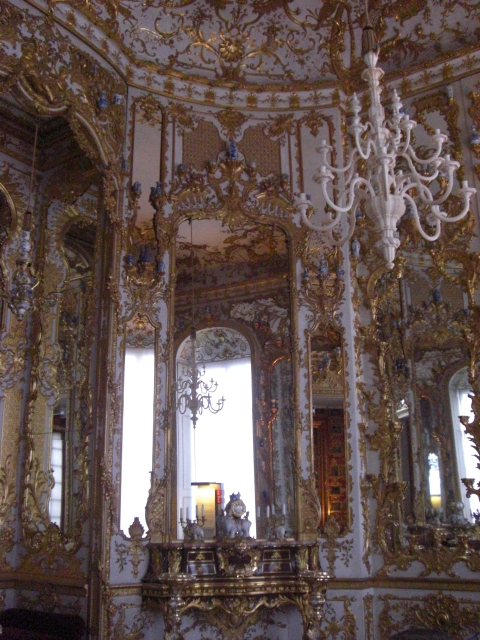 One interesting fact about the Residenz, much of what is seen today is a reconstruction. The palace was heavily damaged in W.W.II with only a small portion of the over 1000 sq. meters of covered building actually surviving. Even still, the opulence of the reconstructed rooms is quite remarkable. Of particular note is the hall of ancestors, the mirror room, and the miniature room all of which drip with expensive stucco and gilding.
There are also art museums. There's a museum dedicated to pre 1800s art called the Alte museum. Another is dedicated to art of the 1800s called the Neue museum. And finally a modern art museum. The Alte museum has some great works of art from Italian, German, Flemish, Dutch, and other masters. But the Neue museum seems to have the best collection of masterpieces. Not only does it contain pieces from the impressionists such as Monet, Manet, and VanGogh, but it has no less than 4 rooms chock full of pieces from Peter Paul Rubens. We wondered if this might be the largest collection of Rubens assembled in one place.
It took us a full day to complete the Alte and Neue museums. We didn't even attempt the Modern art museum.
In between all these museums, there's plenty to see just by wandering around. There's the Marianplatz where you can watch that exciting Glockenspiel show, and there are several churches worth visiting. Since Munich remained Catholic the churches have the usual Catholic grandiose decoration not found in Protestant houses of worship.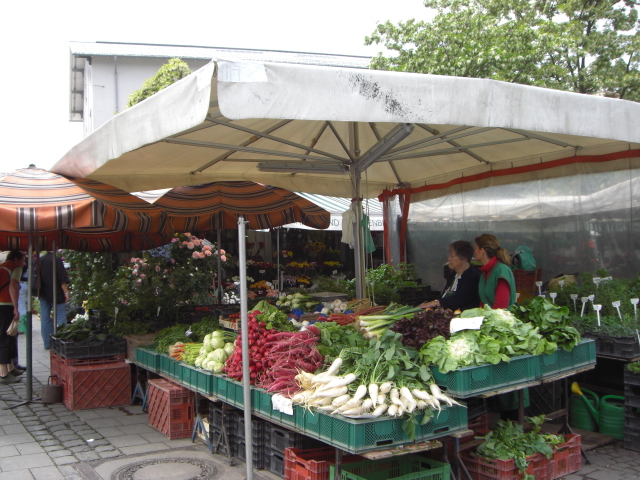 Particularly enjoyable is a stop by the Vktualmarkt. Right in the center of the city, just behind one of the old town gates sits what can only be called a farmer's market with accompanying beer garden, of course. Rents in this very desirable block of city property are kept artificially low just so the local vegetable, flower, and food market can remain open. They do one booming business at lunch time and the mugs of beer, bratwurst, and good times keep on rolling.
Section 2 - Munich to Fussen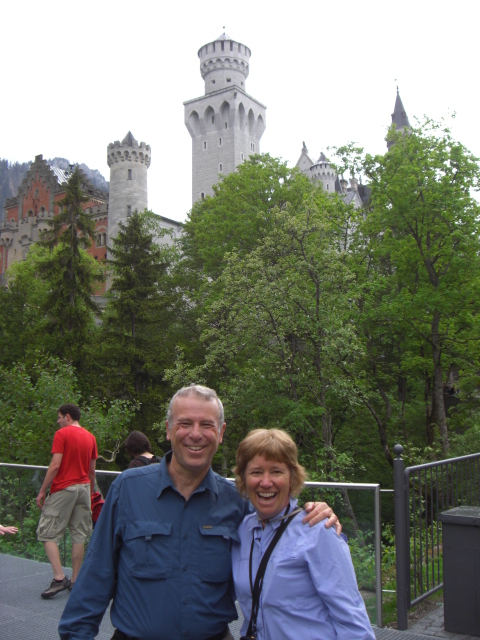 May 20 - 22
We headed out of Munich southward along the Isar radweg under a very pleasant blue sky. The temperature was just about perfect for biking, not too hot and not too cool. This section of riding was mainly intended as a connector to get us from Munich to the true start of our summer tour, Fussen where we picked up the Romantic road. Even still, it made for a very nice ride.
What makes biking and especially bike touring in Germany so pleasant is the fact that nearly everybody rides bikes and there are bike paths and signed routes going everywhere. In fact often there are so many signed bike routes it's tough to figure out just which one you really want to be following.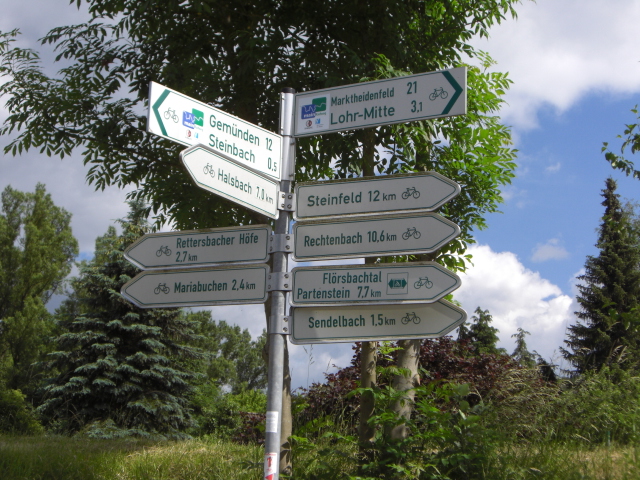 You will see so many different sorts of folks on the bike paths; small children, old men and women going to store, middle aged folks touring with their nearly suitcase style rear bags, young folk dressed in racing gear complete with the latest technical bikes, and some like us with bikes loaded to the hilt with all the camping gear. For once it's nice not to be such an unusual sight.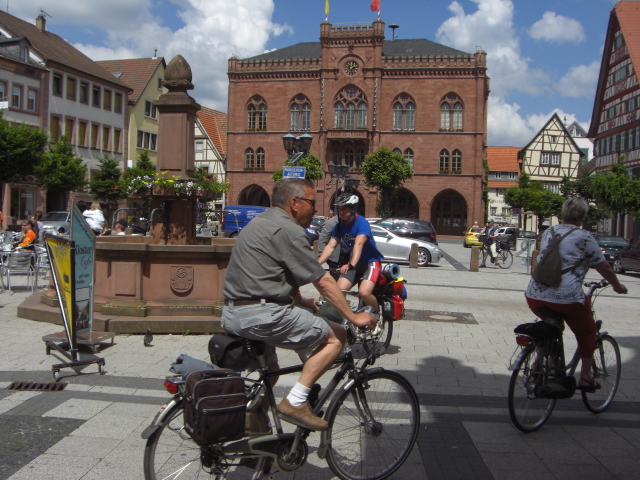 We cruised easily along the Isar river and canal, never being entirely sure which it was we were following. Then we turned right to head across the hills. While the region around Munich is pretty flat, the city is not too far from the Alps and it doesn't take much of a ride to dip into the foothills. Any route off the rivers will take you crosswise to the hills.
Many of the German bikers who ride those single or three speed old town bikes complete with fenders and wire basket won't even attempt the hills. In fact, an elder couple on just such a set of bikes stopped to give us directions and warned us not to even try going over the next hill. We didn't bother trying to explain some of the extremely rough riding we've done in the past. They might not believe us.
It turned out to only be a couple hills, really only one big one, that we needed to surmount to make our way into the valley where Fussen lies. Along the way we picked up the Romantische Strasse (Romantic road) and made a quick stop at one of the designated sites, Weiskirch. This is a pretty church in an ideal setting with magnificent mountains as a backdrop. Evidently it is also a great starting point for "wanduring" up in the mountains. Hiking clubs start or end their trek in the church parking lot.
From there quiet country backroads took us the rest of the way into Fussen.
The Romantic Road does not have any historical significance. It's not an old trading route or pilgrimage path. Rather it's just a route that happens to pass by a bunch of cute towns. It's a tourist route, Germany's first and most famous of such designated routes. It manages to draw thousands of tourist pilgrims every year with the lucky towns along the route plucking a good chunk of tourist coinage from your pocket. People follow the route by bus, car, motorcycle, bike, and even foot.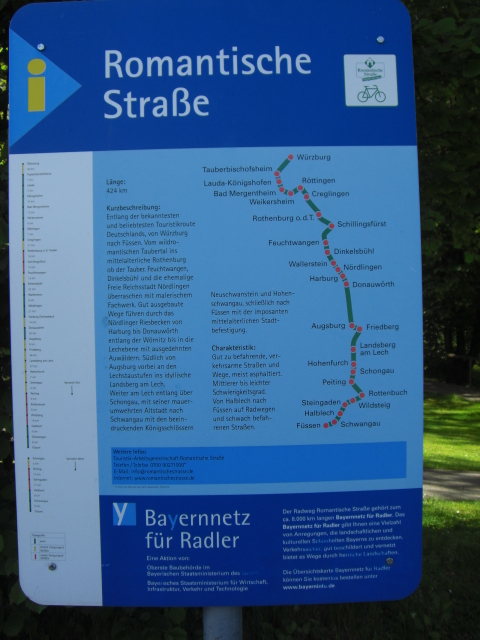 Normally the route is done north to south. The reason being that at the end of the route you'd find the grand finale, Germany's most famous and most photographed castle, Neuschwanstein. Naturally we decided to take the route backward.
First stop was a visit to the two palaces at Fussen, Hohenschwangau and Neuschwanstein. Hohenschwangau is the oldest of the two. Its original foundations data back to the middle ages where it was the home base for the knights of the Schwangau. King Maximilian II, father of the mad King Ludwig II, spotted the ruins while on a trip to Schwangau and had the castle rebuilt as a summer getaway in 1832.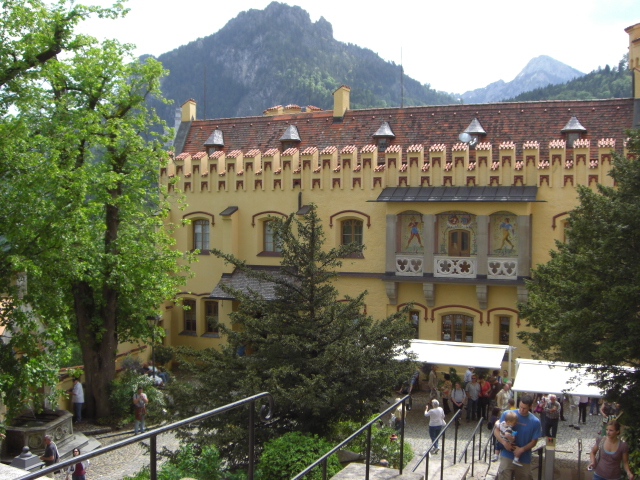 It was in Hohenschwangau that Ludwig was born in 1845, grew up, and spent most of his time planning his many building projects. One of his most grandiose was the Neuschwanstein castle. Situated on a nearby hill overlooking his main home, this castle was a fairytale collection of towers, spires, and walls. It was a fanciful idea of what a middle ages castle should look like.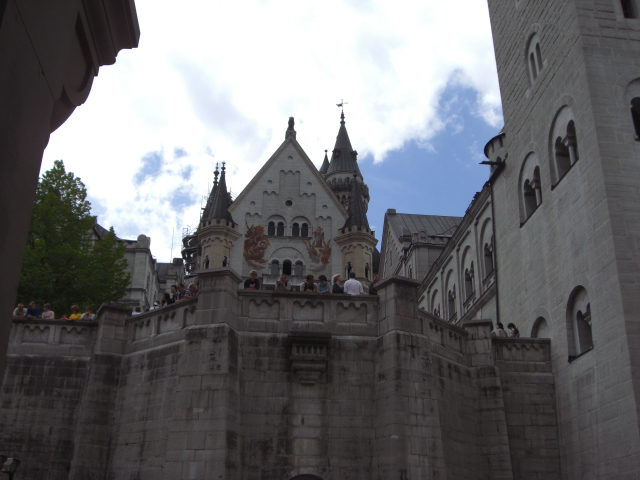 Unfortunately Ludwig only got to live in his beloved castle for around 6 mouths. Heavily in debt, the bank was about to seize all his property in 1886. At this point the state had him examined and declared mentally unfit to rule. He was removed to Berg Palace under the care of his doctor. In just 2 days on June 13th both him and his doctor were found dead in Starnberg Lake. Was it murder, suicide, both. We wonder if Ludwig staged a fake death to get out of his debt.
No matter what the cause of death, construction on the new castle came to an immediate halt when it was only about 1/3 complete. Because of this very few of the room are complete.
What you get to see on the grand 30 minute tour are a few servants quarters, the throne room, a large singing hall for concerts, the bedroom, office, reading room, a few halls, and that's about all that's done. Everything is finished in an opulence only a mad king could imagine. The wood carving in the bedroom, for instance, required the work of woodcarvers for four whole years.
It is said that this castle was the inspiration for Disney's fairytale castles in Disneyland and we could easily believe that.
Section 3 - Fussen to Rothenburg am Tauber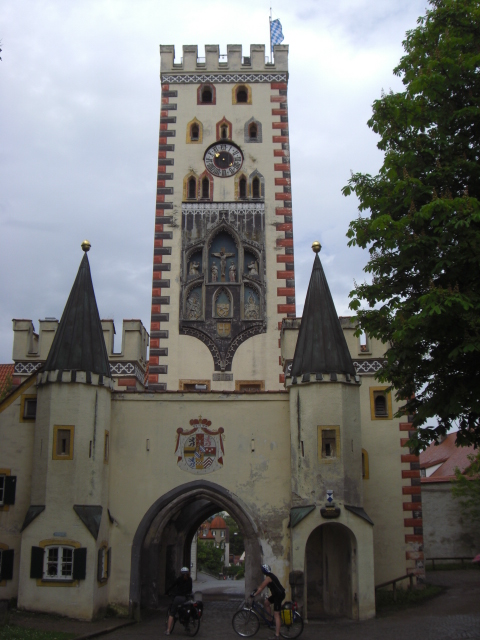 May 23 - 27
There are certain things you think of when someone mentions Germany. German men dressed in those funny looking leather pants called leiderhosen, knee socks, and curious green felt hats. They'll be sporting a tall wood hiking stick tacked all over with curved shields showing regions hiked in one hand with huge mugs of beer or gigantic pretzels in the other.
Women you imagine dressed in highly gathered shin length skirts, long aprons, bibs, and white blouses carrying more of those huge beer mugs than any set of hands could possibly hold.
Houses also are stereotyped. All white stucco with lots of little windows in neat rows decreasing in number as you go up the 5 or more stories, brown shutters on every window, brown porch railings with lots of flowers. Large paintings are embossed into the sides of the buildings telling some story or extolling the virtue of some local craft.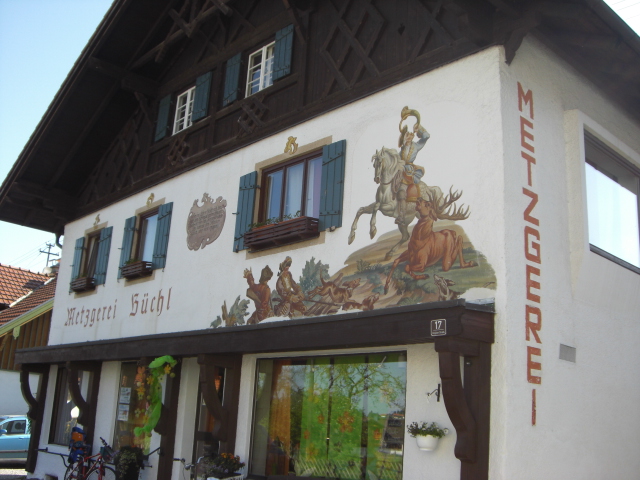 And there are the curious Maypoles found in the center of virtually every village. These poles are around 50 ft tall or more. Some are painted blue and white. Many have metal decorations showing the town coats of arms, some local product, or an attraction. Some poles have pine trees attaches to the tops or pine boughs decorating its length in a wide variety of shapes. Each and every pole is different.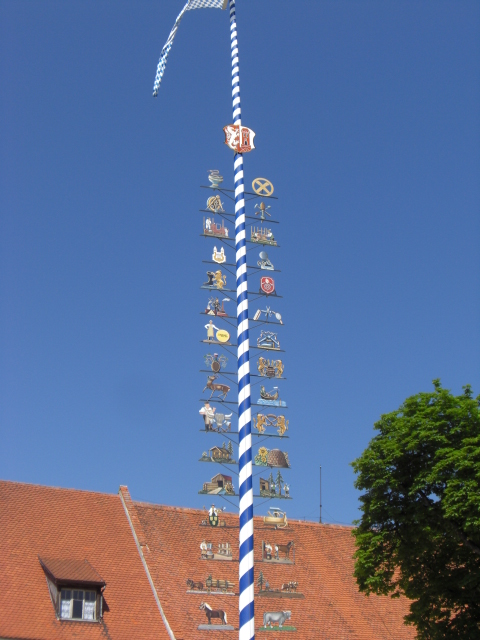 As far as we can tell all of these stereotype Germany features are only found in the Bayern region. In fact, some are even just found near the Alps. This characteristic is easily understood when you realize that until the late 1800s, Germany was just a bunch of individual city states each having their own customs and traditions. The concept of a unified country called Germany is a relatively new idea. Bayern was just one of these original city states.
Leaving Fussen it doesn't take too long before those white stucco houses with brown shutters and porches are replaces by multicolored stucco houses with elaborate stepped or curlicue gables. These are replaced in turn by the half timbered houses typical of the more central regions of Germany.
Along the more southern section of the Romantische Strasse, churches have the traditional onion domed steeple and are commonly stuccoed white and yellow. On the outside these little churches look like little rustic affairs that fit perfectly in the little villages in which they are found.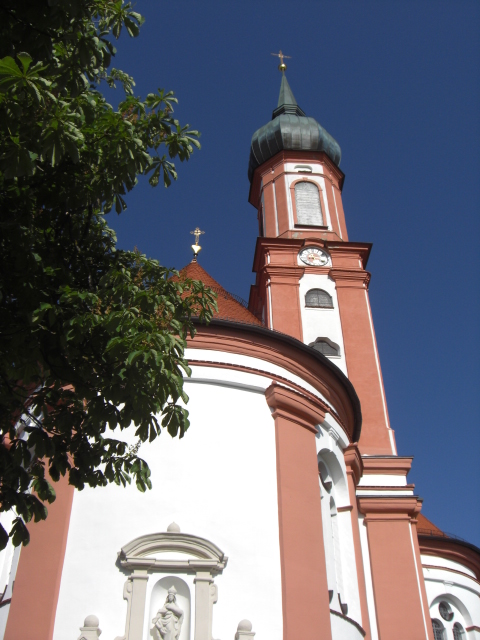 Oh but just step inside and you find yourself surrounded by a cotton candy montage of swirls, curls, vines, leaves, and cherubs all done in brilliant whites, pinks, and golds. Walls, ceilings, pillars, pulpits, organs, everything is covered in this ornate stucco that looks like sprayed on whipped cream. It almost looks like you've stepped onto or into a mountain sized wedding cake. This is the Rococo style that seems so prevalent in the southern Bayern region.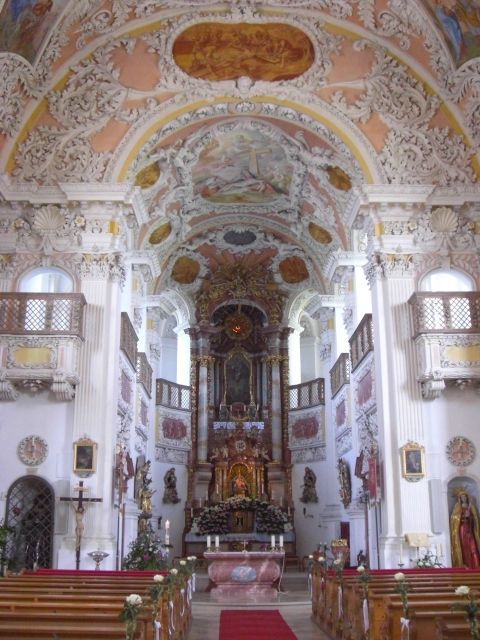 Further north the frothy Rococo gives way to the tall stoic forms of Gothic. One thing about Gothic style, it's meant for height. Standing inside one of these churches you feel almost as though you are standing amongst the giant redwoods of California. The central pillars extend far to the tall ceiling and you just can't help following their lines up, up and up until you reach the ceiling. There the gray stone bracing offsetting the white stucco gives the impression of branches in the trees.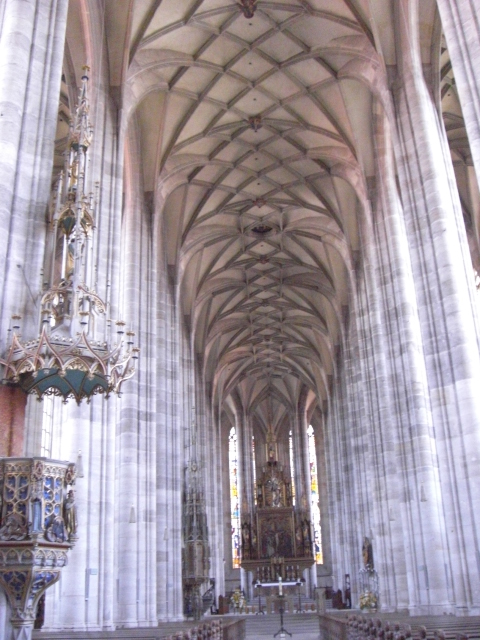 Gothic style placed all load into these massive and very tall pillars with the express purpose of allowing the walls to be extremely thin. This was intended to give an airy impression that was further exaggerated by tall windows positioned between each pillar. It was a masterful use of stone that produced these structures.
The Romantische Strasse takes you north through one cute town after another, each trying to get you to leave some of your Euros stuck behind like flies attached to flypaper.
Many of these old towns have walls, towers, and gates that are reminders of their middle ages life. They can begin to look very similar yet they all are unique. Landsberg am Lech has a gate tower that is probably the most picturesque along the route. Nördlingen im Reis is the only town in Germany that still has a full encircling wall that can be walked completely around. Dinkelsbühl, Feuchtwangen, Harburg are all just plain cute each having their own version of half timbered houses, central square, churches, walls, towers, and rathaus.
Now there's a name we never tire of, rathaus. This is what Germans call their houses of government. To English ears it can't be an any more perfect name, house for the rats. We have to wonder what the real word for rat is in German. Maybe we should take a cue from the Germans and use their name "rathaus" for a few of our buildings in DC. After all we certainly have our share of rats.
Section 4 - Rothenburg am Tauber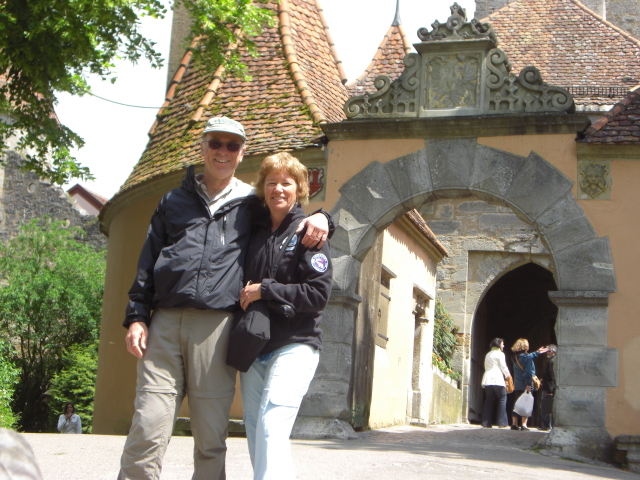 May 28
Rothenburg is one of those towns that is just too cute to pass by without at least one full day visit. Nearly 3/4 of the original town wall has been rebuilt. You can see stones engraved with donor's names. They donated enough money to rebuild at least 1 meter wall section. There are names from all over the world, some even in the script of the donor's own language. Just think. If the wall lasts another 500 years, your name would be up there all that time. Your personal immortality.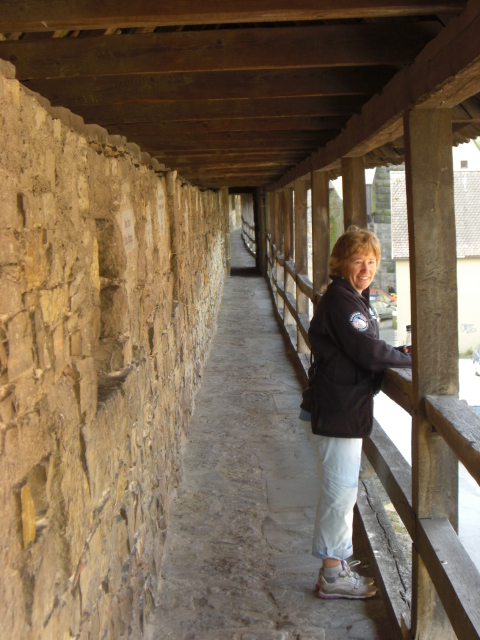 It was a cool, windy day when we walked the walls. With the wind chill factor it was somewhat cold up there on that exposed shelf. We just couldn't imagine how miserable pulling night watch shift in the middle of winter must have been. Apart from circular enclosures spaced about every 50 ft or so, you had no protection from what could be deadly cold wind. This kind of military duty must have been for the really tough.
Apart from a huge plethora of picture perfect half timbered houses, Rothenburg also hosts one very gruesome yet unique museum. Called the Criminal museum, this institution presents aspects on middle ages laws, justice, and punishment.
In those days there were very limited categories of real crimes. Examples were theft, murder, hearsay, adultery, and treason . Conviction could be obtained with as little evidence as 2 witnesses or one witness and a confession.
Here's where torture came into play. Confessions obtained during torture were considered evidence. So of course there were plenty of examples of nasty looking torture devices on display; the rack, spiked chair, thumb screws, hanging hooks just to name a few. Of course once they got through tearing apart your limbs, crushing your thumbs, destroying your dignity and after you've confessed to all your crimes and everyone else's they came up with some equally painful way to kill you.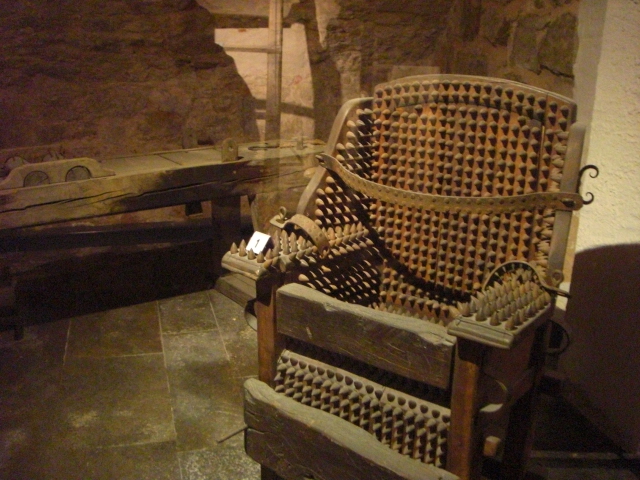 There were other crimes for which the penalty wasn't death. Couples or women who argued too much were placed in what was called a fiddle collar. It would tie the two together, neck and hands restrained, facing each other until they made up or at least settled down.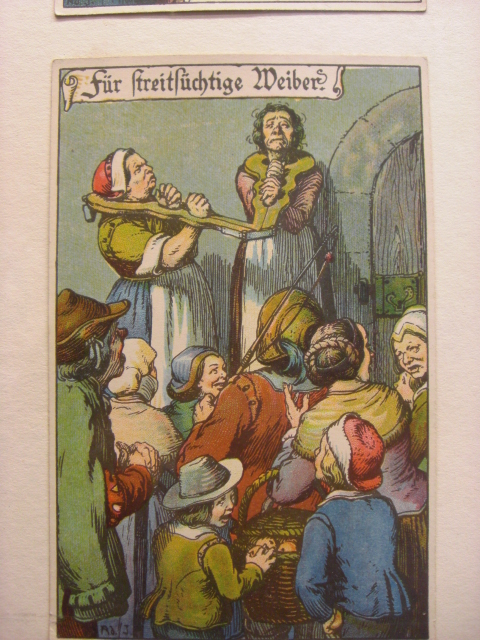 Gossips were tied to the pillory while wearing an iron mask that usually had big ears, flapping tongue, and glasses. The silly mask meant you saw and heard everything and told all. Men who behaved like pigs were placed in an iron pig mask. Even bad musicians were placed in a flute shaped restraint with their fingers tied to the holes. Imagine just being a bad singer meant punishment.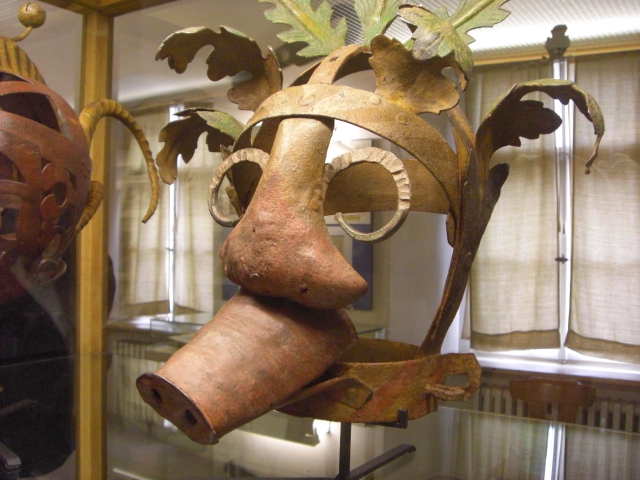 There were also a ton of behavioral restrictions. Girls before marriage were required to wear their hair loose. After marriage it went into a cap. Girls who had sex before marriage had to tie their hair in a cap and were escorted through the "black" door at church to be married or not married in church at all. Loose women or prostitutes had their hair forcefully cut.
There were even very strict clothing laws. Caught wearing clothing above your class and you risked having pieces cut off.
Living in the Middle Ages may seem romantic today with its castles, courtesans, knights and all, but reality was a completely different story.
APPENDIX A – ROUTE
Germany
May 16 - Isarradweg to Munich, 21.7 miles
May 20 – Isarradweg to Wolfratshausen, bikepath to Beuerberg, roads thru Iffeldorf, Antdorf, Habach, to Murnau; 70.3 km
May 21 Back roads thru Bad Kohlgrub, Bad Bayersoien, Echelsbacher. Romantische Strasse thru Wildsteig, Wies, Halblech, to Schwangau; 40.09 km
May 23 Romantisch Strasse thru Steingaden, Kreut, Peiting, Schongau, Altenstadt, Hohenfurch, Kinsau, Epfach, Reichling, Vilgertshofen, Pitzling; 71.27 km
May 24 Romantische Strasse thru Kaufering, Scheuring, Prittriching, Konigsbrunn, Friedberg, and Augsburg; 76.4 km
May 25 Romantische Strasse thru Langw id, Achsheim, Biberbach, Markt, Kuhlenthal, Blankenburg, Allmannshofen, Druisheim Me tingen, Auchsesheim, to Donauworth, 51.73 km
May 26 Romantische Strasse thru Harburg, Heroldingen, Hoppingen, Balgheim, Reimlingen, Nördlingen, Wallerstein, Maihingen, Minderoffingen, Enslingen, Rühlingstetten, Greiselbach, Mönchrsroth, to Dinkelsbühl; 79.45 km
May 27 Romantische Strasse thru Schopfloch, Feuchtwangen, Dombühl, Schillingsfürst, Diebach, to Rothenburg; 48.82 km
APPENDIX B – CAMPSITES
Germany
May 16 - 19: Camping Thalkirchen near Munich(13.40 €/night)
May 20: Camping Halbinsel Burg near Murnau(12.6 €/night)
May 21, 22: Camping Bannwaldsee near Fussen(19.50 €/night)
May 23: Camping Romantic am Lech near Landsburg am Lech, (14.35 €/night)
May 24: Camping Bella August in Augsberg, (17.00 €/night)
May 25: Donauworth canoe club, (10 €/night)
May 26: Campingpark Dinkelsbuhl in Dinkelsbuhl, (14.93 €/night)
May 27, 28: Campingplatz Tauber-Romantik in Detwang, (15 €/night)
REFERENCES
| | |
| --- | --- |
| | Lonely Planet Central Europe Guide |
| | Bikeline Romantische Strasse Radbuch |