EUROPEAN TOUR 2009 PART II - Germany
Rothenburg to Koblenz
May 29 to June 15, 2009
Start 53,267 miles (85,242 km) cumulative:
End 54,095 miles (86,552 km) cumulative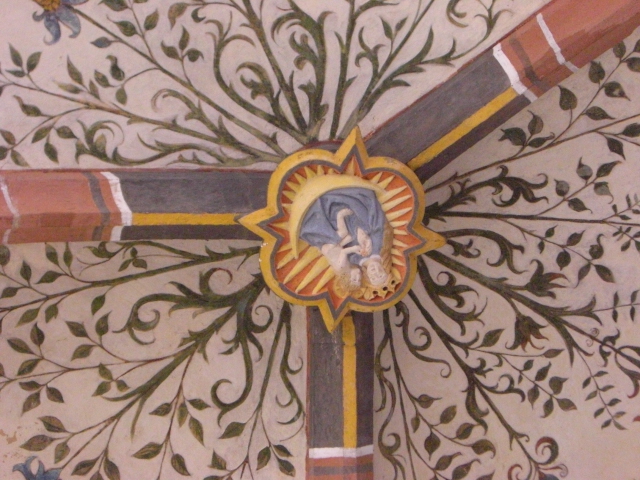 TEASERS
| | |
| --- | --- |
| | Finish the Romantische Strasse with a rideover hills to Würzberg |
| | Visit the Würzberg palace, a world heritage site |
| | Marvel at the increasing number of river barges |
| | Meet the Rhine at Mainz |
| | Learn about Gutenberg and his famous printer |
| | Cruise by castle after castle along the Rhine |
| | Meet the Mosel at the Deutches Eck |
| | Detour to Perl to pop into France and ride an edge of Luxembourg |
| | Visit the former roman site of Trier |
| | Even better castles await |
Section 1
Rothenburg to Würzburg
May 29 - 31
After leaving Rothenburg it's a fairly quick 2 days ride to Würzburg. You simply head downstream to Tauberbischofsheim, turn right, climb over the hill between the two river valleys, and take a mice descent to the Main. However, this really is the the long way. If you were to continue on down the Tauber you'd wind up on the Main anyway and a lot further downstream.
But we weren't here to hurry. So up over the hill we went.
Much of the Romantische Strasse takes you through farm fields. In spring, farmers are busy preparing and planting their fields. One of the German farmers little chores is quite nasty for bikers. They fill huge tanks with water and manure. They drag this tank behind a tractor spraying this stinky manure slurry all over their field. Talk about pee-u. You have to watch your path carefully as it's not uncommon for there to be a pile of this stinky goo right in the way. What a mess that makes.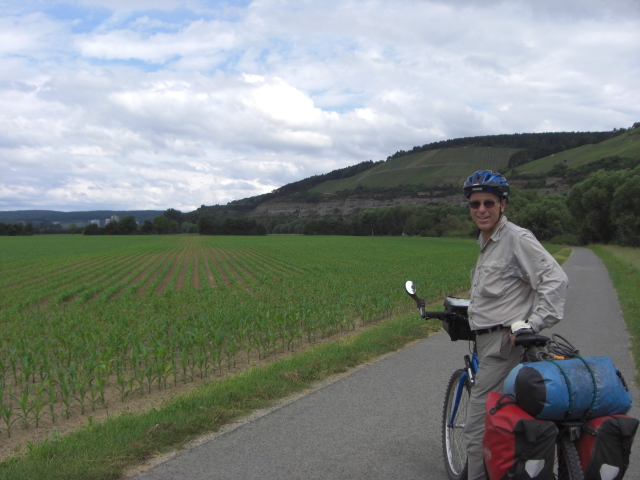 Once over the hill we had a nice cruise down to the Main River and the pleasant town of Würzburg. For one of the larger cities we've visited, Würzburg has a real small town feel to it. Yet what you see is actually a fairly recent recreation. In W.W.II Würzburg was subjected to one of the Allies' major fire bombing offensives. In about 24 minutes nearly 80% of this hundreds of years old cities was destroyed.
Damage was extensive. Even the magnificent palace wasn't spared. Of some 1500 square meters covered space before the bombing, less than 100 remained. Remarkably one of the ceilings that survived was the one over the staircase. This was the ceiling no one thought would survive its own weight much less such unimagined forces.
It's good this ceiling did survive as it is covered with one of the world's largest frescos, a fantastic depiction of the known continents, Americas, Africa, Asia, and Europe.
Other rooms of the palace have been completely rebuilt and what an incredible display of Rococo excess they are. You begin the tour in the guard room, an antechamber to the main hall. Being just a guard room its decorated in just white stucco. There's still an overwhelming supply of flowers, vines, weapons, and cherubs.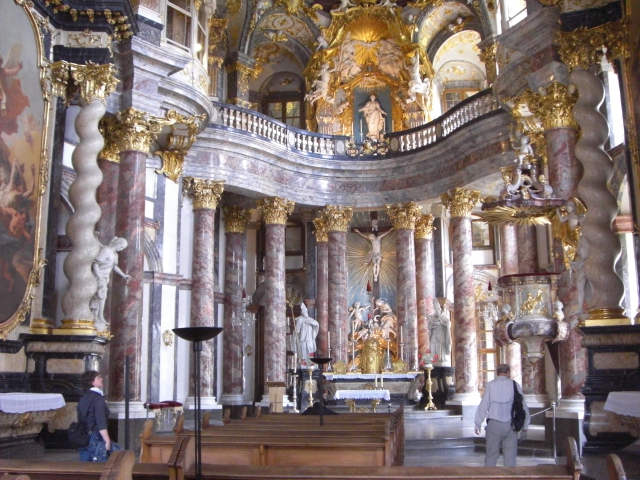 From there the decoration gets more and more elaborate culminating in the most amazing mirror room. Our guide told us that this room was only recently rebuilt due to the fact they couldn't find any artist who knew how to do reverse painting on mirrors. Even this fellow is now 80 years old. So it's a dying art.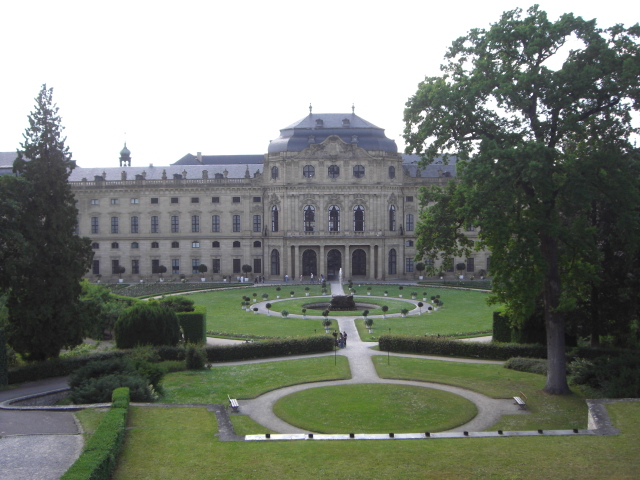 If there is a must see in Würzburg it's this palace. It clearly deserves its UNESCO Word Heritage site designation.
Section 2
The Main Radweg From Würzburg To Mainz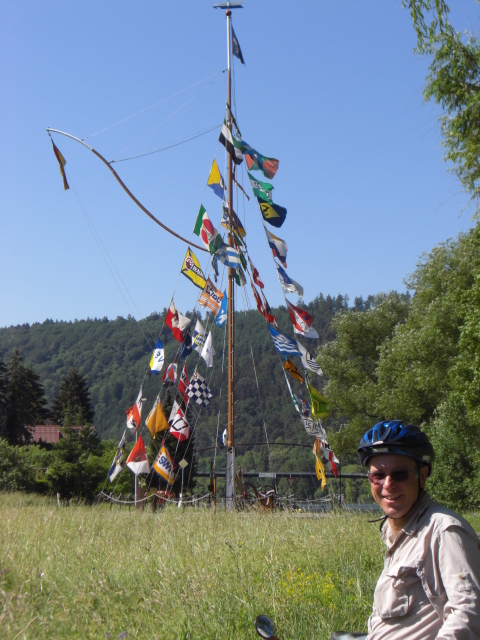 June 1 - 5
The Main River at least up to and beyond Würzburg is navigable by some of the large cargo barges. These things are quite remarkable. Long, skinny, flat boats that ply the river as far upstream as they can get.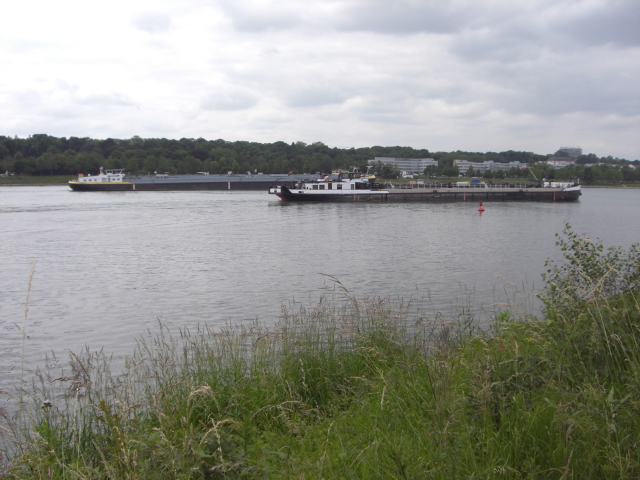 There's quite a river culture that goes with the job. The owner/captain and his/her family live in the back. The crew lives up front. Usually there is at least one car stowed on the roof of the aft cabin, sometimes more, and sometimes motorcycles, bicycles, and boats. We imagine that the job of river barge captain is likely an inherited position, passed down generation to generation. They're not really part of the local community, but they are crucial to it.
Riding down a river as large as the Main with all its river traffic is far more entertaining than just riding through farm fields. There's always something going on. Also, the towns along the larger rivers tend to be the older and more historic. After all, the waterways were the routes formerly used for transportation corridors.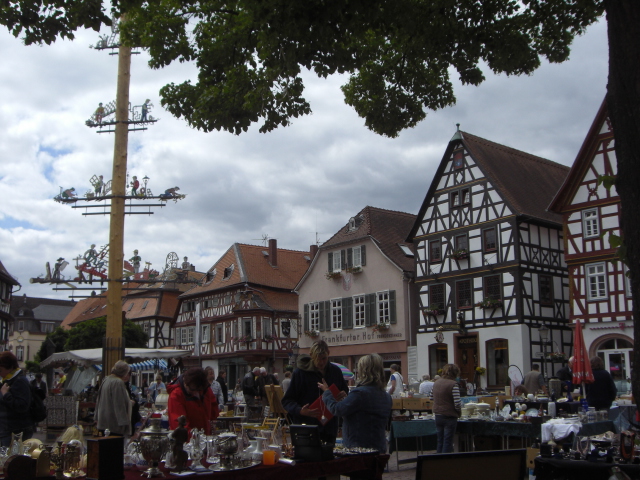 Just west of Würzburg the Main river makes an exaggerated sine curve to the north. While it's only about 30 km to cut off the sine, it's closer to 90 km to follow it. Back in 1999 we rode the Main River from Frankfurt toward the east while on our way to the Czech Republic. We weren't in Europe to ride Germany specifically. So we took the short cut. This time we decided to stick to the Main and take the long route.
The Main river In this area takes a winding route through the lush verdant hills. Towns are small and reasonably spaced. In some places you can actually look all around and not see a single building. You can almost think you are in the wilderness, at least for a km or two.
Locks abound. Every few km we passed by a very long lock. These were designed to accommodate at least two of those long skinny barges. Each yields an elevation change of 10 to 12 meters. Since we still had over 100 m elevation to drop, we did end up passing a lot of locks.
We believe that somewhere upstream there is a connecting canal that will take you over to the Danube. From thee you can go all the way to the Black Sea. Imagine, you can go from the North Sea all the way to the Black Sea and beyond all on water.
Tourist boats also ply these Main river waters. Some are day cruisers coming out of such tourist towns a Miltenberg and Aschaffenburg or even Frankfurt. Others are the long multiday cruise ships. These are long, sleek affairs typically having 3 decks of cabins and a fourth with dining and viewing facilities. We could always tell when we were in a town where a cruise ship was docked. There'd be lots of English spoken.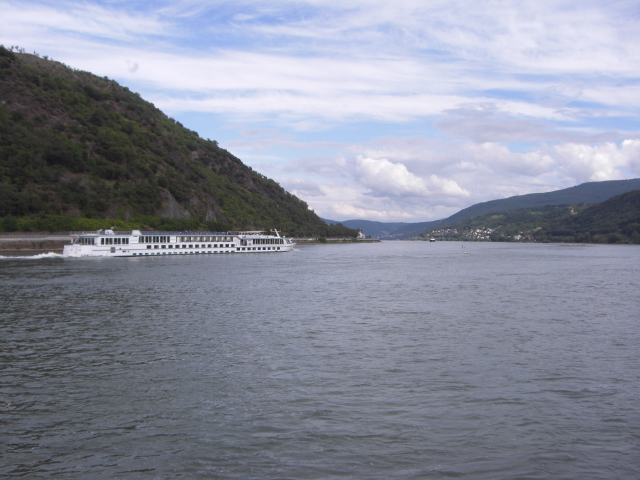 We passed by the town of Wertheim which is on the Tauber. It took us 4 days to reach a point we could have reached in one had we continued straight off the Romantische Strasse. But, we're in no hurry.
As we approached Frankfurt the pretty hills started to flatten out and we started seeing more and more industry. At the end of W.W.II, Frankfurt was one of the cities that was pretty much flattened. This city decided to rebuild anew, not preserving much of any of the old. It is perhaps the only city on the continent that boasts lots of skyscrapers and it likes to call itself the Manhattan of Europe.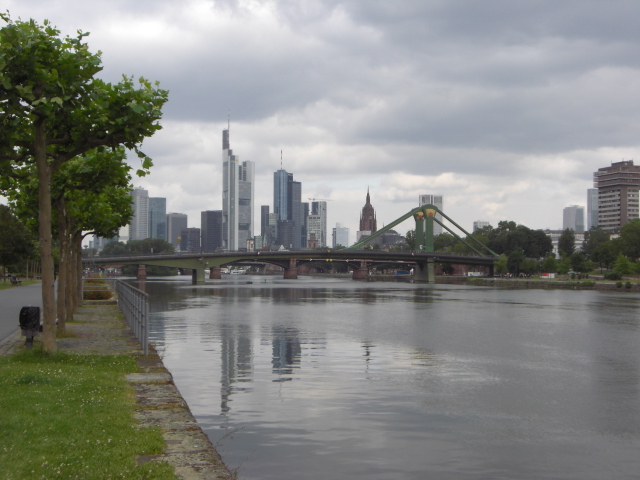 In 1999 we had flown into Frankfurt and immediately headed out of town. We had thought that this time around we might stop in for a visit. But, after a review of the available museums and sites we concluded Frankfurt just doesn't have anything that appeals to us.
So instead we pushed onward finally coming to the huge Rhine river in just another 2 days.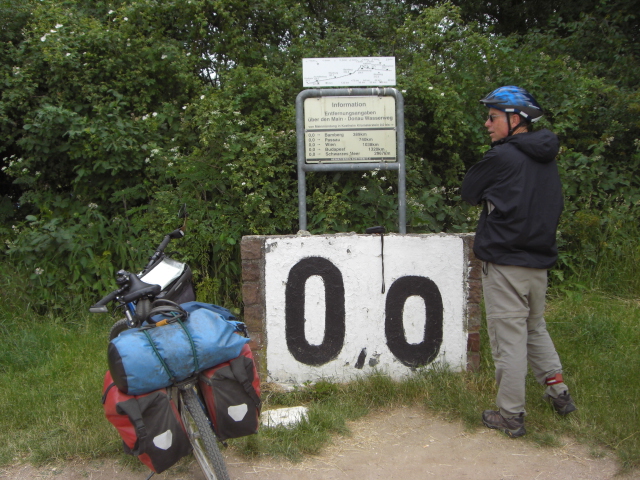 Section 3
Mainz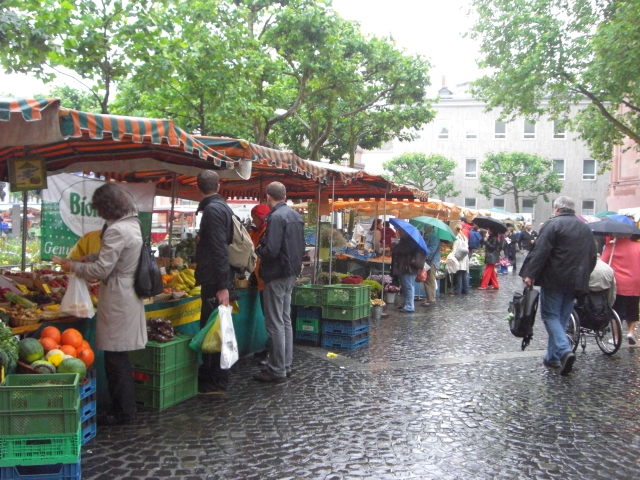 June 6
Mainz is a relatively modern town with an old central core located right at the junction of the Main and Rhine rivers. It has some interesting architecture, in particular the main basilica. But it's a person who really put this town on the map.
Around the year 1444, one of Mainz's citizens created an invention that would revolutionize and change the way we view reading and books forever. Mainz is where Gutenberg invented the printing press.
Wooden blocks with embossed symbols assembled into a block for printing had been invented by the Chinese sometime earlier. But the Chinese were still just rubbing ink from these blocks onto paper by hand. It took Gutenberg to come up with a screw press to make the first sort
Of machine that could print a single sheet in one shot.
His format was still very much like that used by the scribes of that day. He printed the letters leaving spaces for artists to add the colored scroll work, gold leaf, decorations, etc. So each Gutenberg printed book was still a unique article customized to the client's tastes.
Although he had several commissions including small readers for school, his most famous work was the first printed bible. Called the B42 because it had 42 lines per page, he only printed about 55 or so. Later, after a falling out with his business partner, he made a second printing called the B36.
In Mainz is a museum dedicated to not just Gutenberg and his invention, but to the entire history of printing in general. It begins with a selection of works that were created by the old scribes. Even though these fellows had near perfect handwriting, you can still tell it was hand written. The blocks of paragraphs are just a little bit out of alignment left to right. When you look at a printed document the margins are perfect.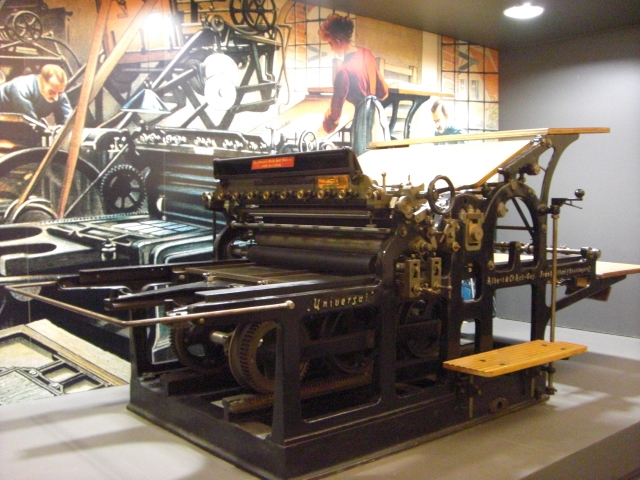 The museum contains a bunch of old printed books. It also has many different printing machines ranging all the way from the single sheet printers to an old 1950s newspaper printer. They also have displays about book binding and how it was accomplished in days past as well as paper manufacturing.
Printing isn't all they cover in this extensive museum. There's the life history of Gutenberg, of course, along with 3 of his original bibles, 2 of the B42 and 1 of the B36, plus some other of his original printed works.
Interestingly, for a man who contributed so much to modern day reading they evidently don't know all that much about him. His printed works remain, but the equipment and exact techniques he used have been lost to time. Most of what they do know they obtained from various legal documents. As is the case with most inventors he needed capital to do his first printings. Later he had a falling out with his primary business partner and wound up in court. He had to pay off the business partner and wound up having to give up most of his original equipment. Hence, it wound up lost eventually.
What Gutenberg had to do, though, is quite amazing. Not only did he have to come up with the wooden screw press for printing, a press that actually looks a lot like an old fashioned grape press, but he had to literally create his block letters and, consequently, invented the first real uniform font. Just think, monks before him may have had a fairly uniform writing taught to them by their masters, but they each added their own embellishments. By making printing blocks, Gutenberg essentially made printed matter with the exact same letters each time. In fact, the reason he went with the B36 for the second bible printing is he had to create a whole new font and letter set, probably after losing the first set to his former partner.
Section 4
Mainz to Koblenz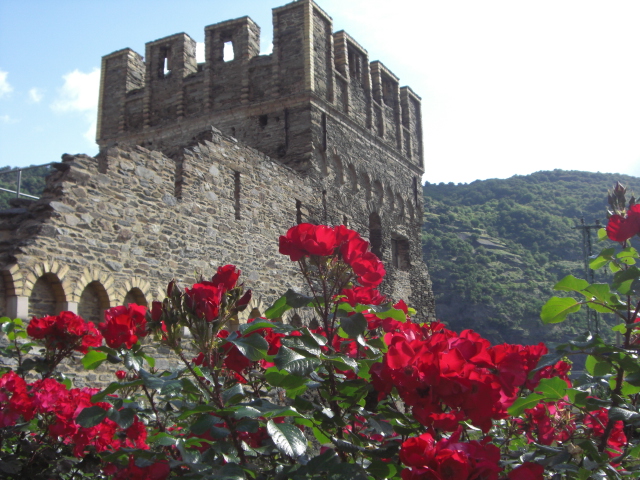 June 7 - 9
The ride north along the Rhine river from Mainz to Koblenz has have the most fairytale looking castles one after the other in all Europe. The Rhine has always been a major water transportation corridor. Back in the middle ages, individual lords would take up residence at strategic locations along the river bank. From these highly fortified and visible castles they'd pull a very common form of extortion. Any ship passing up or down the river had to pay a toll or else suffer the consequences. You can well imagine that the shipping captains were all for the German unification as it meant no more paying off these petty lordlings at every turn.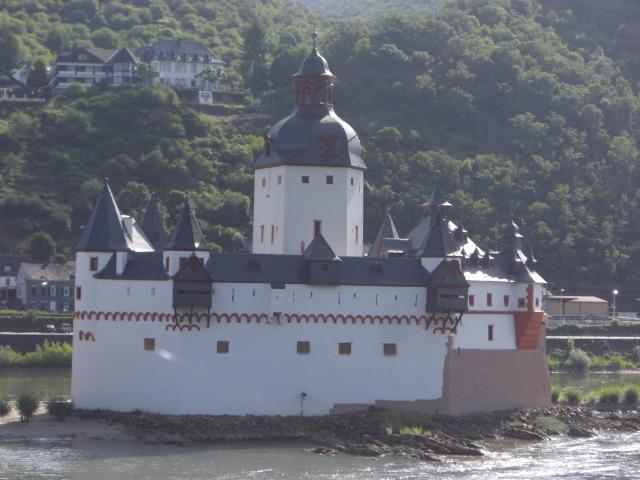 What this whole extortion racket left behind was a string of magnificent castles usually mounted upon some high rock or in a couple of cases right on a rock in the middle of the river. It was easier to get to the passing ships that way.
These are true medieval castles complete with towers and turrets that were actually used by archers and spearsmen unlike Ludwig's Neuschwanstein.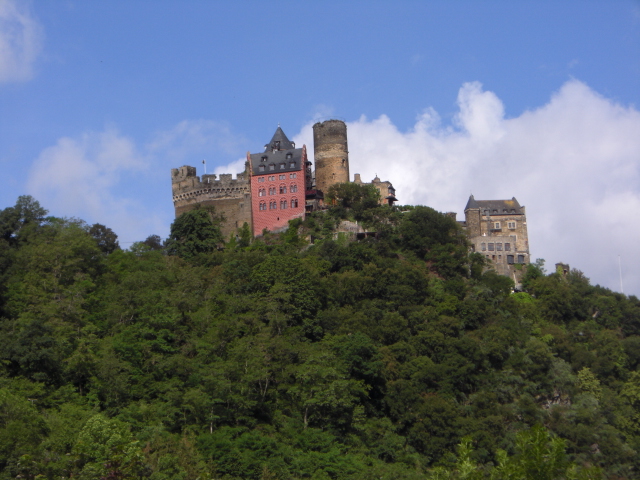 Most of these castles have been restored and are now having a second life in a slightly different form of extortion, tourism. They're open as restaurants, museums, hotels, and even one is a youth hostel. You could easily spend your entire wad of vacation Euros eating, staying, and touring in each one. We decided to simply enjoy the magnificent skyline views of these castles along the Rhine and save our touring funds for the best, Berg Eltz which is on the Mosel not the Rhine.
This section of the Rhine is characterized by high hills and a very dangerous water path. There is a famous rock, called the Loreley, that has a rather ominous legend. Loreley, a woman spurned by a sailor, sits on top of this rock and lures sailors to their death on the hidden treacherous rocks below the currents. Today huge barges pass by this rock without harm thanks to a complete network of buoys and an unusual traffic control system.
The entire distance of about 100 km along the Rhine from Mainz to Koblenz has been designated a World Heritage site. One could easily ride this stretch in just 1 day. But we wanted to savor each and every km. So we took 2 days, just 50 km each day. If we weren't biking, it would be great to hike the hills around the castles for even better views. We can't help but think this would be a great place to bring an RV.
Koblenz, the end of the most scenic section marks the location of the Deutches Eck. This point, the meeting of the Mosel and Rhine, is where Kaiser Wilhem achieved the unification of Germany. Although it was once again torn asunder after W.W. II.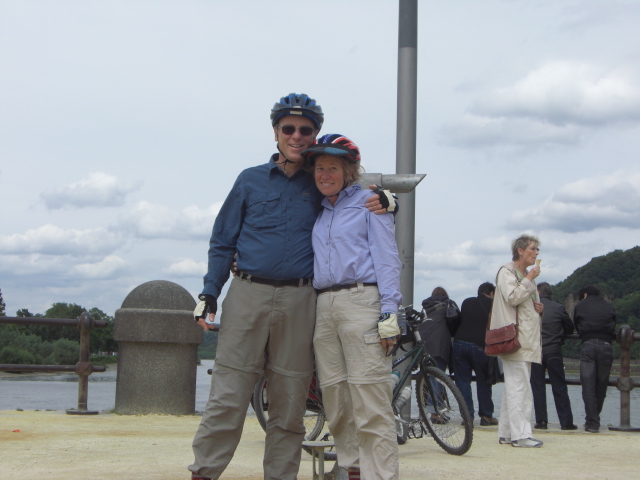 A huge statue of the Kaiser stands right at the point where the two rivers meet. This spot has great significance for all Germans and is a big tourist draw. Unfortunately, at this particular time the statue was under scaffolding for renovation. Only the very top could be seen. Such is the normal way with any visit to Europe, you have to expect to see renovation in work at least a few times.
Section 5
Perl to Koblenz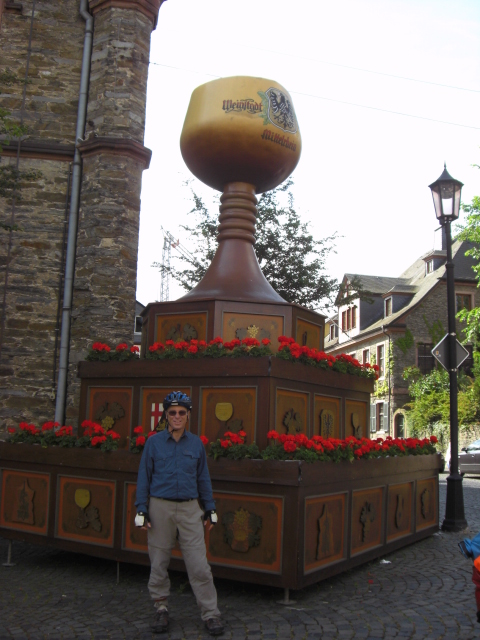 June 10 - 15
Here at Koblenz came a decision. We could continue on our original schedule and head on down the Rhine to Rotterdam. Or we could take a slight detour up the Mosel. The problem was, to take this detour we'd have to skip something else on our current plan. Perusing our guidebook, we concluded that the northern portion of the Elbe river from Hamburg to Dresden probably offered the least amount of interest. So we decided to take the train up to Perl and ride back to Mosel instead.
Taking bikes on a train in Germany is such a piece of cake, especially the local or regional trains. They usually have a car or two in which they have a section where the seats fold up. Here is where wheel chairs, strollers, and bikes sit. Usually they take up to 4 bikes at one time.
The level of the door on the train is lowered so that it's usually even with most train platforms. Then, to top it all off, as long as you are on an RE or RB train and not during rush hour, the bike might travel for free. At least that's what we were told. So taking a loaded bike on these trains is almost as easy as rolling on and off a ferry.
In the morning we rolled onto a train headed for Perl and by 3 PM we were off the train and riding once again. The town of Perl is located at the juncture of 3 countries, France, Luxembourg, and Germany. For kicks we poked our front wheels into France Then we crossed the bridge and spent the next 36 km riding in Luxembourg. We can add one more country to our "have ridden in" list. After that we headed straight for the town or Trier.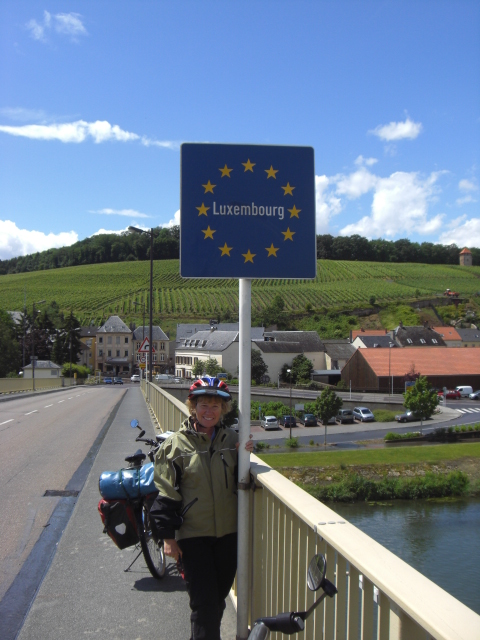 Trier is an ancient town. It was actually a small settlement around 300 years BC. Although a famous house in town known as the Red House has a slogan written on front that claims Trier was settled 1300 years before Rome, a bit of a boast.
The town was actually founded as a Roman settlement in 16 BC. It soon became a major Roman city, their main presence in Gaul. As a result there are quite a few good Roman ruins around town and like so many cities every construction project seems to uncover more.
We started our tour of town with a visit to the two old cranes. Even though these cranes are much newer than Roman times, they're still quite old nonetheless. One was built in the 1500s and the second in the 1300s. The exterior of both cranes have been lovingly restored or perhaps just continually kept in shape. A peak inside reveals the original gears still in place.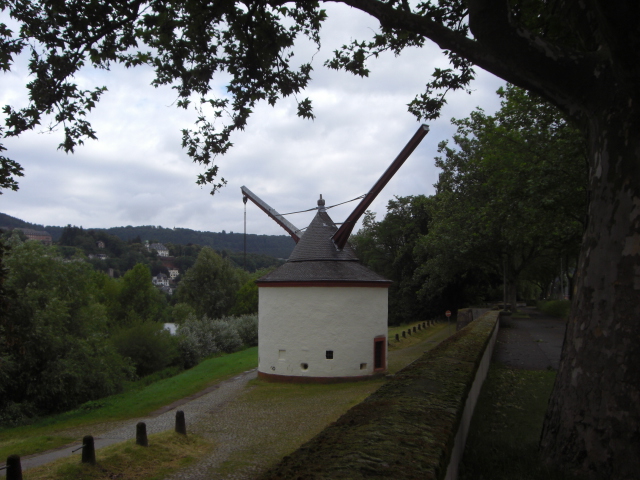 These old cranes are quite different from our current metal contraptions. The crane tower was supported by two huge wooden wheels that were used to turn it. Because of the wood, the wheels had to be contained within a house.
The top cone of the house is what pivots. Attached to the cone are long wooden arms. Attached to the end of each arm would have been a block and tackle with chain. Since the wooden arms were at 180 degrees one arm was used to lift cargo from the boat while the other was being unloaded. Too bad none of the old cranes we've seen still operate.
We then wandered off to visit the old Roman amphitheater. Originally this amphitheater was at the edge of town, integrated into the wall. Unlike the one in Rome, this one was built into a hill thus not requiring quite so much stone or brick. This particular amphitheater held up to 20,000 people. Much of the brick and stonework has been removed. The seats, for instance, are completely gone. But, the main stage has been rebuilt and you can go underneath. This gives you a little feel for what the original basement would have been like.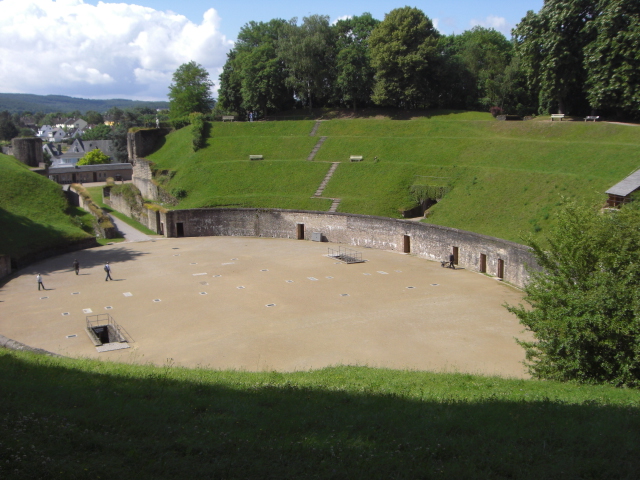 This was followed by a quick visit to the Porto Negro, black gate. This was the eastern gate to the city and even today is one of the largest remaining Roman gates in existence.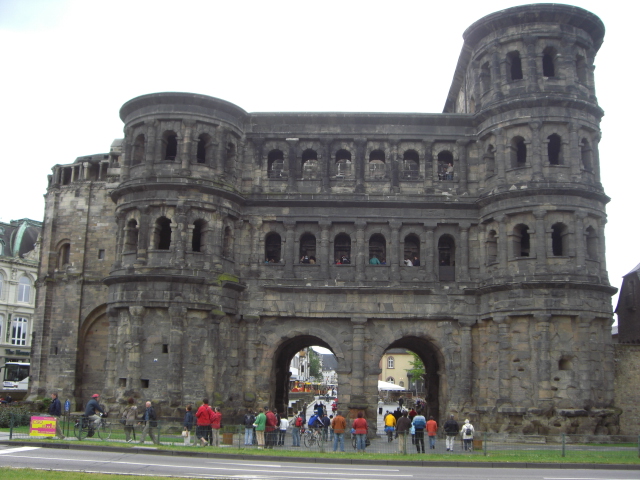 And finally there was the museum to see. Unfortunately it was undergoing a complete renovation and only about 1/2 was open. Still there were an impressive number of Roman artifacts to see.
Once finished with Trier we headed back down the Mosel bike route toward Koblenz. We found the Mosel to be an even prettier ride than even the Rhine and Main. The river winds its way through a steep sided canyon, turning back on itself again and again.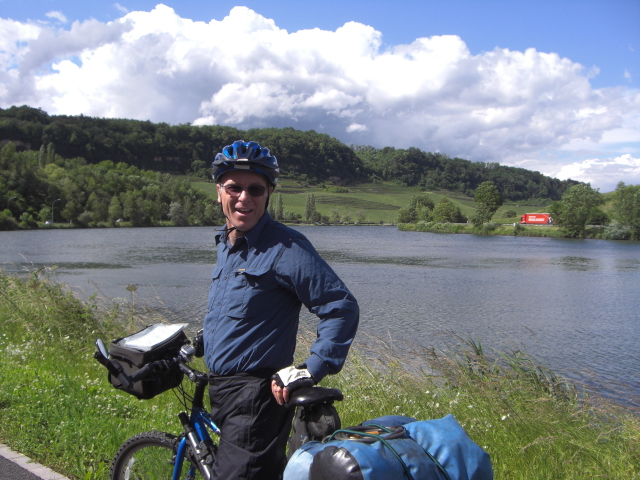 Virtually every south facing slope is covered with vineyards. The vineyards are so steep they even had to devise an unusual cog contraption just to get workers up to the vines and grapes down to the trucks. These contraptions had a seat up front where a driver would sit. Probably a better ride than a roller coaster.
Where they found places to put vines was amazing. They'd find the smallest somewhat level spot high up on the edge of a cliff and somehow manage to plant and maintain a dozen or so plants. Grape picking looked like it could be a downright dangerous job.
Naturally the Mosel valley is chock full of vintners with wine tasting aplenty. Although wine tasting in Germany isn't exactly free. Usual rate is about 6€ on up depending upon how many and what kind of wine you try.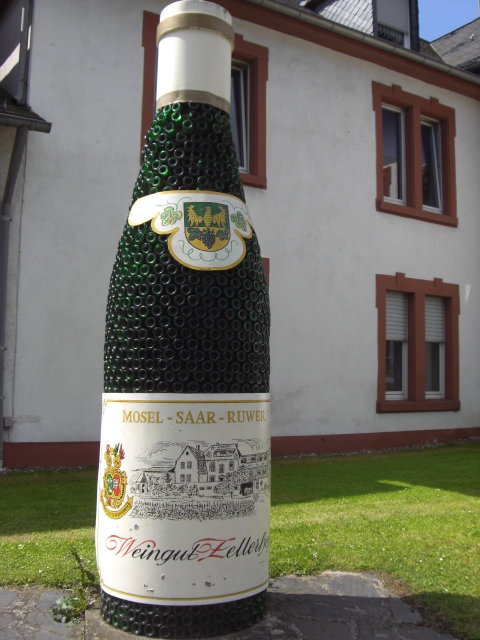 While the river traffic up the Mosel isn't near as interesting as the Rhine, the towns more than make up for it. Each one is filled with charming half timbered houses all looking slightly askew from centuries of settling. We heard one English tour guide explain that the exterior of any house over 150 years old cannot be altered. You can do anything you please to the interior.
Bernkastel had perhaps the prettiest central square and the most unusual house we saw along the entire river. This particular house was build between two streets on a sliver piece of land that wasn't exactly flat. The first floor is probably at most 10 feet wide. The second floor juts out over the streets making it perhaps twice the width of the lower. The English tour guides all point it out and remark that it is the most photographed house as well.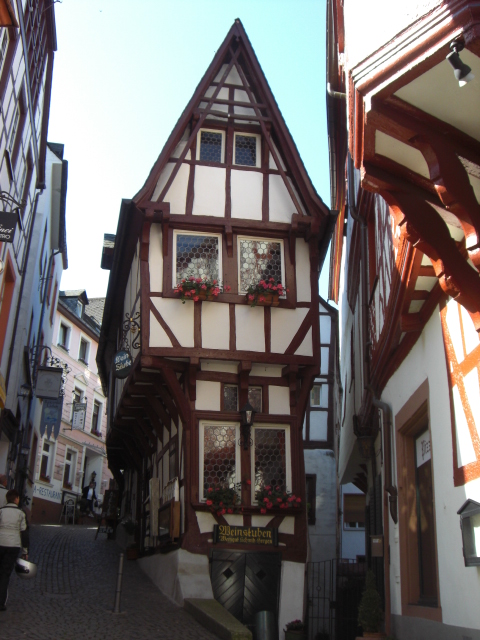 The most touristy of all these cute towns in Cochem. This is primarily due to its remarkable castle. Reichsburg castle is a montage of turrets and towers that would be the envy of any fairytale story book. Sitting on top of a hill overlooking the busy town, it simply cannot be missed. If it weren't for this castle, the town of Cochem would probably be just another small, cute town along the Mosel.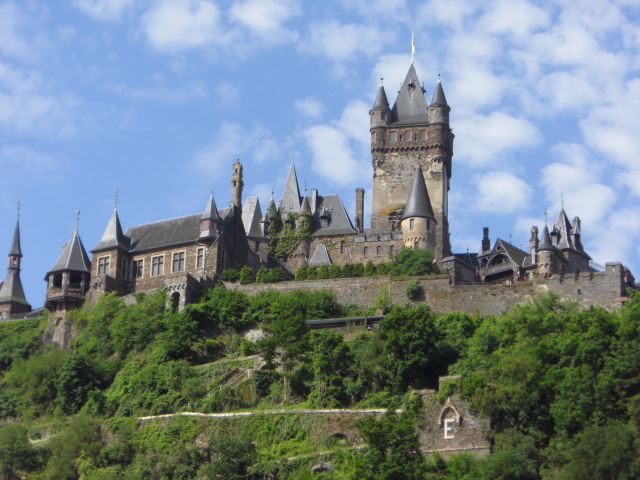 Even more remarkable is the Berg Eltz. This castle can be accessed either by car from a direction opposite the river or by foot up a forested hiking trail from the town of Moselkern. It is located well back from the river which begs the question, "Why place a castle there?"
The first tower was placed on this narrow ridge back in the 1100s. It was a guard tower protecting the road leading from the river over the hill to the interior lands.
Three brothers formed 3 different Eltz families and, over time, built 3 houses on this rocky outcrop. Even though from our viewpoint the castle looks like a single entity, in reality it was originally 3 separate houses. One of the oldest houses was built in the 1300s and the newest in the 1500s. Eventually 2 of the Eltz family lines died out leaving just the one still in existence today.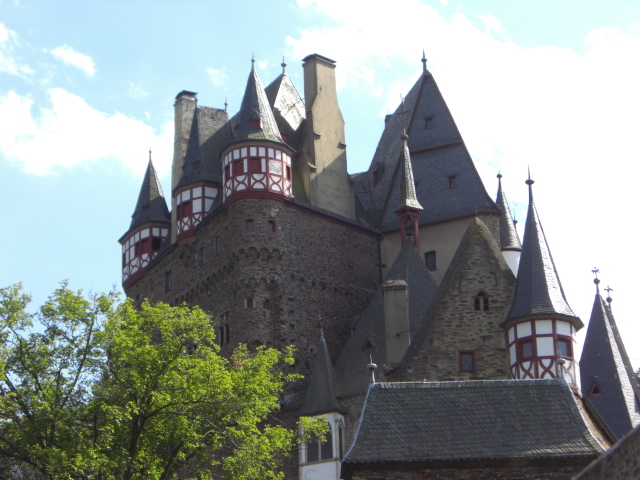 One of the main distinctions of Berg Eltz, apart from its remarkable location, is the fact that it was never destroyed. So everything, even the furnishing, is still original. The Eltz family still owns the house and even use it on occasion, probably during off season when it's not full of tourists. Unlike Ludwig's fanciful castle, this is the real thing.
Tours of the interior take you through about 6 or 7 rooms. It is most interesting to compare the size and nature of medieval castles. They really were quite small and not particularly ornate. Rater than gold gilding as found in late years, this one has painted walls. There are nice tapestries, of course, but these were always used to help maintain warmth. Rooms were quite small. Even the largest dining room used by all three families isn't huge.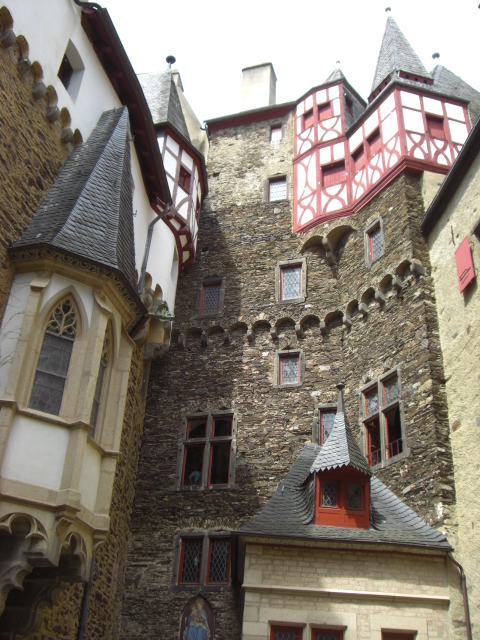 Everything in the castle is practical and done for a reason. There were a total of 80 rooms of which 40 had fireplaces. Twenty of the rooms had small adjoining toilets. A pipe attached to the roof would collect rain water and automatically flush out the toilet at least when it was raining.
Staircases were spiral which saved space. They started on the left at the lower floor and rotated clockwise as they went up. This was so that a right handed defender of the castle on the upper level would have the advantage in swinging his sword as he swooped down on the attacker below. Just imagine having to negotiate these narrow curving staircases in a big skirt.
Berg Eltz was a great stop along the Mosel bike route.
The Mosel route is a particularly busy bike path during weekends and summer months when the weather is good. We had to have seen thousands of bikers going up and down river on both sides on 3 or the 4 days we rode. The 4th day was a very rainy Monday so not nearly so many were out.
It's so easy to ride part of the trail in a day and not even have to repeat a section, Multiple bridges or ferries can get you from one side to the other. There are ferry boats that can pick you up at one location on the river and deliver you to another. Busses are all geared toward carrying bikes. In fact, we even saw one with a bike trailer. And there's the train which can access many of the towns as well. You can make just about any kind of Mosel river ride you want.
We finally finished our Mosel detour with one very wet ride back into Koblenz. Now it was time to get back on plan and head northward along the Rhine.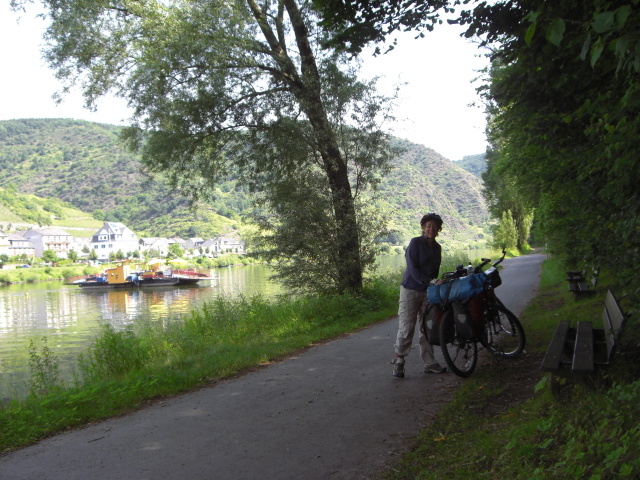 APPENDIX A – ROUTE
Germany
May 29 Romantische Strasse thru Creglingen, Röttingen, Weikersheim to Bad Mergentheim; 50.19 km
May 30 Romantische Strasse thru Lauda Königshofen, Tauberbischofsheim, Werbach, Werbachhausen, Wenkheim, Unteraltertheim, to Würzburg, 69.93 km
June 1 Maintal Radweg thru Zellingen, Himmelstadt, Laudenbach, Karlstadt, Wernfeld, Gemunden, to Lohr am Main, 62.66 km
June 2 Maintal Radweg thru Pflochsbach, Erlach, Rothenfels, Marktheidenfeld, Homburg, Wertheim, Hasloch, Faulbach, Collenberg, Freudenberf to Miltenberg, 83.14 km
June 3 Maintal Radweg thru Großheubach, Klingenberg, Wörth, Obernburg, Großwallstadt, Niedernberg, Aschaffenburg, to Mainschaff, 56.71 km
June 4 Mainradweg thru Kleinostheim, Dettingen, Seligenstdat, Hainburg, Hainstdat, Hanau, Mühlheim, to Bürgel, 46.32 km
June 5 Maintal Radweg thru Frankfurt, Griesheim, Okriftel, Flörsheim, Hocheim, to Kastel, 48.91 km
June 7 Rhein Radweg thru Budenheim, Bingem, Tredhtings, Niederheimbach, to Bacharach, 53.00 km
June 8 Rhein Radweg thru Oberwesel, St. Goar, Hirzenach, Bad Salzig, Spay, Brey, Rhens, to Koblenz 51.14 km
June 10 Mosel radweg from Perl DE, thru Luxemburg to Trier DE, 55.23 km
June 12 Mosel radweg thru Pfalzel, Quint, Schweich, Mehring, Ensch, Trittenheim, Neumagen, Piesport, Wintrich, Brauneberg, Mülheim Lieser, to Kues, 65.62 km
June 13 Mosel radweg thru Zeltingen, Tratbach, Traben, Enkirch, Burg, Briedel, Zell, Bullay, Neef, Bremm, Eler, Ediger, Poltersdorf, to Cochem, 85.79 km
June 14 Mosel radweg thru Treis, Karden, Müden, Moselkern, to Hatzenport, 28.98 km
June 15 Mosel radweg thru Kattenes, Lehmen, Gondorf, Kobern, Winningen, to Koblenz, 23.87 km
APPENDIX B – CAMPSITES
Germany
May 29: Campingplatz Wilinge Tal in Bad Mergentheim, (14 €/night)
May 30: Camping Kalt Quelle near Würzburg, (17.50 €/night)
May 31: Wurzburg Kanu Clun, (8.50 €/night)
June 1: Campingplatz Mainfor in Lohr am Main, (15 €/night)
June 2: Campingplatz Mainwiese in Miltenberg, (13.50 €/night)
June 3: Campingpark Mainparksee in Mainschaff, (15.00 €/night)
June 4: Campingplatz Bürgel near Frankfurt, (13.00 €/night)
June 5, 6: Camping Maaraue in Mainz, (13.00 €/night)
June 7: Camping Sonnestrand at Bacharach, (16.00 €/night)
June 8: Camping Rhein-Mosel in Koblenz, (14.50 €/night)
June 9, 10, 11: Camping und Reisemobilpark Trevir in Trier, (16.80 €/night)
June 12: Camping Gebühren-Abrechnung in Kues, (14.50 €/night)
June 13: Camping Freizeitzentrum 9n Cochem, (18.80 €/night)
June 14: Camping in Hatzenport, (11 €/night)
June 15: Hotel Continental in Koblenz, (50 €/night)
REFERENCES
Lonely Planet Central Europe Guide