EUROPEAN TOUR 2009 PART IV - ENGLAND
Harwich to Newcastle-upon-Tyne
June 25 to July 11, 2009
Start 54,467 miles (87,147 km) cumulative:
End 55,099 miles (88,158 km) cumulative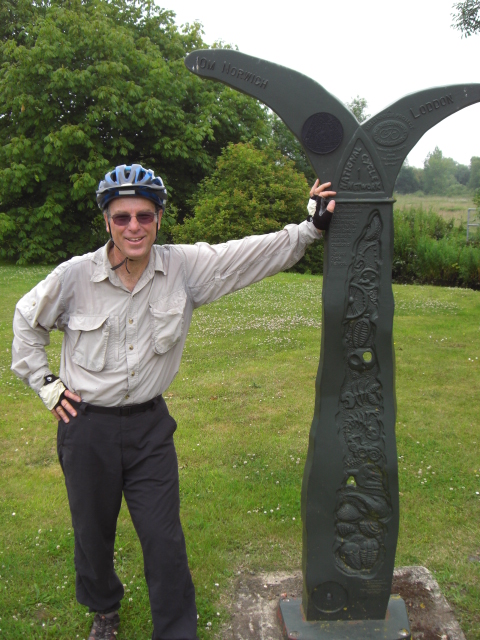 TEASERS
| | |
| --- | --- |
| | Look out! We're riding on the left now. |
| | Ride along England's Extremely skinny roads. |
| | Meet and interview with the BBC. |
| | Tea in Boston anyone? |
| | Stop by Lincoln's grand gothic cathedral. |
| | Learn about England's network of foot paths. |
| | Visit a free transportation museum in hull. v Stop by the old fishing towns of Robin Hood's Bay and Whitby |
| | Finish the England ride at the old Roman fort in South Shields. |
Section 1
Harwich to Norwich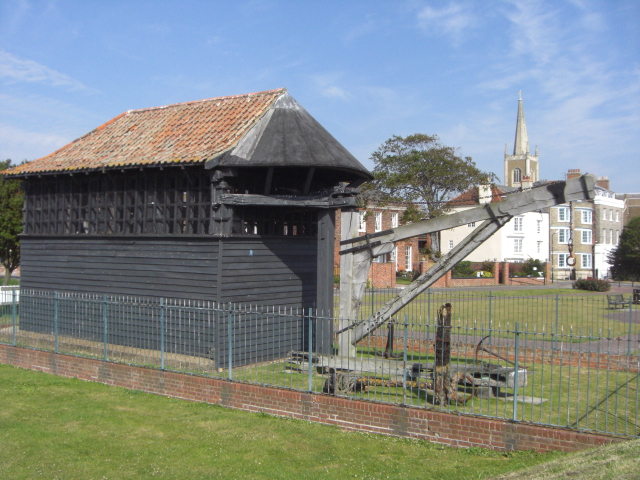 June 25 - 27
At 5:30 AM sharp the ferry loudspeaker came on loud and clear. Time to get up and get going.
A quick stop at immigration and we were now back in an English speaking country, at least a different sort of English than we're used to.
Even though England is part of the EU it still uses the pound currency, has immigration and passport controls with other EU countries, and still drives on the left side of the road. It's almost as though they really don't want to acknowledge they are part of the EU
Riding on the left sure takes some getting used to. We can't begin to count the number of times we came rolling around a corner to wind up on the right side or forgot to look left when crossing the street. In fact, our very first few minutes started with a run-in with a motorist due to just this. We never did quite get over the tendency to swerve to the right lane.
The other oddity about England is the manner in which they've half taken on the metric system. Unlike the US which rejects it almost out of hand or Canada which essentially adopted it overnight, England uses metric for some measurements and the English system for others. Road distances are in miles. Prices in the grocery store are in kilograms. One fellow who used to work in the electronics industry described a cabinet he once worked with that had height, width, and shelf spacing measured in inches while depth was in millimeters. It's no wonder engineering mistakes involving units conversions can happen regularly.
Pushing off on the bikes on English roads made us realize quite suddenly that we were once again back to the reality of biking in the rest of the world. The Netherlands and Germany are biking paradise. England is very much a car society. So much so that many drivers seem to feel that bikes are nonexistent. Bike paths are far and few between. So we really learned to relish those few miles along those we did encounter.
Also, after the flat riding along Germany's rivers and Holland's canals, our legs were not in the best condition for England's rolling terrain. England's old roads date back to the days when everyone traveled around on foot or horse which did not require 6% grades. The oldest Roman roads literally go straight up and over every hill along the way. As one chap told us, "When those Romans wanted to go from point A to point B they went straight over everything in the way" The Medieval roads went around all the farm fields. The English even have an old saying that goes something like, "England's rolling roads were built by rolling, English drunk." For bikers it means some pretty tough riding.
Leaving the ferry port of Harwich, pronounced Harwich by some and Haridge by others, we decided to make our way through Ipswich rather than take the ferry across the bay. We were rather shocked to find that the ferry would cost us around US $20 for a ride of less than 1/4 mile. Clearly unlike Netherlands, this passenger ferry is not government subsidized.
We worked our way around the Harwich bay stopping in Ipswich just to eat lunch. We weren't on the signed bike routes yet and wound up dealing with high traffic roads. It wasn't a pleasant ride. The only campground we knew of that was near the route was quite a distance beyond Ipswich in a small patch of National Forest land. Interestingly this proved to be the only campground during our entire stay in England where they needed coins for the shower.
The next day we got serious about heading north on the North Sea Route. Almost immediately we picked up the route signs. We were attempting to follow one of Sustrans (sustainable transportation) National Cycle Routes. These routes are a very recent creation put together in an attempt to get more people on bikes. Mostly they travel along tiny back country lanes through farm fields. When they go through cities you are usually relegated to roads right along with England's often very aggressive drivers. This wasn't the carefree biking we'd come to enjoy in Holland and Germany.
Unfortunately we did not have the best maps which made things even more difficult. The Sustrans bike maps are not nearly as easy to come by as Germany's Bike Line maps. So we'd just printed them on our computer before leaving the states. The print outs weren't nearly detailed enough and often we had a heck of a time keeping on route. Sustrans has placed signs along the way. But, all too often they miss an important turn, someone removes or tampers with the sign, or even the road department puts their own signs over the top. The city riding just wasn't nearly as easy as we would have liked.
After following along on these skinny roads we stopped in the town of Framlingham for lunch. Framlingham has a very nice castle that you can visit. The price to enter is £5.75 per adult which seemed rather steep. However, we noted that this castle is part of the English Heritage trust. This trust includes some 400 different sites throughout England. An annual membership costs around £75 for 2 adults. It gets cheaper if one or both of you are over 60. This gets you free admission to every site for the year. We're still thinking that coming over to Europe with a camper of some sort for multiple months would be a great idea and that membership would be ideal to buy then.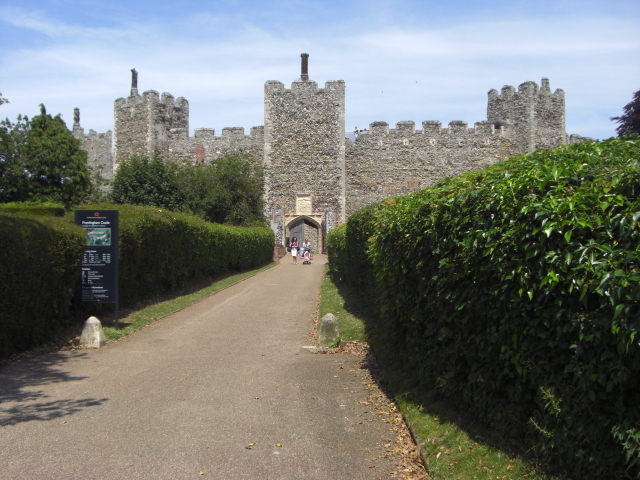 From Framlingham we wound our way through along those super skinny farm roads, avoiding all but the smallest towns, to the large city of Norwich. It would have been nice to stop for a day off in Norwich, but as far as we could tell there were no campgrounds. At least none appeared on our maps nor on our GPS. So after a quick ride through we continued on to the town of Fakenham.
England has quite a few horse race courses. These race courses often have camping facilities that are available for use even when there are no races. Perhaps they see it as a way to earn extra cash to help support the racing facilities. In any event Fakenham had one of these race course campgrounds we were headed for.
We arrived late. One thing we discovered about England is that apart from the new supercenter stores, nearly everything shuts down at around 5 PM. Also, many of the campgrounds require that you have a key to use the toilet and shower facilities. So if you arrive late and the office is closed you can just set up and pay in the morning but you won't get to use the toilet.
Fortunately despite the office being closed we were able to contact the manager and get a key for the night. But this would not be the last time we'd have to scramble to get properly checked in after hours.
Section 2
Fakenham to Lincoln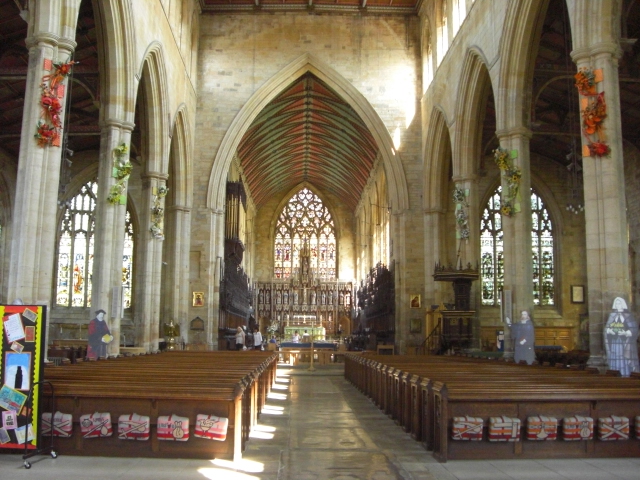 June 28 - July 1
These have to be the skinniest roads we've ever seen. They are so narrow that cars can't even pass us much less another car. So many times we watched as one car had to literally drive off the road in order to let another pass. Some were so skinny the cars could barely pass us. These were old wagon tracks that they just threw asphalt over and renamed roads.
Yet no matter how remote the road, it seemed there were always at least a few cars passing. In one case we were traveling along a road in which only the two tread for the tires were paved. Yet we were still passed by no less that 2 cars in the mile or so we were on this road. It is very rare for you to be anyplace in Europe without seeing another person for very long.
England is also famous for its public footpath system. We chatted with an old farmer and found out a little about how this system of paths came into being. Back in the old days farmers would take off cross country using the shortest distance to go visit a neighbor or to go to town. The shortest distance often meant going out your front door, across your garden, through your garden gate, across our field, and then through your neighbor's garden and gate to their front door. It was easy and efficient.
Over time you would wear a series of paths going from your front door directly to a bunch of different places. Your neighbor would have his own set of paths, and his neighbor his paths and so on. It was like a huge spider web of foot paths connecting farm house to farm house, town to town, city to city.
With the creation of the car and the building of the road network the farmers no longer had a use for these old foot paths.
Now comes along the recreational walkers. Somehow they convinced the government that these old footpaths created by the farmer across his own land is actually now a public right-of-way. The farmer or land owner by law may not obstruct the path and must keep it clear and maintained. And if it happens that the footpath goes right by your bedroom window, you have to apply for a permit to relocate the path plus pay a fee to have it rebuilt somewhere else. Wow, talk about a huge government land grab.
Leaving Fakenham we headed toward the beach resort town of Hunstanton. Despite being called the North Sea Route we were beginning to realize that this particular route very rarely actually borders on the ocean. In fact, even Hunstanton which is on the ocean actually is not officially on the route.
Hunstanton is your typical beach resort town that comes complete with cheesy attractions. There are carni rides, stalls with games of skill for winning stuffed animals, food carts, all the stuff you'd expect. The beach is the towns main attraction, being wide and sandy. Otherwise there wouldn't be much reason for going there. The campground here was a huge 4 star affair complete with indoor/outdoor pool, fancy restaurants, grocery store, games room, etc. It was also the most expensive campground we'd been in to date, a whopping £23. The facilities were nice and the campsite was nice. But it just didn't seem worth it for just our little tent. We were beginning to think that the approach taken by the Europeans of just a tenting area and paying piecemeal for everything may be a cheaper way to go.
After one short day, we once again had to ride hard and long in order to get to the next campground. One thing we found with England is a distinct lack of camping. The coastlines have a fair number of campgrounds especially at the beach resorts. But inland, camp sites are few and far between. At least along our bike route that is.
We had not purchased a camping guidebook since we'd be in England only a couple of weeks. Also, the European campsite data we'd downloaded to our GPS didn't cover nearly enough sites in England. As a result we found we had to cover much greater distances each day than we like simply simply to get to the next campground.
Eventually we did get a very old guidebook from one campground hostess which helped a bit. Although it did let us down a couple of times when the campgrounds listed either no longer existed or did not accept tents. In any event, we wound up roaring through England at a much faster rate than we'd originally expected.
From Hunstanton we wound our way past a place called Sandringham House. This is one of the many palaces the queen stays in from time to time. You can visit when they're not in residence. We had to push on because of the distance to the next campground. We also pushed through King's Lynn and Wisbech with only a quick stop for lunch. These towns would probably yield some interesting laces to see, but we just weren't all that excited with them. After another longer day than we wanted we made our way to the campground in Fleet Hargate.
Fleet Hargate is a residential town near the slightly larger town of Holbeach. Holbeach seemed to be a rather cute town. But you can learn most of its history from a single mosaic in town. It had Roman beginnings, a few notable events, and notable figures. In other words, a very sleepy little town.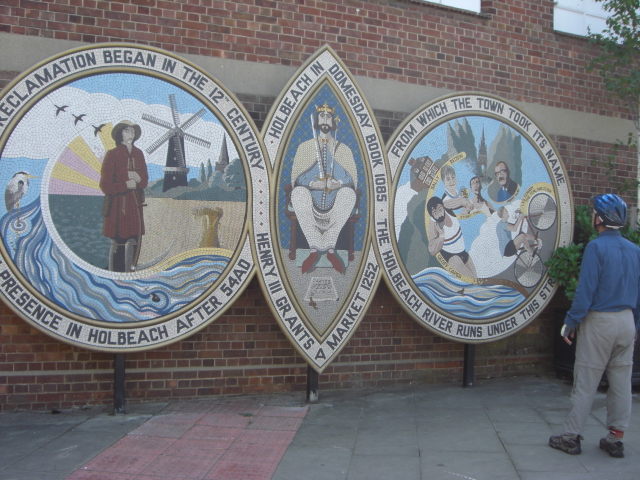 Upon preparing to leave the campground we were approached by a couple of ladies from the BBC. They wanted an interview. They were doing a piece on why people come to visit this region of England. We did the interview, but it's a little difficult to tell them that the main reason we were there is because it's on the route. We don't know how much they used of the interview in the end. Probably just the part showing us riding off down the road. Later I was thinking that when they asked where we were off to next, I should have said, "Boston, to see if we can find a little tea." Wonder if they would have gotten the joke?
We, in fact, did go through Boston in just a few more hours. From there we picked up our first rail bed turned bike trail. Now this was a pleasant section of riding.
We were riding through the southern Lincolnshire region. This region from around King's Lynn to the city of Lincoln is known as South Holland. The reason being, it looks a lot like Holland. It's flat, very nearly at sea level, and crisscrossed with old canals. There are supposed to be some 90 miles or more of canals in this area alone.
As in Holland people have taken the old cargo barges and converted them into live aboard boats. These boats are quite unusual. Some are real narrow, at least compared to the normal barges. In fact, we learned they are actually called "narrow boats". We likened them to the shot gun style houses of the Midwest. They are narrow because some of the canals, locks, and even aqueducts are very narrow.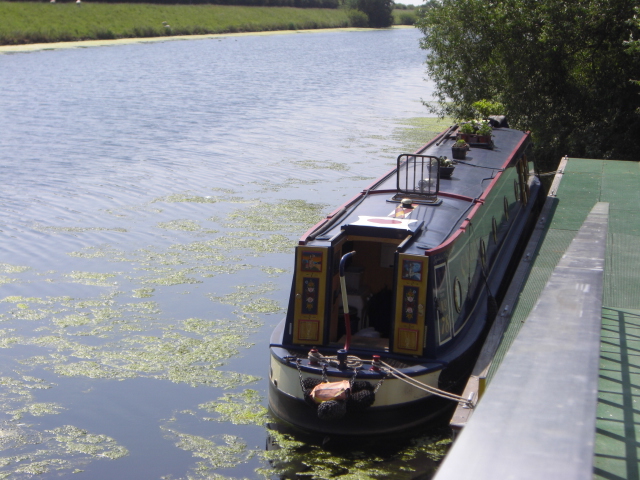 We also heard that when these barges were horse driven, the boat crew would have to lie on their backs on the roof and walk along the the tunnels to propel the boat forward. The horses went on the outside of the tunnel and met the boat at the other end. The old barge crews must have been thrilled to get steam engines. Of course, they're all diesel engine driven today.
The town of Lincoln was once the seat of government under William the Conqueror. He conquered, moved in, and built himself a rather nice palace up on the hill. Opposite the palace is the Lincoln cathedral both of which sit on a high hill overlooking the surrounding flatlands of the South Holland region. The approach to this high point is up a steep hill known locally as the "steep hill."
Buildings surrounding the cathedral are some of the most charming we've seen in England so far. There's a small precinct of narrow streets lined with half timbered old homes. They're stuffed into a small corridor between William's palace gates and the gates to the cathedral grounds.
The real pride of Lincoln is its cathedral. This is reputed to be one of Europe's finest examples of Gothic cathedral construction. This form of Gothic is most certainly different from the French Gothic we'd seen earlier at Köln.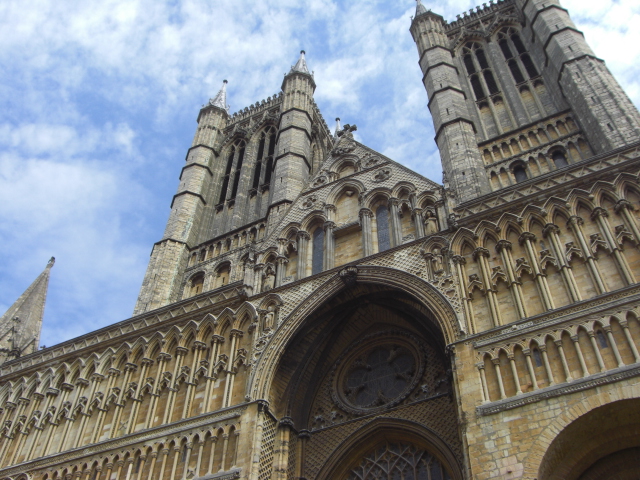 The building is massive. Rather than an impression of a rocket getting ready to lift off, the Lincoln cathedral seems to be a series of stacked arches. Rows upon rows of arched colonnades seem to climb up the walls giving the entire structure a more heavy appearance than the French style. This is all accentuated by the fact that the twin towers up front are flat topped rather than capped by those spindly spikes of the French style.
We'd noticed that most of England's Gothic style churches have absolutely huge windows. In some instances these windows are clear rather than filled with colored glass. If you look at one of these churches on a sunny day you can usually see in one window right out the other side to see the sky. Even from the outside this gives the appearance of almost a gazebo rather than enclosed building. They really wanted to bring the outside to the inside on these. Lincoln's cathedral is no exception to this trend.
You can visit part of the cathedral for free. But a trip behind the alter costs £5 which seems a bit pricey. Since we were once again trying to reach the next campground before the 5 PM office closing time, we decided to head on. Besides, this is another of those Heritage sites which we would hope to see as part of the membership program.
Section 3
Lincoln to Scarborough

July 2 - 6
Once again we wandered along tiny back country farm roads up and down those blasted English rolling hills. In fact, not too long after leaving Lincoln we found ourselves climbing the highest point in southeastern England.
In north Lincolnshire there is a long ridge running in a generally northwest to southeast direction. This ridge is composed entirely of chalk. Chalk is not an unusual substance for English hills. The White Cliffs of Dover are chalk. This ridge is known as the Lincolnshire Wolds.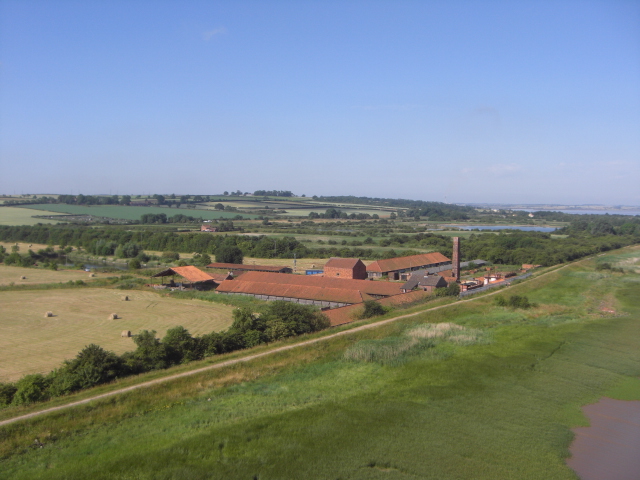 The road we were on was one of those old Roman roads. One of the ones that goes straight over absolutely anything in its way. So the road doesn't go diagonally up nor does is switchback. Nooooo. It goes straight up the ridge some 1000 ft and then straight back down. Once over this ridge it was a fairly easy ride into Kingston-upon-Hull.
We'd been riding long and hard ever since getting to England. Metric centuries seemed to be becoming the norm rather than the exception as we struggled to get between campgrounds each day. So finally we decided to take a day off. Besides, it turns out there are a few free museums in town. So why not take advantage of that.
Hull, as the city is more commonly known, is the largest city we'd come to so far. Most of it is a modern, busy town. But there is a very small old town area right down near the docks. Hull has always been a port city and the old dock area reflects this.
It's undergone a redevelopment effort in recent decades and much of the former seedy dockside has been refurbished. This is where you find the museum quarter which has several rather interesting sites.
The one item we would have liked to see is an old Arctic cod fishing boat that, unfortunately, wasn't open the day we stopped by. So we chose to visit the free Street Life and Transportation museum.
This is a well done museum. The main floor is built with the facades of old 1800s buildings making it look like you're standing in the middle of the street at that time. They have several old trolleys, the double-decker variety, some train displays, old cars, old carriages, and bunches of old bikes and bike parts including several old Brooks leather saddles.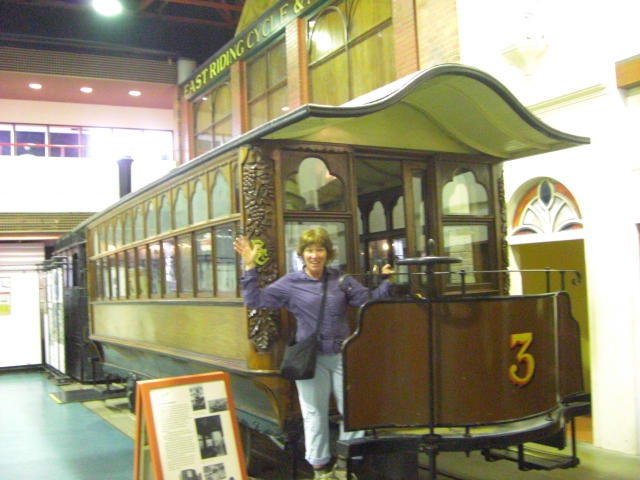 What we found absolutely amazing is that back in the 1800s the English used to be big bicyclists. One small town would have multiple of bicycle shops. Many of these shops would manufacture their own custom bikes. They all would even have meeting rooms for the local chapter of the Cycle Touring Club (CTC).
Bicycling was an easy, inexpensive form of entertainment. So folks would regularly go out on weekday evenings for a ride. People then worked 6 days a week and it was considered inappropriate to go bike riding on Sunday.
Unfortunately somewhere along the way this cycling culture has been entirely lost. CTC still exists, although probably nowhere near as strong as it was back then. When you see the English attitude to biking today it's so hard to believe it was so different back then.
Although Hull did seem to be one of the first towns we'd seen that was truly trying to bring back the biking culture. Upon leaving our campsite at Barton we found a very easy bike path that took us up and over the bridge over the river Hull. Until 1998 this was the largest single span suspension bridge in the world.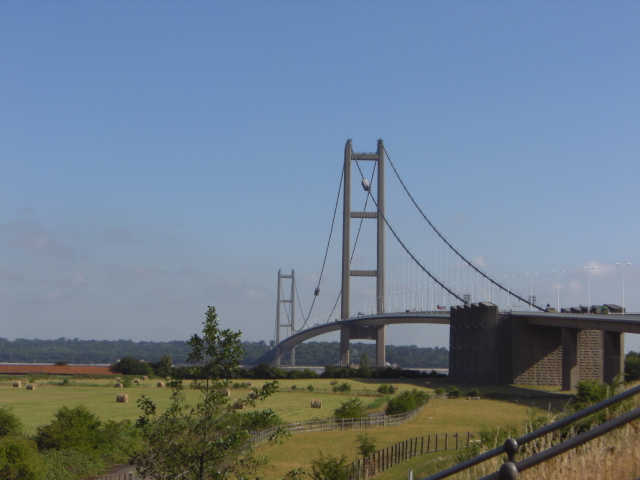 From there they have a reasonably well connected set of bike paths that lead you down to the old dockside and then back out of town. To take this route did add probably 10 miles on our day's ride going a fair distance east and then back west. But without a good map of all the bike routes or the city streets, we were rather stuck doing this extra mileage.
Once finally out of Hull we stopped at the very pleasant small town of Beverley to look at their cathedral and have lunch. The Beverley cathedral is another of the English Gothic style similar to that in Lincoln. It's particular claim to fame is that it has the most number of statues carved with musical instruments than any other church in England. Cherubs and angels adorn the false pillars with flutes, tambourines, guitars, horns, drums, and some contraptions we can only guess as to their function medieval musical instruments comes right from this church.
Leaving Beverley in the early afternoon, we pushed on for our third and longest metric century to arrive at the town of Bridlington, the next campsite location. It was Saturday evening. There was a volleyball tournament going on at the beach and the tent sites were full. But t the campground made an exception to her normal rules. She let us camp in her garden rather than in a campsite. We must say, the English may get somewhat aggressive when behind the wheel of a car, but when face-to-face they can be just as nice as can be.
Fortunately from here it was an easy day ride up to Scarborough where, for the first time since Hunstanton, we were actually on the coast for a while. We arrived with plenty of time to take a walk along the cliffs by the sea.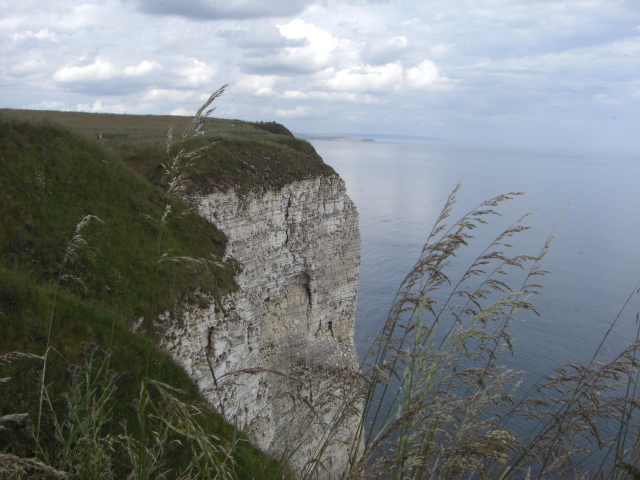 Section 4
Scarborough to South Shields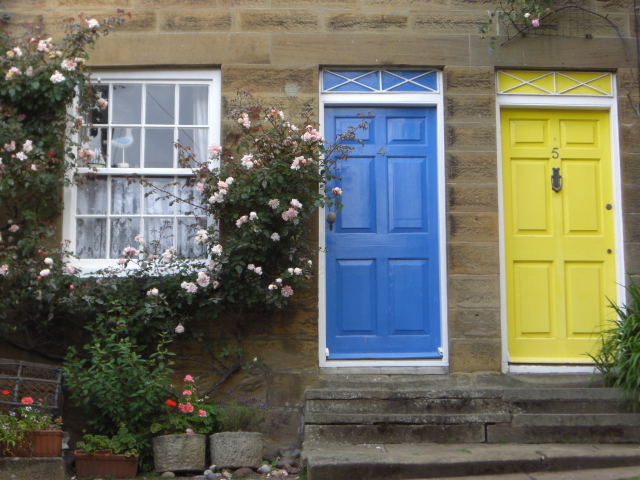 July 6 - 11
Headed north out of Scarborough is one of the very few longer bike trails we found in England. This is an old railroad track coming from Whitby that has now been converted into a somewhat primitive bike trail. The surface is unpaved and can be mucky and rough in spots. But it's level, easy to ride, and in relatively good condition, although one small mud slide has to be negotiated with care.
It is from this bike trail that we finally got some really good ocean views. It has amazed us along this North Sea Route in England just how little you actually get to see the North Sea. Most of our riding to date has been through rolling farm lands. We've seen fields filled with everything from potatoes to barely. Yet we just haven't seen much of beaches and blue water.
The rail path climbs at an easy steady rate until it reaches the high point at Ravenscar. This would be coastal resort was the brainchild of some entrepreneur. Thinking he could develop a resort similar in size to Scarborough, he bought up the land, platted and built the streets and lots, built a hotel, built a brick making factory, and even invested in the railway coming through town.
Alas the town never quite got off the ground. Today the hotel still exists and there are a few houses around which all have outstanding ocean views. That's it.
Heading downhill from Ravenscar you come around a bend in the trail to find yourself face to face with a fantastic view of Robin Hood's Bay, name for the bay and the town. It's a place to take a good long break on the convenient bench before continuing the decline into the town on the opposite side of the bay.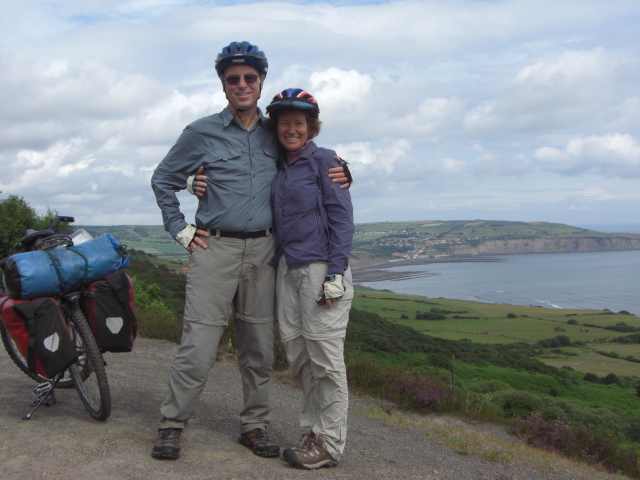 Robin Hood's Bay, the town, is probably the most charming English town we'd seen so far. This is an old fishing village perched on the steep cliffs overlooking the bay. In the upper town you find many stately, brick Victorian style houses in a neat line along the main road into town. These were the homes of the fishing boat owners.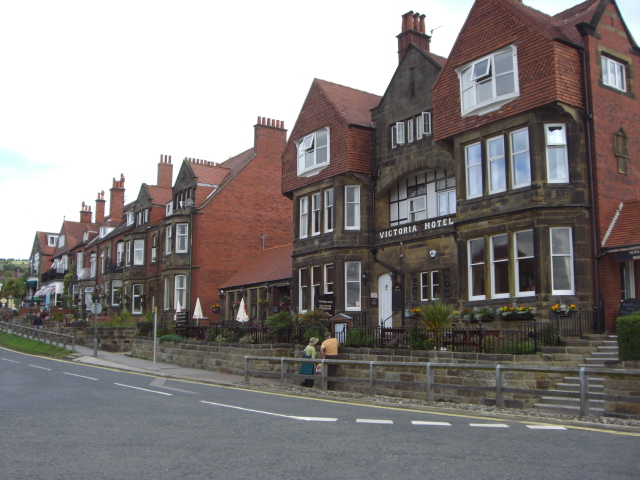 But the rambling town snaking its way down to the bay is much, much more interesting. It's got steep, narrow, winding streets bordering both sides of a small creek. You descend the steep road going past B&Bs, restaurants, and tourist shops until you find yourself at the small boat ramp at the bottom. Then there's the steep climb back up. Fortunately there was a parking lot at the top where we left the bikes so as not to have to push them back up.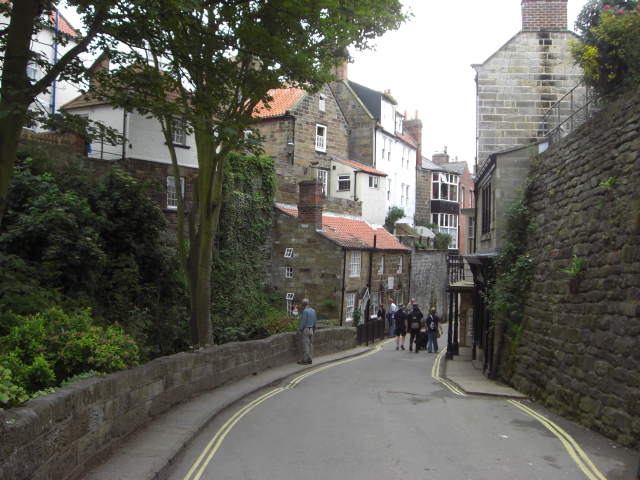 From here we continued on to the cute but extremely touristy town of Whitby. One fellow had recommended that we stop for a visit. Even the guidebooks say it's worth a look. They say it's a town with a dual personality tourist on one side and fishing on the other. In reality it's mostly touristy in summer at least.
We found the only campground really close to town. After some very nice campgrounds throughout England, this one was quite a let down. It was expensive and the bath facilities quite lacking in comfort. It's main redeeming feature was the view overlooking town and it's walking distance to everywhere.
From there we took a wander. First up to St. Hilda's abbey. St. Hilda was sent to England in 640 to start a church and abbey. First she was in Middlesborough. Then she founded a second in Whitby. Today the abbey is just a ghostly looking ruin set high on the hill overlooking the ocean. Interestingly, this abbey is the setting that inspired the Count Dracula thriller novel.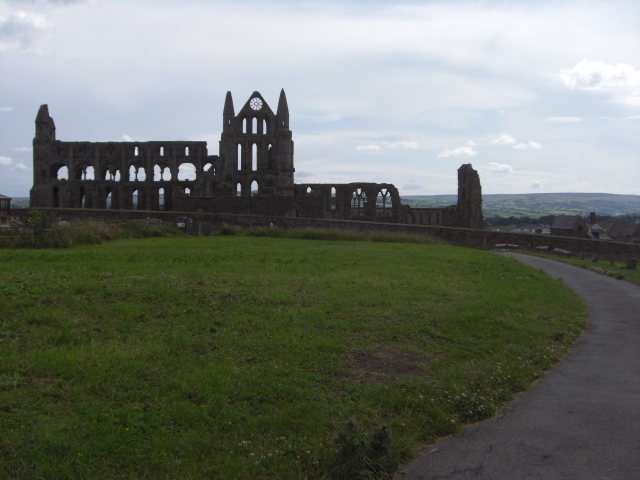 Back down in town we roamed up and down the picturesque harbor looking at the arcade attractions that seem so ubiquitous for beach communities. Finally, up the hill to see the old Victorian hotels overlooking the beach.
In the harbor they have a beautiful reconstructed tall masted ship called the Turk. This is a reminder that Whitby used to be a major ship building port. Its most famous son was a seaman and ship builder. Captain James Cook was born in the area, grew up in a nearby town called Great Ayton, did his seaman apprentice work in Whitby, built his boat Endeavor, and set sail.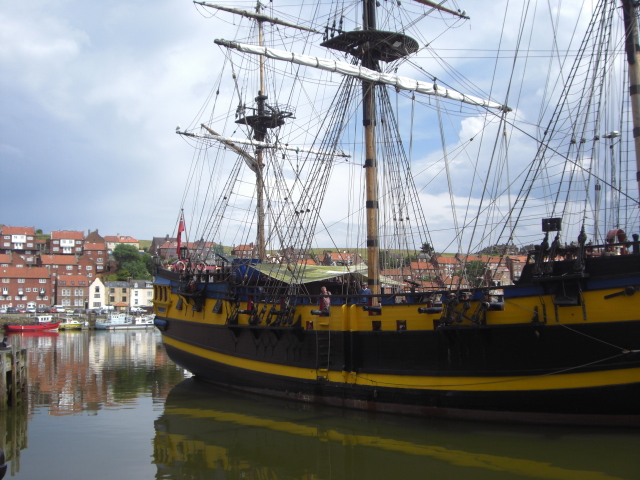 Leaving Whitby, we took a side road up to the main road and then swung down to the town of Ruswarp. Rather than being on National Cycle Route 1 at this point, we found ourselves following route 52. Even though our printed maps agreed with the route 52 directions we suspect that Route 1 likely stays along the much flatter coastal roads.
In any event, we were on a route that skirts along the most northern edge of the North York Moors National Park. Now this is one very, very hilly route. The road down to Ruswarp had a sign showing a 30% grade ahead. This was all right for us as we were going downhill. But, soon after leaving the town we found ourselves on a similarly steep uphill grade on a dirt track going up the other side. We met a local biker at the top who assured us that the rest of the route would be much flatter. Of course, he was on an unloaded bike.
Instead we wound up riding 25 miles of rolling hills with many short stretches of up and down hills having grades of 15, 20, and even 25%. This was the most thigh burning section of biking we've done all summer.
The route wasn't without interesting scenery. Being at around 55 degrees north latitude, the tree line is very, very low. In the Moors it almost seems to be at around 1500 ft elevation. At least the road we were following certainly looked like it crossed an alpine landscape. Trees and large bushes were relegated to the lower valleys. The upper slopes of the hills were covered with just a yellowish/brownish low shrubbery. In most other places it would appear almost like being at 10,000 ft elevation. Winters must be long here.
We stopped at a town called Great Ayton which, according to our very old campground guidebook page, was supposed to have a site that accepted tents. Well we soon found out at the tourist information center that they'd gone upscale and tents were now out of the question. The only site within a reasonable distance was in the town of Stockton, across the Tees river from Middlesborough, a distance of around 8 to 9 miles.
It was still early, around 2:30 PM. So we figured we'd have plenty of time to get to the campground before 5 PM when we figured the office would close.
All went well for a while. We even managed to take a short cut and still find the cycle route just at the edge of the city of Middlesborough. We got all the way to the Tees river at the point where the unusual transporter bridge was located.
The transporter bridge is unusual in that the bridge platform is held by cables beneath a truss structure. The entire platform moves back and forth across the river taking passengers and cars with it. The only other example of such a bridge we know of is in Bilbao, Spain.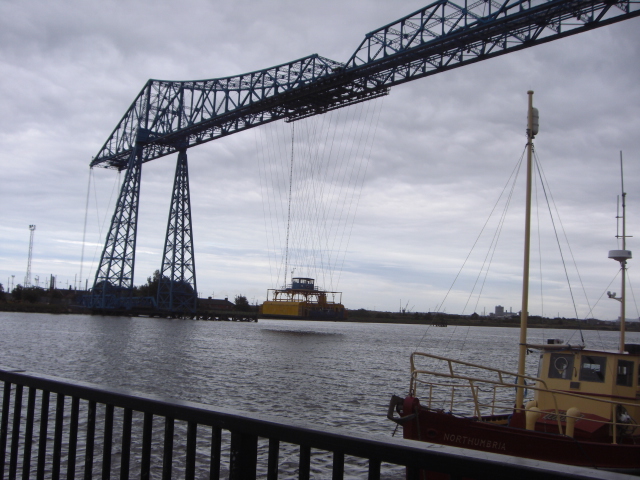 From this point things went quite wrong. The campground was located on the opposite side of the river just 4 km away. Our maps showed the cycle route headed upstream to some point beyond the major highway where a much smaller bridge crosses the river. Unfortunately as we headed up river we just could not find a way to follow the right cycle route. There was construction in the way and the more we detoured the more off course we got. Going back and forth, around in circles, and far out of our way it wound up taking us over 1 1/2 hours to finally find a route through the construction to the campground. It is just so blasted frustrating to be sitting at a point so close to where we want to be and simply not being able to find a way to get there.
We pulled into camp tired and testy. It's very clear that England has a long way to go to achieve the type of cycle culture and infrastructure that Germany and the Netherlands have. You might say that England is at about the same stage as the U.S.
We made the next day a very short day. Our legs were sore from the tough hill climbing of the day before and we were not in the mood for a long, late ride after the previous day's mess.
We went only as far as the town of Hartlepool (pronounced hart-lee-pool). Down at the historic quay there is a very interesting and free museum that covers the history of the town going back some 10,000 years.
Back during the last ice age, England was connected to the rest of Europe by a land bridge coming in at this point. There was a forest of trees on this land bridge and humans even lived out there. Evidently at low tide you can walk out a ways and find old peat bogs and the remains of these old trees. Archeologists have been exploring these shallow seas looking for signs of humans and have actually uncovered signs of houses as well as stone implements. This area has been settled for a long time.
Hartlepool itself is a post medieval settlement. It's seen a lot of boom and bust periods. It prospered when it had trading rights granted by the king. It faltered when these trading rights were taken away. It boomed when ship building was an important part of its economy. It failed when that shipbuilding business went elsewhere. Now it's trying to reinvent itself as a tourist destination. They've taken the old quay, renovated the buildings, restored an important old navy tall sailing ship, and created a living history museum. Boom and bust cycles have clearly defined this blue collar working class town.
From Hartlepool we had one last fairly easy ride up to South Shields. Out of Hartlepool there is another of those rail beds turned unpaved bike paths to follow. This took us into the large city of Sunderland. Once across its river we finally got onto the coast for a fantastic last ride along the coast up to South Shields, our most northern point for 2009.
South Shields is also just about the most northern point that the Romans achieved back in year 400. To protect their claims from the marauding northern tribes the Romans built a wall extending from just west of South Shields to the west coast of England. Remains of this wall still exist and it is now known as Hadrian's Wall.
On the hill over South Shields the Romans built a fort. Originally intended as a defensive fort for the mouth of the river Tyne, they later expanded it by adding a bunch of granaries. It became the main supply fort for the rest of the forts along the wall. After the Roman's left the fort was robbed for its stones and farm fields were planted over it.
Today archeologists have uncovered large parts of the foundations. They were even working on it when we visited. To give a good sense of what the fort looked like they've rebuilt one of the gates, one set of barracks, and the commanding officer's house right on top of the old foundations. It's an interesting site to visit and is free as well.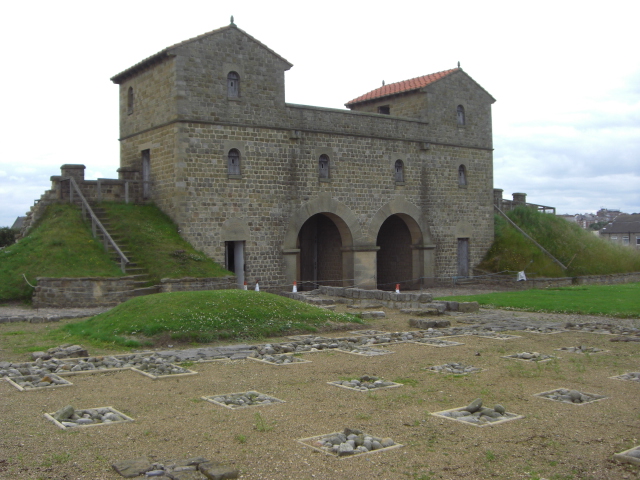 It was now time to return to the continent. We'd achieved our objective of riding from Harwich to the Tyne along the North Sea Route. We booked the overnight ferry to Ijmuiden in the Netherlands and said our farewells to England.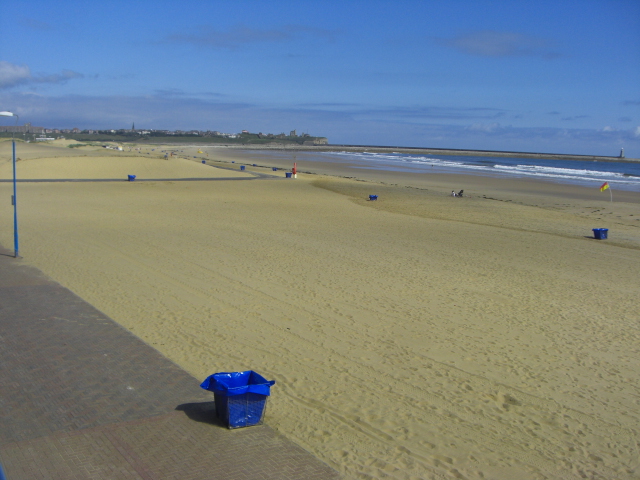 APPENDIX A – ROUTE
England
June 25 Side road Harwich to Ramsey. B1352 to Mistley. A137 to Ipswich. Back road to Tuddenham and Woodbridge. Back road to Melton, A1152 to B1084 to Butley, 71.2 km
June 26 Back roads thru Ikes, Blanhall, St. Andrew, Great Glenham, Swelling, Framingham, Brabling Green, Peasenhall, Sibon, Halesworth, Holton, Upper Holton, Cox Common, St. Andrews Ilketshall, to Bungay, 88.82 km
June 27 A143 thru Ditchingham to Ellingham. National cycle route 1 thru Loddon, Langley with Hartley, Clarton, Bramerton, Norwich, New Costessey, Brayton, Lenwade, Reepham. Backroad thru Themelthorpe and Foulshem. National cycle route 1 thru Great Ryburgh, Pudding Norton to Fakenham, 100.71 km
June 28 National cycle route 1 thru Little Walsingham, Wighton, Burnham Market to Ringstead. Side road and A149 to Hunstanton, 53.65 km
June 29 A149 to B1454 to Sedgeford. National cycle route 1 thru Sandering House, Castle Rising, N Wooton, S Wooton, King's Lynn, W Walton, Wisbech, Tydd St Giles, Tydd St Mary Gedney Dyke to Fleet Hargate. 103.57 km
June 30 National cycle route 1 thru Holbeach, Holbeach St. Mark, Fosdyke, Frampton, Boston, Boston West, Langrick, Holland Fen, Chapel Hill, Hawthorn Hill, to Woodhall Spa. 66.44 km
July 1 National cycle route 1 thru Bardney, Lincoln, Nettleham, Scothern, Wickenby, Linwood to Market Rasen 78.21 km
July 2 National cycle route 1 thru Thoresway, Swallow, Great Limber, Barnetby-le-Wold, to Barton upon Humbar, 58.33 km
July 4 National cycle route 1 thru Kingston upon Hull, Cottingham, Beverley, South Dalton, Hutton Crossing, Driffield, Nettleton, Lowthorpe, Burton Agnes to Bridington, 107.75 km
July 5 National cycle route 1 thru Bempton, Grendale, Hunmanby, Cayton, to Scarborough, 45.43 km
July 6 National cycle route 1 thru Robin Hood's Bay to Whitby, 36.43 km
July 7 National cycle route 52 and 65 thruRuswarp, Egton, Lealholm, Danby, Castleton, Kildale, Great Ayton, Seamer. Shortcut to A 174. National bike route 65 through Middlesbough to Stockton-on-Tees. 89.49 km
July 8 National Cycle Route 14 thru Bilingham, Greatham, Seaton Carew, to Hartlepool. Side roads to Dalton Piercy. 34.42 km
July 9 Side routes thru Hart. National Cycle route 1 thru Hesleden, Wingate, South Hetton, and Murton. Cycle route to Ryhope. Route 1 thru Sunderland, Whitburn to South Shields. 65.01 km
July 11 Campsite to ferry terminal, 11.80 km


APPENDIX B – CAMPSITES
England

June 25: Forest Camping near Butley, Sufolk, (15.00 £/night)
June 26: Outley Mil Campground in Bungay, (9.00 £/night)
June 27: Racecourse at Fakenham, (12.00 £/night)
June 28: Searles caravan resort in Hunstaton: (23.00 £/night)
June 29: Delph Bank Caravan Park in Fleet Hargate: (11.00 £/night)
June 30: Jubilee Park in Woodhall Spa: (8.20 £/night)
July 1: Racecourse camping at Market Rasen: (12.60 £/night)
July 2, 3: Silver Birches at Barton upon Humbar: (10.00 £/night)
July 4: The Poplars Touring Park in Bridlington: (10.00 £/night)
July 5: Scalby Manor Touring, Caravan, Camping club in Scarborough: (14.20 £/night)
July 6: Folly Garden at Whitby: (15.00 £/night)
July 7: White Water park Caravan Club Site in Stockton: (9.80 £/night)
July 8: Ashfield Camping + Caravan Park in Dalton Piercy: (10.00£/night)
July 9, 10: Lizard Lane Camping + Caravan Park in South Shields: (10.00 £/night)
July 11: Ferry to Amsterdam: (234.00 £)