European Tour 2010 IV - Italy, Austria
EUROPEAN TOUR 2010 PART IV - Italy, Austria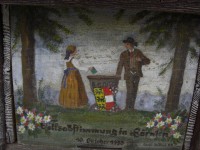 Painted beehive face at the bee museum near Ferlach
Rijeka, Croatia to St. Michael im Lungau, Austria
June 21 to July 9, 2010
Start 59,366 miles (94,985 km):
End 60,087 miles (96,140 km) cumulative
Video Map
TEASERS
| | |
| --- | --- |
| | Creative bike splinting saves the day |
| | Pass thru fabulous Trieste's main square |
| | Stop at to read about Italy's Karst region W.W.I trenches |
| | Enjoy Italy's new Alp-Adria bike path |
| | Cross the Alps at one easy pass |
| | Join all the Italians riding down the Drau to Lienz |
| | Find the Lindwurm in Klagenfurt |
| | Find a coue Mormon missionaries as well |
| | End the Drau back in Slovenia |
| | Stop by Roman ruins in Liebnitz |
| | Scratch your head at the strange art museum in Graz |
| | Marvel at the difference between the Drau and Mur valleys |
| | Go as far as Muhr, that's enoung for now |
Section 1
Rijeka to Austria border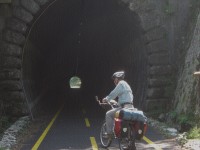 Entering a tunnel on the brand new Alp-Adria bike trail on the Italian side
June 21 to June 25
The surroundings around Rijeka are incredibly lush especially at Medveja where the campground was located.  It's certainly not what you would expect the Mediterranean to look like.  So it's not surprising that the 2 days while the front passed overhead it rained and rained and rained.  That was fine with us as we really needed a couple days rest anyway.
Finally when the rain stopped and a few pockets of sunshine came out we readied ourselves to go.  We had originally wanted to be to Trieste by June 20th.  But with all the transportation delays into and out of Greece plus the hills and heat of the Croatian coast, we were running a few days late.  So rather than continue around the Istria peninsula through Pula, basically retracing our route of 1991, we decided to cut directly across toward Trieste.
Even though this route wasn't as spectacular as the coastal scenery, it really was a pleasant road to follow.  Granted there was a 2,300 ft climb to get to the border crossing some of which was at 9% grade.  But along the way there were great views of the lush rounded hills that make up this part of Croatia.  It was a tough but nice ride.
We spent the last of our kuna at the gas station in Rupa and then made the last push up to the Slovenia border where we once again entered the Schengen treaty zone.  If all goes right this should be the last time we have to cross a border with passport controls until October.  Then we had a nice long ride back down.
Once in Slovenia we were looking for a market to buy cold drinks.  But look as we might they were difficult to find.  We went by small town after small town and didn't see a single one.  There were tons of pizza restaurants, just no markets.
After arriving at our campsite for the night, we wandered up to the little town on Ankarna looking for a store.  We finally found one.  It was pretty small and not particularly modern.  This really took us by surprise.  Back in 1991 we got the impression that the Slovenia region was much more modern and advanced than Croatia.  Now that position almost seems reversed.  And that's despite Slovenia being in the EU.
Back at the campground we had a problem to solve.  The brazon on the back of Caryl's bike that holds on her rear rack had sheared off.  This left her rack supported by just 3 bolts and only one of which takes the most of the weight.  We had to come up with some sort of fix before leaving the next day or the other weight bearing brazon might fail as well.
We pulled out our table cloth and proceeded to dump our entire stock of parts and tools out.  For parts we came up with: some stiff wire. electrical tape, handle bar tape, 2 small and 1 large hose clamps, 7 plastic cable ties of various sizes, 1 brake cable, 1 derailleur cable, 2 sets spare brake pads, a short length of chain, some nuts and bolts, and one chain quick release link.  For tools we had 2 open ended box wrenches, needle nose pliers, 1 multi hex wrench set, brake adjustment tool, spoke tool, chain cutting tool, and S&S coupler tool.  That was about it.
So what to do.  We discovered that a 9 mm open box wrench is just about the same size as the hub drop outs on the bike frame.  Also, without the brazon the down tube on the rack could rest directly on the frame where the brazon broke off.  So we devised a way to splint the 9 mm wrench onto the rack using plastic cable ties and then clamping it with the wheel hub quick release.  Some nice fellow from Lubljana had some huge cable ties to add to our collection.  This seems to work.  After a couple days riding it's holding strong.  So maybe it'll last at least until we can find a better solution.  In the meantime we may need to find another wrench.
We rode the old road around the peninsula down near water level and soon entered Italy.  Even though there no longer are any border or passport formalities, the old border station that we passed through 19 years ago still stands.  It was a pretty small affair as traffic on this little road was light even back then.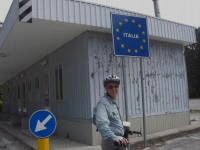 This is the same border station we crossed in 1991, Italy to Yugoslavia.
Our first Italian town was the pretty little port of Muggia.  What's particularly unique about this town is the way they've handled modern traffic passing through the old Medieval walls.  They split the road having south bound traffic pass through 2 of the old wall gates while the north bound traffic goes around the town.  It's really something seeing modern cars pass through those old gates.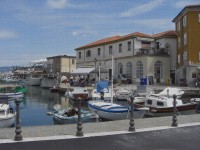 The cute harbor in the town of Muggia
Most of the rest of the old part of town is now a walking mall.  It really is a cute little town.
From there we continued on to the large port city of Trieste.  Eleven years ago we seem to recall we simply followed a road along the coast without too much difficulty.  All that's changed.  There's now a major 4 lane highway that heads into Slovenia.   This makes following the coastal road almost impossible.  So with GPS in hand we worked our way around through the back streets, up and down some steep hills, until we finally managed to get around all the new highway on and off ramps and into the center of the city.  From here it would be much easier as the new highway goes inland.
Trieste was once a main port for Venice.  It was also used extensively by the Hapsburgs.  Hence many of the buildings in the center are very extravagant structures.  The most dramatic spot in the city has to be the main plaza.  It's a huge open space surrounded by magnificent palaces and government buildings.  They did't put any trees, fountains, or open air cafes in the plaza so there's nothing to distract from the buildings.  If they wanted a location to impress entering vessels, this most certainly does the job.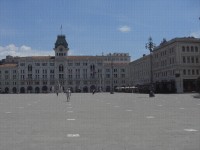 Trieste's magnificent plaza
We stopped by the equally elegant train station looking for  the tourist office and a town map.  Actually we were looking for anything that might indicate where there might be a good biking road out of town.  There was no tourist office.  But one of the railroad employees happened to know a lot about the good biking routes around town.  "Just go around the train station," he said, "and there's a bike path that will go as far as Miramar."  And so there was.  Getting out of Trieste proved to be far easier than getting in.
We spent one last night on the Mediterranean coast at a very nice 4 star campground with a fabulous view of the southward coastline.  Now it was time to head for our most favorite biking venue, the mountains.
The region of Italy at the top right of the boot just south of the Alps is a fairly large flat plain.  On the east side of this plain are a series of rolling, rocky hills called the Karst. 
W.W.I historians would recognize that name as it was embroiled in the trench warfare of that region.  Here the Italians built long trenches to defend Trieste against the Austro-Hungarian forces that were coming down from the north.  Unlike the trenches of France, these were not mud, clay, and dirt.  They were rocks.  Pictures show these trenches lined by parallel rows of toaster sized rocks.  So it's unlikely that one of these Italian soldiers would have found himself standing for days on end in knee deep muck and mud.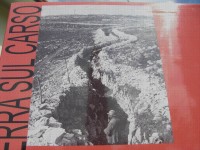 W.W.I photo of the trenches in the Karst region of Italy
The area where these trenches were built has been turned into an open air museum with signs and bike trails tracing the route of the ditches.  We just stopped at one sign to read some of the history and moved on.  Most of the trenches have long since been filled in by the local farmers.  The nearby town which was completely destroyed has been rebuilt and almost nothing visible of the war ravages remains.
Riding from coast to mountains took basically one day.  We took the flat local roads into and out of the city of Udine.  Udine is the first town since Messolongi, Greece that we've been through that truly is a biker's city.  Once again you see people of all walks pedaling around on all sorts of bikes.  Clearly we were rapidly approaching bike friendly central Europe once again.
Just another 20 km or so further north we started heading into the foothills of the mountains.  And by the time we reached the campsite at Gemora we were being treated to fabulous rocky mountain peak views.  These are the eastern Dolomites and they are every bit as spectacular as we'd heard.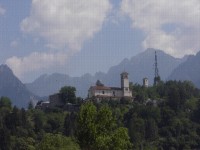 Finally headed toward the mountains.  Nice castle on a high bluff.
If you head north out of Gemora and then turn toward the east you will follow along a long gradually climbing valley that leads all the way to the top and the Austrian border.  This pass is one of the very few easy passes across the Alps.  Hence it has had roads going this way for centuries.  Today there is the modern railway, a 4 lane highway, and the old 2 lane highway.  There used to be an old rail line as well.
The old rail line has been replaced.  Now that Italy is getting interested in biking they have decided to put in a bike path along the old rail bed.  This will eventually be their new Alp -Adria route which will connect the Austrian border with the Adriatic coast.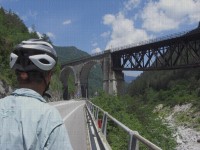 Old rail trestle soon to be turned into the Alp-Adria bike path
The bike path isn't quite finished.  We passed a section where they were still in the process of ripping out the old rails.  But where it's done it's a great bike path.  It traverses the old stone rail bridges and goes through the old tunnels.  Riding a bike along this soon to be bike path will probably be more of an adventure than riding the original train was.  The scenery along the way just gets better and better as you go up.  We can easily see this will be a big biker attraction soon.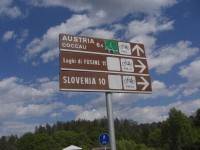 Signs for the new bike path network between Italy, Austria, and Slovenia
In the meantime we rode what we could all the way to the Austrian border and the pass.  This had to be one of the easiest Alps passes we've ever done.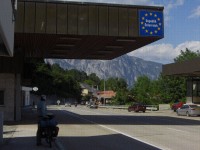 The no longer used border crossing between Italy and Austria
Section 2
Austria border to Maribor, Slovenia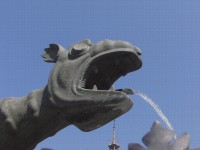 The Lindwurm statue in Klagenfurt
June 25 to July 3
We had originally planned to get to the Drau river much further upstream than the town of Villach.  But to do this would have entailed climbing 2 very steep passes as we went from Italy to the Gail river valley and then to the Drau.  At this point we'd had enough hills and climbing for a while.  We wanted to get to one of those Central European river route bike paths.  Hence we took the easy pass to Villach.
Once in Villach it was a simple matter to hop on a train to take us up river.  Riding a train with a bike in Austria and Germany is about as easy as it can get.  In one car we found all the seats flip up making room for many bikes.  But the Drau river trains also pull 2 to 3 cars specifically designed for carrying bikes.  So it surprised us to find that we were the only ones in the bike car.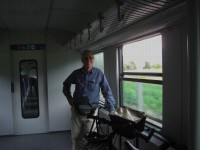 Aboard the train from Villach to Lienz
We found out why they have the bike cargo cars when we got to the town of Lienz.  It is a huge deal for folks to take the train to the top of the pass, at Tolbach, and then ride down to Lienz and take the train back up.  It's a super easy downhill ride the entire way.  Italians in particular seem to love doing this day ride.
So when we arrived at Lienz we found the train station surrounded by tons of bikers.  While we got off the train, the conductor started loading all those many bikes into the cargo car.  The train would take all those Italian bikers back up to the pass.  Such an easy ride.
We decided to do the section from Sillian to Lienz both ways.  We've done so much climbing that this gradual 1000 ft climb on an unloaded bike wasn't much effort at all.  As we headed uphill we were amazed at the huge groups of bikers we constantly passed.  There must have been hundreds.  This wasn't even the high season yet.  That would begin on July 10th.  We will most definitely want to be on a less popular route by then.
Attractive little towns absolutely abound throughout Austria and the Drau certainly has its share.  Get off the radweg to wander through any little berg along the way and you won't be disappointed.  There'll be cute little churches painted in some pastel stucco with a very tall steeple and a mountainous backdrop that is jaw dropping.  Of course there will be a few castles along the way just to add a little spice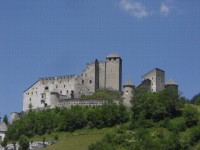 A great castle near the town of Sillian
Higher in the mountains the houses look exactly like you'd expect Alpine Swiss chalets to look.  They're painted white with brown wooden porches on the top floor and of course flower boxes filled with blooms in early summer.  Further downhill the Swiss appearance gives way to more traditional styled pastel stucco buildings.  It's particularly appealing in larger towns such as Villach where the center of town is filled with multi colored stucco buildings.
Everything is clean and neat.  Even the green meadows on the hillsides look almost as though they've been mowed.  Austria, like Germany is a place where folks take great pride in their gardening abilities.  Flower and vegetable gardens abound and always look nicely cared for.
In the section from the pass to Lienz the radweg is all paved.  From Lienz downhill you start hitting some dirt sections.  They're not too rough and there are only a few spots where there are short, steep climbs.  The roughest part seems to be the winds which for our ride from Lienz to Villach seemed to pretty much be a headwind.
Being a narrow dirt path meant that in a lot of cases the trees overhang the path and provide some shade.  This was extremely nice to have as temperatures were reaching up to the high 80s and on into the 90s once again.
As you head downhill from Lienz the Drau changes from a clear, fast running mountain stream to a cloudy fast running river.  After Villach there are several flood control dams.  At this point the river becomes more of a series of green colored long narrow lakes. 
Downstream the towns tend to be away from the river up on the surrounding high banks.  Probably before the large dikes were built the towns were built high to avoid flooding. Although since the dikes have been built there are now a few towns that are basically below water level.  Since Austria can have occasional flooding, we wouldn't want to have one of those below water level houses.
This region of Austria, the southern most area, is called the Karnten region.  We obtained a bunch of free maps showing all the recreational opportunities around.  There are multiple bike radwegs plus all kinds of hiking wanderwegs.
In addition there are all sorts of museums and activities you can do such as cable car rides and excursion trains.  In this region they sell what's called a Karnten card.  For about 42€ you can get one valid for 2 weeks and for 55€ for 5 weeks.  This card gets you free entrance to 100 sites and activities. Not only can you enter once, you can enter as many times as you like for as long as the card is valid.  So if you want to take a cable car to the top of a peak and do one hike and the next day take the same cable car for another hike you can.  It'd be so great to come to this region in a motorhome for 5 weeks, buy the card, and have 5 weeks entertainment at a really cheap price.  Even the little bee museum near Ferlach is covered.  Someday we'd love to come to this region and spend that full 5 weeks seeing everything.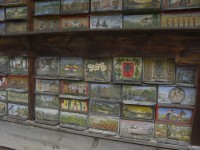 A row of painted bee hives at the bee museum
Right now our objective was to ride the Drau route as far as the city of Maribor in Slovenia before turning north and heading to Graz.  So we weren't doing much visiting museums and sites. 
We did take a run through each town to see the sites listed on the BikeLine map which usually includes churches, the rathaus, castles and other unique sites.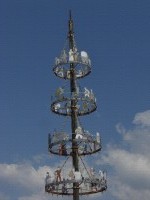 A more ornate Maypole than normal for this region.
Klagenfurt is located about 10 km off the route up a very short but steep hill.  It's the largest town we'd been to in Austria so far, probably about 100,000 people, and it felt quite busy as a result.  It has a very nice old town center that has, as usual, been turned into a pedestrian zone.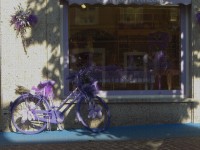 One very purple bike outside a store in Klagenfurt
Off to one side is a big fountain representing the town mascot, something called a Lindwurm.  The Lindwurm has the front half of a dragon, complete with little wings, and the back half of a curly-cue segmented worm.  Pictures around town, plus the statue, show it in battle with some knight with the knight wielding anything from a sword to a shoe.  Ah if you're going to have a funny mascot why not have fun with it.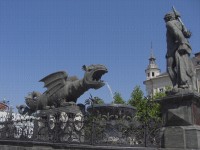 The Lindwurm being challenged by a sword carrying knight.
Klagenfurt was also the town where we met our very first Mormon missionaries for the season. When you're on the road for 6 months traveling through small and medium size cities on bike or foot or mass transit you're bound to meet up with at least one pair of Mormon missionaries.  We've seen them in Chili, Argentina, Belize, S. Korea, Czech Republic, to name a few places. 
So every year when we start out we always wonder when and where will we meet our first set.  Usually it's in one of the least expected places.  Klagenfurt surely qualifies as that.
The next day we happened across our first Slovakian bikers.  They weren't touring.  They'd just taken a room at a nearby tourist destination lake and were doing day rides the various bike routes on their free map.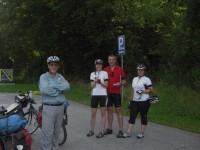 Bikers from Slovakia with Brian in front left.
We all had stopped to look at a cable bridge that was part of the Kunst radweg.  Kunst means Art in German and this radweg seemed to follow a route with many different statues strategically placed.  Usually the art involved some sort of "trinkwasser" supply, such as the hanging rock fountain.  Who says you can't squeeze water out of a stone.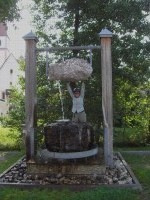 Squeezing water out of rock art on the Kunst radweg
We started chatting with these Slovak folks.  They first asked if we were German then English.  They were absolutely stunned to learn that we are American.  They were thrilled.  They come from a town where US Steel has installed a major production plant.  They told us that the US brought them technology and they are very, very happy about that.  Some folks may have you believe that all the world hates the US.  But we can tell you for a fact that the Eastern European countries really do love us.  In any event it seemed to really make their day meeting up with a couple Americans out in the middle of Austria somewhere.
Beyond Klagenfurt the mountains surrounding the Drau fairly quickly drop off.  The Drau is leaving the Alps and is headed toward the flatter eastern regions where it will eventually meet with the Donau at Osijek, Croatia.  By the time it leaves Austria the surrounding hills are no more than 1,000 to 2,000 ft higher than the river itself.  It runs for around 70 km within a narrow gorge until reaching the city of Maribor.  Then things really flatten out.
It was along here we came across one of the more unusual finds on one of these radwegs.  Evidently some towns or bike shops have decided to supply bike repair tools for loan.  Rather than have them at their shop, they've placed them right out on the trail.  They're biker self service points and we actually saw 2 of them.  Now that's amazing.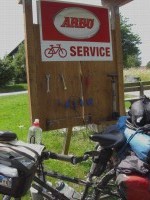 Bike self service repair station
Entering Slovenia just after Lavamünd is still quite a contrast.  Although from our brief pass through we have concluded that this area of Slovenia is definitely doing much better than the towns near Trieste.  At least here there are modern supermarkets and more of the buildings look renovated.  There's clearly much more work to be done though.
Slovenia has a little of the bike culture but not nearly as much as Austria.  They've started adding bike paths and have marked the Drau route along some very lightly traveled roads.  But it's got one heck of a climb just before Maribor.
So we decided to take the much flatter road.  It was Saturday and the weekly commuter and truck traffic wasn't there. And despite all the warnings from the Austrians, we found the Slovenia drivers to be fairly courteous.  So without any difficulty we got right into downtown Maribor just around 1 PM.
Maribor has a very small old town area that's been turned into a walking mall.  On Saturday it seems that most of the stores and shops closed early and there were only a few sidewalk cafes.  So we walked around for a bit and that was about all.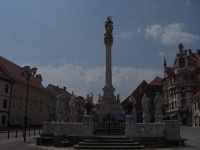 The main square in Maribor, Slovenia
We then crossed back over the Drau and found our way to the brand new shopping mall.  This seemed to be the only place that was really hopping on a Saturday afternoon.  It was as crowded as a US mall just before Christmas might be.  It was also air conditioned.  Since it was so hot we decided to spend a couple hours enjoying the a/c.
At around 2 PM the skies started to darken with possible afternoon thunderstorms.  With the sun now behind clouds the outside temperature dropped noticeably.  Since there really wasn't all that much to see in the city, and since there were no nearby campgrounds we decided to continue on to the Mur and the first possible camp.
After a 108 km riding day we finally arrived at the Leibnitz campsite.  This was our longest day yet and, hopefully, the last metric century we'd be doing this summer.
Section 3
Maribor, Slovenia to Mur River Spring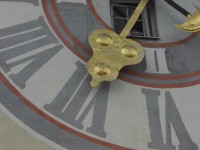 Hand of the clock in the old clocktower at Graz
June 4 to July 9
The town of Leibnitz on the Mur river was once a Roman town.  Down by the river they have unearthed the lower portion of several walls of one of the Roman villas.  They've been stabilized and a small museum built right over the top.  A 3D map of the old town shows the old Roman roads that used to go up river from the town.  Comparing that map with our road map we can see that today's roads still follow the same line as those old Roman roads.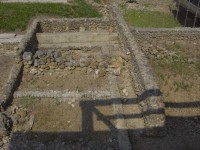 Roman ruins at Leibnitz
We always find it amazing all the different places we come across Roman ruins in Europe.
Just a bit further upstream along the Mur lies Austria's second largest city, Graz.  We arrived on a Sunday afternoon and got ourselves checked into the very unusual but nice Hotel Daniel.  We then headed out to see the town only to get caught under a restaurant overhang while it absolutely poured.  For close to an hour it rained buckets soaking every bike rider and walker going by.  The storm must have put a quick damper on all the folks at the swimming pool we'd passed earlier.
When the rain finally did stop we headed for the Schloßberg.  This is an old fortress/castle that once graced the top of the hill in the center of Graz.  There are 3 ways to get to the top, a funicular, stairs, and a very funky elevator hewn right into the rock.  We attempted to take the elevator.
After paying the fee we joined a mother and daughter who were waiting for others to join them on the trip.  We stood in the elevator, pushed top floor button, and waited .... and waited ... and waited.  Nothing happened.  We tried the second elevator.  Same thing.  Finally, the mother who was Austrian, asked the elevator person what's up.  Kaput.  It wasn't going to go anywhere.
So retrieving our cash we headed for the 260 stairs to the top.
The two best things to see at the top of the hill are the views and the clock tower.  The clock tower used to be part of the old city wall and today is an icon for Graz. 
The views are superb, even on a cloudy day.  You can look over the red roofs of the old town and off to the hills to the south.  The strangest thing you can see is the Kunst museum.  That's the art museum.  It's a new building that was designed by  couple of English architects.  Even though the critics may rave about it, we thought it looked really weird.  It looks a little like a big silver sea cucumber stuck in the middle of the red tile roofs.  Uh --- yeah.  We just don't quite get it.
The next day the weather had cleared a little and we had some time to look around the old town and main square a bit.  What we found particularly impressive is the constant number of electric trolley cars that ran up and down the main walking mall.  Trolley cars from many different decades are still in use and they seem to come by about every 2 to 3 minutes.  Other than that, there are no other cars on the pedestrian street at all.
We shed our rain gear and started on out of town.  Although it didn't take too long before the rain returned and we had to put the rain gear back on.  That's the way it always seems to work.
As we headed upstream along the Mur we noticed that this river has an entirely different character than either the Drau or Donau.  In the lower reaches of the valley the towns are very much blue collar working class towns.  Their main source of employment is lumbering and other wood products. 
These regions of the Mur are surrounded by low rolling forest clad hills, perfect for growing trees.  So in almost every town we passed there was at least one lumber mill still in operation.  While these are reasonably sized operations they don't appear to be anywhere close to the size of some of the US lumber mills.  Yet with so many, it means a good steady supply of both timber and jobs.  It also means that the hills are speckled with regular shaped patches of clear cut in various stages of regrowth.
This blue collar class also means that the towns aren't quite the pretty, picture perfect creations we've seen elsewhere.  The downtowns are always nicely fixed up so as to make their old center cores pleasant places to wander.  But these are often surrounded by more mundane and rather drab looking apartment block buildings.  This is clearly the working side of Austria.
It is also very much a farming area.  Fields in the valleys, below the tree farms, are filled with corn, wheat, and just grasses used to feed cattle.  We saw some cattle, but not nearly as much as we would have thought considering how much land seems dedicated to feeding them.  Perhaps they drive the cows into the mountains in summer which would explain us not seeing them. 
They also raise chickens.  At one point on the bike path we passed by a fresh chicken egg vending machine.  €2.50 for large and €2 for small.  Now I would not want to try carrying those on the back of a bike over dirt roads.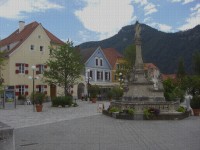 One of the many pretty downtown squares along the Mur
It wasn't until we passed the town of Murau that we started seeing more tourism.  This town is at a higher elevation and gets more snow in the winter.  So here is where we started seeing more ski and winter sport related tourism.  We also passed a golf course, started seeing more signs for hiking trails, and saw mostly those Alpine, Swiss style chalet buildings rather than blocky apartments. 
Also in the town of Judenburg the train switches from standard gage to narrow gage.  In summer they run these little red and green trains up and down the valley all day long.  They look more like city trolleys rather than a normal train.  They have only 2 cars and from what we could see they run mostly empty.  Clearly a highly subsidized venture.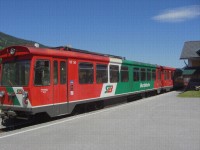 The narrow gage train of the upper Mur river valley
From Mauterndorf they also run a small steam excursion train over the same tracks.  It has a little narrow gage steam engine towing more modern open passenger cars.  This goes as far as Murau we believe.  We usually find that the fun of a steam train is actually watching it run, not riding it.  It's hard to watch the steam engine when you're sitting behind in a car.
We didn't start seeing what we think of as true mountains until we were just about at the end of our Mur river trip.  A little before the town of Tamsweg we finally saw jagged peaks with little spots of leftover snow.  These views get better the further upriver you go but at this point there's only about 30 km left of the journey.  That's not much out of the whole radweg.
We rode up to St. Michael and dropped the bags in a campground.  From there it was another 14 km up to the town of Muhr, a very enchanting and tiny mountain town.  At this point the mighty Mur is not much more than a large fast flowing mountain stream.  From here the Mur radweg begins a very steep 2,000 ft climb up to something called the Sticklerhütte.  Then to get to the actual birth spring of the river you hike an additional 5 km or so and 500 ft climb.
By this time we'd been riding daily since June 22 often going over 70 km in a day and over some pretty nasty hills.  We were just plain pooped.  The little town of Muhr would have to do.  We turned back to St. Michael and made plans to get to the start of our next radweg, the Königsee-Bodensee.
APPENDIX A – ROUTE
Croatia, Slovenia
June 22 - Route 8 to Opatija then to Rupa, cross to Slovenia, E61 to route 10 to camping, 91.73 km
Italy
June 23 - Side road through Muggia to Trieste, Rt 14 to Sistiana, 48.50 km
June 24 - Route S14 to Duino, S55 to Iamiano, back roads thru Doberdo del Lago, Sagrado, Romans, to Versa, S252 to St. Vito al Torre, back road through Trivignano Udinese, Percoto, Pavia di Udine to join route 3 to Udine, Rt SS 13 to Gemora, 87.74 km
June 25 - Rt SS13 to Travisio and enter Austria, continue to Arnoldstein, back roads to Nötsch and St George, 90.59 km
Austria
June 26 - R3 radweg to Villach, train to Lienz, 34.35 km
June 27 - Drau radweg to Sillian and back to Lienz, 65.63 km
June 28 - Drau radweg to Sachsenburg, 68.36 km
June 29 - Drau radweg to Villach, 62.01 km
June 30 - Drau radweg to Kirschentheuer, 55.31 km
July 1 - Drau radweg to jct with radweg R7, R7 to Klagenfurt and back to Drau radweg, Drau radweg to Klopeinersee, 59.48 km
July 2 - Drau radweg alternate thru Aich and Neuhaus to Lavamund, 38.91 km
July 3 - Drau radweg to Vuzenica, Rt 1 to Maribor, Rt 437 to Austria, Mur radweg to Leibnitz, 108.28 km
July 4 - Mur radweg to Graz, 50.44 km  
July 5 - Mur radweg to Ungersdorf, 36.80 km
July 6 - Mur radweg to Leoben Hinterberg, 57.47 km
July 7 - Mur radweg to Unzmarkt-Frauenburg, 77.78 km
July 8 - Mur radweg to Stadl, 52.13 km
July 9 - Mur radweg to Muhr then back to St. Michael, 67.71 km
APPENDIX B – CAMPSITES, HOTELS
Slovenia
June 22: Camping Adria near Koper (23.02 €/night)
Italy
June 23: Camping Mare Pineta near Trieste (20.00 €/night)
June 24: Camping Ai Pioppi in Gemora (15.00 €/night)
Austria
June 25: Alpenfreude csmping in Kärnten (14.00 €/night)
June 26, 27: Camping Falkner in Lienz (19.10 €/night)
June 28: Drau camping in Sachsenburg (15.00 €/night)
June 29: Camping Seehof in Villach (20.80 €/night)
June 30: Camping Schütz in Kirschentheuer (21.00 €/night)
July 1:Camping Ferienztrum Süd in Klopeinersee (23.90 €/night)
July 2: Camping U-Boots at Lavamund (20.00 €/night)
July 3: Camping & Bad Leibnitz in Leibnitz (14.00 €/night)
July 4: Hotel Daniel in Graz (59.00 €/night)
July 5: Camping Lanzmaierhof in Ungersdorf (13.60 €/night)
July 6: Campingplatz Obermayer Hinerberg in Leoben Hinterberg (16.00 €/night)
July 7: Camping im Freizeitpark in Unzmarkt-Frauenburg (10.00 €/night)
July 8: Camping Pichler in Stadl (6.50 €/night)
July 9: Camp St. Michael im Lungau (14.20 €/night)
REFERENCES
Lonely Planet Croatia 2010
Lonely Planet Central Europe 2010
Bike Line Drau Radweg map
Bike Line Mur Radweg map