Europe 2012 Part I - Brittany
EUROPE 2012 PART I - BRITTANY
Saint Malo To Roscoff, France
May 3 to May 30, 2012
Start 69,170 Miles (110,670 km) cumulative:
End 69,723 miles (111,557 km) cumulative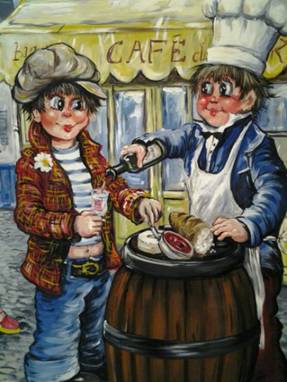 Let the good times roll
TEASERS
Spend a day wandering the historic Portsmouth, UK.
Spend another day wandering France's old port St Malo.
Ride thru rural countryside while crossing the peninsula.
Easy riding along the Nantes a Brest canal.
See the strange Neolithic alignments.
Back to the north coast via train.
Churches and farm towns with a few beaches for good measure.
Little people ride the little route of the Petit tour de France.
One last day in France taking it easy in Roscoff.
May 3 - May 6
Portsmouth, UK
"Beam me up, Scotty." Wouldn't that be nice? Imagine if someday we wouldn't have to take the shoes, belts, jackets, metal objects off, stand in long lines, get frisked and patted just for the privilege to sit in a miniscule seat while subjected to lousy food for an entire night. I could go for instantaneous transport anytime. What a relief to uncork from that plane at last.
So welcome to England, at least for a few days. We were greeted with colder than normal temps, winter conditions in the north. We're convinced there can't be global warming. From what we've experienced is more like global half and half. Half the world is very cold the other half very hot. Mother Nature is showing her fickle side these days and as the saying goes, Mother Nature always wins.
Portsmouth has always been an important port. It's a very large harbor at the mouth of which sits the large Isle of Wight. This resulted in a large sheltered port that could easily be defended. Thus there's always been a lot of commercial shipping as well as military based there.
We were scheduled to take a ferry from Portsmouth to France which gave us a couple days to see this famous port city. It was here that Henry witnessed the foundering of his flag ship Mary Rose. It was here writer Lord Nelson left for his final victory at the battle of Trafalgar. It was from here that the Allies departed for their D-day invasion of Normandy. Today it is still an important port for more pleasure craft than anything else.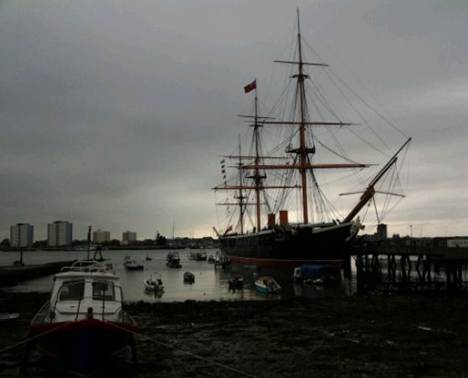 HMS Warrior, England's first iron clad warship built in 1860 still afloat in Portsmouth.
May 7 - May 10
Saint Malo, FR
Having muddled through our first couple days of jet lag laziness, it was time to get shaking, or at least get to our starting point, Saint Malo, France. We'll come back to England later.
Saint Malo has a lovely old quarter. It fortifications were were originally designed by the famous military engineer Vauban in 1689. Examples of his work can be found throughout France.
The entire old district is surrounded by a wall, mostly rebuilt after W.W.II. Its maze like narrow streets are lined with the mansions of the former merchant class aristocrats. One of the directors of the famous East India trading company had his house here.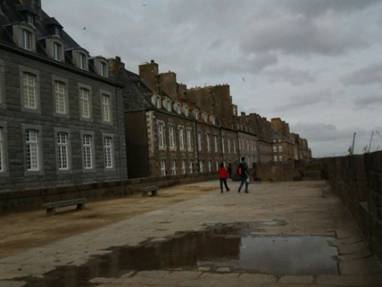 Looking at the typical architecture from atop the walks of Saint Malo
The architecture is quite different from that of Portsmouth. These buildings are tall massive blocks of walls some 4 or 5 stories tall with extremely steep roofs. The entire town looks like it was built by a single construction company. Wonder if they had an early form of strict building codes requiring such uniformity.
To start our Brittany adventure we headed out on a short break in unloaded loop ride. It was a misty cloudy day with reasonable temps. It was a good leg stretcher, but we couldn't see much.
To round out our visit to Saint Malo we visited two of the history museums and their Grand Aquarium. We'd seen just about all there is to see and the weather was finally improving. Time to start riding at last.
May 7 - May 13
Mont Saint Michel Loop
We headed out under cloudy skies having been assured by a local French hiker that our first day of really touring would turn out to be sunny, eventually. And he was right. In fact we had the best weather since our arrival some 8 days earlier. Oh did it feel so good to see some actual sunshine.
We headed east toward perhaps France's second most iconic landmark, Mont-St-Michel. We wandered back and forth, on the coast for a while then inland passing old villages filled with steep roofed houses. Even the farms appear to be almost a small village in their own right with several buildings clumped around a central court.
A short detour took us by the town of Dol de Bretagne where we took a few minutes to look inside their beautiful Gothic style cathedral. According to a sign this is one of the largest cathedrals in all of France, comparable to Notre Dame in Paris and the cathedral in Reims.
A little further along the route and we came to the famous le Mont St. Michel. This remarkable monastery sits on what was originally a rocky island just off shore. Originally established sometime around the 8th century, it grew larger and more ornate with each passing century. Today it is a cone of buildings climbing toward the sky with a spike at the top. It reminds me of those Taiwanese dancers' hats.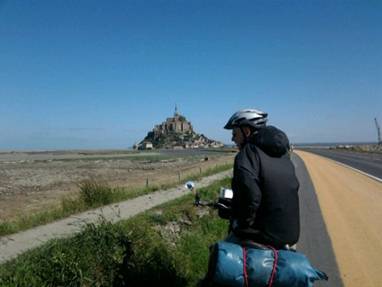 Brian looking toward the famous Le Mont Saint Michel.
The next day we left the coast for a loop through the rolling Breton countryside. It's amazing just how many backroads there are. You could spend a month our more in one small area riding loops every day and not take the exact same route ever. This is bike touring at it's finest.
Add to the great riding some really nice sites and you've got perfect. We stopped by a working old windmill, a couple more gothic churches, and one chateau where the famous writer Chateaubriand used to hang out.
The ancien moulin Moidrey hard at work

We had some fun with the French good ole boys as well. One pretended to shoot our tires giving a good hissssssss. Another gave us some encouragement as we climbed one last hill. They do like to tease bikers.
Unfortunately the campground at Combourg was closed and undergoing a complete rebuild. So we couldn't stop to visit the Chateau. We rode on to Hede where we picked up one of France's many canal bike paths. These are great for when you're just getting in good shape, flat and easy.
We cruised back north along the canal making a short stop at the town of Dinan, Brittany's prettiest medevial villages. It's perched right over the Rance river with imposing ramparts and an old castle. The port by the river gets crowded with tourists on weekends.
May 14 - May 23
Loop To The South Shore
It's taken many years but France has finally started developing some descent bike paths. They're still a long way off from what Germany or the Netherlands have. Yet they're much better than they were when we first started touring here.
From Dinan we found the relatively new rail to trail conversion that took us directly into Dinard. After that it was back to the roads. Fortunately since it was still low season, traffic was pretty light and we could ride the main roads without fear for our lives. The hills get pretty tough though.
Dinard was once a place where the British well to do would hang out in the summer. So it's filled with 19th century mansions. Other than the restaurants, beaches, and shopping there isn't much for a tourist to look at.
We continued on following somewhat along the coastwith some nice views along the way. The coast is just filled with a string of tourist beach towns that will clearly be swamped in summer. The months we truly hate in Europe are July and August when everywhere is packed. May, when we almost have the campgrounds to ourselves it's heaven.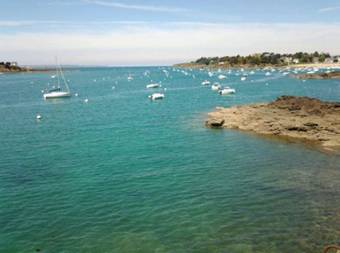 Absolutely lovely views on the North Brittany coast near Dinard
After about 4 days of good weather it wasn't surprising when we woke to a heavy downpour. Although the included hail was a surprise. The wind was howling. The temperatures chilly. So we took a short day riding the quickest route possible toward St. Breiuc, bypassing one of the peninsulas. Riding to the north would have really been difficult.
We were riding through farm lands just getting their fresh coating of cow poop and seeds. It wouldn't be to long before new plants would be rising forth. The towns were small farm towns containing not much more than the obligatory bakery. In France folks just cannot do without their daily freshly baked bagette even if it is delivered by a roaming bakery truck. Even on Sunday the bakers are busy.
Each town also has a huge church, usually hundreds of years old and usually made from stone. Often inside there's equally old stained glass windows, if they were lucky enough to survive the war. There are far to many to visit on a single tour.
Then we'd turn back to the beach for a while passing by small harbors absolutely crammed with pleasure craft. Boating is a big time sport along this coast and a good weekend must find the waters a veritable traffic jam.
Our goal was to now ride across the peninsula to the town of Vannes. This, of course, means tackling lots of hills. The Col Lanfains at just over 1000 ft was our highest point so far. Of course since we started at sea level and had many ups and downs along the way we clearly climbed far more than 1000 ft.
A long day got us over the spine of the peninsula where we hoped the weather would be somewhat better.
Once over the spine we hopped onto another of those wonderful canal routes. After the hills the flatter route was great.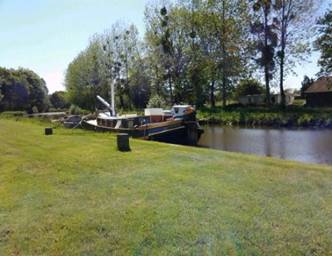 One of the boats on the Nantes a Brest canal

This particular canal was one of Napolean I's creations. He wanted to avoid the blockade the English had on the Brittany peninsula. So he started a canal going from Nantes to Brest. With around 250 locks it really was an engineering marvel. It cost some 120 million Francs and was completed in 1863, just in time to be superseded by trains and cars within less than 50 years.

Stopping by a lock and old mill along the Nantes a Brest canal


You can still boat some of the canal, but a dam now prevents you from going the whole way. You can also connect with the canal going through Rennes that we were riding the other day. It's an excellent way to ride Brittany.

We turned off the canal at Josselin, home of perhaps Brittany's most fairy tale like castle.

A quick look around the lovely Josselin chateau


A wet rainy day took us the last few miles over a few more hills to Vannes. It was one of those all day soakers. Not a downpour, but a strong drizzle. We were soaked by the time we found the McDonalds in which to dry out.

Vannes campground is located about 2 miles south of town overlooking the bay. It's an easy stroll into town, which was good for us since buses are few on Sunday.

Much of Vannes was bombed in the war which means it's got quite a mishmash of architecture. It does have a nice, small old town that is filled with old half timbered houses many of which look like they're about to tip over. It made a great place to spend a rainy Sunday.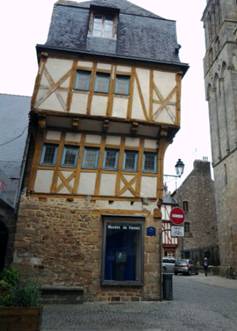 Just one example of those amazing leaning houses

Overnight it rained and rained. We kept hearing a bizarre plop, plop, plop on the tent. We both thought it was just unusually large raindrops falling off the trees.

Oh no. Not even close. Over night some birds parked themselves right over our tent awning and they spent the entire night pooping. They must've been huge birds. By morning the tarp was covered in an oh so gross pile of bird crap. We've never seen anything like it before. It took an hour to clean up. I know ostriches can't fly, but can they climb? I swear this poop was ostrich size.

After cleaning up we headed for a loop around the large bay of Morbihan. Finally we were getting some nice weather again. So we decided to make it a nice leisurely loop. First stop was in St Gildas du Rhuys where there is an ancient monastery that was founded easy back in the 6th century. The building actually dates mostly from the 12th and 13th as the original was destroyed by the Vikings.

Then we continued on to Carnac where one of the most unusual sites is located.

Just north of town are several large fields that are filled with lines of huge boulders. Really. They're all lined up just like they were rows of corn. There are over 3000 stones covering 6 km end to end in an area of around 40 hectares. It is the largest prehistoric site in the world. And no one has any idea why they were put there. They're called Alignments since ask the rows line up fairly neatly.

Those strange lined up rocks of the alignments.


Seeing the alignments on bike is a reasonable way to go, but there does trend to be a lot of traffic. There are several other Neolithic sites around the area, menhirs, dolmens, and tumulus. But often they are in the bushes and are hard to spot. A bike helps but we still missed some.

So much for our loop to the south coast. We headed up to the town if Auray where we could catch a train back to St. Brieuc.

May 24 - May 30

North Coast to Roscoff

St. Brieuc is one of the larger cities on the north Breton coast. Getting out of it on a bike can be a bit hair raising. Fortunately it's mostly downhill back to the port. If we weren't coming in on the train I would have preferred to avoid it all together. Once back at the port, however, traffic thins significantly.

The north coast is much more rugged than the south especially the further west you go. Just the first 20 miles or so out of St. Brieuc entailed at least 6 solid climbs of 250 to 300 ft at grades much higher than 6%. After few of these the ole knees do begin to feel it.

Great views of the rugged coast from point Minard


The route we were following took us down to several beaches, then back up the hill through small country towns, past boat filled harbors with cafe lined streets, then back into the farm land to see a church and manor house. There is definitely varied scenery in this area if you dare to explore a bit.

If you are thinking about hiking or biking the trail to Santiago del Compostela we know where you are supposed to begin. We were just outside Paimpol and we decided to stop by the Abbaye de Beauport. Since we were on bikes we took a shortcut down a side alley. There at the corner on the side of the abbaye is a small shell shaped monument marking km 0 of this 1800 km long trail. We had seen some of those typical shell stickers along the canal de Brest a Nantes and were wondering where this particular arm of the pilgrim route began. Now we know.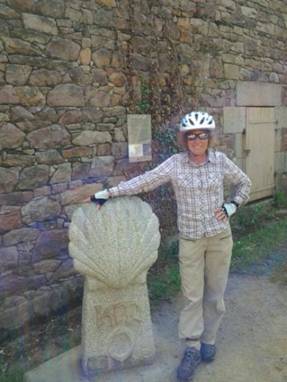 Standing at km 0 of France's arm of the Camino Santiago de Compostela
We had a lovely day with the first of what felt like summer weather. Now this is more like it. Great scenery, sunshine, interesting sites, and a tailwind. Perfect.
The hills seemed to not be quite so numerous or steep on our second day out of St Brieuc. So we didn't feel quite so pooped and we had time for a stop at the lovely lookout point Minard plus the Moulin de Crave and the abbaye. There's so much more we could have visited, but there's never enough time.
Many more hilly miles passed under our wheels. The route was punctuated by small towns each having their individual rendition of a similar style stone church with a soaring bell steeple. The houses, churches, businesses all begin to look alike after a while. It seems you need to go much further than we have so far in order to start seeing differences. Of course that's what the ferry ride will do.
The French love a bike race. Whenever there is a bike race going on folks will gather their lawn chairs and head out along the route to find a good sitting spot. They'll sit for hours just to watch the bikers whizz past.
On the way into Morlaix we happened across the Tour de France. Oh all right it was really the Petit Tour de France Morlaix. It had a petit distance ridden by a bunch of petit riders, usually under age 10. There were probably over 1000 all riding opposite the way we were riding. There was music, laughing, slow riding, and generally just a lot of fun.
It's the petit tour de France, small distance, little people.

May is the month of holidays in France. May 8,17, and 28. On holidays the stores are closed usually all day or at a minimum all afternoon. Couple that with Sunday when stores are also closed and it makes finding food for dinner tough.
We'd been passing signs at stores for days all saying that this store or that store would be open on May 28, in the morning at least. No problem, we thought. We'd just make sure we got to a store before noon. Naturally, as Murphy would have it, the place we were in, the store we found was closed all day. So we had to scramble, find a tiny store, and get whatever we could find. Frustrating.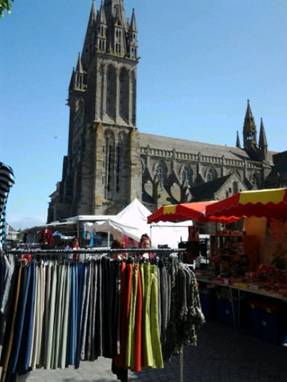 It's market day around the cathedral at St Pol de Leon
For out last day in France we took an easy unloaded ramble from our campsite at St Pol de Leon to the ferry port at Roscoff and back. It was market day at St Pol and the square around the cathedral was filled with sellers hawking everything from fish, cheese, and crepes to shirts, shoes, cookware, and mattresses. You could even hire a painter or support your local politician. It's a busy place.
At the end of the peninsula is the small port town of Roscoff. Just offshore is the small island of Isle de Batz. It provides a lovely backdrop for views at the end of Roscoff's docks. What a perfect end to our Brittany ride.
Time to return to Jolly old England.
Leaving the port of Roscoff
APPENDIX A – ROUTE
May 8 - Loop a around the Cote Emeraude to Concales and back (25.77 miles)
May 11 - Direct route to St-Benoit-des-Ondes, back roads thru Fresnais, Les Turmeaux, around Mont-Dol, to Dol-de-Bretagne, St-Broladre, on to Mont-St-Michel (35.40 miles)
May 12 - Backroads thru Pontorson, Combourg, Hede to Tinteniac (44.66 miles)
May 13 - Canal path to Dinan (29.52 miles)
May 14 - Rail trail to Dinard, back roads along coast to St Cast de Guildo (33.11 miles)
May 15 - D14 and D17 to Pleneuf Val Andre (17.38 miles)
May 16 - Back roads Thru Hillion, Yffiniac, to St Brandan, St Martin des Pres, St Gilles Vieux Marche, to Mur de Bretagne (47.15 miles)
May 17 - Nantes a Brest canal to Josselin (47.54 miles)
May 19 - shortest route to Vannes (31.35 miles)
May 21 - Swing east around the bay of Morbihan to Sarzeau and St Gildas did Rhuys (27.85 miles)
May 22 - Back roads through Arzon to Trinite sur Mer (24.40 miles)
May 23 - Road to Auray, train to St Brieuc (9.92 miles)
May 24 - Coastal route thru St Laurent de la Mer, Pordic, Binic, Etables sur Mer, Plouha, Kermaria, Plehedel, to Lanloup (30.74 miles)
May 25 - Back roads thru
Brehec, Paimpol, Treguer, to Penvenan (30.92 miles)
May 26 - Back roads thru Mabiles, Perros-Guirec, la Clarte, Jeremie, to Trebeurden (25.08 miles)
May 27 - Back roads thru Lannion, Ploulec'h, St Michel en Greve, Plestin Les Greves, Guimaec, Lanmeur, Plouezoc'h, to Terenez (36.52 miles)
May 27 - Back roads thru Morlais, C (30.19 miles)
May 30 - Road to Roscoff (3.0 miles)
APPENDIX B – CAMPSITES, HOTELS
May 4, 5 - Kingfisher Caravan Park in Gosport, UK (£15/night)
May 6 - Brittany ferry to St Malo
May 7, 8, 9, 10 - Camping De la Cite, St Malo (€14.40/night)
May 11 - Hotel and camping vert near Mont St Michel (€18.44/night)
May 12 - Camping Les Peupliers near Tinteniac (€15.84/night)
May 13 - Municipal camping Halleries near Dinan (€14.9/night)
May 14 - Camping Mielles in St Cast de Guildo (€12.70/night)
May 15 - Camping Le Mont Colleux (€10.80/night)
May 16 - Camping Le Point de Vue in Mur de Bretagne (€8.90/night)
May 17, 18- Camping Le Bas de la Lande near Josselin (€7.60/night)
May 19, 20 - Camping Conleau in Vannes (€12.00/night)
May 21 - Camping Kerver in St Gildas did Rhuys (€10.80/night)
May 22 - Camping Palmiers near Trinite sur Mer (€17.70/night)
May 23 - Camping Les Vallees in St Brieuc (€16.60/night)
May 24 - Camping le Neptune in Lanloup (€16.00/night)
May 25 - Camping Haut de Port Blanc in Penvenan (16.02 /night)
May 26 - Camping Armor Loisirs in Trebeurden (€13.20/night)
May 27 - Camping Baie de Terenez in Terenez (€11.66/night)
May 28, 29 - Camping Trogolot in St Pol de Leon (€12.75/night)
REFERENCES
Lonely Planet Brittany and Normandy by Oliver Berry and Peter Dragicevich
Eyewitness Travel Guide France, 2010
Frommer's France 2012
Rough Guide to France 2009