Europe 2012 Part II - LEJOG England
EUROPE 2012 PART II - LEJOG ENGLAND
Plymouth, UK to Edinburgh, UK
May 31 to July 1, 2012
Start 69,723 miles (111,557 km) cumulative:
End 70,614 miles (112,982 km) cumulative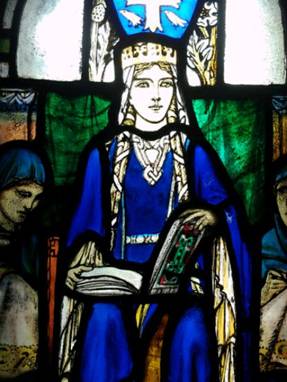 Saint Margaret at Edinburgh Castle
TEASERS
Stand where the Pilgrims and Charles Darwin set sail.
Get the obligatory photo at Lands End.
Ride along old concrete taxiways and runways of W.W.II airbase.
Endure rain, everything from strong mists to downpours.
Spend a day exploring the town where the Industrial Revolution began.
Try the very busy road through the famous Lake District.
Ride along Hadrian's wall, then again maybe not so close.
Marvel at Newcastle's unique tilting bridge.
Enjoy a few rare good days riding the scenic North Sea coast.
Really get to know the Scottish at the National Museum of Scotland in Edinburgh.
May 31 - June 5
Plymouth, UK To Exeter, UK
Plymouth, like Portsmouth, is another historically important port. Many a famous journey began here. In 1588 Sir Francis Drake is said to have spotted the Spanish Armada from a bowling green high on a hill called the Hoe. He finished the game then went on to complete the most famous sea battle of that time.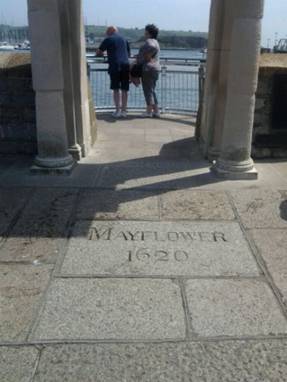 A stone dedicated to those intrepid Pilgrims, just for us US tourists.

In 1620, the Pilgrims made their last stop before continuing on toward Virginia after abandoning one of their ships and cramming themselves aboard the tiny Mayflower. Charles Darwin set off from these docks on his historic round the world voyage. And these are just a few of the many remarkable voyages that started here. So here is where we'll start our LEJOG, Lands End to John O'Groats.

Here's where the Pilgrims left Plymouth on their final leg to the New World


The Navy has continued to hold a presence in Plymouth even today. It was so important in W.W.II that the Germans bombed most of the city to smithereens. They estimate around 45,000 buildings were destroyed.

Unfortunately the post war construction is almost exclusively concrete ugly. Only the small Barbicon area around the old port retains any of its prewar character. So that is the must see spot. That and the heights of the Hoe where Drake finished his famous game.

We spent just one day looking around Plymouth. Then we boarded a train to get to the start of Britain's most famous bike and hike route, Lands End to John O'Groats in Scotland. Basically it's a southwest to northeast extreme point to point route. Many British aspire to complete it.

However it's not one specific mapped or signed path. In fact aside from starting and ending at the same point almost everyone takes different routes in between. Of the many travel blogs posted it seems no two are identical. It's a do your own thing kind of ride which suits us just fine.

So after leaving the train in Penzance, of fictious pirate fame, we headed out to the Lands End point. How many miles we'll pedal to the other end is anyone's guess.

Here's the beginning of the end to end route, Lands End


Lands End is a strange place, at least for people who are used to much simpler beginnings and endings. Unlike the trails we've hiked or even the various coast to coast bike routes we've ridden, this place has an almost artificial feel. There's a hotel, restaurant, snack bar, plus the type of entertainment venues you find at many of our National Parks. There's even an entire room that goes into all the different adventurers who've ridden, walked, run, paddled, and even driven end to end. They call it something like "End to End at 6,000 mph."

It really is a big deal here. There's a club you can join. You can get a passport book and have it stamped as you go along. At the end you can even get a completion certificate if you've got the stamped passport to prove you did it. We'll forego that as we're just riding this route as part of our much longer summer travels.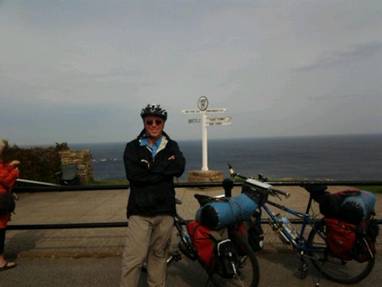 Here's Brian standing at the sign at Lands End. It's a long way to the other sign.

We toddled on out to the point, took a bunch of photos while the weather was relatively clear, and then headed back to Penzance and beyond. Unfortunately as the day wore on the weather turned nasty. Several days of unsettled weather are expected so we planned to take a bit longer getting through Devon and Cornwall counties. Hopefully things will improve later.

The first weekend in June is normally some sort of British holiday. Everybody gets Monday off. However this year there's an extra holiday. It's been 60 years since Queen Elizabeth's coronation. So it's an extra long party weekend.

Celebrations were scheduled everywhere for Monday June 3. There were street parties, boat parades, galas, all sorts of events. The Camping and Caravan Club even put together an attempt to break the world's record for the most number of people wearing paper crowns at the same time. I never would've guessed there was such a record.

Everyone if showing their colors for the queen's diamond jubilee


Needless to say everywhere we went was crowded. The beach town of Perranporth looked as crowded as any California beach town on a busy summer weekend. The supermarket at Newquay was a zoo. Traffic in the town was at a standstill. It was crazy. We were looking forward to Wednesday. In the meantime we aimed away from the coast.

There's a high open area in northern Cornwall called the Bodmin Moor. It's at around 1000 ft elevation and contains Cornwall's highest peak, Brown Willy 1377 ft. Local farmers and ranchers can graze their animals in the moor as they please. There are sheep, horses, and cows all over. It's also a recreation site for the locals.

What's really interesting is this area was a huge American air base in W.W.II. The remains of many runways, taxiways, and support buildings can still be seen. It really must have been a busy place back then. There are some military museums nearby that must explain the role of this former base. Someday well have to come back to have a look.

On our third day out from Lands End we left the Cornwall county and entered Devon. The first thing we noticed were wider roads. Cornwall's roads seem to be simply the application of asphalt over ancient carriage roads. They're barely one skinny car wide and often sunken well below the surrounding land. The embankments are often well over 6 ft. This doesn't make it easy to see the scenery but it does provide a good windbreak no matter which way the wind roars. You really do get a rather closed in impression on these roads.

We selected the small campground in Bridestowe as a convenient stop. However it's a camp located in a town that has almost no services. There's no stores and only a pub nearby. So when we woke to an unpredicted downpour we had no choice to pack up and go on. We had no extra food. Fortunately the rain stopped just long enough for us to get our thoroughly soaked tent packed. But for most of the rest of the day we were riding in the rain.

After the very short ride taking the rail/trail project known as the Granite Trail we dropped into the quaint train station at Okehampton for midmorning tea and then down to the equally charming town itself for lunch.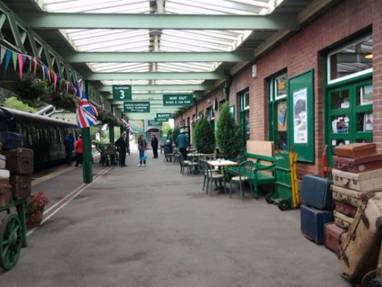 The Okehampton train station is really pretty.

Now we had to decide where to go next. Our original plan was to head toward Tiverton, another small town. But with all the rain we decided to just head directly east to Exeter where we could take a hotel.

We're glad we did. Exeter has a very nice old town centered on its quay. This was once a major export port for local wool. There are several old warehouses stretched along the old canal that now house chic restaurants and apartments.

The main square of Exeter is its pride and joy, a magnificent 12th century gothic cathedral. The entire facade of this church is covered with well worn 12th century statues that were originally painted. It's the largest number of such statues in one place in all of Britain. Inside is the largest vaulted gothic ceiling in the world.

The main square in Exeter really is a pleasant place To hang out


The square itself is surrounded by some marvelous half timbered houses. The pleasant lawns would make for ideal picnic grounds if the weather were better. All in all Exeter is a nice enough town that we'd love to return to someday.

June 6 - June 12

Exeter, UK to Shrewsbury, UK

The weather was reasonable when we left Exeter. That's to say it was still drizzling a bit, we were still wearing rain gear, buy it wasn't pouring, yet.

As is so typical of these rides through the English countryside we spent most of the day on backroads, super skinny backroads, with some small villages along the way. Climbs were finally starting to become fewer and fewer. Now rather than multiple steep climbs each day we were now seeing perhaps one. That was good as the knees were starting to feel the strain.

We pulled into Taunton fairly early with plenty of time to study the weather. A very bad storm was due in the following day and we needed to decide what to do. We wound up spending one night in a campground and the next in a hotel without going any further.

It was a good thing we did as for one entire day the weather was downright horrible. It was pouring all day long. The winds reached gale force levels. It would have been one rough night in a tent. In fact one family at the hotel had to give up camping as their tent was flattened. They were the lucky ones. Other folks saw their tents ruined. Not a good night for camping.

The unsettled weather continued on to the next day, but it was good enough for us to carry on. In fact we had one ripping tailwind. It was so easy to make the 30 miles to Wells even with our late morning start and long stops for lunch and food shopping while a few last rain squalls passed by.

The hill of the day out of Wells goes through a region called the Mendip hills. It's a big area for forest walks and to the west, near Cheddar, there is a famous canyon. Our route, of course, took the shortest, straightest, and steepest path over the hills. Knees don't fail me now.

Over the Mendip hills we climbed early in the morning. It was steep, but didn't seem quite as tough as those in Cornwall. Once up the hill there were several miles of relatively flat and then a good downhill to Chew Stoke. We passed by Chew Valley Lake, one of Britain's largest manmade lakes and home to lots of bird life.

A route going around the large city of Bristol via the south east using mostly bike paths proved to be a pretty good way to go. We managed to avoid city traffic all together.

Unfortunately finding camping was not so easy. The campground we were aiming for just didn't seen to exist. So we had to continue over the Severn bridge to Chepstow. We tried a second campground. But all the location information we had for it seemed incorrect. There was no campsite where the GPS said there was. So we wandered into the woods, set up the tent, and spent the night.

The Wye river is a chocolate brown muddy flow that dumps into the equally muddy Severn. Although it may be so muddy because of the recent storm and its very high state, but we're told that it is normally very brown.

The banks of the Wye have been settled since the iron age. Monmouth, in fact was not only an iron age town but has also been occupied by Romans. The interesting stone gate over the river was built in 1260 and that even replaced an older wooden bridge. Currently it is the last fortified gate in all Britain. Monmouth today has a very attractive downtown that's nice to wander but there's not much else to attract the tourist right in town. But we did have to get some photos of that gate.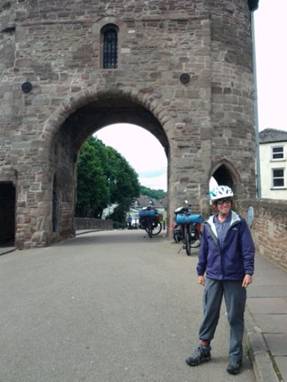 Standing at the Monmouth gate.
From here we took a straight route up to Hereford and beyond. Even though we're supposedly beyond the really tough hills there's still plenty of climbing in this region. We arrived too late to visit the cathedral and our campground for the night was another 4 miles north. So we grabbed sandwiches in the store, checked up on the weather forecasts, and went on. We'll just have to add Hereford onto our "come back to visit later" list.
Many more rolling miles brought us to the small city of Shrewsbury. Actually at just over 67,000 inhabitants it's larger than Cheyenne.
Set in the middle of a large loop in the river, Shrewsbury is practically an island, which has helped to keep it small in the first place. It's a pretty town with a bunch if those old black and white half timbered house scattered about. The old market is particularly attractive. Shrewsbury's biggest claim to fame is its illustrious son, Charles Darwin born here in 1809. There's a statue of him in his later years outside the library.
June 13 - June 18
Shrewsbury, UK to Keswick, UK
The industrial revolution of the 1800s had to begin somewhere. So a location in the middle of England is just as good a place as any. Back in 1708 a fellow named Abraham Darby bought an old foundry and began experimenting in iron production. He was originally a pot salesman. He wanted to make pots and pans cheaper than the brass ones he was selling.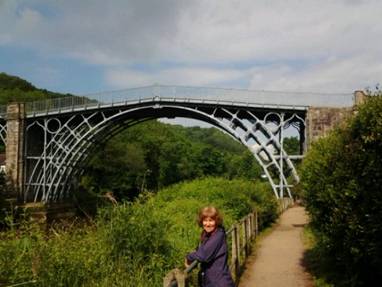 This is the very first iron bridge

Iron had been produced in this section of the Severn River gorge for a long time. Until this time only charcoal was used. Charcoal was mixed with limestone and raw iron ore. It was all heated to extreme temperatures which allowed the iron impurities to be removed into the limestone.

The problem is charcoal was expensive to produce, not very efficient, and used trees that took a long time to replace. Coal was cheap, easy, and plentiful. Efforts to use coal hadn't been successful. But Darby's experiments with coke worked. This meant that for the first time ever iron could be mass produced. The industrial revolution was off.

Where the industrial revolution began, at this single furnace in 1708


Darby's son and grandson Continued to expand production. It was the third Abraham who was tasked with building the first ever iron bridge. Built in 1779, the original structure still stands. Although there have been numerous repairs over time. It's a beautiful bridge and what's particularly interesting is that they used wood joining techniques, mortice and tenon. Obviously it worked well.

This is the world's first iron bridge built in 1779


After leaving Shrewsbury we pushed our way north toward one of the most urbanized strips in the UK. Stretching coast to coast with hardly a break from Liverpool to Kingston it's almost impossible to pass through this region without going through at least some city. It's a day long grit your teeth and bear it. And we had to have 3 days of horrendous weather to accompany us. England was soaked to the core already and this additional rain produced even more flooding.

We were beginning to wonder if this just was not a good year for UK riding.

Just about the last major portion of this heavily populated region is the small city of Lancaster. It's a pleasant enough city with an affluent feel to the downtown. But we were anxious to make up for some of the time spent waiting for better weather. We pushed on to the famous lake district.

England's lake district is a fairly small, by our standards at least, region that has that unmistakable look of ancient glacier activity. There are steep mountains with sharp ridge lines plus typical elongated lakes in the glacier carved valley grooves. This far north, tree line is barely above sea level. So even though these mountains are only a couple thousand ft high, their flanks look very much like the much higher Alps and Rockies.

The gateway to the lake district is the town of Kendal. From there an extremely busy main road continues up valley to Windermere and then over a low pass to Keswick. It's only about 40 miles total and then you're out. Not a very large area.

Yet this is a huge tourist draw. Even in the midseason, June, it was crowded. Getting through Windermere on the main road with all that traffic was not fun. We can only imagine what it would be like in summer. There's no way we would ever consider attempting to pass through then on bike or in a vehicle. Forget it.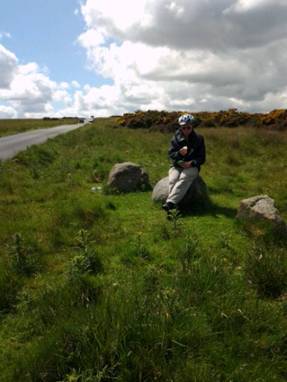 Having a snack on a pass outside the Lake District.
Once over the pass and into Keswick (pronounced kes ik) things get much calmer. The ride around Thirlmere was actually pleasant. And Keswick was a nice enough town to spend a night even though its main source of income these days is tourism.
June 19 - June 22
Keswick, UK to Newcastle upon Tyne, UK
Back around 122AD the Roman Emperor Hadrian ordered the construction of an 83 mile long wall dividing the civilized region of the Roman empire from those barbarian northerners in what is today Scotland. This was, of course, after several attempts to conquer those same barbarians failed.
It was a sturdy stone wall standing many feet high with a deep ditch in front and a couple shallower ditches behind and an acces road its entire length. Every Roman mile (1.48 km) there was a wall castle and between each castle were 2 towers. There were several supply forts located on and behind the wall as well.
It wasn't so much a defensive wall as it was more of a border control. After all a concerted attack at one point would easily breach it. They were controlling who came and went and probably also charging various tolls and import duties. As well a keeping those nasty northerners from raiding their protected towns near the border. They even issued passports for the first time to Roman citizens wishing to pass.
Alas as the Roman empire collapsed so did the wall. Those folks who were previously protected by the wall and the Roman garrisons soon found themselves reabsorbed into the tribes of the north. The wall itself was gradually torn apart as those readily available cut stones were quite valuable. Today they're found in the walls of churches, houses, and even farm field walls. Only parts of the wall remain and a lot of that deep frontal ditch.
There is a hiking trail plus a bike route following the wall, sort of. We had considered riding it back in 2009 when we were riding the North Sea Route but decided to return to the continent instead.
So this year we decided to try to kill three birds with one ride. Since the LEJOG doesn't have any predefined route we figured we could ride the Hadrian's wall route to Newcastle then head north to finish the North Sea Route. Perfect. At Carlisle we turned east and located the wall route in Brampton.
What a surprise and bit of disappointment the wall cycleway turned out to be. Despite the fact that there is a road that basically follows right along the original wall path, the cycle route does not. Most of the time it's well south which means you don't see many wall remains at all. We can only guess that the B road that is along the wall is very busy with traffic and isn't a good way to go.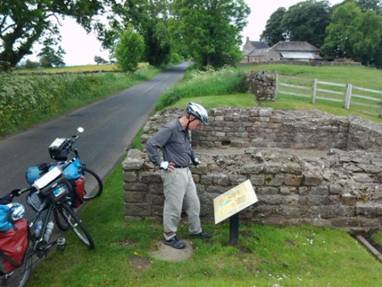 Checking out the remains of one of the old wall towers.
There are a couple of spots early on where you're literally on top of where the wall once stood. You can see the massive remains of the foundations of some of the wall castles and towers. You can also stop to see the remains of a couple of the forts. These were supply stations and troop garrisons located behind the border. So there are some pretty substantial ruins. Otherwise you may just as well be riding along any old country lane, with steep hills for good measure.
Its a very short distance coast to coast here. So we finished most of it in one day. Which was good as our ride through Newcastle the next day was one wet one. We spent a day in Newcastle first to wait out another really rainy day and to work on getting a new wheel. After some 24,000 miles Brian's front rim cracked. I guess that many miles on a bike wheel is a pretty good record. Wonder when mine will go.
We also wanted to visit Newcastle. We never got there in 2009.
Newcastle has a small quayside area with a few half timbered houses, a downtown with a bunch of lovely Victorian gems, and many modern constructs on the higher banks. But the city's most famous landmarks are its 7 bridges. From different eras and at different heights it really makes for a distinctive sight.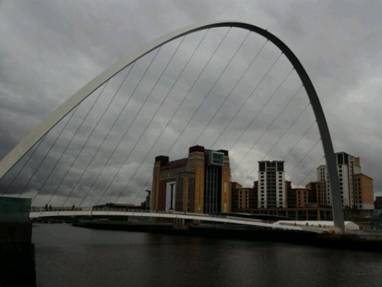 This entire Millennium bridge tilts as a single unit.

Particularly interesting is the new Millennium pedestrian bridge. It is the world's first and only tilting bridge. We didn't get to see it tilted up, but it is beautiful in all positions.

This is the world's only tilting bridge, the new Millennium Bridge in Newcastle


June 23 - July 1

Newcastle upon Tyne, UK to Edinburgh, UK

With a windy, cloudy but not rainy day in which to make distance we pushed hard as we resumed the North Sea route begun back in 2009.

Here along the coast north of Newcastle we finally found a stretch of that route which meet our expectations. The path follows closely along the shore with its step rugged cliffs. You are within sight of the ocean almost the entire way.

Three are also a bunch of old eerie castle ruins clinging to those very same cliffs. For that reason this is also called the coast and castle route. The ruins at Warkworth, Dunstanburgh, and Bamburgh are truely remarkable.

Just a few miles beyond Berwick upon Tweed we finally entered Scotland. Berwick is a lovely old city with a stunning old stone bridge that is still in use. Many of the old city walls and gates are even still in place.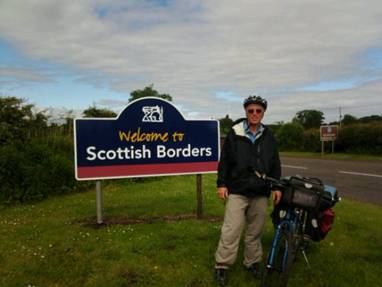 Finally! Scotland!
But Berwick has had a tumultuous past. Always pitted between Scotland and Britain, it has changed hands no less than 13 times. Today it is part of Britain with a small chunk of British soil carved out to the north of the Tweed. The rest of the border follows the river. Who knows how long that will last.
The North Sea Route 1 heads inland to reach Edinburgh. Whereas the route 76 actually follows more closely to the coast. It's also significantly shorter and flatter. We took route 76 and were well rewarded. The views from the hills just north of Coldingham are magnificent and with a near perfect day, finally, we had almost ideal riding. We decided to make it a short day and stopped for the night in the town of Dunbar which just happens to be the birthplace of John Muir.
One more day brought us to the city of Edinburgh, the capital of Scotland. Edinburgh has a very long history. Its most famous landmark, the castle, dates back to the 11th century. It was captured by the famous Scott king, Robert the Bruce. It's legendary Mary Queen of Scots was born there as well as her son, James VI and I, the first king of England, Scotland, and Ireland combined. It's been the home of famous writers, explorers, and scientists. And it is a remarkably lovely city still to visit.
The main old town sits along a ridge that extends east from the rocky outcrop on which sits the famous castle. At the lowest end of this ridge is the palace Holyrood which is still used by the royal family for special functions. In fact they were due to visit in just a couple days so that William could be entered into the order of the Garter.
This is also where the new Scottish parliament building is located. Scotland has an unusual relationship with England in that it's partially independent. It has this distinction because in 1707 they voluntarily joined the UK. In fact after the signing of that resolution they packed the crown jewels into a chest in the throne room in the castle, sealed the door, and forgot all about them. It was over a hundred years later that Sir Walter Scott obtained permission to reopen the room and search for the jewels. They now are on display in the castle.
The mile long road along the ridge between the castle and palace is known as the Royal Mile. It is lined with the city's best old buildings and churches and is where you'll find the majority of tourists. But, the town also has a number of great museums many of which are free.
The National Art Gallery houses a worthy collection of masterpieces including many from Scottish artists. The National Portrait Gallery contains paintings of all the important Scottish folks past and present.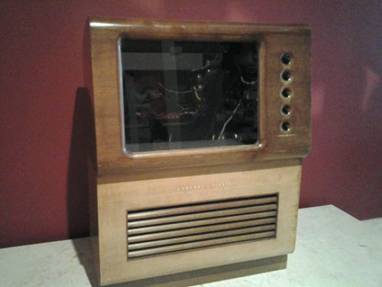 The worlds oldest surviving color TV, 1946 by GE
Our favorite museum, however, was the National Museum of Scotland. Here you can see some amazing items from one of the oldest steam locomotives in existence to the world's oldest surviving color TV. Anything you wanted to learn about Scotland's history can be found here. It's worth a few days visit alone.
We stopped in Edinburgh with the intention of spending just 2 days and wound up staying almost a week. Ah well, we're still waiting for that summer weather to show up.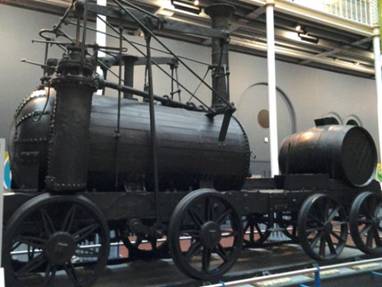 Built in 1813 this is one of the two oldest steam locomotives in existence
APPENDIX A – ROUTE
June 1 - Bike path to Plymouth center, train to Penzance, A30 to Sennen (17.95 miles)
June 2 - A30 to Lands End, B3283 to St Buryan, backroad and B3315 to Penzance, coast road to Natation, B3280 to Praze-an-Bebble, B3303 to Camborne and Redruth (35.1 miles)
June 3 - Backroads thru Mawla, Blackwater, Perranporth, Newquay, Trebudannon, St. Columb, Rosenannon, to Wadebridge (40.98 miles)
June 4 - A39 thru Wadebridge, backroads thru St Mabyn, St Tudy to Camelford, backroads by Bodmin Moor thru Polyphant to Launceston, backroads thru Lifton, Tinhay, Portgate, Lewdown, Combebow, to Bridestowe (46.10 miles)
June 5 - Granite rail trail to Okehampton, back roads thru Belstone, South Zeal, Whiddon Down, Crockernwell, Cheriton Bishop, Tedburn St Mary, to Exeter (32.77 miles)
June 6 - Backroads thru Pinhoe, Broadclyst, Talaton, Broadhembury, Smeatharpe, Corfe, to Taunton (42.89 miles)
June 8 - Backroads thru N Curry to Athelney then Othery. A361 to A39 to Street, B3151 around Glastonbury. National bike route 3 to Wells. (30.53 miles)
June 9 - Backroad over the Mendip Hills to Chew Stoke, backroads thru Windows, Barrow Gurney, Long Ashton. Bike path around Bristol. M48 to Chepstow (51.40 miles)
June 10 - Back roads thru St Baisel then down to the Wye river. Continue on to Monmouth. Rt 466 to Hereford, Rt 4110 and back roads to Moreton. (38.48 miles)
June 11 - Back roads to Canon-Pyon, A4110 to Craven Arms, back roads to Church Stretton (39.81 miles)
June 12 - Leebotwood, Dorrington, Great Hanwood to Shrewsbury (20.35 miles)
June 14 - Backroads thru Bicton, Baschurch, Burlton, Loppington, Northwood, Bettisfield, Hammer, Threapwood, Farndon, Aldford, Waverton, Bridge Trafford. A56 to Preston Brook (54.18 miles)
June 15 - A56 to Warrington, A574 to Culcheth, backroads thru Golborne, Ashton in Makerfield, Peel, Shevington, Standish, to Croston (36.65 miles)
June 16 - Backroad thru Leyland, Tardy Gate, to Preston (14.04 miles)
June 17 - A6 to Lancaster, backroads thru Halton, Over Kellet, Borwick. A6070 thru Burton, Crooklands, Endmoor, to Kendal. A591 to camping. (46.35 miles)
June 18 - A591 thru Staveley, Windermere, Grasmere. East Thirlmere shore drive back to A591 to Keswick. (28.79 miles)
June 19 - A591 to Heartbreaker, backroads thru Welton, Dalston, to Carlisle. (33.71 miles)
June 20 - Hadrian's Cycleway, National Cycle Route 72 thru Brampton, Hexham, Corbridge.
(47.99 miles)
June 21 - Hadrian's Cycleway, National Cycle Route thru Newcastle, Wallsend, to Tynemouth. Route 1 to Whitley Bay. (34.31 miles)
June 23 - National Cycle Route 1, North Sea Route thru Blyth, Ashington, Lynemouth, Cresswell, Amble, Warkworth, Although, Boulmer, Howick, to Craster (55.39 miles)
June 24 - National Cycle Route 1, North Sea Route thru Embodying, High Newton, Beadnell, N. Sunderland, Seahouses, Bamburgh, Warren Mill, Belford, Fenwick, Goswick, Cheswick, to Berwick upon Tweed. (40.40 miles)
June 25 - National Cycle Route 76 thru Ayton, Cockburnspath, Thorntonloch, to Dunbar (38.36 miles)
June 26 - National Cycle Route 76 thru East Linton, by Hailes Castle, Longniddry, Port Seton, Musselburgh, around Edinburgh to Cramond (46.68 miles)
APPENDIX B – CAMPSITES, HOTELS
May 31 - Riverside Campground at Plimton, (£14.50/night)
June 1 - Sennen Cove Camping in Sennen at Lands End (£13.10/night)
June 2 - The Ponderosa Camping and Caravan Club Site st Redruth (£8.00/night)
June 3 - Laurels Holiday Park at Wadebridge (£17.00/night)
June 4 - Bridestowe Caravan Park (£8.80/night)
June 5 - White Hart Inn Exeter (£62.95/night)
June 6 - Ashe Farm Camping Near Taunton (£12.00/night)
June 7 - Holiday Inn Express Taunton (£90.99/night)
June 8 - Wells Holiday Park in Wells (£12.00/night)
June 9 - Wild camp in woods near Chepstow.
June 10 - Marsh Farm Camping near Wellington (£15.00/night)
June 11 - Small Batch Farm at Little Stretton (£12.00/night)
June 12, 13 - Oxon Hall Travel Park in Shrewsbury (£23.25/night)
June 14 - Premier Inn Runcorn (£59/night)
June 15 - Mill House Hotel in Croston (£29.99/night)
June 16 - Ibis Hotel Preston North (£55.00/night)
June 17 - Windier Camping Club Site near Kendal (12.95 miles)
June 18 - Keswick Camping and Caravan club site (£12.70/night)
June 19 - Green Acres near Carlisle (£12.00/night)
June 20 - 2 The Crofts B&B in Footbridge ($110.06/night)
June 21 - Newquay Lodge in Whitley Bay (£60/night)
June 22 - Premier Inn on North Shields (£59/night)
June 23 - Dunston Hills CCC club site at Craster (£12.30/night)
June 24 - Ord House Country Park at Berwick upon Tweed (£22.50/night)
June 25 - Dunbar Camping and Caravan Club Site (£12.30/night)
June 26 - July 1 - Edinburgh Caravan Club Site (£17.50/night)
REFERENCES
Lonely Planet England
Frommer's Edinburgh and Glasgow
Frommer's Scotland
Eyewitness Scotland