Europe 2012 Part III - LEJOG Scotland
EUROPE 2012 PART III - LEJOG SCOTLAND
Edinburgh, UK to Dover, UK
July 2, 2012 to July 25
Start 70,614 miles (112,982 km) cumulative:
End 71,108 miles (113,773 km) cumulative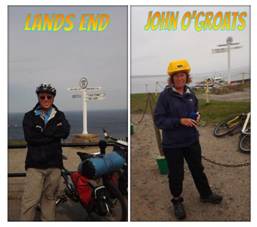 We finished the Lands End to John O'Groats
TEASERS
Continue north despite a record wet summer.
Learn about the UK's north sea oil operations in Aberdeen.
Enjoy a scene right from the old masters along the north coasts.
Inverness, where all the North/south travelers come together.
Admire the nearly alpine appearance of the most northern Scottish highlands.
At long last, arrive at John O'Groats, in a misty rain of course.
Learn about Bonnie Prince Charlie and his defeat at Culloden.
Take a drive on Scotland's wild side.
Learn about Robert the Bruce's victory at Bannockburn.
Back to the continent.
July 2 - July 8
Edinburgh, UK to Aberdeen, UK
It's official. Yes indeed. It's not even a question of personal perceptions. It really has been an unusually wet summer. In fact June just shattered all records. No wonder the campground at Edinburgh was so soggy. No wonder we feel as if there's been no end to the rain.
And yet again leaving Edinburgh we had another rainy day. I swear we have never seen such lousy weather forecasting. One day the future looks somewhat better. The next day everything is forecasted for all rain. Then the actual result doesn't match anything predicted. We just have to take it all one day at a time and plan a few hotel nights just to dry out.
Once again the official North Sea Route heads inland whereas route 76 stays along the coast. Since we were trying to ride the North Sea we decided to take the much flatter coastal route. It rejoins route 1 some where near Glenrothes. Unfortunately with the rain we didn't exactly get to see Edinburgh from the bay side. We could barely see beyond the shore.
After that first soaking day we finally had about 3 days of reasonable weather. If not completely dry at least we weren't sopping wet at the end of each day. This was just enough time to get to Aberdeen where we once again took time out to wait for another fierce storm to pass through.
Aberdeen is known a the Granite City and when you get to the main town center you can see why. The wide Union St is lined with a plethora of gray granite buildings. You would think the appearance of all that gray stone would be rather oppressive, but it actually gives the city a pleasant, organized, uniform appearance. It's the newer monstrosities made from concrete that are the eye sores.
The name, Aberdeen, is originally derived from words meaning literally between the Don and Dee, the rivers. Over the centuries these rivers, in particular the Dee, have been significantly altered to the point where the original river beds are unrecognizable. A major port has been built in the modified river mouth.
The town was originally a fishing village. The small suburb, Footdee, still has much if it's original fishing village appearance. Since the early 70s the main activity of the port has shifted to oil. The UKs North Sea oil platform operations are supported out of Aberdeen. On any one day you'll see several different types of oil platform support boats tied up at the docks or moored just outside the port. It's made the city very wealthy and that shows in the shopping on Union St and the great condition of all those older granite buildings.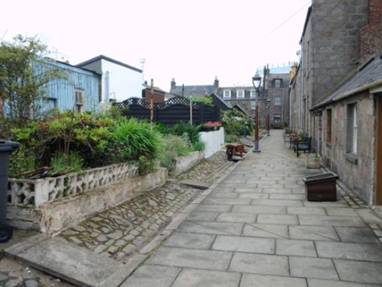 Down at the fishing town of Footdee
Aberdeen has a few worthwhile museums to visit. A particularly good one is the Maritime Museum. It's housed in an old church connected to an old Provost house via a new glass structure.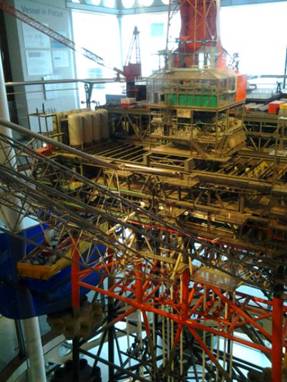 A very large and intricate oil platform model.

The museum does have quite a bit of information on the fishing fleet, including a fascinating 1940s era PR film made in Aberdeen for the Coast Guard radio service. However, it's primary focus is the oil industry. In fact just a you enter the door, hanging right over your head is a 1:27 model of an oil platform. Originally an engineering mockup used to model piping configurations, it was modified specifically for the museum. Looking at the tiny people on the model you get a feel for just how gigantic these platforms really are.

This is a huge engineering model of the Murchison oil platform in Aberdeen's Maritime museum.


Aberdeen also has a small but nice art gallery. It has a few paintings from some of the more famous masters, Renoir for example. But it's primary focus is on Scottish artists. The paintings of every day folk from the 1800s are especially interesting. Both museums are free which makes it all that much better.

Having waited out another major storm that left even more flooding behind we pushed on for what we hoped would be just a mere 8 more days riding in this wet weather.

July 9 - July 11

Aberdeen, UK to Inverness, UK

Just out of Aberdeen the route takes up a rail trail right at the Dyce train station. This old rail line covered over 53 miles and would take passengers and cargo right across the peninsula. The last train ran in 1979 and the rails were ripped up for the rail trail in the 80s. It's a dirt path with varying surface conditions. But best of all it lets you avoid all the ups and downs of these Scottish rolling hills.

We easily got to the town of Maud, which has a tiny store for a quick snack, and then once again headed across those hills to Turriff. We really are beginning to look forward to flat riding in Belgium.

The ride north out of Turriff wanders along the river for several miles before descending into the town if Banff. As we rode along a gently curving section I couldn't help but think just how much it looked like one of those old paintings. Trees line the banks. Rolling fields filled with farm crops stretch over the hills. Pretty farm buildings are clustered nearby. And all was framed under an ominous looking sky. With scenes like this in real life it's easy to visualize just what the painters of old were trying to capture.

Once back along the coast we had another half day with many views of the roiling ocean over our right shoulders and pretty coastal villagers to enjoy. Banff has a lovely old stone bridge well worth several photos and the view through the old stone railway viaduct in Cullen couldn't be more dramatic. Getting to ride along the top of one of those viaducts for a spell was fantastic.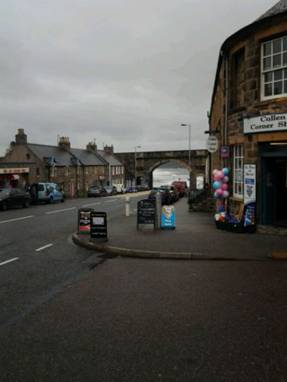 Looking through the train viaduct at Cullen
The weather was very strange. Just off the coast the sky seemed almost brightening. Inland it remained cloudy and misty. The off shore weather just would not move inland. Of course as the day wore on the mist just got heavier and heavier. Then with a hard push, Brian managed to break his chain. So a fast fix was in order, out in the drizzle on a muddy road. The day was going down hill from that point on.
Add to that the fact that a cold hearted campground owner turned us away with a, "you have no place to go. That's not my problem." So an extra 6 miles still in more misty rain. The day ended badly.
On our third day toward Inverness the weather finally turned a bit drier. Yeah we know. It's the UK and it always rains here. But even the local papers are running headlines saying that local folks are streaming into the travel agent offices exclaiming, "Get me out of here." So a day without much rain is very welcome.
The route heads inland for a 400 ft climb into the hills followed by a screaming downhill into the suburbs of Inverness.
Inverness is the largest city of the Highlands with about 100,000 inhabitants. As such it's the major shopping Mecca for folks coming from all over the region. There's almost nothing left from its middle ages. The castle was blown up several times the last time in 1745 during the Jacobite revolution. Much of the city center has newer and not so pretty 1960s concrete structures. Aside from a single museum there's not much for the tourist to visit.
Yet tourists still come in droves. Some are like us, traveling on bike, foot, or motorcycle along the route of the famous LEJOG. Many are hikers coming out of the Highland mountains to clean up, get a hot meal, and resupply before heading back into the hills.
There are also drivers on the road headed toward the northern islands making a pit stop along the way.
And, of course, there are still all those tourists who've come all this way with hopes to catch a glimpse of Scotland's most famous and elusive resident, Nessie.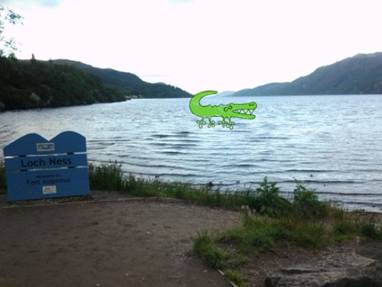 There it is. Nessie.
Even without lots of tourist sites, Inverness still makes a pleasant stop for a day. It's got a campground within easy walking distance of town, a great riverside path for relaxing strolls, and good places to refill the tummy and bike bags for the last push northward.
July 13 - July 18
Inverness, UK to John O'Groats
Make hay while the sun shines. Or at least keep moving while it's not raining. That's become our motto for this summer at least. We're even hearing that the continent isn't escaping this wet weather. It's just warmer there.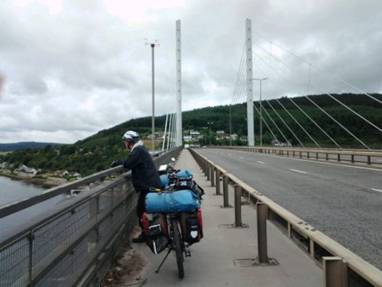 Crossing the last major bridge on our End-to-End

Just north of Inverness we ride across a nice modern bridge over the Moray Firth. This would be our last crossing of a major bay on a bridge in the UK. It's a nice bridge built in that new suspension style that seems to be the rage these days. They do make for clean simple looking bridges.

Standing on the last major bridge on North Sea Route out of Inverness


Sometimes the signs for the bike route are just not easy to find. And once again we found ourselves standing at an intersection knowing where we needed to be but not knowing how to get there. To our rescue comes a .... Canadian. Turns out he came for a visit, met a lass, and never went home again. He now has an unusual accent that is part 'eh' and part Scot. It was nice for him to offer help.

We turned toward Cromarty to climb up a ridge running along the north side of the Moray Firth. Views of the bay below were stunning. Then a fast downhill brought us to the little ferry landing. This tiny ferry runs only in summer and is most unique. This is the first time we've ever seen a ferry with a turn table. Cars are directed onto it and then are automatically turned around. Way cool.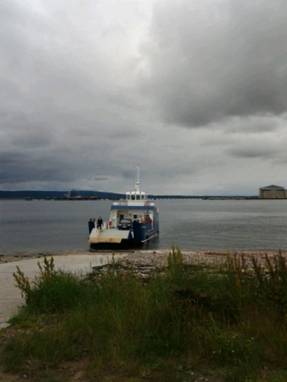 The tiny ferry with the car turn table.
No caravans allowed.
We cruised around a shallow bay, admiring the mobile oil platform sitting by the shore on the way, and then made a quick dash toward Tain. We could see a continual sheet of light rain to the north and we wanted to get into town before getting too wet.
Tain is a rather pretty small town with some nice stone structures. It suffered a lot under Cromwell and over taxation. But with help from the nation's churches the old buildings were rebuilt. With lots of flowers scattered about, the town now has a small but reasonable tourist draw. The two new supermarkets just to the north of town were a very pleasant surprise for us.
Our camp for the night was almost right on top of the rail tracks. Literally the trains passed not more than 10 ft away. Fortunately the trains are infrequent, run on electricity which is quiet, and are very short in night. Otherwise it could be one sleepless night.
Just about 1000 ft above sea level certainly doesn't seem very high. But this far north an elevation even this low takes on the distinct impression of being in Alpine country. The plants are all those low ground hugging cold wind surviving types normally found much higher. Streams are cold, clear, and fast running. And houses tend to be muchVery scarce. At least that's what the famous Crask Inn looks like.
Fortunately since it really is not very high it doesn't take to long to descend back to lower less Alpine elevations.
The weather was good for a change. The wind was at our back. We could have stopped anywhere. But the most recent weather report we saw indicated there would be one very wet rainy day coming next. So we pushed on.
It wasn't too difficult to ride to Bettyhill. Our legs weren't used to 68 mile days. Yet we weren't to overly beat.
But the campground sure was the disappointment we'd heard about. It has a stunning setting, which is about it's only redeeming feature. The toilet block, ugh. This has to be the worst campground we have found anywhere in the UK, and we've seen a lot of campgrounds. We were really happy to move on the next morning.
We were now spending our last end-to-end day traveling along the stunning and rugged furthest northerly coast of the main Britain island. Here there are few trees. Instead there are vast expanses of green pastures broken into neat squares and rectangles by stone walls. Old stone farm complexes lie scattered about the hills with a few more modern houses here and there.
Of course there are also many ruined stone houses as well. Before the 1800s much of the land was worked by small farmers who were leasing the land from the local lords. In the early 1800s a new hardier breed of sheep was developed. These could easily withstand the harsh northern winters and were easy to manage. The northern landlords concluded it was far more profitable for them to lease the land to sheep herders than farmers. So around 1819 they threw all the farmers out. This event, called the Clearances, was a major factor in the massive migration of Scots to the US at around that time. It's also why even today the northern regions of Scotland are sparsely populated.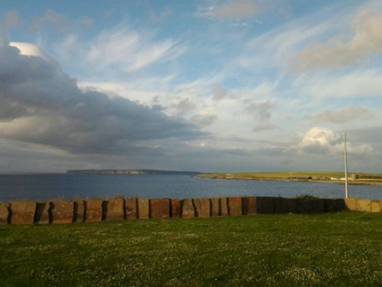 Looking over the coast from our Thurso camp.
We dropped our gear at the well situated Thurso caravan park and took one last day ride in a misty morning to John O'Groats.
Finally standing at the other end, John O'Groats

John O'Groats had been described as being a bit of a scruffy place. It's not really much of a town. There's just a few buildings containing some shops. There appears to be a new hotel and some holiday homes under construction. It does have that same sign, owned by the same company, where you're supposed to have your photo taken at the start/finish of your end-to-end trek. Fortunately there aren't those Disney style "adventures" that are at Lands End. Actually Join O'Groats seems a bit less fake because of that lack.
So now that we finished the End-to-End, Hadrians wall, and more of the North Sea route we'll rent a car for a while, head to Dover, cross back to the continent and go in search of summer.
July 17 - July 25
Inverness, UK to Dover, UK
Having picked up a rental car for a week long trek back to Dover and the ferry we immediately headed over to see the very spot where Bonnie Prince Charlie's troops took their last stand.
In 1745 those folks supporting James II gathered under the flag of his eldest son, Charles Edward Stuart with the intention of retaking the throne in London. They could be successful if 3 things came about: 1. they got support in the Scottish highlands. 2: they got support from sympathizers in England and 3: the French also invaded. As they headed south out of the highlands they were initially very successful. They were met with adulation in the Towns and cities and found little real government resistance. All looked good.
After marching within 120 miles of London in 1745, the troops of the Jacobite rebellion were forced to retreat. They were having trouble getting recruits in the highlands, in England, and elsewhere. There was no communication from the French saying they were going to invade. The government's forces were rapidly retaking cities in their rear. Plus the were three government armies running to intercept them. Charlie's commanders convinced him to retreat and regroup.
They returned back north and even managed to rout the government forces in another battle or two. But the battle at Culloden on April 15, 1746 was to do their cause in.
It was a mismatched fight to begin with. The government forces under the command of the Duke of Cumberland were encamped in the field. They had had a day of rest in order to celebrate the Duke's 25 birthday. They were well fed, warm, and dry.
The Jacobites, on the other hand, had been out in a near freezing rain for 38 hours as they were marched to the government encampment in hopes of achieving a surprise ambush. They'd marched all night. They were staggered all over due to the difficult soggy moor. Plus their supply line from Inverness was cut off meaning they were hungry. Add to that the fact they were outnumbered 8,000 to 5,500 and it's no wonder it was such a rout.
This is one of those battles that not only changed the course of Britain's history but that of the world as well. Had Charlie won and managed to take the throne there wouldn't have been a Queen Victoria and possibly not such a powerful British Empire. The French would now have had a friend on the English throne so perhaps they wouldn't have come to the assistance of those upstart Yankees. Maybe that dreaded stamp tax may never have been enacted in the first place.
Ah, it's always fun to play those "what if" games with history. It's no wonder the idea of simultaneous timeliness is such a favorite Sci Fi subject.
The Culloden battlefield now has a museum where you are walked step by step through the year long events leading up to this final battle. You are presented with viewpoints from both sides of the conflict plus what steps they were taking. Finally you experience a surround movie that puts you right in the middle if the bloody battle. In the end some 1500 Jacobites were killed primarily after the actual fighting was done because the government troops slaughtered everyone left on the field. Only 50 government troops died.
This was definitely a worthwhile learning experience.
The next day we took off for a loop drive of the northwest coast. In this unusual weather year the northwest coast had actually been the driest. So on this day while it was still raining when we left Inverness, the sun was shining on the coast. Rain returned when we headed back east to Loch Ness for the night.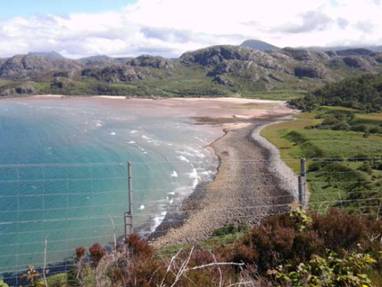 Lovely views along the north west coast.

The coast is gorgeous. It's glacier carved alpine jagged mountain looking hills right at sea level. So these Alpine slopes extend right to the lochs and Bays of the Atlantic. The terrain is so rugged and remote that settlements are still quite small. The roads are narrow single track in many places with just small pullouts for passing.

beautiful day along the Scottish west coast


We took our time making a long loop north, west, and then south so that by the end of the day we were still within just 60 miles of Inverness. We'd need to start moving much further south the next day if we were to make Dover in a week.

Before leaving these highlands we did have to make the obligatory stop at Loch Ness and have a go at spotting it's most famous, and reclusive, resident. Nope we didn't see her. The really nice cascade of 5 locks at Fort Augustus were a good addition to the tour as well.

Standing at the cascade of give locks between Loch Ness and Loch Oich


Geologically and topologically speaking, the highlands of Scotland are as different from the lowlands a they are culturally. As a matter of fact they once were two entirely separate pieces of land. A few million years ago the tectonic plate on which North Scotland sits rammed into the plate on which England and the rest of Scotland sits. They smashed together right along the line where the Great Glen, Lochs Ness, Lochy, Oinch and so forth now lie.

This didn't happen without some major land transformation. Land on both sides wrinkled and buckled, especially on the north side of the divide. Add to the mix some serious glacial carving in the north and you get those spectacular alpine looking mountains. To the south things are less rugged, more rolling green hills.

The ruggedness of the Highlands kept those folks pretty much isolated. In fact there were no roads there until General Wade started building them in the mid 1700s to suppress the Jacobites. That was when the majority of the stones in Hadrian's wall disappeared. They made great building blocks for Wade's roads.

So in every sense imaginable, the Highlands of Scotland were and still are a world apart from the rest of the island.

Once we left the highland we headed easy to the town of Stirling where another major battle once took place, this one much earlier.

For many centuries Scotland had been under the rule of the king of England. There were Scottish kings, but they were basically puppets of the English crown. The English probably regarded the Scots as not much more than ready sources of income, resources, and men.

Once again in the late 1200s England was at war with France. It seems as if from the time the Romans left England until W.W.I the English were in a continual state of conflict against France. They, of course, called on the Scots to provide men. The Scots rebelled.

The first to attempt the feat was William Wallace of Braveheart fame. But he was defeated at the battle of Falkirk.

The next was Robert the Bruce. At first when fighting against Edward I, he was unsuccessful. It is said that when on the run he took refugee in a cave. Dispirited and demoralized, he found inspiration from watching a spider try over and over to build a web.

From then on Bruce's fortunes changed. He took fortrees after fortress until the English held just a few. Stirling, one of the last, was soon under siege. The commander of that castle told Bruce that if he was not relieved by the English in one year he would surrender without a fight. Bruce had until June 24, 1314. The clock was ticking.

Edward I was rushing north to take care of the situation, but the 69 year old died enroute. His son Edward II took over. He headed to Edinburgh where he gathered his forces from around the region. He then headed toward Stirling. Bruce posted a blockade on the old Roman road next to the Bannockburn.

A two day battle ensued at the end of which Edward was forced to retreat. Bruce's tactic of training his spike bearing men to shift position as a tightly packed group was enormously successful.

Even though this battle took place in 1314, Scotland did not achieve recognized independence until 1328. One year later King Bruce died, probably of leprosy. To this day that single battle is considered the turning point and the most important for Scottish independence. It wasn't until 1707 that Scotland rejoined Great Britain, mainly for financial reasons then.

The 700 anniversary of the Bannockburn battle is coming soon. In preparation they're doing a big archeological dig. There's always been controversy regarding where the two days of battle actually took place. They're hoping to put that debate to rest. They're also planning a brand new visitor center more along the lines of the one at Culloden. That should make the visit much more interesting.

From here we had a long two day drive to Dover plus a day to work on the bikes in preparation for the last 2 months riding. So we had to bypass all those great UK sites asking the way. One thing we've discovered about Great Britain, it seems you can never run out of things to see. So we'll be back again someday.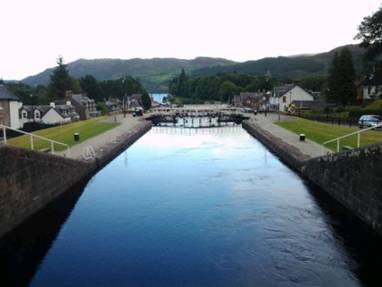 At the 5 lock cascade near Loch Ness
APPENDIX A – ROUTE
July 2 - National Bike Route 1/76 thru Dalmeny, Queensferry, Inverkeithing, Dalgety Bay, Kinghorn, Kirkcaldy, Thornton, to Glenrothes (37.91 miles)
July 3 - National Bike Route 766 thru Markinch to juncture with Route 1. National Bike Route 1 thru Craigrothie, Ceres, Pitscottie, Strathkinness, Guardbridge, Leuchars. A919 to B945 to Tayport. Bike Route 1 to Dundee and Monifieth (41.88 miles)
July 4 - National Bike Route 1 thru Carnoustie, Arbroath, Lunan, Ferryden, Montrose, St. Cyrus, Johnshaven, to Inverbervie (43.01 miles)
July 5 - National Bike Route 1 thru Kinneff, Dunnottar Castle, Stonehaven, to Maryculter (24.4 miles)
July 6 - Deeside rail trail to Aberdeen (8.04 miles)
July 9 - National Bike Route 1 to Dyce, Rail trail to Maud, National Bike Route thru Cuminestown to Turriff (47.03 miles)
July 10 - National Bike Route 1 Thru Banff, Portsoy, Fordyce, Cullen, Portknockie, Findochty, Buckie, Portgordon, Garmouth, Elgin, to Alves (59.12 miles)
July 11 - National Bike Route 1 Thru
Kinloss, Forress, Kintessack, Nairn, Balloch, Smithton, to Inverness (45.60 miles)
July 13 - National Bike Route 1 thru North Kessock, Bogallan, Munlochy, Janefield, Cromarty, Nigg, Arabella, Tain to campsite (44.04 miles)
July 14 - National Bike Route 1 thru Edderton, Bonar Bridge, Lairg, Crask Inn, Altnaharra, to Bettyhill (68.53 miles)
July 15 - National Bike Route 1 thru Melvich, Reay, Shebster, to Thurso (31.17 miles)
July 16 - Route A836 to,John O'Groats, National Bike Route 1 to Thurso (41.43 miles)
APPENDIX B – CAMPSITES, HOTELS
July 2 - Holiday Inn Express, Glenrothes (£59.95/night)
July 3 - Tayview Caravan Park in Monifeith (£17.00/night)
July 4 - Inverbervie campsite (£10.00/night)
July 5 - Deeside Caravan Park in Maryculter (£16.00/night)
July 6, 7, 8 - Ibis Aberdeen Center (avg £45.33/night)
July 9 - Turriff Caravan Park in Turriff (£9.50/night)
July 10 - North Alves Caravan site (£15.00/night)
July 11, 12 - Bught Caravan Park in Inverness (£16.00/night)
July 13 - Dornoch Holiday Park at Tain (£10.00/night)
July 14 -Dunveaden Caravan Park in Bettyhill (£0/night)
July 15, 16 - Thurso Caravan Park (£15.00/night)
July 17 - Bught Caravan Park in Inverness (£16.00/night)
July 18 - Culloden Moor Caravan Park near Culloden battlefield (£17.60/night)
July 19 - Faichemard Farm Caravan & campsite (£12.50/night)
in Invergarry
July 20 - Auchenbowie Caravan Park near Sterling (£12.00/night)
July 21 - Green Acres Caravan Park near Carlisle (£12.00/night)
July 22 - Farm campsite near Rugby (£18.00/night)
July 23, 24 - Hawthorne Farm Caravan Park at Martin Mill near Dover (£15.00/night)
REFERENCES
Lonely Planet England
Frommer's Edinburgh and Glasgow
Frommer's Scotland
Eyewitness Scotland