Europe 2012 Part IV - Flanders Route, Belgium
EUROPE 2012 PART IV - FLANDERS ROUTE, BELGIUM
Dunkerque, FR to Aachen,DE
July 25 - August 8, 2012
Start 71,108 miles (113,773 km) cumulative:
End 71,534 miles (114,454 km) cumulative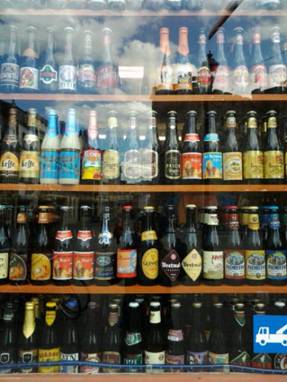 A hundred bottles of Belgium beer on the wall plus one Guinness
TEASERS
The beaches of Belgium are so packed in July.
A stop to see the pretty canal lined town of Brugge is a must.
How could Michelangelo carve such magnificent Marys.
Canal riding is so flat, easy, and relaxing it's almost boring.
Gent's forbidding castle is about as castle looking as can ever be expected.
When in Gent an hour spent admiring the Van Eyke brothers Adoration of the Lamb is a must.
Why would anyone stop at the Abby Postel? Food, of course.
There are actually hills between Maastricht and Aachen.
Aachen has a remarkable history for a relatively small Spa city.
July 25 - July 30
Dunkerque, FR to Gent, BE
It was a great day to set sail across the English Channel. The seas were dead calm, the sky clear and blue, and those White Cliffs looked ever so white. After so many weeks of overcast and rain it figures it would clear just we were leaving.
The ferry terminal at Dover must be just a shadow of its former self. With the completion of the Channel Tunnel, traffic on the ferries send to be reduced to mostly trucks and cars with trailers. Bikes can still go by ferry, but foot passengers must now take the train. Only a single rental car office remains at the terminal. Several of the old ferry line desks are now closed. The passenger waiting rooms are nearly empty.
It would have been tempting to take the train. But we wanted to go to Dunkerque, not Calais. And those views of the white cliffs from the ferry can't be beat. Maybe next time we'll try the train.
Once off the boat it seemed to take forever to get out of the port. It's actually quite a distance into the center of the city proper.
Dunkerque has long been an extremely important port. As such the city was completely obliterated during W.W.II. Almost everything is post 1950s and many buildings are from the past couple decades. Apart from the very industrial looking port, though, it's actually a rather pleasant place. Although we did get the feeling that much of the city's population were out of town for their summer holidays.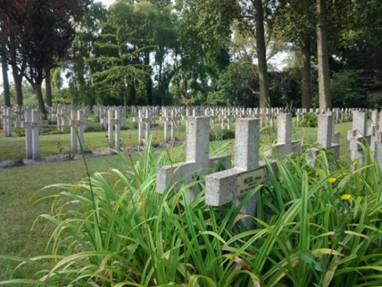 A stop at a war cemetery near Dunkerque
We spent one night at the municipal beach front campground. This would be our final night in France and, hopefully, our last camping on the beach. Beach front campgrounds in Europe in July and August are packed and are not our favorite campsites.
Just one of so many war cemeteries found throughout France

Just a mere 6 miles more and we entered a new world, Belgium. Immediately we were immersed in the biking culture that exists in so few places. Bikes of all shapes and sizes were all over the place. We saw tandems, recumbants, beach cruisers, touring bikes, trikes. Everybody seems to have a bike and they all go wandering around this incredibly flat country.
Belgium is similar to the Netherlands with regards to their bike routes. All you need to know is that you want to follow a route of a specific number. Then just follow the signs. It's easy which is why the more popular bike routes are a regular traffic jam in summer. After riding for 2 months in the UK where biking is just a second thought and where there are almost continual hills this riding in Belgium feels downright relaxing. Eventually the flat terrain will become boring. But for a while is sure feels good.
Our first old town in Belgium was Vuerne. This is a town where the old buildings surrounding the main square all have those lovely gabled roof lines. There are outdoor cafes everywhere. The main streets are mostly walking and biking only. And the main church is a Gothic gem with fantastic stained glass windows.
From there we headed out along one of the many canals joining the steady stream of bikers. Then we made an attempt to ride along the beach walk toward Oostende. That was a mistake. It was the height of summer and the beach with its bordering sidewalk were absolutely jammed. We decided right then we'd try to avoid all beaches from now on. Since we were headed inland anyway it didn't really matter to us if we didn't see another beach this summer.
We returned to the canal bike path where we found the stream of bikers was actually thinning out a bit. Perhaps it was just because it was late in the day. We found a very pleasant campground that despite being very crowded was quite enjoyable. Of course that was probably because it was not on the beach and the fact that they have a special spot for bicyclists. We really don't like beach campgrounds.
Once we finally left the beach we found ourselves cruising along flat country roads and bike paths with far fewer bikers. While the beaches are packed, the inland towns that aren't tourist destinations are pretty dead.
We arrived at Damme fairly early in the afternoon. We considered staying at its campground but it was over 3 miles in the wrong direction. With the Brugge campground just another 4 miles on we decided to go on.
The campground in Brugge isn't much. The small tent sites are packed at the back with each having just barely enough room for the tent and tie outs. Get up in the middle of the night and you had to be real careful not to trip over someone else's lines. Fortunately in this campground we found the highest concentration of camping bike tourists we've seen another. Probably at least half were bikers. So these were folks who usually did not stay up too late. We had surprisingly 2 nights of fairly quiet camping. Although the shower and toilet facilities were sorely strained.
A look around the lovely Markt square in Brugge

Brugge is a lovely town and the tourists know it. Very early in the morning we headed in to get at least a short time without the crowds before embarking on our own walking tour. By mid morning the bus tours had arrived and those few minutes of early morning quiet were just a memory.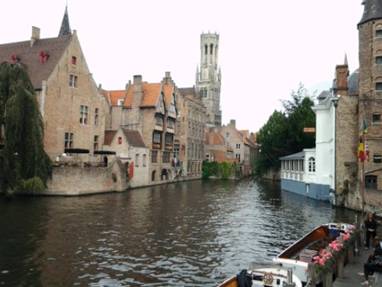 One of the lovely canals in Brugge
Brugge is often compared to Venice. But we think it looks more like Amsterdam. There are a couple if canals that almost circle the city. The old mansions are the tall, skinny buildings with fancy stepped or scroll gables. Much of the city is in gothic style with a mix of Baroque and Renaissance tossed in for good measure.
What makes Brugge a gem is the fact that after its hey day it sat as an almost forgotten back water for centuries, until modern tourists rediscovered it. It lost its prominence for several reasons. Its harbor was silting up making it less desirable for shipping. Also the merchants lost the favor of the king when they complained of over taxation by executing the tax collector. The king took revenge by withdrawing their charter as market town. It was downhill into obscurity from then on, for which the locals are probably grateful today.
Apart from the immensely picturesque canals, squares, and buildings, Brugge has a few items to delight your latent artistic side as well. The museum of fine arts has a small but world class selection of paintings by Flemish masters. Probably the most notable is Jan van Eykes masterpiece, Madonna and Child with Canon Joris von der Paele. This work of paint is so stunningly realistic you feel as if you could reach out and pluck one of the pearls off Mary's robe. The detail in all its beauty and reality is marvelous.
The second treasure we had to see was at statue Madonna with Child by Michelangelo. This is supposed to be the only statue of his that left Italy when he was still alive, 1506. The statue has that grace and fluidness that only he seems to have been able to capture. It was interesting to see how similar the expression on Mary's face was to Michelangelo's more famous Pieta in Rome. They both carry the same melancholy look.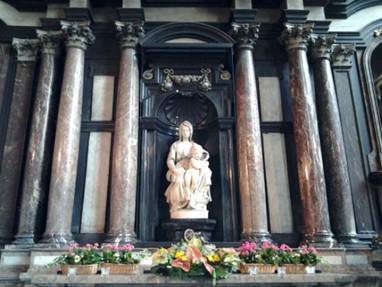 Michelangelo's Madonna with Child
Being thoroughly satisfied with our visit to Brugge, we mosied on to Gent, or Ghent as we are inclined to spell it. It was only about a short 30 miles mostly along a canal tow path. As always it was fun to watch the canal boats going each way. Although at this time of summer most of the boats were for private use, not the commercial barges we're used to seeing. Barge owners must be on their own holidays, off the water.
We arrived with plenty if time to wander into town to join in with the Sunday strollers.
In many respects Gent looks a bit like Brugge. It has the canals, the old merchant buildings with the great gables, marvelous churches and cathedral, a very tall belfry, and a bunch of street side eateries. As an extra bonus it has a great grim looking castle plus the largest pedestrian zone in all Europe.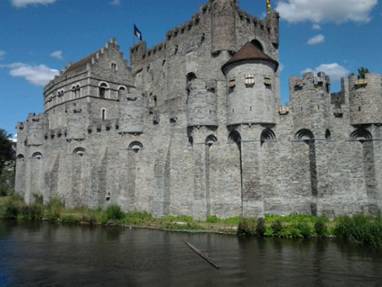 A castle aficionado's castle.
Best of all, Gent is not nearly as packed with tourists as Brugge. This makes it a much more user friendly experience. You're not spending your entire day pushing your way through hoards of people. I spotted perhaps only one or two tourist trinket shops. Whereas every street in Brugge seema to be lined with them. So the city really does feel more like a place for locals than tourists. We'd definitely recommend a stop even just as a way to unwind after visiting Brugge.
Gent isn't without its own tourist sites. If there's one thing not to be missed its the cathedral of St. Bavo. By itself it houses some great works of art. But its most famous piece is the Adoration of the Lamb painted by the Eykes brothers, Jan and Hubert. It costs £4.00 just to see that, but is well worth it as this is one of their best and most renowned masterpieces. Its simply breathtaking. Most guide books will claim it to be the work of Jan but they believe most of it may have been done by Hubert as Jan would have been busy with other responsibilities.
We also had to take a stroll around the castle mainly because its so dominant. It wasn't always so. Before 1866 it had been gradually covered by newer structures to the point that folks thought it completely lost. But when they tore down all the external additions there it was. Parts of its lower structure even date from the 1000s. So it really is a true medieval castle.
It seems much of its use was for subduing and controlling the local citizenry. Much of the displays talk about all the different forms of torture, punishment, and executions that occurred there. Medieval life was really tough if you weren't towing the line exactly as your lord and master decreed. Oh we modern folk do have it so easy.
July 31 - August 6
Gent, BE to Maastricht, DE
How did we ever come to associate deep fried potatoes with the French? The Belgium folks will tell you that this is a complete misrepresentation. In fact they should really be called Flemish fries.
And they are certainly big here. To do it just right, though, you must fry them twice. First one frying, then a period of rest, then a second frying just before serving. That way they're piping hot. Far too hot to wolf down. You must savor each and every bite.
Then there's the sauces. They don't settle for just ketchup or mayo. They have all kinds of specialty homemade sauces to choose from. You can add as much additional artery clogging toppings as you wish. Portions are huge, practically a meal in itself. They're good. But we wouldn't want a steady diet of them.
Once we left Gent we were now out of tourist country. The bike route continues along the canals passing through small country towns. There's nothing to see in them. So we just spent our time making leisurely distance. It really does feel nice riding flat for a while.
The sun came out bold and strong. For the first time all summer we has a day that actually felt like the Dog Days of Summer. Here it was, August 1, and it was about time. One fellow we met on the numerous free bicycle ferries quipped,"This is the first and last of summer." He may be right as a cold front was expected over night and the temperatures were to drop.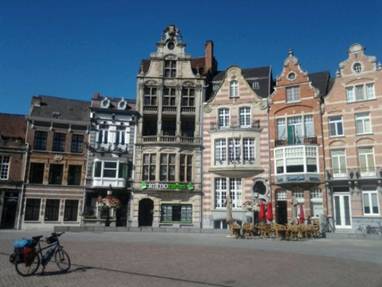 The pretty square at Dendermonde
We did get at least one good day. First we made a short stop to tour around the little town of Dendermonde. It was listed on our map as being a World Heritage Site. And shortly after arriving at its charming square we found out why.
A quick look around Dendermonde's nice square.

Throughout Europe and in particular Belgium there are tall clock towers in which large carillons are held. These belltowers house a multitude of bells of varying sizes having total weights in the thousands of kilograms. The one at Dendermonde has 49 bells total. Every 15 minutes the bells play a short song before a large bell tones the time. These carillons can also be played manually and often concerts are put on for everyone in the square to hear. We understand that the town of Mechelen has a school for wannabe carillon players. All of the carillons currently in Belgium have been placed on the World Heritage list.
The rest of the day was filled with flat riding along the river dykes. Incredibly even though we were many miles inland on the river we were still seeing tidal effects. We were wondering why the river current seemed to be going in the wrong direction. We were told that the tides run 100 km upstream, as far as Gent. Now that's one heck of a tide.
We spent the night in what seems to be a bikers only campsite found in a park near Mechelen. It came with a nice shower room, many picnic tables, and even some hiker huts if you so desire. It was incredibly quiet, with just another 6 tents. Perfect.
It is true that after a while many of the towns in a particular region begin to look alike after a while. In this area they all have their large market square with a clock tower topped town hall and a border of fancy gabled houses. There are usually at least one or two of the original town gates to be found. Plus there are ponds surrounding the old town that have shapes that look suspiciously like the star outlines of the former town walls.
But each town has at least one or two features that make it unique from the rest.
In Lier that would be the Zimmer tower and its remarkable clock. This amazing clock, built in 1935 by Louis Zimmer, has no less than 13 dials that are all controlled by a single mechanism. In addition to the time of day, this clock measures the lunar cycle, solar cycle, zodiac, day of the week, season, tides, phases of the moon, age of the moon, date, month, daylight on the globe, and the difference between actual and mean solar time. It really is a wonder clock.
It also has an American connection. It was sent to the US for the 1939 World Exposition. War broke out before it was returned and it spent the entire war in the US. When the war ended, Lier wanted the clock back, we Americans wanted to keep it. It took years of high level negotiations before the clock was reluctantly returned in 1953. We should have demanded an exact duplicate as ransom.
There are other nice sites in Lier. But this really stands out for us.
As we continued east we found the canals were getting wider and wider. Here is where you find the canal barges loaded with cargo, the owner's little car on the roof, chugging up and down. They're fun to watch.
We were also finding that the towns seemed more modern, such as Turnhout. Perhaps its because the city was destroyed during the war. Houses definitely are modern some even being downright Bauhaus style modern. In other words sort of boxes with lots of windows. It's not what you'd go out of your way to see. But still makes for a pleasant bike ride.
We did take a short side trip to see the 12th century Abdij Postel. The grounds of this Abby are certainly pleasant. The church a very modest affair. So why all the attention. Evidently folks come from all over to eat in the many restaurants nearby and buy the cheese, bread, and wine sold by the nuns. Otherwise it seemed to us to be a big fuss about a rather ordinary looking church. Hey, it's on the bike map so it must be worth a stop
We were soon wandering along the border between Belgium and the Netherlands spending a couple km in one country and then a few in the other. The primary difference was in the roads. Netherlands roads were narrower and had a row of rumble strips on each side. Otherwise the countries seemed very similar.
Shopping wise, that's a different story. From the time we spent in the Netherlands several years ago we recall that Sunday is an extremely difficult day for buying food. Everything is closed except the restaurants which are all expensive. Even bakeries, which are normally open in all the other European countries, are closed. So here we were coming into the Netherlands on a Sunday no less. Fortunately we would be able to drop back into Belgium for a shopping trip.
In the Netherlands there's a pretty little town called Thorn, pronounced torn. Its streets are lined with neat white washed houses bedecked with flowers. The white wash is highly unusual for this region. It doesn't have the fancy brick, stucco, or stone buildings with all the huge fancy gables. The town was founded by nuns, so perhaps that is why it's so pretty.
It is also a favorite for tourists especially the two wheeled variety. The cobble stone streets are thronged with bikes in summer. Although we find riding cobble stone streets on a bike really sucks. Add to this the throng of bus tours and you've got one town really cashing in on the tourist trade. So of course it has lots of eateries and a few trinket shops.
We skipped these and headed for the grocery store first then the camping.
This time of year the camping choice seems to be limited to two types. If you want quiet you need to find the more primitive sites, the ones whose facilities may make you cringe a bit. If you try for the nice fancy places they'll be packed, busy, chaotic, and noisy. We can't wait for the summer crush to end. Right now we figure 2 weeks from Sunday, August 19, and the first of the vacationers will start going home. We've got 15 days and the countdown has begun.
Our original plan was to ride to Maastricht and then return back to where we began the Flanders route going by Brussels along the way. But after almost 2 weeks of riding along canals through small towns that begin to look all very similar, we decided to continue east toward Koln in Germany. From there we could easily pick up any number of the German bike routes we have as yet to try. The biggest question will be, which.
For now, we headed directly to Maastricht and then Aachen.
August 6 - August 8
Maastricht, NL to Aachen, DE
Maastricht has a very large square with a very unusual looking city hall. It's a big blocky structure with a small cupola on top. In fact it reminded us more if the style of city hall we have in our midwest towns.
Standing in front of this city hall holding a permanent flame is a statue to the city's most famous son, Johannes Petrus Minckelers. Without this man's contribution to technology we might still be reading by candle and oil. He invented the gas lamp and that flame his statue forever holds is a reminder of that. If you stand close you can hear the gas hissing. We wonder if it has ever gone out. Probably.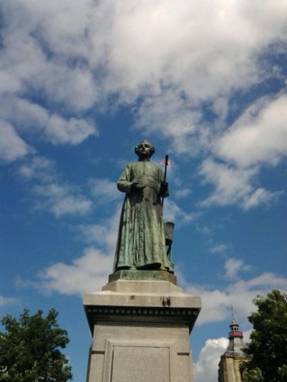 This is the fellow who gave us the gas light.

Maastricht also has a couple famous cathedrals. One with a very bright red tower has a rather plain interior. It's Protestant which means none of those statues and paintings of saints adorn it's wall as you'd find in a Catholic church.

The other is their main Catholic cathedral. There's a rather high cost for entering. So we decided to save that money for a more worthwhile museum later in Aachen. In the meantime the entrance was worth the walk over to see. It's still got it's array of sandstone saint statues lined up along the arch. The only thing missing is the paint. Just imagine these statues painted in bright colors.

Admiring the route of saints lined up along Maastricht's cathedral door


There are some other churches and old fortifications to visit. But Maastricht seems to be best known for it's food and university. So after a short wander through its cobbled streets and a quick lunch we plowed our way across all of the Netherlands in one shot.

There actually are hills in the Netherlands. Granted they're at most just over 1000 ft maximum. But they really do exist. And they're all located in that short distance between Maastricht and Aachen. After riding flatlands for a couple weeks our climbing muscles were out of shape. Oh how quickly it all goes.

We settled into the nice, small Aachen campground for a couple days and then explored the city in fairly thorough detail.

Aachen's original reason for being are its thermal baths. In fact its name is derived directly from the Roman word aqua for water. The Romans sent their injured soldiers to the hot springs for treatment.

The town really took on importance when Emperor Charlemagne established his residence here during the last 20 years of his life. Around 800 AD he built a major palace with an octagonal building for holding court and a second building for living quarters with attaching passages, courtyards, and out buildings.

From 936 to 1531 AD the holy Roman Emperors were all crowned on Charlemagne's simple marble throne within that original octagonal building. Eventually the coronations were moved to Frankfurt.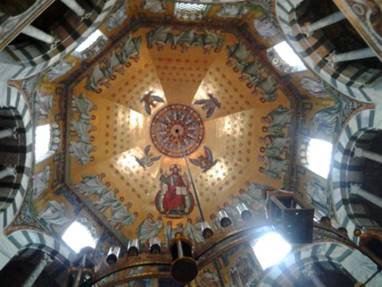 This is the dome of the cathedral where the Holy Roman Emperors were crowned.
Over the centuries many of the original palace buildings were removed and new structures added. The octagon remains but several chapels and a long apse were added making for the large and varied church we see today.
The interior is fantastic. The dome of the octagon is covered in a wonderful mosaic. The large gothic style apse has enormously tall blue stained glass windows which give it the nickname, the glass house. Even with such completely different styles, it all just seems to fit together.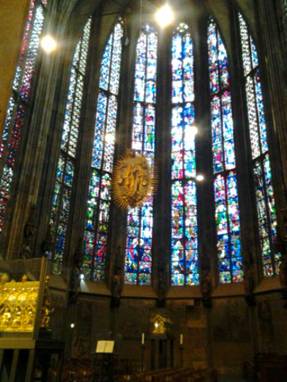 The so called glass room in the cathedral.
Because this church was the coronation site for so many centuries it now houses 4 great relics all relating directly to Christ and Mary. Every 7 years these relics are taken out of their very ornate gold reliquary and put on display. At this time the number of pilgrims coming to Aachen rivals that of Santiago de Compostela and Jeruselum. The rest of the time there's still a steady stream of tourists. If you want to join the next crowd of pilgrims you'll need to plan on a visit in June 2014.
There are several other interesting sites around town. Although a lot of the city was flattened during the war. So a lot is new. The city's biggest claim to fame is its university. This technical school is supposed to be one on the best engineering, science, and medical schools in Germany and the entire tricountry region. It certainly has a world renowned hospital clinic called the Uniklinik, although the building looks more like a huge manufacturing plant. Because of the university the city has that student atmosphere.
One site almost all Germans, Belgians, and Netherlands folks go visit, along with a few extraneous tourists, is the point where the countries meet. At around 1050 ft elevation it's also the Netherlands' highest. What do you find there? Restaurants, of course. You can't go to any tourist point, even of remote interest, without finding a food vendor of some sort.
The last thing we did was stop in at the Museum of fine arts. While not world class, it certainly has a decent collection. There was a Rembrandt, Lucas Cranach the elder, Memling, Vermeer, and some Breughels.
If you've never seen one of the Bruegel's, in particular the Elders, paintings you're really missing out. They're usually some cartoonish scene of some typical Dutch event. There will be chubby characters all over the scene partaking in the most outlandish stunts. Look closely. There's a nude man drowning or swimming in the river. Those two fellows are pinching each others noses in a fight. That guy is sticking his bare bottom out the window. This one's sitting on a stool over a fire. You can study one of these paintings for an hour and still keep finding new strange things. Probably the most entertaining paintings I know. When we hear there's a Bruegel to be seen, we usually go.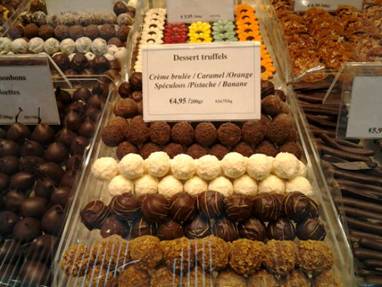 Mmmmmm. Belgium Chocolates.
APPENDIX A – ROUTE
July 25 - Ferry to Dunkerque, Coastal roads to Malo Les Bains (16.28 miles)
July 26 - Beach road to Belgium border. Back road to Veurne. Bike Line Flanders route through Niewport, Westende, Middlekerke, Leffinge, Snasskerke, Oudenburg, to Bredene (42.77 miles)
July 27 - Flanders loop tour through De Haan, Wenduine, Uitkerke, Lissewegge, Dudzele, Damme, to Brugge (33.16 miles)
July 28 - Flanders Loop Route thru Beernem, St. Joris, Aalterbrug, Bellem, Evergem, Mariakerke, to Gent (41.38 miles)
July 31 - Flanders Loop Route thru Melle, Wetteren to Berlare (27.48) miles)
August 1 - Flanders Loop Route thru Dendermonde, St. Amands, Branst, Bornem, Niel, Boom, Rumst, Walem, to St Katelijne-Waver (51.11 miles)
August 2 - Flanders Loop Route thru Duffel, Lier, Viersel, Pulerbos, Wechelderzande to campsite (44.46 miles)
August 3 - Flanders Loop Route thru Turnhout, Ravels, Abdij Postel, Wezel to Kattenbos. Back roads back to Balen (47.18 miles)
August 4 - Flanders Loop Route thru Kattenbos, Lindel, Herent, Bocholt, Molenbeersel, Ittervoort, Thorn, Kessenich, back to Thorn (46.48 miles)
August 5 - Flanders Loop Route thru Ophoven, Maaseik, Stokkem, Meeswijk, Leut, Maasmechelen, to Opgrimbie (32.98 miles)
August 6 - Flanders Loop Route to Maastricht. Netherlands point-to-point thru Cadier, Margraten, Gulpen, Mechelen, Vaals, to Aachen, DE (40.63 miles)
APPENDIX B – CAMPSITES, HOTELS
July 25 - Le Licorne Campsite in Dunkerque, FR(€9.00/night)
July 26 - Camping 't Minnepark in Bredene, BE (€15.00/night + €1.00/shower)
July 27, 28 - Memling Campground in Brugge (€14.00/night)
July 29, 30 - Blaarmeersen Camping in Gent (€15.25/night)
July 31 - Camping Roosendae near Berlare (£7.50/night plus showers)
August 1 - Roosendael Domain near Nichrome (?)
August 2 - De Lilse Bergen in Lille-Gierle (£20.00/night plus showers
August 3 - GT Keiheuvel sporthal in Balen (£14.00/night)
August 4 - Farm Camping in Thorn, NL (£12.5/night plus showers)
August 5 - Camping Kikmolen in Opgrimbie (£13.50/night + £1.00/shower)
August 6, 7, 8 - Aachen Camping in Aachen, DE (£10.00/night + £1/shower)
REFERENCES
The Pleasures of Lier, tourist brochure from Lier