Europe 2012 Part V - German Rivers
EUROPE 2012 PART V - GERMAN RIVERS
Koln, DE to Donauworth, DE
August 9 - August 31, 2012
Start 71,534 miles (114,454 km) cumulative:
End 72,242 miles (115,587 km) cumulative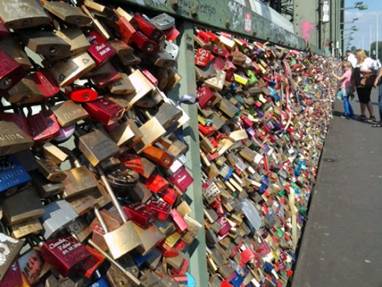 Leave a lock to your sweetie on the Koln bridge
TEASERS
Let those thighs burn on the long climb up the Koln cathedral tower.
No more modem art museums for us.
Another wonderful ride up the famous middle Rhine.
Start a new river route, the Nahe.
What are those strange dripping walls at Bad Kreusnach?
Find the source of the Nahe in a sort of natural setting.
Those weekend train specials are worth waiting for.
Enjoy the old towns and castles of the lower Neckar.
The tent city built in Stuttgart for their beer fest is amazing.
Finish the Neckar at a concrete wall in Schweningen.
Finally see the upper Danube in sunshine.
August 9 - August 13
Koln, DE to Trechingshausen, DE
We are now getting to the point in our summer tour where we had to start adding up distances to ride and weeks left. There was still plenty of time to get to Milan, but we needed to start prioritizing. We just can't do everything.
We needed to be near Fussen in the first we week of September so we could get over the passes before the bad weather hits. So we had a choice. Spend a couple more days riding across flat farm field country for 2 days to get to Koln. Or save those few days for a ride up the Nahe river near Bingin.
We really like the German river rides. We've done just about all the major ones. So naturally the Nahe won. We grabbed a train for a quick ride to Koln. After another visit, this time including some museums, we'd head south on the Rhine once again. Seems we do keep returning to the Rhine.
At Koln we first had to visit the Dom (cathedral). This is Germany's largest and one of the most Gothic of Gothic. Everything on the exterior is vertical leading your eyes up, up, and up. What's particularly interesting is that they started the Gothic part of the cathedral in the 1300s, stopped construction for several centuries, and then continued building in that same Gothic style in the 1800s. To not succumb to the temptation to try a different, current style really was remarkable.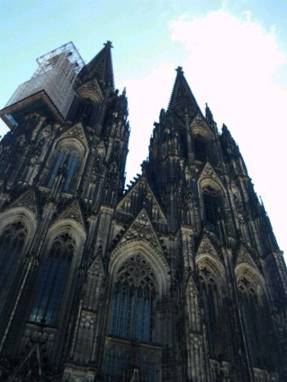 Looking up at the magnificent Koln cathedral
Inside is just as spectacular. There are great works of art in the paintings and carvings throughout. The stained glass windows are our favorites as always. Getting a photo of one of these windows with a simple point and shoot camera is tricky. This time we decided to skip the treasury, but we did climb all those stairs of the tower for the grand city panorama view. There were a lot of huffing, puffing, red faced folks at the top.
We then proceeded to visit the Museum Ludwig. That's it. This will be the last time we willingly visit a modern art museum. We have tried over and over to appreciate modern art. But each and every time we try we come away just shaking our heads with disgust.
This museum has what are supposed to be some of the most famous pieces by artists like Matise and Picasso. But despite strange explanations by the supposed art critics telling us what we're supposed to be seeing we just wind up scratching our heads. There's just no comparison between a painting that just looks like a cheap cartoon or thick globs of heavy paint to a painting where even the lace in a collar looks so real you swear you could feel the fibers if you just touched it.
Then to get to the latest works. Ugh. To have someone go out to a junkyard and home building supply store, place pieces of garbage, wood, flooring around, then tack printer paper with quotes from various American politicians all in an effort to make America look bad and call that art? Or to collect matchbook covers, tack them on a board, and call that art? Or take a bunch of black and white photos of everyday stuff, with lots of toilets included, tack these on a board and call that art?
Well in our opinion these so called artists are just plain lazy, untalented, spoiled brats who seem to think they can sell just about anything as art. Unfortunately with similarly untalented art critics it seems they can. Well no more for us. From now on we will skip all modern art, period. It's not worth our time.
So back to the Rhine. We've ridden the Rhine once in June and once in late September. This is the first time we've ridden it in high season. The bike path was packed. It was almost like trying to drive at rush hour. The path is usually not much wider than a standard sidewalk. So we had to be extremely careful. Even still there were a few instances where we were close to collisions.
An unusual memorial to a long walk along the Rhine

We have ridden the middle Rhine twice before, once in June and again in late September. And it seems no matter what time of year you are here it's always crowded. Of course that's because it's one of the world's great routes.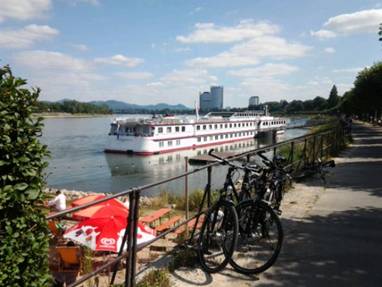 Once again along the Rhine
From Koln to Bonn you are still in the flat lands of North Europe. The cities in this region trend to be rather industrial and modern. Although there are a few olden treasures to see.
During the time of the Cold War, Bonn was the capital of western Germany. Before then it was pretty much a small town. As such apart from a few old churches much of the city was built after W.W.II. Bonn's most famous son, at least for his first 4 years, was Ludwig von Beethoven. He was born in a relatively modest home on December 17, 1770. The house still stands.
We took a quick tour of the downtown but didn't linger too long.
Just up river from Bonn is Remagen who's bridge became a crucial passage point for allied forces in 1945. Supposedly Hitler had ordered the destruction of all bridges over the Rhine as his armies retreated east. But on March 7 the Allies arrived at this bridge to find it still standing. Hitler was furious and ordered the execution of 5 top officers as a result. The Allies had just 10 days to get as much across as possible before bombardment finally caused the bridge to collapse. That was enough at least. The bridge abutments on both sides of the river still stand as a peace monument.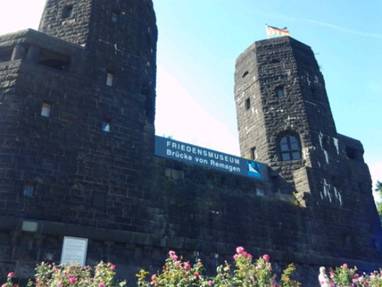 The last bridge standing
At the intersection of the Moselle and Rhine sits the ancient city of Koblenz. This important junction of the two rivers has been occupied even before the Romans showed up in 55BC. As such it has often been the object of many wars and has switched hands multiple times. The most recent was when it was transferred from the French back to the Germans following W.W.II.
Today the Deutches Eck is considered a symbol of German unity. A large statue of Kaiser Wilhelm sits at the river junction and Germans from all over make the trek to see it. This is our third time seeing the statue and the first time it was not under some sort of renovation. However that did not mean it wasn't surrounded by scaffolding like structures. A major concert had been held over the weekend and the remains of a temporary stage were still sitting in front when we went by. Ah well, next time.
The stretch of the Rhine south of Koblenz is where things really get interesting. The huge Rhine is squeezed through a narrow, rocky valley that twists and turns for 50 miles until it reaches the flat lands south of Mainz. All along this narrow corridor various middle age lords built their imposing castles high on the ridges. Actually these were more like big toll houses as each one extracted a fee from cargo boats going both directions. It wasn't until that unification brought about by Kaiser Wilhelm that this practice was stopped. You can imagine the shippers were quite favorable to unification.
This legacy of extortion has left the Germans with a treasure of a river route that is now a 50 mile long World Heritage site. We've ridden this stretch of river 3 times now and still never tire of it. We only wish it were longer as it seems to pass by all too quickly.
Towns along the middle Rhine are incredibly cute and always packed with tourists. It seems tourist season here is almost year round now. There's the high summer season, fall wine festivals, and winter Christmas markets. People come by car, motorhome, hotel boat, tour boat, train, bus, bike, and foot. So of course this means there are plenty of restaurants, hotels, and tourist trinket shops. Ah, but we still love this ride.
Here's one heck of a large cuckoo clock.

Having ridden this section of the Rhine several times we've had the opportunity to check out several of the campsites. Most are narrow, treeless, packed campgrounds located in the small strip of land between the river and railroad tracks. We've stayed at the one in Bacarach twice. In June it wasn't so bad. In September we were squeezed into a smidgen of a corner. It's not a great campground.
This time we rode a bit further to stay at Trechingshausen. They have a large flat area with several trees right next to the river for overnighters. They also have a long strip of grass right on the river if you so choose. There's a very nice restaurant and absolutely great castle views. The price is pretty good for a Rhine side campground. Should we ever come back, which is highly likely, this is where we'll stay again.
How's that for a campsite view, castles and the river

August 14 - August 17
Trechingshausen, DE to Neukirchen, DE
For the first time when we arrived at Bingin rather than continue up river we did a quick check of town and turned our front wheels west, up the Nahe. Other times we just stayed along the Rhine. Now we would be adding another river to our growing list.
The Nahe has a completely different character than the Rhine. The first thing you pass is a seven arch stone bridge. There's evidence that the Romans had a bridge at this location. The first stone bridge was added much later and subsequently blown up in 1945. The current bridge, an exact replica or reconstruction if the old one, dates from 1950. What's significant is that from this point up river you won't see any of river traffic. Bye bye barges.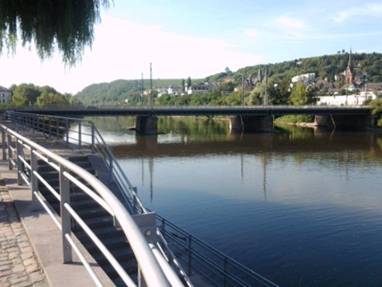 The first bridge on the Nahe
For several miles the route passes through a wide flat valley. Then as you approach Bad Kreusnach, you encounter high cliffs on each side of the river. Here's where it gets interesting.
Bad Kreusnach is a nice small city. On the outskirts it has all the big shopping opportunities you could want. The old part has the usual nice walking mall, neat old houses, and quaint streets. The buildings here seem entirely different from those down the Rhine. Here you start to see the colorful stucco characteristic of the southern Germany region rather than the stone and brick further north.
Bad Kreusnach these most unusual saline walls. These are the strangest things we've seen in Germany. They're walls about 20 to 30 ft tall, 4 ft thick and several hundred ft long. They're wood frames filled with sticks from some plant stacked horizontally like cordwood. They spray water along the tops of these walls so that the air is filled with a mist coming from the sticks. There's not just one of these walls. They're all over. We've never seen anything quite like it.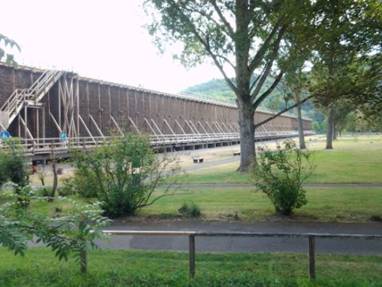 Strange saline wall in Bad Kreuznach
Upon asking locals we were told that many towns in Germany used to have these water walls. They thought that the saline air is good for the lungs. Bad Kreusnach is the only town where they not only still stand but function as well. They've been there for over a hundred years and the townfolk seem inclined to keep then going. I guess they're very attached to them or maybe there's really something to their healthy properties. No matter. They are still very strange looking.
As we headed further west the hills surrounding the river grew higher and higher. The route begins to climb as the river cuts through gorges that the path cannot follow. We pass through good sized towns a couple times each day over the short distances we were riding. With the very hot, muggy weather we needed to stop regularly for cold drinks. We wanted summer. We found it
So we're cruising along watching our German maps and it notes that we would be passing by something called a dreisenstation. We had no clue as to what that would be.
When we arrived at the spot we found an old abandoned rail track with an old box car turned snack kiosk, several tables and chairs, and a bunch of brightly colored 4 person railroad bikes. They rent these for you to take a ride down the old rail tracks for the day. So now we know and never would we have guessed.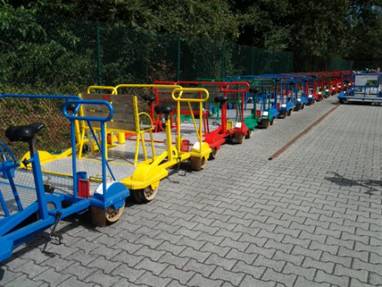 Take a railroad bike for a spin
After a rainy night in a quiet campground, yes the kids are starting to go back to school, we passed through the rock town of Idar Oberstein. Way back in Roman times they discovered semiprecious rocks in the surrounding hills. Over the years they continued to dig those rocks out of the hills, polish them up, and sell them in all sorts of jewelry. They still do. Wander up the pedestrian walk and you'll have plenty to choose from in all colors imaginable.
This, of course, draws lots of tourists. So you'll also find lots of eateries, hotels, and a small museum all about rocks of course.
We found the most intriguing item was the small church in the cliff. Perched well above town, built right into a small notch in the cliff is a quaint little church. Now that is probably the most photographed site in town.
After Idar Oberstein we had a lot of climbing to do. The total elevation gain for the Nahe route would be around 1500 ft and at this point we still had a good amount if that climbing to do.
The route now passes into some very rural settings, through forests and small country villages. They're not particularly historic. In fact there seems to be a modern military base nearby based on all the uniformed soldiers we saw. But the pleasant hill country had its own charm.
After climbing fairly steadily with a few good grunts here and there we arrived at the five star campground by the Bostalsee. This is the closest campground to the source of the Nahe and end of the Nahe radweg. Being a Friday night, the last big weekend of the summer for many folks, and the only campground on this little lake we thought it would be packed.
We were right. But they have a small field away from the other tenters specifically reserved for cyclists. So for us no problem getting in without a reservation. Anyone else, not a chance.
It was a great little spot and would have been quite peaceful if it weren't for the Indian PowWow. Germans have this love affair with all things American Western. We've even heard tales of tall blond hair, blue eye Germans appearing at tribal headquarters wanting to become a member of whatever tribe they happen to be interested in. Someone once told us it's because young German males grow up with the daring stories of a fictional brave named Winnitau.
Whatever the reason, every summer we've been here we've seen evidence if this odd fascination, from made up western towns to dare devil western shows. Although to be fair we do like a good Octoberfest in the US, but that is because we have a lot of German ancestry, including your's truly. There probably isn't a whole lot of American Indian ancestry in Germans.
After dropping our gear we took a quick ride to the little town of Selbach. A right turn and another final half km climb brought us to the Nahequelle, that would be the source of the Nahe. A small trickle of water bubbles out of a hole drilled into a large rock. Over that is another rock declaring this as the source. All very manmade looking.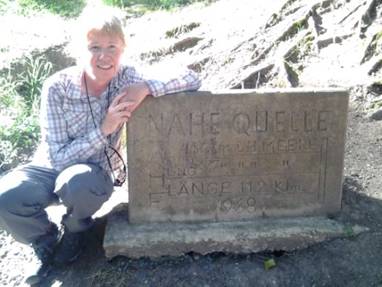 At the Nahequelle
One Dutch fellow told us, in Europe there really isn't anything truly wild. They like to pretend there is. But in reality it's all controlled. In fact he said that one difference between Europeans and North Americans in general is that Europeans trend to fear wild animals. North Americans trend to fear people. Although its likely more folks are killed, maimed, robbed, molested, abused, and hurt by people than by wild animals each year. But, hey, who's counting.
So with a few photos at the spring plus a few more of the caged, tame, not so wild deer we added one more German river route to our done list.
August 18 - August 25
Mannheim, DE to Donaueschingen, DE
A little secret we learned about German train travel is that it can be extraordinarily cheap on weekends. They have a deal called the Schonnen weekend, literally meaning happy weekend. For €40 up to 5 people can travel anywhere in Germany on either a Saturday or Sunday until 3AM each day. You're just restricted to the slow RE, RB, or S bahn lines. So with a little planning you could go between the furthest corners of Germany for just €40. Add €5 for each bike and this has to be the best train travel deal in all Europe. Otherwise it's very expensive to go anywhere and usually we find for 2 people a rental car is cheaper and easier with the bikes.
Well we planned our Nahe route finish just right. It was Saturday. So we could take advantage if this train deal. One connection got us to Mainz. The next right to Mannheim. We were now at the start of our next river route, the Neckar.
The Neckar dumps its load of water into the Rhine right at the major industrial city of Mannheim, a city with a regular street pattern highly unusual for Europe. It then proceeds east through the hills past the lovely city of Heidelberg. It swings south through another industrial city, Stuttgart, and finally there's the source spring located just east of Freiburg but on the opposite side of the Black Hills. It's not a very long river, but it has the distinction of being one of the few with both source and mouth within Germany. The Nahe is another.
For our first few days riding this river the hot summer days of August really weighed us down. Mornings started reasonably cool. By around 10 AM the broiling had already begun. It was supposed to last less than a week, but what a week. When the afternoon temps reach into the high 90s the only thing you can think of doing is finding a shady tree and taking a long siesta. You just have no energy to do anything. We're just glad this only lasted a short time.
As soon as we got off the train we could feel the broiling. We had to make our way across town to the river and then ride past Heidelberg to the next campground up river. There is one campground nearer but having looked at it in 2010 we knew it wasn't great. So we were determined to find a nicer place further upstream.
Heidelberg is a nice city located just where the Neckar leaves the hills and heads across the flat plain surrounding the Rhine. It has a grand looking castle on the hill and a long pedestrian street lined by interesting buildings and filled with shops. Tourists abound and since it was Saturday there was no shortage of shoppers. With the heat and crowds we had no desire to remain too long. Besides we've already spent time in Heidelberg. We just headed for our camp.
It was an interesting campground with just so-so facilities but a nice location right on the river. What was rather amusing was watching and listening to the loud music coming from the wedding party filled boat cruising by. They looked to be having a good time.
A lovely morning along the Neckar.

Beyond Heidelberg until just before Heilbronn the Neckar winds through a narrow valley with steep walls on both sides. Vineyards are common in this area. There are also many castles in various states of ruin found perched on the hills and cliffs. At one point we could see no less than three with a fourth just around the bend.
Castles are all around this bend of the Neckar

It seems there's no end to the picturesque villages. Some look the same as they have for centuries as evidenced by the posted old black and white photos. Others have grown but still retain most of their original old central core.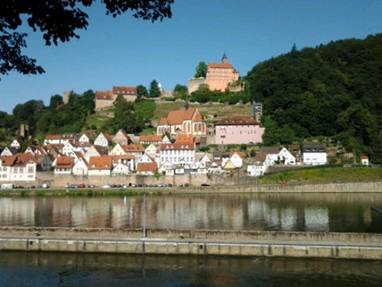 Lovely town of Eberbach on the Neckar
My personal favorite was Bad Wimpfen. This little town is situated on a narrow finger of a cliff. It originally had a small enclosing wall with the towers and one gate. Within the walls there was a church and an administrative building. Over time more houses were built onto the walls and parts of the walls removed to give better vehicle access. But the towers and good chunks of the wall remain. Flowers are strategically planted everywhere making for one enormously cute town.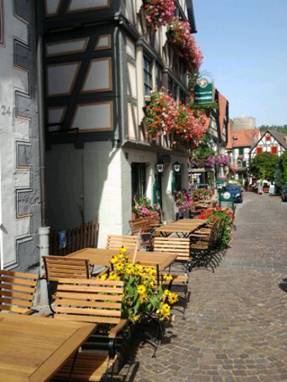 Flowers everywhere in Bad Wimpfen
From Heilbronn to beyond Stuttgart the river passes through a much flatter and open valley. This is where a lot of German industry takes place even today. These are large cities and have been for some time. As such they were all prime targets during the war and almost all of the original old buildings were destroyed or heavily damaged. In fact in Heilbronn it wasn't until the 1970s that they were able to replace their cathedral. It's a brand new fully gothic building just like the original.
Our original plan has been to stop in Stuttgart for a couple nights so we could visit the Mercedes museum. This is where the internal combustion engine was invented after all. So we thought we should at least see the museum. But what we found at the campground persuaded us to not stay. It was not pleasant.
The tents are restricted to a tiny corner of the site that has absolutely no shade in the middle of the day and well into evening. With temps running well over 90° spending any time at all there would have been miserable. Also it was packed. Even the trailer sites were full mostly with transient workers.
In July the city begins construction of an enormous tent city. Just outside the campground is a huge parking lot. Each September for 16 days Stuttgart hosts their annual beer fest. They put together about 8 or 9 of these gigantic tents that would hold hundreds of patrons. Each tent is sponsored by a particular brewery. These aren't your ordinary tents. While they may be covered with canvas, much if their structure is wood requiring a lot of carpentry work. That's why it takes them from July to get it all built.
We were told that this is the second largest Octoberfest, the one in Munich being largest. In the 16 days they estimate about 1.5 million people attend. After hearing that we decided right there and then we would never voluntarily attend Munich's Octoberfest or Stuttgart's for that matter. No way. No how.
What was the final straw for us was when the chicken came pecking around. Most of the campground residents are building these big tents and are literally living in the campground. They have washers and dryers outside their trailers. Large awnings with almost permanent structures. And they have pets, strange pets. We saw a rabbit and this chicken. We're not entirely sure if the chicken is for eggs, maybe to eat someday, or just really a pet. In any event we decided this campground just was not where we wanted to spend more time.
The days were still running hot, very hot. By 10 AM the heat and humidity were so intense we just wanted to ride and get to camp. Wandering around the broiling streets of even the cutest town was not enjoyable. Whenever possible we'd head for some indoor place to cool down for a while. Although with their extraordinarily high cost of energy, air conditioning in Germany is usually just so-so. One of the coolest places to sit for a spell is the McDonalds. Not great food but at least you can get ice in your drink, a few cubes. Actually ask nicely and you can talk then into filling a cup full. That was heaven in this heat.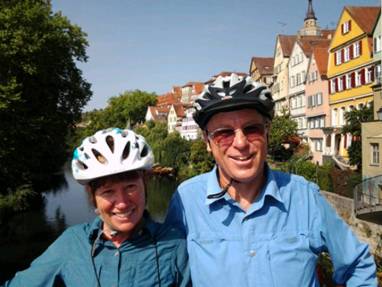 On the bridge in Tubingen
We managed to make the next 40 miles through the heat with some good headwinds to the hilly University town of Tubingen. This is another in a seemingly unending number of incredibly cute towns. But we arrived late in the day and had only enough time to get to the store for dinner supplies. Exploring had to wait for the next day. That and we needed to stop by a book store to pick up the English version on the Bikeline Danube part 1 book that we had ordered back in Heilbrunn. They only publish a few of their routes translated and since this is one we may as well get it.
By this point the Neckar was a pretty small river. We also had been continually climbing toward the Schwarzwald, Black Forest. When we got to Horb, another cute, hilly town, we were up to 1500 ft elevation. We'd long since left the plain trees behind and were now among the higher elevation pines. Of course even with the town at a higher elevation the campground just had to be up another 500 ft, atop the highest hill in sight.
Over night a stiff cold front blew in. This was the beginning of a series of fronts which were expected to significantly drop the temperatures. It's unlikely we'd be seeing 90° again. And we were seeing yellow and gold on some of the trees. The fireweed is going to seed. That's it. Summer is done, over, kaput, fini. On to fall.
From Horb we made only a short hop to the odd campsite at Oberndorf. It's clearly a sort of city run site. It is just a grass area next to a mini golf stand and the soccer fields. You can get a shower at the pool across the river. But once the mini golf kiosk closes there's no toilet for you to use. It's into the bushes you go. We noticed even the guys playing in the soccer fields did the same. You'd think they'd have some sort of toilet open for the tenters.
Much to our chagrin we discovered that this campsite is also the local drinking hangout for some teens. Two gals and one boy showed up for an all night drinking and yelling binge. They didn't leave until 5AM. This is not a campsite we'd recommend for a weekend night.
We finished the last of the climb along the Neckar on a pleasantly cooler Saturday into the small city of Schwenningen. The spring for the Neckar is located in the middle of the city park. It's encased in a concrete wall from which a small stream emerges. So far with all the river source springs we've seen in Europe, none are what we'd call natural. They've all been modified, built up, enclosed, or something. It's a far cry from the source of the great Missouri.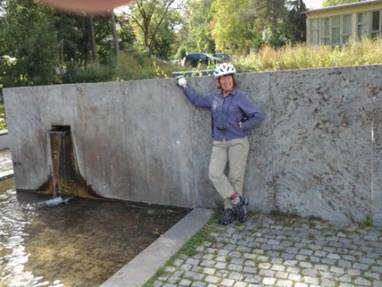 At the Neckarquelle
After visiting the Neckarquelle we rolled over a few hills to Donaueschingen to see the Donauquelle. This is the decreed source of the Danube which wanders from here a full 2840 km to the Black Sea. I say it's decreed because the water from this spring flows into a much larger and longer tributary. This particular spring was selected as the source back in Roman times even though you'd think the spring further up would be a better choice. There were raging disputes about what is really the source of the mighty Danube for decades. But in the end the courts made their decree and Donaueschingen kept that distinction.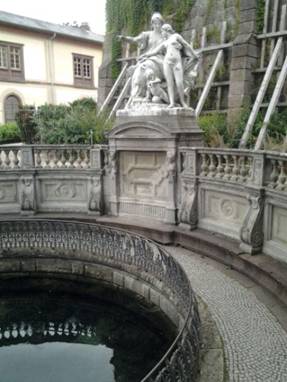 The decreed source of the Danube
August 26 to August 31
Donaueschingen, DE to Donauworth, DE
Just when the Danube is starting to look like a real river it suddenly disappears. A little east of Immendingen is the first of the Danube seepages, a very unusual geologic phenomena.
In this area deep underground is an enormous series of limestone caverns and caves. They provide a direct connection between the Danube and the Auch spring. At a flew rate of 8 m3/sec this is the largest flowing spring in Germany. Most, 75%, of its water comes from the Danube. Water in the Auch flows into the Bodensee, to the Rhine, and into the North Sea. That's a long way from the Black Sea where the Danube dumps out.
In summer, when the Danube flow is low, all the water gets sucked into the first seepage. Only when more side creeks join does water reappear. By the second and third seepages there is sufficient water year round to guarantee water in the river, but it is still much reduced in size for a while.
In August 2006 we rode this section of the Danube from Passau up river to Donaueschingen. It rained nearly every day. What we remember most is being always wet, always cold, and never seeing a blue sky. In fact we couldn't see the surrounding terrain due to the low lying clouds. Oddly we were about the only people on the bike trail and certainly the campsites were empty. Just can't imagine why the Germans weren't out enjoying that wet cold riding.
This time the weather was just about perfect for the best section of the ride. Clear blue sky, perfect temps, and a tailwind. This time we actually saw what we were going through.
West of Sigmaringen the Danube passes through a narrow canyon with just enough room for a narrow road and the bike path. On both sides 1000 ft tall white/gray limestone cliffs flank the river banks. On top of these cliffs dramatic looking castles keep guard over their claims on the river. It's the prettiest section if the Danube in Germany and we were glad to finally see it in sunshine.
We can tell we are approaching Bavaria. Not only are we hearing Grus Gott, the unique Bayern getting, but we were also seeing pretzels everywhere and all those biergartens. We were also in the land of those incredibly ornate Baroque Rococo churches.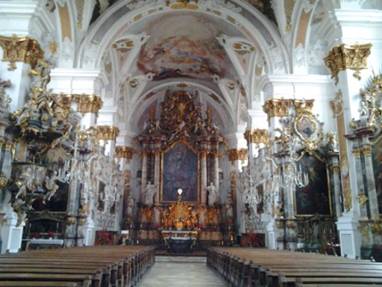 Baroque gone wild

The small chapel at Scheer is a prime example. The interior walls are absolutely covered in a peach colored stucco formed into swirls, leaves, fruit, putti, vines, and all sports of decorations. Everything is highlighted with gold finishing touches. Every time I see one of these over the top Baroque churches of Bavaria I can't help but think of a confection covered white and pink wedding cake. Almost sugary to the extreme.

Saint Nikolaus church in Scheer, Baroque gone wild.


After leaving the canyon at Sigmaringen the Danube valley opens into a broad plain. This is farming land where corn is king. In late August you'll see fields filled with tall rows of corn that are probably being cut as you ride by. That's not to say there aren't still a lot of nice old towns to see.

Sigmaringen has a lovely castle that is well worth a circle around. There's an art museum inside should you be tempted. Mengen has an award winning Roman museum that we hope to see someday. Riedlingen has a pleasant pedestrian street with plenty of half timbered buildings. They are quite proud of their storks as well judging by the painted plastic ones they have around. I found my favorite, General Stork, in Munderkingen. It's still standing in its bright red coat and black boots taking that first marching step forward.

This us very much farm country. If it weren't for the old buildings in the towns we could just as easily been riding through Indiana, it looks so similar. The route is rarely on the river and you're just wandering through corn fields. It's a pleasant enough ride, but we can't wait to get to where the path is right on the river.

Ulm is a pleasant little city that was completely rebuilt after W.W.II. So everything tends to look very modern. Their two main attractions are the Rathaus and the cathedral.

The Rathaus is covered with painted murals representing all the town's old trading partner cities. Most of these would be cities along the Danube. In olden days Ulm was the furthest commercial port upriver so it was very important and wealthy.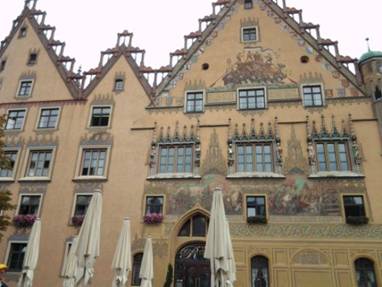 The Rathaus at Ulm
The Cathedral is another of those Gothic monuments that just boggles. For Germany it is second in size to the one in Koln. Inside it has 4 naves and it can hold 20,000 people, 11,000 in the central aisle alone. But what it is really famous for it its tower. This is the world's tallest church steeple. Standing at the base you really have to crane your neck to see the top. Unfortunately most of it was under scaffolding when ae arrived so photos were not as good as we would have liked.
Another cold front came tumbling our way dropping a good amount of rain. We'd just barely made it to the town of Dillingen when it started to pour. The forecast was for an all night gully washer. So we took a room in a nice comfy little hotel. Ah sometimes when we've been living in a tent for so many months we do begin to miss having a real bed.
With temperatures now running a good 20° F lower than just over a week ago we can feel that summer is rapidly coming to an end. We needed to get across the Alps before the first winter storm hits.
So our last town along the German river routes we've ridden this summer is Donauworth. We've been through this town three times now and I don't think any of those times has been with a clear blue sky. Such is the luck of the bike tourist.
The nearest zeltplatz is located at the kanu club on an off shoot pond of the Danube. It's a great location, practically next door to a Kaufland and Penny Market and just a few minutes ride to the center of town. The site is very nice, a good grassy lawn next to the pond with a huge covered area for shelter from rain and a bunch of tables and benches. The showers and toilets, however, are pretty poor and you may have a large kayak class show up in the morning. But for the price and convenience, it's a pretty good deal.
Donauworth is definitely one of the prettiest towns along this stretch of the Danube. Its main street seems to be far wider than the norm. It's lined on both sides be pastel colored stucco buildings each having a different shaped roof line. At one end of the street is the main church. At the other end is the rathaus.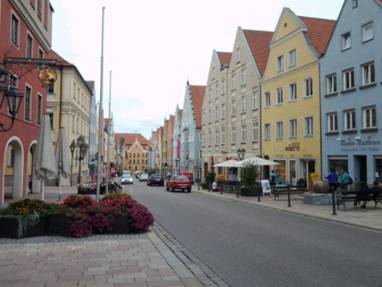 The lovely street of Donauworth
There isn't much for the average tourist to see apart from a very pretty village. But this is a place where several major bike tour routes cross, the Donau radweg, Romantische Strasse, and the Via Claudia Augusta. So even in bad weather you're bound to see other riders, even if it's just credit card tourists, not campers.
Here is where we said goodbye to the Danube once again. It's likely we'll return to ride to Passau again someday. For now it's over the Alps and on to Italy for us.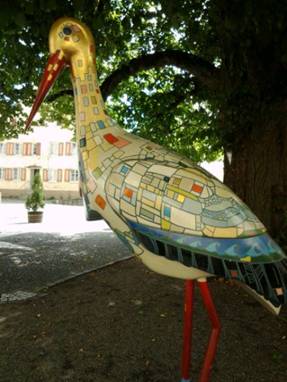 The storks of the Danube
APPENDIX A – ROUTE
August 9 - Train to Koln.
August 11 - Rhine Radweg west side thru Bonn to Badesberg, (30.70 miles)
August 12 - Rhine Radweg west side thru Remagen, Bad Breisig, Andernach, to Neuendorf at Koblenz (35.08 miles)
August 13 - Rhine Radweg west side thru Boppard, Sankt Goar, Oberwesel, Bacharach, Niederheimbach, to Trechtingshausen (41.49 miles)
August 14 - Rhine Radweg west side to Bingin, Nahe Radweg thru Bad Kreusnach to Bad Munster (25.70 miles)
August 15 - Nahe Radweg back to Bad Kreusnach, to Bad Munster, Niederhausen, Oberhausen, Bad Sobernheim, Meddersheim, Matching, to Kirn (35.91 miles)
August 16 - Nahe radweg thru Nabollenbach, Idar Oberstein, Sonnenberg-Winnenberg, Niederbrombach, to Birkenfeld (25.23 miles)
August 17 - Nahe radweg thru Nohfelden, Turkismuhle, Neukirchen to Nahequelle, back to the Bostalsee (21.16 miles)
August 18 - Nahe radweg back to Turkismuhle, train to Mannheim, Neckar radweg to Heidelberg (28.60 miles)
August 19 - Neckar radweg thru Eberbach, Zwingenberg, to Neckargerach (30.02 miles)
August 20 - Neckar radweg thru Neckarelz, Hasmersheim, Heinsheim, Bad Wimpfen, to Heinlein (33.24 miles)
August 21 - Neckar radweg thru Sontheim, Horkheim, Lauffen, Kircheim, Walheim, Besigheim, Beitigheim, Pleidelsheim, Benningen, Hoheneck, Neckargroningen, Remseck, Addingen, Muhlhausen, to Stuttgart, Bad Cannstatt (48.31 miles)
August 22 - Neckar radweg thru Mettingen, Esslingen, Oberesslingen, Altbach, Plochingen, Wernau, Kongen, Unterensingen, Zizishausen, Nurtingen, Neckartailfingen, Neckartenzlingen, Kirchentellinsfurt, to Tubingen (46.34 miles)
August 23 - Neckar radweg thru Rottenberg am Neckar, Obernau, Bieringen, Muhlen, to Horb (28.60 miles)
August 24 - Neckar radweg thru Dettingen, Fischingen, Sulz, Aistag, to Oberndorf (20.57 miles)
August 25 - Neckar radweg thru Altoberndorf, Epfendorf, Rottweil, Lauffen, to Schwenningen. HSB route to Donaueschingen (45.41 miles)
August 26 - Donau radweg to Tuttlingen (25.78 miles)
August 27 - Donau radweg to Sigmaringen (37.33 miles)
August 28 - Donau radweg to Riedlingen (27.81 miles)
August 29 - Donau radweg to Ersingen (34.33 miles)
August 30 - Donau radweg to Dillingen (49.19 Miles)
August 31 - Donau radweg to Donauworth (30.03 miles)
APPENDIX B – CAMPSITES, HOTELS
August 9, 10 - Koln Stadt Camping near Koln (€18.38/night plus showers)
August 11 - Campingplatz Genienau at Godesberg (€16.00/night + shower)
August 12 - Campingplatz Koblenz (€19.00/night)
August 13 - Campingplatz Marienort in Trechingshausen (€13.00/night + €1/shower)
August 14 - Campingplatz Nahe-Alsenz-Eck in Bad Munster am Stein (€14.40/night + showers)
August 15 - Camping Papiermuhle at Kirn (€11.00/night + €.60/shower)
August 16 - Campingplatz Waldweisen in Birkenfeld (€16.75/night)
August 17 - Campingplatz Botalsee (€12.00/night)
August 18 - Camping Heidelberg (€16.00/night)
August 19 - Camping Alte Fahre in Neckargerach (€16.00/night)
August 20 - Ibis hotel in Heilbronn ($60.43/night)
August 21 - Camping Stuttgart (€16.20/night)
August 22 - Neckarcamping Tubingen (€19.60/night)
August 23 - Camping Schuttehof in Horb (€14/night + €.50/shower)
August 24 - Kleinzeltplatz in Oberndorf (€8.00/night)
August 25 - Riedsee Camping in Donaueschingen (€16.50/night)
August 26 - Zeltplatz in Donaupark Tuttlingen (€0.00/night)
August 27 - Campingplatz Sigmaringen (€12.5/night + €.50/shower)
August 28 - Farm Camping Weiss at Riedlingen (€10.00/night)
August 29 - DLRG Rowing Club in Ersingen (€14.00/night)
August 30 - Hotel Garni Trumm in Dillingen (€64.00/night)
August 31 - Kanu Club Donauworth (€12.00/night)
REFERENCES
Bikeline Rhein radweg part 3
Bikeline Nahe Radweg in German
Beltline Neckar Radweg in German
Bikeline Danube Bicycle Trail Part 1 in English
Frommer's Germany 2011
Eyewitness Germany Guidebook