EUROPE 2012 PART VI - ALPS AND ITALY
Donauworth, DE to Milan, IT
September 1 - October 1, 2012
Start 72,242 miles (115,587 km) cumulative:
End 72,933 miles (116,693 km) cumulative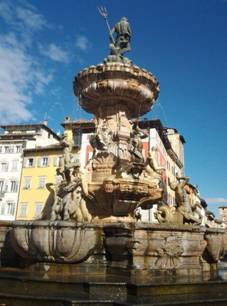 A beautiful fountain in Trento
TEASERS
Learn all about Roman road construction.
Spend a day visiting Augsburg, one of Germany's oldest cities.
The world's oldest welfare housing was created by bankers.
Skip Germany's most famous castle at Fussen and visit the Lech gorge instead.
Austria does look quite different from Germany.
Old fortresses silently guard the Alpine passes.
gaze at the remarkable church steeple used as a buoy by sail boats.
Shakespeare's Romeo and Juliet hailed from the pleasant city of Verona.
Find out where the Stradivarius violin is made.
Take a walk with the saints on top of the Milan Duomo.
September 1 - September 6
Donauworth, DE to Reutte, AU
The Via Claudia-Augusta bicycle route follows a path that sort of parallels the more famous Romantische Strasse.  It passes through many of the same towns and even is on the same trail on occasion.  The Via, however, is designed to closely follow the old Roman route which tends to stay in the flatlands of the Lech flood plane before climbing over two passes to get to Italy.  Whereas the Romantische Strasse wanders along the hills going from church to church and through the cute towns and then ends in the foothills town of Fussen.
The lower part of the Lech river is a broad flat flood plane that seems to be mostly devoted to agriculture.  As such thus section if the Via is a bit dull.  You're either riding through forest along the river, cornfields away from the river, or fairly modern farm towns.  We can see why folks might prefer the more hilly Romantische Strasse.
But the Via Claudia Augusta does have a very significant history.  The old Roman road was one of just a few that crossed the Alps and was, in fact, the most important.  It started at the Po river in Italy at the town called Ostiglio today.  Goods could be taken by boats to this point.  It went across the Alps over 2 passes arriving at what is now Donauworth on the Danube.  From there various Roman roads fanned out across the entire European Roman Empire.  If there was one thing the Romans understood was that to have an effective and strong empire you had to have safe, secure, and easy transportation routes.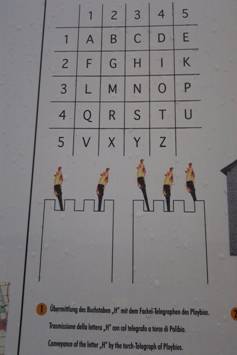 Signal communication in Roman time
Their roads were well made as well.  They would grade them to have a center crown for drainage.  There were drainage ditches on both sides.  The road bed could be just dirt or even cut stones covered in a layer of tightly packed gravel. Along the Via they even placed round stone distance markers.  None of the originals are in place.  Instead there are modern copies.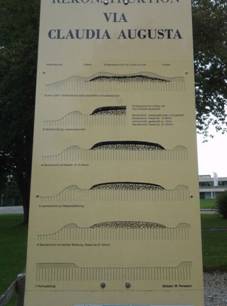 How the Romans built their roads
The Via does pass near the third largest city in Bayern and one of the oldest in Germany, Augsburg.  It was originally founded around 15 BC as a Roman fort providing security for traffic along the road.  Later it became wealthy through the textile industry.  Heavily damaged in the war, it has been nicely restored to very nearly its prewar state.
Augsburg has a beautiful main street lined with what were the palaces for all those rich merchants and bankers. One of those original rich banking families is still very much a presence.  The Fuggers have been doing banking and giving back to the community for centuries. The private Fugger bank is still in operation on the ground floor of the old Fugge mansion.
In addition to all the art the Fuggers donated to the various churches, the town hall, and to the community they are perhaps best known for a more unusual gift.  They built a housing complex exclusively for the very poor.  The rent was very cheap, 1 florin per year, and the tenants only had to agree to pray for the soul of the founder twice a day.  
This housing complex, called the Fuggerie, is still in operation today and is considered to be the world's oldest welfare housing.  Rent still costs a mere €.88/year and the tenants must still make their twice daily prayers.  There are about 150 residents living in this little town within a town.  At night it's shut behind a locked gate and a night watchman keeps tabs on who comes and who goes.
It's also been turned into a tourist attraction with an on site gourmet restaurant and a museum.  Just to enter the streets, non residents must pay €4 for the privilege.  I guess this is a good way to keep the enterprise going.
Augsburg also had the distinction of being the place where the treaty ending the 30 year war between Catholics and Protestants was signed.  In recognition of this newly recognized split in the Christian faiths, two churches positioned side by side were consecrated.  St. Ulrich, the Protestant church is smaller and simpler while St. Anne is the more elaborate catholic.  They share the same crypt where these two saints are buried.  The striking difference between the tombs really reveals the difference in the beliefs of the two religions.
After a restful day spent exploring Augsburg we continued on south along the Via Claudia Augusta bike route.  The route stays mainly in the flat valley of the Lech river but it's probably not entirely true to the original Roman road.  Over the centuries the Lech had been funneled, dyked, channeled, damned, and redirected.  So the once widely braided river channels are now controlled into a straight river and an accompanying canal.  Although Mother Nature always wins and occasional floods are known to happen as evidenced by the Germans' favorite "hoch wasser" marks.
We spent the night in the pretty town of Landsberg.  Or at least it would normally be a pretty place to stroll.  They were in the process of tearing up the entire main street to put in new drain pipes and wiring and replacing all the paving with clean, smooth white blocks.  It'll look great when it's done.  But in the meantime getting around the construction was a mess.
As we approached the town of Fussen the terrain became hillier.  It was evident that we were fast approaching the foothills of the Alps where we would find our favorite type of riding, through the mountains.  It's hard pumping but the rewards make it worth the effort.
All along the Via the respective countries have posted some interesting history signs.  One sign talked about the water requirements of the major Roman cities.  The Romans really were incredibly sophisticated in their civilization.  They had public and private baths, running sewer drainage, indoor plumbing, and basically many of the amenities we enjoy today in a more stone like format.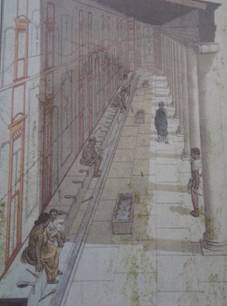 Toilets Roman style
Another sign showed how the Romans built their roads.  They even had a full a size model laid out.  Basically they put down several thick layers, alternating rocks and gravel with sand and clay.  Sometimes they added cut stones on top.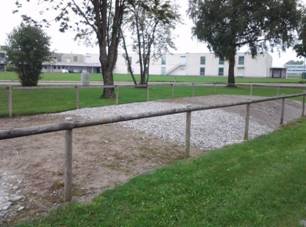 Full size Roman road example

At the top of Fern Pass they took the road straight across a swamp.  For this area they dug a deep dich and then filled it with the rock and dirt layers.  At the bottom they used logs laid along the base at angles making the bottom if the ditch lower in the center.  It was all to allow the water to drain down.  Archeologists actually dug up some of this road to see what the construction was, braving the same mucky mud the Romans dealt with.

Roman road construction model


</iframe>

On another sign they showed how the Romans did surveying.  This road was built as a series of straight lines between selected points.  Hence the reason they went through the Fern Pass swamp rather than around on the higher slope as today's road does. But Romans being Romans they wanted the shortest route possible regardless of the local terrain.  It was amazing what they could do with measuring instruments as simple as a cross of wood pieces and some weights.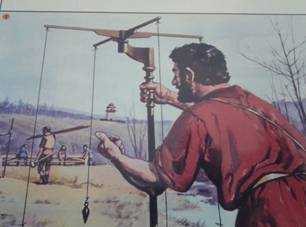 Surveying Roman style
After spending a quiet night in an empty tent field of a campground on Forggensee, we rode into one of the most well known towns in Germany.  Actually it's not the town that is so well known.  It's the castle.  Fussen is home to one of the most photographed sites in the world, Neuschwanstein castle, Ludwig's folly.
Naturally this means that the town is packed with tourists from around the world virtually year round.  We've seen the castle before.  In fact it's not really a Middle Age castle at all.  And we've seen other castles that are more authentic and just as picturesque.  Berg Eltz on the Moselle for one.  So we just carried on, easily resisting the temptation to do the tour again.
Just behind Fussen the Lech river passes through a narrow canyon that is quite scenic and it enters Austria.  The river here comes almost directly from the high Alps where glaciers in the high peaks give the water that tell-tale turquoise color.  Watching the water cascade through the narrow neck of the canyon looks so much like similar sites we've seen in Canada.  Except perhaps there are more crowds here.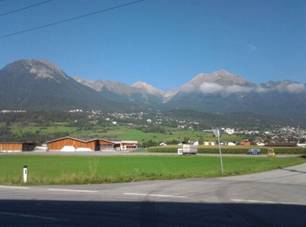 Approaching the Alps
Beyond the canyon is a wide valley containing several small Austrian towns.  They look different than those in Germany.  More spread out with a fair bit of space between each building.  We could easily tell we weren't in Germany anymore despite hearing the same language with perhaps an Austrian twang
Reutte is the last town before the steep climb to the first of two passes.  It's a good spot to spend the night and get ready for some thigh burning work.
September 6 - September 14
Reutte, AU - Verona, IT
Just out of Reutte the Via takes a turn for the dirt.  It follows an old dirt farm road that seems to go just about straight up.  On pavement it would have been a tough climb.  But this was loose dirt and we weren't warmed up just yet. So we gave in and pushed for a short spell.  We don't like doing that but sometimes we just have to.
We were rewarded with an interesting site.  One of those information signs pointed to a location where there are wheel ruts worn into the rock.  There also appeared to be steps chipped in the rock between the wheel ruts.  They say that the archeologists are divided as to whether the wheel ruts are just due to nearly 2000 years use or if they were put there specifically to keep the wheels from slipping sideways.  Could be either.  But we do know that on the Oregon tail there are wheel ruts worn into the bare rock and they weren't put there on purpose.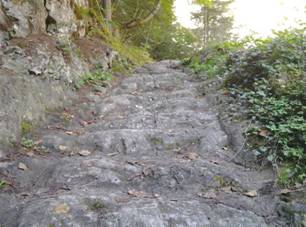 Wheel ruts worn into the rock
At the top of the dirt section we came to one of the most formally fortified valleys we've ever seen.  The road going over the Alps through Fern Pass was one of the most fought over pieces of real estate after the fall of the Roman empire.  One of the most valuable commodities coming over that pass was salt.  
During Roman times the Roman military kept the route clear of bandits.  Also the Roman government rarely charged any tolls.  Only at a few locations such as boundaries between regions were there toll gates and the tolls were very reasonable 1/40th of the cargo value.  In the middle ages each lord along the road charged a toll making the journey just a string of toll booths.  Klaus Ehrenberg was such a toll gate.  
It's located where the valley narrows to the point where there's just enough room for the road and a few buildings.  A large building with a single gate was built right across the valley.  You had to go through the gate to get through.  This, however did not prevent this lucrative gate from being attacked.  So additional fortresses were built on the surrounding hills.  Walls connected them together.  Again and again as weapons were improved the fortresses were modified.
Eventually the need for the fortress faded away and it fell into ruin.  It's now finding new life as a tourist attraction.  Hiking trails lead from one fort to another and there's a restaurant in the main building plus a museum.  It'd be worth coming for the hike someday.
Beyond the Klaus we had a final push up a dirt road to Fern Pass.  It reminded us a lot of the types of roads we've ridden on the Great Divide Mountain Bike Route.  It was steep but in this case a good enough surface for riding.  
I had to smile when we passed by a bunch of hikers.  One woman smiled as Brian rode by.  But when she turned her gaze on me her jaw dropped.  I watched in my mirror to see her looking back after I'd gone by.  I guess she didn't expect to see a woman riding a loaded bike up these steep hills.  We have found that although many Germans and Austrians do bike touring very few will do hills of any kind, at least not without the assistance of an electric motor.  Most of them won't camp either.
At the top of Fern Pass the map shows two options, a dirt route or the main paved road.  The road was very busy with a lot of trucks and we figured the dirt would be a road similar to what we'd come up.  Wrongo.  This section of a couple miles really is more of a hiking trail and not really all that suited to a loaded bike.  Or at least you'd need to be a much better mountain biker than we are.  Unfortunately we were committed.  So we had to make our way down the trail mostly on foot, bouncing over rocks and roots all along the way.  Amazingly this was actually the original middle age road as we discovered.  It passes right through another one of those old toll gate buildings at the end.  I couldn't imagine riding in a carriage over that dreadful road.
We hustled down to Imst arriving just at dusk well after the stores closed.  One thing we have to get used to again are the difficult shopping hours of Austria.  Off to a restaurant for dinner and we'd be making our way to a store in the morning for breakfast.
From Imst the Via bike path takes a very easy and almost leisurely run up the Inn river to the town of Pfunds.  It passes through Landeck, the largest town on the upper Inn, which makes a good place to grab lunch.  
Then the river takes a sharp turn south and continues its steady climb.  There are a few steep sections of the bike path but mostly its a fairly gentle ride.  
If you're riding the Via to Italy the last place to camp before the final grunt to the top is Pfunds.  There is another bike route, the Inn radweg, which continues on through Davos and ends at the famous ski resort St. Moritz Switzerland.  We've now completed much of the Inn radweg.  So I guess we'll just have to add the rest to our "to-do" list.
The main road that the cars take up to Rechen Pass is the one that more closely follows the actual Roman road, mostly straight up the side of the hill.  The road we took continues along the Inn for a few more miles just barely entering Switzerland.  Switzerland is one of the few places in west Europe where they still maintain a semblance of a border crossing, a very lax one at that.
At a point where there is a slightly more gradual slope to the cliffs the road now begins its multi-switchback climb right up the side.  The Romans would never have made such a road.  Too many curves.
Most bikers take the shuttle up this last section.  But as long as our knees hold out we will continue to ride up these passes.  We're not that old, yet.  Besides it really wasn't all that bad a climb.  Certainly not much more than a 6% grade.  At the top is the final town in Austria, Nauders, which has a good supermarket and is a great spot to stop for lunch.  Then it's on to Italy.
Just after entering Italy we passed by the flooded townsite of Graun.  In 1950 a dam was built to raise the level of the lake.  In doing so the old town wound up under water and a new town was built on the hill.  The one thing you can still see sticking out of the water is the old church steeple.  It's quite a site, seeing all these sail boats using the tower as buoy.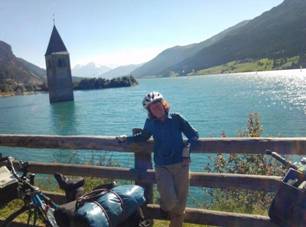 The church steeple now used as a boat buoy
We stopped at one of the first campsites in Italy which was also our highest for the summer.  It was chilly at night but at least there was no frost.  Fall is coming and we are expecting changes soon.
It was Sunday, the weather was nice, and the bike trail was packed.  We really hadn't expected the Via Claudia Augusta to be so popular.  But I guess we aren't the only ones who prefer mountain riding especially on such a good bike trail.  
We were going on an easy downhill grade passing through tiny and scenic mountain towns that have far narrower streets than what we saw in Austria.  Italy in general tends to have very, very narrow roads running through their old towns.  This does make for some very picturesque looking mountain towns.  Everywhere we looked there was another pictur in small town Italy is much harder than any country so far for finding supplies.  Everything is closed including bakeries and gas stations which are often our only food source in other countries on Sunday.  The only things open are restaurants.  Getting a cold drink is almost impossible.   Fortunately we brought food with us so we had enough for dinner.  Just a few more Sundays left.
This time of year the campgrounds in this south Tyrol region are actually packed.  This was really a surprise aa we had expected them to be nearly empty.  Evidently Germans, Dutch, and Austrians find the extended summer weather in this area to be perfect for a short holiday.  Retirees spend the entire months of September and October basking in just a little longer sunshine before the onset of winter.  It also helps that this is a German speaking region as well.
Continuing on downhill we found the trail wandering through a major apple producing area.  The flatlands of the valley were filled with row upon row of bush size apple trees all weighted down with huge fruits ready for the picking.  One information sign stated that they grow 5 billion apples in just 15,000 hectares in this area.  One of every eight apples sold in the EU comes from here.  That's a lot of apples in such a small area.
They grow the trees differently here.  In fact they seem to grow them more like grape vines. The trees are kept small, more like bushes, and are spaced only about a foot apart.  This way they are easily picked without need for a big ladder.  They use a low mobile platform instead that has conveyor belts that pile the apples into the waiting crate.  We wondered if this is more efficient use of labor and land than the large trees found in Washington.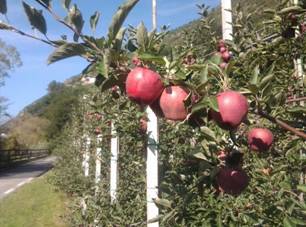 The apples are ripe and ready
We continued our downward glide on the new and very nice bike path which was a much better riding experience than we were expecting.  It's clear the Italians have determined there's a lot of tourist money to be gained from all those Germans and Austrians riding the route at least from Rechen pass to Merona.  Beyond that the number of bike tourists starts to taper off.   
Just before Merona is a final steep drop of several hundred ft.  They've recently added a switchback path that gets you up or down at a bike friendly slope.  The two gigantic Adirondack chairs at the top are rather interesting and a great place to take in the view.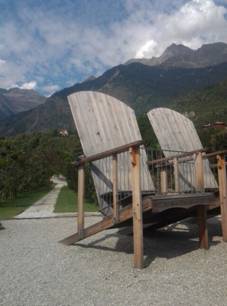 Giant Adirondack chairs for soaking up the view

The Merona campground was packed.  They do have a "tent" area but it is pretty small.  So you feel like you're right on top of one another.  It was not particularly comfortable.  Add to that a group if 5 drunk Italian motorcyclists who stayed up all night yelling, laughing, and singing and we had one sleepless night.  This is not a campground we'd ever come back to.

The Via bike path in Italy seems to be getting more and more improvements every year.  We had two maps, one for 2006 and one for 2012.  They were different from each other and neither exactly matched the signed path.  New construction is being added every year and the maps aren't keeping up.

We were going to spend the night near the city of Bolzano but getting to the campground proved to be very difficult.  There was construction everywhere and no direct back road option.  So we just stopped for lunch and rode on.

Instead we stopped at the tiny town if Auer and were so glad we had decided to go on.  We found one of the nicest campgrounds we saw in Italy behind a little hotel.  Toilets were incredible, the views from our site spectacular, and they have 5 little spots specifically reserved for bicyclists so you're almost guaranteed a spot.  Aa it turns out we probably should have stayed two nights.

The next day started out almost sunny but soon the clouds gathered.  When the forecast called for rain we expected a little sprinkling.  What we hasn't counted on was the absolute dump we got.  We were in the city of Trento.  We had only a basic map in our bike map book. We hadn't yet gotten a SIM for the phone so we had no idea where hotels were or what they might cost.  The tourist office wasn't where it used to be.  And it was pouring.  We were soaking wet.

With the help of a local hotel receptionist we managed to get ourselves a good room for the night right within walking distance of the old town.  A night of drying off and we were feeling a whole lot more normal.

Once you get into the old sections if Trento you actually find a rather pleasant city.  It's obviously a city that has had a lot of wealth over the years judging by the lovely palazzos all over.  Although like so much of Italy many of the facades showed signs of wear.  Stucco is hard to keep in tact for centuries.

Trento was a city originally founded as a Roman fort when the Via was built.  It was expanded and soon became a large fortified city.  It was rectangular in shape with a rectangular street layout.  A wall with several towers and a water moat turned this city into a very defensible fort.  The Romans embarked on a project to drain and channel the swampy area in the valley so as to turn it into farmland.  Today the river lies completely in a manmade channel.  There's little signs of the original wild river left.

After looking around at the Duomo and all the Palazzos we continued on down the bike  path.  For once, probably the first time this summer, all the factors were in our favor.  The sun was out.  The temperatures cool but not too hot.  And we had a rip roaring tailwind.  We were flying and it was one of the most enjoyable rides we've had in a while.  As we sailed along we passed a couple headed into the wind.  I had to wince as I watched the woman grit her teeth as she fought the terrific wind.  Well when you bike tour enough you will eventually have days on both sides of the winds.  Been there.  Done that.

This day was shorter than we would have liked given the wind situation.  But camping becomes scarce as you get further out of the mountains.  We headed a little toward Lake Garda to pitch our tent in the field of a small apple orchard owner's farm where, surprisingly, he's growing trees made from cuttings taken in Julian, California.  They're doing well there.

We had one last day of riding in the mountains as we made the final descent to Verona.  Verona sits just at the southern tip of the mountains beyond which the terrain gets really, really flat.  We had just one more steep climb to make to get around a cliff, surmounted by fortresses on both sides of the river, of course.  Then it was an easy glide along the canals into the city.

One thing the Italians have done very nicely in this area is the canal side bike trails. You can cruise for miles through one very industrial region without having to take to the roads.  Although you do have to pay close attention to the metal posts placed right smack in the middle of the trail.  Brian's rear bags snagged one and even weeks later he was still hurting.  Good thing we were almost done for the season.

It was a long ride to Verona even with it being mostly downhill.  So to find that the campground had to be at the top of the last hill just took the last of the energy we had left.   It does have one if the best views of the city and surroundings.  So I suppose it was worth that last humph up.

September 15 - September 27

Verona, IT to Milan, IT

Romeo, Romeo Where's that nice looking butt of yours, Romeo?  All right not quite a direct quote from the bard but you get the idea.  Verona is the city where the fictional lovers where supposed to have lived and the city takes full advantage of that fame.  

However there is much more in the city to see.  This was an old Roman center and quite a few bits of Roman historical structures remain.  In particular the old arena is in remarkable condition in spite of earthquakes and it's use as a ready stone quarry.  It's supposed to be the best preserved Roman arena in Italy north of Rome.  

A look around the Arena di Verona


It's still used today for a variety of performances during the summer.  Imagine seeing a production of Shakespeare's famous play in this actual Verona arena.  But they seem to be more famous for their production of the opera Aida.  The acoustics are incredible.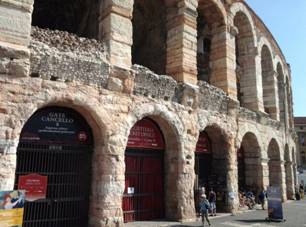 The arena at Verona
We had a day to wander around Verona.  It really is a rather pleasant city once you get into the central core.  Since it was Saturday the main shopping district was packed.  It didn't seem that there were a lot of shopping bags going by, though.  Certainly there's a lot of window shopping.
Fortunately since we were riding out of a large tourist town we had an opportunity to get groceries.  Anywhere else in these small Italian towns there are no stores open on Sunday.  During the Noon to 3 pm time frame there is essentially nothing open at all, not even the pizza places.
We rode only as far as the town of Castel d'Ario where we reserved a night in a very nice 4 start hotel for the night.  We had discovered that there are few campgrounds in the Po valley.  And with Brian still hurting from his run in with that post in the trail, a few nights in a real bed would be very nice indeed.
Since nothing was open, not even the pizza places, until after 6 PM we spent our second to last Sunday on the bikes just hanging around.  Relaxing but a bit boring.
The next major city along the Po was Mantova.  We were passing by all sorts of farm lands, in particular corn and many acres of trees.  We aren't sure what these trees are used for since they're cut into too small sections for use as lumber and we can't imagine they're being used as firewood.
Much of our riding was atop dykes along the many canals.  This flat region used to be the swampy lower extremes of the Po until it was drained and canalized.  It was easy riding but a bit dull.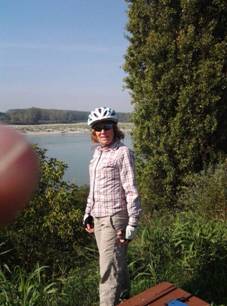 First view of the actual Po River
Once we left Verona we were most definitely in the real Italian part of Italy.  The northern region has passed back and fourth between Italy and Austria so many times that it still has a very strong Austrian appearance.  Along the Po, not so.
Towns that are very Italian tend to look rather run down.  From a distance they appear much like a normal town anywhere.  Upon closer inspection they look to be in a state of semi ruin.  The problem is this kind of semi ruin is not just here and there.  It's absolutely everywhere.
After checking into another hotel we headed out to see Montova.  This city is famous a being the birth city of Virgil the poet.  But for all you Shakespeare fans this is the city where Romeo was sent into exile.  So it is well known.
Italian versions of the typical European plazas are rather stark and empty looking.  They usually don't have trees, flowers, fountains or much else.  They're impressive but a bit too blank for our tastes.  You really don't even see much in the way of the normal restaurants either.  In summer they must be absolutely roasting places to visit as there is nothing cooling around.
Unfortunately being Monday many of the museums were closed.  In particular the Ducal palace which has the best paintings was not open.  So we just had another day wandering the city.
For the next two days we spent most of our day riding up on the dykes with a lot of tree farms all around.  Occasionally we'd drop into a nearby town, but they really weren't all that interesting and usually not in very good condition.  We were beginning to think that perhaps the Po was not the best choice for our last week riding.  We usually prefer to end on a more scenic note.
The next city on our route was Cremona.  This is the only town between Verona and Milan along the route that actually still has a campground.  Oh but what an awful campground.  It's not just the fact that the facilities are old.  We've seen those squat, flush and run toilets in some very nice campgrounds.  It's the fact that the facilities were absolutely filthy.  It seems they are rarely if ever cleaned.  You had to keep everything in your hands doing anything because there was no clean place to put stuff down.  Definitely not a campground we'd ever recommend.
Cremona is famous as the home for many well known violin manufacturers including Stradivarius.  The city seems to be a little better off and in somewhat better condition than the others we'd been visiting.  But it still is in that usual state of semi decay so prevalent here.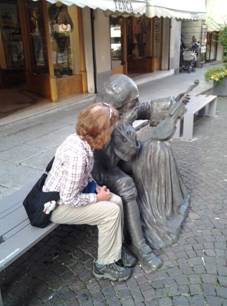 Discussing the fine points of violins with Stradivari
There isn't much for the tourist to visit.  There's the usual plethora of churches and the main duomo cathedral.  Organ practice was underway which really adds to the atmosphere.  It must be something to be An organist in Europe as there are so many cathedrals with outstanding acoustics.
We had just a couple more rather uninteresting days riding along the dykes through the tree farms.  One of the few interesting things to see was a pontoon bridge.  Built in 1922 it's a series of planks paced on top of what looks like boat hulls.  It's probably the only pontoon bridge we've ever ridden over.so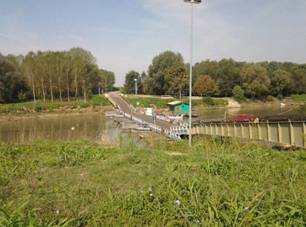 The pontoon bridge
Piacenza was our last city stop before heading into Milan.  Apart from two magnificent equestrian statues there was very little of interest there. The statues are great and, amazingly, completely in tact, nothing broken.  We wandered all over. Saw it all.
We decided to skip Pavia as by this time we'd had enough of these uninteresting cities.  It was time to get to Milan and finish our ride.
We did make a stop at the incredible Certosa di Pavia.  This monastery has an amazing facade.  It's white marble covered with all kind of statues.  The intricate detail is wonderful.  You'd be looking for a long time before you'd be able to see it all.  Beautiful.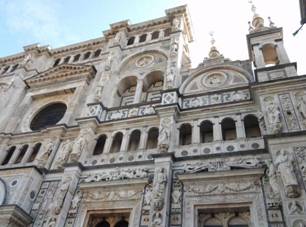 The amazing facade of Certosa di Pavia
So with just over 27 miles along the many canal bike paths left to ride we arrived at our final destination, Milan.
The center of the Italian fashion industry, Milan is pretty much a modern city with a few old treasures thrown in.  most people visit for three things, to see the Duomo, see the Last Supper fresco and to shop.  We decided to do just the first.  This cathedral ranks up there with St. Peters in Rome and has an incredible gothic structure.  So it really is a highlight of Europe, not just Italy.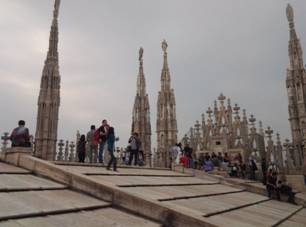 On the roof of the incredible gothic Milan Duomo

One of the last things we just had to do before heading home was to climb to the top of the Duomo so we could walk among the saint statues on the roof.  That's an experience you just won't find anywhere else.  A nice end to another summer's bike tour.

Walking around the roof of the Milan duomo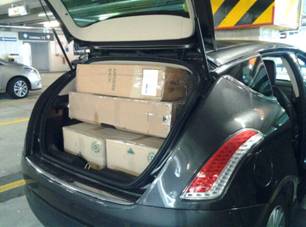 Everything squeezed into the car ready to fly home
APPENDIX A – ROUTE
September 1 - Via Claudia Augusta radweg thru Mertingen, Meitingen, Langweid, Gersthofen, to Augsburg (32.33 miles)
September 3 -  Via Claudia Augusta radweg thru Hochzoll, Haunstetten, Konigsbrunn, Graben, Untermeitingen, Hurlach, Igling, Erpfting, to Landsberg (39.60 miles)
September 4 - Via Claudia Augusta radweg thru Erpfting, Asch, Leeder, Denklingen, Epfach, Kinsau, Hohenfurch Schongau, Burggen, to Lechbruck (36.97 miles)
September 5 - Via Claudia Augusta radweg thru Rieden, Fussen, Pinsweg, Pflach to Reutte (26.61 miles)
September 6 - Via Claudia Augusta radweg thru Heiterwang, Lahn, Lermoos, Biberwier, Nassereith, to Imst (34.28 miles)
September 7 - Via Claudia Augusta radweg thru Schonwies, Zams, Landeck, Perfuchs, Fliess, Prutz, Tosens, Stein, to Pfunds (39.76 miles)
September 8 - Via Claudia Augusta radweg thru Nauders, into Italy, thru Resia to St. Valentino alla Muta (23.3 miles)
September 9 - Via Claudia Augusta radweg thru Burgeis, Schleis, Mals i'm Vinschgau, Glurns, Prad am Stilfserjoch, Laas, Golfan, to Latsch (33.54 miles)
September 10 - Via Claudia Augusta radweg thru Kastelbell, Staben, Tschirland, Plaus, Algund, to Merino (18.94 miles)
September 11 - Via Claudia Augusta radweg thru Lana, Vilpian, Terlan, Bolzano, to Auer (36.08 miles)
September 12 - Via Claudia Augusta radweg thru Egna, Laag, Salurn, Zambana Nuova, Lavis, to Trento (37.25 miles)
September 13 - Via Claudia Augusta radweg thru Mattarello, Calliano, Rovereto, to Mori (25.86 miles)
September 14 - Via Claudia Augusta radweg thru Chizzola, Pilcante, Avio, Mama d'Avio, Brentino-Belluno, Rivoli, Sega, Piovezzano, Bussolengo, to Verona (51.25 miles)
September 16 - Via Claudia Augusta radweg thru Sommacampagna, Villafranca di Verona, Povegliano Veronese, Azzano, Vigasio, San Bernardino, Erbe, Sorga, to Castle d'Ario (36.31 miles)
September 17 - Back roads thru Villagrossa, Pradello, San Giovanni, Nosedole, Casale, Governolo, Bagnolo San Vito, Pietole, Cerese, to Mantova (26.65 miles)
September 18 - Po bike route thru (35.56 miles)
September 19 - Po bike route thru to Cremona (40.32 miles)
September 20 - Po bike route thru to Piacenza (33.87 miles)
September 21 - Po bike route thru to Cities di Pavia (55.40 miles)
September 21 - Bike route thru to Milan (27.01 miles)
APPENDIX B – CAMPSITES, HOTELS
September 1, 2 - Ibis hotel Augsburg (€51/night)
September 3 - Campingplatz Romantik am Lech at Landsberg am Lech (€13.73/night)
September 4 - Via Claudia Camping at Lechbruck am See (€21.70/night)
September 5 - Camping Reutte in Reutte, AU (€18.85/night + €1/shower)
September 6 - Camping Imst Schwimbad (€20.00/night)
September 7 - Camping Via Claudiasee in Pfunds (€14.00/night)
September 8 - Camping Thoni in St. Valentino alla Muta, IT (€16.00/night)
September 9 - Camping and Hotel Latsch (€27.40/night)
September 10 - Camping Merano (€25.20/night)
September 11 - Camping Hotel Markushof in Auer (€24.00/night)
September 12 - Hotel Everest €90.00/night)
September 13 - Albero delle Mele near Mori (€16.00/night)
September 14, 15 - Camping Castel San Pietra in Verona (€21.00/night)
September 16 - Hotel Eden in Castel Ario (€50.00/night)
September 17 - Comfort Hotel ABC in Manitoba (€66.60/night)
September 18 - Motel Giglio in Viadana (€72.00)
September 19 - Camping Parco Al Po in Cremona (€17.00/night + showers)
September 20 - Petit hotel in Piacenza (€65.00/night)
September 21 - Agri village Pavia in Certosa do Pavia (€56.00/night)
September 22, 23, 27 - Camping Village Citta di Milan (€24.05/night)
REFERENCES
Bikeline Via Claudia Augusta Radweg map
Bikeline Po River Radweg map
Frommer's Germany 2011
Eyewitness Travel Germany
Frommer's Italy 2012
Eyewitness Travel Italy
Fodor's Italy 2011