GREAT DIVIDE BIKE ROUTE SECTION 5
Platoro, CO to Grants, NM
Sept 17 to Oct 2, 2000
32,794 miles (52,894 km) cumulative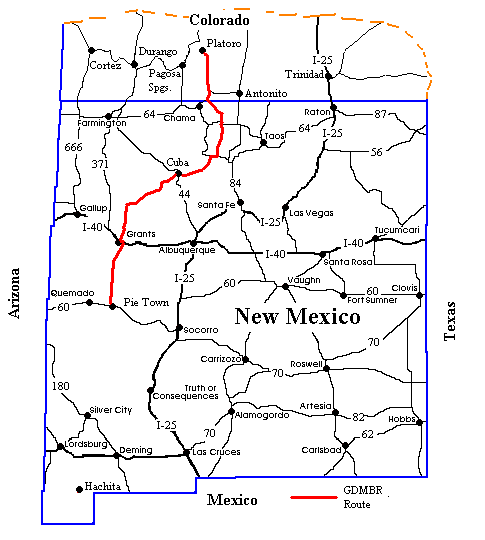 Teasers
| | |
| --- | --- |
| | Catch the Cumbres - Toltec narrow gauge steam train |
| | Discover just how tough New Mexico roads can be |
| | Towns out of old Mexico, El Rito, Abiquiu, and Vallecitos, beg exploring |
| | A nasty front hits high in the mountains, lightening is scary |
| | "Give me your bike" welcome to Cuba |
| | Could the road get any worse, yes |
| | Rolling up and down arroyos in the barren desert |
| | Water, precious and scarce |
| | "Get your kicks on Route 66" at Grants |
| | Pie Town, not much there but expensive pie |
"Like a human, the mountain is a composite creature, only to be known after many a view from many a different point, and repaying this loving study, if it is anything of a mountain at all, by a gradual revelation of personality."
Freya Stark, The Valley of the Assassins (1934)
GDMBR Day 54 - To mi. 1802, Brazos Ridge, Section 5 Map A
I must have been tired. Either that or the climb up La Manga pass is a lot tougher than your average paved pass. We'd begun the morning with a wonderfully hearty and stuffing breakfast at the Little Joe's Chuckwagon Cafe. Little Joe, we hear, is a small Mexican fellow who happens to do rodeo stuff. He also does some of the biggest meals at the best prices in the entire valley from Platoro to Rt. 17. In the same building as Little Joe's is a tiny chapel and a mini laundromat. Also at this intersection is the Mountain House Motel, a bunch of RV lots that you can buy, and a combination Mrs. Rios fancy restaurant, land office, and grocery store. This is the one grocery store on the entire Platoro to El Rito section that has a reasonable stock and not too outrageous prices. Let's just say that the 4 pack of Ritz crackers that the Platoro Lodge bilked customers for $7.12 was only about $3.97. What a difference being on the paved highway makes.
After breakfast we grunted our way up La Manga Pass. To me it seemed to be a good 5 continual miles of almost 8% grade. I suppose if I'd ridden it on a day I wasn't quite so tired it might seem like only 6%. We then dropped down about 800 ft., climbed back up another 200 or so, and then once again dropped down to the river valley. Here we had to make a 20 minute stop to await the passing of one of the most unique sights in the US, the Cumbres & Toltec Narrow Gauge Railroad.
Every summer starting in about April and running through mid October with one special Christmas run, the little steam narrow gauge train makes it's lumbersome way between the towns of Chama, NM and Antonito, CO. It leaves Chama at around 10 AM and I'm not sure what time it finally arrives at Antonito. Passengers ride up to the halfway point, a place called Osier, where they have lunch. They then can either return to their starting point or go on to Antonito, which means, I suppose, there must actually be 2 separate trains. The one we saw happened to cross our path right at around 12:20 PM. It had a small, coal burning steam locomotive, 4 authentic and restored passenger cars, and an open air flat bed car at the rear. It huffed and chugged along at a super slow rate all the while spewing forth black soot from the burning coal. We understand the adult fare for the 64 mile one way trip is $38. I suppose not too outrageous considering it's a full day's entertainment.
While we were standing by the rails waiting for the train we heard some whooping and whistling off in the distance. At first I looked around trying to figure out who might be making that noise. It wasn't too long before we beheld another unusual sight. Coming up to the tracks, crossing right where we stood, and then heading up the road was another small group of cows being herded off to somewhere else. The person who was sitting stride the gray colored horse, hooting and hollering away, forcing the cows to head in the correct direction was not a cowboy, SHE was a cowgirl. Score one for the ladies. She was efficient and quick, hollering such things as "Hey cattle," or "Stupid Cow." It looked like hard work and we were surprised she didn't even have a dog to help. She had long dark hair, a white shirt, blue jeans, and also surprisingly did not sport the typical cowboy hat. She obviously chose her own style. It didn't take too long for her the get the reluctant bovines across the rail, up the road, and out of site. At least she was long gone before the train came round the bend.
If I thought I was tired climbing up La Manga Pass, I was about to find out just how much more tired I could get. We followed the road down to the river crossing and then began our second super steep, greater than 1000 ft. climb for the day. We had just entered New Mexico and the Carson National Forest and the roads seemed to deteriorate the further into the forest we got. We found ourselves riding a road that varied from hardpacked dirt with deep, water worn ruts running down the middle to rough, loose, rocks. We managed all right, somehow getting the bikes up over some mighty steep slopes covered with loose rocks. That is until just 1/2 mile before something called the Brazos Ridge Overlook. Here the road takes a sharp turn left and begins a super steep climb straight up the hill over some of the loosest rock surface we've seen on this route. There was absolutely no way we could ride the bikes up this slope especially since we were still carrying extra food and had just bummed 3 gallons of water from a passing pick-up truck. This 1/2 mile was another one of those get-off-your-bike and push as hard as you can for over 1/2 hour climbs. Amazingly there's not one word about this climb in the map instructions. There's nothing about a super steep, rocky climb or so much as a hint that you'll be pushing up the last bit. Another spot, a few miles earlier, rated the "rocky and steep", description, yet it was at least ridable. We had to wonder why this 1/2 mile section was left out. Once again we found ourselves grumbling about the lack of verification and care put into these maps.
GDMBR Day 55 - To mi. 1837
So far southern Colorado, from Del Norte down, and northern New Mexico had to rate as some of the toughest riding on the entire route. Not only are the climbs steep and rough, but with so few towns and streams along the way it is often necessary to carry huge amounts of food and water. I am sure our bikes each weighed at least an extra 15 to 20 lbs. every time we left a major supply point. Fortunately, once we leave the town of Cuba, NM the climbs become much smaller, the elevations lower. So even though we'll be carrying even more water through the desertish lowlands, at least we won't have to drag it up huge climbs.
The true Continental Divide enters New Mexico just to the west of the Cumbres Pass which is on RT. 17. At this point the divide is no longer following the ridge crest of the Rocky Mountains. The reason is the huge Rio Grande River. The Rio Grande starts somewhere west of Del Norte. It stays on the west side of the Rocky Mountains until it reaches El Paso, TX. Here it heads east, skirting under the southern most end of the Rocky Mountains. It then heads toward the Gulf of Mexico, although with all the water drawn off by both the US and Mexico for irrigation I don't believe it ever actually reaches the gulf. So since the Rio Grande is west of the Rockies, all creeks that happen to drain into it are now on the Atlantic side of the divide even though they may be on the west side of the highest peaks.
Once in New Mexico, the divide takes a meandering course toward the southwest, passing by no towns of any significant size, until it crosses I40 about 33 miles east of Gallup. It then zigzags almost directly due south, skirting the west side of the El Malpais National Monument, curving just around to the east of the miniscule town with the unique name of Pie Town, and then heads south into the Gila Wilderness. From there it makes one last sudden 90 degree zag to the east, crossing FS route 163, and then continues its gradual westerly meander passing just barely to the west of Silver City. It then goes directly south, crosses I10 at a whopping elevation of 4,585 ft, takes one more jog to the west, and heads straight to Mexico along the ridge of the Animas Mountains.
Our route would not be quite so jagged. We enter New Mexico on the east side of Cumbres Pass and head basically straight south to the town of Abiquiu (pronounced ah-beh-que). We then tend to parallel the true divide a bit to the southeast passing through Cuba and Grants. We also skirt along the edge of Malpais NM, but on its east side rather than west. We continue pretty much straight south to Route 12, head west a bit , and then pick up another dirt road headed south through the Gila National Forest. Before getting to Silver City, we're on a FS 61 which takes a narrow path between 2 regions of the Gila Wilderness. We then go through Mimbres and on to Silver City. Finally, our last leg of this journey will be almost directly south, ending at Antelope Wells border crossing which is several miles east of the true divide.
Our night spent high atop Brazos Ridge, at something like 10,000 ft. or higher, was one of high cold winds and, surprisingly, rain. We found ourselves making breakfast under our tarp and we had to don our rain gear for the ride down. Fortunately, before a few hours had passed the sliver of blue sky to the northwest grew into a nice, clear opening. It was still chilly, but at least it wasn't wet. And, thank goodness, it didn't snow either. We'd been incredibly lucky so far, very little rain and only a few nights where we awoke to find frost on the tent. Soon we'll be in lower elevations for the remainder of the route. So, hopefully, our luck with the weather will hold.
After cooking breakfast, taking an extra hot cup of tea and coffee in hopes the rain would abate, we pushed the bikes back onto the bumpy and rocky ridge crest road and started the downhill glide. Naturally, it was not to be all downhill. What day on the GDMBR is? We bounced and banged up and down rolling hills across the crest and then began a good long downhill that was interrupted again and again by steep uphills ranging in length from 1/2 mile to several miles. Nearly all the roads were just as rocky, bumpy, and rough as could be. Higher grade, gravel roads were a continual track of deep washboard while the lower grade roads were covered with baseball size boulders or deep tire ruts. It was the bicycle equivalent of an obstacle course.
New Mexican forest service roads seem to be much more difficult and rougher than those further north in Colorado, and we're not entirely sure why. For some reason the New Mexican mountains seem to be just enormous piles of broken rocks. Hence, the road beds are simply made from all these broken rocks. Yet, it's hard to believe that Colorado doesn't have their own share of rocks. For some reason, these rocks don't appear in the roads, at least not the roads we were on. In any event, New Mexican roads were just proving to be royal pains in the you-know-what.
"He kept saying you'll get there before I do." Brian repeated. "Yeah, but he kept saying IF he gets done early not WHEN he gets done." I retorted. We'd just passed a large meadow called Cisneros Park and had come to a halt at a great campsite located among a group of big lodgepole pines. It would be the perfect site except for the fact there was no water anywhere nearby. Miles before we had met a couple of Forest Service employees out driving one of those tell-tale light green USFS trucks. The woman stayed in the truck while we plied the man for information about water sources along the road ahead. He was one of the more unusual looking USFS employees we'd seen. He was tall and skinny, had long graying hair tied back in a pony tail, light blue eyes, and an odd shaped pug nose. He obviously loved to deck out in the latest western regalia, black blue jeans, black cowboy hat, big silver belt buckle and matching bracelet, even a nicely tooled leather case sporting a fancy silver decoration bulged from his hip pocket. He's the one who told us that IF he got done with whatever task he was up to early he'd drop a 5 gallon jug of water at this informal campsite.
Arriving at the site at around 4:15, we were just hoping to see a large, blue jug sitting there waiting. This was not to be. So we waited. But how long could we wait? We had almost no water, barely enough to head down the hill to the Little Tucas creek. Should we trust that he'll show up? What if we set up camp and he doesn't make it? We'd be in big trouble then. He did say "if" not "when". After waiting about 45 minutes we decided we'd better head on to the Little Tucas creek as we knew for a fact there would be water. Fortunately this was mostly downhill.
The day ended up being about an extra 6 to 7 miles longer than we'd expected. But we did find water to filter, although even after filtering it had an unappetizing yellow tinge, and we did find another very nice campsite just 3 miles before the Hopewell Reservoir. This campsite, often used by hunters, even had a convenient food hanging pole,. Hunters often tie a pole between two trees and use it to hang and dress their kill. This one happened to be a good 20 ft. high, just perfect for hanging our food. So despite problems with finding water all day and failed promises, we did manage to end the day on a good note.
GDMBR Day 56 - To mi. 1874
Oh how nice a shower would feel. Oh how tired I was beginning to feel. Oh how I wish we just had one more day to Abiquiu instead of 2. Well, at least today we'd pass through a couple of little towns where water could be had, hopefully.
There were about 3 miles of gradual uphill pavement to the Hopewell Reservoir and supposedly another 1 mile at about the same uphill grade to the top. Then, at least according to the elevation profile, lots of down. That's not quite how it really worked. There was down for about a mile, then up for another 1/2 mile, up, down, up down. Well, we've come to not entirely trust those elevation profiles anyway.
At one last somewhat level spot before heading out of the forest there was a small, abandoned cabin. Directions on the map said, "Cabin on left." Within a few hundred feet, the directions also said, "Cross spring." Here much to our delight and surprise. we found a wonderful, clean, but small babbling brook. The water seemed to come right out of the hillside, not through the usual cow pasture. Consequently the water was crystal clear. It was probably potable without filtering, but we filtered anyway. This was our one water source for the day and we made sure to fill up. In this, the second year of a drought, any opportunity for water must not be passed by.
Soon we found ourselves bumping and bouncing down one super rough and steep decline right into the teeny, tiny town called Canon Plaza (in the Spanish there is a tilde over the n). We glided through town, felt disappointed that the little summer snack stand was closed for the season, and got a kick out of the startled look we received from the tiny, old lady taking a walk down the road. I'll bet she's lived in this one town all her life and never has seen such a sight as all these loaded bike tourists that now pass by regularly. The maps claim Canon Plaza is supposed to look like a town right out of old Mexico, but we just had the impression it was a poor New Mexican town. It really didn't look very Mexican to us.
More Mexican in appearance is the next town of Vallecitos. In a Mexican town we expect to see a hodge-podge of adobe style buildings, some should be surrounded with high adobe walls. There should be some sense of disorder, lots of dogs, lots of things abandoned here and there. Plus there should be a certain, je ne sais pas, or should I say, yo no se. Vallecitos had that and more. The post office, located right on the corner, is housed in an old adobe building that appears to have once housed the corner store. The long concrete and covered porch included built-in benches that, I imagine, old timers used to use for the local gathering spot. The building doesn't even have an internal water system which we discovered when the lady at the post office couldn't even grant our request for water. Further down the road was a dilapidated row of abandoned store buildings. Had this been a town like Santa Fe or if this set of buildings had been within easy access of a highway it would have been an ideal tourist trinket shop. However, it's here in Vallecitos, a town that is sleepy, out of the way, and just plain run down.
As we approached Canon Plaza we noticed that the amount of trash on the side of the roads seemed to grow and grow. Continuing through Vallecitos and back up into the forest the roadsides became just a long line of litter. The majority of the litter was bottles and cans, in particular beer bottles and cans. They became so dense you could stand in one spot and easily count 20 or more within eyesight. We soon discovered why litter was so prevalent on this road between vallecitos and El Rito, it's a major short-cut between the two towns. I'm sure the locals get their six, or more likely 12 pack, before heading home, have a few on the way home, and just toss the bottle, can, even carton out the window. After all, it's just the forest. All we can say is that the towns of El Rito and Vallecitos are populated by folks who don't worry about litter.
The map claimed that there was a spring, called Valle Grande, just another 6 miles and another 700 ft climb away. A spring, which meant the possibility of camping near a water source and of having lots of water to do a reasonable washing. So, despite being beyond exhaustion, we pressed on. Slowly, ever so slowly, I crawled up the hill even getting off to walk at one point. That peak in the hill seemed always to be so far away. By the time I got to the top I was sure I couldn't go up another foot and, thankfully, I didn't have to. Down we rolled, hoping and praying all the way, to the location of the spring. Dry. It was dry as a bone. We could see the concrete cover that housed the spring and the bright green foliage that bordered the stream bed. But there was absolutely no water. Fortunately we'd filled up back at the spring before Canon Plaza and still had a significant amount left. With careful management we'd be able to have dinner, breakfast, and water for getting to Abiquiu. We grabbed the first reasonable camp site we spotted and settled in for the night.
GDMBR Day 57 - To Abiquiu
Only 7 1/2 miles of dirt, rough dirt of course, and it would be pavement and a long downhill into the town of Abiquiu. We'd been looking forward to seeing some sort of town for days, at least a town that has all services, hotel, store, restaurant, gas station, you name it. Most importantly we'd get a shower. Seven days without a shower and without enough water for a descent washing are quite enough. We were expecting real civilization.
Pavement begins just before the town of El Rito. Now here's a town that really looks like something out of old Mexico. Even the little Mexican restaurant looks right out of Chihuahua. The fanciest building in town is the large, adobe style USFS office. We stopped in just to see if we could learn anything about the water possibilities beyond Abiquiu. Over the past couple months we've discovered that checking in with the USFS offices to learn about creeks and streams is almost always a waste of time. The people who man the offices can give you brochures, sell permits, tell you where to go for a hike, and give basic assistance. But help you locate water sources, forget it. Either they don't know or they give wrong information based on rumor or intuition. Here, at El Rito, we got nothing better. Now in all fairness, the road beyond Abiquiu was not in their region. However, even when we convinced them to call that region's office we still got no useful information. So, we're on our own as far as water goes. Our best information still came from Niles, that north to south rider we'd met. We could expect to find water sources about once in each 40 miles, we hoped.
There was a fairly strong headwind during the remaining, paved road to Abiquiu. Fortunately we also had a good downhill which easily compensated for the wind. At Rt. 17 we turned right and got a wonderful tailwind the rest of the way. Here was one place where one error in the elevation profile went in our favor. According to the map there's a steep climb of somewhere around 500 ft before Abiquiu. Instead it's a virtually flat ride, or maybe a slight uphill since it is going up river. With the great tailwind, we flew.
"There is a muscular energy in sunlight corresponding to the spiritual energy of wind."
Annie Dillard, "Spring," Pilgrim at Tinker Creek (1974)
Today's Abiquiu was founded on the remains of an ancient pueblo way back in the 1700s. It became a major stop on the Old Spanish route from Santa Fe, NM to Los Angeles, CA. The main town, just up the hill from Rt. 17, truly looks Mexican. There's an old Mission style church that has been carefully preserved or restored. It must look exactly like it did nearly 300 years ago. The church faces out on what would have been the town plaza. There are old adobe buildings surrounded by high walls, houses with large front patios where folks still sit and chat. Spanish can be heard from the yards rather than English. Despite all this atmosphere the town's main claim to fame was one of its former residents. The artist, Georgia O'Keefe, lived and worked in Abiquiu. Today her studio and house are open to the public. Without this little fame, the town would be just an obscure dot on the New Mexican map.
For us, however, Abiquiu was a bit of a disappointment. We'd really been expecting a reasonable sized town with a cheap motel, there is no campground, a descent sized grocery store, several restaurants, all sorts of services. After all the map did say it had them all. It's just the map didn't mention that it has one and only one of each service. The only hotel was the nice, expensive Abiquiu Inn. We took the cheapest room available. There is an RV park, but it has no bath facilities whatsoever, not very appealing considering how much we wanted a shower. The restaurant is the expensive one at the hotel, however the general store has a snack counter as well. Bodie's, the store, is far smaller than we'd expected. Most of the store is filled with hardware. There are only a few aisles of food items. So choices are limited and very expensive. We managed to put together enough for the next few days to Cuba, but this is not the big store we'd been looking forward to. So in Abiquiu there would be no day of rest, no having dinner out, no stocking up with lots of good food. Oh well. On to Cuba.
GDMBR Day 58 - To mi. 1921
A paved road took us up the hill beyond the town center of Abiquiu. We'd discovered that if you followed the route directions you'd completely miss seeing the really neat church, plaza, and historic center. You have to turn left right at the Bodie's general store on County route 187 in order to see this. Otherwise Rt. 189, the left turn after the store and bridge, completely bypasses the town. After climbing beyond the last house, about 1/4 mile, the road changed to dirt and we began what would prove to be 2 of the most difficult days along the entire trail.
Directly out of Abiquiu, the road begins a 4 to 5 mile climb up the canyon formed by the Abiquiu creek. You cross the creek exactly 3 times which, even this late in the second year of a drought, as still flowing with a fairly good stream of clean water. We'd decided to carry about 4 gallons with us from Abiquiu, so we didn't need to stop to filter. The road continues to switchback up the side of the canyon, finally cresting at the top of the mesa. We had several gradually climbing miles across a good but somewhat washboard road through a plain filled with juniper and pinon pine forests. All went well until we turned onto FS Route 27. From here road quality went from bed to worse to downright awful.
Rt. 27 climbed up over a ridge, still having a fairly descent surface. From here things got rough and rocky. We bumped and bounced down to a low point and started back up once again. Here we started hitting sand, lots of loose, dry sand. We crossed over the Palvadera creek which, contrary to the map, was nothing but a dry river of sand and continued the gradual climb. The sand, which started out as a coarse but ridable surface, changed into a surface of 4 to 6 inch thick powder like substance. As I watched Brian riding ahead a puff of powder poofed up all around his bike. Steps taken on the surface generated its own puff of dirt. The stuff was nearly impossible to ride through. Even when the map claimed the surface would "improve" the thick layer of powder dirt remained. The road did not improve. The powder got into everything and left a light tan coating everywhere. Gears, chains, derailleurs, socks, shoes all turned tan. Messy, messy, messy. Giving up on the road, we finally wound up walking and pushing the last mile or so before calling it quits and finding a campsite for the evening. This surface was bad enough to ride when there had been no rain for months, I can only imagine what it would be like if it had been pouring.
We were about to find out. That night one of the worst mountain storms we've ever experienced passed directly over head. Huddled in our tent, we waited and listened. Lightning flared and thunder boomed with nary a millisecond between. Wave after wave of storm passed over our heads, rain pelted the tent for hour after hour. At each lightning flash we held our breath. Was the strike nearby? Was there enough moisture to prevent fires? Were we buried enough under the trees? We were nervous and relieved when the final onslaught finally passed by. We hope not to go through another storm.
GDMBR Day 59 - To mi. 1958
So what happens to that powder dirt after such a hard rain? Early in the morning Brian climbed out of the tent to have a look. It had actually hardened, somewhat. Instead of being like a powder it had become more like a soft sand. It wasn't easy riding, not like hardpacked clay. But, at least it now was something we could actually ride and fortunately it wasn't muddy. A little bit of rain was good in this case.
This soft surface lasted just a few more miles. Then when the map said, "getting rugged" it was no understatement. For about the next 10 miles we found ourselves struggling up a steep hill covered with rocks ranging in size from baseballs to toasters. There were huge water drainage ditches running diagonally across the road each of which made for a challenge crossing. With a combination of riding, pushing, and dragging we managed to get us and the bikes up to USFS Rt. 144 which was supposed to be a "higher" grade road.
Could have fooled me. We now found ourselves riding across the mountain ridge again on one of those roads that without a little rain would be covered with that 4 to 6 inches of powder. At least in level sections. Whenever the road took a drop the surface dirt had been wiped off by all the passing cars and only those boulders were left behind. The further along we went, the worse the road got. Finally, we descended one super steep hill absolutely strewn with these rocks. It was just after the cattle tank noted on the map instructions. Grabbing the brakes, we carefully walked the bikes down, picking our way among the unstable rocks. Upon getting to the bottom I looked back up. "Now," I though, "Just imagine going south to north and coming around the corner to view this." It was hard enough getting down. I just couldn't imagine trying to get up.
After getting down this last mess the road improved dramatically. It's hard to believe that a fairly rough dirt road could be considered as smooth as pavement. But, after that rocky hillside, anything would look great. We headed on for about another 10 to 15 miles before finally finding a suitable campsite. There'd been absolutely no water during the entire day. Fortunately we carried just enough to make it through the day and have dinner. Boy, water sure is becoming a tight issue.
GDMBR Day 60 - To Cuba, rest day
Supposedly we'd finished the last of the climbs between Abiquiu and Cuba and it was all downhill the rest of the way, at least according to the elevation profile that is. Wrongo. I would have to say we had more of a series of rollers, keeping us at relatively level elevation, for another 6 to 7 miles. The road wound its way around the ridges of the mountain, going back and forth, back and forth, and up and down. It wasn't until just a mile or so before hitting pavement that we finally found a descent downhill. One thing we do have to say about the New Mexican maps, so far the elevation profiles absolutely stink.
Cuba is a strange town filled with strange people. It's located on the eastern edge of the Navajo reservation and is populated by a mixture of Latinos, Navajos, and whites. The resulting character is a weird and sometimes uncomfortable mess. As an example of our first introduction, as we rode into town a small boy with those missing 2 front teeth yelled up to us, "Give me your bikes." While we were walking around we saw several Navajo giving themselves a beer shampoo and checking for head lice under the bridge in the center of town. Another Navajo walking next to us started telling some strange story about 3 goats crossing the bridge who he decided to kill or some such thing. There are some businesses doing well and others boarded up or completely torn down to the foundation. Everywhere windows are covered with burglar bars and there are unkempt people standing around all over the place. Cuba is not a town I would ever want to live in.
Cuba is, however, a place in which one can rest and recoup. Hotels are cheap. We got a room with 2 double beds for $33.90 per night including tax. There's a descent grocery store and about 5 good cafes. The best thing in town is the El Bruno's restaurant. If you're looking for really good Mexican fare and can afford around $10 per plate, then this is the place to make sure to try. While we checked hotel prices we heard again and again that for bicyclists and hikers Cuba is the place to stop, stay 2 days, rest, wash clothes, and eat. We, of course, followed suit.
GDMBR Day 61 - To mi. 2024.5, Section 5, Map B
One day is long enough for a town such as Cuba. We got rested, we got washed, we got fed, and we got resupplied. We got to watch 2 nights of the Olympics in Australia, which was a real treat. Finally, we had timed our arrival just perfectly. The first snow laden cold front had extended its icy fingers down through the western mountains leaving several inches of white cold in Colorado and making northern New Mexico a cold and windy place. Waiting for the front to finish its march southward in the warmth of a hotel was a very appealing thought. However, enough was enough and it was time to move on.
Ten miles of pavement provided a great start to the 117 mile trek across the high desert over to Grants. Rt. 44, the enormously wide road running southeast to northwest through the center of Cuba was undergoing a complete remaking. Old bridges are being replaced with new, concrete structures. A brand new, 4 lane, smooth as silk asphalt road was being built. Shoulders on both sides are as wide as a an entire lane and are separated from the traffic by those cut judder bumps. With a tail wind at our back, we flew down the highway at an average speed that is quite rare for this route.
Just past the point where the new road ended, where the construction was at its biggest mess, and the wide lanes disappeared, we turned right and headed off into the sandy desert, scattered juniper pines, and flat topped mesas. The road, described as fun on the map, was a fairly smooth, hardpacked dirt. In some spots our wheels sunk into soft sand. But generally the road was easily ridden. We rolled up and down fairly easy hills, certainly easy compared to what we've experienced before. Our views consisted primarily of multicolored mesas and buttes as well as endless blue sky. Occasional abandoned cabins next to the road were begging to be investigated. Small lifeless ranches are scattered among the sage and junipers. Each has its little cabin, small outhouse, corral, and windmill powered well. Most windmills now lack the wind vanes and are just fragile truss pyramids standing resolutely in the sand. It was a good road and an interesting area, but fun may be a little overstated.
A left turn took us onto a 4 mile segment of pavement. Now here's a mystery we haven't an answer for. This paved road leaves Rt. 44 somewhere south of Cuba and heads off through the arroyos toward the town of Torreon. Yet, about half way there the pavement ends. So why pave only half? Why not pave the whole road or not pave it at all? At least it gave us another quick 4 miles smooth riding before we hit the road from Hell.
County road 279, a right turn off the pavement, has got to be one of the longest and roughest washboard road sections we've ridden to date. Normally when we hit washboard there'll be real rough sections with long spaces of smooth in between. So even though the washboard is a royal pain in the old rear, you can still ride at a fairly descent rate. Not CR 279. Just about from the time we turned right onto this road until we crossed the large bridge, some 12 miles, we were on a nearly continuous, super duper, rough washboard. This was one of those "improved" roads that has a thick layer of soft dirt rocks piled on top all of which serves only to make huge washboards. We bounced along this rolling hill road at a whopping speed of 2 to 3 mph. I bounced so hard the small lock held in the front pocket of my handle bar bag jumped out. This lock has been in this pocket throughout this route and this was the very first time the bouncing became so acute that it came out. This road was not a road on which one could expect to make rapid progress.
Crossing the big bridge across the Arroyo Chico, we entered BLM land and finally the "improved" surface on the CR 279 disappeared. The road bed was once again just the simple hardpacked desert mud. In dry weather it makes a great surface for riding as it's smooth, hard, and doesn't washboard. It'd be a nightmare if it were pouring rain. We climbed up out of the arroyo and within just a mile or so we found the nice hunter's camp. It's not the greatest campsite we've ever had, but it's not bad for the pinon and juniper desert. There are a few trees for shade and there are spots where the rocks and prickly ground cover has been swept away by previous campers. Besides, the evening views of the buttes and mesas off to the east make it a scenic place as well, a great place from which to watch the usually spectacular desert sunset.
GDMBR Day 62 - To mi. 2066
"A desert is a dry, barren region where there is nothing to be heard but silence" Anon.
Just a mile down the road and about 1/4 mile off to the northeast lies one of the gifts of the desert, the Ojo Frio springs. Yes, despite looking dry and desolate, the only green being the pinon and junipers dotting the hillsides, there is a plethora of water to be had. You just have to know where to look. I'm sure the ancients who traversed back and forth across these lands in search of seasonal game learned the secret locations of the springs by word of mouth from their forefathers. Generation after generation water locations would be passed down reaching the last Indians who wandered through. They, in turn, passed this knowledge onto pioneers and settlers who passed it on to their children. Today the spring locations have been pinpointed on the accurate BLM and Forest Service maps and, for us at least, on the ACA bike route maps.
Ojo Frio looks as though it's been a favorite watering stop for a long, long time. The point where the water gushes from the earth, OK it doesn't exactly gush it's more like a seep, is enclosed in a rectangular, concrete pit and covered by rectangular stones. Some of the stones have initials and dates carved on them, the earliest being something like 1956. A bit away is a small, circular concrete pool, about 8 ft diameter and 1 ft deep. It was absolutely full of water, clean clear water. Oh there was some sand and underwater grass in the bottom and some funny looking oval bugs with long, skinny wings were swimming around. But a few minutes with the filter and we had a good 4 gallons of drinking water to carry us through the rest of the day and night. The next spring, San Mateo, would be some 50 miles further on.
Our road, county road 25, became quite interesting for the next 20 miles or so. We were headed due west along the base of some amazing eroded volcanic mountains. Odd looking volcanic plugs poked up everywhere. Some looked like large cylinders with conical bases, one reminded me of a witch's hat (Holloween isn't all that far away), and another looked like praying hands. At one time, many thousands years ago, this was clearly one incredibly active volcanic area. Sweeping down from the hillsides are dozens of arroyos. Our path took us down the side, across the rocky or sandy middle, and up the other side of at least a dozen. Some were steep and long, others just a short crank to get up. Some had sand, some had rocks, some were perfectly barren, others were alive with green vegetation, some had steep, cliff sides, and others were gentle. It was definitely not boring.
I'll answer the question of, "What is an arroyo?" for those who haven't been in the desert. When rain happens in the desert, yes it does rain, it often comes in violent cloud bursts. I've seen it rain so hard you can't see the road in front. Water collected on the mountains and hills does not soak into the ground. It'll run over the ground in sheets, picking up loose sand and pebbles along the way. As the water moves downhill it picks up speed and more debris. It'll be funneled into existing depressions, rapidly building into a torrent of water running down one path. Over years this water carves out a small canyon which grows in both depth and width every rain storm. These are the arroyos. They can be 10 to 50 ft deep and 10 ft to 1/2 mile wide or more. Usually they have steep, cliff side walls and sandy or rocky bottoms. Most of the time they're dry as a bone. Only the rills scraped into the sides of the canyon give a hint to the water that once was there. But when it rains, you do not want to be in an arroyo. Within seconds they can be flooded and you can find yourself swept away in a mud filled torrent. Even if it's not raining overhead, but is raining in nearby mountains, arroyos can still be quite dangerous. Your best bet, don't go near one if it's raining anywhere within a 25 mile radius. They're best to explore on perfect sunny days. This is why the maps say to take the alternate route around this section if the typical August monsoon rains are happening. It'd be real easy to find yourself trapped between two engulfed arroyos. Not to mention the mud that would make riding a real nightmare.
The short descents and climbs across the arroyos lasted until just about the end of what was obviously the Sandoval Ranch. At least we'd been seeing signs saying "Sandoval Ranch" at several of the cattle guards for a few miles before coming across two men in a white pick-up truck. This here's pick-up country and we're convinced that 2 out of every 3 vehicles is a truck. Certainly they're about the only vehicles you see out on these back country roads. I crested the hill where the truck was parked just as the 2 men were climbing out to have a chat with Brian who had already stopped up ahead. The one man I took note of was super skinny, wore the cowboy uniform of blue jeans, black cowboy hat, and a giant, oval, silver belt buckle, and had that favorite Hispanic moustache style, big and drooping on the sides. He spoke with a Spanish accent, but obviously his family has lived in New Mexico for many generations. He was senor Sandoval, even the tattoo on his arm gives away his name. His ranch house was just a few miles further up and we had indeed been riding over his land for quite a while. We wondered where the cows were. He told us they were up in the forest and he wouldn't bring them down until November 1. I was tempted to ask him how in the world the cows manage to find enough to eat among all the prickly, thorny, sticky stuff of this desert, but thought better of it. He did tell us that if you look hard enough you should be able to find a spring of good water in nearly every arroyo. It may just take a bit of trekking up or down the crevasse to find it. He didn't seem to mind the bikers passing across his land. In fact he seemed more astounded that we could ride up all those steep hills. "This hill here would be about all I could do." he exclaimed while pointing down the little 50 ft climb we'd just come up. He might just be surprised to know what he could do. Honking as he passed us a little further down, it was the last we saw of senor Sandoval and his ranch.
It's amazing how many ranch houses, old and new, are scattered among the sand and scrub. Some are made of wood that is slowly rotting into the soil. Some are adobe which seems to melt away. But, just past Sandoval's modern ranch house is one of the more durable and spectacular. The remains of a complete, rock ranch are some of the best preserved we've seen. There are two parallel buildings, one looks to have been the house and the other the barn. Tall walls, also of piled up rocks, connect the two and only a single metal gate allows access to the interior. The house no longer shelters humans, but the barn and corral look to be still in use, at least during round-up. The residents probably live in the modern, white trailer located nearby. Not as quaint or rustic, I'm sure the trailer is a whole lot more comfortable.
From here until we hit a 4 mile stretch of pavement coming out of the town of San Mateo, the road turned much more mundane. It was just a typical road scraped into the desert sands. No more interesting ranch houses and no more dips into deep arroyos. It was through this section where my first ever bought with allergies grew to miserable proportions. I've never had major allergy symptoms before. But there was something blooming or seeding out in this desert that was driving my sinuses crazy. In the morning I felt fine. But as the afternoon wore on my nose ran like the proverbial faucet, my eyes stung and watered, my sinuses felt as if they were ready to explode. By the time we set up camp, off the road in some ranch field, I felt absolutely awful. For the first time I could sympathize with the complaints of allergy sufferers and understand why they desperately seek relief. Riding through the desert isn't my most favorite venue and this experience certainly doesn't help.
GDMBR Day 63 - To Grants, NM
Today we would climb our last mountain. The last 2000 ft climb of the GDMBR goes over the side of Mt. Taylor and then down into the highway town of Grants. Mt. Taylor has a total elevation over 11,000 ft, but the road only goes up to around 9,000. This might be our last opportunity to ride through pine and aspen covered hillsides. From Grants on south the route looks to be at low elevations and pretty darn flat. There's only a 500 ft and 1000 ft climb just before Silver City. At least on the maps. We shall see. In some respects we'll be delighted to be done with the major climbs. We'll be able to carry more food and water out of Grants. However, we'll miss the big shady trees. There'll be a lot of riding through scrub desert from here on.
The climb started immediately as the ranch field we'd camped at was right at the intersection to the road heading up the mountain. It wasn't a bad climb, 6 to 8% grades for the 9 miles to the top and, as always, we found the transition from scrub to pinon/juniper, to lush aspen and pine forests absolutely amazing. When you're standing atop the mountain surrounded by pleasant greenery it's so hard to believe you are surrounded by desert. We made a quick stop at the San Mateo spring to see what the water situation was and while pushing through the bush I managed to scrap by just the wrong one. While I worked to remove the dozens of small burrs that had tenaciously stuck to my pant's leg, Brian rambled on through the bushes to find the spring. There was water, he reported back, but not much. You could filter to get enough if you really were desperate.
From the top it was a 23 mile mostly downhill ride into town. The order of vegetation reversed, pine and aspen forests giving way to pinon/juniper giving way to desert scrub. The road grew wide and "improved" which in this case meant it was covered with loose, black rocks. It was the kind of surface that made the bikes feel like they were swimming across the road. Eight miles of this surface were enough for me. The road turned to pavement and, after one short uphill, we flew down into town.
Just before Grants we passed by a maximum security men's prison. Double fences laced with razor wire gave me the shudders as I was reminded of Aushwitz. There were gray, block barracks style buildings, a large athletic field, and even weight and exercise equipment enclosed within the fence. The children's playground equipment outside what must have been the day care facility for the employees looked woefully out-of-place. Well at least these men deserved their imprisonment as opposed to the Aushwitz victims. There was another prison, this time a women's facility of lower security level, on the bypass road. We were beginning to wonder if caring for inmates wasn't one of the major businesses of Grants. That and servicing the highway, I 40. I guess since Uranium mining operations have gone bust, the town has to find some other reason to exist.
Grants main role in civilization is, always was, and always will be to service the main east/west transportation corridor going between St. Louis and Los Angles. It originated back when the rail road was being laid. A man named Grant, owner of a bridge construction firm, used it as a construction camp while building the bridges for the rail. It was called Grant's Camp, later changed to Grant's Station when a rail station was built, and finally shortened to Grants. As the automobile took over from the rail, Grants became a major stopping point on the now famous Route 66. Today it serves the I 40 highway. There has been some mining, coal and uranium, which added a significant contribution to the economy. But, it's the highways that have ruled.
A tour down the center of town reveals just how much a highway service town Grants really is. It stretches about 3 miles in length between I 40 exits 85 and 81. There's no real town center, an area with multistory brick buildings dating from the 1800s showing where the center of commerce used to be. Instead there is a string of old style motels dating from the Rt. 66 era, restaurants, gas stations, a couple auto parts stores, and one office supply store. The post office is housed in a retro 1950s style building and looks more like an old diner than a government building. The combined city hall, mining museum, and library is constructed in a pueblo adobe style. There's even a nice park, complete with bike path, running perpendicular to the main drive. But for the most part, Grants is simply a string of 1950s style buildings, many of which are now abandoned, all of which served the famed Rt. 66.
Route 66 and the mystique which surrounds it is a bit of a puzzle. It began life somewhere in the early 1900s as a simple dirt road, probably like today's 2 track jeep roads, extending from St. Louis, MO, running through the prairies and desert, finally ending near Los Angeles. As traffic grew it was paved and widened. All along its length a string of the most unusual and unique motels and eating establishments sprang up. Having to compete for the traveler's dollar, each developed its own unique style, such as roller skating waitresses at the drive-ins. Today the old motels compete with both old and the new, modern, and impersonal hotel chains located right at the exits by offering super low rates, air conditioning, in-room coffee, telephones. But, many could not survive, as attested to by the foundations and left-over motel signs of those that were torn down.
In its heyday, Route 66 was the subject of books, Grapes of Wraith by Steinbeck, and songs, "get your kicks on route 66." However, when I 40 was built, sometime in the 60s, much of the Rt. 66 road bed was buried under the modern highway. Sections that weren't were turned over to the states for them to maintain. They divided the road giving it new, state numbers along the way. It's Rt. 117 in Grants. Route 66 as a complete, nonstop highway ceased to exist. Yet its legend lives on both in the U.S. and abroad. Although, in eastern Europe it's a very skewed legend. For some reason they've associated Rt. 66 with big, Harley Davidson motorcycles. Last year when we were in Lithuania we saw a TV show for a Rt. 66 cigarette that has some sort of contest. During the show they have leather clad couple ride out on stage on one big "hog" and show scenes from the Sturgis rally. I'm sure they don't know that not only does the highway no longer exist, but it never have anything to do with a Sturgis type motorcycle fad. But, what the hey. It sells cigarettes I suppose.
Outside town, on the east side just across I 40 at exit 85, we found the nice little RV park, Lavaland, just a stone's throw from the wonderful Wal-Mart Supercenter. It's the largest grocery store we've seen since Salida and we would take full advantage of it while we rested for 2 days.
GDMBR Day 64- To mile 2146
Leaving Grants we had a nice, long stretch of very, very gently climbing pavement. State road 117 skirts along the east side of the El Malpais National Monument. At the southern end of the last lava flow the paved road swings west toward the town of Quemado and our route took off on a dirt road that led directly to Pie Town.
El Malpais, meaning bad land in Spanish and pronounced el-mal-pie-EES, was set aside as a national monument in 1987 by executive order of then president Ronald Reagan. It's purpose is to preserve the unique geological formation created by the huge lava flow exuded from the McCarty's Crater some 2,000 to 3,000 years ago. It was called, "bad land" because the rough, black lava flows covering the valley are tough on shoe and horse hoof alike. Yet the region has played host to residents ever since the earliest roaming tribes passed by. Pueblo Indians lived nearby reaching peak population between 950 and 1350. Several ancient residences have been found and excavated. Persistent drought forced these pueblo natives to move on to other locations, some of which are still occupied such as Acoma Sky City. The Navajo even have an ancient legend regarding the origin of the lava. Taylor mountain, just north of Grants, was said to be a mean giant that was slain by the Navajo hero twins. The lava flows are rivers of the giant's dried blood. I guess evil giants have black blood.
For the most part Anglos considered El Malpais a region to avoid. However, the depression of the 1930s forced some people to try their luck at homesteading these forbidding lands. Old ranch buildings and even cemeteries attest to the many families who made a stab at eking out a living. They primarily ran sheep and cattle and more than one bitter feud broke out between the two rancher types. W.W.II brought a swift end to most of these efforts. People who were just barely scraping out a living jumped at the chance to earn high wages in the city factories. Thus for the most part only abandoned cabins are all that remain of these efforts. Today, with the National Monument situated right over the large lava beds and BLM, Acoma and Zuni reservation lands all around, there's little evidence of human occupation. Cattle and sheep no longer roam among the tall, black, rocky mounds.
As you look out across the lava flows you can easily tell why they presented such an obstacle to travel. They run mostly north from the crater center and extend as far as Grants. From a high view they look like a series of steep, rugged mounds all made from the super rough lava stones called aa (AH-ah), Hawaiian term. It's these stones that are so sharp they'll cut up even today's sturdy hiking boots much less old Spanish leather boots. As the lava flowed and cooled it would crack, making huge fissures within the rock. Over time dirt and dust gathered, seeds blew in on the wind, and plants started to take root. Someday, obviously a lot longer than 2,000 to 3,000 years, the elements will break the lava flows down into rich, fertile soil.
Beyond the pavement the road became a dusty, somewhat improved road with reasonable surface. Yet, any side road was just covered with thick soft, red sand. We attempted to head off to one of the canyons suggested as a camp site but the surface was so soft and the canyon so far off route we gave up. It wasn't too much further down the road when even the main road became not much more than soft sand. For the remaining miles we slowly made our way over red dirt that alternated between soft and thick sand, giant washboard, and hardpacked clay. We finally made camp some 8 miles further than we'd wanted to go among the first thick set of pinon and juniper trees we found.
GDMBR Day 65 - To Pie Town, End Section 5, Map B, mile 2166.5
Between Grants and Silver City the only town that exists is a place called Pie Town. We had 20 more miles on that soft, red dirt road left to get there. One thing we've discovered about riding through much of New Mexico on this particular route, the roads are rough and sandy, the scenery is just OK, towns are few and far between, and water is hard to find. It's just not all that exciting a section to ride. We'll be mighty happy to have it done and over with.
The road continued to climb up to the 18th Continental Divide crossing and it remained within a fairly dense forest of pinon and juniper. It was slow going due to the lack of road quality, but we still managed to get into the famous Pie Town by lunch. Unfortunately we discovered too late that the cafe would be closing at 4 PM and we had just eaten our lunch and weren't going to be hungry by then.
There's almost nothing in Pie Town. There a metal volunteer fire department building, a lawyer and doctor's office, a pottery shop, post office, and a couple of abandoned gas stations. The most famous thing in Pie Town is the cafe named the Pie-O-Neer. Of course the main thing they serve up is pie, expensive pie, which is where the town and cafe both got its name. There's also the Jackson Park, a run down town park where camping is permitted. It looks like one of those ambitious town projects that was later left to decay. Swing sets are missing their swings, a see-saw rack has no see-saw boards, porta potties scattered about are dirty and unkempt. There's no water in the park, all the pumps are pad locked. So we had to go over to the cafe before it closed to fill up. They've probably had that request many times before as they didn't seem too surprised. Basically Pie Town is an unimpressive collection of mobile homes and run down desert houses. Although it is a quiet place to spend the afternoon. We'll sure be looking forward to Silver City in a few days.
Appendix A - Route
Sept 17 - 26.19 mi to mi 1802, past Brazos Ridge Overlook
Sept 18 - 37.41 mi to mi 1837
Sept 19 - 35.22 mi to mi 1974
Sept 20 - 25.3 mi to Abiquiu
Sept 21 - 23.12 mi to mi 1921
Sept 22 - 35.39 mi to mi 1958
Sept 23 - 21.59 mi to Cuba
Sept 25 - 45.73 mi to mi 2024.5
Sept 26 - 42.41 mi to mi 2066
Sept 27 - 32.5 mil to Grants, NM
Sept 30 - 51.91 mi to mi 2146
Oct 1 - 20.62 mi to Pie Town, end Section 5, Map B
Appendix B - Campsites or hotels
Sept 17 - Side of road at mi 1802
Sept 18 - Side of road at mi 1837
Sept 19 - Side of road at mi 1874
Sept 20 - Abiquiu Inn
Sept 21 - Side of road at mi 1921
Sept 22 - Side of road at mi 1958
Sept 23, 24 - Del Prado Motel, Cuba, NM
Sept 25 - Side of road at mi 2024.5, hunter's camp
Sept 26 - Side of road at mi 2066
Sept 27, 28, 29 - Lavaland RV Park in Grants
Sept 30 - Side of road at mile 2146
Oct 1 - Jackson Park in Pie Town