Northwest Tour 2011 I- Oregon Coast
Crescent City, CA to Florence, OR
May 1 to May 5, 2011
Start 62,871 miles (100,594 km):
End  63,063 miles ( 100,901 km) cumulative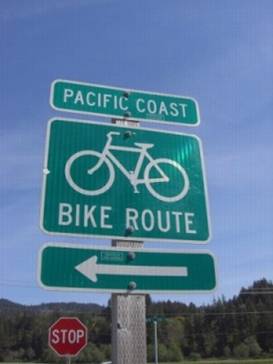 TEASERS
Here we go, 2011 biking begins at Crescent City
New this year, video links if we can keep it up
Starting with a 50 mile hilly ride is tough
Heavy headwinds on day 3 had us dragging
Enjoy all those small coastal towns
Stop By Umpqua River lighthouse
Lots of potential rail trail projects
Head inland at Florence
 May 1
With the rental car safely returned to the Hertz counter at the tiny Crescent City airport we were loaded and ready to go.  There's nothing quite like a bike ride along the Pacific coast.  Even the many rides we've done in Europe just can't quite compare.  We have as yet to find a coast that is as lush and rugged that also has a passable road along it.  So we've been really looking forward to our 5 day ride here, although northbound into the wind will make it a bit harder this time around.
Crescent City lies in a large flat silt plain that rises just barely above sea level.  In the aftermath of the recent Japan earthquake the dock here was heavily damaged by the resulting tsunami.  All those tsunami warning signs we passed along this 20 mile stretch now take on a whole new meaning.  Those that say you are leaving the danger zone just seemed a tad too low, at least based on what we saw on the Japanese videos.  With each climb we breathed a bit easier. 
After curving around the silt plain the road hugs the coast for a bit more staying fairly level and close to the ocean even as the coastal mountains reach the sea.  In a short time, just 8 miles into Oregon you arrive at the nice town of Brookings.  Brookings is located at the mouth of the Chetco river.  Chetco being a modified version of the natives' peoples names.  In 1856 these folks were unceremoneously moved onto a nearby reservation so that white people could move in.  The town's name comes from the Brookings Company, a former lumber company that operated here in the 1920s.  Brookings main claim to fame, apart from its nice little harbor and good seafood, is the fact that just north is the only spot in the lower 48 where a foreign enemy dropped a bomb during W.W.II.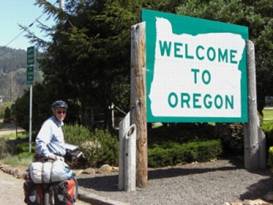 Entering Oregon on May 1

Brookings has a lot of good supply stores, hotels, and restaurants as it seems that tourism is its main source of income these days.  Just north of town is the Harris Beach State Park which has a very large hiker/biker site.  So this makes a great place to stop for the night.  After this, for northbound bikers, the next logical stop is Humbug Mountain SP, a full 50 mile days ride north.

See Harris Beach State Park Hiker Biker site

May 2

The southern 50 miles or so of route 101 in Oregon are probably some of the most rugged and most beautiful.  In many places the road is inland a bit and passes between trees which block the view.  But for a lot of the distance there are spectacular vistas.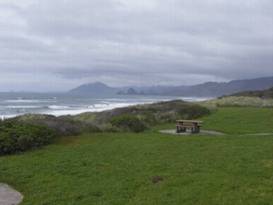 View from Ophir beach rest area

Steep cliffs covered in low wind tortured pines are punctuated with stretches of long black sandy beaches.  The many haystack style rocks lying just offshore add a dramatic effect especially when it's a misty day.  There is a lot of hill climbing to be done in the 50 miles from Brookings to Port Orford so you'd better be in good shape.

View the Pistol River

View the Ophir Beach rest area

Along the way is the town of Gold Beach.  Located at the mouth of the mighty Rogue River, this town has over the years become more of a long, skinny highway support town.  It's got the only descent supply stores, restaurants, and hotels between Brookings and Bandon.  It's most famous attraction are the Rogue River jet boats.  For many decades these jet boats have provided tourists with an exciting ride.  We stopped for food and lunch before plowing on.

Humbug Mountain campground is a small state park campsite with 2 shower blocks.  It's located in a ravine just to the north of its namesake mountain.  Beach access is provided via a short trail going under the bridge.

See Humbug Mountain State Park

One thing about riding the Pacific Coast route is you'll always come across interesting biking people.  It's probably the only bike route in America where you'll regularly encounter an international array of bikers.  On this particular day we met a former economist turned full time traveler who had many worldly biking adventures to share.  We had a lot in common.

May 3

Early in the morning of May 3rd we awoke to the sounds of the bike cover rustling.  The sun was out and not a cloud disturbed the bright blue sky.  On the coast in spring, summer, and fall when the weather is nice the winds come from the north.  With a front having just passed and a high pressure system moving this meant we'd have a strong headwind for the entire day.  One thing you learn as a bike tourist you'd rather suffer rain or climb  mountain than have an all day strong headwind. 

Just after Humbug Mountain you pass through the small town of Port Orford.  This town seems to sit on a ridge connecting the mainland with a shore side mountain.  It has a tiny fishing port and several support facilities for folks traveling the coast.  The Ray's grocery is a reasonable size and provided us with a quick lunch.  Knowing the trouble we'd have riding north this day we decided to take lunch very early.

We weren't going very far this day, thank goodness, and fortunately the hills weren't too bad.  But since this was just our third day out it was still tough espeically after the long hilly previous day. 

Not too far after Port Orford is the itty bitty town of Langlois.  Here we found one of those small town markets where everybody knows everybody.  It's a surprisingly well stocked store, although prices can be somewhat high.  We wondered if they find profits go up with rising gas prices as locals would be less inclined to drive to the bigger towns for just a few items.

Mud covered pick-up trucks carrying ATVs on beds that precariously bend the springs backward pull right up to the front door.  Jean clad locals climb out, head on in, and usually return with a few supplies and the obligatory six pack.  We love these kinds of markets.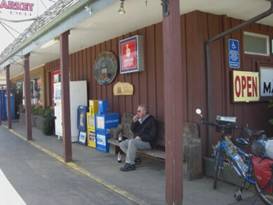 Having a snack at Langlois market
We struggled onward through the large town of Bandon staying on Rt 101 rather than taking the more scenic route.  With the winds howling we figured it wouldn't be very wise to attempt the more open old coastal road.  In Bandon, at another Ray's, we met one of the Ushuaia to Prudhoe Bay bikers.  This fellow was unique in that he hails from Spain.  We're not sure if we've ever met a Spanish bike tourist before.  Even he had to admit he's only run across one other.  Spaniards, like the French, would rather bike race.
Just north of Bandon we finally struggled into the Bullard Beach State Park.  The hike/biker site here sits in the middle of one of the campsite loops atop a long narrow mound.  There are only 3 tables and not a lot of room.  We wonder what happens during summer when this campsite would undoubtly be packed
May 4
The morning of May 4th finally brought sunshine with lighter winds.  They were still out of the north, of course, but much more manageable.  The route heads up 101 for a ways and then heads off on Seven Devils road.  This is a hilly section that really exercises the gears.  The road passes through pine forests some of which have been clear cut and subsequently replanted.  There's a South Estuary research center that we once explored when traveling by in our camper.  We skipped it this time.
This high road drops you into the major fishing port of Charleston.  Its large dock facilities are crowded with fishing boats and there's a very large fish processing facility.  a small market and a couple seafood restaurants completes this little town.
For a few miles the road hugs the bay before turning inland and entering Coos Bay.  Coos Bay is one of the largest urban area on the Oregon coast.  You can find virtually anything you need here including a very large casino.  Fortunately the bike route takes you around most of the city while giving you the opportunity to shop for food.
Once you leave North Bend you pass over the beautiful old bridge crossing the bay.  It's one of those 1930s style bridges with lovely metal arches in the middle.  Bikers are now required to dismount and walk.  Passing under the steel trusses it reminded me of those magnificent Gothic church corridors of old Europe.  The bridge is being renovated and you can see the old stone encrusted concrete railings on the north walkway as compared to the the new smooth concrete railings to the south.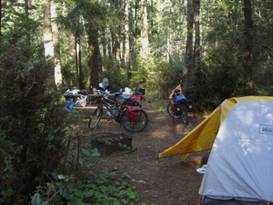 Tugman SP Hiker Biker site



Tugman State Park was our next nightly stop.  Hiker Biker sites here are cut into the thick vegetation near a lake.  There are only 4 sites and if it were crowded finding tent space would be difficult.  Mosquitoes run rampant.

View Tugman SP Hiker Biker site

May 5

We had more inland riding with sand dunes to our left, forest to the right.  This section of the Oregon coast is part of the large Oregon Dunes Nat'l Rec Area, a huge ATV playground.  Summer weekends here are packed.

See part of Oregon Dunes Nat'l Rec Area

Several old RR tracks follow rt 101.  One goes from Coos Bay to Lakeside before going inland.  It crosses Coos Bay on an old wooden tressel with a swing draw bridge.  The other leaves out of Reedsport and goes north to who knows where.  Both look like they're no longer in use.  Just imagine turning them both into rail-trail conversions.  Wouldn't that be fantastic.  But it'd probably cost a fortune.

Just before the tiny community of Charlstown we took a quick side road to see the Umpqua River lighthouse.  The first was built in 1857 near the mouth of the river.  A flood took it out in 1861.  A new, higher light was started in 1891 and finished in 1894.  The light still functions showing its red and white flashes every day.  The grounds now house a museum and Coast Guard station.

See Umpqua River Lighthouse

We continued along the rolling Hwy 101 for another 16 miles to the Honeyman State park.  It seems every time we've ridden this coast we've wound up at this particular hiker/biker site and we really aren't all that fond of it.  Its biggest drawback, the toilets are a good 3 minute walk away.

View Honeyman State park Hiker Biker

This would wind up our coastal ride for this summer.  At Florence we turn inland to begin the TransAmerica route.

APPENDIX A – ROUTE

Oregon Coast

May 1 - Pacific Coast Cycling Route Crescent City, CA to Brookings, OR; 31.15 miles

May 2 - Pacific coast bicycle route along hwy 101 to Humbug Mountain State Park, 50.37 miles

May 3 - Pacific coast bicycle route along hwy 101 to Bandon and Bullard State Beach, 37.41 miles

May 4 - Pacific Coast route along hwy 101 & Seven Devils Rd thru Coos Bay to Tugman SP, 41.78 miles

May 5 - Pacific Coast route along hwy 101 and Lighthouse Dr by Umpqua River lighthouse to Honeyman State Park, 30.83 miles

APPENDIX B – CAMPSITES, HOTELS

Oregon coast

May 1 - Harris Beach State Park Hiker/Biker site ($5/person)

May 2 - humbug Mountain State Park Hiker/Biker site ($5/person)

May 3 - Bullard State Beach Hiker Biker site ($5/person)

May 4 - Tugman State Park Hiker Biker site ($5/person)

May 5 - Honeyman State Park Hiker Biker site ($5/person)

REFERENCES

Adventure Cycling Association Pacific Coast Route