Florence to
May 6 to May 11, 2011
Start 63,063 miles (100,901 km) cumulative:
End 63,273 miles (101,237 km) cumulative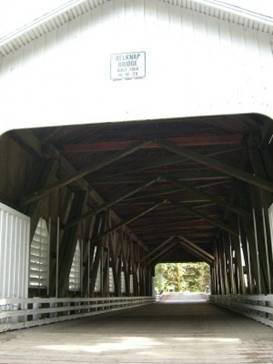 Looking thru a covered bridge on McKenzie River

TEASERS

Take a cruise around old town Florence

Find a dry port in the storm at Triangle Lake

Leave Eugene with a nice gradual climb up the McKenzie River

What to do when a tire explodes out in nowhere

No BBQ in Sisters, but we did get good pizza

May 6 - Rainy day ride.

The town of Florence isn't really situated right on the ocean.  After all that's where there are still a lot of large sand dunes.  Rather the original town was founded on the banks of the Suislaw river where they could have an actual port.

Old town Florence, OR

There is a very small old town Florence that borders right along the river.  Here you'll find older wooden clapboard buildings with interesting false fronts.  They're now filled with shops and restaurants, seafood of course.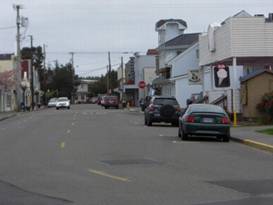 Old town Florence on May 6

Beyond this small section of old town Hwy 101 rises a bit as it heads north.  Here you find the more modern town.  There are the usual fast food restaurants, large grocery stores, modern motels, and many unique and sometimes unusual cafes.  There's something for everyone here.

Unique café in Florence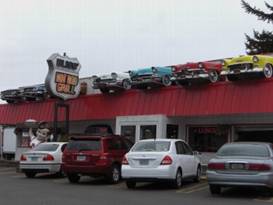 An odd cafe in Florence

Here, in Florence, is where the Florence alternative starts, or ends if you're going west, of Adventure Cycling Associations (ACA) signature transcontinental route. 

ACA began in 1976 under the name Bikecentennial. A group of people had the idea to do a cross country bike tour in celebration of the country's bicentennial.  From this simple idea ACA was formed and now many more bike routes all over the country have been mapped.


Since we were planning to head east on ACA's original route until reaching Missoula, it was time to leave the coast and head inland.  We didn't leave Florence all that early, in fact we took our time having lunch at one of those cafes first.

When you head east on Route 126 out of Florence you first head fairly level following the banks of the Suislaw river.  It's easy riding until you turn off at Mapleton.  You could take the easy route by just staying on 126.  But the mapped route turns left and heads uphill, up stream.  It's a much quieter route.

Even though the moring started out cloudy, by the the time we were riding up this hill we were in the midst of a continual drizzle.  When we reached the Triangle Lake camp it was raining fairly hard and it was cold.  We were not looking at having a very comfortable evening.

At first Triangle Camp looked a bit disappointing.  We'd expected a campground that looked more like a public camp.  But this was more like a private fish camp, at least at first glance.  But it had one big bonus, a covered picnic area.  The camp managers told us to just set up and make ourselves at home.  Our evening turned out much better after all.

Triangle Lake Camp

May 7 - Downhill into Eugene for a rest

Under questionable skies, we made our way into Eugene.  When the sun was out, it felt somewhat warm.  When clouds passed overhead it got downright chilly.  This area is experiencing a cooler than normal spring and we're really longing for warmer weather.

Fairly quickly we cruised over Low Pass, with a few more rain showers, and then it was a short downhill to relatively flat riding into Eugene.  Eugene is a medium size city that has a very distinctly European or eastern feel.  It's a college town with all the strange student activities that accompany such a town.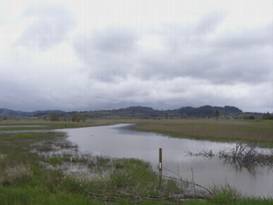 Wetlands area just west of Eugene

We were expecting Sunday to be a wet miserable day.  Also there would be snow up in the mountains.  We had a few odds and ends of shopping to take care of and we'd been riding for 5 days.  So we decided to take Sunday off.  It was a very good choice as Sunday rained off and on all day long.

May 9 - Up the McKenzie River

The route quickly crosses the Willamette river on the nice DeFazio foot Bridge.  You then hit surface streets that run through the Springfield section of the city.

Here as you follow the route you go past just about any service you could need,large grocery stores,fast food, cafes, even a Costco.  But within a few miles you leave city behind and head into rural country.  This would be the last time until Missoula that we'd see a city this big.

The town of Walterville

Eventually you wind up on a lovely country road following the Mohawk river and then the McKensie.  This wide river gradually gets smaller and rougher as you head into the mountains. It passes several small towns along the way, Walterville, Blue River, Leaburg, McKenzie Bridge.  Each town has progressively smaller and fewer services.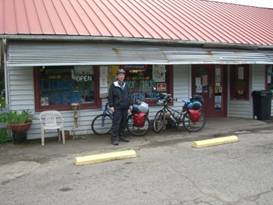 Blue River store and gas station

Blue River store and gas station

There are houses and cottages lining the route all the way.  They're a real mixture.  Some look like beautiful million dollar residences.  Right down the road will be a run down trailer contraption.  That's what you get when you don't have community building restrictions.  It's Nice.

There are several wooden covered bridges crossing the McKenzie River.  They usually sit where different bridge versions have sat over the years.  The latest were built in the 1930s, destroyed in Christmas floods of 1964, rebuilt in 1966, and restored in 1992.  They've got a long history.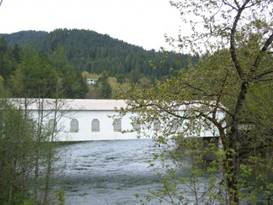 Side view of covered bridge over McKenzie River

Covered bridge at Leaburg

Vida store and gas station

It was a lovely gradual uphill ride to McKensie Bridge campground.  We really enjoy riding in the lush, green forests.  In the distance we started to see snow covered peaks.  Tomorrow we'd have our major climb above the current snow levels.  It'll be chilly up there.

May 10 - Tire troubles

Just a mere .5 miles down the road we came to the last semblance of civilization this side of the passes.  From here on until we get to Sisters we'd be on our own.  Oh all right, it's only about 1 1/2 days but after all the services along the coast we're spoiled.

McKenzie Bridge has 2 small tourist type shops and a cafe.  They cater to folks coming up for the fishing and other outdoor activity.  It was a good place to grab some orange juice before the major climb.

McKenzie Bridge store and gas station

There are two choices for getting across the mountains to Sisters.  The shorter, direct route climbs to over 5300 ft at McKenzie Pass on a road with about as many hairpin turns as miles.  The second, longer route is much straighter and goes over the 4800 ft Santium Pass. 

McKenzie pass is not plowed in winter and usually doesn't open until mid July.  It was closed with 30ft snow drifts.  Gee, we'd just be forced to take the lower route.  Isn't that a shame.

This was the day to get over the passes.  The sky was clear, the sun shining, and the temperatures rising steadily.  Rain was expected the next day, so this was "do or die".

For a while after leaving McKenzie Bridge the road climbs at a fairly reasonable, steady pace.  But soon the climb steepens to the typical 6% grade.  After riding up the coast and into various headwinds we were in reasonable condition for this climb.  But it would still be tough.

We grunted along at a steady pace when suddenly Brian pulls over to look at his rear wheel.  An enormous bulge stuck out of the tread looking like a giant wart.  Now we had inspected these tires carefully back in Eugene.  In watching Brian ride I thought I'd seen a tire wobble.  But when doing a closer inspection I didn't see anything too out of the ordinary.  So we made the fatefull decision not to change the tire.

Boy was I wrong.  Brian climbed back on the bike and within no more than 100 ft the tire blew in a spectacular fashion.  A 3 inch tear rent the tread in half and the tire flattened instantly.  So now what?

Discussing the options we could hitch to Sisters, hitch back to McKenzie bridge where we could take a bus back to Eugene, or do something else.  We really wanted to get over the mountains and wanted to ride, not hitch.  So what else could we come up with?

Just about 1/2 mile back we'd passed a campground.  So I hopped on my bike and headed back.  Usually in a campground you'll find at least one camper who has a mountain bike.  The question was whether I could convince them to let me buy a tire off of it. 

I got lucky.  Within just a few minutes I found one fellow who was willing to sell his tire.  He wasnt entirely sure if I wanted to by the whole wheel.  But after some explaining of what I needed he let me buy it.  So with a replacement tire slung over my shoulder I returned to where Brian waited anxiously.  Soon we were on our way again.

At route 20 you take a right and tackle the final steep setion of climb to the 4817 ft summit.  As we toiled along we peered into the drive of each campground above about 3500 ft.  Not only were the campgrounds closed, they were completely snowed in.  There'd be no stopping before the pass.

PCT crossing at Santium Pass

In 2005 we crossed Santium Pass on the PCT.  Now we crossed the PCT on the road.  It was an absolutely lovely ride up to the pass.  In a large switchback loop just before the pass you get expansive views down the valley to the west, everything covered in snow this time of year.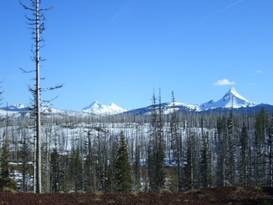 View toward Mt Washington from west side of Santium Pass
In 2003 there was a large fire that burned some 90,000 acres near the pass and to the east.  The trees in this area are now just burnt snags which always lends a rather spooky sense to the scene.  Lovely in its own way.
It was a relief to reach the summit and start the downhill.  Our legs were tired and aching.  It was time to find a campsite.  Suttle lake campsites weren't quite open as yet, but we camped anyway.  The additional 15 miles to Sisters was beyond our capability this day.
May 11 - Brian's Birthday in Sisters
We got out early, just as the tree cutting contractors showed up.  They were in the process of removing all the suspect trees before the campground opened.  So we didn't quite get caught, as if they'd really care anyway.  Soon we were wheeling our way into the cute town of Sisters.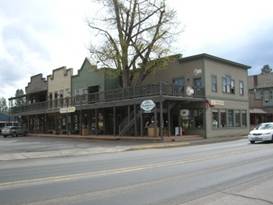 Typical Sisters Western style buildings

Sisters has retained a sort of western town style, the wood board and batton buildings with false fronts and overhanging porches.  Some of the buildings are original, but many are modern versions of the same style.  Of course there are plenty of tourist stores and shops plus some restaurants.  They do get busy on weekends especially during they annual rodeo, held early June.

Brief view of Sisters, OR

At the far end of town is the nice city park campground that has a recent addition of hot showers.  We put up the tent, showered and then went to check out the restaurants for Brian's birthday dinner.

Sisters has one BBQ restaurant that is supposed to have the best BBQ in Oregon, at least according to the editors of some BBQ magazine.  Brian loves BBQ and when we spotted it we immediately planned a visit. 

What a huge disappointment.  It just so happens this particular day was the one day they closed early.  So no dice.

Other choices were 3 pizza places, 2 Mexican, several grill/bars, and a couple family places.  We chose the Papandreas pizza place.  This little restaurant is housed in one of the original board and batton old houses and has a great outdoor patio that would be great in summer.  It's been a restaurant for decades, but just recently was taken over by a wonderful lady from Idaho.  She loves to chat with customers and is always ready to help anyone needing assistance.  Her cook does a great thin crust pizza, a big green salad, and she pours a huge very full glass of wine.  She tells us that in summer she gets bikers on the Trans Am and hikers from the PCT all sprawled out on the patio working on computers and charging up various electronics.  We highly recommend this restaurant for great food, good talk, and just general relaxation.

So far we've found everyone away from the busy coast and Eugene city to be some of the most hospitable ever.  Small town folks are great.

APPENDIX A – ROUTE

May 6 - Hwy 101 to Florence, Trans America route up hwy 126 to Mapleton, side loop to Triangle Lake, 45.77 miles

May 7 - Trans Am bike route to Eugene, 36.38 miles

May 9 - Trans Am route to McKensie Bridge on hwy 126, 60.92 miles

May 10 - Trans Am route hwy 126 to 20 over Santium pass to Suttle lake 4.79 miles

May 11 - Trans Am route hwy 20 to Sisters, 16.36 miles

APPENDIX B – CAMPSITES, HOTELS

May 6 - Triangle Lake Campground (free for us, normal $14)

May 7 - Econolodge in Eugene ($44/night)

May 8 - Americas Best Value Inn ($45.70/night)

May 9 - Mckensie Bridge USFS CG ($14.00/night)

May 10 - Suttle Lake USFS CG

May 11 - Sisters city park ($12/night)

REFERENCES

Adventure Cycling Association Transamerica Bike Route Section 1

Transamerica Bike Route Section 2