Missoula, MT to Baynes Lake, BC
June 1 to June 6, 2011
Start 63,964 miles (102,342 km) cumulative:
End 64,237 miles (102,779 km) cumulative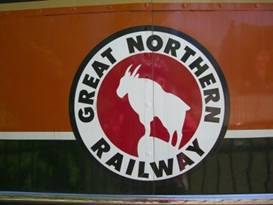 Mountain goat symbol on the Northern Pacific Railway

TEASERS

The rivers run high around Missoula

Give up trying to ride in pouring rain, pizza's better

The road along Swan Valley really isn't all that great riding

Sunshine and blue sky takes us into Kalispell

Why are Kalispell teens so rude?

What's a "bruck"?

Wifi in a USFS campground, amazing.

No free food at Eureka, too bad.

The US/Canadian border ain't what it used to be.

You won't find much at Grasmere.

June 1 - No passes today

Riding east out of Missoula you travel along the banks of the Blackfoot River for miles.  The first time we rode this stretch there were rafters out on the river.  The second and third time, there were rafters.  This time, not a rafter in sight.  Maybe it was just too rough. 

We'd heard that just a week or two earlier one kayaker in a kayaking competition in downtown Missoula was swept down river.  He hasn't been seen or heard of since.  Hearing that someone who can qualify for competitions got swept away gives an indication of just how high the river is running.

To the east of missoula is the much smaller town of Bonner.  This is an old lumber mill company town.  You can tell by the large lumber company buildings and the identical houses lined in a row.

We met a fellow who used to work at the mill.  He told us that back in the 80s there were a bunch of small and large milling operations working in and around Missoula.  Today, almost all are out of business.  He says it was a combination of bad forest management practices and NAFTA.  Evidently it cost less to get stripped veneer from Canada than it did to strip the wood locally.  Same for plywood.  So it wasn't just the environmentalists that destroyed Montana's lumber industry.  It was trading policy as well

Once we left the Blackfoot river we began a slow climb to the large valley surrounding the little town of Potomoc.  This consists of just about a church and cafe.  We recall that in 2003 when we rode west through this valley it had become a large tent town.  Firefighters had taken up quarters throughout the valley for just about the entire summer.  2003 was a really bad fire season and the entire valley was filled with smoke.  This time the fields were green and empty.

At the intersection of route 200 and 83 sits a small store that's been there for as long as we've passed through this region.  Stoney's has gas pumps and just a bare minimum amount of food products.  You could make a meal, but not easily.  There is some hot food available plus a restaurant as well.  However, we always recall and were once again reminded, the prices are very high.  Perhaps the most famous item is the large plastic cow statue on the corner.  Advertising ice cream I guess.

Stoney's store on way to Seeley lake

Turning left here we entered Route 83 toward Seeley Lake.  We've always found this road to be difficult.  It's narrow. The surface is not in great condition.  During summer there are tons of RVs, trailers, fifth wheels, and all sorts of vacationers going up and down this narrow road.  It can be knuckle bracing.  Add to that it seems every time we've ridden it we've been harassed.  Although there are far fewer log trucks these days which takes one worry off.

In about 7 miles we pulled into the Salmon Lake campground.  This is a state park with very nice new facilities.  The unexpected shower was wonderful.

June 2 - All day rain and pizza

We'd been expecting this Thursday to be a mess and it was.  We awoke to a steady, cold drizzle.  We ate breakfast inside the warm showers and then struggled to try to get all that sopping wet gear packed.  It wasn't fun.

It was a short 7 miles to Seeley Lake.  By the time we got there we were pretty much drenched.

We parked ourselves in a booth of the gas station/pizza place/hardware store/minimarket and munched pizza, drank tea, and watched the rain come down all afternoon long.  One fellow sitting behind us told us he's lived in Swan Valley since 1955 and he's never seen it this wet. 

We stopped at the store and asked for a six pack of sunshine and bottle of 80 degree weather to go.  The clerk just laughed.

We gave in, took a motel room for the night, and watched it drizzle all night long.

June 3 - Low, low snow level

The next morning the drizzle had dropped to a light mist, but it was cold and overcast.  It was supposed to warm to at least the high 50s.  It didn't even get close till around 5PM.  And their predicting 70s tomorrow!  We'll believe it only when we actually see it.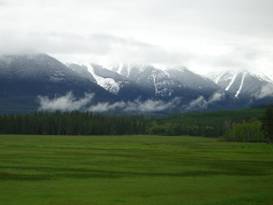 Cloudy skies and snowy peaks near Condon

There's a gradual climb to Condon and then up to Summit Lake followed by an equally gradual descent to Swan Lake.  Much of the route is lined by tall trees.  So there's not much of a view to the mountains.

There are a few breaks in the trees and the views to the east were stupendous.  This time the mountains were dusted with fresh snow down to close to valley level.  Cloudy skies, snow, and super dark green trees results in a spectacular sight.  Snow covered mountains are lovely.

Amazing snow dusted Swan Valley

We stopped at the Condon store for a quick lunch.  The store, actually located 3 miles north of the supposed town center, is remarkably well supplied.  You can even get hot fried chicken if you want.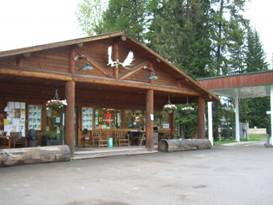 The well stocked Condon store

Check out the store at Condon

As we continued on to Swan Lake the rain finally started to abate.  After we camped at the USFS campground the sun peaked out for a few seconds.  Our hope is up.  Maybe there will be sunshine and warmth tomorrow as promised.

June 4 - Wow finally, a nice day

Sun was shining on the tent when we woke in the morning.  It'd been so long we almost forgot what it was like to see a bright blue, cloudless sky.  It felt marvelous.  We could just stand there, arms spread wide and soak in the rays for a change.

From the campground we continued up along route 83 riding along the pretty Swan Lake.  There are a lot of houses along the lake many of which are likely summer homes.  Off to the east the snow capped mountains practically sparkled in the sun.  This is where the scenery gets gorgeous.

A lovely sunny day near Kalispell

A series of zig-zag back roads took us to the town of Big Fork.  This little berg is located on the large Flathead lake, the largest fresh water lake west of the Rockies.  Big Fork sits at the mouth of a river entering the lake.  It's got a nice marina and cute little shore side houses.  It really looks a lot like an Oregon coastal town.  Just pretend there is no opposite shore.  The supermarket in town is pretty nice for such a small town.

More zig-zags along quiet country roads brought us to the intersection with route 35.  From here it was a busy 7 mile ride into Kalispell.  Kalispell is the largest town in this region.  It's a working town, mostly blue collar.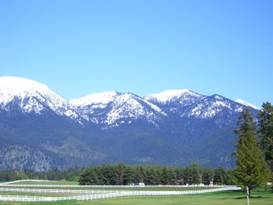 Gorgeous scenery outside Kalispell 

We've never received a very welcome reception from the local Kalispell teens.  Every time the teens in their cars drive by, honk their horns and yell out the window with not particularly friendly greetings.  We don't know what their problem is.  But for some reason teenagers in Kalispell don't like bike tourists.  When we come back we'll probably try to avoid this place all together.

One of Kalispell's main attractions is its proximity to Glacier National Park.  As a result it has a lot of hotels, motels, and RV parks nearby.  Shopping is great and you can get just about anything you could need.  A brand new mall just north on route 93 now has a WalMart Supercenter, Target, Best Buy, a good sporting goods store, and all sorts of other shops. 

From here north there won't be much.  We expect good stores in Cranbrook, if we go there.  But otherwise it's just small stores with often limited supples.  So for resupply this is likely to be our opportunity to stock up for some time.

June 5 - Second day of sunshine, yeah!

A very busy 4 lane highway connects Kalispell with Whitefish.  It's only a mere 14 miles up the road, but the town is like a whole different world.

Whitefish is the yuppie town of northern Montana.  Back in the 80s a whole bunch of Californians moved there, raising the property prices and bringing in a different kind of atmosphere.  It's a much more relaxed town and bikers are accepted as a matter of fact.  You at least get some respect on the road.

Whitefish has a lovely old train station.  Back in the late 1800s and early 1900s this was one of the train stations that would get you into Glacier National Park.  Hence it's a beautiful half timbered style building.  It actually is still in use as you can buy tickets to Glacier and other points if you desire.

Visiting Whitefish train station

The train station also houses the Whitefish museum which is free but also closed on Sunday when we happened to be there.  Out front, as part of the museum, is a lovingly restored old Pacific Northern Railroad "bruck".  This thing was part bus part truck.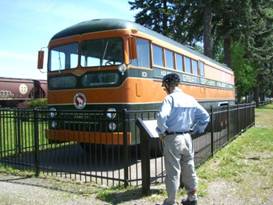 Here's the "bruck"

In the 1800s the main passenger service took people as far as Kalispell.  So they needed another way to get folks to Whitefish.  At first they ran an electric train.  When that got to be too expensive the Pacific Northern Railroad purchased these brucks.  This ran the Kalispell to Whitefish route from 1951 to 1972. 

After spending time in a rail equipment junk yard, it was purchased for the museum and fully restored.  It's in remarkable condition today.

The Bruck (bus/truck) at Whitefish

Downtown Whitefish has been built up in a very western themed style. Although how much is just a recreation and how much original old western we couldn't guess.  The two blocks of the main street are lined on both sides with the square fronted, porch bedecked, wood board and batten buildings.  Here you'll find restaurants and shops catering to an upscale and tourist market.  To the south of town along route 93 you'll find the larger chain groceries and fast food places.  They actually have a McDonalds now.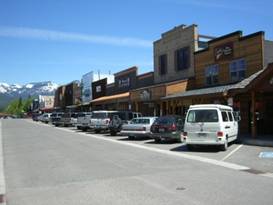 Western themed Whitefish

A look at downtown Whitefish

You could spend quite a bit of time wandering the streets of Whitefish, looking in all the shop windows and reading the historic building signs.  But we had miles to go this day.  So we continued on.

It was another sunny, warm day, the second in a row.  We could get used to this real fast.  In fact it was almost too warm.  It's not easy to suddenly adjust from 50 deg temps to high 80s in just 2 days.  We needed to carry a lot more water.

The route takes hwy 93 out of Whitefish to the west and then north.  It's one awful road for riding.  This being Sunday there were hoards of Canadians headed back north.  They come here for shopping as prices are significantly cheaper.  In winter they practically sustain Whitefish by using the local ski area.  The road is narrow, in bad condition, and has almost no shoulder.

For a short while, before Onley, you can jump off onto a side road that is much quieter.  This gave us an opportunity to actually enjoy the scenery rather than watch for trucks and such.

Then it's back on the main highway to Dicky Lake where we decided we'd had enough for the day.

With the sun shining bright in a clear blue sky, the lake was an absolutely stunning shade of bright blue.  There are a few houses on its western shore plus the campground on the north.

We were met at the campground by the most friendly campground host.  He's a retired San Diego highway patrolman.  He now lives summers in Montana and winters near Kingman, AZ.  He will literally try to greet each and every camper as they come in.  At least he does this on the slow days. 

He also very generously decided to provide wifi at his own expense.  Actually it doesn't cost him all that much, $60 for the year, and he wants to have internet for himself anyway.  So he just added a wifi router and let everybody join in.  This is something we've been waiting for 15 years for, the ability to sit at our USFS campsite and work with email, web surfing, etc.  It's been a long time coming.

June 6 - Three days no rain, WOW!

Rolling hills took us the last 15 miles to the town of Eureka.  We have been through this town twice before on bicycle.  The first was in 1988 when we rode the Northern Tier.  The next was in 2000 when we took on the Great Divide Mountain Bike route.  We came close in 2007 when we rode the northern part of the GDMBR again, but we had turned off on grave Road before getting into town.

Eureka has grown substantially in these years.  The central part of town used to be just about all there was.  There's a small line up of stores plus one very small market and a gas station/mini market.  Now to the north of town there are 2 new motels, 2 banks, plus a much larger grocery store.  So getting supplies in this town is a much better proposition than ever before.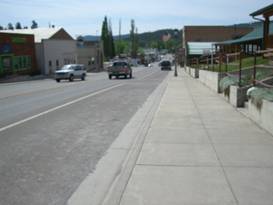 Coming downhill into Eureka from the north

A quick look at Eureka

We will always have fond memories of Eureka.  There's a small park where you can camp for free, just check in with the local law enforcement before hand.  There's a small outdoor museum consisting of several buildings they've moved in from the surrounding countryside. 

What we remember most was the time we got a huge free chicken dinner.  We'd arrived at the little park campsite to find some big musical fest going on in the main park.  After setting up camp we wandered over to check things out.  It was some sort of religious rock festival at which they were serving up free supper.  Do you think two hungry bikers would say "no" to free food?

With no free food to be found this time we headed up to just about the only cafe in town and wolfed down a couple of giant cheeseburgers before heading on north.

Just north of town the route takes off on another, very hilly side road that runs by the local airport.  You can just see all those jumbo jets taking off for all sorts of international destinations ... NOT!  Then with a long swooping descent we rejoined route 93 and entered Canada.

It's been many years since we last crossed this border and it's seen a lot of changes.  There used to e just a small kiosk where you'd check into the US.  It was a very casual place.

Now there are 3 lanes where they can inspect your vehicle, top, bottom, and sides.  There are huge new buildings and all sorts of new manpower doing the job that used to be done by one or two.  Think it's making a difference?  No.  Not when people swarm across the southern border day and night. 

North of the Canadian border there are few shops and only very small towns.  So you're best to come prepared.  Especially make sure you've got some Canadian currency as you won't see an ATM until Jaffary.  The banks in Eureka will change currency, but the exchange rate is rather dear.

There is one small, very small, store at Grasmere.  Prices are high.  We did some calculation and found their unleaded gas ran $5.50 US per gallon.  Ouch.  It'll be interesting to see if this holds in larger towns.  A 2 liter bottle of soda was $3.15 CDN.  Actually the price was $2.59 but the rest was tax and deposit.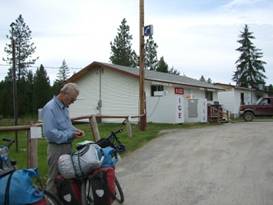 This is everything at Grasmere

Your first store at Grasmere, BC

We're expecting costs in Canada to run high, probably close to Europe.  Canadians will tell you that food is just a little higher and camping about the same.  But we think they're just not all that sensitive.  After all the US is cheap for them. 

We have to admit it's rather depressing these days to travel abroad.  We tend to feel a bit like we're residents of a third world country trying to visit a first world country.  The US dollar is just so blasted weak. 

Even though the towns are extremely small there does seem to be houses everywhere.  Look through all the trees and you'll see them tucked away here and there.  So this is not exactly a completely isolated place.  Just wait till we get out on the road to Bella Coola, though.

As we road northward the scenery of the mountains ahead became ever more spectacular.  These rugged, glacier carved peaks were now covered in heavy snow.  Now these are the views we've come all this way to see.

We pushed ourselves up to the first Provincial park, Kikomon.  We're expecting another bout of rain to move in, so we figured it'd be best to get as far as possible in case we needed to stop for a day.

Kikomon is shockingly expensive.  It's been about 10 years since we last did much biking and camping in Canada and it just seems the prices have soared.  Even back in 2000, when the US dollar was much stronger, Canada seemed pricey.  Now, WOW.  Camping in this park in a tent now costs $30 CDN which we think is more than double.  We'll have to check that later.

So yes it does seem so far that costs in Canada will be about the same as Europe, probably a good 40% or so higher.  Good thing we're not buying gas.  Alcohol will be for occasional consumption only.

APPENDIX A – ROUTE

June 1 - Great Parks North route to Salmon Lake 49.97 miles

June 2 - Great Parks North route to Salmon Lake 9.79 miles

June 3 - Great Parks North route to Swan Lake, 55.93 miles

June 4 - Great Parks North route to Kalispell, 40.70 miles

June 4 - Great Parks North route to Dicky Lake, 55.64 miles

June 6 - Great Parks North route to Baynes Lake, BC, 49.88 miles

APPENDIX B – CAMPSITES, HOTELS

June 1 - Salmon Lake State Park ($7.50/night)

June 2 - Montana Pines motel Seeley lake (64.20/night)

June 3 - Swan Lake USFS campground ($15/night)

June 4 - Motel 6 in Kalispell ($56.88/night)

June 5 - North Dicky Lake Campground ($10/night)

June 6 - Kikomon Provincial Park in BC ($30 CDN/night)

REFERENCES

Adventure Cycling Association Great Parks North Route Section 2