Williams Lake, BC to Bella Coola, BC
June 29 to July 8, 2011
Start 64,963 miles (103,941 km) cumulative:
End 65,282 miles (104,451 km) cumulative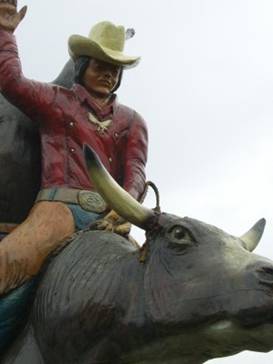 Wood statue of a bronco buster at Williams Lake
TEASERS
| | |
| --- | --- |
| | Leave Williams Lake just as the barrel races begin |
| | Admire the 1961 bridge over the Fraser River |
| | Only itty bitty stores are to be found |
| | Get a hot drink and enjoy the wood fire at Tatla Lake general store |
| | Just how do gourmet cooks on rt 20 get supplies |
| | Be terrorized by mosquitoes and haunted by visions of bears all night |
| | Amazing what 2 guys and 2 bull dozers can do |
| | Choose Hagensborg or Bella Coola |
| | Up and at em.  There's a ferry to catch |
June 30 - Get outa Williams Lake
Apart from the stampede the main things to see in Williams Lake are the nice downtown and the visitor center.  If you're really into rodeos and cowboy stuff there's also a local museum.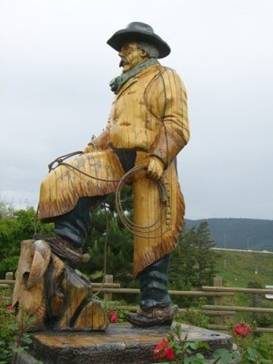 The range boss, Williams Lake
Upon entering the Discovery center's display room you'll be astounded to see a towering collection of everything imaginable you could take on vacation.
There are skis, snowshoes, ice skates, raft, canoe, kayak, tennis racket, golf clubs, boots, back packs, duffel bag, suitcases, chairs, table, tent, fishing tackle, art supplies, fishing rods.  Anything you can think of is piled high on this car.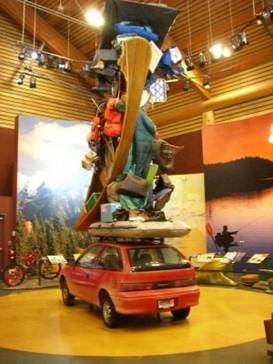 Everything you need to carry on vacation
Here's what you'll need to travel northern Canada
The car is parked outside a makshift lodge.  Your pretend hosts are supposed to be responsible for unpacking this mountain of stuff.  That is if the avalanche of vacation gear doesn't kill them first.
Look around the Williams Lake visitor discovery center
Perhaps the most striking aspect of the visitor discovery center is its construction.  It was built using a combination of old fashioned wood working with modern strengthening additions carefully hidden or integrated.  The huge vertical logs used throughout were simply peeled and put in place.  This left the wide trunk bases or, as in the case of the central post, the entire root platform.  It's very becoming especially when you first approach.
Interestingly, to keep birds from nesting they play a combination of predator bird calls and whistles from outside speakers night and day.  It seems to work.
Williams Lake is definitely the place to stock up if you're headed to Bella Coola.  There are huge Save On and Safeway supermarkets, a Walmart Supercenter, Canadian Tire store (good for backpacking fuel canisters), Home Hardware, a couple bike shops, a Real Canadian Wholesale store to name the largest stores.  There are all sorts of restaurants, hotels, and the very nice Stampede campground.  Even better, despite all the wet weather it does not seem to suffer from mosquitoes so much. 
Beyond here along Route, the Freedom Road, don't expect much.
June 30 - Saddle up
Early in the morning the cowboys and cowgirls at the Stampede lined up for a hearty breakfast.  Almost immediately the action began.
First up, women's barrel racing.  That's where women race their horses around a barrel track trying to have the fastest time without knocking a barrel over.  As is typical of many women's sporting events there was almost no one in the stands.  Even the campground had yet to fill.  I guess everyone was waiting for the bronco busting, calf roping, mountain racing, bull riding events.  More exciting.
Stampede gets going early at Williams Lake
We were headed onward.  After another bout of showers we packed up our wet tent and got on the road.  We were expecting Route 20 to be our most remote for the summer.  So, we left Williams Lake with as much food as we could carry.
The first thing you do on Rt 20 is climb a steep 1,000 ft.  Then you drop right back down that 1,000 ft to cross the Fraser River and then climb another 8% and 9% grade road to the next plateau.  It's a tough 2600 ft climb in the first 30 miles.  Fortunately after that it gets more level.
The Fraser River valley in this area has cut a rather deep gorge.  This gorge is very sheltered from the rains.  Hence it's one of the driest regions in BC.  There is sage brush and even some cactus.  It looks just a bit like central Montana.
The bridge over the Fraser River is a gem.  Built in 1961, it's a fine work of steel truss.  You can see the remains of the older bridge's pilings far below.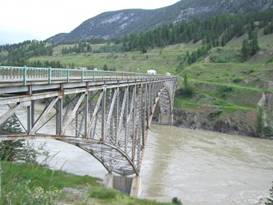 Bridge over the Fraser River
Lovely 1961 steel truss bridge over the Fraser River
After a good 5 mile steep climb you are now in the heart of the Chilcotin region.  This particular area is a high plateau that is covered with open grass lands.  It's quite different from the more eastern valleys.  You can see why ranching is big, along with all those rodeos.
Entering the Chilcotin
At the tiny community of Riske Creek is the Chilcotin Lodge.  They have camping facilities, which we decided to use.  You can also stay at the lodge.  Meals can be provided for guests with advance notice.
July 1 - Happy Canada Day
July 1st is Canada Day, an independence celebration.  Everyone gets a long weekend.  So we were rather expecting a lot of folks out on the road.
Much to our surprise is wasn't so.  In fact the road was quite quiet.  The log trucks were off for the day. There weren't any large loads being moved.  There was just mainly a few RVs, cars with trailers, boats, and cars.  Not bad.
It was raining when we got up and looked like it might stay socked in for the day.  But soon after we got packed the rain stopped.  By mid afternoon there were just partly cloudy skies.  Although it did cloud up and start sprinkling again by dinner.  Can't have a day without at least some rain this year.
From Riske Creek there are just a few more rolling hills as we cut across the V between the Fraser and Chilkotin River valleys.  Then there's a rip roaring downhill to Hanceville, or better known as Lees Corner.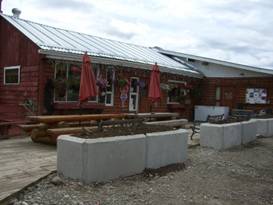 Lees corner cafe
Here you'll find a tiny cafe with about 7 tables total.  They also sell snacks, gifts, and gas.  Don't try to find food to cook your own dinner, though.  We saw only cans of corn, tomato sauce, some eggs, and oil.  Not much else.
The tiny cafe at Lees Corner
The fellow who Created Lees Corner is famous for a dramatic failure.  He tried to take 200 head of cattle some 1200 miles to the gold fields.  The cattle died and he had a rough time getting to civilization.  He wrote a book about his harrowing adventure and a summary is written on the ceiling of the cafe.
Once in the Chilcotin river valley there are just slight rollers in the road.  It's not difficult riding. 
The largest center in the ea tern Chilcotin is Alexis Creek.  Yet even here there's hardly anything.  There's a motel, burger shack, restaurant and a store.  Now this store is still fairly small But you can at least find enough supplies for dinner.   Ask the Korean owner about the health benefits of eating kimchi.
Looking around Alexis Creek store
Just another fairly flat 5 miles brought us to Bull Canyon Prov Park.  It's a very small park located right on the river.  Fires recently have burned the surrounding forests but the campground remains a little oasis.
July 2 - Headwinds
Ah the morning started so nice.  Why couldn't it just stay that way.
From Bull Canyon the road turns away from the river and, via a bunch of ups and downs, climbs 500 ft.  Then there's a ripping downhill into Redstone number 1.
There are 2 Redstones.  The first seems to be just a road junction.  A small store is under construction.  Otherwise there's nothing but a few houses.
The second Redstone, about 12 km later, is the reserve for the Tsi Del Del Indians.  They have a few houses, mostly trailer homes, scattered about the cleared hillside.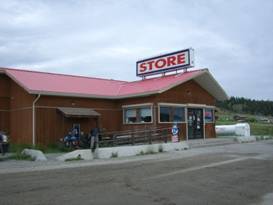 The store at Tsideldel Redstone
Plus there's one small store.  Here you can find snacks, drinks, some microwaveable fast food, and a few canned and packaged foods.  Certainly you can put together a meal or two with some thought.
Here's the Redstone Indian Reserve Store
By the time we'd finished eating lunch at Redstone the next wave of storms were coming in.  For some reason every time a new storm comes in it is accompanied by high winds, head winds of course.
So we struggled along going up and down all those rolling hills for another 26 miles into the wind the entire way. 
Along the way we passed through areas that have seen recent forest fires.  These were huge, huge fires.  Clearly it was several years ago as the new little trees are over 2 ft tall now.  It amazes us just how much of the western forests are either dead due to the bark beetle or burned.  All a result of almost 100 years bad forestry practices.  When will we learn not to mess with Mother Nature.
After 55 exhausting miles we finally arrived at the Polywog rest area just outside of Tatla Lake.  This little rest stop was created by Ducks Unlimited.  It overlooks a pleasant little pond that does attract its share of birds.  I suppose if you got close enough to the water you'd find those polywogs.  There are 3 picnic tables and a very rustic pit toilet.  A perfect stop for tired bikers.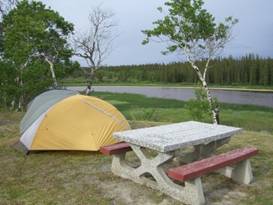 Campsite on Polywog pond
Impromptu campsite at the Polywog rest area
July 3 - Meet Dave
The morning greeted us with cloudy skies that looked like they'd break out with rain anytime soon.  So we hurried on down the remaining 7 miles or so to the town of Tatla Lake.  There we found the Tatla Lake General Store which actually had a porch overhang over the entire length of its front.  That seems to be a rare thing along this road.  With a couple of benches to sit on we decided to wait a while until the store opened and the rain quit.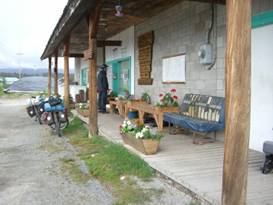 The store at Tatla Lake
Tatla lake boasts one general store, one motel, and one restaurant.  There used to be a burger stand, but that looks like it's been long closed. 
looking around Tatla Lake
General store means exactly that.  Not only can you find a fair selection of food, let's just say you can certainly put together a meal or two, but all sorts of other stuff.  It's a combination hardware, gift, book, and grocery store plus post office, gas station, and auto repair shop.  Kind of an all around everything sort of place.
This general store is run by Dave, a retired RCMP, and his wife.  Dave's father owned a store like this so he was well prepared for what it would take when he decided to buy it.  He loves this area and he seems to love meeting all the folks coming in from the highway.  So he's well suited to the job.
If you arrive when he's first opening you shouldn't be in a rush.  He'll put on a fresh pot of coffee or tea, light a fire in the wood burning stove, and he won't sell you anything until you've had a chance to sit at the table and sip a hot drink.  This is very much an old fashioned type of store.
From Tatla Lake there are a couple of good, steep climbs before reaching Kleena Kleene.  The location of Kleena Kleene is a bit confusing.  There's an old location at the south end of the lake and a new location to the west of the lake.  The maps show the dot at the old location but all the mileage information is for the new location.  It took us a while to figure out why things weren't making any sense.
This is everything there is in Kleena Kleene
Kleena Kleene never has been a real town.  In the old days it was simply a transfer location, a spot where cargo was switched between wagons or trucks.  Today the only thing there is an old log house with a bunch of post office boxes in front.  At one time a resident tried operating a store in the log house.  But too many break-ins forced her to quit that.
Beyond Kleena Kleene we had another steep climb before reaching our night's destination, Clearwater Lake.  We'd been fighting a headwind for 2 days now and the last thing we wanted to do was ride another 50 mile day.  We cut it short at just around 30.
On the shores of Clearwater Lake there are 2 lodges and one free recreation campsite.  Having spent 2 nights showerless, it was time to splurge.  We stopped at the Clearwater Lodge and Resort.
This lodge is run by a German couple who for some reason 18 years ago decided to leave Germany for good and open a lodge somewhere in Canada.  They really wanted to get away from it all.  At first they were interested in Anahim Lake.  But a local familiar with the area convinced them that Clearwater Lake would be much better, fewer mosquitoes. 
The lodge is really nice and she has several cute cabins plus one of the nicest shower houses in that area.  The campsites are down by the lake where the afternoon stiff breeze helps keep the mosquitoes at bay.  The owner is a gourmet cook as well.  So you can really splurge if you want.
July 4 - Mosquitoes, WOW!
All right!  It wasn't raining, we had a tailwind, and the climbs weren't too bad.  What a change.
From Clearwater Lake there is a slight climb as you leave one river drainage and descend to another.  With a tailwind and after all those days of tough riding this felt almost easy.  It seemed like in almost no time at all we were sliding into Nimpo Lake.
Nimpo Lake is most known as being the float plane capital of BC.  Although they also say the number of float planes has decreased over the years.  Probably the costs are making them too prohibitive to own and with a paved road it's too easy to just drive to the lake.  You'd only want a plane if you go into the back country.
Nimpo Lake has more resorts than anywhere we'd seen along route 20 so far.  It also has the best grocery store we saw between Williams lake and Hagensborg.  Granted Anahim Lake has 2 stores of about equal size, but the selection and prices at Nimpo Lake just seem a bit better.  We bought lunch supplies and later wound up wishing we'd bought dinner as well.
Looking around the town of Nimpo Lake
While eating lunch on the store's front porch, slapping away the gnats the entire time, we started wondering just how the lodges and the gourmet cooks got their supplies.  Did they make weekly trips into Williams Lake?
A fellow who was working in the Dean on the Lake resort stopped by and we asked.  The little secret is, they get food delivered 2 to 3 times a week by truck just like anywhere else.  The main stores in Williams Lake, Sav-On foods, Safeway, and the Walmart all run trucks out route 20 several times weekly.  There's even an enterprising fellow who will load up his truck with orders from Costco in Kamloops and make deliveries, for a fee of course.  Even folks who just have houses can get food and supplies dropped at the stores along the way.  You just get on the internet or phone, make an order, and it shows up a day or so later.  It's not so isolated out there these days.
Beyond Nimpo Lake the route makes a very shallow, steady downhill run to Anahim Lake.  Here is a town that looks like it's on hard times.  They used to have a productive milling operation, which probably explains why the pavement goes a far as this town and then stops.  But the mill has closed and the town seems to no longer have much reason to exist.  Houses are boarded up, stray dogs roam the street, and people just seem to linger around with not much to do.  The only businesses in town are the 2 stores, one restaurant, gas station, one motel, and a single restaurant.  It's not a very attractive town.
We had planned to spend the night there. But upon seeing it and since it was very early in the day we decided to move on.  Surely we could find some place to pull out down the road.
Immediately after town the road turns to a hard packed dirt.  It's not difficult riding at all and doesn't seem to get too muddy in the rain.  The final climbing to Heckman pass begins in earnest at this point as the road shifts from heading northwest to strictly west.
Along this stretch there is only a single lodge a few miles after Anahim Lake town and then nothing at all until well after "the Hill".  Forests crowd the road on both sides and only a single logging road crosses. 
As 5 PM approached we started searching and searching for a campsite.  Anyplace we stopped for just a few minutes we were besieged by mosquitoes.  They descended in hoards biting their way even through all the rain gear we were wearing. 
At one point we tried pulling off the road at an old cabin site.  It should have made for a very nice campsite.  But again we were swarmed.  Brian quickly pulled out his headnet.  I'd managed to bury mine deep in my clothing bag.  Frantically I yanked clothes, electronics gear, umbrella, out of the bag trying to get my hands on that headnet all the while swiping away at those nasty pests.  I swear the mosquitoes were fighting each other to reach my few open spots of skin.
We quickly gave up on that site and continued on the road in the open.  Another mile or so up the road we found a spot where the old gravel road split from the newer road.  There were still puddles of water around and the mosquitoes were still swarming.  We set up the awning, lit 4 separate mosquito coils in each corner, and just barely managed to eat a somewhat undisturbed dinner.
Then it was time to store the food.  Wandering down that old road, bear bags in hand, in search of a good tree we spotted not just one but several big piles of bear scat of varying ages.  So apparently at least one bear likes to frequent this area.  We tied the food up well away from the tent and spent a restless night hoping that bear was off somewhere else this particular night.
At least tomorrow we would get down to the valley and away from this swampy land.
July 5 - "The Hill"
The idea of building a road from Bella Coola to Williams Lake first came up back during W.W.I.  A road was built eastward from Belle Coola to the start of the mountain climb and then westward from Williams Lake to Anahim Lake.  There the Provincial government declared that building a road up the steep west side incline of the coastal mountain range was an impossible task.  They left it there.
By 1953 the locals had enough.  A couple fellows collected $250 in donations, got a couple of bull dozers, bought some dynamite, and gathered volunteers.  They dynamited, dug, hammered, and dozed their way up the hill.  One dozer came down from Anahim Lake and the other went up from Hagensborg.  They met partway up the hill and the "Freedom Road" was done.
This wasn't a road for the faint hearted, though.  It was a narrow dirt track having up to 18% grades for much of its length and steep cliff sides all the way.  But it was a connection to the interior nevertheless.
Now that it had been proven that a road was possible the BC road department took over.  Since then it's been widened in most places to be 2 lane and the grades reduced substantially.  In most places it is now 10% to 12% but there is still a spot with a whopping 15% grade remaining.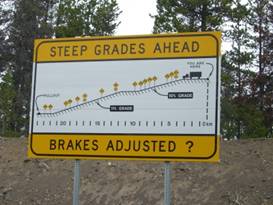 The grades along the famoun "hill"
The Hill lies entirely within the Tweedsmuir Provincial Park, BC largest park.  Therefore you'll find a picnic area  and pullout at the top, a few trail heads, and campgrounds at the bottom.
We got to the top of "The Hill" as it is now famously known in just around 6 miles.  At the pullout there is an information sign and a great view overlooking the coastal range.  Our view was studded with clouds on this particular day.  Just beside the pullout is the beginning of the first 10% grade section.
Start of the famous "Hill"
It is a rip roaring ride downhill.  In just about 20 miles you descend from 5000 ft to around 900 ft on a steep, somewhat bumpy dirt road.  It'd be like some of the roads on the GDMBR except for the traffic.  Would you believe cars with trailers, RVs, and even semi tractor trailers make this journey.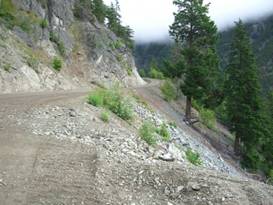 One part of The Hill
Partway down the famous "Hill"
The hairiest part of the Hill is where it is literally chizzled into the side of a cliff.  It's a single lane road here, vehicles going uphill have right-of-way.  This is also where a small sign is posted showing where those two bulldozers met back in 1953.
As we ran down this amazingly steep road the thing that kept crossing our minds is disbelief that 2 fellows from Bella Coola could just up and get this road built.  Such determination.  Imagine anyone trying to do that today.  They'd be in the courts forever.
Unfortunately for much of "The Hill" we were riding in a fog.  The clouds were riding low and heavy over the mountains.  After so many tough miles working toward getting to this point and we didn't get to see nearly the views we'd been hoping for.  That's the luck of the bike tour.
At the very bottom the road once again returns to pavement and there's a picnic area.  It looked odd.  The stream next to it looked to be flowing through a channel it wasn't supposed to be in.  The tables were surrounded by a lot of sand and the table tops had an odd scrubbed appearance.  We later learned that back in September the valley had a huge flood and we were seeing some of the results of that.
The 80 site Atnarko campground just down the road a bit further was closed because of that flood.  This left only the much smaller 12 site Fisheries Pond campground.  Fortunately one of the tent sites remained open.

This section of river is famous for bears.  Between late July and late August the bears congregate on these rivers for the big salmon catch.  Bears will literally be fishing right next to humans.  Folks from all over the world come to the Bella Coola valley at this time to get one of the closest viewings of bears behaving as bears possible.  We were too early for this.
We were considering riding directly into Hagensborg for the night.  But tired legs won out.  It had been a long, rough, tiring ride since Williams Lake.  So even though we would have liked to get to the big grocery store ahead, we just couldn't go another mile.
July 6 - Bella Coola, maybe not tonight
Despite having about another 1000 ft down to go, there still seemed to be a lot of ups and downs to get past before getting to town. Once out of the park we started seeing at least a few more houses, more cross and side roads, plus one unusual memorial.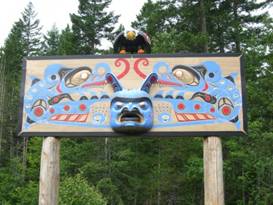 An unusual memorial along route 20
Finally we passed the sign saying "entering Hagensborg".  But this isn't really a concentrated town per say.  It has a small church, a couple campgrounds, a grocery store, and a abandoned motel/cafe all strung out along a 2 km length of the road.  We considered stopping there for the night.  But there were no restaurants and nothing to visit.  So there just didn't seem to be any reason not to go on to Bella Coola.

Another 10 miles of fairly flat riding, into a headwind, and we came at last to the real town of Bella Coola.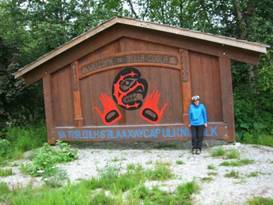 Arriving at Bella Coola
We had been expecting Bella Coola to be a cute fishing village.  That proved to be way off the mark.  Bella Coola just is not that exciting a town.  The only campground in town was not at all inviting.  There were stray dogs all over the place.  The grocery store was no where near as nice as the one in Hagensborg.  It just didn't feel like a place we'd want to spend a rest day.
We rode back and forth around the streets looking about in utter dismay.  We'd been so looking forward to getting to Bella Coola.  Yet it was such a disappointment.  We finally made the decision to return 10 miles back up river to Hagensborg.
What a great decision that proved to be.  We checked into the absolutely marvelous Rip Rap Campground.  This little place, run by Jim, in an absolute gem.  He's got absolutely spotless bathrooms, a great covered outdoor dining/fire pit area, a second covered seating area he calls the lounge, a freezer for your fish, plus the neatest, cleanest outhouse we've ever seen.
The nicest outhouse I've ever seen at the Rip Rap campground
He's paid close attention to the littlest details.  He's got little fish decorations everywhere, including the light switches.  There are candle lanterns everywhere, wood readily available for your fire, marshmallow and hot dog roasting sticks, horseshoe pits with horseshoes, even a nice platform overlooking the river and a favorite fishing spot.
To top it all off, when the clouds clear this little campground has absolutely stunning 360 degree views.
The stunning views from the Rip Rap campground
So even though it meant getting up at 5 AM and riding an hour to catch the Friday ferry to Port Hardy, we stayed in this little corner of paradise for a full day doing almost nothing but enjoying the views and relaxing.  A perfect spot to recharge.
July 7 - Who needs to go anywhere
For the entire day before our ferry trip we just lazed about.  We washed clothes including things that hadn't been washed for over a month, such as rain gear.  We cut Bran's hair.  Then we just enjoyed a rare, partially sunny day and all those spectacular views all around.
APPENDIX A – ROUTE
June 30 - Canada route 20 to Riske Creek, 29.68 miles
July 1 - Canada route 20 to Bull Canyon Prov Park, 46.08 miles
July 2 - Canada route 20 to Polywog Rest Area, 55.38 miles
July 3 - Canada route 20 to Clearwater Lake, 32.37 miles
July 4 - Canada route 20 to pullout at mile 216.3, 98.59 miles
July 5 - Canada route 20 to Fisheries Pond campground, 29.94 miles
July 6 - Canada route 20 to Bella Coola and Back to Hagensborg, 48.21 miles
APPENDIX B – CAMPSITES, HOTELS
Currencies listed in Canadian dollars, exchange about $1.038 USD = $1 CND
June 29 - Stampede Campground in Williams Lake ($16.80/night, $1/shower)
June 30 - Chilkotin Lodge in Riske Creek ($10/person)
July 1 - Bull Canyon Prov Park ($16/night)
July 2 - Polywog rest area ($0/night)
July 3 - Clearwater Lodge and Resort ($25/night, $1/shower)
July 4 - Side of road near mile 216.8 ($0/night)
July 5 - Fisheries Pond campground in Tweedsmuir Park ($16/night)
July 6, 7 - Rip Rap Campground in Hagensborg, BC ($19.04/night, $2/shower)
REFERENCES