NORTHWEST TOUR 2011 PART XIII -
Thompson Okanagan BC Canada
Oroville, WA to Castlegar, BC
July 27 to August 2, 2011
Start 65,736 miles (105,178 km) cumulative:
End 66,028 miles (105,645 km) cumulative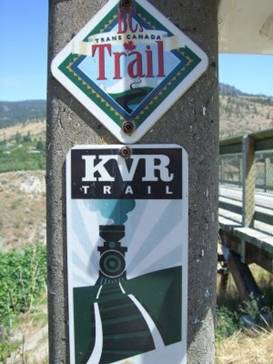 Signs for the Kettle Valley Rail Trail and Trans Canada Trail
TEASERS
Ride through BCs fruit growing district
Visit two of the last steamboats in BC
Steam up the Kettle Valley Railway
Marvel at the 18 trestle bridges of the Myra Canyon
Extra potatoe salad with dinner really makes our day
Take a whopping climbing short cut to Grand Forks
Another rail trail this time with a long, long tunnel
Find the localsí secret campground in Castlegar
Rail trail it again through ex-hippie land to Slocan
View all the mining equipment at Silverton
One last ferry over Upper Arrow Lake
July 27 - Fruit
The Okanagan valley is famous as a fruit growing region.† It couldnít be so if it werenít for the lakes and irrigation.† A string of lakes extend north from Osoyoos Lake where our camp site was located.† Thereís Osoyoos, Tugidnuit, Skaha, Okanagan and Kalmalka to name a few.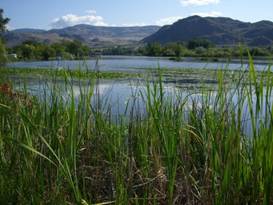 Looking at Osoyoos Lake from our campsite
The lakes not only water the fruit trees but also provide popular recreation sites for Canadians. †That nice Osoyoos Lake park in Oroville, WA is filled with probably 98% Canadians. This area of the Okanagan valley is the driest and warmest in all BC or at least easily accessible to BCers.† So they flock here in summer.
Osoyoos Lake park in Oroville, WA
From Oroville we had a short 5 mile ride back into Canada.† The border crossing here is enormous.† From a distance it almost looks like the bleachers of a large speedway race track.† Yet the border guard here was far more easy going than the ones at the smaller crossings.† He did think we are crazy for all the biking we do.
Osoyoos is the first town we came to.† The hills in this area are covered in brown grasses and sage brush making it look a bit like some of the semi-arid regions of Arizona and New Mexico.† So, to emphasize their little desert, many of the buildings are designed in the southwest pueblo style.† That works well in Arizona.† It seems strange in Canada.
Other than lakes and beaches that are packed in summer, thereís not much reason to stay in Osoyoos.
Route 97 headed north is extremely busy especially in summer.† Since this is BCs big fruit growing area, the road is almost lined with one fruit stand after another.† Either fruit or now days wineries.† Interestingly most of the orchards have been taken over by east Indians.† There are cherries, peaches, apricots, and apples plus various products containing these fruits for sale.
By the time route 97 reaches Okanagan Falls the desertish environment is giving way to a moister region.† Itís still semi-arid but it looks a lot less like a desert and more like the grasslands of Wyoming.† Trees become more predominant on the hillsides.
Finding camping this time of year is tough as every BCer is looking for the same.† We swung through 2 small provincial parks, both full.† Then we looked at one of the RV parks on the lake.† Not only was it full but it was awful.† Itís a full parking lot where youíre right on top of your neighbor.
So we headed on.† After climbing a good hill between lakes we happened across a good RV park.† Itís on the top of the hill with great views to the lake.† It has sizable sites and best of all wasnít full.† Because itís not on the lake it doesnít fill as quick.† Not only that, within walking distance was a fruit stand where we could get some cherries for breakfast.† The Camp Along campground turned out to be just right for us.
July 28 - All aboard!
For about 35 years in the early 1900s the town of Penticton was serviced by the Kettle Valley railroad.† It ran from Midway, BC around and over the mountains to run along Okanagan lake to the town.† This train acted as a connection to the 3 stern wheelers and the steam tugboats and barges running up and down Okanagan lake.† In its hey day Penticton and this railway were quite busy indeed.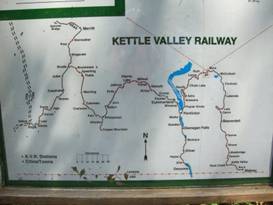 Map of the original Kettle Valley Railway
The last rain rolled out of Penticton in 1989.† Although this railway had started to shut down in 1973.† In the 1970s there began a concerted effort to turn North Americaís abandoned rail beds into multi use trails.† Hence the Kettle Valley trail was soon designated for conversion.† It was fortunate that the track was abandoned so late as it was still in very good condition including the old trestle bridges.
We rode down the hill into Penticton and headed straight for the Okanagan Lake shore to start our ride along the trail.
In summer Penticton is absolutely full of beach loving tourists.† It has a long white sand beach that gets absolutely packed with sunbathers and swimmers.† It looks a lot like a southern ocean beach complete with restaurants, hotels, rental bikes and scooters, ice cream shops, tourist trinket shops, etc.† It really wasnít what we were interested in seeing.
Instead we headed around the beach a bit to find the old stern wheeler, SS Sicamous.† This was one of three luxury passenger stern wheelers that ran the length of Okanagan Lake.† Itís a very large stern wheeler.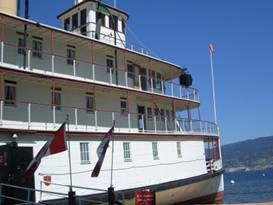 Bow of the SS Sicamous
Last of 3 stern wheelers from Okanagan lake, Sicamous in
Behind the Sicamous is the steam tugboat Naramata.† This coal burning tugboat was launched in 1914 and ran until 1967.† It would pull barges loaded with local products up and down the lake.† Today this is the last steam tugboat remaining in BC.† Itís in very well preserved condition.† You can only see it from the other side of the chain link fence, however.
The last steam tugboat in BC, the SS Naramata in Penticton
After checking out the two boats we headed east along the lakeshore, passing by all the sunscreen slathered bathers, and found an access to the Kettle Valley rail trail up a short steep hill just at the edge of town.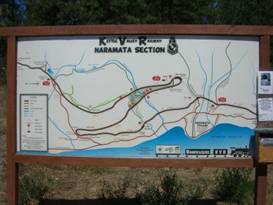 Scematic of the big zig-zag out of Osoyoos†
The rail bed leaves town headed north along the lake gaining elevation at a 2.3% grade.† It completes 2 approximately 5 mile long switchbacks as it climbs over 3000 ft to top the crest and descend into the next valley eastward.† This is the only location along the entire old rail bed where it makes such sharp switchbacks.
Review the large switchback on the Kettle Valley trail
There are several remains from the old railroad days left behind.† The concrete foundations of the old water towers now support covered picnic tables.† Remains of construction camps can be seen including old rock ovens that were likely built by Italian or Scandinavian stone masons.† At one of the old station houses they found a garden with old iris bulbs planted in 1920.† Theyíve been transplanted to the trail and now bloom every spring.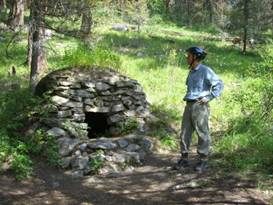 Rock oven numer 2 on the Kettle Valley Rail Trail
At the second loop of the switchback there is a tunnel that swings a full 180 degrees.† Adra tunnel has been closed for years due to cave-ins.† There is now an effort underway to reopen the tunnel for bikers.† Approximately 100 meters from the top portal are now accessible.† Imagine how fun itíll be to ride through it when its done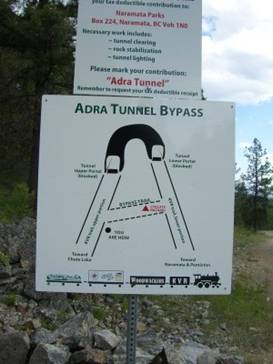 Scematic of the Adra Tunnel
Walking toward the portal of the 180 deg Adra tunnel on the Kettle Valley trail
Not too long after the Adra tunnel we passed a pit toilet and picnic table.† Even though the grade was only 2.3%, easy compared to all the other climbs weíve done all summer, we were bushed. We decided this would make a great campsite for the night.
The lower elevations of the trail are still in the semiarid region of Okanagan Lake.† The trail surface dries to a sandy consistency during summer.† Add to that the fact that cars, ATVs, and motorcycles are allowed this produces a very rough, deep sand track.† This type of trail is always difficult and tiring.† Itís too bad they canít install a better surface.† Itís a great trail, but just very hard.
July 29 - Trestles galore
Just 5 more miles up that 2.3% grade is the pretty Chute Lake and its adjacent lodge.† You can camp here, if you wish, for $20.† If you want a shower, this is the place to go.† Otherwise wild camping can save you a bit of money.
We stopped in hoping to find some sort of small store.† The only thing we could buy that wasnít a restaurant meal were a couple cans of Coke.† At least we were able to pick up some water.† We met a couple ladies who rode up from Rock Creek, another 2 days away for us.† We were glad to hear from them that the trail conditions would most definitely improve.
Chute Lake Lodge on the Kettle Valley Trail
In about another 10 miles of sandy route with gradually increasing patches of hard packed dirt we entered the Myra/Bellvue Provincial park.† This begins the most popular section of the Kettle Valley trail.
The Kettle Valley railroad started at the town of Midway, BC, so named because itís halfway across BC.† It took a very zig-zag route across the mountains passing through Penticton and other towns on its way to Hope.† This gave access to the Pacific Ocean.† Many tunnels and trestle bridges were needed to make this track possible.† The most dramatic section of trestles and tunnels has been preserved in the Myra-Bellvue Provincial Park.

The railway had been abandoned for many years before work to renovate the trestles and tunnels began.† In fact, the entire trail very nearly was closed permanently.† A young lady of just 26 years age fell to her death while crossing one of the original, unmodified trestles.
Locals then got involved.† Through a lot of volunteer labor they added decking and railings to the bridges.† They put new surface material on the rail bed to make it easier to ride.† As the trail grew in popularity they added toilets, benches, and interpretive signs.† It was a very nice setup indeed.
But disaster struck.† In 2003 a major forest fire took out 14 of the 18 bridges in the Myra canyon plus damaged one of the tunnels.† The costs to completely rebuild these old wooden trestles would be enormous.† But the city of Kelowna was up to the task.† They held fund raisers of all sorts and gathered together another band of volunteers.† It took sesveral years but was finally done.† Today the 17 wooden and 1 steel bridge of Myra Canyon are again offering a great cycling and walking experience.
The route of the original Kettle Valley railway
We began this section by riding over the most impressive Bellvue Canyon bridge.† This is a gently curving steel bridge that passes over the Bellvue creek.† Itís the only trestle bridge required for this canyon and was, fortunately, spared from the fire.† Since itís a bit of a distance from the more spectacular Myra Canyon it doesnít see quite as much traffic.
Bellvue Canyon Trestle bridge on the Kettle Valley trail
Myra Canyon is where those 18 trestles are located.† To maintain its 2.3% grade and to not lose elevation while crossing the mountain crest the rail bed had to follow the contours of the mountainside winding its way into and out of each and every nook in the canyon.† Myra Canyon is very steep and in many places the rock substrate is very unstable.† Thus they needed an inordinate number of trestle bridges going from stable rock base to stable rock base.
The wood needed for these trestles is amazing.† Fortunately when rebuilding the bridges they decided to stick with the original wooden structures where they were.† They are great structures for an engineer to behold.† What a ton of wood.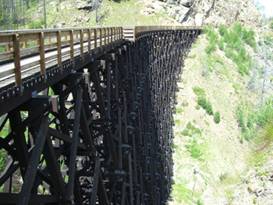 Looking at all the wood used in trestle number 4
Looking at all the wood in trestle number 4
One unusual trestle has a slight S shape.† The contours of the mountain did not allow the two ends of the rail bed to align properly.† So with some engineering magic they made the trestle snake around to meet both sides.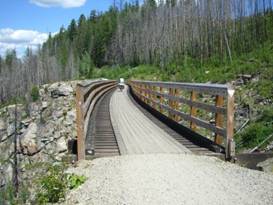 Riding across the unusual S shaped bridge
An unusual S shaped trestle
Toward the eastern end of this incredible 12 km section of trail there are 5 trestles strung out in a line, one right after the other.† In many respects itís almost as if the engineers had to hang the tracks off the edge of the cliff.† Fantastic.
The trail is enormously popular in summer.† Weíd heard that following the fire they received up to 50,000 visitors per year and are expecting that number to soar to over 100,000.† At Myra Canyon, the surface is great, the rail nearly flat, the views wonderful, the trestles worth every penny, and thereís even bike rental at the eastern end in summer.† No wonder itís so busy.
Some folks riding across one of the trestles
Once you pass through the parking lot the rest of the Kettle Valley trail reverts to itís quiet self.† The trail also reverts to its primitive state as well.† Fortunately by this time itís passing through a wetter climate which helps keep the trail bed more solid.† The two large ponds you have to wade or ride through are a bit rough though.
We continued on not seeing another biker at all to McCulloch Lake.† Thereís a recreation site here with paid camping.† Thereís also a Nordic Ski club center.† They keep the doors open so that in summer even tired bikers can spend the night.† With a whole room of picnic tables all to ourselves we made ourselves right at home.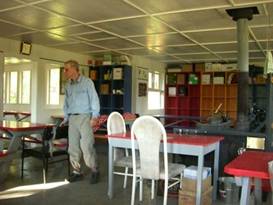 At home in the Nordic ski center
July 30 - Free potatoe salad
Now we would head downhill, slowly downhill.† Hopping back on the trail we found the track to be nicely hardpacked and not too rocky.† This side of the mountain itís pretty good.† We were cruising at a descent rate for a change.
Even though the trail here is up the side of the mountain, you donít get to see much.† Tall pine trees line the sides of the rail bed.† Only occasionally is there a break affording views across to the other tree clad hills.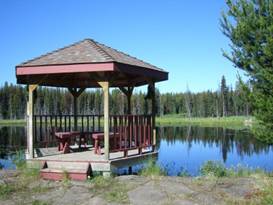 Pretty Summit Lake near the ski area
For mile after mile we rode easily at that 2% down grade hugging the terrain the entire way.
Just before the only supply stop for the day, Beaverdell, we passed the somewhat ghost town of Carmi.† The folks still living there, all 2 of them, have installed an information sign that talks a little about their former town.†
Carmi had the usual hotel, post office, store, church, school.† But essentially everything is gone.† The hotel burned just 4 years ago.† Yet it was once a lively village.
The couple living near the trail like to entertain bikers.† Theyíve got a small shed next to the trail that theyíve bedecked with stuffed animals.† Thereís probably over 100 of them in different shapes, different sizes, different cartoon characters.† They told us that there are bikers who come back year after year bringing a new toy to add to their collection.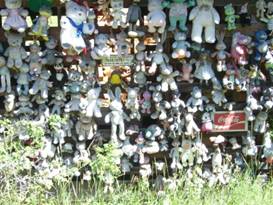 Teddy Bear Ranch
They call it the Teddy Bear Ranch and itís one of the more photographed scenes on the Kettle Valley trail.
Teddy bear ranch at Carmi BC along the Kettle Valley trail
Beaverdell has a small general store that has a reasonable selection of food at expensive prices.† But it was our only option.† So we bit the bullet and picked up a few additions to our evening meal.
We rode down the highway for a bit to avoid a section of trail that is also used by cars.† It is supposed to have a lot of washboarding which never is fun to ride.† When we got back on the trail we headed back up river just a bit to have a look at the awesome Rhone canyon.† People do tube down this river through that canyon which must be fabulous.
Not finding any suitable campsites along the road we headed into the Little Dipper Hideaway B&B and campground.† When the owner asked if we had a reservation we said no because we were on bikes.† That made for a whole different story.† She just could not turn away cyclists.†
The owners grabbed a spare table and moved it out onto a grassy area for us to use.† Then later that evening they came by with a salad of tomatoes and lettuce plus a big bowl of potato salad left over from their big bar-b-que dinner.† We were in heaven.
Well it turns out the woman is from Germany and she knows all about bike touring and the difficulties it involves.† So itís no wonder they treat cyclists so great.† Weíd recommend this stop any day.
July 31 - Short cut
Sometimes on a bike a short cut turns out to be one tough ride.
We left the Little Dipper early determined to get back to Grand Forks that day.† In order to do this we had to take a more direct route between Midway and Grand Forks.† There are several dirt roads that do this cut-off that appear only on highly detailed maps.† You wonít find them on your run-of-the-mill highway map.
When we left the Little Dipper we were riding on a side road.† Along the way we passed a field with a few llamas.† Behind their pens is a cyclists rest stop complete with picnic tables and a caboose.† We wondered if we couldnít have camped there for the night.† Although the free food was worth the cost of the campground.
Before too long we passed through the tiny town, more like intersection, called Rock Creek.† This was Sunday in the middle of the unofficial holiday called BC Day.† Itís not really a holiday itís just that everybody takes the day off.† The campgrounds and fields around Rock Creek were filled with campers.† Everyone seemed intent on taking advantage of the warm summer day and the river tubing.
In the fairgrounds there was a big motorcycle rally going on.† Motorcycles were rumbling down the road, 2, 3, 5, 10, 50 at a time.† Imagine trying to camp in the fairgrounds that night.† youíd hear barooom, baroooom, vroooom all night long.† Motorcyclists who are having a party are notorious for staying up late.
We stopped at Midway for lunch.† Midway marks where the Kettle Valley railway ends and the Columbia and Western railway begins.† The new rail trail runs parallel to route 3 on the opposite side to the town.† The old rail station has been turned into a small museum.† we were wanting to get to Grand Forks this day, so we only stopped in the town park long enough to eat lunch.
Just a few km further along route 3 is the dot in the road called Boundary Falls.† Here there is a dirt road that climbs over the ridge that separates Grand Forks from Midway.† We turned right.
What a tough climb.† It started as pavement for a short while, turned to dirt, and gradually deteriorated to a very rough road.† Some spots were unbelievably steep, push the bikes uphill steep.† It turns out this little short cut was 7 miles of 2500 ft climbing.
The downhill was incredible.† Steep, narrow, rocky, hardpacked, dirt road.† We were holding fast to the brakes the entire way down.† Cramped wrists and aching arms were the result.† In just 4 miles we descended what took 7 miles to climb.
But in the end we made it to Grand Forks on a route that was around 14 miles shorter.
†
August 1 - Last of Kettle River
Back on the rail trail in the morning we started off by rambling along a double track trail overgrown with grasses.† It didnít matter.† The surface was solid and the riding fun.
As we approached Christina Lake we crossed the Kettle River once above a narrow gorge.† Thereís a lot of water squeezing through those rocks.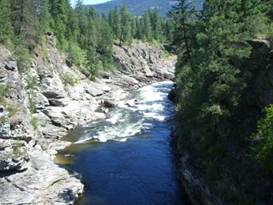 Gorge of the Kettle River near Christina Lake
Second to last bridge over the Kettle River gorge
We soon crossed the Kettle River one last time over a long steel trestle bridge.† These two bridges were rebuilt in 2003 as the new rail trails were being developed.† They have new wooden decking on top of the old ties plus railings to keep folks from riding off.
Last bridge over the Kettle River, most eastern trestle bridge on TCT
With the Kettle River behind we now began another long 2% grade climb up 1800 ft.† It takes a long distance to climb at that shallow rate.†
For several miles we had great views toward Christina lake far below.† This is a big vacation home lake.† Itís virtually lined with houses, everyone of which has a dock out back.† Motor boats, water skiers, and sail boats ply the waters on good summer days.
At about midlake the rail trail turns toward the east as it continues its climb.† Route 3 which was well below at the lake now climbs rapidly to overpass the trail.† Toward the end of the day we passed under the graceful Paulson Bridge on which route 3 travels.† Looking up at that bridge from below and realizing just how slender it appears can give you real pause should you need to drive over it.† Wonder what level earthquake itís designed for?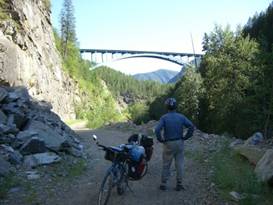 Checking out the Paulson Bridge for route 3
Looking at the underside of the Paulson bridge of route 3
In 2010 as part of the Olympics events BC did a lot of work on the Columbia & western Rail Trail.† At several locations they added new outhouses, biffies as they call them here, and picnic tables.† Although the folks who told us about that were wondering what a trail 100s of miles from Vancouver had to do with the Olympics.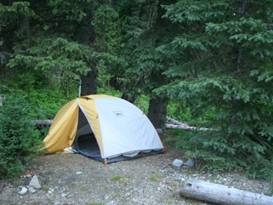 Our campsite on the Columbia and Western Rail Trail
What it did do was give us a perfect campsite location.† With our tent under a nice tree, next to a babbling creek, a toilet and table nearby, all costing 0 dollars.† What more could we ask for?
Aug 2 - Long skinny lake
We had just about 5 more 2% miles to climb to reach the summit at the former rail station called Farron.†
Just before Farron sitting down in the gully below the rail bed sits a concrete mound made to look like a sheath of wheat.† This is the memorial for a Doukhobor leader named Virigin.† He and several others were killed when the rail car they were in exploded right at this spot.† The crime was never solved.† However this happened back in 1924 and if you were to go back and look at Russian history at about this time there probably is some connection.
From Farron to Castlegar the route was typically a fast, occasionally bumpy ride back down a 2% grade all the way.† Here is where the trail really got interesting.
First the trail needed to cross over to a different valley so that it could follow what today is the shores of the Lower Arrow Lake.† This necessitated going through a mountain ridge.† This is done with a nearly 1 km long tunnel.† With the exception of the missing ties and rails this tunnel is probably the same as it was when the trains ran.† Itís wet, cold, dark, and the route has a lot of puddles and rocks.† Unless you have a really, really good headlight on your bike, itís best to walk.
After this we were now well above Lower Arrow Lake.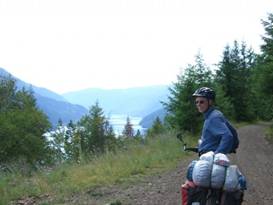 Overlooking the long skinny Lower Arrow Lake
Overlooking the very long and skinny Lower Arrow Lake from the C&W rail trail
As with a lot of the lakes in this region, Lower Arrow Lake was expanede substantially simply through the strategic placement of a single rather small dam.† This backs up the water for miles and miles upstream creating a long skinny lake or a really fat slow moving river depending on your perspective.†
The trail has great views of the lake for most of the distance to Castlegar.† But itís hard to remember that when the railroad was built, the lake was much, much smaller.
The rail bed passes through a couple more tunnels and goes over 4 high steel trestle bridges.† The long tunnel was modified in 1943 and appears much larger than those on the Kettle Valley Railway. In addition, there are no wooden trestle bridges.† Itís likely this particular railway was used for a longer period.
Riding across one of the large steel trestles on the C&W rail trail
Just before the end of the rail trail at Castlegar, thereís a short section where rather than remove the rails and ties, they just added dirt.† This makes it so you can still ride the trail.† But having the rails in place gives you a nice idea of what it originally looked like.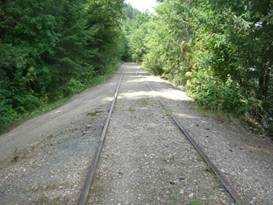 Columbia and Western Rail Trail with the rails in place
Beyond this point the Columbia and Western line is actually still active.† It services the local pulp and paper mill.† So for the last 8 km youíre riding on roads, not trail.
The Pass Creek recreation site and campground doesnít appear in any of the information we have.† Itís not in Lonely Planet, not on the Trans Canada Trail guide book, not on our maps, not in the GPS.† Only with a localís help were we able to find it.† What a great find.† For Canada it was a reasonably priced campground and close to town.† Plus there was hardly anybody in it.† Guess it must be a local secret.
APPENDIX A Ė ROUTE
July 27 - Route 395 to border, Route 97 to just south of Penticton, BC, 40.20 miles
July 28 - Route 97 to Penticton, Kettle Valley trail to just beyond Adra tunnel, 30.88 miles
July 29 - Kettle Valley trail to McCullock, 37.03 miles
July 30 - Kettle Valley trail to Beaverdell, Route 33 to Rhone canyon, Kettle Valley trail to CG, 51.22 miles
July 31 - Kettle Valley trail past Rock Creek, Route 3 to Boundary Falls, McCarren Creek Rd to Gibbs Creek Rd to Rt 3 to Grand Forks, 53.63 miles
Aug 1 - Columbia and Western rail trail to near Paulson Bridge, 35.57 miles
Aug 2 - Columbia and Western rail trail to Castlegar, 43.67 miles
APPENDIX B Ė CAMPSITES, HOTELS
Campsites in Canada prices stated in Canadian dollars at a rate about $1.06 USD per $1 CND
July 27 - Camp Along CG near Penticton, BC ($32.48/night + .5/shower)
July 28 - Along the Kettle Valley trail ($0)
July 29 - Nordic Ski Club building at McCullock ($0)
July 30 - Little Dipper Hideaway CG ($10/night)
July 31 - Grand Forks City Park ($17.92/night)
Aug 1 - Columbia and Western Rail Trail near Paulson Bridge ($0)
Aug 2 - Pass Creek Recreation site and CG in Castlegar ($17/night)
REFERENCES