NORTHWEST TOUR 2011 PART XIV -
Kootenay BC Canada
Castlegar, BC to Banff National Park, AB
August 3 to August 11, 2011
Start 66,028 miles (105,645 km) cumulative:
End 66,359 miles (106,174 km) cumulative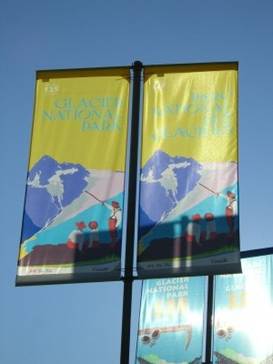 A banner for Glacier National Park, BC
TEASERS
Not all rail trails are great
Over hill and dale along the long lakes of BC
Tour the brand new Revelstoke train museum
Follow the old railroad up Rogers Pass
Visit ruins of a once luxurious lodge
Route 1 seems to be all under construction
How did a horse become more famous than the explorer?
Luck out at the spiral tunnels.
The catwalk in Johnston Canyon is a fun walk
August 3 - One last rail trail
To get to Revelstoke we had to ride along the main highway 3 for a short while.  It's a busy highway with lots of trucks but it has a very wide shoulder.  Also, since it's their main highway in this area grades are kept fairly mundane.  We easily reached South Slocan in just about an hour or so.
This long road headed north to Revelstoke enters the Kootenay mountains and brings us back to the rugged Rocky Mountain vistas.  This is an area where the scenery makes living here so pleasant.  One couple we'd met on the C&W rail trail told us they'd love to live in New Denver if only they could figure out how to make a living.
This is also where many of the 1960s hippies have gravitated.  You see them with the obvious clothing and hairstyle choices, which happens to look rather odd on a balding, gray haired, pot bellied 60 year old male. 
For this reason most of the small general stores tend to stock organic stuff usually at a stiff price.  The store in South Slocan was no exception.
The town of South Slocan
Between South Slocan and Slocan is another long rail trail conversion.  This was part of that Spirit of 2010 Olympics spending spree.  This trail is almost dead flat and is mostly a solid double track.  Although where they've added new crushed rock it tends to be soft.  It was so nice to cruise along on this flat trail while the paved road undulates up and down multiple hills.
We went only as far as Slocan.  From here on there is no rail trail and there's a good 1000 ft climb in the way.  Since it was the middle of the day on a very hot afternoon we decided to stop.  We'd tackle the hill in the cool of the morning.
Slocan appears to be a mill town.  It's basically a residential community built on a rectangular street grid about 3 blocks wide and 4 blocks long.  There's the organic boasting general store, one cafe, a 4 room motel, and a city campground.  The campground sits on Springer Creek and overlooks a pleasant waterfall.  That's perfect for us.
Aug 4 - Cool mining machines
In the cool of the morning we made that 1000 ft climb over the hill with a quick descent to the town of Silverton.  Silverton and its sister town, New Denver, were both born of the mining industry.  They've seen booms and busts as the mining came and went and then tourism took over.
Silverton has a few of its original buildings around including a nice general store.  This is the typical false fronted, 2 story building with a full covered porch out front.  Inside it has been updated to be a more modern general store.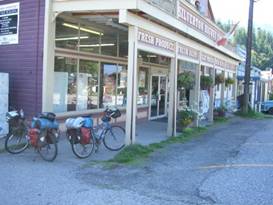 The old store at Silverton, BC
Silverton has a very nice museum that seems to have most of its displays out on the front lawn.  There are all sorts of old mining equipment now painted silver sitting in several lines along the sidewalks.  A lot of the pieces are old water and belt driven machines such as an old air compressor.  Most noticeable are the two recreated ore tramay towers.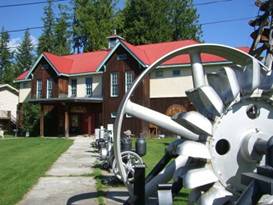 At the mining museum in Silverton, BC
Silverton, BC museum with lots of old machines outside
There was one really great belt driven ore stamp machine that is almost entirely intact.  There's an old ore car placed on top showing how the ore was dumped in to drop under the stampers for crushing.  It's a nice old machine.
Cool belt powered double stamp  machine
Just a few kilometers down the road is the town of New Denver.  When mining was at its height the residents had very optimistic predictions for their town.  They actually expected it to surpass its namesake town, Denver, Co.  How's that worked out?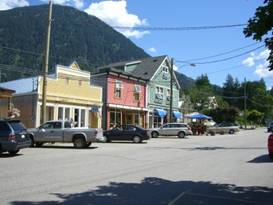 Downtown New Denver, BC
New Denver was built high enough on the bank that when the dam was built to raise the water of the Arrow Lakes it didn't have to be moved.  So many of its original buildings remain.  At one point it was very nearly a ghost town.  Now it's seeing a revival as tourists discover its charm.   This does mean it now has a brand new market which the town residents seem rather excited about.
Looking around downtown New Denver
Our map indicated that there was supposed to be another rail trail bike path leading from New Denver all the way to Nakusp  We stopped in at the visitor center to learn more about it.  The young fellow at the counter told us that it had a few spots with water and a couple of washouts, but otherwise it was in excellent condition.
Well that's not quite what we found.  The first problem was finding the trail.  We missed the start in New Denver and only managed to get on the route after one more hill climb.  Then the trail turns to single track.  At first it's fairly solid and easy going.  But soon it turns into an overgrown route with many mud holes and a couple difficult to cross washouts.  On an unloaded mountain bike it would be fun.  With a load it was not so good.
We bailed on the trail by climbing the first very, very steep ATV track we came across.
Back on the road we continued uphill against a headwind to the park at Summit Lake.  We were pooped.  Another tiring day came to an end.
Aug 5 - Endless hills
Summit Lake, as its name suggests, is at the road summit between Kootenay and Upper Arrow Lakes.  So our morning started out with a quick and chilly downhill into Nakusp.  Nakusp was moved when the waters rose and is pretty much a modern planned community.  All the old wooden mining type buildings are gone.  However, it is the largest town since Castlegar and has a very good grocery store.  This is the place to get supplies as you head north as there's nothing else until Revelstoke.
Hills were the order of the day as we headed north.  There are many rollers that have you  going up and down with an overall elevation gain of about 800 ft.  Then with a quick, steep downhill to Halfway Creek, you start the same type of rolling climb back up.  It's pretty tiring this up and down climbing.
Just at the ferry there is one last steep 10% grade drop to the water's edge. By this time we were once again beat.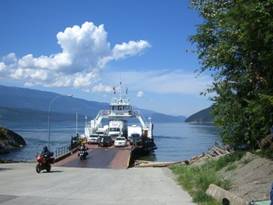 Last ferry of the summer, Galnea Bay to Shelter Bay
The ferry between Galena Bay and Shelter Bay runs once every 1/2 hour in summer.  Best of all it's free.  We suppose that if it weren't free the towns along this route would suffer a huge loss in tourist income.  Many folks might just decide to take another route.
On the ferry between Galena Bay and Shelter Bay
The boat slid smoothly out onto the still waters of the lake.  It was a pretty dark blue green color that seemed to almost blend in with the green color of the hills beyond.  In the distance we were once again seeing snow capped rocky peaks.
alm waters of Upper Arrow Lake
Just off the ferry we turned right into the Shelter Bay campground and called it a day.
Aug 6 - What lake views?
Early in the morning before the heat of the day really picked up we packed up as quietly as we could and hit the road. 
For some reason we seemed to remember these lake roads as having really spectacular views.  We also remembered them as being relatively flat.  Well, both recollections are out and out wrong.  Not only are there a good many hills to climb, at least 1000 ft each day, but the trees block all the views.  So much for our memories.  But, it was about 10 years ago.
We arrived in Revelstoke plenty early in the day.  Once the tent was set up, we had lunch, showered, and just relaxed.  Time for a day off.
Aug 7 - Railroads
Revelstoke is a town that was created for and by the railroad.  When the first Trans Canada rail was being developed across Rogers Pass land speculators were already platting lots down by the Columbia River.  The town was called Farewell at that time.  Later its name was changed to Revelstoke in honor of some Lord or something.
Today Revelstoke gets a lot of its income from the tourist industry.   It has Mount Revelstoke and Glacier National Parks right in its back pocket.  Plus Canada Route 1 is Canada's busiest coast to coast highway.  Trucks steadily go up and down this highway and Revelstoke makes a good stopping point.
From its humble beginnings of just a few shacks you can now find many restaurants, hotels, shops, and one grocery store.  There are no "big box" stores and the town seems to be quite proud of that fact.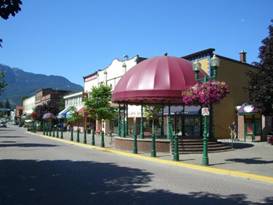 The plaza at Revelstoke
Downtown has about 2 blocks that are particularly quaint.  Right in front as you enter town there are 2 bear statues that usher you in.  On the right is a big male grizzly and on the left a mother and cub.
Looking at some of downtown Revelstoke and the famous bear statues
Behind the grizzlies is the best looking block in town.  They've divided the road in half, filling the other half with sidewalk.  Added to this is a band stand in which they have nightly performances in summer.  This they call their plaza and it's an attempt to create a European style square.  We'd have to say it falls rather short on that aspect.  But the outdoor cafes certainly are pleasant enough.
Looking at some of downtown More of downtown Revelstoke
What we wanted to see was the new railroad museum.  When we passed through here way back when there was a rather scruffy rail museum.  Today they've built a brand new building to house their showpieces plus they have a couple lines of rolling stock in back.  They've done a lot of work.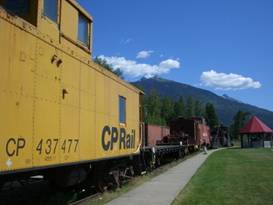 Rolling stock at the Revelstoke railroad museum
The trans Canada railroad has an interesting history.  Initially British Columbia was not part of the Canadian Confederation.  They agreed to join only on the condition that a rail connection to the Pacific be built.
To keep this promise they sought out a fellow named Van Horne.  Now initially the plan was to place this first set of tracks over the yellowhead pass.  This was an easier, lower pass to surmount on both sides.  However rampant land speculation drove prices through the roof.  In addition they still wanted a route that was more direct, shorter, and further south to fend off American competition.  This would require going through the Selkirk Mountains.
In 1881 there was no known pass through the Selkirks.  But this didn't stop Van Horne.  He proceeded with construction in that direction assuming that someone would find one.  This was left up to an American named Major A. B. Rogers.  He agreed to scout out the Selkirks for a pass for a bonus of $5,000 and the honor of having his name on the pass.  In 1881 he climbed up from the west and spotted what he thought would be a pass.  In 1882 he climbed up from the east and confirmed his sighting, now named Rogers Pass.  Interestingly, he never did cash that $5K check.
Models of 2 of the original wood trestle bridges on the Trans Canada railway, Revelstoke railway museum
The railroad through Rogers Pass was extremely difficult to build.  It required going over some major river canyons to the east.  Two huge trestle bridges were built one of which was the tallest wooden bridge in the world at that time.  The slope going down from Kicking Horse Pass had to be built at 4.3% grade, far too high for a railroad.  Later 2 tunnels having over 230 degree circles were built.
But the toughest part of all was dealing with avalanches.  Rogers pass gets a huge amount of snowfall.  At that time there was no technology for mitigating the size and effects of avalanches.  The project's foreman kept warning that avalanches would be a constant problem.  So they built a very expensive string of snowsheds for most of the route over the pass.  Not only that, they placed a second line of track outside the sheds to allow passengers to see the views in summer.  Costly to build.  Costly to maintain.
Photo of men building one of the snowsheds on the Trans Canada railway, Revelstoke railway museum
On March 4 1910 a team of 60 men were out at one of the sheds trying to clear avalanche debris.  While they were there a second avalanche swept through killing all but 2.  One fellow was saved only because he'd hiked back to a station house to report on progress.  It was a huge disaster and the beginning of the end for all those snowsheds.  By 1916 a new 8 km tunnel burrowing under the pass was completed.  This is the configuration the trains of today still follow.
Inside the brand new rather barn looking museum building there are the museum's 2 pieces of pride and joy.  The first is a passenger car that's been everything from a first class salon, a troop carrier, and finally a business coach.  It was retired from service in 1992 and is still in its Business Coach configuration.  It has a lounge, dining room, kitchen, and 4 sleeping compartments.
Inside Business Car number 4 at the Revelstoke Railway museum
The museum's other pride and joy is the huge engine number 5468.  This was an oil burning steam engine.  It was used to help get the trains over the steep Rogers Pass.  Sometime in the 1960s it was sent east where it may have seen additional service.  But there are no records so no one really knows when it made its last run.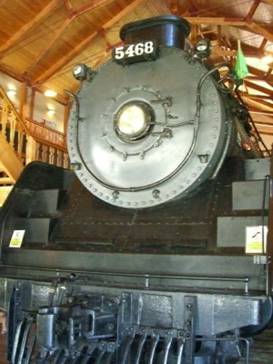 The large engine number 5468 at the Revelstoke museum
The large engine number 5468 inside the Revelstoke railway museum
You can climb up to see the engineer's compartment and marvel at all the dials, valves, and gages.  But on this day the fellow who was playing watchman was about as talketive as a statue.  Ask him a question and you'd get little more than a one word response.  You'd think they'd put someone there who wanted to show off the display.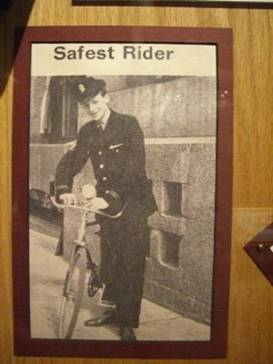 A CPR bike messenger at the Revelstoke museum
Inside a caboose at the Revelstoke railway museum
Outside in the back lot was a line up of a caboose, a couple track service cars, a snow plow, a car with a crane, and a box car or two. 
All in all the museum was reasonably informative and the displays inside well done.  But it's hardly the largest or best train museum we've ever seen.  The price seemed rather steep for what you get.
Aug 8 - Steady uphill
So much for rest, time to get moving again.  6:30 AM saw us up and packing in the brief chill of the morning.
The road up the west side of Rogers Pass has a long, long steady climb with just a short 5 km steep section right at the end.  We seem to recall the ride up from the east was much, much steeper.  With having had a day of rest the 42 km ride up to the Illecilliweat campground didn't seem all that difficult.
Along the way you pass through 2 Natinal Parks, Revelstoke and Glacier.  Plus there are several short hiking trails you can try.
We stopped at one called the Giant Cedars boardwalk.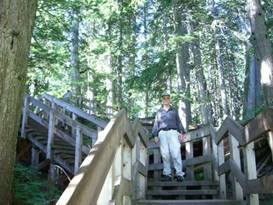 On the Giant Cedars boardwalk in Revelstoke National Park
As moist air rides in from the west and hits these mountains a huge amount of moisture is squeezed out.  The unique nature of the geography here results in far more moisture than even other western mountain slopes.  Hence there is in Revelstoke a small area of inland temperate rain forest.  It is the only place in the world where a temperate rain forest exists this far inland.
Stroll through an inland cedar and hemlock rain forest
Walking along the trail's boardwalk feels a lot like walking through the California or Oregon rain forests.  The trees are enormous.  The ground is covered with ferns and those giant man stabbing Devil's Club.  It really is a unique environment for this locality.
Just before it's assault on the west side of Rogers Pass the railway used to make a long 1/2 mile loop.  Early in the railroading days the train did not carry a dining car over the passes.  It was too heavy.  So instead they left a dining car on a side track at this loop.  The train would stop so passengers could have a bite to eat.  They also had a small cabin with a few beds available.
The cabin was always overbooked as mountaineers had discovered the allure of the place.  Before too long the rail company built a luxury lodge.  Eventually it included such amenities as a billiard room, dark room, bowling alley, gardens, fountains, elegant dining, and Swiss mountain guides.   The Glacier House was world renowned.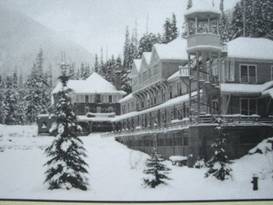 Photo of the old Glacier House Lodge at its largest
Model of the Glacier House lodge at it's largest size
After the train was tunneled the visitation at the lodge dwindled.  Despite providing a new stop outside the tunnel and transportation to the lodge it just wasn't filling.  It's main attraction, the Great Glacier, was shrinking out of sight and other lodges at Banff and Lake Louise were growing in popularity.
In 1925 the Glacier House had its final season and in 1929 it was torn down. 
Today if you take a short hike out of the Illecilleweat campground you can explore the remains of this once luxury chalet.  You can see the foundation stones, a couple of old boilers, and a rusty old bathtub.  Only through photos can your imagination recreate this once opulent oasis in the wilderness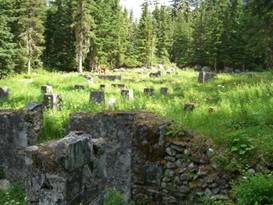 Ruins of the old Glacier House lodge
Here are the remains of the Glacier House hotel
Aug 9 - Snow sheds, old and new
Just a few more km climbing and we were at Rogers Pass.  Having now ridden this pass east to west and west to east we have to say it's a lot easier west to east.
Arch monument at Rogers Pass
At the top of the pass is a large double arch monument put in place in 1962.  It commemorates the final completion of the trans Canada Route 1.  A more recent addition at the rest area is a monument to the 58 men killed in that March 4, 1910 avalanche.  Many of those men were Japanese so their names are listed in Japanese script as well.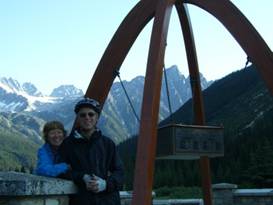 At the arch monument at Rogers Pass
Just a bit further on is the newly remodeled visitor center.  It was still undergoing additions as we visited.
The building itself was designed to simulate one of the old wooden snow sheds.  Although there were several different designs depending on the terrain.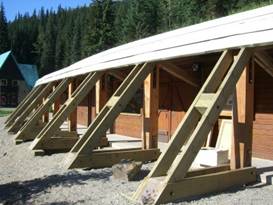 Rogest Pass visitor center with its snowshed design
The visitor center at Rogers Pass in a snowshed design
Inside is a huge diorama showing the railroad's approach to both sides of the pass.  It's particularly interesting to see all those snow sheds.  Originally there were to be 31.  They eventually wound up with 53 covering a total of 9.4 km.
A look at how all the snow sheds once looked
Rogers Pass was a train service spot.  So there used to be a small village there for the railroad employees. That meant there were several houses and even a station which can be seen in the old photos at the center.  After the train went underground the need to a village at the pass disappeared.  It wouldn't be until the road went through in 1962 that new buildings would again sit right at this avalanche prone pass.
Photo of Rogers Pass Village
Other things to see was a diorama of the 1910 avalanche rescue, a diorama of the modern highway snowshed design and a few stuffed animals.  Other displays weren't quite done so we're not sure what they'll eventually be.
The east side of Rogers Pass is where most of the modern road snow sheds are found.  The concept is the same but now they're concrete.  The last is particularly long.  We recall when we climbed this side the snowsheds weren't fun at all.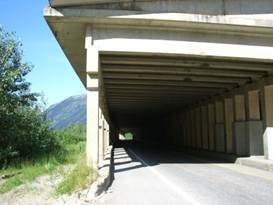 A modern highway snowshed east of Rogers Pass
A modern highway snowshed
There was one more climb up Donald hill as the locals call it and then a roaring ride down to the Columbia River.  They were in the process of building a new bridge, but the flagman waved us right through.
It seems that route 1 is gradually being turned into a 4 lane divided highway.  We wouldn't be at all surprised if someday it gets tunneled under Rogers Pass joining the train.  After all, the long term costs of avalanche management must be horrendous.
Route 1 then follows along the Columbia River valley with minor ups and downs to Golden.  Then it starts another major climb up Kicking Horse Pass.  We stopped in Golden to rest and prepare for that climb.
Aug 10 - Another steep climb
Highway 1 through BC is gradually being developed into a 4 lane divided highway.  It's the busiest of all Canada's trans continental routes as well as the fastest.  So no wonder they want to improve it.

But that means in summer you're likely to encounter construction somewhere along its length.  This summer the steep hill just east of Golden was getting its face lift.  We had to deal with construction for most of the climb to the bench above the Columbia River.  It wasn't too bad as a lot of the new asphalt was down and we could weave between the pylons to find traffic free places to ride.  It was probably much worse earlier in the summer.
Beyond the construction there was a short distance where the original 2 and 3 lane highway remained and then more of the brand new 4 lane section.  It has a wide shoulder perfect for biking.  However, the noise of the trucks and cars doesn't make for the most peaceful ride.  We're looking forward to getting back on dirt roads.
After the first couple steep climbs the road levels out in valleys along the Kicking Horse River.  This river was named by Dr. James Hector when he was exploring through this area in the late 1850s.  He found the terrain to be absolutely horrendous and would never have recommended it as a place to build a railroad.  That didn't stop A.B. Rogers, though.
While Dr. James Hector was passing down the river his horse also didn't exactly like the terrain.  It got fussy and kicked him.  So now it seems the horse that did the kicking is more famous than the man who got kicked.
The little town of Field was only about 37 miles uphill.  Field has been in its day a major train depot and a mining town.  Before the twin spiral tunnels were built the rail bed had a 4.3% grade.  Helper engines were added at field for the last push up to the pass. 
Runaway trains and crashes were frequent.  Thus CPR decided to build the spiral tunnels.  Once constructed the need for the helper engines at Field disappeared.
Looking around the town of Field in Yoho National Park
There also was some mining for lead in the area.  Above the highway you can see the remains of tunnels and tailings in the cliffs.  Both mining and the lack of a railroading base meant Field's decline.  Even the luxury lodge eventually lost clients and was removed.
Field today has just several houses, a couple cafes, gas station, and inns.  It also has the Yoho National Park visitor center.  Here you can learn about all the fossils found in the local Burgess shale.
Per the usual story, the mountains around Field were once the bottom of a shallow sea that teamed with life.  That would be some 530 million years ago.  At the edge of the sea the sandy slope would periodically collapse burying all sorts of creatures.  The soft silt would build up and eventually fossilize the buried creatures.  As a result the local Burgess shale has a wealth of preserved soft tissue creatures. 
In the visitor center they have artist renditions of what some of these bizarre creatures looked like.  The computer animated sea scenes are really great.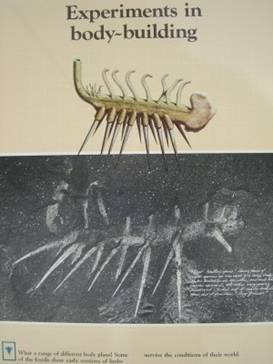 Picture of an odd creature found in the Burgess shale
Beyond Field just a few km are the park's campgrounds.  We decided to call it a day earlier than normal because afternoon showers were expected.  We'd tackle the last major climb in the morning.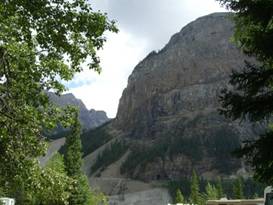 View from our campsite in Yoho National Park
Aug 11 - Spiral tunnels
Just as we were struggling upward toward Kicking Horse Pass we spotted a train headed toward the spiral tunnels.  Trains pass through here fairly often but if you're just passing by on the highway you're real lucky if you don't have to wait a long time to see one.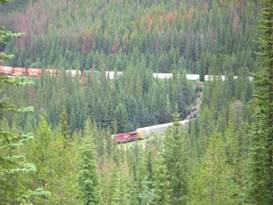 Train crossing itself at the spiral tunnel on Kicking Horse Pass
A train crosses itself at the Kicking Horse pass spiral tunnel
We made it with plenty of time to see the front end of the train enter and exit, making a loop that goes over itself.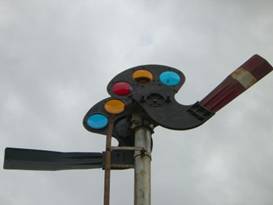 An old semafour light from the trans Canada railroad
The viewpoint sits at a location between the two loops of the spiral tunnels.  You can see only one.  The train passes through a bridge going under just about where the viewpoint is located.  So if you're lucky and there happens to be a really long train you may actually be seeing the same train in 3 locations, below the viewpoint, entering the tunnel, and leaving the tunnel.
We see the same train going by in three locations
The trains don't go very fast here so it seems to take a long long time for the them to complete the entire circuit.
The same train is still going through the tunnel
When the original railroad was put in back in 1882 the grade descending from Kicking Horse Pass was an astounding 4.5%.  They post signs that say at a 5% grade a train with just 5 cars the front would be a full 5 meters lower than the back.
This is a model of what the spiral tunnels look like
The bed was so steep trains needed 5 helper engines to just get 15 cars up to the pass.  The very first train coming down was a runaway, derailed, fell into the river, and killed a couple people.  They added a few runaway train ramps to help which basically were ways to allow a wreck to happen without delaying traffic.
This steep grade remained for a full 25 years.  Finally they decided to build a set of spiral tunnels.  The Swiss had successfully used this approach and a Swiss company got involved with helping this design.
Basically two tunnels each over 230 degrees in circle were drilled into the mountain face.  The railbed and bridges allow the train to complete the 360 degrees and cross over itself.  This doubled the distance and brought the slope down to 2.3%.
Up another 600 ft brought us to the top of Kicking Horse Pass.  We had planned to take the side route that goes directly to the Lake Louise Lodge, but we missed the turn off.  So we continued to the pass and the downhill.  There's not so much of a drop on this eastern side as Lake Louise town is much higher than Golden.
This time we spent no more than about an hour or so at Lake Louise.  We'd spent enough time here earlier in the year.
This time rather than go up to the Bow Valley Parkway we stayed on route 1.  We found that because the highway if much wider than the parkway the views of the mountains are much better.  So your choice seems to be a quiet ride with fewer views or a noisy ride with spectacular views.
At the Castle Mountain chalet we stopped for a drink.  The last time we were here it was pouring rain and almost freezing cold.  Snow levels were very low.  This time, it was once again raining in the mountains.  But at least there was little snow and it was shirt weather.  How much longer can we expect this to last.
Here is Castle Mountain chalet that we passed in June.  It's better weather now.
Just another 6 km toward Banff is the incredible Johnston Canyon catwalk.  The canyon was supposedly named after some prospector who explored around a bit and then moved on leaving his name attached to the canyon.  A couple later on bought a tea house nearby.  Folks would come to hike up to the lower falls and stop for refreshments.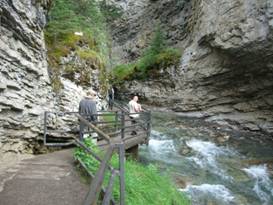 On the Johnston Canyon catwalk in Banff National Park
Later on they started exploring further up the canyon.  To their surprise they found a series of 6 falls, the one furthers upriver being the biggest.  Using wood they built a walkway onto the wall of the canyon to give visitors access.
Start walking along the Johnston Canyon catwalk
Over the years the wooden walkway has been replaced with steel and concrete.  Steel beams are fixed into the sides of the canyon so that the walkway literally hangs our over the water in many places.  It's quite a walk.
One of the more dramatic sections of the Johnston Canyon catwalk
The lower falls is a great gush of water that squeezes through a narrow crack in the canyon.  You can climb over the side of this falls to continue on to the next several falls if you choose.  Most folks stop here, including us this particular time.  We've been to the upper falls a couple times before.
Overlooking the lower falls of the Johnston Canyon
Instead we squeezed through the small tunnel to have a more up close and personal visit with the falls.  You can feel the mist on your face when you stand this close.
Coming through the tunnel to see the Johnston Canyon lower falls up close
We decided to camp at the Johnston Canyon campground, the first time we've done that.  They have a great hiker/biker policy we haven't seen at any other of the national park campsites.  They'll put you in an open field near the kitchen, food lockers, and showers and just charge you a daily fee.  Nice!!!
APPENDIX A – ROUTE
Aug 3 - Route 3 to South Slocan, Rail trail to Slocan, 44.25 miles
Aug 4 - Route 23 to Summit Lake, 40.91 miles
Aug 5 - Route 23 to Galena Bay Ferry, Ferry to Shelter Bay, 40.61 miles
Aug 6 - Route 23 to Revelstoke, 30.28 miles
Aug 8 - Route 1 to Glacier National Park, 42.75 miles
Aug 9 - Route 1 to Golden, 55.31 miles
Aug 10 - Route 1 to Yoho National Park, 40.99 miles
Aug 11 - Route 1 to Lake Louise then to Castle Mountain Junction, Bow Valley parkway to Johnston Canyon, 36.03 miles
APPENDIX B – CAMPSITES, HOTELS
Campsites in Canada prices stated in Canadian dollars at a rate about $1.06 USD per $1 CND
Aug 3 - Slocan City Campground ($17.00/night + $1/shower)
Aug 4 - Summit Lake Campground ($21/night)
Aug 5 - Shelter Bay Campground ($16/night)
Aug 6, 7 - Lamplighter Campground in Revelstoke ($23.80 night + $1/shower)
Aug 8 - Illecillewaet Campground in Glacier National Park ($21.50/night)
Aug 9 - Golden community park ($26.88/night + $1/shower)
Aug 10 - Monarch Campground in Yoho NP ($17.60/night)
Aug 11 - Johnston Canyon Campground in Banff NP ($8.80/night)
REFERENCES