NORTHWEST TOUR 2011 PART XIX -
Colorado
Dillon, CO to Montrose, CO
September 17 to September 25, 2011
Start 67,650 miles (108,240 km) cumulative:
End 67,927 miles (108,683 km) cumulative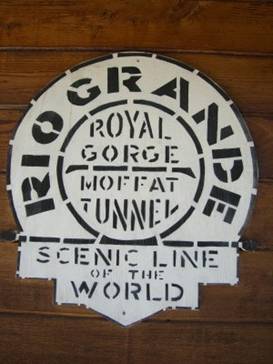 Logo for the Denver Rio Grande railroad at Cimmaron
TEASERS
Stop to admire old dredge piles in Breckenridge
Take a narrow gage rail bed to Boreas Pass
The roundhouse in Como looks the same as always
Would you buy a ranchette in the middle of the Colorado desert
Salida is definitely up and coming
Meet some dogs who aren't good at all
One more wild camping night among colorful aspens
Tables at the town of Parlin are great for a picnic
Waters of the Blue Mesa Reservoir really are very blue
Gunnison is a good bike friendly town
The railroad brought big ranching to Cimmaron
Corn fields in Montrose are a surprising find
September 17, 18 - Rain and sick
The three days of rain continued.  We got as far as Frisco and it started pouring.  So we hung out in the Safeway waiting to see if the weather would clear.  It didn't.
To top it off Caryl contracted some sort of stomach bug.  For 2 days she couldn't hold anything down.  So we stayed in Frisco 2 days longer than expected.  Ah well, it's better it happened where there were lots of places to hang out.  Imagine if we'd been stuck in the middle of nowhere.
We spent one night in a hotel and a second camping.  The campsite on Lake Dillon was beautiful.
Our campsite on Dillon Lake in Frisco
Sept 19 - Railroads and dredges
Breckenridge was a gold town.  Gold was discovered in the rocks of the Blue River in the early 1800s.  They started with panning and sluicing.  Then came the water cannon.  Finally the dredges.
The first dredges were built around 1881.  They proved to be too small and were quickly replaced.  Eventually there were a total of nine dredges working the stream bed.  They were dredging for 44 years getting every possible last ounce of gold out.
What is always left behind from a dredging operation are piles and piles of rocks, usually those round river smoothed kind.  Over the eons nature will eventually wear down the mounds, cover them with top soil, grow new vegetation, and return the stream to its former self.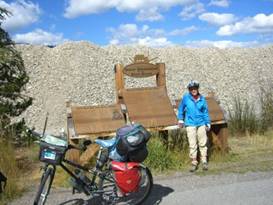 Standing in front of an old dredge in Breckenridge
However, Breckenridge is a wealthy ski resort and they decided that those dredge mounds just weren't pretty enough.  So they've been selling off those rounded rocks, they make good landscaping material.  Then they've been manually recreating the stream bed.  It looks nice but definitely looks manmade.  One large pile of rocks remains next to the bike path giving you a very small impression of what the dredge fields once looked like.
The bike path is a nice way to get from Frisco to Breckenridge.  Hwy 9 is very busy any time of year.  So having a traffic free path is great.  It reminds us a lot of the bike paths of Europe.  There's even a convenient path to the City Market.
The TransAm route takes the paved Hwy 9 over Hoosier Pass.  It is steep near the top, has tons of traffic, and no shoulders.
The GDMBR takes the dirt road over Boreas Pass.  This is the old railroad route.  The trains went through Como, to Breckenridge, then south again to the silver mines in Leadville.  This was a narrow gage railroad since that was easier to build.  So for biking today this 2 to 4% grade dirt road is ideal.
A rotary and spade snow plow at Breckenridge
The railroad was originally built in 1881 as well.  But those difficult winters made it incredibly expensive to run.  Continually digging out those passes from tens of feet of snow all winter long took its toll.
The railroad changed hands many times but finally succumbed to the highways, trucks, and automobiles in 1937.  In 1938 the last train passed over Boreas Pass leaving a quiet wilderness behind. 
In the 1950s the rail bed was renovated as a Forest Service road.  Today this easy route up Boreas Pass remains a favorite for jeep drivers and bikers.
Having spent 2 days sick, Caryl was struggling even on this easy 4% grade.  With lots of rests we made it to Bakers Tank.  There were originally 4 water tanks between Como and Breckenridge.  In the 1950s they renovated the sole remaining.  It's an old wooden tank up on a platform with a metal spout that was swung down to fill the engine's water supply.  It must have had a water source from some nearby spring.  We wonder what they did in winter when the water would want to freeze.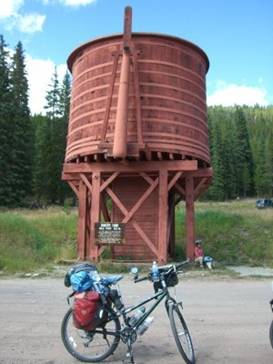 Bakers tank on the way to Boreas Pass
Several more rests and we made it to the pass.  Boreas pass is almost exactly at tree line.  You can see the bristlecone pine thin to nothing in the hills just above the pass.  It wouldn't be too difficult getting to trees in a thunderstorm.
There used to be a train depot at the pass.  In fact, there used to be 150 people living there all to support the trains.  There was a building with a turntable that burned down.  It was replaced with a wye junction.  There were houses scattered all over and even the highest post office in the US.  You can still see the stumps of the bristlecone pine that were cut down to build this little village all over the hills.
At the former train depot at Boreas Pass
All that remains today is one service building where a railroad service manager lived, one old log cabin, and scattered ruins.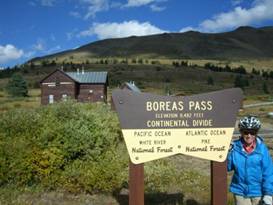 At Boreas Pass
The Forest Service has installed an old box car which must have some displays inside.  We've never been here when it was open.  The service cabin is open as a visitor center in summer and available for rent for skiers in winter.  We've never managed to be here when that was open either.
Just a few more miles down that easy 4% grade we came to the turnoff for the Selkirk Campground.  We hadn't stayed there in 10 years.  We were surprised to see it no longer has water or trash pick-up.  At least the price has gotten cheaper.  But usually when a forest service campground has no services other than the toilet it's free. 
Sept 20 - Oops
The first thing we did in the morning was turn the wrong way out of the campground.  We knew there was supposed to be a road leading down the valley somewhere, but we weren't sure where.  Turning back around we decided it'd be best to climb back up those 200 feet to the main road rather than risk a long backtrack.  This wasn't exactly what Caryl felt up to doing, but there wasn't much other choice.
At least then there was a good long downhill all the way to Como.
Como is a former rail road and mining town.  Many Italian immigrants came to work the coal mines nearby and they named the town after Lake Como in Italy.  Although it's hard to see much similarity other than the mountain scenery as Como is a pretty dry place, no lake in sight.
Trains would come through Como heading up to Boreas Pass to Leadville or even in another direction toward Gunnison.  At its height there could be up to 26 trains a day passing through.  The town boasted a population of over 3600 and even had a huge round house with 6 stone bays and another 9 wood bays.
A view of the old stone round house at Como, Co
In 1938 the last train passed through Como taking up the rails behind it.  The wood bays of the roundhouse either burned or were torn down.  The town shrank and today has only about 50 inhabitants.  The train depot is gone but the old grand hotel remains and is still hotel/restaurant/bar.
Looking around Como, CO
There is, or was, a small general store.  About 8 months ago it was taken over by new owners and was undergoing renovation when we passed by.  So since we weren't able to get water there we wandered over the the small but nice Mountain Man Art Gallery/post office.  Seems like every business has to have a couple different specialities to survive.
The lady has a very nice collection of art objects mostly of a western motif.  When we asked about getting water she told us her tap water was awful, but she did offer a couple bottles of ice cold water right from her fridge.  Now that was generous.
From Como we crossed the highway and proceeded along the Elkhorn road.  We passed by the only building in sight, the volunteer fire department.  Three years earlier when we were riding through we got stuck huddling to the edges of the building while a severe thunder and lightening storm raged through.  Eventually some folks showed up for a meeting and let us inside to wait out the storm.  That was not a good afternoon. 

This day it was pleasant weather all around.  No storm in sight.  So we didn't bother stopping.
We had several small ups and downs and then one somewhat major climb to a low watershed divide before a final descent to the highway leading to Hartsel. 
Generally the road is of a high quality hard packed clay.  But as our luck would have it, a grader was working its way through just as we were passing. A freshly graded road may be heaven for a car but it can be pure hell for a bicyclist.  The previously hard packed surface now had major pockets of loose sand that are dangerous for a loaded mountain bike.
Coming down one hill Caryl's front tire hit one of these deep sand pockets.  The bike went one way, Caryl went the other.  Down she went.  After sitting on the ground for a couple of seconds, assessing the damage, she got up and with a lot of difficulty got the bike back up.  She was still weak from not eating so this was not easy. 
Well, with a bruised hip and road rash on the elbow at least there was little other damage.  We count ourselves lucky if we can get by with only these small accidents.
Getting into Hartsel meant riding 4 miles into one stiff headwind.  And once in town there isn't a whole lot there.  It used to be a much bigger town, of course.  Now all that's there is a gas station, store, and restaurant.  The gas  station is the best place to buy supplies.  The general store really looks like one of those places just crying out for new, younger, more energetic owners.  The owner is a nice enough lady, it's just that she isn't doing much with the store these days.
Here's what you'll find in Hartsel, CO
You absolutely have to buy water in Hartsel as their well water is contaminated with sulfur from the nearby hot springs.
We continued on the GDMBR which provides the most direct route toward Salida.  The road goes past many weed covered old roads that lead off each side into the surrounding desert.  Back in the 70s there was an effort to create a division of ranchettes here.  The lots were marked off, the roads graded, and the for sale signs posted.  A few people bought in.  But for the most part it's a failed venture.  If you want a ranchette here you'd better really, really love isolation plus hot dry summers and frigid dry winters.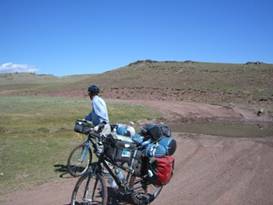 Crossing Badger Creek out in the Colorado desert
We used one of these defunct ranchette driveways to get off the road to a reasonably nice campsite.  Thank you very much ranchette developers.
Sept 21 - Happy fall
Summer is over and those very chilly nights certainly attest to that.  We were starting to see frost on the tent in the very early mornings rather regularly.  At least so far Indian Summer was still holding.
Out on the open range between Hartsel and Salida
The dirt road continues to make some very serious climbs as it heads toward the divide before Salida.  At one particularly steep section, as we came over a rise at a power line, a pick-up truck towing a horse trailer filled with cows and horses passed by.  The fellow stopped. He was your typical cowboy headed out to round up some cattle.
He leaned out the window and asked, "Altitude getting to you?"  He wasn't too far off.
Soon after that we finally headed back into the higher elevation trees.  This is where the road really, really got steep.  With Caryl still not entirely back up to strength, at least one spot was a pusher.  Finally we arrived at the top.
The ride down to Salida is one of the most amazing of the entire GDMBR.  It's a full 3000 ft drop extending over about 15 miles.  On the way down you have glorious views across the valley to the Collegiate Peaks on the other side.  These are all 14,000 ft peaks and almost always have at least some snow.
Overview of the Collegiate peaks on the road to Salida
As with even the longest downhill ride it seems over all too soon.  So we quickly found ourselves wending our way through the streets of Salida.
It seems like the first time we went through Salida it was more of a down and out town.  Today it appears much more spruced up.  As we passed through the neighborhoods there were several occasions where we spotted someone doing major or minor repairs.  There are now some really cute little houses throughout the old section of town as well as a very nice, grassy park.
Out on route 50 many new modern hotels have recently been added, including the just opened Hampton Inn and Suites.  With some internet work we discovered we could get a really good rate for the night.  So, since the campground never was all that exciting and didn't have a laundry, we splurged.  Oh it was so nice.
Sept 22 - final rail bed
At one point there were two competing railroads headed across the mountains, through the Gunnison canyon, and over toward Utah.  One went through a 1700 ft tunnel just north of where we were and the other went over Marshal Pass.  Today the rails have been removed and the rail bed widened into a dirt forest service road.  It was a narrow gage railroad again, which means  3 to 4% grade.  So even though we'd be climbing about 3600 ft total, it's not a particularly difficult climb.
Interestingly we heard that at one time the train going over Marshal Pass was robbed by the infamous Jesse James gang.  Imagine what he'd think of the fact that not only is there no longer a train, but it's now a road for cars, jeeps and ATVs, plus a few bikes along the way.
After entering the dirt Marshal Pass Rd we passed a few houses.  Out of one house comes running not one, not two, but three big, growling, barking dogs.  There were to black labs and one golden retriever.  Now normally these breeds are pretty sedate.  Not these three.
The owner yelled and yelled.  We got off the bikes and tried to walk.  But every time we moved they started right back up, completely ignoring their master.  She kept saying, "They're good dogs."  Well I disagree.  Good dogs obey.  These weren't good dogs at all.
Just up the road is a complicated intersection of multiple dirt roads, some leading to the same places.  This was the old Shirley town site. 
During the mining heydays there were a couple thousand people living here and the trail m n went through the center of town.  There was one of the world's longest ore tram lines leading into town.
Today all that is gone.  The only thing remaining is the rail bed and a few of the concrete tram tower bases.  There's a parking lot where folks with ATVs park to take 4X4 tours up the dirt roads.
At the old Shirley town site on the rail bed leading to Marshal Pass
There are 2 roads you can take to Marshal Pass.  The old rail bed with its 12 mile long 2 to 4% grade or a much shorter, steeper 7 mile road.  With a loaded bike the rail bed is the best option.  But a fun loop would be to go up the rail bed and down the steep road.
The day was perfect for the ride.  Temperatures were in the mid 70s, the sun was shining, and the aspen leaves were just starting to turn gold.  There were all sorts of folks out enjoying the day, even a large ATV tour group.  We'd hate to see what the weekend would be like.
At the top of the pass is one end of a renowned mountain bike trail.  You can begin at Monarch pass and ride along the crests to Marshal Pass losing about 500 ft elevation overall.  It's not too technical a ride, but you do need some mountain biking skills.  The only problem is this trail coincides with the CDT and we found the bikers seem to expect the hikers to get off the trail.  It may be a great biking trail, but in high summer it's a pain for hiking.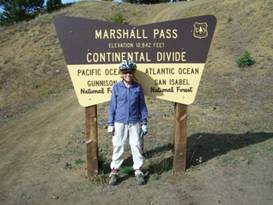 Last Continental Divode crossing
We normally camp right at the pass.  This time since it was supposed to be one cold night we rode an additional 10 miles downhill.  We found a pleasant site in an aspen grove for a quiet night's sleep.
Sept 23 - Wonderful Indian summer
Indian summer was proving to be absolutely delightful in southwestern Colorado.  The nights are a bit brisk.  All right, let's say high 20s is rather cold.  But daytime temperatures were running mid to high 70s.  Perfect biking weather.  Try riding this area in the summer and you'd be roasting.
The old rail bed took us to the town of Sargents where we said goodbye to the last dirt road for the season.  Sargents was also an old rail town.  You can even see the old wooden water tank still sitting prominently in the middle of town.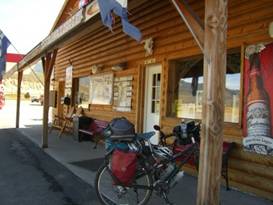 Country store at Sargents
Here the dirt road meets with highway 50 once again and you'll find the small store/cafe/RV park/cabins.  It's another of those multipurpose businesses.  They really like to cater to hunters or people wanting to ATV up in the mountains.  The store actually has enough selection for you to put together some meals if necessary.
In just another 13 miles we passed the Doyleville junction where we left the GDMBR route for the last time.   We'd now be on the Great Parks South route to Durango.  There's nothing at Doyleville even though it's marked as a town on the map.
In Parlin there's a small store where you're supposed to be able to buy snacks.  We only found cold drinks.  So maybe at this time of year they're starting to unload their stock.  The owner was originally from New Jersey and just bought the little town 4 years ago.  He's been renovating the cabins, put a lot of art goods for sale in the store, and generally is doing a lot to fix things up.  The picnic table next to the creek is a nice shady spot for lunch.
Finally on into Gunnison.  Gunnison is a good size town and has the Western Colorado college.  It's a big biking place so riding through you won't be harassed as you may be in other areas of Colorado. 
We headed to the KOA in town, one of the nicest KOAs we've seen all summer.
ere's the store at Sargents CO
Sept 24 - Hoodoos and blue, blue water
Since we didn't have too far to ride we decided to get up late, waiting for the temperatures to get up into the high 30s before braving the cold morning air. 
This region of Colorado can have some major temperature extremes.  In fact, Gunnison used to regularly list the coldest temperature in the country.  We were told that for tourism reasons they decided to change that.  They moved the weather station to the top of a two story building hence achieving about 10 degrees higher wintertime temperatures.  And you thought there was global warming.
We wandered into town to do some shopping, riding past the old town section and the one block long farmer's market along the way.  Then a leisurely lunch and we were once again headed westbound, into a headwind of course.
The road travels along the riverbank for several miles.  At this time of year the cottonwood trees were just about at their peak color change and the river valley is absolutely choked with these trees.  We entered a lovely canyon and thoroughly enjoyed the look of this fall colored river.
Soon the canyon expands and we were confronted with the blue, blue waters of the Blue Mesa Reservoir.  With the contrasting brown colors of the surrounding hillsides, the blue color is very striking.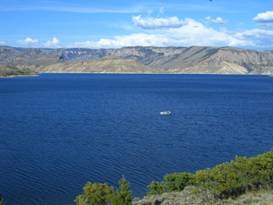 The very blue Blue Mesa Reservoir
The reservoir is Colorado's largest lake and is part of the Curicanti National Recreation area.  It's a big fishing and boating lake.  There are a few trails, for example a short hike that goes up to the Dillon Pinnicles hoodoos. 
lue Mesa Reservoir and the Dillon Pinnacles
The only thing is, services along the entire length of the lake are minimal.  There's a small store at the Blue Mesa RV resort and another at Sapinero.  The bright yellow Sapinero Village store had been closed for 7 years.  It's just reopened under new owners who are busy fixing it up.  They're even renovating the cafe which will likely be open for the 2012 summer season.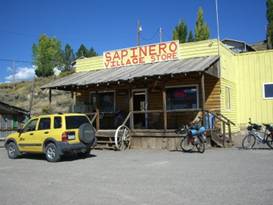 Yellow Sapinero store and soon-to-be cafe
The Sapinero Village Store
Only 2 miles from the store is the Lake Fork Campground.  This is a very open campground with no trees at all.  The sites are literally right next to each other.  In summer it must feel like a crowded parking lot.  Fortunately at this time it was nearly empty. 
You do get great views from the campground.  It's located at the western end of the reservoir right above the dam.  All around you see that bright blue water and those hoodoo sculpted cliffs.  It's not a bad place, in off season that is.
Blue Mesa Reservoir as seen from the Lake Fork Campground
Sept 25 - Trains and cows
We had 2 major climbs for the day.  The first took us almost back up to the level of the pines.  We just touched on the aspens.  Then we descended in a fast downhill to the little town of Cimarron.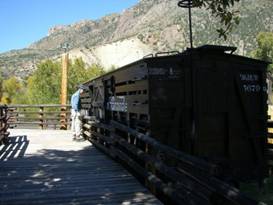 Checking out the wooden cattle cat at Cimmaron
At the train display in Cimarron
Today Cimarron has just a tiny store, a visitor center for the recreation area, and a couple houses.  But it used to be a major cattle shipping depot for the railroad.  The visitor center has a display that shows a representation of the old cattle pens plus a few original livestock box cars.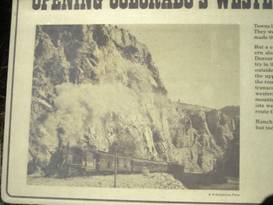 Denver Rio Grande train running through the Black Canyon of the Gunnison
Down the road a bit in the direction of the canyon is also the only remaining trestle bridge.  Normally there's an old steam engine sitting on the trestle.  But at this time it was undergoing a complete restoration and is somewhere else.  So we didn't bother with the side trip.
One more very steep 5 mile climb and we soon were on a nice 15 mile downhill run into Montrose.
Montrose sits in an open, flat valley that appears to be quite good for agriculture.  We were surprised to see cornfields.  To the east are the incomparable snow capped San Juan mountains.  Even this late in the year they still have an awful lot of snow.  They are definitely a hiker's paradise.
We checked into the nicely equipped KOA for the night.  With the elevation being only 5800 ft it was actually an incredibly warm evening.  This really did feel almost like summer.  It won't last forever, but at least we'll be able to get to Durango before those winter cold fronts move in.
APPENDIX A – ROUTE
Sept 19 - Bike path to Breckenridge, Boreas Pass Rd to Selkirk CG, 29.44 miles
Sept 20 - Boreas Pass Rd to Como, County route 15 to hwy 24 to hwy 9 to county route 53, 49.02 miles
Sept 21 - GDMBR to Salida, 36.74 miles
Sept 22 - Hwy 50 to Poncha Springs, Hwy 285 to Marshal Pass Rd.  Past Marshal Pass to campsite, 32.81 miles
Sept 23 - Marshall Pass rd to Sargents, Hwy 50 to Gunnison, 42.79 miles
Sept 24 - Hwy 50 to Sapinero, 31.98 miles
Sept 25 - Hwy 50 to Montrose, 39.11 miles
APPENDIX B – CAMPSITES, HOTELS
Sept 17 - Ramada Limited, Frisco ($93.47/night)
Sept 18 - USFS campground on Lake Dillon ($18/night)
Sept 19 - Selkirk Campground ($10/night)
Sept 20 - Wild camp ($0/night)
Sept 21 - Hampton Inn and Suites Salida ($34.42/night)
Sept 22 - Wild camp west of Marshal Pass ($0/night)
Sept 23 - Gunnison KOA  ($22.15/night)
Sept 24 - Lake Fork CG Curecanti Nat'l Rec Area ($12/night)
Sept 25 - Montrose KOA ($21.53/night)
REFERENCES