Maps
A good set of road maps is produced by the Automovil Club de Chile. There are a total of 5 maps covering the entire country. Scale is 1:500,000 and it seems virtually every paved and dirt road and track is covered. There are some errors in distances and it's not always entirely up-to-date as to what is paved and what isn't. One complaint we have is that they have no elevation information. You should be able to find these maps at any of their offices at:
City - address - phone
Arica - Chacabuco 460 - (58)252678
Iquique - Serrano 154 - (57) 413206
Chuquicamata - Normac S/N - (55)326443
Calama - Avda. Ecuador 1901 - (55) 310604
Antofagasta - Condell 2330 - (55) 225332
La Serena - Av. Fco. de Aquirre 447 - (51) 225851
Valparaiso - 1 Norte 901 - Vina del Mar - (32) 689505
Rancagua - Ibieta 09 - (72) 239930
Curico - Chacabuco 759 - (75) 311156
Talca - 1 Poniente 1267 - (71) 232774
Chillan - O'Higgins 677 - (42) 216410
Concepcion - Freire 1867 - (41) 312093
Los Angeles - Caupolican 201 - (43) 314209
Temuco - Sn. Martin 0278 - (45) 248901
Valdivia - Garcia Reyes 440 - (63) 250376
Osorno - Manuel Bulnes 463 - (64) 255555
Pto. Montt - Esmeralda 70 - (65) 252968
Coyhaique - Carrera 333 - (67) 215980
Punta Arenas - O'Higgins 931 - (61) 243097
Santiago - Vitacura 8620 - (2) 2125702
You may be able to get the maps sent abroad by sending them an email at acchinfo@aclub.cl. You can also buy the maps at the central office of the automobile club of Argentina located in Buenos Aires. You might also be able to get help from your own automobile club in getting a copy of the maps. Remember, there is a discount for members of auto clubs in other countries so take along your auto club membership form if you have one.
A good overall map is the ITM map of southern South America. It covers Argentina, Chile, parts of Peru, Bolivia, Uruguay, Paraguay, and Brazil. It doesn't have distances and the coloring used to represent all the hills and mountains can make it a bit difficult to read. But it usually shows all the main roads and towns and it is almost always available in a good book shop in the U.S. In a pinch it works as well.
There are other maps for sale at the gas stations and some book stores within country. So you don't necessariy need to bring maps from out-of-country.
Health Issues
Water taken from most Chilean town and city taps is potable. Although the taste of the water may not be particularly good. One exception we found was the Iquique airport. This water is not potable. Mountain spring water can also be purchased in stores and kiosks in 1.6, 2.0, and 5 liter bottles. A good 5 L bottle seems to run around $2. Water comes "con gas", carbonated, and "sin gas", noncarbonated. If you are taking water from a spring or creek, use the same precautions you'd use in the U.S. Soda is also readily available stores and kiosks. Varieties sold include Sprite, Fanta (orange flavor), Coca Cola, Pepsi, 7up, and many local varieties having such unusual flavors as pineapple. Diet versions of the U.S. brands can sometimes be had as well.
Sunscreen is readily available in the "farmacias" in the summertime. We've seen such brands as Hawiian Tropic, Vichey, and No-Ad as well as several locally produced brands.
Buses
As with most Latin American countries local buses go absolutely everywhere and are incredibly frequent, i.e. every few minutes. Bus sizes range from small vans to fairly large 40 passenger buses. The larger buses have holds below in which you could put a bike if you had the handle bars turned and pedals off. It seems that the cargo holds don't get used that much on local buses so there usually is plenty of room. Placards on the front of the bus will indicate where they start, where they end, where they stop, and how direct they are. The fastest buses will usually have a placard saying "autopista" and will be the most expensive option. For example, a direct autopista bus from Melipilla to Santiago can cost from $900 to $1000 pesos, about $1.50 U.S. each way for a distance of 65 km. With this transportation, camping outside of major cities, such as Santiago, and then taking the bus into town to visit is a very attractive alternative to actually riding into the city. You avoid the traffic and hotels or campgrounds in small towns are much cheaper.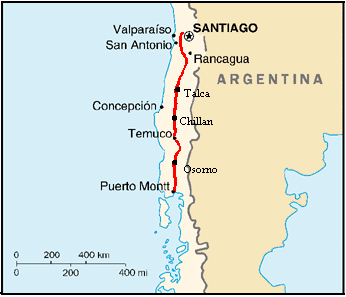 Leaving Santiago Airport
Santiago's International Airport is located some distance out of the city on the northwest side just outside the major ring road. There really isn't much in the way of development near it as yet. Upon arrival your first stop should be at the tourist information booth located right at the international baggage pickup. There you can get a simple tourist map that includes overall coverage of the region around the city as well as details of just the center area.
Santiago's airport is rather small, not overly busy, and not crowded by hawkers trying to drag you off to some hotel or city tour. There are a few hawkers that will great you just as you leave the baggage claim and inspection area. But just tell them that you plan to "andar mi bici hasta la costa", ride your bike to the coast, and they'll leave you alone. There are plenty of quiet corners where you can assemble your bike and gear. Santiagans are not inclined to gather around as you do this either. Although you may get a few people watching you from one of the balconies. There are several, we saw 3, Redbanc ATM machines located in the airport so you can easily get cash to start your trip. It's highly unlikely all 3 machines would be down at the same time.
Once your bike is ready to roll you just head out the terminal access road. Within just about 1 km you pass by a Shell station. Then within another km you hit the entrance to the ring road. The entrance to the ring road is a toll booth. Just ride on through, the attendants will ignore you. The road getting from the airport to the ring road is a very uncrowded, 4 lane wide road with plenty of shoulder. Now you must decided whether to go left, north and then east, or right, south, on the ring road. We went right.
The ring road is a divided, 4 lane highway with tons of traffic including lots of semi tractor-trailors. Unfortunately the shoulder isn't all that great. In some places there is a 3 foot, concrete strip that gives you some separation from traffic. In other places it's just dirt covered with some loose rocks. However, we did find that riding on the pavement wasn't so bad. The Chilean drivers are significantly more bike friendly than the Argentine drivers. Nevertheless, it is quite a relief to get off of the ring road.
We rode around as far as Route 78, the east/west highway that goes to San Antonio on the coast. The major highways don't appear to have signs indicating their route numbers, so you have to ask. Route 78 was about 9 km after we got on the ring road from the airport, just after passing a Showcase Cinema and McDonalds on the left. It has a sign indicating that this is the route to Malloca. Further down the on-ramp is a tall, green sign indicating that it is the highway to Malloca, San Antonio, Talagante, Melipilla, and several other towns. This is highway 78. You can take it into the city or head toward the beach.
If you head into the city, Rt. 78 will take you quite a way into the center with at least a narrow concrete shoulder. We didn't ride into the city so I can't say exactly what happens to the highway once you're in the center. If you choose to ride toward the beach you'll find a nice, wide 4 lane divided highway with a huge shoulder. There are signs indicating that pedestrians, bikes, and horse drawn carriages are not permitted. We ignored the signs and neither the police nor the attendants in the toll booths paid us any head. You may consider taking one of the smaller, side roads. But they seem to have just as much traffic and are narrow with horrific shoulders. Rt. 78 is a good option for getting away from the city.
Route 78 East to San Antonio
Route 78 heads west out of Santiago toward Vina del Mar and the beaches. We headed out this way in order to get around the city. The cutoff between Rt 78 and the north/south PanAmericana was a nice, quiet road well worth the ride. If you wish to avoid Santiago, this is a good way to go.

Route 78 stays along the Rio Maipo and, therefore, it is pretty flat. It seems to continue as a major highway all the way to San Antonio. However, we got off at the town of Melipilla and cannot be entirely certain of what happens after that. Towns that have supplies are.

Talagante - Groceries, gas stations, restaurants. There is supposed to be one Residencial, but we didn't find it.
El Monte - 4 km off the highway, has groceries.
Melipilla - 3 km off the highway. Groceries, gas statons, restaurants. There are at least 2 hotels in town, one on the main route near the Shell gas station, and the other 1 block off the main square. The one near the square is quite nice.
Isla de Maipu - 10 km or so off highway. Supposed to be a camping. A sign at the Talagante exit points toward it.

People may tell you there is camping at both Talagante and El Monte. There isn't.
Route 5 - Melipilla to Pan Am Highway
This is a 2 lane, paved, rural road. It has a fair amount of traffic. However, for the most part the pavement is in good condition and it has a 4 ft wide paved shoulder. In some spots the pavement is rough or washed out. But, these are small sections. The terrain is mostly low rolling hills as you pass from one river valley to another. You will reach Lago Rapel about 62 km after leaving Melipilla. There are many campgrounds around the lake, some right on the highway and others down soft, rough dirt roads. Off season rates can be $1000 to $2000 pesos per person. Camping Bosque Hermoso is particularly nice as it has huge shadey pine and eucalyptus trees, however the toilets leave a lot to be desired. Municipal water in this region is quite tastey compared to Melipilla.

All along this route between Melipilla and Lago Rapel you will pass small stands where they sell cold sodas, empanadas, pan, and a few other other goodies. The town of El Manazano at Lago Rapel has a couple of good sized markets where you can get more variety as well as several snack stands. Look for places selling tebo, which seems to be some dish made from a local fish. This is a fruit growing region and in spring there will be a lot of stands where they sell strawberries.

Once leaving lago Rapel, the hills flatten all the way to the Pan American highway. Kiosks are not quite as frequent. However, there are large grocery stores at the town of Peume and San Vincente. If you wish to stay off the Pan American for as long as possible, turn right at the first entrance to San Vincente. Go straight past the grocery on your right and gas station on your left. This will continue as a quiet country road that comes out on the highway further south than the main Route 5.
Pan American Highway Southward - San Fernando to Talca
The highway is a 4 lane, limited access highway with huge shoulders. Traffic is heavy with a fair amount of truck traffic. The terrain is flat until Curico. From Curico to Talca you start getting a few rolling hills. Winds appear to typically be from the south at least in December. Temperatures can get quite hot in summer.

There are hotels and supermarkets in Curico and Talca. The Copac gas station just before Curico on the east side of the highway has great grassy spots in the back where you can camp. Showers cost $450 pesos at this gas station. There are some very nice cabanas along the hghway just before Talca and an actual campground with restaurant at Camarico. Wild camping along the highway would be difficult. You'd need to try heading off on one of the side dirt roads.

Food services, stores, snack bars, or restaurants, between Curico and Talca are few along the highway. You'd need to head into the towns to find something. Make sure to carry extra water as it may be a distance between water sources. The tourist information kiosk at Camarico has a lot of good maps and brochures for both region 7 and 8. They have a notebook that lists both hotel and camground locations and prices.
Pan American Highway Southward - Talca to Chillan
The road flattens from Talca to Chillan, but continues to be a 4 lane divided highway. Restaurants seem to be far more numerous for this stretch of the road than further north. However, kiosks are few. Try the small towns off the highway if you're looking for some groceries.

Wild camping opportunities are not easily found. This is a heavily farmed region and virtually all land beside the highway is fenced and farmed. Additionally, the service stations in this stretch are not overly attractive for camping. Most of the potential wild camping sites seem to be in the gravel bars along the major rivers, not along the little dinky streams. Hotels and recidenciales are also far and few between. There is a very nice recidencial on the right hand side as you head south about 4 km past the town of San Carlos. A taxi driver told us they charge $7000 per night for 2. Unfortunately there are no restaurants nearby.

One little secret we discovered are the Ruta 5 rest areas. Look for a sign showing a hand being washed under a faucet. At these signs you'll find a large parking area surrounding a small block building. Usually there are also trees, some grass, benches, and even play equipment. These seem to be stations for the free ambulance and tow service provided by the highway. They are staffed 24 hours a day. Inside you'll find new, clean bathrooms and sometimes hot showers. If you ask they'll let you pitch a tent for the night and use the bathroom and shower all for free. Much to our surprise the cars and trucks don't seem to know these places exist. One of these spots is located 15 km before Chillan on the west side of the highway.

There are many hotels on the main road outside of Chillan both to the north and to the south. In addition, the 3 Copec gas stations to the south of Chillan appear to have reasonable camping spots. The one furthest south looked best. However, there's nothing on the loop that skirts the city. Supermarkets must be in the city center as we did not see any on the ring road.
Pan American Highway Southward - Chillan to Los Angeles
The road remains pretty much dead flat. Here you start going through a major logging area. Consequently the road is lined by planted forests. Many look like they'd provide great wild camping opportunities. However, you'd have to get across the barbed wire fence that lines nearly all the highway. It's certainly feasible, but not especially easy. There's another one of those highway rest areas located on the east side of the highway. Look for the tall red antenna and ambulance parked in front. This has spotless bathrooms complete with toilet paper. No showers, however. Ask if you wish to camp.

Services become scarce after Chillan. There is a hosteria just before the off ramp to Bulnes and a couple of small stores on the east side of the highway after the off ramp. There's probably more in town. There are a few small stores a bit further, about 10 km, and Pueblo Seco again on the east side of the highway. From Pueblo Seco you won't see any other services for about 20 KM. At the intersection that goes to Cabrero there is a Shell gas station and about 10 KM further south is a YPF station. Both have restaurants and the YPF looks like it may have descent camping. The YPF is on the east side of the highway.

Salto del Laja has hotels, restaurants, campgrounds, and a few small food stores south of the falls. Buses pass through the town about once every 10 minutes going to Los Angeles and about once every hour for Chillan. Los Angeles has supermarkets.

Just south of the southern highway exit for Saltos del Laja is another one of those rest areas, KM 495 on the highway. The 4 lane divided highway is being extended to provide a loop around Los Angeles. It should be finished soon. In the meantime you have to continue south on the old highway. There will likely be no services on the new loop road for some time to come. There are hotels on the old highway toward town. Supermarkets are in town near the bus terminal.
Pan American Highway Southward - Los Angeles to Temuco
Road construction was underway between Los Angeles to just south of Collipulli. Many sections look ready to open. Others still required a lot of work. The entire route should be a 4 lane divided highway soon. As you approach Collipulli, about 20 KM north, the hills start to grow. The route becomes a seriesof 1 to 3 km long ups and downs.

There are zero services on the highway between Los Angeles and Collipulli. The town of Mulchen has a hotel and may have other services, but you have to leave the highway to find them. Collipulli has a hosteria, gas station, and Lomito'n fast food place right on the highway. There are probably small grocery stores in town. Camping at the gas station is extremely unattractive. Just south of Collipulli on the west side of the highway is a pine forest that makes good camping. We happened to be there when the road was under construction, so the fence was down. If the fence is replaced it will be more difficult to get into the forest

About 40 KM north of Collipulli is one of those rest areas, under construction when we passed. Camping will probably be possible there when it is finished. Another 20 KM past Collipulli is a rest area with clean bathrooms, really nice attendent, but no showers. You should be able to camp there.

Just south of Collipulli are several home built stalls where they sell cheese, mote con huesillos (a sweet drink with dried peach chunks), tortillas, and sodas. Not all may be open. Victoria has a gas station with fast food, hotel, motel, hosteria, and grocery store. Lautaro at the north exit has a Copec gas station with a cafateria. Camping is not allowed. Ten km further south is a YPF station with a large field that provides somewhat OK camping. It has snacks and sodas for sale. You would need to go into Lautaro for a more complete grocery store.

Temuco has all services. Soon the 4 lane divided highway will by-pass the city, probably before winter 2002. In the meantime, the current ruta 5 into the city is not too bad. The shoulder is in much better condition than the one in Los Angeles until just before the city. Then it turns into a rather bumpy, but wide dirt shoulder. When the 4 lane highway is finished expect to see a huge reduction in traffic going through the center of town. Temuco has several bike shops. One having very nice components is located on Ave Portales between Gral Mackenna and Cruz.
Pan American Highway Southward - Temuco to Freire
There was still a little construction on the highway between Temuco and Freire. That should be finished very soon. Freire has a supermarket.
Lake District Roads - Freire To Villarrica
The paved road is wide and has a good shoulder. There can be a somewhat substantial amount of traffic, but not very many trucks. The hills are rolling and you do seem to do a fair amount of climbing. Wild camping opportunities are almost nonexistent as everything is still fenced. Look along the major rivers for possible sites. There are no services between the two towns with the exception of a few stands selling cheese in the first few km and a very expensive restaurant about 18 km from Villarrica. Villarrica has all services including many campgrounds along the road toward Pucon. The maps we had seemed to place Villarrica about 10 km further than it really is.
Lake Country Roads - Villarrica to Conaripe
This is a good, paved road with descent shoulder and light traffic in off-season. Probably heavy traffic in high season. You climb for about the first 12 km steep in some places, go up and down for about 10 more km, and then have a good down into Lican Ray. There are mild hills along the road to Conaripe. There are a few small shops selling provisions and a couple restaurants between Villarrica and Lican Ray, none between Lican Ray and Conaripe. The restaurants are only open in high season. Lican Ray and Conaripe have all services, although restaurants are limited in off-season. There are a lot of campgrounds in and around Lican Ray, several along the north shore, and a small, basic campground in Conaripe.
Lake Country Roads - Conaripe to Panguipulli via Lago Pullinque
The road turns to dirt right after Conaripe and again back to pavement about 14 km from Panguipulli. The road surface isn't bad for a dirt road. However, there are several very steep climbs between Lago Conaripe and Lago Pullinque. There is an eco-campground with basic services about 4 KM from Conaripe, not open off season. Look for good wild sites along the Lago Pullinque. These are boat pull-outs for people across the lake to park their row boats while they take the bus into town. If you stay at one of these expect to meet lots of locals and get invitations to their houses. Incredibly, buses do service this road. There are no services until Panguipulli. Panguipulli has all services including a campground. Head about 200 mts up the street just to the right of the tourist information office next to the plazato find it.
Lake Country Roads - Panguipulli to Los Lagos
The road is paved the entire way. In some spots it has been rebuilt with a nice wide shoulder. For most of the route it's an older road, still wide, but not as nice. Bushes along the side can sometimes crowd in. You have a steep climb for about 2 km out of Panguipulli and another serious dip at the river about 20 km from Los Lagos. Dollinco, 20 km from Panguipulli, has a small provisions shop that may be open. Los Lagos has small supermarkets. There are cabanas just before Los Lagos that might have camping if they are open.
Panamericana Highway Southward - Los Lagos to Osorno
The highway remains a 4 lane, divided road on to Puerto Montt. South of Los Lagos are a few hills through some pretty scenery. Within about 30 km it flattens out all the way to Osorno. Camping is once again difficult due to the fenced areas.

Just south of Los Lagos is a brand new YPF station that will have a small minimarket. Don't expect too many groceries as the minimarket is teeny. You can camp on the nice lawn in back. The manager is a really nice fellow. This also happens to be one of those service/rest stops. At Paillaco there is a shell station with a restaurant. Prices are high and the waiter adds an extra 10% to the bill. Best to get food to go. It looks good for camping, but we didn't ask.

About another 9 km further south at Pichirropulli is another YPF/Rest stop area. This one does have its minimarket functioning. Camping is probably possible, but you'd have to get everything over to the east side of the highway. At the intersection that goes to Rio Bueno and La Union there is a small supermarket, nice restaurant, and Esso station. Camping may be feasible in the play area behind the station, but we didn't ask. About 5 km north of Osorno is a Copec and another Esso station. Neither allow camping. The Esso has a very nice minimarket and restaurant. Just about 6 to 7 km further is the nice municipal camping on the east side of the highway just about right at the intersection that goes to Puerto Octay. Nice facilities with hot showers and a lady that runs a tight ship. It is open in December just before the holidays, but you have to share with lots of party groups. Osorno has all services.
Pan American Highway Southward - Osorno to Purranque to Puerto Octay
The town of Purranque at about 36 km south of Osorno has several small supermarkets. You need to go west about 1 km off the highway to the plaza. If you want to go to Puerto Octay from here you need to go another 4 km south from Purranque. You'll find a pedestrian overpass. Go up and over this then take the paved road that runs at a 90 degree angle from the highway just about where you get off the overpass. There's a sign that says "Puerto Octay 24 km". This road has about 7 km of pavement and then turns to dirt. It's a rather rough dirt road although except for a good downhill at the end, it's mostly flat. Puerto Octay has all services including a campground in town,. However, grocery stores are very, very small.
Lake Country Roads - Puerto Octay to Bajo Frutillar
This is a paved, two lane road that sees little traffic. There are 2 good climbs just after leaving Puerto Octay and then several ups and downs until Alto Frutillar. There is a steep drop between Alto and Bajo Frutillar. Alto Frutillar has the larger grocery stores. Bajo Frutillar has one small grocery store, several nice restaurants, hotels, hospedajes, and camping 2 km south around the lake road. Regular buses run between the Alto and Bajo towns.
Pan American Highway Southward - Bajo Frutillar to Puerto Montt
To get out of Bajo Frutillar means a stiff climb to get out of the lake. From Alto Frutillar to Puerto Montt on the 4 lane divided highway has just a few rolling hills. Most services are not located on the highway. You would need to get off at Llanquihue and Puerto Varas to find restaurants and groceries. Puerto Varas is downhill to reach the center of the town. About 30 km north of Puerto Montt is another of those rest areas on the east side with one small restaurant located on the west side just a bit further toward Puerto Montt. To get into Puerto Montt the best route down to the bay is the direct route. You'll have a 4 lane divided road almost all the way to the bay. This comes to a T intersection. On a bike you could pass through the T and work your way down hill on the dirt road and possibly down some stairs. Or you could go right for a ways and then left following the main traffic on the narrow town road. This route will bring you out just west of the center of Puerto Montt right near the ferry terminal. From there it's an easy ride east along the 4 lane harbor drive. There is a short bike path along the harbor, but there'll be so many people walking on it it may be best to stay on the road. There are supposed to be campgrounds out west along the bay road in Chinquihue, but this is a very narrow, curving road. We chose to take a hotel instead as hotel prices in Puerto Montt aren't all that bad. Puerto Montt has all services including bike shops with reasonable parts. Look on Chorrillos one block west of Rosales for a good shop with lots of parts selection.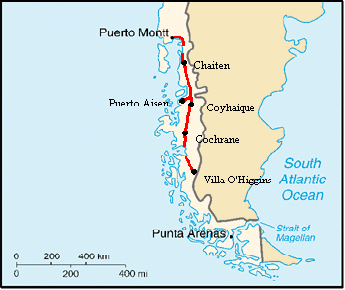 General
Stop in at the regional visitor's information center on the plaza in Puerto Montt to get a good map of the entire Carratera as well as some up-to-date information on services along the way. You will get some information on hotels, campings, and restaurants. However, they give nothing about food stores. The following should give a better idea. Note: distances are approximate. We didn't stop in to check everything available at all grocery and camping locations. We just note what we saw from the road. Our first day out was January 1. Some markets were closed for the day. We don't know if they were closed for good or not. Some services may be available only in high season. For services use the following definitions:

Snack shop - small store having at least sodas, ice cream, and chips
Small market - Very small market that stocks some produce, canned goods, as well as sodas and other snacks. You can put together a meal with some imagination.
Market - An actual reasonable sized market with produce, meat, dairy, bakery, and other prepackeged goods.

WARNING: Even though there is a bank at Chaiten, you cannot use a credit card to get a cash advance and their ATM will not accept foreign credit cards. This is expected to change eventually, but not before the Banco del Estado de Chile changes their entire computer system. The next towns where you can get cash using a credit card are Puerto Aisen or Coyhaique. Take extra cash with you from Puerto Montt.
Puerto Montt to La Arena Ferry
The road is paved for the first 20 km. From there it becomes dirt, but it's not too bad a dirt road. Hills are pretty minor, just enough to get you sweating a little. Traffic is light. Services are:

4 km - Pelluco: hotels, restaurants, small markets
8 km - Small market Coihuin
10 km - Chamiza small market, left after bridge across Rio Chamiza
13.9 km - Cabanas
16 km - Piedra Azul: Snack shops
20 km - Pavement ends
21 km - Small market
23.5 km - Snack shop
25.8 km - Small Market
27 km - Mozart bed and breakfast
29 km - Small market
30, 31 km - Cabanas and camping
35 km - Restaurant Turismo
43.2 km - Look for good campsite left side on hill overlooking fish camp
46 km - La Arena ferry ramp, several small restaurants
Caleta Puelche to Rio Negro de Hornopiren
The dirt road follows along the coast until the town of Contao then it heads inland. Along the coast the road is in good condition and riding is reasonably easy. The inland section has some very steep climbs. Loose rocks on the road surface make riding uphill extremely difficult. Expect to be dead tired by the time you've finished this section. Note: It appears as though the road from Caleta Puelche to Cochamo along the estuary Reloncavi has been finished. It was due to be done in December 2000. Verify with locals before attempting it. Services from Caleta Puelche to Hornopiren are:

0 km - Restaurant at ferry landing, snack shop.
6 km - Small market
8 km - Camping, restaurant, small market
10 km - Contao: restaurant, residencial, small markets
30 km - Tourist facility: camping, cabins, restaurant
30.5 km - Look for great camping site next to river
33 km - El Manzano turn off, at least one residencial, cabanas in town
39 km - Restaurant El Colono
61 km - Hornopiren: Lots of lodging, market, some retuarants, gas station, ferreteria. The ferry leaves from Hornopiren at 4 PM daily from January 2 to March 15. Cost is $9000 per person, $6000 per bike.
Caleta Gonzalo to Chaiten
The road just leaving Caleta Gonzalo is rough but does seems to get a bit better the further you go. Most of the way to Chaiten it is an "improved" dirt road. This means the surface is covered with black, volcanic dirt and lots of often very loose rocks. In some places it's hard packed and easy to ride. In other spots there are so many loose rocks the bike will get thrown around a lot. The best place to ride is in the wheel ruts. Watch for washboard. When it rains, and it rains a lot in this area, there will be virtual rivers of water flowing down the wheel ruts. There's a good climb out of Caleta Gonzalo and another climb just after passing playa Santa Barbara. Wild camping is nearly impossible until you leave Pumalin reserve as the jungle is immensely dense on both sides of the road. After the reserve things become more open. Make sure to do some of the hikes along the way as it's the best opportunity to really get into the forest. Don't miss seeing the alerces along the Sendero Alerce.

0 km - Cafe, Cabins, Camping, you can get sodas, cookies, and candy at the cafe.
14.3 km - Camping
~20 km -Camping Lago Negro (My odometer stopped working so km is approximate)
~26 km - Camping Lago Blanco
Wild camping is available at Playa Santa Barbara. Nothing else is there.
4 km before Chaiten - Camping Arrayanas, has hot water and cooking shelter
Chaiten: hotels, grocery, ferreteria, gas station, restaurants, internet access, expensive laundry. Note bank currently cannot take foreign credit cards for ATM or cash advance.
Chaiten to Coihaique
This road is significantly better. It's still an "improved" dirt road, but it's more compacted and thus smoother and harder than further north. There is still washboard, potholes, and loose rock. But it's a much easier ride. Note that 12 km south of Chaiten as measured from the Copec station is now paved. In addition, we met a survey crew who were taking measurements for the upcoming paving project. By about 2005 expect to find all the way from Chaiten to Villa Santa Lucia paved. However, during the 2004 season, expect messy construction for the entire 60 plus KM.

6.4 km - Cabanas del Rio, right hand side
12 km - Pavement ends
24.6 km - Intersection to El Amarilla hot springs: 2 Hospedajes, phone, cafe, camping.
45 km - Puerto Cardenas: 2 hospedajes, camping, cabanas. If you need a meal ask at the Hospedajes and they may be able to prepare something.
52 km - Campng, cabanas, hotel, restaurant. We understand this place is really expensive
60 km - Ventisquero: Cafe, start steep climb.
68 km - Reach pass.
76.9 km - End of steep downhill, Villa Santa Lucia: small markets, residencial. Note: we arrived at about 11AM and found only one of the stores open. Santa Lucia to La Junta has a lot of steep ups and downs. Expect to be very tired by the time you get to La Junta. The road is great in spots, dreadful in others. Watch for sections that have been rebuilt after being washed out, usually at the bottom of a steep down. There may be loose rock that throws your bike out from under you.
93 km - Yellow house on west of highway near puente Frio. Senora Teresa Ojeda sells great kuchen, pan, hueves al paila, and other goodies
The town of Vanguardia that shows on some maps has only a phone. Nothing else.
99 km - Another house selling almuerzo, kuchen, pan, tea, and coffee. You need to be early for lunch or they run out
130 km - Farm selling cheese
146.7 km - La Junta: Markets, gas, phone, lodging, restaurants, gas station sells benzina blanca. From La Junta to Puyuhuapi the hills are not as steep as from La Junta to Santa Lucia. Generally the trend will be downhill as you go from north to south.
175 km - El Pangue camping, hotel, cabanas, restaurant
176 km - Enter Parque National Queulat, the road seems to improve dramatically through the park and on to Puyuhuapi
180 km - Camping Angostura
192.5 km - Puyuhuapi: Lodging, restaurant, gas, phone, small market. From here the road is fairly level as it travels along the fiord. Then it climbs very steeply with lots of switchbacks. This is the second pass. It didn't seem quite as difficult as the pass north of Villa Santa Lucia. After cresting the pass, you have a good downhill, and then lots of ups and downs for some way past Villa Amanguales. Note that the road between Villa Amanguales and Puyuhuapi is due to be paved by 2005. In the next few years there will lots of construction along the road that may force it to be closed at certain times during the day. Pavement is also slowly working its way north from Manihuales toward Villa Amanguales. Currently the 30 km south of Villa Amanguales is extremely rough. I would imagine that likely by 2005 or soon thereafter this section will also be paved.
196.3 km - Camping, pan for sale
206.1 km - Embarcadero for Termas Puyuhuapi
209.1 km - Camping El Tonino, restaurant, cabins
214.3 km - Turn off to Ventisquero Colgante, 2.15 km up relatively easy road
223.4 km - Cabanas Queulat, reastaurant
235 km - Start steep climb
241 km - Level out
242 km - Pass
244 km - Start down
251 km - Turn-off to Puerto Cisnes
275 km - Kuchen, pan, te, cafe, camping with hot shower
282 km - Villa Amanguales: 3 hospedajes, 1 market, pan available at place that does tires, lunch available at hospedajes
284 km - Intersection to the frontera
290 km - Lakeside camping
322 km - Camping, Pavement begins here but will soon extend further north.
333 km - Look for great campsite across suspension bridge over river
340.5 km - Manihuales: Restaurants, markets, hospedajes, gas, phone. New asphalt runs from Manihuales to the intersection to Villa Ortega. Terrain is still hilly. If the sun is shining it is likely you will have headwinds all the way to Puerto Aisen. However, they will lessen as you get out of the narrow canyons near Manihuales and approach P. Aisen.
354.5 km - Intersection for road toVilla Ortega. Word from other cyclists is that this alternative, dirt route to Coihaique is a very, very rough road. Main ruta 7 turns into a narrower, cement road without a shoulder. Some steep hills continue for many more km. However, from north to south you are generally going downhill more than up.
378.5 km - Restaurant Viviana, looked open but we didn't stop to find out for sure
383 km - Intersection to Puerto Aisen. Puerto Aisen is 19 km down road. Puerto Aisen has hospedajes, restaurants, gas, phone, large markets, internet access.
390 km - Villa Los Torreones: Restaurant, cabanas, snacks, camping
395 km - Museum
396 km - Snacks, restaurant, cabanas
398 km - Camping
416 km - Start climb
422 km - Top of climb
425 km - Cabanas
427 km - Camping, hostel, restaurant
429 km - Coihaique: Lodging, camping, restaurants, huge grocery stores, camping equipment, 2 bike shops, gas, phones, internet access. If you're planning to head down to Villa O'Higgins stop in at the Sernatur office here. They can provide the latest schedule for the boat service across Lago O'Higgins.
Coihaique to Cochrane
As of 2002 the pavement continues through to the town of Cerro Castilla. Leaving Coihaique you have about 24 km of gradual climb and then a drop to El Blanco. From here you climb almost continually until reaching the pass at km 57. The new paved road has smoothed the slopes making the climbs not quite so steep. But, it's still a long climb. After the pass you drop steeply for a few km and then gradually until around km 66 at which point you climb gradually to the next pass.

8.6 km - Restaurant El Quincho
9.3 km - Cheese for sale
13 km - Intersection to Lagos Frio and Polux
16.4 km - Intersection to Lago Elizalde.: Restaruant, lodging, camping 15 km off Carratera at lago.
34 km - El Blanco: supposed to have hospedaje and restaurant. We did not investigate this possibility.
39.4 km - Intersection to Balmeceda. Start climbing steeply.
57.8 km - Top of pass. Camping
66 km - Bottom of descent, start climbing again.
79.8 km - Top
81.2 km - Start steep descent
86.4 km - Intersection to Puerto Ibanez, 28 km away. Supposed to have food and lodging
95.4 km - Villa Cerro Castillo: Restaurant, markets, lodging, phone, end of pavement, bottom of descent. For the next 20 km there are some very, very steep climbs on extremely loose rock. It's tough. For the 20 km you go along the Rio Cajon it's level and very smooth. This seems to be a section of road made from glacier silt.
135 km - Start climbing. For the next 20 km or so you will climb up and over a 600 m pass between Rio Cajon and Rio Murta. Once reaching Rio Murta the road is much rougher with washboard. Climbs aren't too bad up to Lago Gral. Carrera.
194.3 km - Intersection to Puerto Murta. Market, restaurant, lodging, camping in town 4 km off road.
201.6 km - Camping, Cabanas, may not be open. From here you are along Lago Gral. Carrera. Wild camping possibilities are virtually nonexistant. Fencing encloses much of the flat lands leaving only spots just meters off the dusty road. Beware of sharp thorny things that look a lot like miniature goatheads (a little nasty we have in the western U.S.). They stick to just about everything. Setting up your tent in a patch of these is bound to leave tons of little holes in the nylon and leaks in your Theramarest. Just 1 km before Rio Tranquilo is the one spot we found, on the left down a steep road to a boat ramp. The road along the lake is extremely hilly.
202.6 km - Cabanas, may not be open.
218 km - Rio Tranquilo: Small markets, restaurant, hospedajes, camping, gas, phone. Steep ups and downs continue all along the shore of the lake. However, the further south you get, the worse the road gets. It has lot of deep washboard and loose rock and dirt. It's a tough 70 km from Rio Tranquilo to Puerto Bertrand. Note: we had 2 maps showing distances to Puerto Bertrand of 108 km and 91 km. The tourist office claims it's 71 km. Lonely Planet has it as 60 km. A sign near Cerro Castillo said 56 km. The winner is 68.6 km according to both our odometers. Look for good camping spot about 14 km after Rio Tranquilo by river.
220 km - Camping
262.5 km - Pasarela Lodge (expenive, good place to get water)
265.6 km - Camping, cabins
266.6 km - Mollin Colorado Cabanas.
268.4 km - Hotel and Resort Hacienda Tres Lagos (expensive), start another short but very steep climb and then long descent to Lago Bertrand. Road continues to be very rough all the way to Puerto Bertrand with one more good climb before town.
286.6 km - Puerto Bertrand: One small market, hospedajes, restaurants, phone, camping. The road after Bertrand seems to improve a bit. However there are 3 extremely steep climbs followed by 4 not quite so steep climbs. It's a good hard 50 km to Cochrane. The true distance seems to be 49.5 km, not 51 nor 54 as signs and maps may indicate. Take extra water as water sources are scarce on this section.
289.3 km - Patagonia Baker Lodge and Restaurant, Camping
289.8 km - Cabanas
290.8 km - Cabanas, Lodge
298.6 km - Start extremely steep climb
302 km - Top of climb, have a couple km up and down before starting steep down
306.6 km - Bottom of first climb, start second extremely steep climb
311.6 km - Top of second steep climb, couple km down and up before start steep down.
316.6 km - Bottom of steep descent, bridge crossing river. There are 4 more climbs before Cochrane, 3 are 5 km long not quite so steep with 5 km downs after each and the last is a short, steep climb just 3 km before town.
319.2 km - Intersection to Paso Roballos
328.3 km - Intersection to Balsa Baker
336 km - Cochrane: Markets, lodging, camping, phone, internet access Monday through Friday, phone, gas. Load up here as there's absolutely no stores at all until Villa O'Higgins.
Cochrane to Villa O'Higgins
For the first 35 km out of Cochrane you will be gradually climbing although you will have ups and downs along the way. At about km 39 you start a 10 km steep down. For the next 15 km or so you have a very pleasant pretty much flat ride along a river, then you start climbing rolling hills again with some flat sections all the way to just after Vagabundo, km 102. For the last 20 km to Puerto Yungay you have about 10 km steep, several km ups and downs, and then several km very steep descent on a bad road to the port. Most of the road from Cochrane to PuertoYungay is in better condition than north of Cochrane, but there is still a fair amount of washboard. Traffic is very light. Water is scarce for the first 50 km or so, then becomes more available once you descend to the river valley.

In summer the ferry crosses from Puerto Yungay to Rio Bravo 4 times daily and the crossing is free. The last crossing will not happen if only bikes are waiting to go. If you miss the last ferry there is a good camping spot just down the beach with good water. You may want to get water on the Puerto Yungay side as the water on the other side is quite brackish. for some distance.

Once you cross the fiord, camping is harder to find as the area is quite swampy for a way. At about 12 km up is an old football field that makes a reasonable campsite. At about km 20 you begin over 20 km of steep climbs with steep descents. In all there are about 4 good climbs. Then you descend to a flat section of road that goes along the Rio Colorado. Despite being flat, the road is quite rocky and rough. Camping along the Rio Colorado is difficult for a ways as it's quite boggy.

For the last 35 km or so the remainder of the road has only minor ups and downs, much of the road is in reasonably good condition, and camping opportunities become much more readily available. There are particularly good sites at the end of Lago Cisnes if you don't wish to go on to Villa O'Higgins that day.

Villa O'Higgins now has many hospedajes available, a regular campsite with no showers, plus nearly everyone will allow camping in their back yards. Some of the hospedajes offer food as well, although selection seems to be limited to beef and potatoes. There is one restaurant, no bank, no place to exchange currency, no internet, a few phones. Electricity is on for only a few hours in the morning and at night. There is one panaderia, several houses sell pan, a few markets that have extremely limited prepackaged food, one meat shop selling freshly butchered beef. We did not find a place that sells fruit and veges, although we heard there was one lady who did. Gasoline is sold by the liter from drums by the ECA store next to the Carabineros station. Don't expect to find benzina blanca. There is a new tourist information kiosk under construction in the plaza that should be able to help with travel details in the near future.
Getting out of Villa O'Higgins
Options as of 2002 include: 1. There is a once a week regular bus. This is one of those mini vans. The one we saw looked pretty crowded, so we don't know if they'd take bikes or not.
2. You can always ride back to Cochrane, 225 km retracing your steps.
3. There now is a mostly regular boat service passing from Villa O'Higgins, actually from a bay that's located about 7 km further along a rolling, rough road, to a location on the opposite side of the lake. The boat only runs if the wind is not too high and the number of passengers is sufficient to warrent the trip. Otherwise you wait. You can get a ride to the dock in the back of the captain's truck if you wish. The location on the other side of the lake is positioned just opposite the north end of Lago del Desierto in Argentina. In the 2001/2002 season the boat pretty much tries to run every Saturday with a few additional days added later in the season. Schedules are available at the tourist information office in Coihaique, but take this with grain of salt. The man running the boat is named Pirincho and he lives in the large 2 storey white house back and to the left of the municipal offices in Villa O'Higgins. Ask anyone in town and they'll direct you. Price is $5000 per person, bikes free. He leaves at 9 AM and returns at 3 PM.

When you arrive on the other side of Lago O'Higgins the boat will likely be met by a man named Ricardo and his father Tito. They will ask all passengers if they want to hire horses. You can use horses to take you over the first leg, to Lago del Desierto Norte, for the second leg, Lago del Desierto Norte to Sud, or both. The section from O'Higgins to Desierto is handled by the Chilean, Ricardo. It costs about 10000 pesos per horse, about $15. You would probably need 3 horses if you are two people, one for each person and one for the gear. The section along Lago del Desierto is handled by an Argentine family and is much more expensive, about $35 pesos Argentine per horse. For this section you would pay for 2 horses, one lead and the other to carry your gear. You would have to carry your bike along the trail yourself. However, this does make the journey significantly easier. Coming from Chile, the section between Lago O'Higgins and Lago del Desierto Norte is not horrendously difficult. However, the section along Lago del Desierto is shear Hell. So if you have to choose which section to use horses, choose the Lago del Desierto section. In any event, hiring the horses even for just the one section is highly recommended. I can hardly begin to express how highly recommended. Read on for a description of the trail.

On the other side of Lago O'Higgins you will find an extremely steep dirt road climb up to the aduana, just a couple hundred meters. Here is where you check out of Chile. We understand that you can buy meals at the small house just a bit further down the road. This is where Ricardo and Tito's family live. Beyond the aduana you will have 5 km of very, very steep 4 wheel drive dirt road climb. You will be pushing for much of it. Then for the next 10 km the road levels out and can be ridden for much of its length. When you are about a total of 10 km into the ride you will see a new road going off to the left, just after a bridge and before you come to an abandoned carabineros station. This road is what you want to take. It was only about a month old when we arrived, so it was still quite soft and hard to ride. It should improve dramatically with time. Also, when we were there the carabineros old station was abandoned and opened. It made a great refuge on a very rainy night.

After the initial 15 km on the Chilean 4X4 road you come to the border. Here you find a "welcome to Chile" sign, a border marker, and the abrupt end of the road. A narrow trail on your left is where you want to head. For the next 6 km you will follow this trail to the Argentine aduana at the north end of Lago del Desierto. The trail is fairly easy to follow. This section of trail actually is not to bad. It rolls up and down a bit, is worn deep in some spots, has a lot of side vegtation in spots. But we found we could either ride or push the bikes over all of it. The last 3 km is a very, very steep down to Lago del Desierto. People coming from the other direction will have a tough time with this bit. It took us about 4 to 4 1/2 hours to complete this section with two very heavily loaded bikes.

Things get really, really nasty from here on. Some people claim that the next 14 km is a "push". In reality it is not a "push". It's more a carry, carry your bike, carry your gear. This trail is a very badly maintained horse and hiking trail. You have parts where the trail is worn knee to thigh deep and is only about 1 ft wide. Other sections the trees encroach so narrowly that your bike gets wedged in. Then there are the mud bogs, so deep your wheels sink in up to their hubs. There are downed trees and huge boulders to lift your bike over. The trail climbs steeply over rocky hills, descends equally steep and rocky hills to creeks and rivers that have to be crossed, and then climbs just as steeply again and again and again. For much of this trail you will be relaying your equipment and bike from one spot to the next, taking 2 to 3 trips each time. Although by the end of the trail you'll likely be so tired it'll take 3 to 4. It took us about 20 hours over 32 1/2days of virtually continuous back breaking labor to complete this 14 km distance. Four other bikers who took the same boat and who had similar loads all took longer than we did. The Argentine aduana will tell you it takes 5 to 5 1/2 hours. Don't you believe it for one minute. If we had had any real indication of just how rough this trail was, we would most certainly have rented horses for this section. It is excruciatingly difficult.

We had met a lot of people who opted to bus from El Calafate or El Chalten to Chile Chico. The cost of this bus for 2 people is more or less about the same as the horse rental. So there really isn't a cost insentive to do the bus route as opposed to the horse rental option and the most southern section of the Carratera Austral is probably the most scenic, unspoiled and challenging.

One other comment, if you forego the horses just for the sake of saving a few pesos, keep in mind that this trail is so rough there's a very good chance you will wind up with some sort of bike or other equipment damage. One slip off the brakes and you could see your precious bike careening down some horrendous hill, banging into rocks and trees along the way, or maybe even falling into the lake. We ended up with a bent XT rear derailleur. Also, it would be extremely easy to get seriously hurt carrying your loaded bike over this trail. One false move could give you a broken or sprained something which could totally ruin your trip. If you do get seriously hurt help is probably hours or maybe even a day or so away. What I'm really trying to say is RENT THE HORSES. You won't regret it. Really the only way it seems you can do this trail reasonably easily by yourself is if you have the ability to put all your gear on your back and then push and carry your bike unloaded. The only people we saw having no trouble were doing just this.

One other thing, don't do it alone. We found that one of us pushing up front and the other in back helped a lot. You also have someone to fetch help if you really get into trouble. Also, make sure to take off your pedals. They catch on everything and really beat up your calves. If you are gong north to south take enough food for 4 to 5 days. For south to north take the 4 to 5 days plus several more days worth just in case you wind up waiting extra days for the boat at Lago O'Higgins.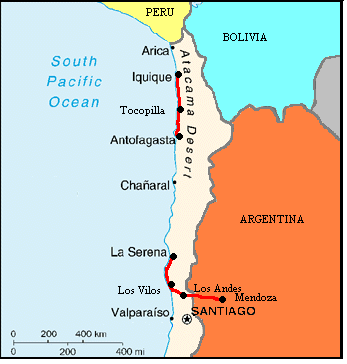 Mendoza General Comments
Mendoza's airport is easy to get out of. The Mendoza airport is located about 9 km north/east of town. It is a small airport with good security. There're plenty of quiet corners outside and inside where you can get a bike put together. Just out front, across the small parking lot, is the main 4 lane divided highway headed into town. Turn left on this to go downtown. It's flat and easy riding. We rode it in dark and had no problems. There are plenty of street lights along the way, but make sure to have your own lights anyway. You'll likely see other bikers going along this road as well so the drivers seem well aware that bikes may be on the road. If it's dark, get yourself about 1 km along this road before stopping as there are some unsavory characters right near the airport. After about 7 km you'll pass the Fundacional museum on your right, a very nice stucco covered building with burning torches out in front at night. Right after this you'll have the parque O'Higgins and then Ambrosi bike shop on your right. If you turn right within the next block or two and go about 5 to 8 blocks you'll be right in the center of town. Your guidebook maps and the map you get from the tourist agency applies for this region.

One of the best and cheapest bike shops is Ambrosi located at the corner of Lavalle and Ruta 40. There's a second bikeshop, Stylo, right across Ruta 40 which has a few different and somewhat more expensive items. El Tunel mentioned in the Footprints guide is not the place to go for quality parts. They sell only cheap parts for round town cyclists. Mendoza makes a great place to fix bikes and buy needed goods.
Mendoza, Argentina to Los Andes, Chile
There are 2 routes to get to the town of Uspallata which is about 100 km east of the pass to Chile on Ruta 7. The first route goes out of Mendoza toward the north along Ruta 52. This route is about 104 km long with 56 km being dirt. It has a significant climb to get to Termas Villavicencio as you go over the foothill range just west of Mendoza. We didn't take that route and cannot give impressions as to the condition of the dirt.

The second route goes south out of Mendoza on Ruta 40 and then takes Ruta 7 to Uspallata where it meets up with the northern route. Note that some maps will indicate a Ruta 82 north of Rio Mendoza. This road is no longer passable as toward the west it is now under the water of a new dam. To get to Ruta 40 from downtown Mendoza turn east on the main road just south of the bus terminal, Av. Zapata. Within about 1 km turn south on Ruta 40. The exit is well marked and there is a small statue of a condor in the center medium. Be carefull. Traffic is very heavy. Head south on Ruta 40 for about 17 km. Not too long after passing over the long bridge that goes over the often waterless Rio Mendoza you will see a tree lined paved road intersecting on the right side. There is a sign on this road just a bit down saying it goes to Potrerillos. Take this route as it is a nice quiet change from Ruta 40. Continue to follow signs pointing to Potrerillos as you zig-zag. You'll go along nice shadey country lanes past farms and vinyards. There's little traffic. Eventually you'll wind up at the huge YPF refinery where you'll meet up with Ruta 7. From here just follow Ruta 7.

The entire road from Mendoza over the pass and on to Los Andes is paved and in reasonable condition. Some spots are a bit rough. It's a long gradual climb coming from the east and a very steep climb from the west. After about 10 to 20 km after Uspallata the winds typically howl down the canyon, west to east. If you happen to get headwinds, you will have them all the way up to the tunnel. Taking inito consideration the winds, this pass would probably be more enjoyable if done from west to east.

Services are few along Ruta 7 and water scarce. Services are as follows (kilometers match those posted on the highway):

Km 1080 - A small comedor having empanadas, lomos, sodas, water.
Potrerillos - Nice ACA camping plus a second camping a bit further up Ruta 7, expensive hotel, small store (Closed from 12 noon to 5 PM)
Km 1135 - About 37 km past Potrerrillos are 3 small groves of trees near the road. These make good camp sites, the first being particularly nice. The third appeared to have a clean stream, however this may depend upon the water level of the river and other factors. Bring water.
Uspallata - Camping, hotels, restaurants, groceries, gas, bank
Polvaredas - samll store, restaurant
Punta del Vacas - We didn't stop. It is the location where all trucks must stop to be inspected. So there is probably at least one restaurant.
Los Penitentes - Gas, snacks, restaurant, hotel (open?). We camped on the porch of one of the closed restaurants and everyone left us alone.
Puenta del Inca - Hosteria, small store
Las Cuevas - Restaurant
Tunnel, Argentina side - Restaurant
Frontera, Chile side - Cambio de moneda, snacks
Portillo - Ski area, restuarant, hotel
10 km from tunnel - small camping
20 km from tunnel - several restaurants
Rio Blanca - restaurants, small stores, hotel, gas
Los Andes - All services except camping. There are some bike shops in town. Sun Tour located on Av. Argentina #511 has a reasonable selection of parts up to the quality of Shimano Deore. They're friendly and helpful.
Pan American Highway Northward - Los Andes to La Serena
Ruta 60 between Los Andes and LLay LLay where you get on the 4 lane Pan American highway is one very, very pleasant road to ride. It's part of the original colonial road. It's flat, paved, has light traffic, a good shoulder, and a lot of shade. In some spots there's even a bike path. You'll pass by vinyards and farms as well as several old towns. The old adobe walls and houses lining the road clearly show the age of the road. There are lots of services all along the 46 km between Los Andes and Ruta 5. The largest town is San Felipe, 16 km from Los Andes, where you'll find all services including a camping, at least the sign outside of town indicates there is a camping. We didn't check it out specifically. Also, 28 km from Los Andes at the town of Panquehue there are 2 campings and a third a few km further west. The second, Camping Manantiales Panquehue, was open in mid March and looked quite nice. LLay LLay at the intersection to Ruta 5 should have all services.

Ruta 5 from Llay Llay to La Serena is a 4 lane divided highway. Kilometer distances are measured from downtown Santiago. You are entering the highway at around km 81. For the first 40 km, more or less, you are traveling along the final most northern section of the inland valley. Then you have a steep, 3 to 4 km climb up what they call the Cuesta de El Melon. There is a tunnel under this hill, but we don't think bikes are permitted. On the other side you descend just as steeply as you climbed, but for longer. You are getting closer to sea level. From here on north to La Serena you will continue going up and down hills that seem to be about 1 to 2 km in length and go up and down 400 to 600 ft or more. Services after El Melon are much scarcer and often not on the highway. Each town should have at least a small almacen. Towns we checked out are listed below.

Intersection with Ruta 60 - Copec gas with snack stand, lots of fruit stands.
El Melon - Restaurants along highway
Km 143 - One of those highway rest areas. Good place to get water. Potential camping in the eucalyptus forests just before.
La Ligua - Major town off route quite a bit. The only thing on route are lots of individuals selling dulce La Ligue. Their prices are high. You're better off getting the same dulces in a store at Los Vilos.
Km 176 - restaurant
Los Molles - Nice camping, several almacenes, verduleria, carniceria.
Pichidangui - Gas, restaurants in town and on highway, almacenes, camping, lodging.
Km 212 and 215 - restaurants on highway.
Los Vilos - All services except camping. You can camp anywhere on their long sandy beach for free, without any toilet facilities. Stock up here as there's not much else to La Serena.
Km 244 - Camping Playa Chigualoco
Km 260 - Huentelauquen Sur: supermarket on highway
Km 264 - Huentelauquen Norte: several restaurants, YPF station
Km 265 - Rest/service area with bathrooms
Km 274, 275 - Picnic areas southbound and northbound sides of highway
Km 277- Restaurant Rosita
Km 283 - Puerto Oscuro: Snack store, restaurant
Km 301 - Restaurant El Palmar
Km 318 - Hornillo: Kiosks with snacks
Km 336, 349, 359 - Restaurants
Km 364 - Alcones: 2 markets, 2 restaurants
Km 370 - Termas de Socos: Camping, hotel, gas, restaurant, small markets
Km 374 - Restaurant, lots of cheese vendors along road
Km 386 - Small market
Km 396 - Quebrada Seca: several small markets, restaurants
Km 406 - Rest area
Km 435, 437 - Camping Las Mostazas, Camping Morillos, expensive
Km 440 - Totoralillo: small markets
Coquimbo/ La Serena - All services in this long, stretched-out town. There are several campings between the two towns one of which is located on the Av. del Mar. None are closer than 4 km to the center of La Serena. For a more quiet ride in off-season, take the Av. del Mar along the beach rather than the Pan Am. The Pan Am does remain as a 4 lane divided highway with good shoulders at least through town. North of La Serena it becomes just a 2 lane road.
Pan American Highway Northward - Antofagasta to Iquique
Ruta 1 along this section is nicely paved and fairly quiet. It starts out very flat as you leave Antofogasta. Hills become more numerous and higher the further north you go toward Tocopilla. There is sufficient auto and bus service so you can get a ride if necessary. Winds are supposed to come out of the west, but we did experience a bit of a northerly component on one day. Get water at every opportunity.



Antofogasta - All services
Km 24 - Airport turn-off. You can get water there if needed.
Km 43 - Turn-off to Mejillones. Nothing there. Mejillones is 18 km on this side road. It has stores, hotels, camping, and restaurants.
Km 63 - Roadside table
Km 65 - Northern side road to Mejillones, paved as of 2001. Truckstop/restaurant. Get water if needed.
Km 66 - Roadside table
Km 70, 83, 88.5, 94, 98.2, 103.5 - Roadside tables. The one at km 88.5 is trashy.
Km 81.5 -Turn to Hornitos about 5 km off route. Small tourist town. Should have hotel, restaurant, small store, water
Km 107 - Michilla: 3 restaurants, 1 small store, get water
Km 118 - Virgen del Camino: rest area with benches and trees. Might be able to camp here
Km 125 - Cobija: Kiosk with some snack stuff. Fish for sale.
Km 142 - Caleta Buena: kiosk with snacks
Km 146 - Snack stand
Km 175 - Roadside bench. Good rest stop.
Km 184 - Tocopilla - Restaurants, groceries, hotels, gas, phone

The road from Tocopilla on north climbs for the first few km and then levels out for a while. It then continues be a series of level sections with climbs over each finger of mountains that stretch to the sea. This is a nice section of road right along the coast with great views and extremely low traffic. Camping is possible almost anywhere, although a lot of the beaches have quite a bit of trash. Small fishing camps occupy many of the little bays. Water is not too hard to come by and the many kiosks and tiny stores along the way can suplement supplies you brought from Tocopilla.

Km 221 - 2 restaurants
Km 225 - Fishing camp with snack kiosk
Km 239 - Punta Arenas: Restuarant, camping, fish camp.
Km 268 - S.A.G station: Kiosks, get water
Km 307 - San Marcos: Kiosks
Km 322 - Rio Seco: Restaurants, kiosks, small stores, get water
Km 335 - Chanabaya: kiosk, camping indicated sign. Town is about 1 km off road.
Km 356 - Chanabayita: Cabanas, small store, restaurant
Km 375 - Airport: restaurant. Water is NOT potable
Km 384 - Restaurant, cabanas (per hour, day, month)
Km 389 - Los Verdes: Restaurants, kiosks
Km 391 - Restaurant