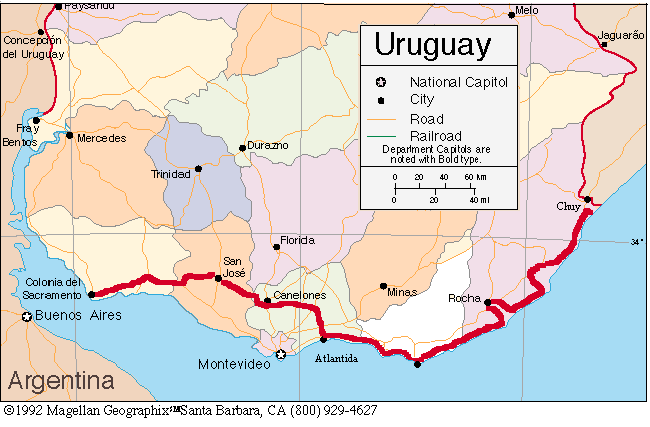 Riding out of the Montevideo airport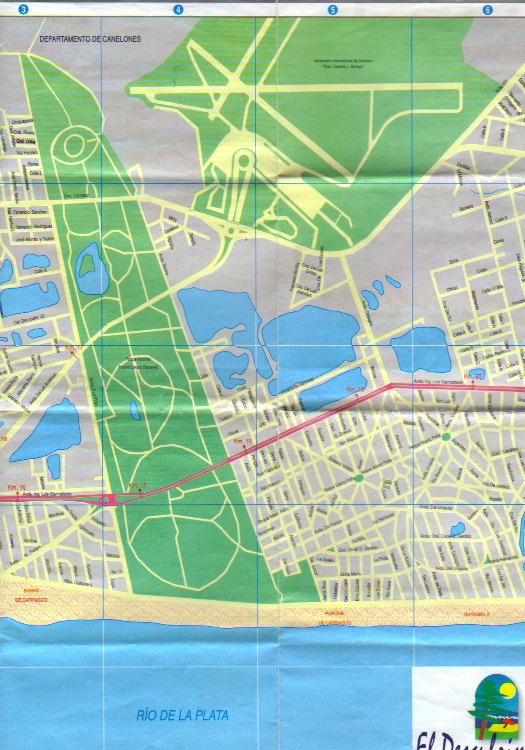 If you arrive at the airport, here's an easy way to get to the beach road. Ride out of the airport terminal circular drive. You'll soon come to an ANCAP gas station and a large traffic circle (round about in UK lingo) with some large, dark gray stone statue in the middle. Go 180 degrees around the circle and turn off. You're headed in the same direction as when you left the airport. Continue on this road for about 1 km. It'll make a gradual curve to the right. On your left you'll soon see a lake and right after that a huge, pale yellow nice looking building. Turn left just after this building before the forest. This road will take you along the edge of Parque Roosevelt toward the Rio de la Plata.
In about another km you'll pass a busy four-lane highway with a wide, grassy medium. This is the Interbalneario. If you need grocery supplies or a restaurant turn left on this road. It has a lot of traffic but it also has wide shoulders and often a dirt side road. Within 10 km or less you'll come across at least one hipermercado. Most hipermercados have bike watchers who are paid by the market to keep an eye on all bikes. They give you a check number for your bike, sort of like a hatcheck. So leaving your bike outside while you shop is no problem. If you turn right on the Interbalneario you should come across a hotel on the left hand side within about 2 to 3 km.
If you don't need to shop, just continue straight across the Interbalneario. Within about another km you'll be on the beach road. Turn right to go into Montevideo, turn left to head east along the Rio de la Plata.
Montevideo to Chuy coastal route
The terrain is pretty flat with the most rolling hills occurring as the route crosses the Cuchilla Grande around Maldonado. Main roads have good pavement and nice, wide shoulders. Beach roads tend to be more narrow, covered in sand, and sometimes potholed or are dirt. Drivers are friendly and not too aggressive. Even Argentine drivers seem to behave themselves on this coast. If you make an effort to stay as close to the ocean as possible you'll find that about 1/2 of the total distance will be within eyesight of the water. The rest dips into rolling ranch country. Camping, restaurants, and grocery stores are plentiful.
If you are leaving out of downtown Montevideo, stick to the Rambla. It's wide and in some parts has an enormous sidewalk that you can ride on. It doesn't seem to have nearly the traffic as the more inland major arterial roads.
Continuing to stay as close to the beach as possible instead of taking the Intebalneario will keep you on nice, quiet side streets to as far as Atlantida and Parque del Plata. Some of these streets are dirt roads, but are pretty smooth and not at all soft sand. A 1-inch or greater tire should be fine. In some instances you'll need to return to the Interbalneario to cross a river. But, head back toward the coast right after the bridges as the beach side dirt roads do continue.
From Atlantida to the intersection of Rt 10 and the Interbalneario there are no continuous beachside roads. If you did take one of the many dirt roads over to the beach you would be forced back to the main highway at each river crossing. This would be a couple km or more each way at every river crossing. You're on the highway for only a distance of 20 km, so it's not a bad choice.
When Rt. 10 heads off to the right, take it. You'll be treated to fantastic views of the coastal bay all the way to Piriapolis and beyond. After Piriapolis, stay on the coast. The paved road will turn to dirt. It's somewhat bumpy and has some washboard, but it could easily be handled with 1 inch or wider tires. There are a couple of sandy spots to watch for. The road continues to follow the coastline for some 10 km more. It then veers inland and eventually meets up with the main highway once again.
To get through Punta del Este is far easier than we'd expected. Just stick to the coastal road. You can go all the way around the point or you can cut across at the narrow section of the point before the bus station. The coastal road is amazingly wide and drivers are calm.
There are several separate bike paths in Maldonado. One follows Avenida Franklin Delano Roosevelt from Punta del Este to almost the center of Maldonado. Maps from the tourist information office show the other bike paths.
The coastal road turns to dirt at Punta Jose Ignacio. Keep going straight. It's a fine, smooth dirt road. At the laguna Garzon there is a tiny, 3 car, ferry that will shuttle you across. It's free. The ferry runs in summer, we don't know about off-season. About 10 km beyond the ferry you will have to turn left toward Rocha. There is neither bridge nor ferry across Laguna La Paloma. The road skirts around Rocha, so you don't have to go into the city if you don't want.
From La Paloma north you'll have just about 10 to 20 more km along the coast. Then the road heads inland. This will be the last of the coast side riding. The final 80 km or so will be on the main highway, Rt. 9, far away from the ocean. Some maps indicate that there may be a dirt road leading from Aguas Dulces back to Rt. 9, skipping past Castillas. We asked about it and were told it did not exist. Some exploring on an unloaded bike may reveal whether or not this is true.
Montevideo to Colonia del Sacramento inland route
One option is to take Rt. 11 around the city. It leaves out of Atlantida, heads north and then west, and joins Rt. 1 about 76 km from Colonia. The other option is to ride the coastal road through Montevideo going as far west as you can and then cutting over to Rt. 1 later. We took the Rt. 11 option, so can't say what Rt 1 is like near Montevideo.
Rt 11 is not too bad. From Atlantida to Canelones it's quiet and has a fairly reasonable shoulder. In some places the shoulder may be pot holed, but traffic is so light it doesn't matter much. There is a lot of gently rolling hills and rural farm scenery on both sides. Towns are somewhat sparsely spaced, but you'll pass at least one each day that has a minimum of a small grocery store. Carry lots of water as the road has little shade. Directional signs through Canelones are pretty good. Just at the plaza you'll need to keep heading straight ahead to keep on route. In Santa Lucia, Rt. 11 skirts around the edge of town and again, signs are pretty good. Santa Lucia has a free, city campground located on the river. However, in busy summer months the toilet can get to be really, really bad.
From Canelones to San Jose the road deteriorates a lot. There's no or minimal shoulder and a lot more traffic. Pull on to the dirt shoulder if a semi comes up from behind. In San Jose we had trouble with signage. At one point, coming up a hill into town. there was a sign pointing to Colonia to the right. Yet at the intersection there was another sign indicating Rt. 11 to Colonia was straight ahead. We went straight which eventually lead us to a T intersection with a gas station on the left corner. This road was Rt. 3 and we needed to take a right to get to Colonia via Rt. 11. The turn off on Rt. 11 was 1.5 km north. The sign on Rt 3 indicated Colonia was a left turn and 134 km. This is the long way, 20 km longer than by Rt. 11. From San Jose to the intersection with Rt. 1, Rt. 11 was pretty good.
Right at the intersection of Rt. 11 and Rt. 1 is a small zoo and the tourist office. Behind these are 4 free and very clean campsites. The toilets are clean and open all night. The only groceries, however, are back up Rt. 11 about 1 km.
Rt 1 up to the Colonia state line is a 4 lane, divided highway. After this the road gets real bad. It's an old road, often concrete, and is just a narrow 2-lane strip. The shoulder is usually terribly potholed and barely ridable. Traffic is quite high. Here is where all the semis are. Rt. 1 in the state of Colonia is not a pleasant experience. Its only redeeming feature is the long stretches of shade trees lining both sides. There are dirt roads that lead to the Rio de la Plata and along the river for a distance before rejoining Rt. 1 just before Colonia. These may be a better option as they may be less hilly, not have the traffic, and have lots of campgrounds to stop at.