BRAZIL BUS TRIP PART 1 - 2005/2006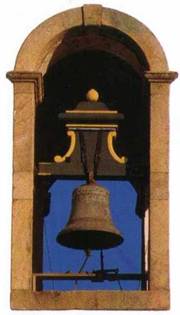 December 8, 2005 - December 29, 2005
Rio de Janeiro to Ouro Preto
Teasers:
| | |
| --- | --- |
| | Take a cozy apartment in Rio de Janeiro |
| | Walk the famous Cococabana beach |
| | Train to the top of Corcovado to visit with a huge Christ statue |
| | Bus down the beautiful Costa Verde |
| | Boat around the blue green waters near Paraty |
| | Explore the halls of one of only 2 royal palaces of the New World |
| | Take a fun steam train to the colonial Tiradentes |
| | Visit the land where gold was extracted and Brazil's freedom first envisioned |
" If you reject the food, ignore the customs, fear the religion and avoid the people, you might better stay at home."
- James A. Michener
Rio de Janeiro - December 8 - 16, 2005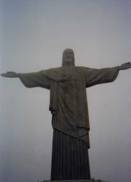 What comes to mind when the words Rio de Janeiro are mentioned?  A tall art deco statue of Christ with outstretched arms high on a hill overlooking the city below?  Long sandy beaches circumscribing a brilliant blue bay lined with modern high rise hotels and apartments?  Hundreds of dancers draped in wild costumes ranging from almost over dressed to barely there dancing to the hectic beat of the samba drums?  Or is it party, beach, party, bikinis, party, party?  True, this is all part of Rio de Janeiro, but there is also much more.
Gaspar De Lemos discovered the Guanabara bay on which the city of Rio, pronounced hee-oh by locals, in January 1502.  He mistakenly thought the bay was a river, hence the name Rio de Janeiro.  It was the French who first inhabited the area but by the 17th century the Portuguese had managed to expel and exterminate both them and the local Tamoio, the area's first inhabitants.
During the days when Napoleon marched across Europe to invade Spain and Portugal, the Portuguese prince regent, Don Joao VI along with 15,000 members of his royal court packed into 40 ships and headed west.  They landed in Rio and promptly set up a full Portugal kingdom with Rio de Janeiro as its seat of government.  This made Brazil the only New World country to have been the seat of a European monarchy.
By the end of the 19th century, Brazil had been declared an independent republic with Rio as it's capital and by the 1920s Rio was gaining its reputation as a swinging city with a great beach scene.  Casinos, gambling dens, hotels, restaurants spread out across the Copacabana beach attracted the rich and famous from all over the world.  The city's population also swelled as the poor from the outlying farm lands flowed into the city in search of jobs.  This was when the famous favelas, or slums, began to emerge.  Squatters from all over built shantytowns perched on the hills overlooking the city.  So while the rich are relegated to the lowlands, the poor get the hills with the best views.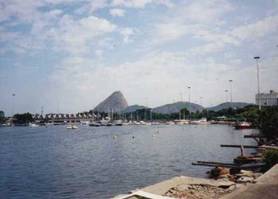 In 1960 the political capital of Brazil was moved from Rio to the new, expressly built for the purpose Brasilia.  Four years later the country came under the rule of a military dictatorship that remained in force until 1984.  During these decades the infrastructure of Rio suffered.  As the politicians and military rulers fought for control money that could have been used to construct vital infrastructure was withheld.
Rio de Janeiro is located on the eastern Atlantic coast of Brazil, about 1400 km south of that large bulge marking the eastern most point of South America.  In colonial times, the city was the main port for shipment of wood from the pau Brazil tree.  Pau Brazil, from which the country drew its name, grows in a peculiar red shade that was used for dye, furniture, and decoration.  Unfortunately the Atlantic Rain forest suffered greatly from tree extraction.  Later, when gold and diamonds were discovered in the surrounding mountains and a direct road was built to the mines, these precious commodities replaced wood as the primary export.
Today Rio is a huge city of some 7 million inhabitants.  Virtually none of the old colonial character remains having been subjected to the wrecking ball during the modernization project of Don Pedro II in the 1800s.  Further modernization projects of the 60s and 70s even removed a lot of Don Pedro's II early project as well.  Consequently much of Rio's architecture consists of steel and concrete high rise buildings extending all the way from downtown along the beach through the famous Copacabana and on to the newer and more upscale Ipanema and Leblon beaches.  Only a few pieces of the fabulous 1800s architectural art remain clustered around Cinlandia and Praca XV; the municipal theater, the library, the Museu of Belas Artes, the justice building for example.  So it's not the plethora of architectural delights that draws the visitor.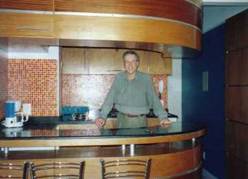 Usually it's the beaches and party scene that draws visitors.  But we came simply to see what there is to see.  Arriving early in the morning of December 8, we managed to figure out how to catch a direct bus to Copacabana, found our way to our apartment, and get ourselves checked in before dropping dead from a long night of zero sleep and too small airline seats.  We had booked a studio apartment from a company called Rio Apartments.  We'd never tried a short-term apartment rental before, so this was an experiment we weren't entirely sure would work well. 
The apartment was by no means fancy or large, about the size of a large hotel room.  But, it did have a bed, sofa, tiny kitchen, small bathroom, and very important a washing machine.  Later we would discover that getting clothes washed in Brazil is expensive..  There was no maid service, no hotel desk, and no morning breakfast buffet.  Just a guard to keep track of all those who entered and left, a standard feature of all apartment buildings in Brazil.  It felt a little like a cozy home away from home.  So comfortable, we wound up staying  three nights longer than originally anticipated.  The company was professional and both personnel and the apartment lived up to expectations.  As our first experiment with short-term apartment rental, we have to say it worked out extremely well.
Rio is world famous for its beautiful environment, comparable only to San Francisco, Sidney, and Hong Kong in one tour guide's opinion.  It really does have an ambience that deserves this reputation.  While high rise condominium complexes rise up from the valleys and rustic brick favela houses hug the slopes of the hills, the hills themselves have been left covered with vegetation, some of which was a reforestation project implemented by Don Pedro II.  Large expanses of hilly Atlantic rain forest poke into the surrounding city producing a comforting mix of greenery amongst city blight.  One of the world's largest urban parks, Parque Nacional Tijuca, sits among these hills.  You can go for hikes in the park, but a guide is recommended as the trails aren't well marked and it's easy to get lost.
It is 800 m high on one of these national park hills that the famous Cristo Redentor statue was built.  People had been making their way to the top of this hill for many years just for the views.  So, during that 1800s modernization era a small cog train was built to make the climb easier.  The statue was added in the 1930s when art deco was all the rage.  At 80 ft in height, it was the largest art deco statue in existence and still is the largest statue of Christ in existence.  It's easy to spot from almost anywhere within the city.
Getting up to the statue today is a must-do on all tourist itineraries.  This almost always involves taking the recently updated and modernized cog railway up that steep climb.  Since virtually everyone who comes Rio to goes to the Corcovado, the name of the hill on which the statue sits, the crush of humanity at the bottom of the train tracks is almost overwhelming.  Every day probably a hundred packed bus tours arrive, disgorge their load of European, Asian, South and North American, passengers into the cramped entry.  The tour guides snatch up blocks of tickets and it appears that some groups have to wait an hour or more just for their turn.  Being just a twosome we were squeezed into a couple of leftover seats available on the very next train.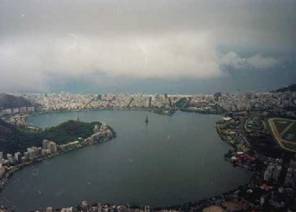 Views from the Corcovado can be stunning, in the right weather.  Unfortunately, though it is often covered in a cloudy shroud.  We'd been watching for days hoping that the spell of rainy weather we'd been having would pass and the sun would come out.  But, alas, that was not to be.  We had only one day remaining which was supposed to be stormy, so we took our chances and headed on up.  We did get to see some views between spells of misty fog.  Even the statue came out of clouds for a brief spell, or at least long enough for a photo or two.  Thankfully being on our own schedule meant we could wait for the few patches of clearing.  Imagine being on one of those group tours.  If the statue or views happen to be covered during your 1/2-hour visit, tough cookies.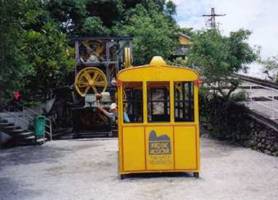 Another must-do for Rio is another high viewpoint.  This one is a rather conical looking hill that juts out into the bay.  In the early days the French, who occupied Rio on a couple of occasions, called it the sugarloaf.  The Portuguese version, Pao de Azucar, remains today.  To get to the top of this hill you take 2 cable cars with a little break on the top of Morro de Urca on the way.  Views from this spot are quite different than from the Corcovado.  You stand almost out into the bay and look back at the city.  You also have a great overview of one of the twin forts that used to guard the city.
Back on the city tourist trail, there are several small but interesting museums.  Near the train going up to the Corcovado is the worlds largest museum of naive art.  These are those colorful, out of perspective paintings that usually bring a smile to your face.  Figures in the paintings are often doing common things in a comical manner and each painting is usually so full of little details you could spend hours just picking out new bits and pieces.  This museum has as its highlights the world's two largest naive paintings.  The first is a huge depiction of Rio de Janeiro.  Everything from fat little planes taking off from the nonexistent runways of the two local airports to squat swimming bodies on the famous beaches can be found.  The second large painting is a huge, panorama representation of the history of Brazil up until around 1970 that covers 3 walls.  With the 50% discount we got for having Corcovado tickets, the price of entry was well worth it.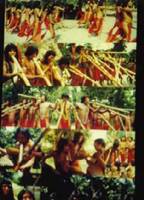 Another museum, the Museu de Indio, had some details on the normal life style of some of the northern tribes.  The museum is supposed to present an overview of tribal cultures, but it seemed to focus mainly on just a few of their traditional rituals.  A film showed excerpts from a variety of their ceremonies.  All seemed to involve the men dressed in nothing more than red cloth draped over their loins.  They begin by blowing on long, bamboo horns.  Women, similarly dressed in red cloth, keep plying the men with some sort of murky, white liquid.  The men keep drinking, dancing, drinking, dancing, drinking, and dancing until they literally fall over either from exhaustion or drunkenness or both.  It was interesting and well worth the price, free for our Sunday visit.  But, we would have preferred to see more about how these people live today; what they eat, how they hunt, what sources of income they may have, what gods they were trying to pacify, etc.  We would later discover that none of the Brazilian Museus do Indios would present this level of detail.  So we just had to make do.
The Museum of Modern Art, or MAM, is housed in an ultra modern, concrete structure that probably looked absolutely wonderful when first built.  Today, it looks woefully dated and, as seems to always happen with concrete, the walls are stained and the concrete appears to be rotting away from acid, rain, or something.  The odd, conical shaped Cathedral Metropolitana, also made of concrete, seems to be suffering a similar malady.  The MAM is supposed to house many thousands of pieces of modern art.  When we visited, several of the display rooms were undergoing renovation and revitalization.  Consequently we only saw a mere fraction of the museum's total inventory.  And, we have to admit, modern art simply leaves us shaking our heads wondering who in the world would pay for this stuff.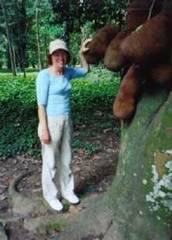 One room within the museum, however, was just getting its finishing touches.  Literally they were just nailing up the last of the signs.  This was a very well done display on the life of one of Brazil's most famous personalities, Carmen Miranda.  At first we did not recall who she was.  But seeing the clips from some of her movies quickly brought her back to mind.  Think about a woman in a long colorful, multi-layered skirt, huge platform heeled shoes, and a turban hat mounded tall with one big fruit salad, especially bananas.  Now put her in the middle of a bunch of banana clad dancers all holding up long rows of gigantic bananas in a big circle turning the whole thing into one big banana xylophone.  Carmen Miranda was playing this banana xylophone while singing something about a girl in a tutti-frutti hat.  This unusual "biana" dress was her trademark throughout her short life.  She died in 1955 in her 40s of a heart attack brought on by overwork, too many drugs, and way too much booze.  But that banana dance forever remains strong in world memory.
Near the well-to-do suburb of Leblon, just behind the large horse track, are the large botanical gardens.  These beautiful gardens originally were the location for a sugar cane mill.  Later, when the Empire of Brazil needed munitions, it was converted into a black powder factory.  Subsequently gardens were built around the factory buildings and the entire area turned into a royal garden and botanical preserve.  In the late 1800s the gardens were renamed "Jardim Botanico" and opened to the public.  Acres and acres of plants and trees from all over Brazil as well as other locals fill these huge gardens.  In addition there are interesting statues dedicated mostly to the various directors of the gardens, beautiful fountains all fully operational, a small museum explaining how the old powder factory worked, and an unusual "sensory" garden specifically built for the handicapped.  We spent an entire afternoon wandering the quiet streets of the garden simply enjoying the chance to get away from the hubbub of the city for just a little while.
Having made it to the top of the two main tourist sites, strolled the famous Copacabana and Ipanema beaches, visited several of the museums, toured downtown, ridden the bumpy, jerky Santa Teresa trolley, and had a taste of a caparinha, Brazil's defacto national drink, it was time to head on.  We'd spent 8 days in Rio de Janeiro and could probably have found plenty to do for several more.  But, Brazil is the fifth largest country in the world after Russia, Canada, China, and the US.  There was plenty more to do and see outside of this famous city.  Time to move on.
Paraty, December 17 and 18
South from Rio de Janeiro mountains reaching heights of 6,000 to 7,000 feet covered in the lush Mata Atlantico rain forest reach right to the coast and the bright aquamarine Atlantic ocean.  The coast is a rugged stretch of bays, inlets, and islands and is absolutely stunning.  Brazileros call it the Costa Verde, green coast, and clearly are quite proud of this gorgeous section of coastline. 
Located on this beautiful coast about 4 hours south of Rio along a winding 2 lane road lies the small town of Paraty, sometimes spelled Parati.  Originally founded in the 16th century when Portuguese from Sao Vincente emigrated southward, it really hit its heyday in the 17th century.  It was then that the mines of Minas Gerais region were in full swing.  Miners would disembark at the port of Paraty and make their way through the dense forests up the rugged Serra do Mar following an old Guianas Indian road.  Gold and other precious minerals would be packed back down the rough road to Paraty for shipment to Portugal.  As a result, Paraty developed as a prosperous port town guarded by no less than 7 small forts.
In the 1720s a new road leading from Rio de Janeiro to Minas Gerais was hacked into the Serra dos Orgaos thus cutting 15 days off the travel time.  Paraty, once a bustling port, was bypassed and essentially forgotten, until recent times.  Because it was so isolated, not even a road connected it to Rio, the old colonial aspects of the little town were left untouched and in near perfect condition.  An old architectural grand dame just waiting for a little make-up and face lift. 
With the addition of the road to Rio in 1956 and the subsequent connection to Sao Paulo in 1960, Paraty was rediscovered, first by artists and then by tourists.  The old town was completely renovated without destroying the colonial character.  The town people moved to the outskirts and shops, restaurants, and hotels replaced the residences.  With several long stretches of white sandy beaches, a beautiful bay with around 65 green studded islands, and this gem of a colonial town, it's easy to see why Paraty now attracts such a big following.
After checking into a small pousada with a nice, tropical garden and pleasant swimming pool, we took off on a wander.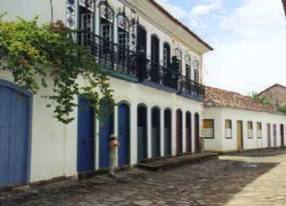 The old part of town covers an area of about 4 to 5 square blocks.  Streets are laid out in near perfect rectangles all lined with one or two story colonial buildings.  Usually the structure consists of a white stucco front with rows of tall rectangular windows and an occasional door.  Many windows and doors are topped with a slightly curved frame and all are painted bright pastel colors, particularly blue.  Some buildings have second floor porches with wrought iron railings.  But most are just a single story.  Churches also tend to follow a similar method of construction with the exception that they are taller and have towers.  It is interesting that since Paraty lost its importance before the exuberance of 18th century architecture, the churches in this town retain a much simpler decor.
The town was actually built right at sea level.  Rather than try to wall out the incoming high tide seawater, the town builders decided to use it to their advantage.  Twice a day, when the tide is in, some of the streets flood.  In the old horse and carriage times this was probably a great way to have automatic street cleaning.  Although thinking about all that horse poop and other wonderful stuff floating down the road is not exactly comforting.  It's possible that early on most of the streets would flood and perhaps even today when there is a particularly strong high tide they still would.  But we only witnessed about 1/2 block at the furthest corner covered with water.  So the effect was far less dramatic than what we were expecting.
Up on a hill just to the north of the town we found the remains of one of the forts built by the Portuguese to protect the city and the gold shipments.  Not much of the fort is left, just a few walls, a reconstructed building with a tiny museum and in the courtyard there are about 5 canon.  Ironically this fort built to defend the town against marauding pirates who were usually British, e.g.; Sir Francis Drake, were made in the British foundries as evidenced by the British insignia on each.  We wondered if the Portuguese bought the canon or took them from ships they captured.  Did the British know they were being hit by their own technology?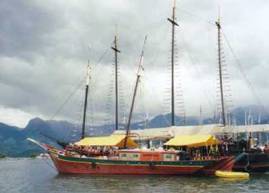 The one thing nearly everyone does in Paraty, besides soaking up sun at one of the many beaches, is to take one of the boat trips.  Everyday at 10, 11, and 12 a whole bunch of these rather galleon looking boats head out across the bay for visits to the islands and beaches.  Despite having 3 masts, booms, and full rigging, none of these ships ever raises a sail.  It is all show.  They all go out at the same time, make exactly the same stops at the same places for the same amount of time.  But, who cared.  It was a chance to get out on the water for a reasonable price. 
We picked one of the larger boats and, since it was low season, it had only about 15 passengers total.  It was quite spacious.  In addition, being a slightly more expensive trip, we got free use of snorkel equipment.  At each stop we'd jump right in and immediately snorkel around.  The fish weren't nearly as plentiful as we'd seen on other snorkel trips, but it was still cool.  Yellow and black striped tiger fish were the main staple.  The beaches and islands were beautiful and the whole trip really relaxing.  After so much time in the city, this was a perfect way to spend a quiet day.  It was quite touristy, very commercial, and packaged, but we really enjoyed it.  It was well worth the approximately $11 per person for the 5 hour trip.
Petropolis - December 19 - 22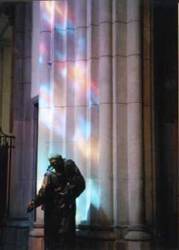 To go just about anywhere from Paraty other than Sao Paulo requires taking that 4 hour return bus to the Rio bus station, buying another ticket, and getting back on another bus to where ever you're headed.  There's no way around it.  So after a couple days getting ourselves totally overdone with sun exposure, we climbed aboard an early bus to make this two step journey.  This time we were headed to the mountain retreat city of Petropolis.
Located 1 hour by bus on the westerly route 40 out of Rio and high in the Serra dos Orgaos mountains, Petropolis today is a hustling, bustling city of about 1/4 million.  Seeing the crush of humanity working their way up and down the main shopping streets in the city center makes it's easy to believe the reported population estimates.  In fact, it almost feels busier and more chaotic than a town of 250,000 should.  But, that's because the main shopping district is relegated to just 2 main streets paralleling the river for only about 4 to 5 blocks in length.  It's a lot of shopping packed into a little space and in these few remaining days before Christmas absolutely everyone was out shopping.
Into this chaotic hubbub we suddenly found ourselves.  Coming into a city for the first time, suitcase in tow, is always a nerve wracking experience.  You're disoriented.  You're not entirely sure about security especially near the bus station.  You've got some idea as to which hotels you want to look at, but no idea as to where you are in relation to them.  And you've got to go off dragging, rolling, pulling, or carrying your suitcase or pack through dense crowds from place to place until you find something acceptable.  It is such a relief when you finally get settled into a room, your belongings securely locked behind a door.  Then is the time to take a deep breath, pull out a map, and begin leisurely exploration.
Prior to the reign of the rather nutty Dom Pedro I, Petropolis was nothing more than a large farm.  Pedro I discovered that he rather enjoyed the cooler climates of this 3000-ft elevation, so he bought the farm, literally.  Soon he set to work building what would become the royal family's summer residence.  When he abdicated, his son took over and proceeded to institute the same modernization effort he'd been working on in Rio.  Pedro II took office when he was 15 years old and he lived a very long life.  In fact today he is credited with being the longest ruling leader of Brazil ever.  Of course that's because in the 1880s Brazil became a republic and switched to presidents with shorter terms.
Don Pedro II parceled off the farm and sold lots to European immigrants, mostly Germans.  They'd been enticed into moving to Brazil specifically to help in building the new and first paved road connecting Rio to Petropolis.  The first telegraph cable was also laid between Rio and Petropolis and the first telephone was installed at the Petropolis palace.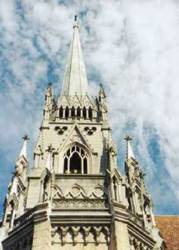 Since the seat of power, i.e. the emperor, spent so much time in Petropolis, anybody who was anybody in 19th century Brazilian politics just had to have a residence there as well.  Consequently beautiful mansions were built all around the palace.  Absolutely wonderful 19th century architectural treasures can be found on virtually every street in the main downtown area.  These are houses and not the enormous business buildings found in major cities.  They are of varying size ranging from huge many roomed mansions, to tiny cottages.  The mansion owned by a fellow named Maua, a big investor and instigator for the Brazilian railway is an example of the very large.  It is not open to the public.  Yet the house owned by Santos Dumont, the father of Brazilian aviation and the inventor of the wristwatch is but a tiny cracker box in comparison.  This one is open as a museum to Dumont's honor.  Most of the other older houses are now used as offices for lawyers, doctors, or other business enterprises.  
The monarchy ended in 1889 with a military coup and the declaration of a republic.  Hence there was no longer a need for a royal family retreat.  The palace was converted into the Imperial museum and opened to the public.  Although it's nothing comparable to the palaces of monarchs in Europe, it is still quite an impressive building to tour nevertheless.  After handing your paper ticket to one of the many employees manning the door and pushing your way through the ever present turnstile, you are instructed to put your feet, shoes and all, into a pair of felt bottom slippers.  Rather than trying to control the visitors by making them stay behind ropes and on top of carpets, this museum chose to essentially put the carpet on people's feet.  Thus you can slip and slide your way around just about anywhere you want to go.  Just don't fall as the museum clearly states it is not responsible for any injuries due to slippage.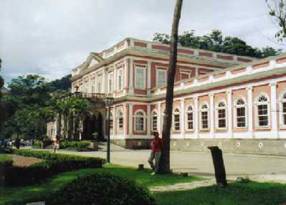 Within the palace are many beautiful pieces of antique furnishings original to either this palace in Petropolis or moved from the main palace in Rio.  There are musical instruments, pieces of dishware and silver used at the royal dinner table, antique lamps, household utensils, some clothing, the crown jewels and formal royal attire, and a vast array of paintings of the royal family, in particular Pedro II.  Not much is spoken of Pedro I except for an allegorical painting of his "give me liberty or give me death" speech.  Hmmm sounds awfully familiar.  It seems Brazil isn't all that eager to brandish the exploits of their first rather wild, womanizing emperor.  Pedro II, on the other hand, seems to have been quite popular.  Or at least they nowadays remember him with kind words.
Renting the portable audio guide for R$3 was well worthwhile as it explained the importance of some of the thousands of items contained in the museum.  Best of all it was in English spoken by an American.  So there weren't any of the typical grammatical slips that can take a perfectly normal Portuguese sentence and turn it into something wholly comical or totally incomprehensible.  With the recording in tow, you can easily spend 1 to 2 hours sliding your way around the 20 or so rooms, 28 audio stops.  Then you can go down to the tranquil, shady royal gardens to relax and wait out the remainder of the hot steamy afternoon.  The hubbub of the shopping street seems far, far away.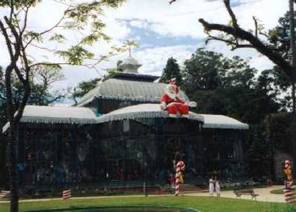 We also stopped in at the cathedral.  With its gothic construction and large stained glass windows, the similarity with many European churches we've seen is quite striking.  There was also the crystal palace.  This is an all glass and steel construction that was manufactured in Europe and shipped in pieces for reconstruction here.  It's very similar in concept to the Crystal Palace in Curitiba, although it's not used as a green house.  Rather it houses temporary exhibitions.  At this time it was all dressed up for Christmas.  Wrapped presents hung from the ceiling, huge candy canes and Santas stood all about, and fake snow draped from the roof.  All this is in a country that sees snow in only a few places and at a time when it was at the start of the summer season.  Oh well, it's the passion of the season.  One last climb up to a statue of Trono de Fatima for an overview of the entire city, and we felt we'd seen all we came to see in Petropolis itself.
Not far from Petropolis, at least as the crow flies, lies another mountain retreat town named Teresopolis.  While Don Pedro liked to hang out in Petropolis, the Do as Empressa Maria Tereza preferred Teresopolis.  Getting there entails a 1 1/2-hour bus ride over a narrow, winding mountain pass road, not great for those of us who are prone to carsickness.  Teresopolis is the highest city in the state of Rio de Janeiro and is about 1/2 the size of Petropolis.  It appears to be slightly more affluent than Petropolis; at least there are some mighty nice houses on its outskirts.
Other than a church or two, the main reason to go there is to visit the Parque Nacional de Orgaoes.  Brazil's third oldest national park, this one was created mainly to preserve the natural beauty of the unique peaks and rock formations of the area.  It's been a popular destination for rock climbers and peak baggers since before its very inception.  We came because we wanted to do some hikes in one of the few pristine sections of Matta Atlantica and to get away from city touring for a while without having to hire a guide, rent a car, or take horrendously long and difficult bus rides.  Accessibility was a big attraction for us. 
One enjoyable aspect of this park was how usable it was.  Signs pointed out all the trails, maps were posted in many locations, bathrooms were quite nice, trails were in very good condition, and even the visitor's center had some interesting displays on the climbing history in the park.  Not many South American parks are this easy to negotiate.  We found that a visit to this park was a day well spent.
December 23 - 25 Sao Joao del Rei
Brazil, or at least southern Brazil, is probably the closest to being a full fledged car/airplane country than any other we've seen in S. America so far.  The main way we judge this is by looking at their bus terminals, bus schedules, and bus quality.  In Argentina, for example, the main bus terminal in Buenos Aires has round 75 embarkation platforms.  In Rio there may be only around 40 or so.  In Argentina if you want to go to a particular city you usually find not one, but at least two or maybe even 3 to 4 different bus companies vying for your patronage.  Each one of these companies will usually offer several departures of different class buses every day.  In Brazil there seems to be only one bus company per destination, normally, and typically only common or semi leito (that's partial bed) service.  The full luxury leito service is only rarely found.  In Argentina the huge double decked buses are very common.  In Brazil, they're quite rare which is surprising considering they are made there.  Finally in Ouro Preto we found the hotel touts tend to focus their efforts around the main plaza where the autos usually pass.  There were virtually none up at the bus terminal.  It was little things like that told us that in Brazil the car is rapidly becoming king of transportation.
There are other interesting differences between the Spanish and Portuguese Latin American countries.  The central plaza that becomes the center of social life at night in the Spanish countries is almost nonexistent in Brazil.  Spanish colonial law, a law that did not exist for Brazil, decreed this plaza concept with its church on one side and seat of government on the opposite.  Consequently in Brazilian towns and cities it's more of a stretch to find that special place where families gather in the evenings.  If there is a beach or river promenade, that'll be where people go.  Otherwise it almost seems that everyone congregates at the shopping malls.  Food courts often provide live entertainment in the evening and the tables are packed.  It's a good way to draw business.
Churches in this central part of Brazil have an unusual shape.  There is no form of the crucifix in the structure.  Rather churches mostly have one large rectangular room where the main congegration sits and then a very long rectangular annex on the end opposite the main door where additional parishioners, choir, alter boys, padres and whatever sit.  This is where the main altar is found. 
Smaller side altars line the larger room and are usually made from very elaborately carved wood sometimes covered in gold leaf.  A novel feature for Brazil are the chandeliers held by a wall mounted holder carved in some elaborate form hanging just in front of each alter.  In several of the churches these wall-mounted chandeliers are accompanied with 1 to 2 rows of ceiling hung chandeliers all floating at the same level.  Add to that the extremely elaborate alters both on the sides and up in the long annex and you find the whole affair overwhelmingly busy.  Sometimes it seems these church designers got far too carried away.
Another aspect of Brazil is the variety of races you find all living and working side by side.  There is a strong mixture of indigenous and European, which can be found in other Latin American countries.  But, added to the mix is a very large black population.  Portugal imported a huge number of blacks as slaves to work the mines, sugar cane farms, and in all other fields.  Hence it's quite common to see Brazilians of African decent all over the place.
We've seen very, very few elsewhere in the other S. American countries we've visited.  It's not that they weren't imported to these countries, they were and in great numbers.  Either they just did not survive or they emigrated elsewhere after gaining freedom.  There are supposed to be a few full black towns in Ecuador, but we did not get to visit any.  So we're not entirely sure where they all ended up.  In any event, in Brazil, at least, you do see the descendents of those millions of slaves.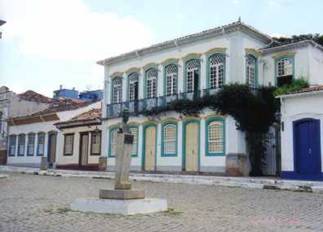 Further west of the royal retreat of Petropolis lies the state of Minas Gerais, literally translated as general mines.  This was the region that brought wealth to the Portuguese crown in the form of silver, gold and industrial diamonds.  Two colonial routes to the coast existed.  One went from the town of Paraty on the coast to the gold town of Ouro Preto.  The second went from Rio to Ouro Preto.  The second route chopped 15 days off the time to travel and, consequently, overtook the first as the favorite way to go.  Along both routes several colonial towns developed as stopping points for travelers.  Along the original path from Paraty lie two towns that today have managed to retain much of their old colonial charm, Sao Joao del Rei and Tiradentes.
Even though the second route to Ouro Preto completely bypassed Sao Joao del Rei the town managed to continue to grow and flourish.  Today it is a city of around 75,000 that absolutely buzzes with traffic and pedestrians.  With continued development much of its colonial charm is completely surrounded by 20th century creations, often not in a very harmonic manner either.  But, wander enough and you can find spots where you can still feel that old colonial charm. 
As with every colonial town, churches abound.  Also there are at least a couple of interesting museums for visiting.  But, perhaps one of the best reasons for visiting Sao Joao is to ride the steam train.  Early in the morning of Friday, Saturday, or Sunday, the train engineers arrive and begin the long process of preparing their precious treasure for a day's work.  The engine is a small, narrow gage steam locomotive converted to burn oil rather than coal or wood.  The Baldwin locomotive company of Philadelphia manufactured it in 1908.  It has been carefully restored and is now absolutely lovingly maintained.  All joints are oiled, the bell and other brass polished.  Everything is clean and spotless before each day's work.
Many perfectly maintained passenger cars are attached to this little engine to make up the tourist train.  Brazilian companies manufactured all the cars and we found dates ranging from 1904 through 1939.  Early cars had only small wood benches facing one direction.  As the years progressed, benches with reversing backs were implemented, padding was added, and the number of passengers in each row reduced from 4 to 3.  As with the engine, each car is in perfect condition.
We climbed aboard this rolling bit of history for a 10AM departure from the immaculate and historic Sao Joao train station.  Once this must have been a very active station.  It had 6 platforms, a large number for almost any train station and certainly a reasonable number for a major transportation hub.  Now there's just those 6 departures and arrivals per week.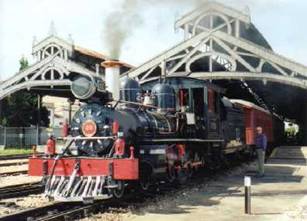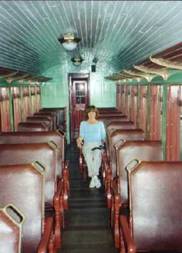 Chills ran down our spines as that sound of the steam horn blowing, the bell ringing, and the first chug-chug rolls across the rails.  There's something about it that hits home, a sound no modern form of transportation can quite replicate.  Yet it is a sound that almost exclusively represents riding the rails. Next and final stop, Tiradentes.
Tiradentes located about 14 km, or one day's travel for a mule caravan, from Sao Joao del Rei has been left mercifully untouched by most modern development.  It's a tiny town that has taken great steps to retain its colonial character.  The town was originally named Arrail da Ponta do Morror (Hamlet on a Hilltop) but was changed to Tiradentes in honor of the Inconfidencia hero who was born there.  Naturally with the train and all the restaurants, craft shops, and pousadas servicing the town, it now mines the tourist to great profit.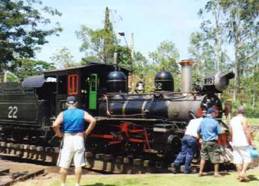 When you climb off the train, the first thing to do is watch the engineers turn the engine around.  We've seen the familiar circular pit of locomotive turntables throughout the world, but rarely is the turning equipment still in place and never have we seen it still in use.  What was impressive was that the turntable was so well balanced that it took just two men to manually turn that many ton engine.  There's no motor assist.  It only took a few minutes and the train was ready to go on its return trip.  The fellow acting as combination conductor, train hand, and ticket seller then opened the ticket booth for business.
There never was any real reason the engines had to be turned around and reattached to the opposite end of the train for a return run.  No reason except the comfort of the passengers, the need for the cowcatcher to be up front and the firemen in back, and to keep unnecessary jobs.  After all the engines already run backward to attach to the front car anyway.  Eventually backward running engines became the norm and you won't see such a turning maneuver on any modern train.  In fact, modern cargo trains run with hardly more than 2 people in charge.
Meeting the train is a whole cadre of horse carriages.  You can hire them just to deliver you to town, only about 1 km away.  Or you can hire them to give you the complete tour.  We chose to stroll as with a 5 PM return we had nothing but time on our side.  So why hurry along in a horse carriage. 
When compared to Sao Joao on Christmas Eve, Tiradentes was almost dead quiet.  On this day most people just travel to visit family or do last minute shopping.  The rush to the tourist sites wouldn't begin for a couple more days.  So we found Tiradentes to be a downright pleasant and peaceful place to spend the day.  The main part of town is quite small, only about 6 to 7 streets at most.  There are a few churches, one museum, and an interesting fountain to visit.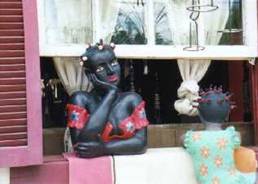 The fountain, or chafariz, has been mostly restored.  It has 3 separate water pools, one for drinking, one for clothes washing, and the third for horses.  Only the drinking pool remains in operation being fed by a stone pipe from the hillside above and behind the fountain.  The wash basin gets water, but it is now drained immediately.  Of course the horse carriage tours make the obligatory stop at the fountain, but otherwise it's a relatively quiet place.
We visited the sites, ate a nice lunch, wandered the streets, and still had time left to relax in the plaza.  Unusual for much of Brazil town actually has one that is the center of social life.  Then back to the train for our far too short 1/2-hour ride back.
On Christmas day we left the nearly deserted streets of Sao Joao del Rei and headed to more eerily deserted streets in the big city, Belo Horizonte.  Belo Horizonte has little to offer the traveler and all were closed on Monday, which happened to be the day after Christmas.  But it was a good place to make further travel plans and arrangements.  After that, on to what is supposed to be the biggie to see in Minas Gerais State, Ouro Preto.
December 27 - 29 - Ouro Preto
While Sao Joao del Rei and Tiradentes were way stations along the travel route to Paraty, Ouro Preto was the actual destination.  In 1698 Antonio Dias de Oliveira discovered the gold in what was to become the largest deposits in the Western Hemisphere at that time.  As word spread, fortune seekers flocked to the region and the city grew.  Portuguese King Dom Joao V quickly slapped a 1/5th tax on the gold and weighing stations were posted throughout the region.  Miners found to be skipping on the taxes were sentenced to the dungeons.
The town itself was founded in 1711 and quickly rich and extravagant goods from the world over were finding their way to this isolated local.  At the height of the boom, the town had a population of over 110,000, nearly twice what it has today.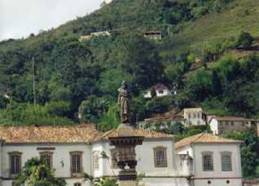 Perhaps the most important aspect of its history is it is the place where, in 1789, the famous Inconfidencia was hatched.  The Inconfidencia was Brazil's first and failed attempt at freedom from Portuguese rule.  As the gold boom tapered and royal taxes grew, a group of men spurred on by the ideas of the French Revolution, decided to declare independence for Brazil.  They were lead by 3 men, Claudio da Costa, Tomas Antonio Gonzaga, and Joaquim Jose da Silva Xavier.  The later was nicknamed Tiradentes (teeth puller) because he practiced dentistry.  The plot failed, the men were caught and exiled, and Tiradentes was executed.
Further reduction in the gold output left Ouro Preto a less important city on the Brazilian landscape.  In 1897 the state capital was moved to Belo Horizonte.  This rather fortuitous event means that the colonial Ouro Preto was preserved for today's newer boom, tourist.
Although the gold mines in the hills around the town have mostly played out, evidence of the town's former wealth abound.  Steep cobblestone streets lined with beautiful colonial style buildings climb up and down the hills.  Twenty-three well appointed churches are scattered throughout town, far too many to see in one visit.  The well restored old Casa dos Contos, counting house, and the building housing the Museu de Inconfidencia are prime examples of wealthy architecture of the time.  It's no wonder this town has become known as the gem of Minas Gerias.
Arriving early afternoon, we had just enough time to establish ourselves in a hotel and visit the Casa dos Contos.  The old counting house was, originally, one of the mints for the Portuguese crown.  Over time it subsequent uses has included slaves quarters, a prison, and a library.  Today, the massive collection of historical documents about Brazil's golden era has been moved into archives to be installed onto the Internet.  The building has been converted into a 4-story museum housing a history of Brazilian currency, some rare and historical books, and in the basement odds and ends of household goods from that era.
On the main floor one room holds temporary exhibitions and at this time it was a display of old scientific equipment used in the classes at the nearby School of Mines.  Students all meticulously restored a fascinating array of microscopes, chemistry lab equipment, electronics lab pieces, model internal combustion engines, and even some aerodynamics instructional devices.  They all now function and were available for us most curious visitors to play with.  Great toys for a couple of engineers.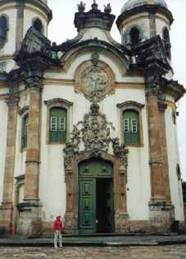 The next morning we headed out to visit just a few of the 23 churches and a couple museums.  The first church, Nossa Senorha Efigany, has an interesting history.  It was paid for and built for the black slaves.  They raised money for the construction by washing gold dust from their hair in the baptismal font or by secreting bits of dust in tooth cavities and under fingernails.  They must have done quite a job at collection as they wound up building a substantial structure.  Outside it has a wonderful location on a hilltop with a commanding view over the entire city.  Inside it has a moderate amount of carving, very little gold, but a very nicely painted ceiling.  It's clear that this particular church doesn't get quite as much visitation as some of the others as the interior looks like it could use some restoration work.  The crystal chandeliers in particular need a serious cleaning and some repair work.  But all in all, this is a great introduction to the treasury of churches in Ouro Preto.
Next up was the church of San Fransisco de Assis.  This particular structure was almost wholly the work of a famous Brazilian artist affectionately known as Aleijandinho, or little cripple.  He was an artist that just wouldn't quit despite losing his fingers and the use of his lower legs due to some illness.  He strapped chisels onto the stubs of his arms and just kept on going.  Most noteworthy of his style are these odd looking cherubs with fat cheeks and a funny boggle look on their eyes. 
The church of San Fransisco de Assis is absolutely full of prime examples of these funny looking cherubs.  There are full baby size cherubs holding up the columns of the side alters, larger than life cherubs scattered around the ceiling, and even mini cherub heads and faces all over the place.  Cherubs, cherubs, cherubs everywhere.  That's not to say there weren't many other interesting statues and carvings.  It's just these little baby face creatures are so prevalent.
After Assis we headed for a Brazilian favorite lunch pastime.  In Brazil one of the most common lunchtime restaurants is a por kilo place.  At first glance it looks like a typical all-you-can-eat buffet but it has a little twist, you pay for your meal by weight, so many Reais per 100 grams.  These por kilo restaurants range in price from somewhere around $.50 to $1.00 US per 100 grams.  The more expensive, the more exotic the dishes.  You simply grab a plate, circle around the cold and warm tables loading up your plate as you go, and in the end put the whole mess, plate and all, on a scale.  For a foreign tourist it's an interesting way to try bits and pieces of the local dishes without getting loaded down with far too much to eat.  We typically found that after eating at one of these joints for lunch, a small snack is plenty for dinner.
On to the church of Nossa Senhora de Pillar, the most expensive church to visit and probably the most famous.  This one is supposed to be second most opulent church in all Brazil, second only to one in Salvador.  Once again we found ourselves inside staring at amazingly intricate carvings winding up one wall, across the ceiling, and back down the next wall.  There's so much going on in each altar it's almost too much to take in.  We admired gold covered swirls, leaves, grapes, and angels.  We wondered just how they got the gold leaf to stick to the wood.  Did they use glue or paint it on.  How in the world could anyone pay attention to any sort of sermon when there was so much visual noise going on in the church itself?  Yet, this wasn't even the busiest Brazilian church we'd seen so far.
We noted small spots where, over time, bits and pieces of the decoration had fallen off.  Missing fingers, a broken crown, the missing scroll pieces had us wondering just what might have caused this piece of wood, far above the reach of a normal person, to fall off.  Cleaning, perhaps, or maybe the slip of a candle or altarpiece.  Only the walls themselves know.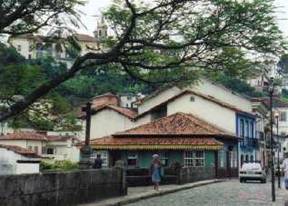 Up one a very steep, slick cobblestone hill is the Museu de Oratorio.  Oratorios were sort of miniature chapels designed for use within a person's house or for travel.  Another use was to scare away evil spirits.  Once upon a time, in old Ouro Preto there was a rash of ghost sightings.  Late at night when the streets were deserted, ghosts would approach miners who may still be out wandering.  Upon seeing the ghost the pedestrian would be so startled he'd drop his bag of gold and run.  Gold and ghost would disappear. 
Today anyone with half a brain would recognize that this so called ghost was no more than a common crook and demand the police do something.  Back then the locals resorted to a religious solution.  They asked for and got permission to place oratorios on various street corners.  The idea was to scare off the ghost.  Obviously it didn't work that well as one of the statues contained within these very oratorios was used by a band of bandits for clandestine communication.  The statue was pointed in the direction the gold caravan was to head alerting the crooks as to where to hide out.
Only a few of these street corner oratorios remain and that most infamous one now contains just a cross.  The statue of the saint, Virgin Mary, or whatever is either long gone or in some museum somewhere.
Within the Museu de Oratorio can be found all kinds of other oratorios.  Oratorios are small enclosures, usually in the shape of a house but sometimes shaped like a bullet, with little front doors.  The doors open outward like wings to reveal a painted interior and statues of one or more various saints.  In the basement of the museum are oratorios made to be mobile, for use by traveling priests, cattlemen out on the range, business men, or just to wear around your neck.  Sizes range from just an inch or so across to up to a few feet.  The first floor has oratorios that were used in the common folk's houses and chapels.  These are made of simple materials and have little decorations beyond painting.  Finally on the top floor are those found in more wealthy environs.  Naturally these show quite a bit more splendor, fancy carvings, more gold and silver, and use of exotic materials such as ostrich eggs and seashells.  Yet the same basic theme remains, a small house usually with two front doors housing a saintly statue.
One final stop was at the Museu Inconfidencia housed in what was a large prison.  Surprisingly this prison is located on the main plaza, now parking lot, in a location you would think would have been reserved for more prestigious buildings.  The most famous articles housed in the museum are not actually on display, the remains of 18 of the Inconfidencia.  Granite slabs mark their location.  Otherwise there just was not that much to see.  Perhaps 4 or 5 articles per room.  We felt as though the museum really wasn't worth the $1.70 entry.  Although, the second floor was under renovation, so perhaps when it's open the value of the museum will increase, although want to bet the price increases accordingly.
References:
Lonely Planet Brazil, 2005 edition

-