EUROPEAN TOUR 2006 PART III –
FRANCE, SWITZERLAND, LICHTENSTEIN, AUSTRIA, GERMANY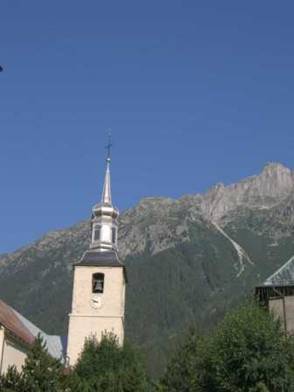 Avignon, France to Braunau, AT
July 1 to August 1, 2006
Start 48,896 miles (78,234 km):
End 49,780 miles (79,647 km) cumulative
TEASERS
| | |
| --- | --- |
| | Explore Roman ruins in the brutal heat of the day |
| | Begin following the Tour de France Alpine route |
| | Wander the narrow streets of Briancon, an ancient fortified site |
| | Climb over one brutal pass after another |
| | Hike the slopes around Mont Blanc |
| | Descend into the painfully expensive country of Switzerland |
| | Pop into and out of Liechtenstein |
| | Over a few more passes to finally take up the Inntal radweg |
| | Stop by the Pope's birthplace |
| | Finally reconnect with our 1999 European route in Brannau |
French Alps
Avignon to Briancon
July 1 to July 6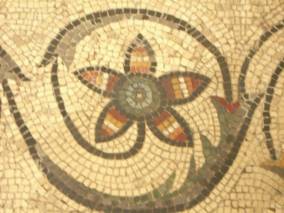 We spent one more night in the Avignon camping during which the nearby disco decided to hold an outdoor music fest until 2 AM.  It was time pull up stakes and head on.  Our ride took us across the Rhone and away from the river's edge.  Leaving the flat lands behind, we gained some altitude and headed into a country of rolling hills, small Medieval towns, and lots of vineyards.  Despite leaving at the early hour of 7 AM, it still wasn't too long before the hot sun began to bake the road and melt the tar.  Riding in these temperatures was proving to be just downright unpleasant.
We arrived at Vaison de Romaine before noon leaving plenty of time for exploring the old Roman ruins.  Vaison is home to France's largest set of Roman ruins.  It not only includes an ancient theater, still used for an annual Jazz festival, but it has a lot of parts of the houses as well.  It's been preserved mainly because during the turbulent times of the Middle Ages, the population retreated to a nearby hill top fortress for protection.  They didn't return to the river's edge until much later and did not build over all of the ruins.
Through many different archeological excavations at many different times, the remains of about 5 houses plus some shopping areas, a public baths, and the theater have been unearthed.  Early on the relics were sent to private collections or to other museums.  Relics found in more recent excavations have been placed in the onsite museum.  For the price of admission you have access to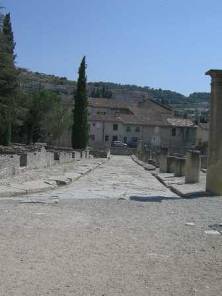 the two main Roman sites plus several off site locations such as the much later church.  It also includes a very good audio guide that takes you throughout the sites, the churches, and even to several locations far from the main attractions.  It was well worth the price.  Although, it was so hot, trying to see these ruins in the midday heat was difficult.  We kept trying to find shady spots that were rather rare and wound up hurrying just to get out of the heat.  It was getting to be time to get to higher elevations and cooler climates.
Leaving Vaison, we followed a road that climbed a good 500 meters or so and passed just under the watchful summit of Mt. Ventoux.  Ever since we'd entered France we'd been crisscrossing the route for the 2006 run of the famed Tour de France (no longer the Tour de Lance).  We passed the route in Pau, Carcasonne, Avignon, and now once again near Mt. Ventoux.  Here is the beginning of the section in which Lance's prowess used to really shine, the mountains.  Mt. Ventoux's peak is over 6000 ft high and the climb to its summit is started at very near sea level and usually done in the summer heat of July.  It's so grueling that one cyclist actually lost his life.  It is still a toughie.  We approached the town of Montbrun les Bains, took one look at the climb to come and another look at the thermometer, and despite a short day of just 38 km decided to pack it in for the day.  Besides, Montbrun les Bains was a cute, medieval town that just begged for exploration, after the temperatures started to drop that is.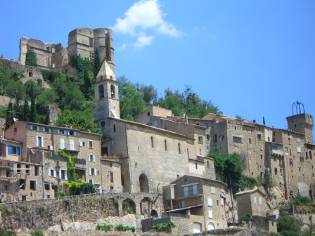 If you picture a little medieval town, Montbrun is it.  It's perched in a defensive position on the edge of a very steep hillside.  It doesn't have any type of fortress structure.  So either there was nothing worth going after or the residents took refuge some other place.  From below the buildings look like they are 5 or 6 stories tall as their foundations go from one level on the hill to a much higher one.  On the streets, they look like perfectly normal, narrow old streets.  There is just a single curving street going to the ruined chateau at the top of the hill and a couple narrow cobbled walkways.  In town there are about 4 restaurants and one modern supermarket built on the lowlands outside of the town proper.  That's basically it.  It's a fine place to spend a hot, muggy July afternoon.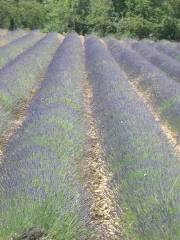 Montbrun is also a major processor of one of France's other famous products, lavender.  Fields and fields of purple lavender flowers line the road going up to town.  In town the municipal campground is located just behind the processing plant.  Every time we walked by we could smell the lavender cooking.  It was quite a pleasing smell.
After debating whether to take the direct route over the steep pass or the less direct route through a lower gorge and past a fantastic chateau, we took the lower route.  It still had a good climb, but not quite as steep.  And the extra view of chateau Aulan was well worth the extra few km.
We soon dropped down into the valley of the Durance River.  We would follow this river past the beautiful Lac Serre Poncon, deep into the center of the high French Alps.  Here we'd find our favorite type of bike touring country, high, rugged mountain peaks, tough riding, and rewarding downhills.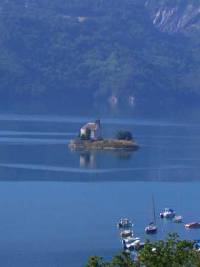 Trying to stay on the white roads as much as our legs could stand, we kept climbing up the sides of the river valley and then back to the river's edge.  Even though the river itself was also gaining altitude, these white roads tended to climb much higher before returning to the same elevation as the river. There is a red road that stays on the riverbanks, however, it's extremely busy and does not make for a very enjoyable ride.  So we stuck to white as much as possible.
A stop for the night in Eylgiers put us into the first campground that truly had the appearance of full high season tourist traffic.  This was one of those "specialty" campgrounds we'd been finding in France.  Earlier we stayed in one that catered to hangliders and parapenters.  The landing field was part of the campground.  After the day's flight, they all gathered in the attached restaurant/meeting hall, pulled out their laptops, and either made net-to-phone calls back home or reviewed video of their latest soaring adventure.
In Eygliers the campground was full of kayakers.  Groups upon groups of kayakers camped in clustered knots of tents, boats, gear, and support vehicles surrounding them.  In the nearby pond a group of German kayakers played a rousing game of kayak soccer.  You paddle to the ball, throw it to the next person, who tries to throw it under a bench.  It looked like they were having more fun than keeping score.  Unfortunately this being a campground filled with groups of marginally supervised teens, petty theft is a problem as evidenced by the taillight missing from my bike the next morning. That's what I get for having such a fancy taillight.
Continuing upstream along the Durance River and over several stiff climbs, we came to one of the regions most popular destination towns, Briancon.  We arrived fairly early in the afternoon.  Clouds had been threatening for most of the afternoon, but we'd only been drizzled on so far.  We just managed to pull into the large Casino supermarket shopping mall when the skies let loose.  It poured and poured without let-up hours.  With the bikes safely tucked under an overhang, we simply held tight inside the mall.  In fact, we noticed that it seemed an awful lot of people were just hanging around waiting for the rain the cease.  There aren't too many places in these old tourist towns where you can wait out a storm, and this mall just happened to be the most convenient.
Just as we started to think this would be our first hotel night, the rain finally let up and the clouds started to dissipate. We bought dinner fixings and headed off to the campground.  Even though this campground was probably the most convenient for visiting the city of Briancon, even though it was run by two very nice older women, even though it had fairly descent bathrooms, even though it didn't require climbing a hill to get back into town, the campground was a dump.  We checked in for just one night and immediately determined to move into one of the others no matter how expensive.
In reality, our second choice proved to be not so expensive after all and much, much nicer.  So we moved into the 5 Valees camping and prepared ourselves for a couple of days touring the town.
Briancon
Avignon
to Briancon
July 7 to July 8
The city of Briancon sits in a strategic location along what has been for many millennia a path through the mountains between what is now Italy and France.  Evidence indicates that there were fortifications high on the hill overlooking the city long before even the Romans built their fortress.  Year after year, society after society built subsequent and more elaborate fortifications protecting this strategic location.
The final city that you see today is a product of the famed French fortress builder, Vauban.  He designed a series of 3 rampart walls each climbing higher up the steep hillside.  In between each set is a wide dry moat, an easy place to trap the enemy.  The first and third of the walls were designed for foot soldiers.  The middle was for the cannon.  A few remaining ramps attest to this fact.  Within the walls are the usual narrow streets filled with skinny 3 to 4 story tall buildings all climbing ever higher up the hill.  At the top is the chateau.  The houses and walls are in very good condition.  The chateau looks like it could use some TLC.  Surrounding the old city of Briancon are several other high, fortified structures.  The most prominent is the barracks structures that sit virtually right over the top of the city.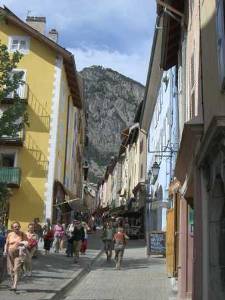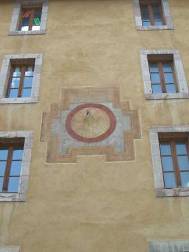 What is particularly impressive about Briancon is the setting.  It's located right in the heart of the high French Alps.  When you look in any direction from the ramparts you see high alpine peaks everywhere.  It's absolutely gorgeous.  In addition the old city seems to still be a place where people actually live.  Apart from the main, tourist street running up the center, the side streets are actually lined by residences.  These folks have to do a lot of hard driving to get their cars into and out of their garages, but otherwise it looks like a fine place to live.  We quickly concluded that we liked Briancon far more than Carcasonne even though both are very similar in nature.
Briancon and other French Alpine towns are famous for 2 things, their fountains and their sun dials.  Briancon alone has 4 existing sundials.  They are painted high on the sides of public buildings with lettering large enough to be seen by the pedestrians below.  Each has some prophetic saying usually having to do with time.  We managed to see and photograph 3 of the 4.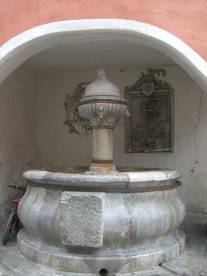 They also have lots of fountains many of which still run.  In many towns the fountains are simply a troth and a vertical rock through which the water pipe runs.  Some fountains are quite fancy, such as the 4 spouters found in Briancon.  Some have been completely rebuilt and made into little rest stops, particularly useful for bike riders.  Some have signs specifically stating that the water is potable.  Others leave the guesswork up to you.  We chose to try to avoid the ones with no signs.
We really did like Briancon.  Even the campground proved to not be as expensive as we originally expected.  At first it wasn't all that crowded either.  But, with the weekend coming and the high vacation season just about to hit, our second night there was with a lot more campers around than our first.  Still, each place was an individual site with lots of room, so there was no problem with overcrowding.  We were quite surprised to find that the French high season for camping really did not begin until around July 14, Bastille Day.  Evidently they also quit for the season around August 20th or so.  So they've got one heck of a short high season.
High French Alps
Briancon to Chamonix
July 9 to July 12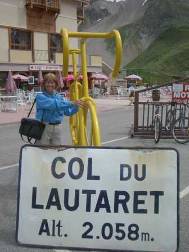 From Briancon northward to Albertville we would be tracking right along the route of the Tour de France.  This section of route is none other than the famed tough mountain section where Lance Armstrong usually got and kept his lead.  We began with a long, not too difficult climb up to the Col de Laurtaret, col means mountain pass.  There we found a fancy hotel, park office, restaurants, and souvenir shops.  We also managed to find a rather nice wild camping site that had great views overlooking the nearby glacier.
Our campsite happened to rest right next to the old road over the Col de Galibier.  We thought this ancient dirt route would have a less steep climb.  After all those old cars had nothing more than little, low horse power engines.  So they obviously couldn't take on anything too radical.  However, we failed to remember that these old roads probably were built long before the creation of automobiles and it seems that those real horses could pull wagons up just about anything.  So while we did manage to ride up a fair portion of this old road, we still had to push over some of the steeper sections.  To our credit, however, our tires were more suited to pavement than loose rocks, so we do have a good excuse.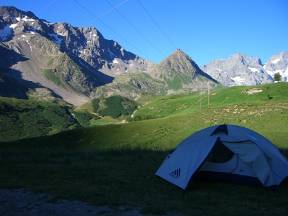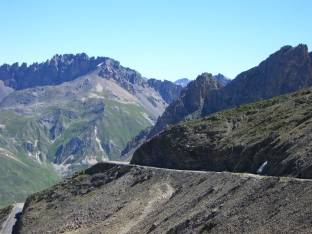 Col de Galibier stands at an elevation of around 2700 meters, that's around 9100 ft. for the metric challenged.  A short tunnel goes under the upper most part, but bikes are required to climb the last few hundred meters to the top.  On both sides of the tunnel is a restaurant, of course.  At the pass there are a few hiking trails that head off in various directions and that's about it.  Bikers seem to come up from both sides specifically to top out on this pass.  All during the time we climbed up, stood at the top, and sped downhill we were passing bike after bike after bike.  It seems that pass bagging is a big pastime in the Alps.
From Galibier pass we tore downhill at a whopping 11% grade for mile after mile.  The valley we were descending into is incredibly steep sided and roads climb the walls of both sides.  We descended just about 2100 meters before hitting the bottom. After a night at a campsite, we started the climb back up to the 2000 meter Col de la Madaleine.  This was a steep, unrelenting 20 km climb the entire way.  These Alpine mountain passes most certainly have a much tougher gradient than the nice 6% we usually find in the US west.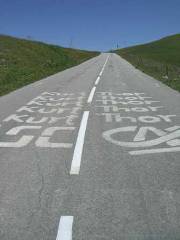 Struggling up and down these three mountain passes really gave us a new appreciation of just how fit and powerful the Tour de France riders are. It's these very passes that they power up at full speed with all their strength usually do ing 2 or more per day.  We know this because at the top of each we found rider's names painted on the roadway, Go Lance with the Texas flag was our favorite.  Passes Lautaret and Galibier were tough enough, but it was Madaleine that really was the test.  We started at an elevation of just around 500 meters and climbed a whopping 1500 meters in just 20 km.  It's a full 20 km of absolutely unrelenting 10% plus grade.  We have to admit that after these tough European climbs, we'll not be so quick to complain about our US 6% grades.
After coming over Madaleine we dropped once again to around 600 meters to go through the small town of Albertville.  This region claims to be the most bike friendly of all France.  At least they're supposed to have the most km of signed bike routes of any region in the entire country.  This doesn't mean that they have the most km of separate bike lanes and paths.  It just means that there are more signs out on the road giving you directions when you come through on a bike.  At least in the town itself there are several bike lanes.  We stopped for a cold drink, a rare thing to find in Europe, and enjoyed a short rest by the river before moving onward.
For some reason the road going through the canyon to the north of Albertville was closed for the summer.  So, unfortunately this meant that the traffic was being rerouted over another series of steep climbs normally reserved for local traffic and bikes.  What would have been a tough but quiet ride turned out to be a tough ride over a narrow road with lots of turns and heavy traffic.  It was not a welcome surprise at all.
Afternoon thunder storms with buckets of rain were becoming the norm.  When we finally got through with all the climbing we stopped in the town of Flumet.  We were planning to spend the night in the campground just a bit up the road, another section of road that was closed for construction.  Had we not had to wait over 45 minutes for the man to come to open the little grocery store, a full 20 minutes late by the way, we would have made it to the camping well before the rain.  As it was by the time we got through picking up dinner and breakfast supplies the thunderstorm was just upon us.  Pulling up just 1 block later at a covered fountain, we decided to wait.  Lightening, thunder, and rain descended upon the valley with a vengeance.
We weren't alone.  A woman who'd passed us earlier while climbing that God awful hill, also pulled in to wait out the storm.  We started speaking in French but soon to our mutual surprise discovered we all spoke English.  She was from England and was on a short biking holiday with some "mates".  They'd taken a longer loop ride for the day while she'd tackled part of the route we were on.  They were supposed to meet up in Flumet before climbing one more tough pass for the day.  We whiled away the hour or so through the storm chatting about biking, England, the states, and other odds and ends.  Before too long she concluded that the storm was sufficiently gone for her to continue on and that her "mates" weren't going to show.  She handed us the two sandwiches she'd bought for them, not wanting to lug them over the pass, and she quickly took off for another long uphill climb.  We headed over a different climb, the detour, and found the campground just a couple more km down the road.

Mont Blanc
Chamonix
July 13 to July 16
Our objective for the day was to get to the resort town of Chamonix.  This being the Alps, naturally we had to first climb a few hundred meters to the resort town of Megeve.  Megeve was founded by some Baroness who, after finding the famous St. Moritz area in Switzerland unacceptable, created an alternative in France.  Today Megeve is a place where the well-to-do of England hang out.  If you have to ask how much a ski lift ticket costs, you can't afford it.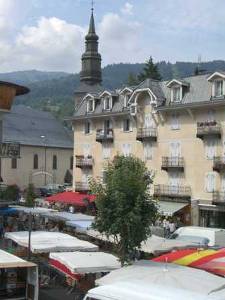 We next took a long swooping descent through the tourist town of St. Gervais.  Here is where we got a good look at what to expect of Chamonix.  It's a cute mountain town that crawls with tourists in the summer.  Most probably never get beyond the cutesy stores and restaurants of the main village.  There was actually a bit of a traffic jam as we slowly made our way around the curving streets heading to the lower valley.
We continued the descent for around another several hundred meters to finally make it to the valley floor below.  Then once again starting at around 500 meters, we had another climb back up to the 1000 meter elevation level.  Of course this was another one of those 10% and higher gradient climbs.
We arrived at Chamonix just at the height of the afternoon downtown tourist jam.  Everyone has just finished doing whatever activity they were doing for the day and all headed into the city for dinner, strolling, and shopping.  Chamonix is a major tourist destination for anyone wanting to partake in mountain activities of all types.  Mountaineering, glacier walking, rock climbing, hiking, mountain biking, and parapenting are just some of the available summer activities.  Winter activities involve anything with a smooth board and any grade of slope.  So this city, it really is a city complete with 5 to 7 storey buildings, hums with people all year long.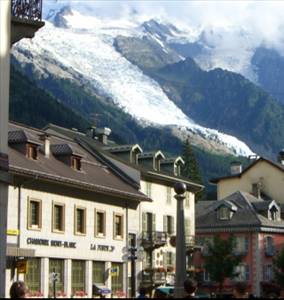 We pulled into the main square and I just had enough time to run to the tourist office to get camping information before the usual afternoon rainstorm began.  Thinking it would be just another hour long spell, we pulled the bikes under the awning of a nearby shoe store to wait it out.  Well, this time it wasn't so short.  It poured, poured, and poured for 2 to 3 hours straight.  We just sat there in our little sheltered spot waiting and watching.  It was so amusing.  Here we were in one of the most expensive places in the French Alps in front of a shoe shop with prices starting at around 80 Euros for a pair of loafers, yet woman after woman came by making a beeline for that display window.  Brian kept remarking, "What is it with women and shoes?"  They seemed to ignore everything else around and just head for the shoe store.  Weird.
Just when we were beginning to think that perhaps this was going to be our first night for a hotel, the rain finally let up and the sky began to brighten.  We hightailed it for the McDonald's for dinner and then over to the camping just managing to set up, get showers, and get to bed before the sunlight was completely gone.  That first hotel night would have to come some other time.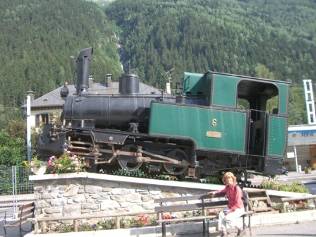 Chamonix sits at the base of one of Europe's most famous mountain masses, Mt. Blanc.  It's called that because of the huge ice field and glaciers that cap its uppermost regions.  Unlike the mountainous regions of the U.S., Mt. Blanc, as well as virtually any region in the Alps, is totally accessible.  There's a cog train that goes partway up one flank, there are telepheriques that go partway up other flanks, there's a telecabine that goes up to an overlook peak, there's a telecabine that goes over the ice cap and all the way over to Italy, and there are trails and refuges all over the place.  Some of these telecabines pass between towers placed at huge distances and elevations apart over landscape way down there somewhere.  They're some of the scariest cable car rides we've ever seen.
There's hardly a single spot on Mt. Blanc that you can't get to both with and without mountaineering experience.  If you are looking for a wilderness experience, Mt. Blanc isn't it.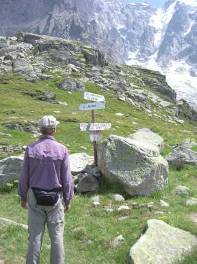 As far as beautiful mountain scenery goes, Chamonix is chock full of it.  We started our visit by doing the classic hike along the lower flank of Mt. Blanc going from the cog train station to the telecabine station.  This particular hike gives you close-up views of some of the glaciers as well as great views of the Chamonix valley below.  It's an easy hike, only a few hours long with a few hundred meters elevation climb.  So it was crowded, of course.  We passed no less than 3 Japanese bus tour groups all out for their day hike in the mountains.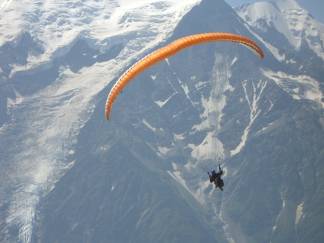 The second day we headed across the valley for a cable car ride and hike to viewpoints that give a much better vantage of Mt. Blanc itself.  This is the side of the valley where most of the parapenters hang out.  The thermals are better, the views better, and the launching points better.  They take the cable car up to the first stop, spread out their parachute, wait for the right wind, and with a quick pull of the strings they're sailing away. 
In the mornings there are a good dozen or so soaring round and round at a time.  From the valley below when you're right under them they look like gigantic colorful fall leaves circling slowly down.  From above or at eye level they float like huge raptors in search of prey.  Circling round and round over a thermal they slowly gain altitude.  Then with a tight pull of the cords they spiral down in a rapid dizzying spin, quickly losing all that altitude so carefully gained. They return to the area of the thermals to begin the slow climb all over.  Eventually all good soars have to come to an end.  Gently they float down to the open field far below where many a crumpled parachute lay about to be packed up for the next run.
By early afternoon the majority of the parapenters have completed their runs and the skies return to the birds.  By this time the usual rain clouds begin to build and darken.  So it was time for us to scramble across the ridge along the backside of the Brevant and return to the cable car.  Two days of not too difficult hiking was just about a perfect stop on our trek to Saltzburg.
Swiss Alps
Chamonix, Fr to Chur, Ch
July 17 to July 22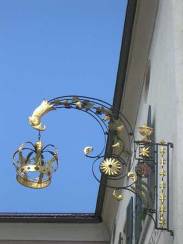 Leaving Chamonix entailed a climb of a few hundred meters over our fifth, or was it 7th, pass since entering the Alps.  This was perhaps one of the easiest as we were already at a fairly high elevation to begin with.  Then we took on a twisting, long descent into our first Swiss town, Martigny.  What a ride.  An English biker we met in town described it as being almost like those parapenters, a long soar.
For being such a small town, Martigny actually had a few items of historical and tourist interest.  It had a very nice old town that's in typical Swiss near perfect condition.  There's an old mill that you can pay to visit.  There's even an old Roman stadium that today is being used to stage a daily mock Roman gladiator show, for good or bad.  This outpost in these most upper regions of the Rhone valley must have been some of the absolute outer reaches for the Roman Empire.
Yes, this really is the Rhone River.  We'd left the Rhone way back in Avignon, made a difficult crossing of the Alps, and found ourselves right back on the banks of the Rhone hundreds of miles later.  The Rhone makes a long swing northward through France. It then cuts eastward through Lake Leman which bank sits Geneva.  The Rhone heads back south through Martigny, makes a sharp turn east, and heads up into the Alps finally ending at a glacier.  We were headed up river to meet the headwaters of the Rhone.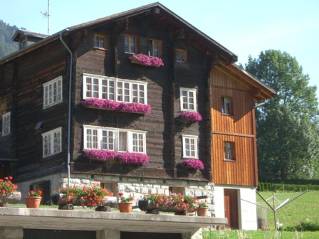 Switzerland may be neat and clean, but oh at what a price.  One of our first introductions to the high prices was a quick check in McDonalds.  To get a feel for the cost of living in a particular country we always do the Big Mac test, or in this case it was the hamburger test.  We check out the price of a burger in McDonalds and if it's much higher than the U.S. we know that we are in an expensive country.  In South America we found that the usual price for a McDonalds' meal when converted to US dollars was almost the same.  In France, Spain, and Portugal the price was running higher by a bit more than the exchange rate.  A hamburger which in the US may cost $.89 was 1 Euro, about $1.26 US at this time.  In Switzerland, however, the price of a hamburger was 3.30 Swiss Franks or $2.75 US.  A meal with a Big Mac, SMALL fries, SMALL drink was over $10 US.  We looked at these prices and our jaws just dropped.  For the first time ever we found that even a meal at McDonalds was far too expensive.
Everything else was equally expensive.  Absolutely everything we looked at in the stored ran about 2 times the equivalent cost in the US.  We wound up shopping at the cheapest stores we could find and still bought just the no name budget brand.  About the only thing that didn't cost too much was chocolate.  Budget brand 100 g chocolate bars could cost just about $.35 US.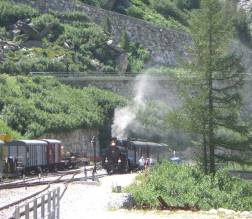 Switzerland is also one of those places that nickels and dimes you to death.  In anything less than a 4 star campground you would have to pay for the shower.  You also had to pay for hot water to do dishes.  Most campgrounds will give you an "official" trash bag for which you must pay at least 1 to 2 Euros.  The smallest little burg had pay parking, even way out in the middle of nowhere.  Even a view point to see the glacier at the head of the Rhone would cost you another 5 francs per person.  It just seemed like every time we tried to do anything there was some fee attached.  This did not exactly make us feel particularly excited about spending a lot of time there.  Don't buy anything in Switzerland, stick to your intended business, and don't do anything extra and you just might get by.
We, however, needed to ride from one end of Switzerland to the other in order to meet up with our Budapest to Saltzburg ride of 1999.  So unless we wanted to swing way out of our way northward through Germany, we would have to stay in very expensive Switzerland.
The scenery, which was normally free, was quite spectacular.  After 2 days riding up the Rhone River we arrived at Furkapass. We were once again in Alpine terrain way above tree line where only the tiniest of flowers can survive.  Furkapass is another one of those tough climbs having no less than 7 switchbacks.  As we approached we could tell that numbers 3 and 4 were the steepest.  Yet we weren't the only bikers who were intent upon surmounting this peak.  We were passed by so many others going in both directions we began to wonder if this was another of those areas where bikers come to add passes to their list of biking accomplishments.  Some of the downhill riders, however, clearly did not ride up the pass.  In fact, if you really don't want to do the work, you can take the Swiss Die Post bus right up to the top, bike and all.  Then you just glide down in either direction.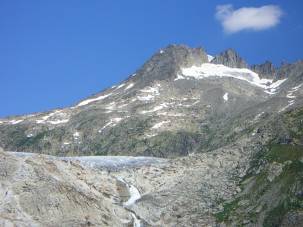 But, for us there's just something rewarding about making it to the top of another one of those climbs to then have a long soar downhill.  In a way it's our own way of pass bagging.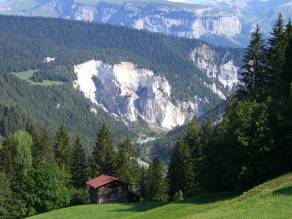 There would be a second pass for us to climb in Switzerland and by spending a night in Andermat the second climb wouldn't be nearly as high or far.  However, it's not so easy to take on such a pass after not getting much sleep the night.  The campground at Andermat is a rather strange affair.  As with essentially all Swiss Alpine towns, this one had the usual ski lift.  The area around the lift normally is the parking lot in winter.  In summer it becomes the campground.  RVs are relegated to the stonier region at the base of the lift while tents get the grassier area on the other side of the road.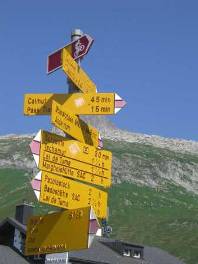 It's basically just an open field.  There's not one single tree or shrub.  In summer this field fills with bikers of all sorts.  There's the few self contained bikers like us.  More common are large groups of bike tourists who arrive by bus.  They come to this campground in order to be bussed to the top of the passes where they get a long ride down, no effort.  Most of these bus tour groups seem to be from Eastern Europe, Poland, Romany, Hungry, etc.  And they all have the nasty habit of staying up to all hours of the night drinking and talking.  On this particular night we started with one group who finally settled down at around 11 PM.  Then just as we were getting to sleep a second group showed up in their bus and spent the next several hours getting tents set up and then talking around the picnic tables.  They happened to be right next to us so we wound up not getting any sleep until very early in the morning.
This ordeal with eastern European campers happened again and again.  It's so common that we began to dread seeing any large group show up at any campground.  It's clear these people have not learned good campground etiquette.  Our only saving grace was the fact that by late August we could expect these people to all go away.  The count down has begun.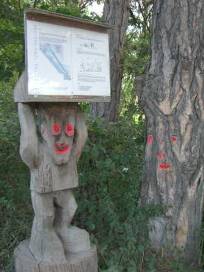 Before 11 AM we had already climbed to the top of the pass and were headed back to the lowlands.  After this we had just one last pass to complete on our route to Passau.  Then it would be flat riding, or at least just rolling hills, probably for the rest of the summer.  We grabbed on to the brakes and skidded our way down the twisting, turning road toward the Swiss city called Chur (pronounced more like cur).  This was again a fairly packed campground, but we were able to find at least one quiet corner.
We hit another very strange phenomena at the Chur camping.  Our plan had been to run a load of laundry.  They had 2 washers and 1 dryer, none of which were busy.  When we went to ask how you go about getting the card or coin to use them we were asked if we had a reservation.  A reservation?  We've never heard of having to have a reservation to wash clothes.  Since no time slot was available for that evening we just gave up and set our sights on Feldkirch.
For one final kick in the wallet, as we rode northward out of Chur we passed by a huge highway rest area.  This one had a boatload of touristy stores and restaurants.  But should you wish to use the toilet you need to cough up 1 Euro.  Enough was enough.  This country was way to spendy for our budget.
Connecting Routes
Chur, Ch to Brannau, At
July 23 to July 31
Running north from Chur is a bike path that borders on the Rhine River. In fact there are 2 paved bike paths, one on either side of the river.  If you stay on the west side you'll be in Switzerland.  If you go over to the west you'll pass through the itty, bitty country of Liechtenstein.  We just couldn't resist adding another country to our "have biked through" list, even if it was just to pass in and out in a single afternoon.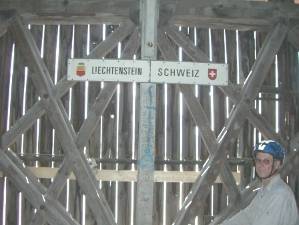 Liechtenstein is a rather odd country.  It's just a postage stamp sized principality no bigger than most US counties.  It's sandwiched between Switzerland and Austria.  It has the Rhine River on its west border and mountainous terrain on its southern and eastern edges.  Even though its origins stem from Austria, it seems to be more allied with Switzerland these days.  It uses Swiss francs, has Swiss style prices, is not an EU member, and maintains a manned border crossing with just Austria.  They will, however, accept both francs and Euros giving you a reasonable rate of exchange.
We wondered why Liechtenstein was never swallowed up by one of the surrounding kingdoms.  With all the giving and taking of territory happening through the ages, you would think it would have been either part of Austria or Switzerland.  It just turns out that the various rulers and generals were so well respected that the other countries decided to leave them alone.  Also, it tended to be a dreadfully poor country, so maybe there was just nothing worthwhile to take anyway.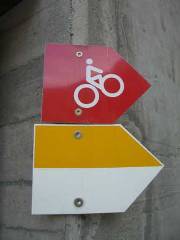 It had been our original plan to camp in one of Liechtenstein's 3 campsites.  However, we found that if you pay in Euros you get change in francs.  we had already gone through the trouble of spending all but our last .15 francs and really did not want to get any more.  So we moved on to Feldkirch, the first town in Austria.
Here we found out what an Austrian swimmbad (that's swimming pool) is like in the middle of a hot summer Sunday.  This was one of those large water parks that includes not just your normal Olympic size pool.  It has water slides, fountains, sprays, and all sorts of other attractions designed to keep a myriad of young and restless kinders (kid) entertained while their parents soak up the sun or sit at the bar quaffing down huge Bavarian beers.  It was packed to maximum capacity.  They only managed to squeeze us into the campground by putting us in the bar-b-que area.  Even that small space soon filled with more tents. Fortunately the heavy afternoon thunderstorm did a good job of emptying out the pool area before sundown.  Even still a couple sitting at the table right next to our tent kept us awake until at least midnight.
We woke each morning chanting, "Only 4 more weeks" till summer vacation season is over.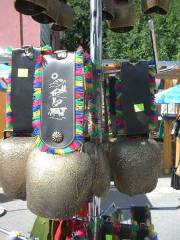 Pushing east through the Austrian Alps we quickly gained altitude as we approached the Albergpass, our last for this swing through the Alps.  Looking at a map, the Alps extend nearly a full semicircle around the uppermost border of Italy.  We had entered the mountains nearly at their Mediterranean origins and with this climb we would have traversed close to 3/4 of the total length in almost 3 weeks time. That certainly was a reasonably good Tour des Alps. It was time for something not quite so demanding.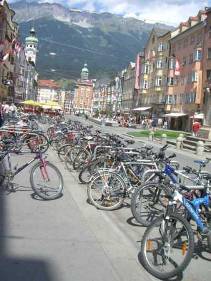 Swooping down from Albergpass we soon picked up the Inn River at the town of Lendeckl.  From here we would be following the Inntal radweg (bike trail) that goes all the way to Passau.  The German and Austrian radwegs aren't necessarily built expressly for bikers, hikers, and X-country skiers.  Most of the paths were preexisting farm roads, country lanes, river dyke access roads, etc.  In some instances they do build connector paths linking pieces of the radweg together.  Or in some instances they build a long path just for the radweg purpose.  But mostly they simply post signs indicating which way to go if you are following a particular radweg.  Thus there hasn't been a huge investment in path construction.  So even though they aren't always traffic free routes, they do at least get you through towns and cities along the quietest possible roads.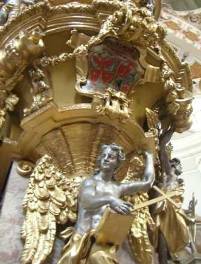 The Inntal radweg leads right into and through the city of Innsbrucke, named for the old bridge (brucke) that used to cross the Inn at the city's center.  The original bridge was destroyed by the allies in WWII in a tactic intended to separate German forces from Italian forces.  So nowadays there's just a brand new bridge.  In fact there are now a whole bunch of bridges crossing the Inn from one end of the city to the other.
Innsbrucke has a lot to see.  There's an entire brochure filled with museums that you can visit, although each one will cost anywhere from 4 to 10 euros.  The best way to really "do the museums" in one shot is by getting the Innsbrucke card for a 3 day span.  It costs 33 euros and includes all transportation plus the museums for a full 72 hour period.  It would have been ideal had we been planning to stay for a full 3 days.  But we had only wanted to stop long enough to do some bike maintenance and get some rest from all those pass climbs.  So we decided not to visit the museums this time and instead wander around town at a leisurely pace.   We'd plan to really visit the city someday when we have an RV in Europe.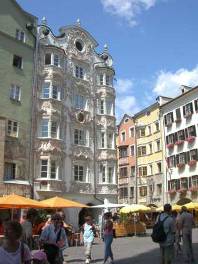 The old part of the city actually isn't all that large.  As with all these previously medieval towns, you can see how the streets demark the location where the old city walls used to lay.  They mark out a large semicircle that fronts on the river.  Inside this border is a somewhat regular rectangular array of streets all lined with interesting 3 and 4 storey buildings.   There's a small central plaza with Innsbrucke's famous copper covered porch plus a few old churches, towers, fountains, and other structures.  Most of the old town is now filled with tourist shops and restaurants.  So it is pretty much a tourist district.  The Inntal radweg goes right along the river passing where the riverside city wall would have once stood.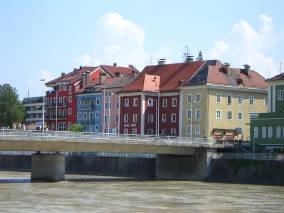 Following the Inn River from Innsbrucke you take a long curving northward swing headed toward Passau.  Our first night we spent at a very nice Austrian campground situated on a small lake with our last views of mountainous terrain in the background.  The camp was full, of course, but we had a site so large there was plenty of space on all sides.  So we didn't feel overly packed in.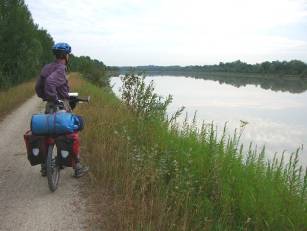 Dinner entertainment at this camping was most unusual.  The local fire department had chosen this evening to run a few hose deployment drills.  While we ate dinner, the young firemen rushed by on both sides, depositing hoses, hooking them up, and getting the spray going.  We timed them at 48 seconds flat from the whistle start to the first spray.  Not bad at all.  Of course, the fellow critiquing the exercise seemed to think they could have done better.
With their exercises finished, they guzzled down a few beers, smoked some cigarettes, packed up, and rolled out.  With the sun setting over the mountains, the swimmers and boaters on the little lake headed in for the evening as well.  Soon we had our lakeside dinner spot almost to ourselves.  We sat, enjoying our final evening of Alpine views.  After this it would be rolling farmlands and river valleys for a long time to come.
Within just 2 days the mountains turned into high hills and finally to just rolling farmlands.  We cycled along the bike path which at times seemed more like a mountain bike trail than a touring path.  For some reason we seemed to recall the Donnau bike path being mostly paved.  So we were surprised to see so much dirt.  This wouldn't have been much of a problem except for the afternoon thundershowers that tended to turn everything to mud, including us.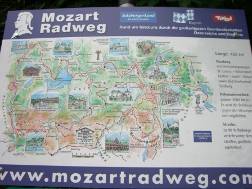 We were actually somewhat following 3 interwoven bike routes, the Inntal, Mozart, and Benediktine.  Generally we stuck to the Inntal, but occasionally we found ourselves following one or both of the others.   The Benediktine route is the most recent addition to the inventory.  At first we thought that it was just a route going between a series of towns having ancient Benedictine style churches.  As we went along we soon discovered that it is dedicated to the new Catholic pope Benedict and was plotted and signed in just the single year since his election.  Now that's moving quickly.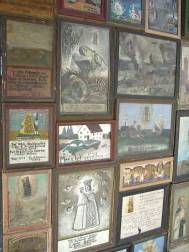 The stops along the Benediktine radweg seem to be places that were important in the life of this new German pope.  Altotting, on the south bank of the Inn, is an important Christian pilgrimage site.  As with Lourdes, its importance stems from a spring whose holy waters supposedly possess some sort of curative powers.  Although not even close to Lourdes in commercialism, there are still the stalls selling all sorts of holy relics including rosary beads and plastic bottles to be filled with souvenir water.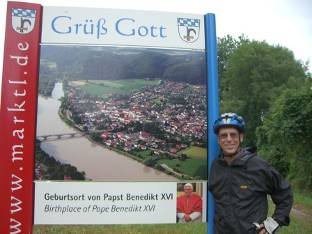 Churches of all ages and sizes abound in Altotting. The most interesting is the small chapel in the middle of the plaza.   It's a very simple structure having just a small rectangular building with tall steeple attached.  It is entirely surrounded by a covered patio that is literally plastered from top to bottom with the most unusual ex-votives.  Every ex-votive is a small painting placed in a wooden frame.  They all show some sort of religious theme usually involving whatever accident or illness the worshipper is seeking relief from.  Many have sayings and dates written on them, dates going all the way back to the origins of the little church, the 1700s.  Here is where it would have been interesting to be able to read German.
Continuing downriver from Altotting on the north bank we approached the little burg of Marklt.  Alongside the road we came across the usual welcome sign.  What is unusual is that this sign welcomes you to the birthplace of Pope Benedict.  Ah ha, so this is why the Benediktine radweg wanders around this region of Germany.  It connects towns where he was born, grew up, studied, and worked.  Of course the town now has a complete visitor center all dedicated to their new pope and they seem to be drawing quite a steady stream of tourists, many of whom happen to be following one of the radwegs.  It's rather something how quickly the town has taken advantage of their new found fame.

Apart from the pope's birthplace, there's not a whole lot to see in Marktl.  It's the usual neat and tidy German town with multicolored stucco covered buildings usually having steep gabled roofs.  It has a small plaza, church, and rathaus.  If there's one thing the Germans do name correctly, it's their city hall.  Rathaus just seems a perfect place to house all your rats, uh I mean politicians.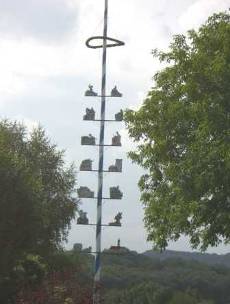 Marktl, like so many of these Bavarian towns, has this odd tall pole set in a prominent location.  We'd been seeing these things since entering Germany.  In the mountains the pole was topped by what looked like a dead tree and often had an equally dead wreath hanging about 1/3 of the distance from the top.  In larger towns this pole becomes much fancier.  It's topped by some decoration, has artificial wreaths hanging in one or two positions, and has images of craftsmen doing their work hanging on the sides.  We saw these poles everywhere and were determined to find out what they were.

In truth we suspected that they were the traditional May pole. But we wanted more information.  Such as, why are the poles still up?  Why the craftsmen images on the sides?  Why the dead tree on top?  When we went in to the Marktl tourist office to ask, the young girls at the counter just kept saying, "It's a tradition here."  In other words, they know that on May 1 you put up this pole, but they really have no idea what it stands for.  Now if we could speak German and if we asked an older person, we'd probably get al sorts of insight.  Nut, we can't, so we'll just have to google it someday.  In the meantime, it was rather interesting to see all the different sort of Maypoles each town erects.
To end the month of July we rode the last few km of our connecting route going from Lisbon to Brannau, AT.  Here, in 1999, we had continued on to Salzburg and then on to Italy.  So we now completed a route going from the Atlantic Ocean all the way to Budapest.  Looking at a world map, this is a good chunk of a European crossing.  However, there's still a lot of distance to go before we reach the Pacific on the other side of China.  That will just have to wait for another year.  For now, we will head north to Passau and then back west to France.

Appendix A - Route
France
July 1 - N7 to Bedarrides, D52 to Sarrians and Vacqueyras, D7 to Sablet, D23 through Seguret and to D977, D977 to Vaison la Romaine, D938 to backroad to camping, 58.47 km
July 2 - D13 to D40 to Montbrun les Bains, 36.24 km
July 3 - Backroad through the Gorges to D 546, D546 to Sederon, D542 to Lachau, D942 to D943 to Laragne-Monteglin, 63.2 km
July 4 - D942 to Monetier-Allemont, D104 to D4 to near Piegut, N900 to Les Colliers, D3 past Baia Lionette, 62.17 km
July 5 - D3 to Chorges, N94 to Embrun, backroad east side of river to St. Clement sur Durance, N94 to Eygliers,  56.84 km
July 6 - D38to L'Argentiere la Besee, D994 to Les Vigneaux, D38 through Prelles into Briancon, 45.50 km
July 9 - N94 to N91 to Col du Lautaret, 32.48 km
July 10 - Old Col du Galibier road to pass, D206 past Valoire too St. Michelde Maurienne, N6 to St. Jean de Maurienne, 57.14 km
July 11 - N6 to La Chambre, D213 over Col de la Madaleine, 51.87 km
July 12 - D213 to Notre Dame de Briancon, parallel N90 to Albertville, N212 to Ugine, D109, N212 to Flumet, 58.35 km
July 13 - N212 to Megeve,  D909 to St. Gervais, D13 to Chamonix to Chamonix, 53.84 km
Switzerland
July 17 - Continue N506 to through Argentiere, Vallorcine, to Martigny, Switzerland, 45.99 km
July 18 - Swiss national cycling route 1 through Sion, Sierre, Steg, to Raron, 76.72 km
July 19 - Up the Rhone bike route 1 and Rt 19 through Visp, Brig, Morel, Grengois, Ernen, Steinhaus, Niederwald, Salkingen to Reckingen, 54.6 km
July 20 - Route 19 through Gletch, over Furka pass to Andermatt, 51.81 km
July 21 - Route 19 over oberalp pass, through Sedrun, diasentis/Muster, Rabius, to Trun, 45.52 km
July 22 - Route 19 to Ilanz, Bike route 2 through Versan, Bonduz, Domat/Ems, to Chur, 60.29 km
Liechtenstein
July 23 - Bicycle route 2 and 21 through Landquart and Bad Ragaz, cross bridge to Balzers, continue on bike route to Vaduz, Main road to Feldkirch, 60.55 km
Austria
July 24 - Bike route to Bludenz, Innerbraz, Auserwald, and Innerwald 46.16 km
July 25 - Main route to Klosterle, Langen, Stuben, Arlberg, St.Jakob, Schaan, Flirsch, Rt 171 to Pians, Imst, 72.66 km
July 26 - Inntal bike route past Otztal, Stams, Tefls, Inzing, to Innsbruck, Rt 171 to Halls, Inntal bike route back to Innsbruck, 94.93 km
July 19 - Inntal bike route through Rum, Hall, Mils, Wattens, Weer, Schwaz, Jenbach, Brizlegg, to Kramsach, 65.77 km
Germany
July 30 - Inntal bike route through Fufstein, Kierfersfelden, Flintsbach am Inn, Neubeuern, Rosenheim, to Vogtareuth, 84.81 km
July 31 - Inntal bike route through Wasserburg and Muldorf, cutoff to Moos, 76.55 km
Appendix B - Campsites or hotels
France
July 1 - Camping Voconce, Vaison les Romaine(12.80 E/night)
July 2 - Municipal camping at Montrun des Bains (7.80 E/night)
July 3 - Camping Monteglin (9.50 E/night)
July 4 - Wild camping along D3 near Baia Lionette
July 5 - Municipal camping Iscles, Eygliers (12.00 E/night)
July 6 - Camping Les Gentaines, La Vachette (14.60 E/night)
July 7, 8 - Camping 5 Valees, Briancon, (15.95 E/night)
July 9 - Wild camp near Col Lautret
July 10 - Municipal camping Les Grandes Cols, St. Jean de Maurienne(10.00 E/night)
July 11 - Wild camp on downslope from Col de la Madaleine
July 12 - Camping Vieux Moulin, Fulmet (11.00 E/night)
July 13, 14, 15, 16 - Camping Molliases, Chamonix (13.90 E/night)
Switzerland
July 17 - TCS camping, Martigny (25.90 Franc/night)
July 18 - Camping Simplon Blick, Raron (22.20 F/night)
July 19 - Camping Augenstern, Reckingen (25.40F/nnight)
July 20 - Camping Gothard, Andermatt (19.60 F/night)
July 21 - Camping Trun, Trun (19.60F/night)
July 22 - Camping Au, Chur (23.80 F/night)
Austria
July 23 - Waldcamping at Feldkirch (15.89 E/night)
July 24 - Wild camp along bike route to Wald
July 25 - Camping Schwimmbad, Imst (18.00 E/night)
July 26, 27, 28 - Camping Innsbruck Kranebitten (15.70 E/night)
July 29 - Camping Seehof, Kramsach am Reintalersee (16.00 E/night)
Germany
July 30 - Camping at Erlensee, Schechen (14.00 E/night)
July 31 - Private camping at Moos (9.00 E/night)
References
Lonely Planet France Guide