EUROPEAN TOUR 2009 PART IX - SERBIA, ROMANIA
Belgrade, Srb to Constanta, RO
September 17 - 30, 2009
Start 57,598 miles (92,157 km) cumulative:
End 58,277 miles (93,243 km) cumulative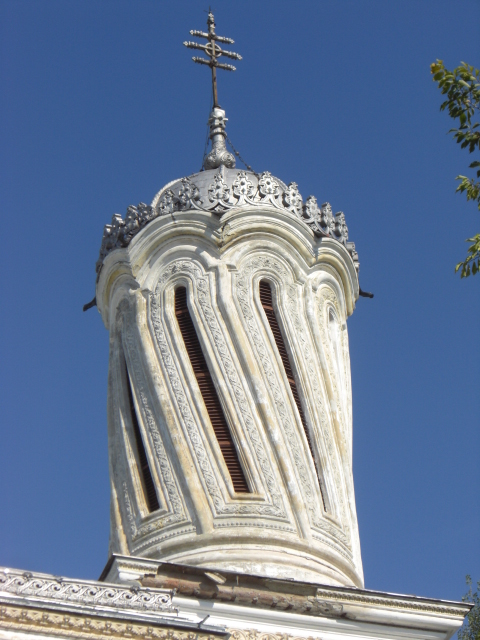 TEASERS
| | |
| --- | --- |
| | Ride one very old train out of Belgrade. |
| | Cross the Danube, change our minds, cross the Danube again. |
| | Oh and Ah over the views in the famous Danube gorge. |
| | Ease into Romania and have fun getting cash. |
| | See a country sitting on the divide between 1800s and 2000s. |
| | Roadside derailleur surgery is not a lot of fun. |
| | Make the final crossing of the Danube. |
| | Surprise a cattle driver with an early morning unusual sight. |
| | Finally, the Black Sea. |
| | Visit Constanta's few sights and then we're done. |
Section 1
Belgrade, SRB to Dobreta Turnu-Sevrin, RO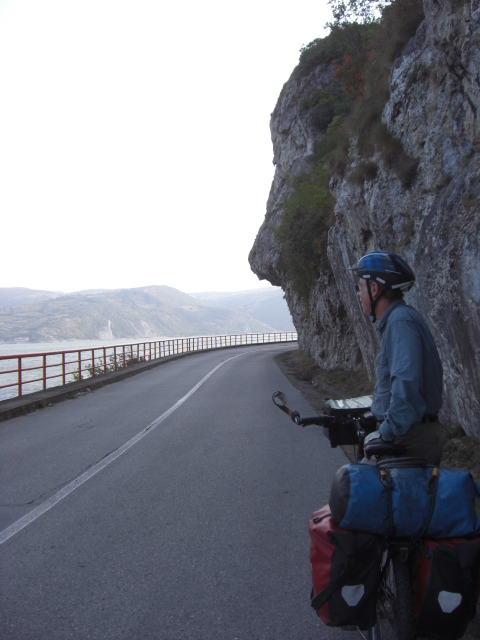 September 17 - 20
Ride out of Belgrade with 30 km on an extremely busy, narrow road with lots of good climbs and no really great scenery or historical sites along the way? No thanks. It's just not worth the stress and time. We decided to take the train.
Belgrade's train station is an amazingly calm and quiet place especially considering the noisy traffic just outside its doors. But it seems that most Serbians nowadays take busses and trams or they drive their own cars. Train service in Serbia seems to be a dying beast kept alive only through heavy government subsidies as a make work project. Fortunately for us trains still run to Mala Krsno just east of Belgrade and where the Bikeline map route goes.
We got down to the train station at around 6:30 AM giving us more than an hour to make the 7:35 Am train. Otherwise we'd have to wait until past 4 PM for the next one. Because of the lack of passengers, this particular train has now been reduced to just a single engine and car. Obviously a make work program, it has 2 conductors who spend most of their time just sitting around. The trains and cars are old, very old. When these things were made there was no concept for the idea of traveling with bikes. Consequently there is no room. We had to squeeze the two bikes and all the bags in the tiny space at the end of the car behind the dysfunctional toilet.
The door that would normally separate our car from the one behind would not lock closed. So we spent the entire 2 hours watching this door plus the ones people opened to get onto the train to make sure nothing fell out. Fortunately since there weren't too many people wanting to get on or off it wasn't too much of a problem.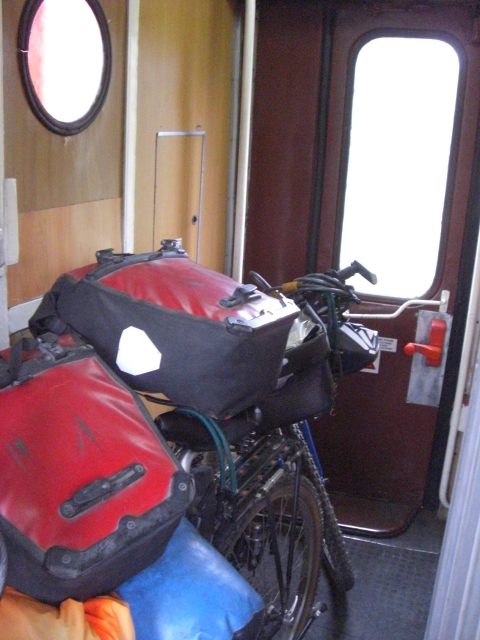 After getting settled I started looking at the train car a bit closer. It had about 5 compartments on one side with 6 seats in each. Each compartment could be closed off by a sliding door with glass windows. There was a hall running down the other side with windows with top halves that slide downward to give some air. Of course there was no air conditioning. I began to think that these cars looked a lot like the train cars I rode back in the late 70s on a short 1 week trip to France. Even at that time they were old. Sure enough looking around a bit revealed warning signs in French. These old rail cars are making their gradual shift further and further east as more countries come up to modern times.
We dismounted from the train and rapidly threw, almost literally, everything onto the platform so that the train could quickly get on it's very slow way. We loaded up, headed out of the station, and promptly found ourselves on a nice quiet small town road. We most definitely had managed to miss the worst of the Belgrade traffic.
On the west side of Belgrade we felt like we were in a culture that was a like Argentina. Here, much further to the east, we felt as though we had entered Guatemala. This is a significantly poorer area.
When we entered Serbia we discovered that our GPS data only included the absolute major roads for this country. This was the first time all summer we had to do without the detailed street information that the map set contained. Naturally this is the first country in which street names were hard to find. We had lost the nice bicycle route 6 directional signs back before Belgrade. So it was just the Bikeline map, the road map, and us. So as soon as we got into the big town of Pozarevac we got lost.
The directions given by the Bikeline map do leave a bit to be desired. Even though we had the English version of the map it's simply not detailed enough with its direction description. In Pozarevac the directions said to turn left just before the railroad tracks. We took these directions absolutely literally and wound up turning left down a small alley. From there we kept trying different turns and roads trying to get to the point where the next instruction would apply. Finally we gave up and got directions from a local. That plus the overall road map got us headed right. Adventure Cycling Association will give exact distances to each and every turn. Maybe Bikeline should do the same.
We noticed that the nice Serbian Bike Route 6 signs have unusual sayings. We spotted one that said, "Be glad you are going slow as you might be headed in the wrong direction". In this town we most certainly were.
People we meet in Serbia are incredibly friendly. Kids and a lot of adults say "Hello" as we pass. We're not sure if that's their traditional greeting or if it's one they picked up from American TV and cinema. Whenever we stop to study our maps or to read the next set of directions it's very common for a car driver to come to a stop, turn off their car, and come over to offer directions. Unfortunately we usually can't understand more than their hand signals. Ask for directions and you're likely to get a half hour discussion as the helpful person repeats the directions over and over again to make sure we understand. Usually we really only need a confirmation that we're headed right. But they're trying so hard to help we hate to be rude. A fair number of people actually speak a little English. We seem to find at least one person every day who speaks enough to have a fragmented conversation. Some actually speak English very well. But a lot of Serbians are getting jobs in Western Europe where having English skills is most useful. So they're studying it in school these days.
After finally finding our way out of the confusing Pozarevac, we continued on to the town of Ram where our second to last ferry ride across the Danube awaited. This was one very rustic affair. It was a simple platform with a boat that pushes it from the side. The boat swivels so that it can push the barge either way. There's no cabin for passengers to sit in. So as the afternoon rain pelted down upon us we huddled behind a large van trying to keep out of the wind at least.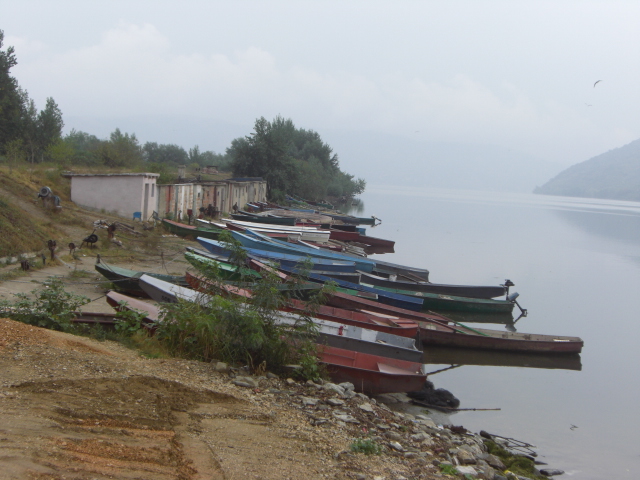 Arriving at the other side of the river, the crew ties off the barge and promptly pull out a couple of shovels. The ramp going to the ferry is just dirt. The barge ramp plus the car wheels churn up the dirt on every passage. So the crew must rebuild the dirt ramp at each crossing. Could you imagine any western ferry crew putting up with that? Not a chance. They'd demand that the state pave that ramp.
Fortunately for us there were several restaurants with covered dining. Since it was so wet and chilly the diners were all sitting inside and the patios weren't set up for meals. We had a flat tire to change and this was the ideal location to do it. By the time we got the tire fixed the rain had paused for a short while. Our timing was just perfect.
We hightailed it for the last 14 km up to Bela Ckvra and got checked into the only open hotel just as the rain started up hard and heavy once again. There was a low pressure system sitting down south in the Mediterranean. It was causing massive rains further south to the point of giving Turkey floods. We were just at the northern edge. So until this low moved off, we could expect nasty weather.
This was when we decided to rethink our course of action. From what we heard, this region of Romania is one of its poorest. In addition it simply doesn't have any real sort of tourist infrastructure. As a result of these reasons there are almost no accommodations, very few places to buy food, and absolutely dreadful road conditions.
We had originally planned to enter Romania at the earliest possible point because the maps said that the Romanian side had less traffic and there are no tunnels. The Serbian side has 21. But with the weather turning bad we had a change of heart. We decided to go back to the Serbian side in the morning and ride the Danube gorge on that side. It would be easier in the end.
We did enjoy the chance to see Bela Crkva, however. This town was originally settled by Germans and it shows. The character of the town looks so much different from Serbia you almost feel you are in a different country. It's neat and orderly. There's very little litter on its approach roads. They actually have professional trash pickup. The buildings are of a Baroque nature and are arranged differently than the other Serbian towns. There's even a bike path, bike shop, and campground, things that are rare in most other Serbian towns. We hear that following WWII a lot of the Germans in this town moved back to Germany during the communist era. Now they are returning to retire. So this town is seeing an influx of money that will help it eventually get itself rebuilt back to new condition. Being Germans it shouldn't take too long.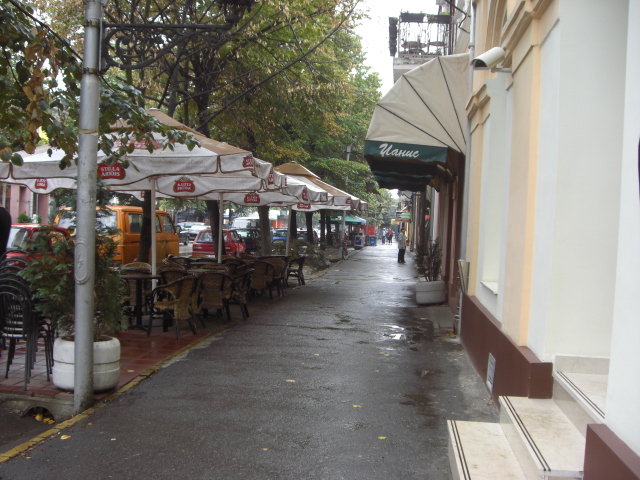 The weather improved the next morning. It was still cloudy but was no longer raining. We returned to the ferry landing and enjoyed a very nice lunch at one of those restaurant patios while waiting for the ferry. Punctuality is not one of the items on the ferry operators list. They're supposed to leave at 1 PM, at least that's what the schedule says. They arrived from the other side at about 12:45. But they actually don't leave again for at least another hour. The restaurant owner told us that's because the captain and crew stop in at one of the restaurants for a beer. A lot of beers must pass those lips during the course of a single working day.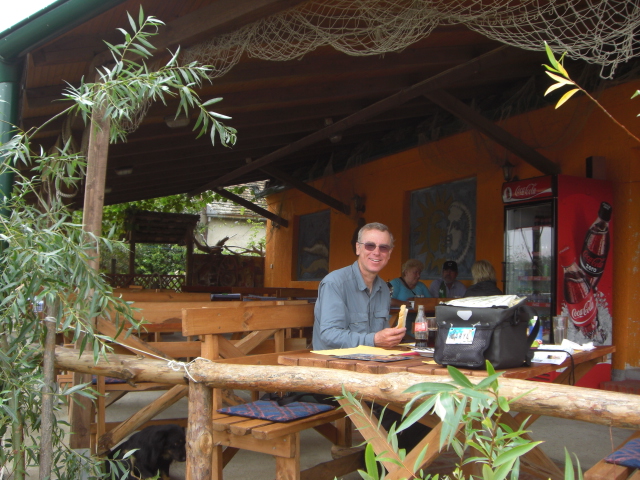 Once off the ferry we took the asphalt road that cut inland for a short distance. Then at long last we were along the shores of the Danube. The next 100 km or so are to be some of the most spectacular sections of the Danube yet. This is the famous Danube gorge. Since the weather was improving and since we didn't want to take this section too fast, we only went as far as Golubac. We'd wait to continue the next day in the hopes that the clouds would part and the sun would shine.
The next approximately 130 km or so pass through the famous Danube Gorge. It is where the Danube breaks through the Carpathian mountains in its final run to the Black Sea. It is probably the most spectacular section of the Danube that exists. Yet much to our surprise we sat in Golubac and watched one of those hotel/cruise boats enter the gorge just before sunset. They wouldn't see a thing. If I were on that boat and knew what I was missing I'd sure be pissed.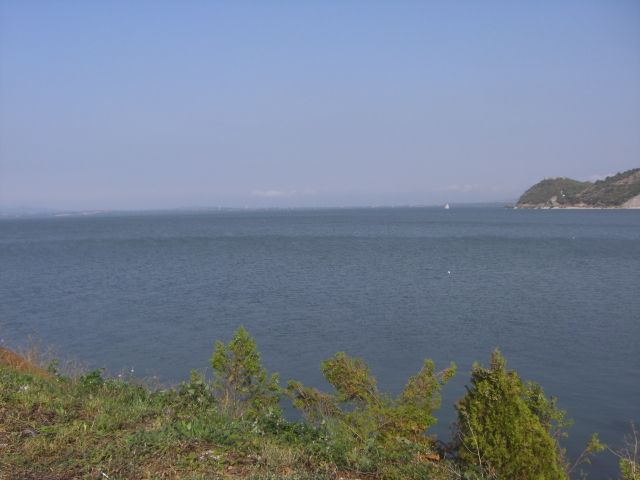 At Golubac the Danube reaches its widest point. It's a full 7 km wide. That hotel boat looked ever so small as it passed by our perch on the hotel patio. Just about 70 km further downstream the Danube passes a point where it is squeezed between two rocky cliffs with a width of only 150 meters. The water depth here is over 84 meters, more than 250 feet. It's the deepest river in the world.
We took the ride through the gorge as slow as we could. After this the terrain is going to be rather monotonous, so we might as well really enjoy this short section.

Leaving Golubac, the road is literally etched into the rock face of the cliff. In some instances the cliff actually overhangs the road on one side and water laps up on the other. Just imagine the effort required to build it.
Within 4 km we passed through the Golubac fortress. It was built on a rocky outcrop at the mouth of the gorge. It was built by the Hungarians in the 13th century as a way to control river traffic. They had a second fortress across the river and they strung a long chain across it. You had to pay a toll before they'd drop the chain so you could pass.
The location of the fortress was originally a Roman Castra called Columbarum. So this spot has been used for river traffic control for a long, long time. In 1389 the Turks took over the castle and it changed hands many times before the Serbs gained final control in 1815.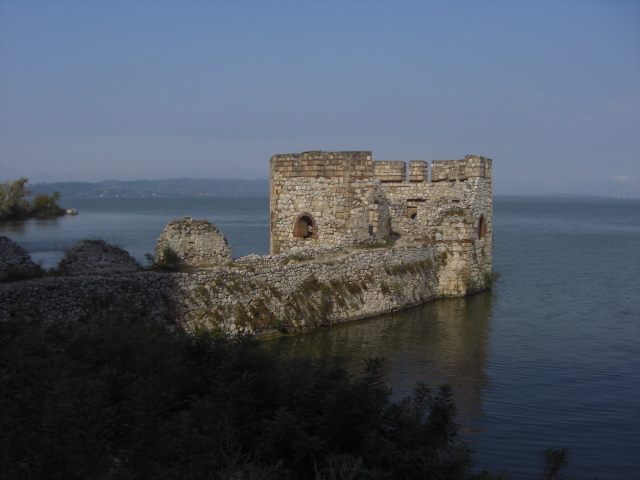 The castle ruins have 10 towers some of which rise directly out of the water. It did originally have a water moat, but was not actually built into the water itself. It's current sunken position is due to the rise in water level from the dam at the other end of the gorge. It's a well preserved castle and is quite a marvelous site to behold along the road.
For most of the day the road kept right to the water's edge. There were a few minor and one very major climb just at the end. The most spectacular section of road is where it passes through tunnel after tunnel, a grand total of 21. Our hats off to the engineers who accomplished this feat.
At about noon we approached the archeological site called Lepinski Vir. This was a site for a Stone Age hunter-gatherer settlement. The museum is supposed to house the artifacts found in the locale as well as present models of their unique houses. Unfortunately for us the museum was closed. They're spending millions to build a brand new museum which ought to be very nice when done. For now, we had to forego seeing it.
So we continued on to Donji Milanovac arriving earlier than we expected. The original town was flooded when the dam was built. So the current town is a newer replacement. It's main point of interest is the small National Park museum which was also closed when we passed through. A peak in the window revealed a small fishing boat, a few nets, some weaving materials, plus some photos of flora and fauna. What we could see looked well done.
We took a room in the Lepenski Vir hotel up on the hill overlooking the river. As with every hotel we've stayed in in Serbia, its rooms are plain and old. It looks like it was built in the 1950s and never remodeled. But this hotel has a fabulous position. It sits high on a hill right at a bend in the river. Views from its back porch are outstanding.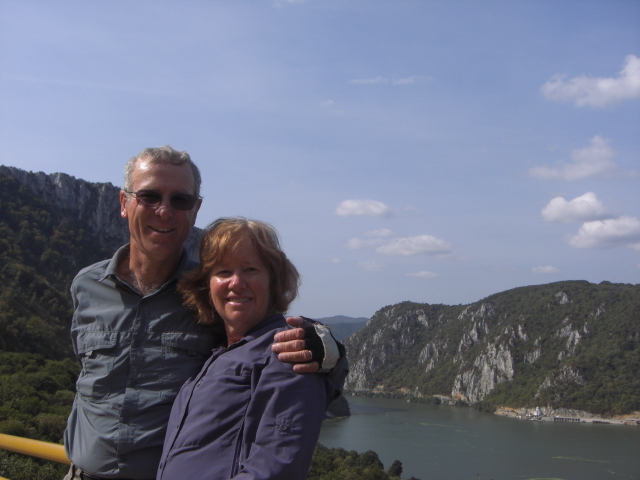 We are amazed with this gorge. If this were the west, those old hotels would be completely remodeled and would be 4 or 5 star hotels costing several hundred euros per night. There would be restaurants, boutique shops, boat trips, recreation activities, bike paths, and lots of hotels lining both sides of the river. Right now there is hardly anything. Just a very few tiny villages.
We have to think that once Serbia joins the EU and both Serbia and Romania get the Euro this situation will change dramatically. It would be something to return in 20 to 30 years to see what this section of the river is like then. There will probably be huge changes. So we'd better enjoy the more natural character it has today.
September 20th found us riding through the most spectacular section of the Danube we've encountered so far. In this very short stretch where the river cuts through the Carpathian mountains it goes from 7 km wide to a width of just about 150 meters. It's not much wider than about 4 times the width of the hotel/cruise ships that pass through.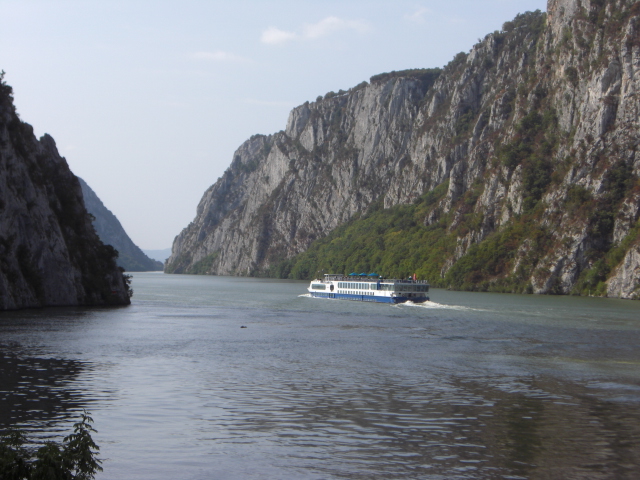 The Serbian side of the road pretty much hugs the side of the cliff the entire way. The highlight of this road is when it passes the narrowest section of the river. The views are magnificent. If you were to take the Romanian side you'd wind up missing this point as the road goes inland a bit to climb over a hill. We were so glad we took the Serbian side just for this short section alone.
Not too far later we came to the mammoth dam that closes off the Danube at what is called the Iron Gate. The road that allows access to Romania crosses on top of the dam.
Getting checked out of Serbia took a bit longer than expected. We handed over the passports and all those stamped cards the hotels had been giving us each night. They barely glanced at the cards. It was the stamp in the passport they were having trouble with. The border guard at Ilok did such a bad job with the stamp they could barely read it. After several times going back and forth they finally located the faint half stamp and then gave us a much clearer exit stamp.
Here's one of those times we're so glad to have a US passport. On the other side of the road we spent our waiting time watching a couple of non Italian looking fellows in a car with Italian plates having their belongings searched with a fine tooth comb. We always find we get through with hardly a blink. We can see why that US passport is so valuable.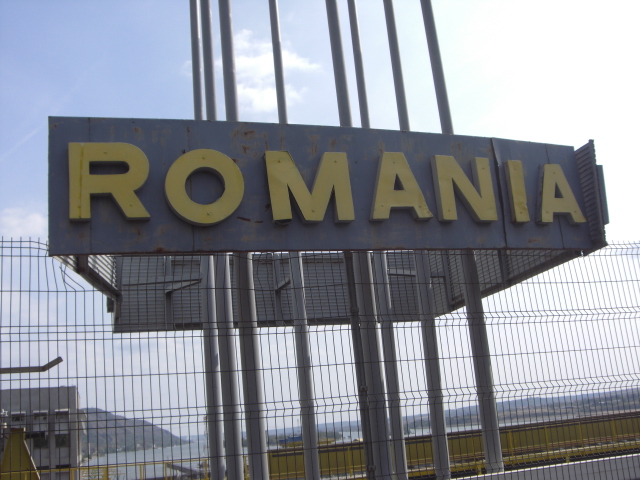 Getting into Romania was just as easy. Brain had a nice chat with the border guard about Romania, its recent admission to the EU, and its future entry into the Shengin agreement. With a "have a nice trip" the border guard sent us on our way.
The road into Dobreta Turnu-Sevrin had a lot of traffic and wasn't in the best of conditions. Although there was some reconstruction work being done and they recently repaved the edges. So it wasn't too bad. Once we got into the center of town everything seemed so much better.
Some of the first things we noticed was a distinct reduction in the amount of trash along the road. Serbia is absolutely litter ridden. Even in the center of the towns there will be trash all over. Another thing missing is the graffiti. Graffiti is absolutely rife in Serbia. Anyplace where there is a wall that doesn't have 24 hour surveillance there is graffiti. Even the train cars are covered. In Dobreta there was almost zero graffiti. We quickly learned to like this little town.
Our first order of business was to find an ATM and get money. The machine refused. We tried several banks and all 3 of our debit cards. Not a one worked. So we figured we once again had to call back to the states and the bank to straighten out the problem. But how to do that when we didn't know how the phone system worked and we had zero cash.
We decided to check into the very nice Continental Park hotel. But first we talked to the receptionist, Maria. What an enormous help she was. Without so much as a blink she dialed the number in the US we needed. Within a matter of minutes the problem was fixed and we had cash from the ATM. Maria was an enormous help. The hotel would be foolish to ever let her go. She alone made our introduction to Romania much better than expected.
With just our first impressions of Romania is that it's a lot like Portugal. They actually speak a Latin based language that does, in fact, sound a lot like Portuguese. That and the fact that the drivers seem calmer, the streets cleaner, and everything far more ordered than Serbia just reinforced that impression. We really enjoyed our ride through Portugal in 2006. We can only hope our ride through Romania is as pleasant.
Section 2
Dobreta Turnu-Sevrin, RO to Constanta, RO
September 21 - 30
The road leaving Dobreta quickly passes into a dry scrub area that looks a lot like Baja California. Now it may look especially like a desert environment since it's fall and the grasses and crops are brown. But we doubt it ever gets especially green in this region.
The road on the Romanian side quickly become very flat with just occasional climbs out of creek valleys. Looking across at the Serbian and Bulgarian side it looks a lot hillier. The other side also appears to have larger towns. This region of Romania is sparsely populated and has just small towns.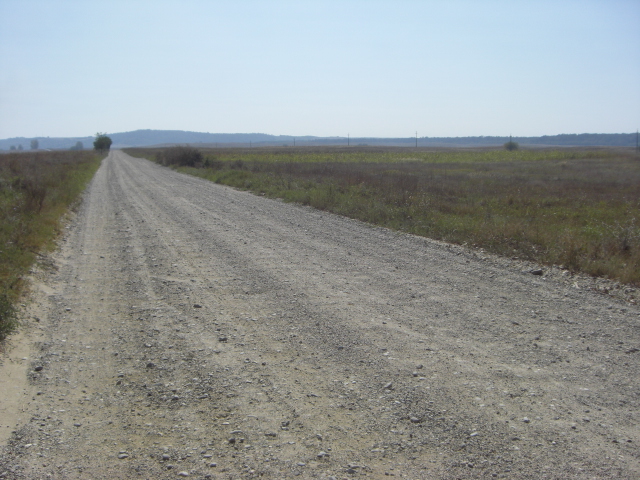 Towns are very odd. They have essentially no depth. They're just a long corridor of houses all lined up along the highway, one or two houses deep. Most of the houses are a conglomeration of buildings making up a small farm. There's the house on one side, a granary on the opposite side, and a barn at the back. This triad of buildings surround a courtyard that is closed off by a wall. Often times in front they'll have their personal well. But more often there's a public well, in perfect condition, that they still use.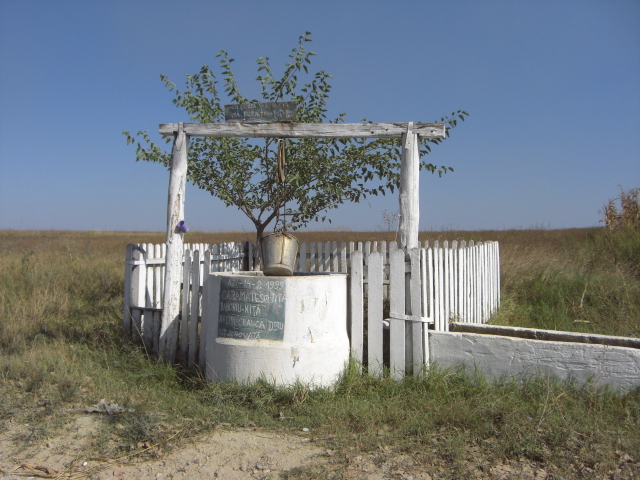 All the houses are stucco structures with tile roofs. Most appear to be in need of new stucco, although here and there new houses or renovated ones can be found. Many of the houses have a small front porch that have a definite eastern or Asian appearance.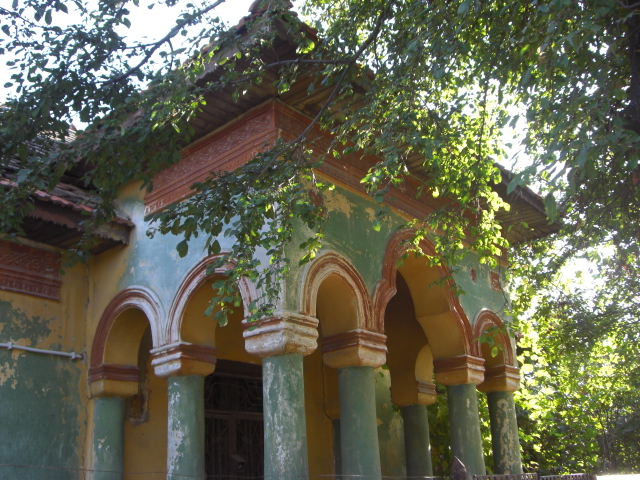 These small towns do not yet have running water or sewer but they do have electricity and even occasionally we spot a satellite dish.
There are stores along the way. These are small shops often on the first floor of someone's house. We can recognize them usually because they have some posters on the front, the door will be open and covered with plastic streamers. Sometimes there is an awning that says magazin on it, but more often there's not much to indicate it is a store. They contain soda, cookies, chips, candy, a few staples, bread, and even some household goods. At this time the regular grocery store chains have only moved into the largest towns.
There doesn't appear to be any sort of town center. The closest thing might be the church and occasionally a small park. To find a quiet place to eat lunch or have a drink without becoming a spectacle for the locals we usually resorted to hiding by the church. Even though bikers are coming through here fairly regularly now, we're still enough of a novelty to attract a lot of attention.
The route to Calafat isn't the shortest. Rather it takes a much smaller, rural road that stays closer to the Danube and passes through much smaller towns. There was one short stretch of dirt road that was difficult for the bike. The surface is loose, sandy, and rocky making for hard riding. Another stretch of the paved road is so old and out of repair it requires constant attention to try to avoid the potholes. Otherwise, the road is in far better condition than we had been expecting. So much for the rumors of horrendous road conditions the whole way.
The hills quickly flatten out to rolling terrain that reminds us a lot of the western US. Most of the landscape is filled with small farm plots that usually have dry corn stalks at this time of year. Much of the harvesting is still done by hand. Men and women go out and cut the stalks, put them into piles, and then come around with horse and wagon to collect it. They take the entire stalk back to their farm for processing. We saw only one mechanized corn harvester.
As we rode along we passed by horse drawn wagon after horse drawn wagon filled to overcpacity with corn stalks. The amount of corn piled high in the wagon seems staggering when compared to the size of the little horse or burro assigned the task of pulling it. Often high atop the corn pile will be a couple of the farm hands taking a leisurely ride.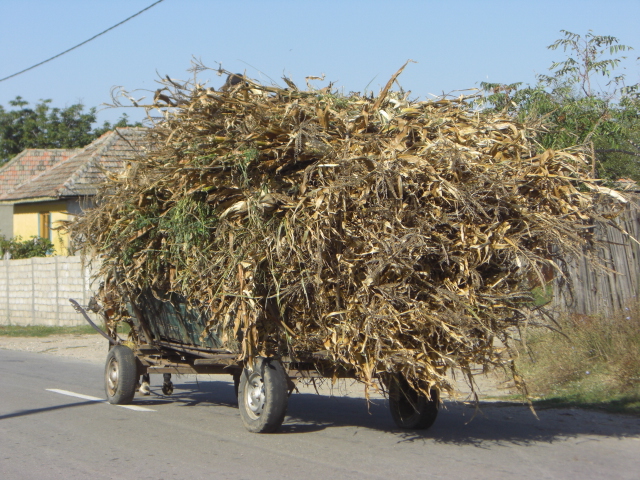 Older women in this region still dress very traditionally. They have calf length skirts, white blouses, a short sweater, and head scarf. The men usually have on black pants and a plain shirt. Some folks go around shoeless. Just imagine the calluses they have on their feet.
This is rural southern Romania in the early days of the 21st century. With the exception of the rubber tires on the wagons, it's probably not much different than it was in the 13th century. But that's about to change in a drastic way. Since 2007 Romania has been a member of the EU and EU money is starting to come into the country. Roads are being rebuilt and repaved or even paved for the first time. New clinics, government offices, police departments and other public buildings are getting built. New bridges across the Danube will be built. Old tractors and farm machinery are starting to find their way east from countries further along on the westernization tract. Soon there'll be John Deere tractors plying those fields. The days of the horse drawn wagon are probably numbered. Soon those wagons will only be found in ethnographic museums.
It would be interesting to return in 20 years to see what kind of country these changes have wrought.
Once we left the very quiet back road to take the main highway into Calafat, the number of autos and trucks increased dramatically while the number of horse drawn wagons tapered off. They probably don't like taking the horses onto the highspeed road.
We even saw a couple of used car dealers as we went along the highway. While on the Serbian side we'd seen cars towing trailers which usually had 2 to 3 more cars on them. These are used cars being taken further east to be sold. In 1999 we'd heard that many of these cars were actually stolen. We wouldn't be at all surprised if this was still the case.
Calafat is a small border town that upon first entry appears rather dinghy. A closer look reveals a fairly nice, quiet town that just isn't seeing much of the better economic times the rest of the country is seeing. This town is supposed to eventually be the Romanian side of one of the new Danube bridges. Even though the sign says the bridge is to be completed in May 2010, we couldn't see any signs of construction. Either we're looking in the wrong place or it's been delayed a while.
Calafat used to have several factories where they made furniture. Like so many old communist factory setups it probably was exorbitantly inefficient and couldn't survive the new competitive environment. So the population in the town is gradually decreasing making the town feel even more quiet. Perhaps when the bridge is built it'll be more prosperous.
There are now 3 hotels in town. One looks like a brand new affair that is expensive as well. Another looks like one of those old 1960s or 70s concrete buildings that looks in need of refurbishing. The last is a small family run hotel placed in an old house.
From the outside this little hotel doesn't look like much. But the rooms are excellent and the bathrooms enormous. The owner has worked in Luxembourg and he obviously knows what western client want. We would easily recommend the Casa Italia to anyone passing through.
After a while Romanian towns in this region begin to look all cut from the same cookie cutter. House after house after house line the main road. Their narrow ends face the road while they extend deep away from it. They have a front fence and a side yard. Often there is a grape covered trellis giving shade.
Somewhere near the center of each strip town is the church. It'll have two small dome towers in front or back and a main dome tower in the center. Often the domes are covered in shiny new aluminum. Somewhere along the way is the town offices, usually a brand new building. Occasionally there'll be a clinic and a small town park. Then there'll be a couple of bar/mini-markets and tiny magazins (stores). The streets are lined by trees with weeds underneath. Rarely are there flowers or any landscaping. There are no hotels or any other real sort of tourist services in most towns. At the edge of town you can often find a gas station which usually is the best building in town.
Romania seems to have one foot in the 19th century and the other in the 21st. It's a time warp. On the one hand, in some places there are more horse drawn wagons than cars, people have no indoor plumbing, there are geese in the road, chickens in the yards, and wagons bearing pigs to market. Yet, there are also satellite TV dishes on many of the houses and we spotted more than one of those wagon drivers playing with cell phones. It's as if this country is sitting on a knife edge between two very different centuries just waiting to fall toward the present.
We actually found a campground. It's the first we've seen since Hungary. Sitting on the banks of the river Jiu just after the town of Zaval we spotted a row of little cabins. There's no sign announcing this is a campground, but our map did say there was supposed to be one. So we checked it out.
It wasn't all that bad. The tents went in front of the cabins. It was grassy but also very sunny. It'd be really hot in summer. There was a so-so bathroom with very hot showers and rather sulfur smelling water. There were lots of benches and picnic tables in the park behind the cabins. The price wasn't bad either. We decided to stay there for the night.
As we sat at our campsite watching the sun go down and making dinner we had the entertainment of watching those horse drawn wagons going back and forth across the field opposite. They were heading out to collect either grass or wood. We then noticed a whole bunch of folks sitting on the road by the brand new bridge. Other than to watch the sunset, we couldn't fathom any other reason for their being there.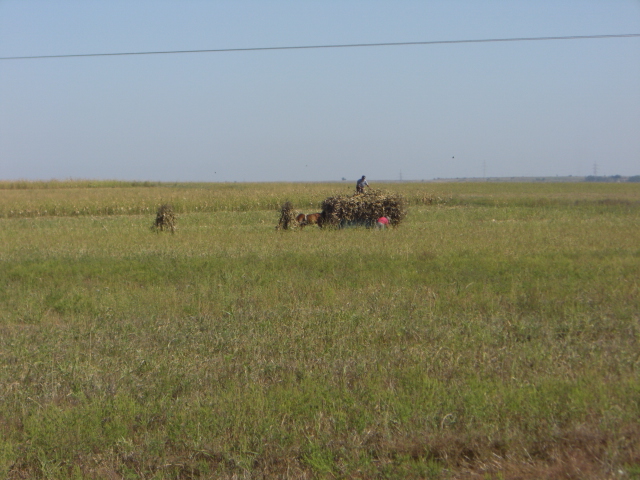 Just as the sun was starting to turn red in the sky, the group rose up and began walking toward the field. From the other direction came a bunch of cows lead by several old women. So that's what they were waiting for. They all came down to meet the cows and help lead them across the bridge and off to their barns for the night. That's rural life in rural Romania.
Our fourth day riding across the flat Romanian countryside had little difference from the previous days. Long linear towns most of which were very poor, lots of wagons, some stretches with just fields on both sides. Our maps say this is an uninteresting section of riding and they are right. The hardest part was the fact that it was so hot and in the afternoons we usually had a headwind.
We hadn't seen any other bike tourists in ages. Yet just when we entered Turnu Magurele we happened across 3. First we passed 2 French folks on the road. Either this couple had had too much sun or they were just very strange. Despite our efforts we couldn't get much more than one word answers from them. The third fellow was a German who was just outside the only hotel in town. He was disappointed with the price and planned to head on. He'd been riding on the Bulgarian side and found it was just too hilly. In Romania he may find the hotels are too expensive.
We decided to check in. For a single person the cost really is high. There's economy in scale when you're two.
Turnu Magurele seemed to be the first normal town we'd seen since Dobreta. It seems prosperous and is starting to get the new EU markets in town, such as Penny market. It's got a very pleasant central park with a fountain that works. People dressed in business attire walk the streets here. This is more than just a dusty farm town like we've been seeing for so many days. It was a very pleasant place.
The day we left Turnu Magurele started out bad and just got worse. Within just 10 km Brian's rear derailleur cable broke. It broke right at the head in the shifter and that head got so jammed we couldn't get it out. It has to come out in order to put a new cable in.
We tried everything, wire, screw driver, seam ripper, cable, anything we had at hand to shove that cable head out. It absolutely would not budge. As we sat on the ground trying to come up with some way to force it out a German bike tourist stopped by to offer help. He had the same result. It just wasn't coming out. So he suggested taking the shifter apart.
We were real reluctant to do this. If there are loaded springs in the shifter there is a good chance they'll spring out and we'd never get it back in. So we were taking a real chance.
Already we had removed every screw we could find. But it just wasn't coming apart at the right seam. There was a peculiar lock nut on top that had to be unbent. Then the nut removed, one shifter lever removed, a spring plus spacers removed, and finally the second lever. Only then could we get at the cable head with needle nose pliers to get it out.
So now our German helper, once he helped us take it all apart, left us with a pile of parts to figure out how to get back together. We had to study and study how the whole thing operated. When we took it apart there were parts slightly hidden so it was difficult to tell exactly how everything aligned. Finally we figured out how it worked, at least almost, and got it back on the bike.
This all took an hour or so during which we were continually passed by tractors and horse wagons. Fortunately none of the locals bothered to stop to offer assistance. Thank goodness as in other countries we've had people barge right in trying to help. They had no idea what they were doing and usually made things worse.
With the shifter back together and the bike reassembled we headed off down the road.
It quickly became apparent that we didn't have it right. Brian was getting a total of 3 gears out of 9. So very soon we stopped for lunch in a church yard and proceeded to take the whole thing apart again. This time the maintenance man at the church offered assistance. Fortunately again once we made it clear we had things well in hand he left us alone. It was only a slight fib.
Actually we finally did figure out that we had the spring attached at the incorrect mounting points. Once we got that rearranged it worked normally. It's just slightly worse for the abuse we gave it.
So now that nice and early morning start was totally wasted and we still had about 70 km to go for the day. This day would take us through one small town after another. In this particular stretch the children, that meaning just about anyone under the age of 25, would all yell "hello" or "ola". Most would come running out from whatever they were doing to try to give and get a hand slap. We have no idea why. But some took such offence when we refused they'd yell with a downright angry voice.
The problem was we were trying to get to our destination before dark, now running a full 3 hours late. And after 20 or 30 "hellos" and hand slaps in one town alone it gets to be a bit too much. We don't know where they got the idea this is what you're supposed to do with bike tourists, but we'd had enough.
By the time we got to Giurgiu we were completely beat. Giurgiu is not exactly one of your prettier towns to enter. As usual it's filled with those dreadful concrete buildings that cover all of east Europe. Just about the only pleasant spot in town is the central park which is a nice shady respite.
We got lucky. The first folks we asked about hotels spoke English. Without that we'd have been hard pressed to find the way. Just as the sun was setting we hurried down the busy main highway and made our way to the nicest motel in town. We collapsed. What a long, difficult day it had been. After this we were beginning to look forward to being finished for the season.
After Giurgiu life on the road became a bit better. The towns were still essentially the same. Although it did seem that they were beginning to look just a tiny bit more prosperous. There were more rebuilt houses, a little more landscaping, somewhat better town offices, more cars, and the town wells were no longer in use indicating they had plumbing.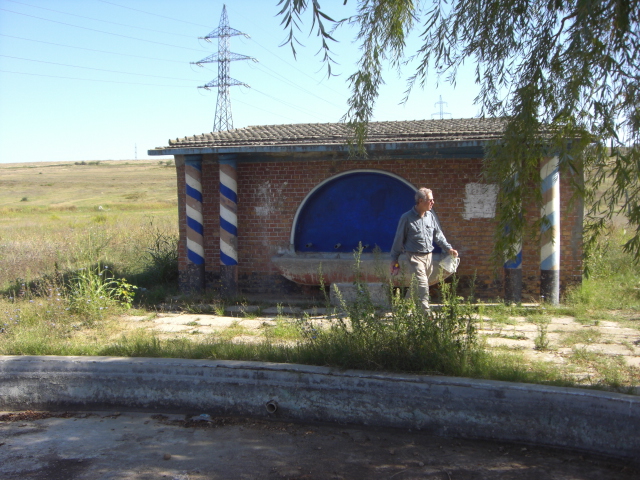 The primary difference was that fewer of the kids yelled at us. That made for a much more peaceful ride. Waves from the adults and kids in the horse drawn carts is no problem. It's just when the kids get it into their heads that they have to keep yelling and yelling then it gets to be too much.
Also, we were really concerned about the kids running out for hand slaps. Some paid no attention to the traffic and would run right out in front of cars. We concluded that it would be a good idea for bikers to start ignoring this greeting, more to keep the kids from getting hit than anything.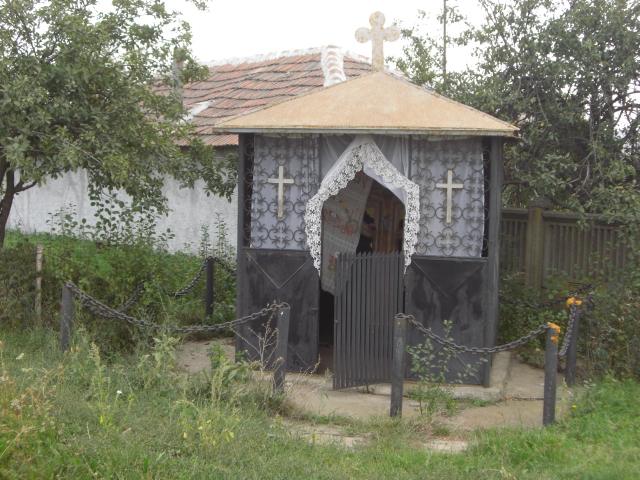 We pulled into the town of Oltenita fairly early. The approach to this town, as with almost all the large Romanian towns we'd seen so far, did not do much to inspire confidence. It has the usual ugly concrete towers plus some old manufacturing. It looks ugly at the start.
Once you get into the city center proper, things look much better. Despite the ugly buildings, the folks have fixed up a new walking mall that has nice plants, benches, and fountains. It also has a pleasant tree filled park plus another smaller town square that also has a central fountain. This last town square is the one where the folks all gather in the evenings to watch the kids play.
This town has two new grocery stores, a Mini-max in the center and a brand new Plus by the train station. The Plus is quite popular. We also noted that piece by piece the people are adding foam insulation and new stucco to their apartments. It makes for a patchwork appearance of new and old on the buildings. But eventually they should all have their individual sections complete and the buildings will look far, far better.
We plopped ourselves down in the walking mall and asked the first lady we met where hotels might be found. She didn't speak English, but another fellow nearby did. He, it turns out, is a teacher at a nearby private school. Since the only decent hotel in town was fully booked, he called his director and was able to get permission for us to stay at the visiting teacher room at the school. They charged us a mere 40 RON to pay for the lady who would clean the linen. It was a very plain, basic room without a shower, but the price was right.
One more uninteresting days ride got us to the very industrial town of Calarasi. From a distance the first thing you see is this absolutely horrendously ugly industrial complex filled with smoke stacks. We had planned to ride into the city to spend the night, but upon seeing this mess we decided to bypass the town on route 3 and head straight for the ferry. We just couldn't bear the idea of going into this city. We would rather find a wild campsite than endure this.
As it turned out, this proved to be the best decision we could have made. At the ferry landing is a very small motel overlooking the river. It has small rooms, but also a good secure place to store the bikes. It also has a great patio restaurant overlooking the river. So we spent a very pleasant evening on the porch watching the sun set over the concrete buildings of Bulgaria's city of Silistra across the river.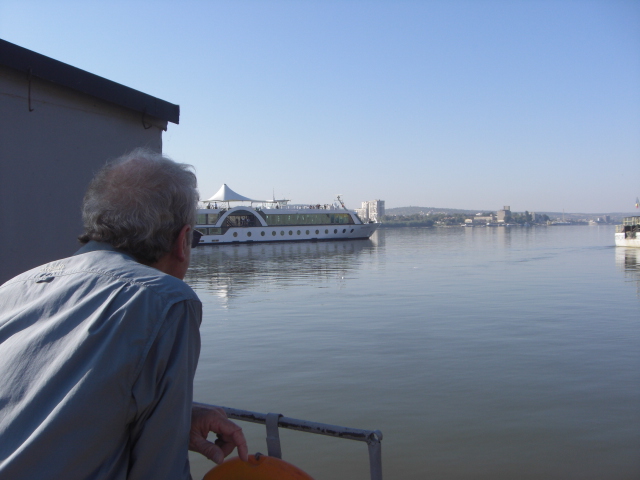 Once we crossed the river it felt almost as if we were in a different country. This side did seem even poorer than the other, but the towns didn't seem to be quite so effected by the concrete tower syndrome. They had more of their original houses built in the styles of the region. Also, the towns typically were not on the main highway. They tended to be more clustered rather than strung out along the highway and even appeared to have more of a real town center.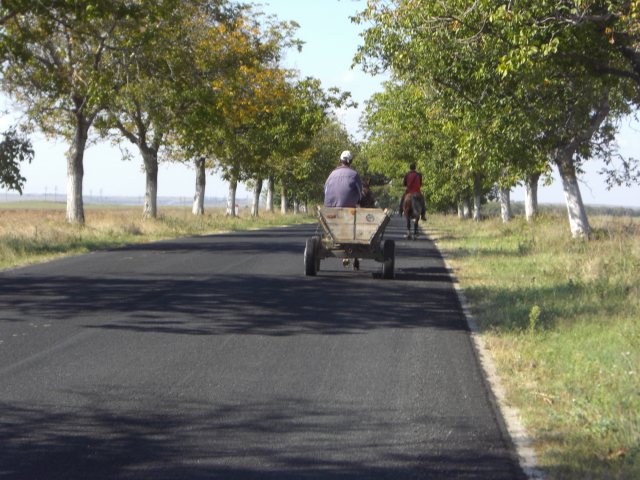 The terrain also gets hillier making for a much more scenic ride. The first day riding on the south side of the river actually was fairly pleasant and enjoyable.
Just after getting off the ferry we headed out the main road toward Ostrov. This road swings left while a side road passes through border control and goes into Bulgaria. For a stretch the road goes right along the Romania/Bulgaria border with the fence on the right being the border. You could easily climb over the fence and avoid border formalities if you really wanted, but who'd want to.
A rough cobblestone road took us to the town of Ostrov. This old town built on the hillside had a small park and a fairly new but very small grocery store. We grabbed a cool drink and then continued on down the road.
Within a couple blocks one fellow signaled to us that we were going the wrong way. We needed to get up to the top of the hill in order to get to Constanta. We soon had about 4 or 5 people giving us directions to get up the very steep hill to the main road. People sure are helpful in Romania.
Once back on the main road we had a ride over rolling hills. To our left for a few more km we had our last views overlooking the Danube. Once we left it we wouldn't see it again. If you really wanted to see km 0 of the river you could head north along the coast from Constanta to the town of Tulcea and then take a ferry out to the mouth of the river. Our objective is the Black Sea and not the mouth of the Danube. So Constanta would be enough.
After leaving the Danube we descended to a large lake by which sits the Dervant Monastary. We dropped in for a quick look around. During communist times the monks were kicked out. Now they have returned, have fixed up the church and other buildings, and even seem to be adding new structures. They welcome visitors and you can even spend the night if you need. Some bikers do. We had already decided we'd wild camp that night so we headed on.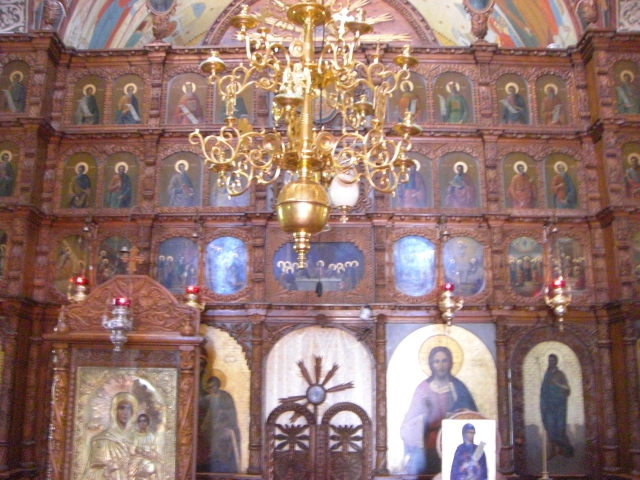 The road continues up and down a lot more hills passing through a few towns and even a few forests. The farm lands in this area are now seeing a lot of mechanized farming. There is also an EU funded major vineyard operation. It's this kind of large scale farming that will help this country get out of its current backward state and into the 21st century.
The town of Adamclisi sits atop one of the many hills along our route. This particular town sits upon an old Roman fortress. The old roman walls and a large Roman monument are near the town. We guessed that this particular route must have been a shortcut from the Black Sea to the Danube for a very, very long time. Otherwise why else would the Romans place a fort at this unusual location. It must have been to protect one of their roads.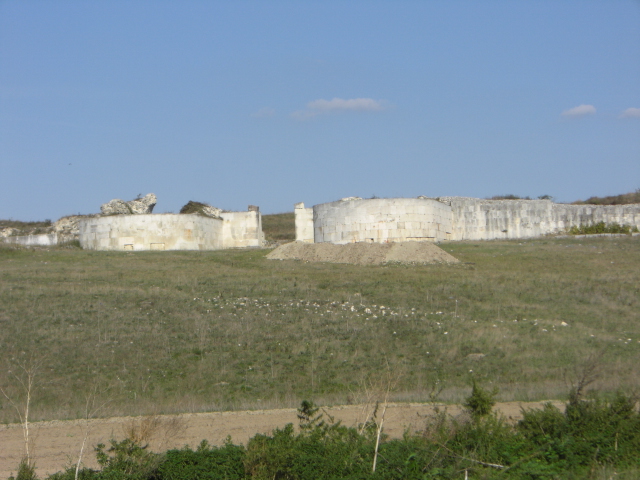 Not too far beyond Adamclisi we pulled off the road on a small road leading up to another monastery. Oddly we never saw monasteries on the north side of the river. We wondered if perhaps the Eastern Orthodox religion doesn't have them.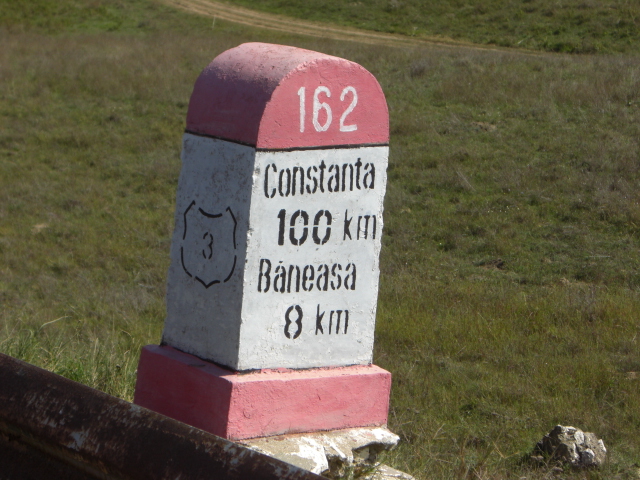 We pushed down this road and then left it for an even smaller dirt tract. We thought surely no one would pass this way very often. We'd have a quiet night and morning, of course.
Of course not. At 5 AM the first car roared down this tiny road. By 6 AM we heard the sound of a rancher and his cattle coming nearer and nearer. These folks still follow the old tradition of sitting out all day with their cows and sheep keeping an eye on them. This one guy spends his entire day following around 27, we counted, cows all around the hills returning to his barn at dusk. We can see why they invented barbed wire.
Just imagine his curiosity. He comes down the road probably following the same path he does every morning. There in the middle of the valley sits this odd looking tent and two bikes. He did have the decency to sit on a rock for a while giving us the chance to get organized and packed up somewhat.
Just as soon as we got packed and started heading out a bus came roaring down this very same tiny dirt road. This was full of the same field workers who had besieged the small store we'd been in the evening before. They happily waved as the bus bounced by.
So much for a quiet road.
We'd finished riding most of the hills the day before and had just a few minor ups and downs before getting onto the main road into Constanta. There was a lot of construction along the way. Romania is notorious for having bad roads, although we did find them to be in much better condition than roads in such countries as, say, Mexico. With the help of EU money they are rapidly going through and repaving or completely rebuilding them as fast as they can. Good transportation infrastructure means good business and they know it. Too bad they aren't getting into the biking habit as well.
Turning onto the last road into Constanta we had about 20 km or so of extremely heavy traffic. The drivers don't seem as maniacal as those in Argentina or Serbia, but it was still nerve wracking finishing those last few kilometers. When we at long last saw the large coast guard boat now sitting permanently aground next to the road we knew we were finally there. Just a few more km and we eyed our destination at long last, the Black Sea.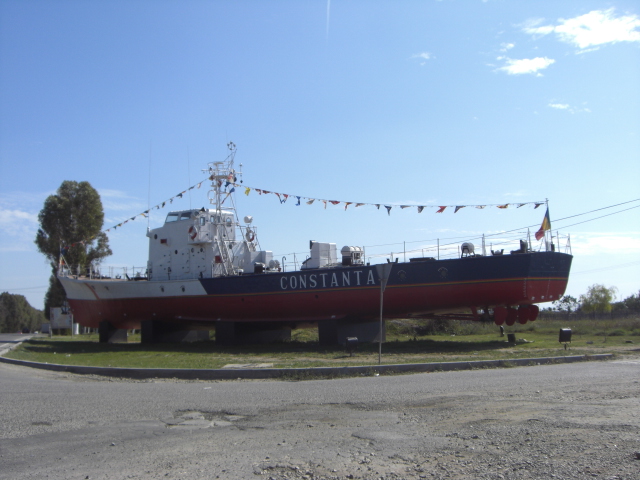 Most folks who visit Constanta do so to go to the beach resorts to the north of the city. Very few actually stay in Constanta itself. It's not a particularly attractive city so we can see why. So we were surprised to find so many of the hotels booked for the night. After checking at several we finally settled down in the very nice Hotel Dali. What made this place so special is we had a 3rd floor patio with one of the best views of the Constanta beach and harbor in town. It was a real find.
We had arrived at our destination early and had plenty of time to visit the city before taking a rental car back to Bucharest.
Constanta is a very old settlement. People have inhabited the area for more than 150,000 years. Real settlements came about with the Romans and there are a lot of Roman ruins scattered about the city mostly under current constructions.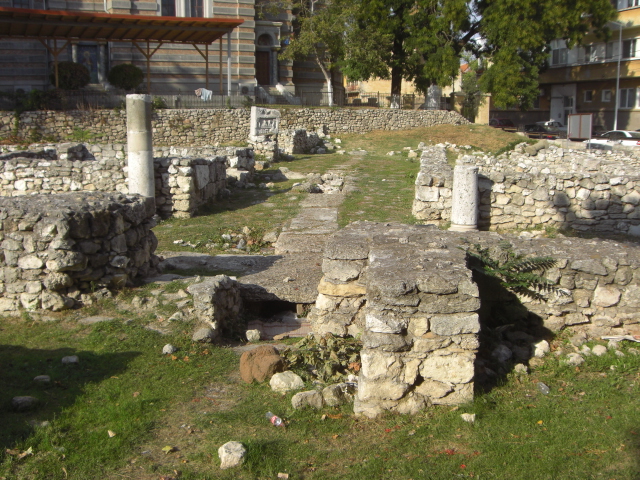 One of the biggest attractions in town is the partial remains of a Roman mosaic floor that used to be the second story of the forum. About half of the floor was over vaulted ceilings of the first floor which collapsed. So that section of floor was lost. The remaining floor is enclosed in an old concrete and glass structure to keep it from decaying further. Unfortunately they don't bother cleaning the floor which means that its colors are obscured by a very heavy layer of dust. The main thing that makes this floor unique is its size. It's very large compared to most Roman mosaics we've seen so far.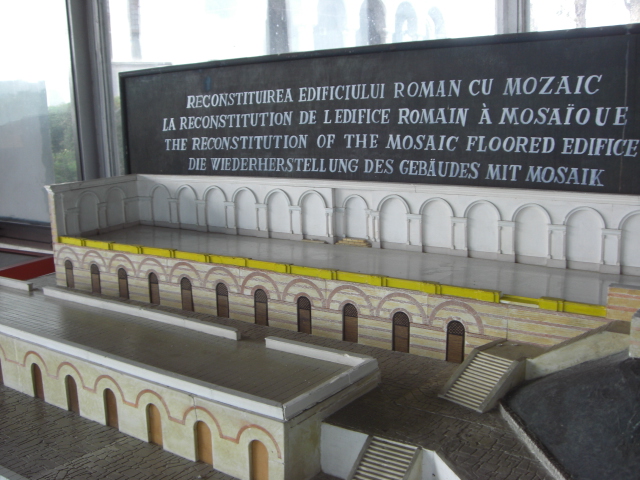 The city also has a large history museum that houses much of the artifacts found during archeological diggings in the area. They have a lot of very nice pieces that are well displayed. However, the historical discussion that goes with the pieces leaves much to be desired. They don't give a very good history that helps you fit the puzzle of how the area has been inhabited together.
The modern history section on the third floor is just a collection of photos and newspaper articles that is of little interest to nonRomanians.
We also stopped in at the museum of popular art, in other words folk art. This museum is far better displayed and much, much cleaner. The history museum could use a thorough dusting. This folk art museum is full of weavings, pottery, and a lot of costumes from all the different areas of Romania. These costumes really do have a distinctly eastern flair compared to the more western costumes we've seen. Usually the women would wear some kind of veil on their head, a white embroidered long sleeve shirt, and a gathered or wrap around skirt with a wide embroidered belt. They were very colorful.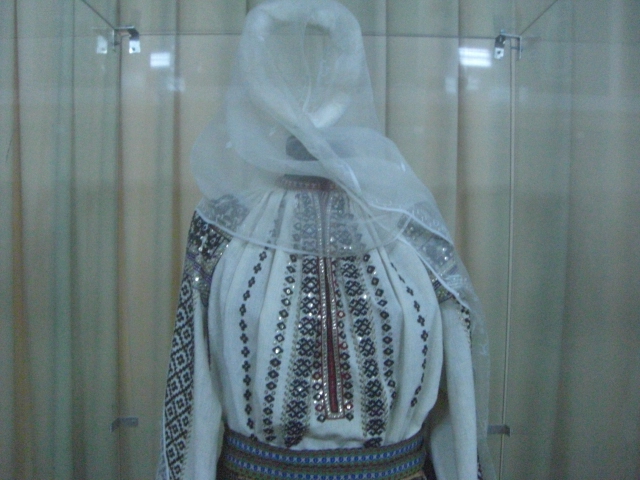 Both museums and the Roman floor take only a few hours to visit. This left us with plenty of time to wander the town. Most of the city is filled with the usual communist style concrete apartment buildings most of which are in terrible condition. But in the old town there are some very interesting old buildings that are just begging a refurbishment. Given a freshening, this district could be the hottest place to live.
In the old district there is an old Greek orthodox church, Romania's main mosque, and their main eastern orthodox cathedral. The inside of the cathedral looks similar to all the others we've seen. But due to centuries of candles burning in the interior, the paintings are all covered in soot and can barely be seen. It's another refurbishment project waiting to be done.
Finally, Constanta's most famous structure is the casino building. It sits on a rocky peninsula built into the bay and had a commanding view of the sea all around. It's a fabulous structure. At one time this was the place to go for the rich and famous. Today, however, it is just another renovation project waiting to happen. The casino building is closed to visitors. We would have loved to see the interior. Someday it would make an absolutely fantastic restaurant and special event facility if not another casino.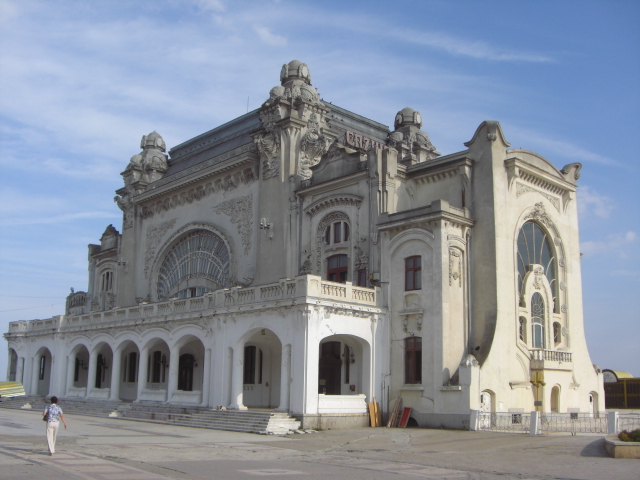 As with most of southern Romania, there are so many renovation projects that need attention it's hard to imagine the country will ever be able to do them all.
But there are signs of improvement and change everywhere. Those horse drawn wagons likely have seen their last generation of users. Romania is going to be a car society very soon. The tiny family run stores may not survive as such chains as the Penny Market move in. New gas stations are replacing the old. Wells are going into disrepair as water systems are installed. New sewer lines now sit under the pavement. The Romania of today will be very, very different ten years from now.
With just a few more days left in our summer 2009 bike tour we rented a car, took our last look at the expanse of the Black Sea, and began the preparations for our return home. So until 2010, may the sun shine, your hills be few, and the wind at your back.
As the Romainian town signs say, "Drum Bun."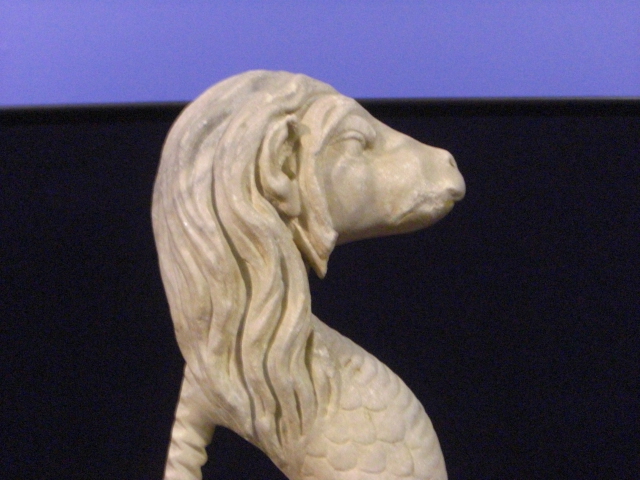 APPENDIX A – ROUTE
Serbia
Sept 17 Train to Mala Krsno. Dunav radweg thru Osipaonica, Pozarevac, Cirikovac, Klenovnik, Kostolac, Selo Kostolac, Drmno, Klicevac, Recica, Ram Banatska Palanka, Vracev Gaj to Bela Crkva, 83.49 km
Sept 18 Dunav rdeweg thru Vracev Gaj, Banatska Palanka, Zatonje, Veliko Gradiste, Vinci, Usije to Golubac. 57.60 km
Sept 19 Dunav radweg thru Brnjica, Dobra, to Donji Milanovac. 58.24 km
Sept 20 Dunav radweg thru Golubinje, Malo Golubinje, Golo Brdo, Tekija, Sip to Dobreta Turnu-Sevrin. Km
Romania
Sept 21 Donau radweg thru Hinova, Ostrovu Corbului, Batoti, Tismana, Vrancea, Crivina, Burila Mare, Tiganasi, Gogosu, Balta Verde, to Izoarele. 85.58 km
Sept 22 Dunav radweg thru Gruia, Pristol, Gārla Mare, Vrata, Salcia, Cetate, Moreni, Hunia, Maglavit, Golenti, Basarabi, to Calafat. 72.06 km
Sept 23 Donau radweg thru Poiana Mare, Piscu Vechi, Rast, Negoi, Catane, Bistret, Plosca, Cārna, Sāpata, Mācesu de Jos, Gighera, to Zaval. 90.70 Km
Sept 24 Donau radweg thru Ostrōveni, Bechet, Calarasi, Dabuleni, Potelu, Grojdibodu, Gura Padnii, Orlea, Corabia, Gārcov, Islaz, to Turnu Magurele. 95.73 Km
Sept 25 Donau radweg thru Ciuperceni, Traian, Seaca, Lisa, Piatra, Viisoara, Suaia, Fantanele, Zimnicea, Zimnicele, Nasturelu, Bujoru, Pietrosani, Gaujani, Vedea, Malu, Slobozia, to Giurgiu. 132.13 Km
Sept 26 Donau radweg thru Daia, Baneasa, Prundu, Greaca, Cascioarele, Chirnogi, to Oltenita. 82.50 Km
Sept 27 Donau radweg thru Ulmeni, Spantov, Chiselet, Manastirea, Dorobantu, Cloanesti, Gradistea, to ferry landing. 84.26 km
Sept 28 Donau radweg thru Ostrov, Lipnita, Baneasa, Negureni, Ion Corvin, Urluia, Adamclisi, and Deleni. 86.08 km
Sept 29 Donau radweg thru Pietreni, Viisoara, Cobadin, Ciocārlia, Basarata, Valu lui Traian, to Constanta. 79.55 Km
APPENDIX B – CAMPSITES, Hotels
Serbia
1 RSD ~ .0153 USD
Sept 17: Hotel Royal in Bela Crkva, (2280 DIN/night)
Sept 18: Hotel Golubacki Grad Hotel in Golubac (3250 DIN/night)
Sept 19: Hotel Lepinski Vir in Donji Milanovac (4306 DIN/night)
Romania
Sept 20: Continental Paark Hotel in Dobreta Turnu Sevrin (75 RON/night)
Sept 21: Wild camp near Izoarele
Sept 22: Hotel Casa Italia in Calafat (130 RON/night)
Sept 23: Campground near Zaval (20 RON/night)
Sept 24: Hotel Turris in Turnu Magurele (220 RON/night)
Sept 25: Motel Prietenia in Giurgiu (120 RON/night)
Sept 26: School Oltenita in Oltenita (40 RON/night)
Sept 27: Hotel Monica near Calarasi (150 RON/night)
Sept 28: Wild camp near Deleni
Sept 29: Hotel Dali in Constanta (200 RON/night)
References
Lonely Planet Guidebook Central Europe
Bikeline Radkart Donau Radweg 4