EUROPEAN TOUR 2009 PART V - NETHERLANDS, GERMANY
Ijmuiden, NL to Hamburg, DE
Ijmuiden, NL to Hamburg, DE
Start 55,099 miles (88,158 km) cumulative:
End 55,816 miles (89,305 km) cumulative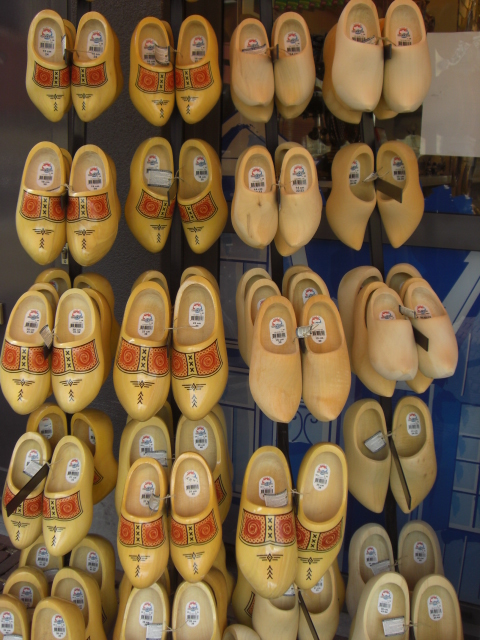 Section 1
Ijmuiden to Den Haag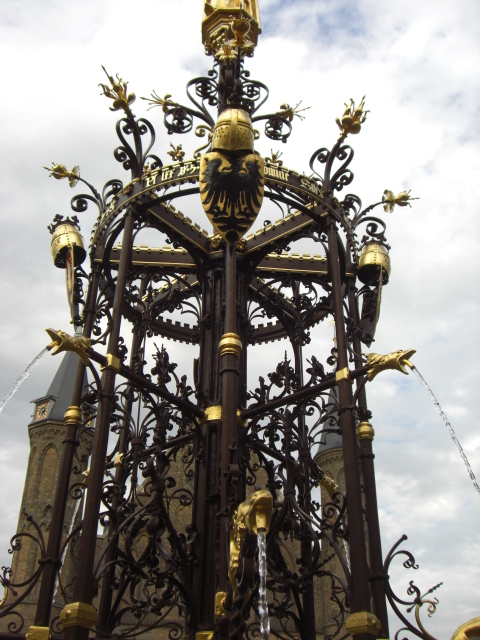 July 12 - 14
Rain splattered across our porthole window when we arrived in Ijmuiden. We'd been expecting rain, but the weather report claimed that it would clear by afternoon. At least the weather report onboard ship. That shown in the local newspaper wasn't quite so optimistic.
It was Sunday. One thing we've discovered with the Netherlands is that on Sunday's just about the only thing you can be sure will be open are the gas stations and McDonalds. So between rain storms we hightailed it to the nearest McDonalds to sit out the bad weather.
True to the ship's report, by around 1PM or so the rain stopped and we started seeing some clearings. Since we were now so close to Hoek Van Holland, since it's a flat easy ride, and since we had all day, we decided to head down south once again to connect our route. Besides, we wanted to see Delft and Den Haag. So on our bikes we climbed and headed off.
The ride along this section of Dutch coast meanders through nature preserves broken up by fancy beach resorts. The reserves are for the miles and miles of beach sand dunes that protect Holland's coast and inland dry areas. Tall white sand dunes are covered with beach grasses that hold the sand in place. Through all this run dozens of hiking and horse riding paths as well as the North Sea Coastal bike route.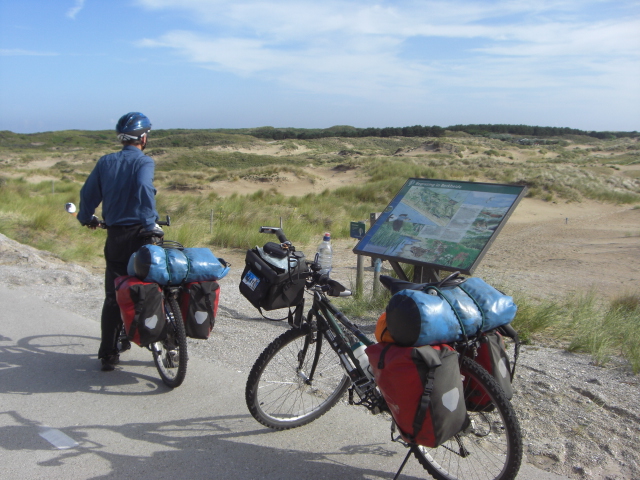 As the sky cleared for the afternoon, more and more bikers came out. Soon we were passing bikers of all sorts going the opposite direction almost constantly. This coastal route is one popular weekend ride. It was so nice to be back in the amazing bike culture of Holland.
We rode as far south as the northern outskirts of Den Haag where we happened upon a nice campground next to a race course. This would be our base for exploring the Den Haag region.
The following morning we set out to complete our connected route to Hoek van Holland. We decided to make a nice unloaded loop ride from the campsite. In the morning we headed south along the coast thru the coastal beach resorts of Scheveningen and Kijkduin.
We like these beach resorts better than those in the UK. They have nice hotels and none of the cheesey arcade stuff so popular in Britian. The hotels and condominiums also seemed to be of higher quality or at least they were newer.
Once we reached Hoek Van Holland we flew back up the Rhine with a tailwind at our backs for a few km and then north to the city of Delft. The ride was great. We went along pretty canals filled with water lily pads and canal boats. The canals wound their way through the old town of Maasland and then out into the country side past farm fields. So picturesque.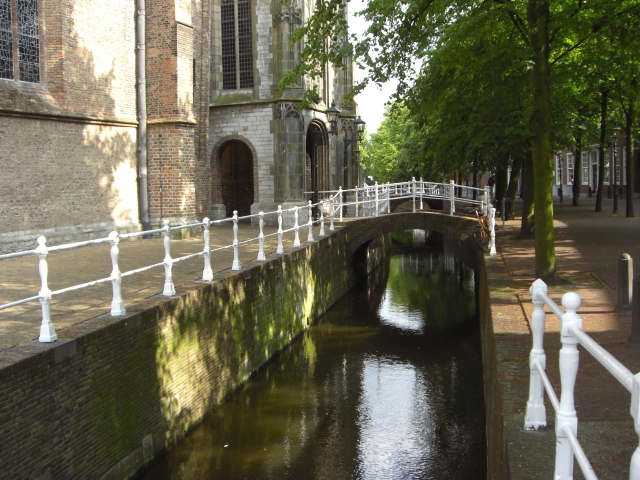 Delft is such a pretty town and is where the famous Delft pottery comes from. It's ironic. The Delft folks figured out how to make fine china so as to take market share from the Chinese factories. Now much of the Delft sold to the tourists is once again made in China. Although there are still a few pottery factories around town producing that famous blue and white pottery.
Delft's most famous person was Johannes Vermeer. A fabulous painter, he lived and worked in the city. One of his most famous paintings is a scene of Delft life painted from across the river. It shows 1500s Delft with a couple very small peasants in the foreground. You can still search out the spot where he made this painting. We only had enough time for a quick tour of the most important buildings before we had to ride back to Den Haag to our campsite for dinner.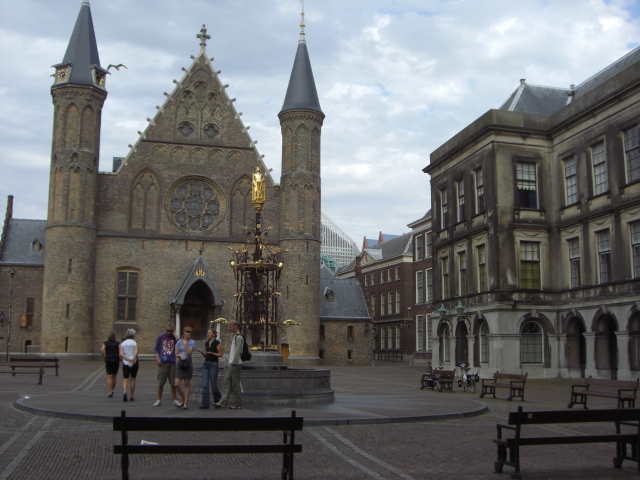 Summer has come to Europe. The day we'd been dreading for so long has arrived. The kids are now out of school and the campgroind was packed. Unfortunately for us several groups of teens had moved in around us. These were 15 and 16 year olds with absolutely no adult supervision.
The first night ater their arrival went somewhat all right. Partly because it started raining at around 10 PM and did not quit. Day 2 wasn't so fun. The drinking age in Holland is a mere 16. This group of 15 and 16 year olds had run out to the store and brought back bottles of hard liquor. So as the night wore on the noise and the horsing around got worse and worse. Finally after some of them had gone to bed, we wound up in the late hours listening to a 15 year old girl tell some older Germans all about how to get booze, pot, and sex. The Netherlands has a very loose attitude about these things. We have to wonder if it really is for the best.
The next day we went in to Den Haag to see the city and visit the one museum we'd picked out. The city has a few interesting older buildings. But it really seems to be an odd mixture of new right next to old. The older buildings have been uprooted quite a lot here. We did pass by a couple of the royal palaces, one in the city and the other in a nearby park. These are very nice.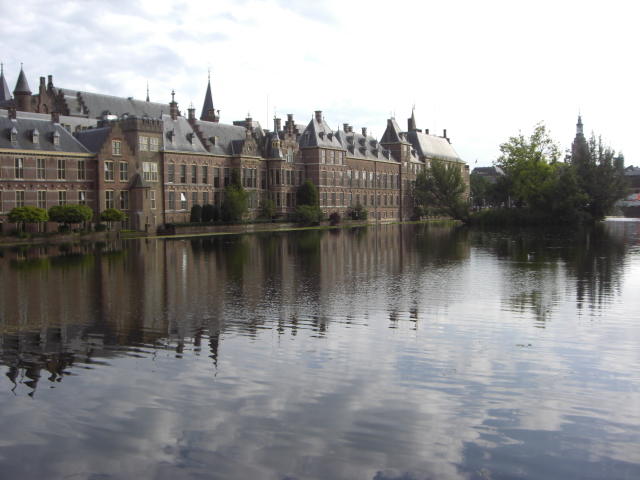 We spent the afternoon in the Mauritshuis Museum. This is a relatively small museum housed in a splendid 1800s mansion formerly owned by a military general. The paintings were all donated by the royal family or purchased since the original donation. Virtually each and every painting is a masterpiece. Most of the works are of Dutch or Flemish origin. Although there are some Italian, French, and German works as well.
Three of their most famous works are by the local painter, Johannes Vermeer. His painting of Delft is one. His most famous painting is also here, Girl with a Pearl Earing.
Vermeer was an absolute genius when it came to using light and shadow in a painting to bring out spectacular results. His Girl with a Pearl Earing demonstrates this talant to its fullest. The girl's face and eyes are turned toward the viewer and half her face is bathed in light from the side. The paint is applied so well to her lips they seem to almost shimmer as if they're wet. He managed to make this most famous pearl look real with just 2 brush strokes, one small white drop as a reflection of the light and a lighter brush of white for the reflection of her white collar. This painting really is magnificent.
But there's a third Vermeer that's equally interesting. This one shows Venus with three Nymphs one of which is washing Venus's feet. It's a large painting with a very somber mood. Even though it's signed by Vermeer there was always doubt as to it's authenticity. It was not a usual subject for Vermeer, the size was too large for this type of painting, and most importantly the upper right corner had a blue sky which he never, ever did.
In 1998 a researcher analyzed a bit of paint from this area to determine just what pigments Vermeer used. Well, the pigments turn out to be from a time period later that Vermeer's so there's no way he could have painted that blue sky. It was added later. This confirmed that the painting really was his. Unfortunately they couldn't remove the blue paint. So they painted over it in a brownish/green foliage coloring in an attempt to recreate Vermeer's style.
Vermeer was definitely a gifted artist. But he worked extremely slow managing to put out only about 2 paintings per year. There are only exactly 36 paintings in existence that are known to be his. Until very recently he wasn't well known either, having gone out of favor for some time. Probably the best thing for his posthumous fame was the making of a movie and historical fictional novel about the Girl with the Pearl Earing.
Another more prolfic artist represented in the museum is Rembrant. His group portrait known as The Anatomy Lesson of Dr. Nicolaes Tulp is one of his most famous works. This is where a bunch of men dressed in black with those very Dutch white lace collars are studiously watching one of their members cut the arm of a cadavor apart. Every one of the men was a prominent doctor and the cadavor was of a previously executed nortorious criminal.
Rembrant produced a lot more paintings than Vermeer. He had an entire studio fo artists helping him. He'd create the sketches for each work and then use the aprentices or fellow painters to help get the work done. It was a business and he was trying to produce as much product as he could.
Despite selling a lot of paintings his prolific spending habits still meant that he was hounded by creditors and had to sell nearly all his own collection to pay off his debts. Rembrant is known to have painted no less than 80 self portraits. This gives an idea of just how many paintings he made during his lifespan.
These are just a few of the paintings housed in the Mauritshuis. There are so many more and the free audio guide gives a fabulous lesson in art history, biographies of the artists, as well as Dutch history.
For instance, we learned that the Dutch invented portrait, landscape, and still life painting. All were derived from the earlier religious paintings made when the area was still catholic. After the protestant reformation, artists found they needed to find new cliental. The wealthy were ready and eager. Whereas before they'd paint a biblical scene of a feast, the wealthy found just a scene of the food or flowers on the table was good. Patrons who used to have a small portrait in a larger religious scene became the focus of the entire painting. And landscapes formerly in the background of religious paintings now became the entire painting with only small characters. It's interesting how these new genres came into being.
Yes the money spent on this museum was well spent.
Section 2
Den Haag to Den Amsterdam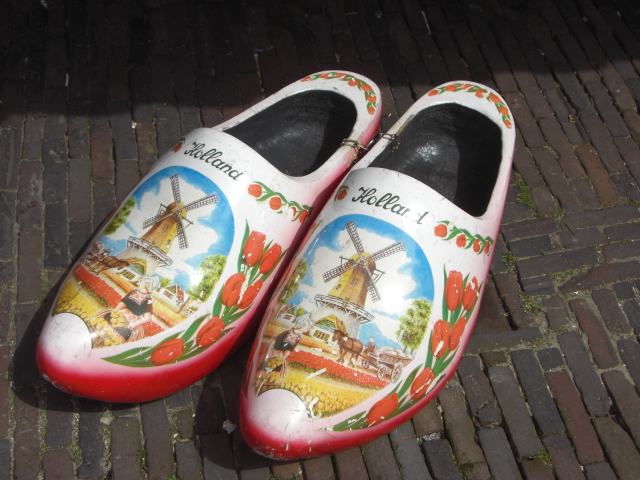 July 15 - 17
After a couple days around Den Haag we returned north via Haarlem and set up camp in a naturekamperpark near Amsterdam. These particular parks are designed a bit more like our U.S. State parks with tent and camper sites widely spaced in the trees giving a lot more privacy. We really liked this type of camping as a change of pace.
On the way north we made a quick stop at the pretty town of Haarlem. We made our way to the main town square where we pulled out the Lonely Planet for its brief town tour.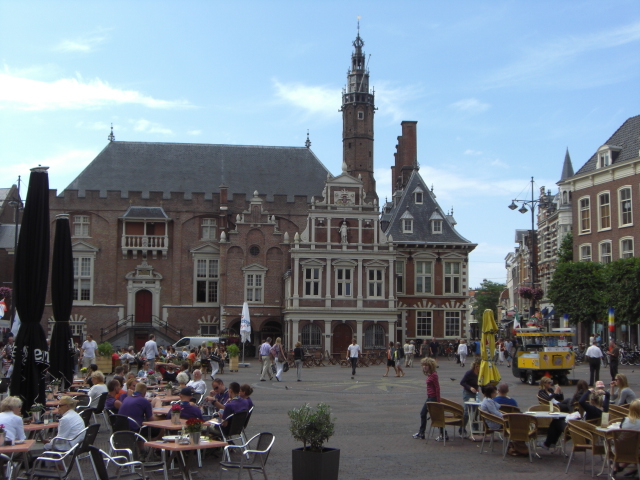 As we looked around we were approached by an affable Dutch man who promptly asked us, in Dutch, if we were needing directions. Like all Dutch he quickly switched to English when we asked him to. We got all sorts of tid bits on Dutch history from him.
The 17th century was the Netherland's golden era both artistically and financially. After they kicked out the Spaniards, following an 80 year long war that is, they soon formed a form of republic through the loose union of a bunch of city states. Eventually they decided to take on a monarchy like the rest of Europe. But for a while they were basically ruled by a bunch of business men.
Two companies were formed, the Dutch East India Company and the Dutch West Indies Company. The first quickly became one of the worlds most powerful trading company specializing in trade with Asia and Africa. Because of this the Netherlands became one, if not the richest country in the world.
The man we were speaking to mentioned that he'd listened to a speech given by a Chinese-American writer about the global trading behavior of the Netherlands and the U.S. Her conclusion is that the Netherlands' businessmen never had the desire to conquer and occupy a country. Rather they preferred to have their man at the top act as a trading agent with the local people. They didn't displace or want to rule over the people, just do business with them. This writer observed that the U.S. has in exactly the same manner. Once our coast-to-coast borders were established we really have not continued with any kind of expansionism especially when compared to such countries as Spain, Portugal, Russia, and England.
We also asked him about the biking culture. He said that the Dutch have chosen to give priority to bikes over cars in virtually all issues. If there is a road that is too narrow for 2 way car traffic plus bikes, they will either close the road to cars all together or make it a one way road with the side lanes dedicated to bikes. Entire downtown areas are closed to cars all together. If there is an accident between car and bike, the car is always assumed to be at fault unless they can prove the biker screwed up.
There is one thing we have noticed with this high concentration of bikers. There are a lot less cars on all roads especially in the towns and the entire atmosphere in downtown areas seems much less stressful. The noise level is down and people seem to really enjoy their daily commute. If only it were possible to develop this kind of culture in other places.
Another item of interest is that back when Guttenberg was inventing movable type in Germany another fellow was doing the same in Haarlem. His name was XXX. So today there is debate between the Dutch and Germans as to whether there should be a shared recognition of this invention.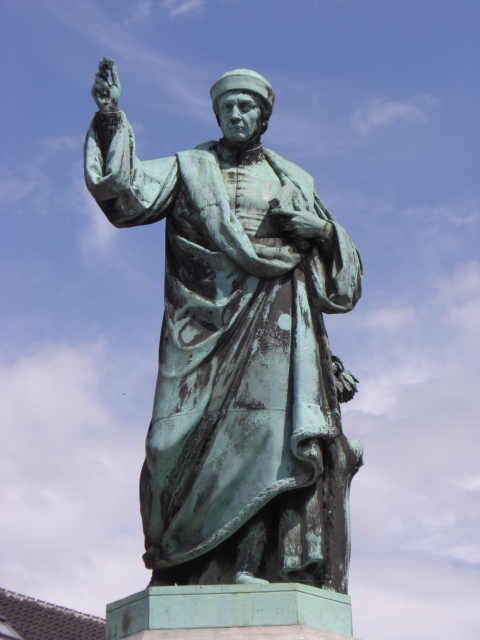 Using the Natureparkcamping to the west of Amsterdam for a base we took mass transit into the city for a couple of days. The first day we took the train and the second the hydorfoil fast ferry. Much to our surprise we found out that the ferry was actually the cheaper option.
We left the bikes safely stored at the campground. With its high number of drug addicts and high number of bicyles and bike commuters, bike theft is absolutely rampent. We met one couple whose daughter has had no less than 4 bikes stolen. Lonely planet says that if you take a fancy 21 speed bike into the city you can expect it to be "nicked" within an hour after you park it. There are some 500,000 bikes in the city at one time and each year 1/4 get stolen. Although if you need a bike we're told you can just about raise your hand, say you need a bike, and then buy a stolen one off the street for about 15€. It's completely unethical, but evidently it's a regular business in Amsterdam.
Some of the more interesting bikes found in Amsterdam are those with a wheelbarrow device up front. They seem to be for carrying lots of cargo and especially for moms toting kids around. We often saw a woman ride by with a basket full of kids up front.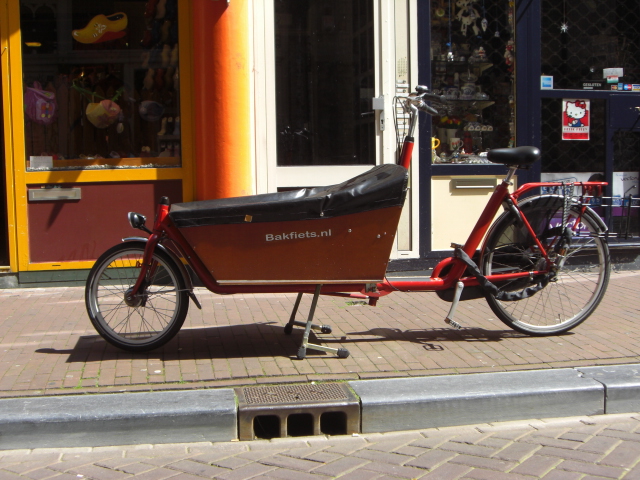 Amsterdam is a city of vice of all sorts. The red light district is famous and even a tourist attraction. Prostitutes spend their working hours sitting or standing behind open glass windows all the while dressed in the barest underwear possible. Although we've seen skimpier clothing on European beaches. Coffee shops where marijuana is sold and smoked are on every street. It's a city where almost anything goes. Young people from all over the world flock to Amsterdam in order to find sex, booze, and drugs.
We came instead to find the other side of Amsterdam. This is a city that is crisscrossed by canals all dug to provide boat access and to recover land from the Amstel river. The city itself is named from the first dam built on the Amstel river.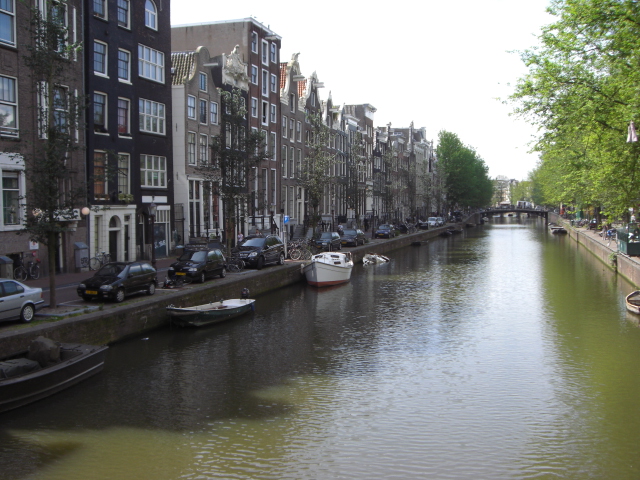 When Holland was at it's peak of prosperity in the 1700s, the wealthiest citizens built huge houses along these canals. Although citizens with less money were forced to build up rather than out. Taxes were based on the width of your house, so 4 to 5 stories of very narrow rooms is the norm. In fact, there's one house said to be the narrowest in all Europe. With only 2.02 meters width and 6 meters depth it really is one skinny house.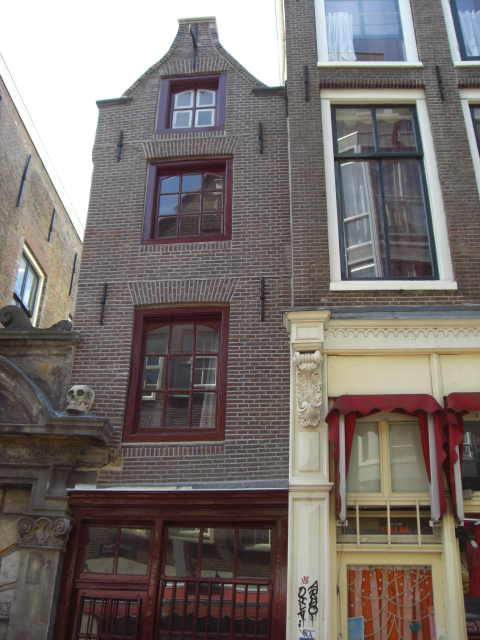 One key attraction of Amsterdam are the canal cruises. We hadn't splurged for one in any other city as yet, so we decided this would be a good place for this. It's a canned presentation and all the tour boats take essentially the same route. But it's rather fun seeing the city at canal level.
One thing you see lining the wider canals are the old canal boats. Evidentally for a while Amsterdam had an extreme housing shortage. So folks took up living in refurbished canal boats. The city eventually sanctioned this accomodation and even now provides water, sewer, and electricity to those parked legally. Of course there are a lot of illegal boats as well which don't get these amenities.
One other site we chose to see was the Richts Museum, or at least the portion that was open. The entire museum is housed in a beautiful 1800s palace that has been undergoing restoration for some time. It was supposed to be finished in 2008, but is clearly behind schedule. In the meantime, some dozen or so rooms are open and their most important masterpieces are shown.
Here is where they've housed 4 more of Vermeer's 36 paintings one of which is the Milk maid. This is the famous painting of a young girl standing by a window over a table pouring milk from a jug. A beautiful piece of work.
Yet perhaps their most famous painting is a huge Rembrant known as "The Night Watch". This big painting was originally done as a group portrait for the town hall and shows men who played important rolls in the obligatory town militia. Unlike normal group protraits where the people are shown in static positions, Rembrant shows these men in action. It's as if they were just called to duty stations and everything is abuzz with activity.
Unfortunately in the 1700s the painting was moved to a different building with smaller walls. To make it fit they cut a fairly significant slice off of 3 sides. They know this because the captain of the militia portrayed in the painting had a copy made and this shows the extend of the cuts.
We spent many hours looking at Delft pottery, Silver pieces, paintings, and furnishings in the museum. And this was just to see their masterpieces. Just imagine when the rest of the museum is opened. It'll take even longer just to have a quick look at everything.
Section 3
Amsterdam to Leer, Germany

July 18 - 22
Weather reports seemed to indicate that we were in for many days of rain and true to the report we woke to a fairly heavy downpour. Resigned to the wet weather we pulled on our rain pants and coats, packed up a very wet tent, and headed on out under a cloudy sky.
We crossed the Amstel river on the ferry which much to our surprise is free for cyclists, and then headed for the town of Alkmaar. Alkmaar is another canal filled town that has several fabulous architectural gems scattered among it's more modern offerings. The town, though, is most famous for an event rather than it's old town.
Every Friday in from April through November, it hosts a cheese auction. This used to be a real business affair where cheese vendors and buyers would come from all over the country to trade. Today, it's become more of a tourist attraction. The real cheese auction takes place elsewhere these days. Being Saturday, we missed the action of the auction. So what we saw was just a busy market town in the height of Saturday sales. No cheese auction, unfortunately.
When planning to ride along the North Sea we'd been concerned with our direction. Holland, being so flat, is notorious for having very windy conditions. With a series of storms and fronts approaching we were expecting the winds to howl. The important question was, by going southwest to northeast would we have headwinds or tailwinds.
As it happened, we got lucky. The wind absolutely howled right at our backs. We flew along. The first day we covered over 70 km and barely felt like we'd done 50. The second, we hauled off 85 km with no sweat. In 2006 we'd ridden along the north coast of Spain for over a week and dealt with headwinds the entire time. So perhaps these tailwinds are our payback.
We made easy time along the coast coming eventually to a decision point. We could stay hugging the coastline and then take ferries across the 4 islands at the mouth of the Waldenzee. Or we could cut inland and ride across the Afsluitdijk. We elected to do the later.
Originally there was one single large sea calles the Zuidzee, that stretched far inland into the Holland. Ever since the 1700s it had been the dream of every politian and engineer to block the sea, build polders, and drain the sea to create more dry land. The technology and money to accomplish this feat came into being in 1932.
The Dutch built a 30 km long dyke that connected North Hollend with Freisland. They then built some polders and soon areas that were once shallow ocean were now farm lands. We understand if you wander around these new dry lands you'll find former fishing villages that are now nowhere near the ocean. You'll even find a former bouy now high and dry sitting by the side of a new road here and there.
The long Afsluitdijk effectively created 2 new seas from the original one, Ijsselmeerzee and Waddenzee. Of course, being Dutch, they not only put a 4 lane highway along the dyke but they included a very wide bike path So you can now have a very nice long ride with great views over the Ijsselmeerzee the entire way. And if you're headed north you'll usually get a great tailwind to top it off.
After the long dijk, the road took us though a lot of farm lands with a few small port towns or farm towns in between. We had a strong wind at our backs and with just fields and sheep to look at we decided to push on late each day. It is quite odd that for a route named the North Sea Cycle Route you really don't see that much of the ocean.
After 2 metric century days we came to the mouth of the Ems river, headed up river for about 30 kms, crossed back into Germany, and stopped for a couple of nights in the pleasant town of Leer.
There wasn't anything of particular interest in Leer that caught out attention. It just seemed a convenient place to take care of a few errands; wash clothes, cut Brian's hair, shop for a few odds and ends, that kind of stuff. But if you listen to the ferry conductor for the temporary free ferry across the Ems, there's all sorts of things to do. Actually he was just trying to give us pamphlets. The first two we already had. So he kept on digging, absolutely determined to find something we didn't have. He did come up with a guide book, in German, for Leer as well as a bike route map we didn't have. He was now satisfied.
Section 3
Leer, DE to Hamburg, DE


July 22 - xx
A couple of rainy days followed by a couple days of sun, that's what one Dutch fellow told us is the norm for this area. About once every 10 years they have a June, July, and August of hot dry weather. But not this year. This summer is turning out to be just about dead on normal
Although, eventhough it rains for a day we found that it wasn't usually an all day long rain. There'll be periods of sunshine followed by short downpours. So with a little fast riding between rain spurts and short waits we were able to mostly get from point A to B without getting too terribly wet. Long sunny days would be ideal. But lacking that at least these types of days are tolerable.
Leaving Leer we found we could follow along the land side of the seaside dyke for most of the way. The Dutch and the Germans have both had several iterations in the creation of their individual dyke systems. Inland you'll usually find a smaller dyke, perhaps only about 20 ft high. Next to the sea are the new dykes which are about 30 ft high. These dykes are big mounds of rock covered with dirt on which grass grows. Sheep are used as lawnmowers. Consequently we often had a bunch of sheep poop coating our tires.
From Leer we cruised back up to the mouth of the Ems river. There was an 1 1/2 hour delay at Ditzum where we waited thru their lunch break. We spent the time taking a short look around the very tiny town. There wasn't much. They have a very nice restored windmill, several restaurants, a small pretty port, and a lifesize statue of a lady fish seller. That's about it. So we returned to the ferry landing to wait.
As time went on more and more bikers showed up for the ride. By the time the boat was ready to go there must have been a good 30 or so people and bikes not to mention another 10 or so foot passengers. We wondered if they could fit everyone on the boat. Yet with careful maneuvering there proved to be plenty of room. Funny, after this we only saw a few bike tourists each day along our particular route. There are so many different routes that seeing so many bike tourists gathered in one spot is unusual.
Clouds began to fill the sky as we pushed aboard the boat. Once off the other side, the sky was looking downright mean. By the time we got into Emden, just about 5 km away, it was raining hard. With a short stop for lunch and a brief wander down the shopping street, we managed to wait out the rain and once again were off. Even with a delay for the ferry and rain, we still managed a good distance for the day. It's amazing what you can do with the wind at your back.
Along the North Sea route once you leave the Ems river and return to the coast you spend a lot more time riding on the land side of the dyke on roads that often are covered in sheep poop. Sheep poop may be smaller than cow poop, but there's so much of it you can't avoid going over it and it really likes to stick to your tires. We were beginning to not like sheep so much.
Soon we started passing through typical beach vacation towns with a lot more summer vacationers, wide open campgrounds, and that beach carnival atmosphere. Much of this North Sea coast doesn't have good beachs. They are more mud flats than anything. The really good beaches are out on the string of islands just off coast. The thing is you have to take ferries to get to these islands.
Virtually every town has ferry service to at least one island and they have the accompanying huge parking lots. These towns tend to draw the summer crowds. For camping we specifically looked for locations without ferry service. This was our best way to find quiet campsites.
Unfortunately there is really little opportunity to actually ride within site of the water. With that 30 ft dyke the entire way and the bike path on the land side, you have to stop, get off the bike, and climb the dyke just to have a look. We were actually rather disappointed with the scenery because of this.
There was one short stretch where the pavement actually was on the ocean side of the dyke. From Bensersiel to Neuharlingesiel the road runs right next to the sea. Now this is what we really had expected of a North Sea route. Too bad there isn't more miles like that.
July 25- Raiden like crazy all night long. Woke up with squishy ground and our tent just barely above water. Spent all day running between heavy downpours. Started to clear a little by evening. Had a howling tail wind almost the whole day.
Stopped in Wilhelmshaven for lunch and to shop. Got directions from lady on bike. She told us about their annual Lobscous (sp) festival. As she said it doesn't look good but it tastes good. There were tables set up everywhere in town. Several different restaurants were dishing up the stuff. Each plate had 1 piece rolled fish, pickle, beets, something that sort of looked like a creamy hash with a fried egg on top. We went for a more standard fish meal.
Arrived at a very soggy campground that needs a lot of work.
July 26 - Finally a beautiful day with almost no wind. Even the many wind turbines were still. Main city of the day was Bremerhaven. Thus is a big port with lots of cranes in its skyline. It has what looks like a huge maritime museum that'd be worth a visit someday. It was Sunday and downtown on the quay was packed. Almost too crowded to ride thru. Went on to Wremen, a much quieter town with a great little campsite on the inland side of the dyke. They also were having some sort of festival, very common this time of year. Wremen just seems a much more pleasant town than a lot we'd seen. It's not big, not old, doesn't have a big harbor, and doesn't have any ferries to the islands. Much more laid back atmosphere.
July 27 - Finished our time on the North Sea. Looking forward to the Elbe river where hopefully we'll actually see water for a change. At the mouth of the Elbe is a huge shallow area that is part of the National Park Wettermeer. At the point during low tide it seems to be a big passtime for folks to go wandering out on the shallow shelf. We learned from a Texan geologist we met that this particular area is famous as a place where they first learned about the sedimentation process. In the 30s and 40s the geologists went out in this area and dug deep ditches so they could study the layers. Not any more. When we went by there were hunderds of people out on what looked like mud flats wandering around. There were also horses out there as well as a horse drawn carriage ride you could buy time on. It really looked strange. To get access to any of these mud areas you have to show a pass to some person at the fence. They make sure you pay for both parking and entry.
Cuxhaven is mainly a tourist supply point for folks staying in the hotels and campgrounds at the point. It also has a descent sized port activity. We stopped long enough to pick up a new tire, the Elbe bike route maps, some glue, and other supplies. This was our last farewell to the North Sea and we started the long trek back south. It's late July and high time to start moving south.
July 28 Took the short route, the North Sea route rather than the much longer Elbe route. There's not much camping in this section so the shorter distance made getting to the campsite much easier. Made a short stop at the town of Osten where they have one of those old transporter bridges like the one in Middlesborough, England. They've installed a new permenant bridge so this old transporter bridge is now really just a tourist attraction. A taped message describing the bridge plays as you sit on the bench moving above the water. We rae wondering just how many of these old transporter bridges still exist and still function. We've now seen 3.
We stopped in Stade to look around the old town. They have a very nice old harbor with a unique wooden covered crane. It's a very pretty town. In the middle of the harbor they have a permenantly moored boat that even have artificial crows percehed on its boom. Oddly they even have these metal rhinos floating on a small raft next to the boat. We weren't quite sure about the significance of the rhino raft.
Went on to a nice, quiet farm campground well away from any sort of beach or pool. We were wondering if we can now get away from the summer crowds now that we're moving away from the North Sea.
APPENDIX A – ROUTE
Netherlands
July 12 Cycle paths thru Santpoort, Overveen, Zandvoort, Noordwijk aan Zee, Katwijk aan Zee, Wassenaar, Scheveningen to Den Haag. 63.63 km
July 13 Cycle paths down coast to Hoek van Holland, up the Rhine to Maassluis, North to Delft, back to Campiny Duinhorst. 76.12 km
July 15 Cycle route 1b thru Wassenaar, Katwijk, Noordwijk, Zandvoort. Side routes to Haarlem, Santpoort to Dreihuis. 68.75 km
July 18 North Sea cycle route through Beverwijk, Castricum aan Zee, Egmond aan Zee. Althernate route through Alkmaar, Bergen-Binnen. Bike paths through the Schoorlsche Duinen. North Sea Route through Camperduin, Patten, to Sint Maartensvlotbrug. 70.29 km
July 19 Back cycle paths through t' Zand, Anna Paulowna, Westerland, Hippolytushoef, Den Oever. Across the Afsluitdijk. Through Zurich to Harlingen. 85.61 km
July 20 North Sea route 10a through Harlingeng to St. Jacobiparochie. Direct route to St. Annaparochie and Oudebildtzijl. North Sea Route 10a through Fewert, Hegebeintum, Holwerd, Ternaard, Wierum, Moddergat, Lauwersoog, Hornhuizen, Pieterburen. Off route to Eenrum. 117.57 km
July 21 Back roads thru Saaxumhuizen, Breede to Warffum. North Sea Cycle Route thru Uithuizen, Spijk, Bierum, Delfzijl, Farmsum, Termunterzijl, Nieuweschans, Bunde, Weener, to Bingum. 114.11 km
Germany
July 23 North sea route thru Hatzum, Nendorp, Ditzum, Petkum, Emden. North sea route by Wybelsum, Knock, Rysum, Campen, to near Upleward. 62.72 km
July 24 North Sea Route thru Greetsiel, Leybuchtpolder, Norddeich, Dornumersiel, Bensersiel, Neuharlingersiel, to Harlesiel. 93.92 km
July 25 North Sea Route thru Horumersiel, Hooksiel, Sengwarden, Altengrodeo, Wilhelmshaven, Dangast, to Süderschweiburg. 81.23 kms
July 26 North Sea Route thru Eckwarderhörne, Langwarden, Fedderwardersiel, Burhave, Blexen, Bremerhaven, Weddewarden, to Wremen. 82.42 km
July 27 North Sea Route thru Schmarren, Dorumer-Neufeld, Cappel-Neufeld, Berensch, Arensch, Sahlenburg, Duhnen, Cuxhaven, Müggendorf to near Otterndorf. 59.44 km
July 28 North Sea Route thru Otterndorf, Osterbruch, Altkehdingen, Forst Wingst, Ellerbruch, Hemmoor, Osten, Großenwörden, Neuland, Himmelpforten, Stade, to Mittelnkirchen. 85.33 km
APPENDIX B – CAMPSITES
Netherlands
July 12, 13, 14: Camping Duinhorst near Den Haag: (14.80 €/night)
July 15, 16, 17: Naturkaamperpark in Dreihuis: (14.50 €/night)
July 18: Camping Golfzang in Sint Maartenszee: (18.00 €/night)
July 19: City Camping "De Zeehoeve" at Harlingen: (16.00 €/night)
July 20: Town campsite at Eenrum: (11.00 €/night)
Germany
July 21, 22: Marina camping at Bingum: (17.90 €/night)
July 23: Camping am Deich in Upleward: (18.20 €/night)
July 24: Campingplatz in Carolinensiel: (10.00 €/night)
July 25: Campingplatz in Süderschweiburg: (14.00 €/night)
July 26: Campingplatz Am Wremer Tief in Wremer: (11.00€/night)
July 27: Campingplatz See Achtern Diek in Otterndorf: (13.00 €/night)
July 28: Campingplatz in Mittelnkirchen: (10.00 €/night)
References
Lonely Planet Guidebook Netherlands
Bikeline Radkart Nordsee No. 2