EUROPEAN TOUR 2010 PART XI - GERMANY, SWITZERLAND, LIECHTENSTEIN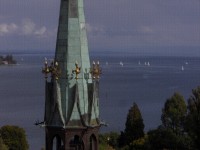 The Bodensee as seen from the cathedral at Konstanz
Huningue, FR to Lindau, DE
September 21 to October 1, 2010
Start 62,090 miles (99,344 km):
End 62,399 miles (99,839 km) cumulative
Video Map
TEASERS
| | |
| --- | --- |
| | Basel, Switzerland is not high on the tourist list. |
| | Back to a more picturesque Rhine and oh so cute towns |
| | Europe's largest waterfalls, Rheinfall, have high tourist appeal |
| | A day long first winterish storm keeps us in Konstanz an extra day |
| | The Swiss towns along the Bodensee seem just so-so. |
| | After a 4 year wait we finish the Rhine river route at Vaduz |
| | Wander up the river on a beautiful unloaded ride to Chur |
| | Finish 2010 bike season in the lovely lake town on Lindau |
Section 1
Huningue, FR to Wangen, DE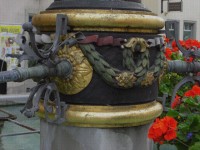 Details of a fountain at Stein am Rhein
September 21 to September 23
It was quite a walk from the campground in Huningue to Basel, about 4 km.  However, since this is a large city we didn't want to worry about the bikes.  So we walked rather than rode.  It was a pleasant walk into the city in the morning.  But in the evening that 4 km back seemed really long.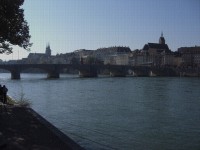 Basel Switzerland seen from the Rhine
Basel isn't exactly high on the tourist radar.  Apart from the rathaus, cathedral, and one tower remaining from the old wall, most of the city is modern.  It does have Switzerland's major art museums, but entrance is very expensive, over $23 for the one art museum.  So without visiting the museums it doesn't take all that long to see what there is to see.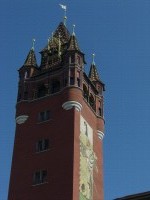 Tower for the Rathaus in Basel
We always remember Switzerland was incredibly expensive the last time we visited in 2006.  That certainly has not changed.  At least food is shockingly expensive.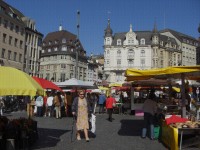 Farmer's market in Basel
Using the McDonalds test, it sells for $1 in the US, $1.30 in Germany, and a whopping $3.50 in Switzerland.  Food in the supermarket is also outrageously priced, $.60 for one roll, $4.95 for a packaged sandwich.  Ouch.
Interestingly we found clothing and shoes to be priced about what we'd find elsewhere in Europe.  That's because they're all made in China, India, Vietnam, or some place such as that.  Anything touched by Swiss workers is exorbitantly priced.
Even though Switzerland recently joined the Shengen accord they still have border guards and they still turn certain people away.
Looking like your typical Germans we passed through many border crossings without so much as a glance from the guards.  Most cars just barely slow down as they approach the gate where they are waved on through.  But the 3 Middle-eastern men who tried to enter in a car weren't so lucky.  Do you think there's some profiling going on?
The Rhine river takes a 90 degree bend to the east right at Basel.  It cuts across the hills rather than through a fault produced valley.  Then it comes to the open valley that contains the Bodensee.  After that it turns back south to enter into the Alps proper. 
So once you leave Basel the bike route becomes far more interesting. The hills now come down to the river's edge.  Towns are perched right on the river and there are no more big dykes obstructing the view.  It's here where the towns become even cuter than those downstream.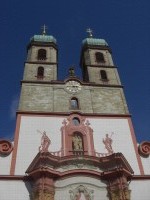 Church near Bad Säckingen
Before even reaching a mere 30 km upriver from Basel we began to notice that everything looks a lot more like Bayern country.  There are flowers in the windows of many buildings, paintings on the outside stucco, and the Baroque churches take on that frothy whipped cream appearance.  The outsides white and the insides are covered with white stucco flowers, vines, cherubs, fruits, and other heavenly things.  They look like wedding cake decorations, all sugary and ready to eat.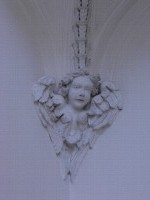 Church detail near Bad Säckingen
In Bad Säckingen there is an old covered bridge that connects Switzerland with Germany.  Actually the bridge wooden structure is fairly new.  The pilings have been there for centuries and have always supported some sort of covered bridge.  It was originally used by horses and foot traffic.  In the 60s cars were allowed to pass.  Today it's back to foot and bike traffic only.  Both sides of the river have incredibly cute towns.  We have to pity people who still work with film cameras as it's hard not to take just one more shot at every turn.
Covered bridge at Bad Säckingen
Next there's Laufenberg.  Here the towns on each side have houses built right over the water's edge.  A stone bridge connects both sides and it also is open only for foot and bike traffic these days.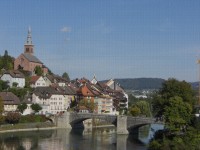 The very cute town of Laufenberg, Swiss side
Then there's Waldshut.  If there could be any town we'd seen so far that received the stunningly cute award, this town is it.  It's main street is a closed pedestrian mall with the old gates and clock towers at both ends.  It is lined with pretty pastel colored 3 to 5 story buildings.  Flowers are in many of the windows and sidewalk cafes grace the street.  A fountain at one end supplies water for a central drainage creek.  We'd arrived just before sunset and had just barely enough sunshine left to snap a few photos before heading on to the campground.  Someday we'd just love to come back to this region to spend a bit more time at this town.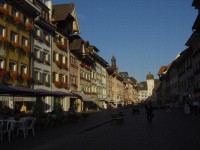 The central pedestrian walkway of Waldshut just before sunset
Oh it's getting dark so early these days.
Beyond Waldshut the Rhine river goes through an area with one of the most unusual looking borders.  Normally the river marks the boundary between Switzerland and Germany.  But here there are globs of Switzerland that bubble up into Germany.  It looks like Switzerland has several large organic growths on its edge.  This shape must have been the result of the different principalities that joined Switzerland way back and Germany has continued to respect that border.
Because of this strange border we kept going into and out of Switzerland.  We'd be in it for a few km and then back in Germany for a few more. 
There's even one small section of Germany, the town of Büsingen, that is completely surrounded by Switzerland.  Each of these border crossings, with the exception of that island of Büsingen, have border guards still in place.
Just before the city of Schaffhausen, located in one of the Switzerland bubbles, we came to the Rheinfall.  These are Europe's largest waterfalls as measured by water volume.  The entire Rhein river drops by about 40 meters or so in a narrow gorge perhaps 100 meters wide.  Now when compared to such falls as Iguaçu or Niagara these  aren't nearly so spectacular.  Yet if they are the first major waterfalls you've ever seen they would definitely impress.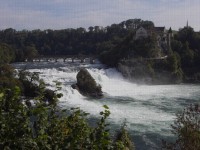 Rheinfall, Europe's largest waterfalls by volume
Certainly private companies have taken advantage of the tourist interest offering boat trips, trinkets, food stalls, and even a hotel located right at the base of the falls.  The hotel is housed in an old castle that sits literally out on the water.  Views from the rooms must be marvelous.
Just when we thought we'd seen the cute of all cute we came to Stein am Rhein again just before sunset.  Stein am Rhein is located just about where the Rhine widens to become the Bodensee.  In this town many of the buildings have been given extravagant exterior wall paintings.  It is so picturesque you could easily use a roll of film on just this one town. Oh thank goodness for SD cards.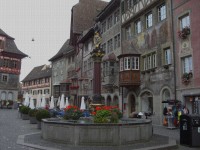 The square and painted houses of Stein am Rhein
Unfortunately once again it was getting dark and we couldn't spend a lot of time looking around.  We were riding harder than we wanted primarily because a major storm was expected for the weekend and we wanted to get to Konstanz before it hit.  So that meant having to take just quick looks at towns and then ride on.  It really is so much easier bike touring in summer when daylight lasts so long.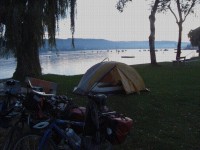 Last warm evening on the Bodensee
Section 2
Wangen, DE to Triesen, LI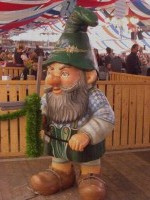 Fun fellow at Octoberfest in Konstanz
September 24 to September 28
We had just a very short ride into Konstanz the next day.  Originally we had planned to ride the south side of the Bodensee, also known as Lake Constance in Switzerland to get to this city.  But since we'd camped on the north shore we decided to stay to the north. This meant climbing a few short hills to get to Konstanz, but nothing too difficult. 
We rode fast and hard hoping to get to the city and camp before the rain started.  Just as we were setting up the tent the rain began.  It rained from that night straight through all of September 25.  This marks the end of summer weather and the real start of fall.  Bike touring and tent camping season are coming to a close.  We have just a few more days riding and then it's time to get back to RVing.
Konstance, Kreuzlingen on the Swiss side, is an odd city.  It sits at a point where the shores of the lake pinch together to form a narrow channel.  In reality it's more like this is two separate lakes rather than one but they seem to just give it a single name.  The German Konstanz sits on both sides of the channel and there is an actual border crossing in the middle of the city on the south side of the lake.  Again, one of those very strange borders in this area.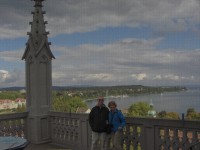 Atop the cathedral in Konstanz
We spent the entire rainy day pretty much just trying to stay dry.  It wasn't a good day for doing too much exploring.  The shopping mall was absolutely packed.  Any restaurant that had indoor seating was also packed.  Of course it was Saturday and it seems that every Saturday is packed in the shopping malls.  If it were the US we'd say it looked like Christmas shopping crowds.
By the next day the rain had finally stopped but it was a very chilly day.  We could have gone on right then, but we had as yet to actually see the town. 
So in a chilly blustery day we wandered all over town for our second day.  We strolled over to Kreuzlingen to see what the Swiss side of the city looked like.  We found our way to the Octoberfest tent and watched Germans having one heck of a good time.  We climbed to the top of the cathedral tower and spent a good hour overlooking the city.  We examined the fountains and statues found in each square plus the old city gate and powder tower.  All in all it was just a good day to wander, eat, and wander some more.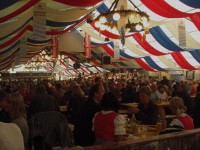 Inside the Octoberfest tent in Konstanz
Now that we'd seen Konstanz we switched to the Swiss side of the lake to ride along the south shore. 
The night before we'd met a German couple who were just finishing a couple week tour on the Rhine and around the Bodensee.  They were about our ages and were actually camping.  One thing we've noticed is that the vast majority of German bike tourists don't camp.  They stay in Gasthofs and hotels plus eat in restaurants.  This couple told us they found doing that they gained too much weight.  So they resolved to cook every other night which means camping.  Although with the cold wet weather moving in they both seemed happy to be on their last night.
We asked them which side of the lake is the best for riding.  They did say that the north side is more rural while the south goes through bigger towns.  They seemed to like the north side better.  But since we hadn't done much riding in Switzerland and since we wanted to head up to Liechtenstein, we chose to ride on the south side.
True to what these folks said, we found the south side to be just so-so.  In this area the Swiss towns aren't all that pretty.  They're just plan ordinary working class villages.  There may be a nice church or maybe even a castle and a few pretty half timber houses.  But for the most part these towns seem modern and uninteresting.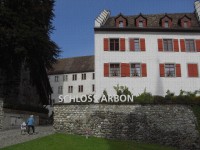 The Schloss in the Swiss town of Arbon
It took us all of one day to ride through Switzerland to Austria.  With the high Swiss prices we weren't in a hurry to spend too much time or money in that country.  Chocolate is about the only thing that doesn't cost a fortune.
The sun was shining but the air had that distinct chilly feel of fall.  We had some nice views of the lake and went through several unremarkable towns.  So much for the Swiss side of the Bodensee.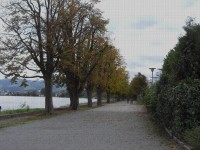 Along the Bodensee (Lac Constance) in Switzerland
As soon as we got to Austria we found a grocery store.  They put them right at the borders to attract Swiss attention.  Then on to a campground right on the lake.  There weren't many folks camping and certainly we were it for tents.  It was nice having the place to ourselves.  But based on the size of the allocated tent spots we would absolutely hate being there in August.  You'd be just a few feet from your neighbor.  Yuck.
With just a couple more days left we decided to continue up river to Liechtenstein.  This tiny country, approx. 25 km by 6 km, is nestled in a corner between Austria and Switzerland.  Economically and politically it's been closely affiliated with Switzerland for centuries.  It participates in questionable money laundering schemes as well.  Actually they have no laws against it.  Add to that tourism and denture manufacturing, the 20,000 or so citizens enjoy a very high standard of living.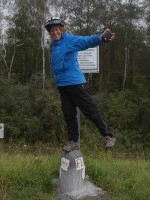 Entering the tiny country of Liechtenstein
Liechtenstein's princes used to live in Vienna.  The principality was originally a gift from the Hapsburgs and early on it was considered to be just a backwater.  These days the princes do reside in the country and have absolute power.  The counsel votes on the laws but all go to the prince for final signature.  Although these days he probably goes along with what the folks want.
We rode up the east bank of the Rhine to Liechtenstein's capital town, Vaduz.  Overlooking the town is the prince's palace where the royal family actually does live.  Although being extremely wealthy they've got a lot of other houses most likely.  Castles can be miserably cold and damp  in winter after all.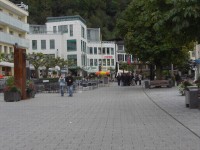 The capital of Liechtenstein, Vaduz
Here we connected with our 2006 route and completed the Rhine.  It took a few years but we finally did it.
We decided to camp in Liechtenstein for 2 nights.  After all how many people can make the claim to have slept in Liechtenstein.  It's usually just a day stop for most folks. 
Liechtenstein is a mountainous country and Campground Mittagspitze has great views of the nearby crests.  New snow had fallen probably down to 5000 ft level making the peaks look all that nicer.  Winter approaches fast.
Section 3
Triesen, LI to Lindau, DE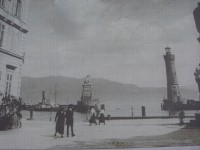 The harbor of Lindau in the 1800s
September 29 to October 1
I woke to the sound of a taut wire being played at random.  Plink, plunk, plink in irregular tones and tempo rang out across the field.  I couldn't figure out what could possibly be making that noise.  At first I thought some wind chime.  But there was no wind. 
As the number of music makers increased and a few started taking on a more ringing sound I finally figured it out.  It was a bunch of those Alpine cows with their ever present bells.
Alpine cows are famous for their bells.  They've even become a major symbol for the country and are sold at tourist shops all throughout the Alps.  But bells actually do have a practical use.  how does a farmer find his cows high in the mountains when it's time to bring them down for the winter.  Easy, attach bells around their necks.  With their constant eating and moving you'll be sure to hear that bell ringing all day and all night.  To tell which batch of cows you're homing in on, put bells of different sizes and tones on.

In the US there are some ranchers who do the same.  But usually only a couple of bells are tied to the herd leaders.  The rest get to go silently.  In the Alps it seems almost every cow has a bell.  It can get very noisy, especially very early on a windless morning.
It had been close to 3 months since we last rode through the mountains.  The morning was shaping up to be absolutely beautiful and with that new layer of snow the mountains were stunning.  So we unloaded the bikes and headed up river for a single day ride without the bags.  After many months riding with all that weight it's so nice to ride without load for a day.
Returning to the banks of the Rhine we rode along the river up to the Swiss town of Chur.  When we rode through here in 2006 we went around the outside of the city spending a night at the nearby campground.  We never got into the city center.  So now we had an opportunity to get into town.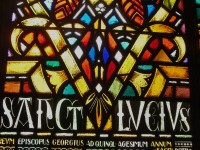 A stained glass window in the cathedral in Chur, Switzerland
Chur is located right at the foothills of the mountains.  You could literally walk right out your door and head up into the hills for great hiking opportunities.  Naturally this makes for a fabulous backdrop for some of it's more important buildings.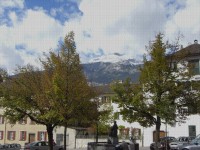 Snow on the mountains overlooking Chur, Switzerland
Getting to town center is uphill all the way.  Once in town we visited the local cathedral, walked by the rathaus, and had a quick lunch.  Then we had to get back.  It gets dark too early to dawdle too much.
On the return trip we rode up through the hills and vineyards passing through a series of small villages along the way.  Riding along hillside vineyards is always a pleasant experience.  Add the fabulous mountain views and it's one wonderful ride.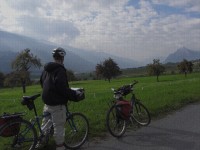 Riding through mountain vineyards in Switzerland
We returned to our campsite in Liechtenstein with not too much daylight left.  What a great way to spend our second to last riding day in Europe.
The next morning for our very last long distance ride we left the mountains and returned to the shore of the Bodensee.  This time we took a route going through the farm fields rather than along the river.  It was no where near as pretty and interesting as the previous day's ride.  But it is always nice to take a different path.
Rain had started to fall by the time we reached Bregenz.  We were expecting another storm for the night and seriously debated whether or not we should take a hotel.  But we just had 2 more nights in the tent before we'd return to hotels and an RV.  So we waited out the rain and rode onto Lindau in between the storms.
The couple we'd met in Konstanz had said that the city of Bregenz wasn't much.  It was just a medium sized city and not very pretty at that.  After riding through and having a look at the camping opportunities we had to agree.  This was not where we wanted to spend our last 2 camping nights.  So we pushed on to Lindau.
There were only 2 other tents at the Lindau campground.  The older woman who checked us in was first amazed that we wanted to stay in a tent and almost dumbfounded when we told her we were traveling on bike.  Bike touring season is just about over and almost nobody was staying in tents anymore.
It rained that night, again, and got cold.  One more night and that's the end of tenting season.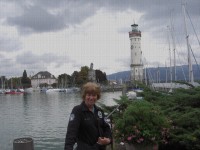 Standing at the harbor of Lindau
Lindau old town is located on a tiny island connected to the mainland by 2 bridges.  It's got a small attractive harbor which is the focal point for most photographs.  Much of the old town is traffic free, the cars being relegated to the edges of the island only.
The harbor originally consisted of just a bunch of wooden posts pounded into the lake bed with rocks piled up.  It was barely enough to provide safe haven in storms.  About a century later a wall was added.  Then finally the famous lion statue and the new lighthouse were put in place resulting in the pretty harbor you see today.  Along the harbor promenade there are sketches and photos showing the gradual stages of build up on the harbor.  It's really neat to see the historical changes in this famous landmark.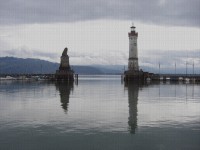 The harbor of Lindau as it looks today
Spending our last day of our summer 2010 bike tour just walking the streets of such a pretty town was just about the perfect way to finish. 
The next day we caught the train to Frankfurt to begin our 2 week RV adventure.  Amazingly we werejust 160 km short of completing 100,000 total km since we started this adventure in 1995.  Over 62,000 miles.  Imagine that. 
So much for 2010 biking.  Now we need to figure out what to do for 2011.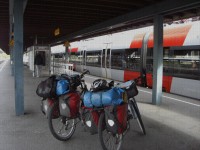 Getting on the train back to Frankfurt. 
APPENDIX A – ROUTE
Germany
September 22 - Rhein radweg north bank thru Grenzach-Wyhlen, Rheinfelden, Schwörstadt, Bad Säckingen, Mürg, Laufenburg, Albruck Dogern to Waldshut, 74.07 km
September 23 - Rhein radweg north bank thru Rheinheim, Hohentengen, Günzgen, Rafz CH, Lottstetten DE, Jestetten DE, Altenburg DE, Neuhausen CH, Schaffhausen CH, Busingen DE, Gailingen DE, Stein am Rhein CH, Wangen DE.  76.45 km
September 24 - Rheintal radweg north shore Bodensee to Konstanz, 43.08 km
Switzerland
September 27 - Rhein radweg south side of Bodensee thru Kreuslingen, Kesswill, Utwill, Romershorn, Arbon, Rorsach to Fußach 64.13 km
Austria, Liechtenstein
September 28 - Rhein radweg along east river bank to Balzers Liechtenstein, 73.04 km
September 29 - Rhein radweg thru Balzers to Rhein river.  Radweg thru Bad Ragaz, Landquart, Zizers, to Chur, Rhein radweg along foothills thru Zizers, Igis, Malans, Maienfeld, Fläsch, to river then back to Balzers Liechtenstein, 79.04 km
September 30 - Rhein radweg thru Buchs, Sennwald, Rüthi, Oberriet, Altstätten, Widnau, Au, Hard to Bregenz, Bodensee radweg to Lindau, 77.33 km
APPENDIX B – CAMPSITES, HOTELS
France
September 21: Camping "Au Petit Port" (9.30 €/night)
Germany
September 22: Rhein Camping in Waldshut (16.20 €/night + €.50/shower)
September 23:Camping Wangen in Wangen (16.30 €/night)
September 24 - 26:DKV amping in Konstanz (20.00 €/night)
September 30: Lindau park camping (17.20 €/night)
October 1: Lindau park camping (17.20 €/night)
Austria
September 27: Rohrspitz Yachting Salzmann camping near Bregenz (16.30 €/night + .20 €/min hot water everywhere)
Liechtenstein
September 28, 29: Camping Mittagspitze in Triesen (23.00 CHF/night)
REFERENCES
Lonely Planet Central Europe 2010
Bike Line Rhein Radweg part 1