EUROPEAN TOUR 2010 PART IX - Germany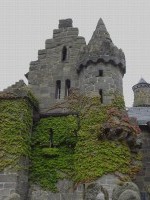 A view of Löwenburg castle in Kassel
Burg to Kassel
August 20 to September 1, 2010
Start 61,164 miles (97,863 km):
End 61,594 miles (98,550 km) cumulative
Video Map
TEASERS
| | |
| --- | --- |
| | A German only tour of Lübeck is entertaining at least |
| | Learn about life aboard an old windjammer really at Bremerhaven's Shiffart museum |
| | Bremen is intimiddating at first, but grows on you |
| | Spend a rainy day at the incredibly cute asparagus capital of Germany, Nienberg |
| | Rain and more rain cause mudslides and floods along the Weser |
| | Pass by one of Germany's fancy bath towns, Bad Oeynhausen |
| | Rats, childern, and a Pied Piper call Hameln home |
| | Hann Münden is an incredibly cute town for the end of the Weser radweg |
| | Spend a couple days wandering Kassel while waiting for cheap weekend train fares |
Section 1
Burg to Lübeck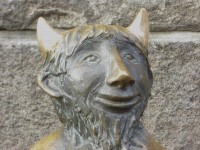 August 20 to August 21
Ah, nice weather.  What a pleasant change to finally wake up to sunshine.  Bad weather really makes you appreciate days that are good.
Having crossed the bridge over the Fehmarnsund we headed south along the closest coastal road for our second to last day along the ocean.  Once we leave Lübeck we would be following rivers heading inland.  So this was a good time to enjoy those last few ocean views.  Having good weather was just plain lucky.
Right off the bridge we promptly headed off in the wrong direction.  The only map we had was a road map for cars which didn't show the bike paths.  The bike route signs we were following helped, but every once in a while they're not located right when you need them most.  So after getting as far as Neukirchen we concluded we needed a map.
At the intersection of the side road into Neukirchen and route 501 there is a tourist information office.  We pulled up and were greeted with a "guten tag".  When we asked if the fellow spoke English, he replied, "Yes I do".  This was how we met Rainer (Ray) Mil.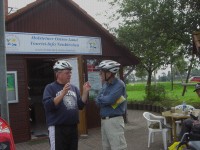 Brian chatting with Ray at the Neukirchen tourist office
Ray used to be a film director making German TV movies, usually documentaries.  One time he spent 2 months in Washington DC filming a German version of the American movie Scared Straight.  He said it was a real problem when suddenly the kids selected for the prison visit decided they didn't want to go.  He had to frantically search the ghettos of DC looking for a couple more kids.
Today he spends summer manning the tourist information office at Neukirchen plus writing newsletters about all the travelers who stop by.  In winter he'll be preparing movies about the region plus his visitors as well as creating their new web site.  That in addition to caring for 23 sheep on his new farm.  He seems to enjoy his new life away from film.
Ray had a somewhat OK biking map of the region that sells for 3€.  So once we had that we could now continue south without getting off route too much.
This region of Germany is known as their Côte d'Azur.  Although the water is no where near as warm or blue as France's true Côte d'Azur, it does have the nicest and sandiest beaches we've seen anywhere in Germany.  So naturally in summer hoards flock to this region.  Fortunately we were now just starting to get into the quiet season.
The beach areas of Germany in summer can be packed.  They usually have these interesting wicker chairs that you can rent for the day and in summer every one will be occupied.  This time of year, mid August, the beaches were thinning out and we noticed that the majority of these chairs were empty.  I suppose sometime in the fall someone comes and collects all the chairs and takes them off to storage.  In any event, in summer you're not going to see empty sandy beaches anywhere.
Those German style wicker chairs spread out over the beach, most are empty.
Within just a short 6 km section of beach there will be some 30,000 people living in caravans on the beach in summer.  Hence there are many very huge campgrounds along this stretch.  We really do prefer the smaller campgrounds but they just aren't to be found here.
One of the campgrounds we passed by is a designated FKK camping.  FKK has some special meaning in German, but basically it's a nudist campground.  FKK camps are scattered all over western Europe.  It's a little odd to be riding by one of these and see entirely nude people going into the toilet rooms, sitting outside their caravans, visiting the reception, shopping at the camp store.  You're not supposed to gawk.
Brian was having trouble getting his foot in the pedal strap.  Finally he pulled over to inspect it.  Turns out the pedal was almost frozen in place.  The bearings are shot and the pedal barely turned.  So now it looks like we need to buy him new pedals. 
Never in all our years of bike touring have we had so many things break during a single season of touring.   Granted our equipment is getting old and is well worn.  But for so many things to break in one shot seems highly unusual.  Every week we're searching for some replacement or repair part.
As we approached Neustadt we passed by an open field with a few tents belonging to the ADAC campground.  ADAC is the Germany auto club.  It looked inviting.  There were just 3 to 4 tents and lots of room.  It was too good to pass up especially after the very cramped campground of the previous night.
All was great until a group of about 25 teens showed up and set up their tents.  Being a group of teens of mixed sex, they just could not stop talking.  Of course they had to yell over each other just to be heard.  So much for a quite evening.
First thing in the morning we had to get to a bike shop to buy Brian new pedals.  The frozen one had gone from bad to unusable in a matter of a half hour.  We stopped at a fancy schmancy bike shop where they promptly tried to sell us the most expensive pedal they had.  So we just went over to the nearby supermarket and bought some el-cheapo pedals so Brian could at least continue down the road.  We'd fix the old pedals later.  That's one thing nice about Germany, even the supermarkets have a surprising array of bike parts.
Headwinds accompanied us all the way into Lübeck.  We passed by Sieksdorf which is a huge beach resort.  It was still busy, especially since it was Saturday.  But the vast majority of those wicker beach chairs sat empty.  High season is just about over.  Then we said our farewells to the ocean and headed inland.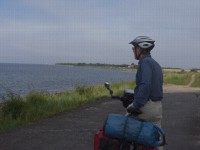 One last look at the ocean
In Lübeck there was a huge Harley-Davidson rally happening that weekend.  Some 6,000 bikes and their riders were roaming the city streets.  All day long you could hear the distinctive roar of those Harley motors and everywhere you looked there were black clad motorcyclists with the famous Harley logo.  Even the announcer on the boat tour we took made sure to mention the rally.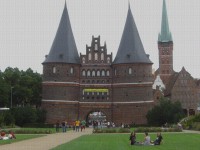 Lübeck's main gate.  Yes it is crooked.
The one thing you're supposed to do when in Lübeck is take a boat tour.  So we signed up.  It wasn't until we were about 5 minutes into the tour that we realized it would only be in German.  Ah well, it was a nice boat ride around the river and canal anyway.  Only a few words here and there were understandable.  Someday we really should learn German.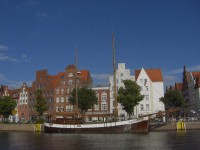 A great view of Lübeck's skyline from the tour boat
Then we walked around town.  Lübeck was once one of the Hanseatic League cities specializing in salt trading.  hence it has some magnificent buildings. 
Lübeck has one of the first brick gothic cathedrals ever built.  This building has the full flying buttresses and some really spiky looking towers.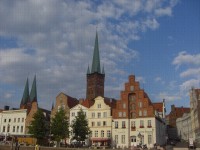 A view toward Lübeck's church
The rathaus is a mix of styles as it was built over the course of many decades.  It does look a bit like a hodge-podge and you can certainly see where newer sections were added.  The main city gate is probably the most notable of all buildings.  It really is crooked.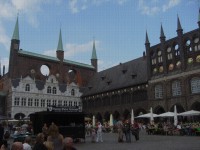 Lübeck's mish mash rathaus looks really grand
After our wander we retired to our nice hotel room to enjoy having a bed and in-room toilet for the first time in ages.  Tomorrow we're back on the train to head for Bremerhaven.
Section 2
Lübeck to Bremen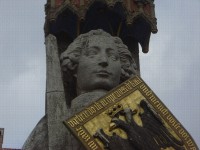 Roland, the knight protector of Bremen
August 22 to August 25
Taking a bike on a regional train in Germany is about as easy as it can be, especially on a weekend.  They have these special weekend tickets that are good for unlimited travel for up to 5 people.  The tickets are good for one day only, Saturday or Sunday up to 3 AM  You can basically go anywhere in the country on these tickets as long as you're within the time limit. 
To take a bike you just add a one day bike ticket for each one.  So for just 46 Euros we took 3 trains and went essentially from one side of the region to the other.  You could go from one end of the country to the other if you can time the connections correctly.  It really is a good deal.
We met one interesting fellow on the third and last train.  This man has had a career as a weather observer.  He doesn't do forecasts.  He's just responsible for observing and recording current weather conditions.  So when he tells us that we can expect a few days of really bad weather, we paid close attention.  Oh boy, was he right.
He did make one interesting comment about "global warming" and "climate change".  He says as far as he can tell from years of monitoring the weather and climate, it isn't happening.  "What global warming?" were his exact words.  So there you have it, from an expert weather watcher.
Once we finally arrived in Bremerhaven we quickly took the ferry across the Weser and headed directly for camp. Since our weather expert tells us to expect bad weather and since last year we didn't have a chance to visit the Shiffart museum in Bremerhaven, we made plans to spend the next day seeing the town rather than riding on.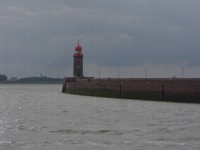 Bremerhaven's lighthouse viewed from the ferry
We spent the entire day in the Shiffart museum in Bremerhaven.  In fact we really got hung up on their excellent display about the sailing ships, windjammers.  This wasn't just your usual display of boat models, artifacts, and paintings.  Instead they focused on what life was really like aboard one of those long distance sail boats. They talked about food, cargo, medical treatment, sailor's pensions, living conditions, onboard discipline, etc.  From this you can get a much better feel for how it was really like for the sailors rather than the modern romantic notions.
One of the most dangerous spots for these old sail boats was Cape Horn around South America.  In later years the captains who sailed around the cape more than 3 times created a very exclusive club.  One captain made a total of 53 trips, some 14 or so of those as captain.  Maybe that's a record. 
Alas, despite adding engines and trying to carry only easy loads, the sailing ships finally gave way to the steamers which gave way to modern diesel.  Although one company did manage to continue a profitable sailing operation until 1957.  He was hauling guano out of South America.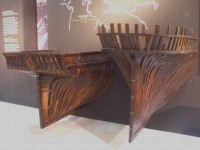 A comparison of two very different hull shapes
Once beyond the windjammer section of the museum the signs were only in German and the displays your more standard maritime museum quality.  So we didn't get quite as much useful information out of that.  But it still was a very good museum and a nice way to spend a windy, rainy day.
With a day of good weather in-between storms we decided to press on directly to Bremen the next day.  We're finding that with so many rainy days it's best to make as much distance as possible when there's good weather.
One town of interest along the way was the town of Brake.  We were hit by a short drizzle so we spent a few extra minutes looking around. 
Near the river was a sign showing all the additions they've made to their dyke.  Over the years they've increased its height 3 separate times.  Every time they have floods that almost breach the dyke, they add another few meters to the top.  So now it's something like 7 meters high.  When will they ever learn.  Mother Nature always wins.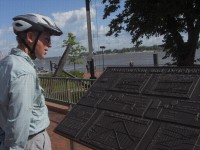 Brian reading the sign about dyke additions in Brake
Just before arriving at Bremen we had another bike failure.  This time Brian's rear rack brazon broke.  So now three out of four brazons have failed in just this one tour.  Before leaving Bremen in the morning we had to find a hardware store to get the parts for another splint. Actually we got enough for 2 splints as we're sure that last brazon is on its final legs.
On the outskirts of Bremen we saw a few things that were a bit disconcerting.  When we stopped to consult our map I spotted a huge cable lock that had been cut.  This lock was the size you'd use on a motorcycle, not just a bike.  As we neared the train station I spotted a sign saying that between the hours of 22 and 8 guns, billy clubs, and knives were forbidden in this area.  That doesn't give you a warm feeling about the city.  We decided to stay in the Ibis hotel that night.
Section 3
Bremen to Nienberg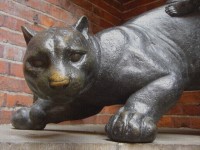 One big cat statue on Bremen's art deco street
August 25 to August 29
The entire square around Bremen's rathaus has been placed on the World Heritage list and it's easy to see why. As you stand in the center, under the watchful eye of Bremen's knight protector, Roland, you are surrounded by magnificent buildings from several centuries.  You'll see buildings from the 1500s with art deco in view and even a 20th century creation.
Roland is the town's icon.  He's a rather pleasant looking fellow, quite large, with curly hair, rusty knees, and a nice smile.  Not at all your fierce looking knight.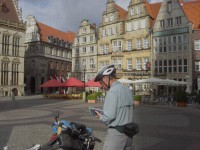 Checking the guidebook in Bremen's main square
Around the corner from the rathaus is Bremen's most famous and probably most odd statue. It features a rooster standing atop a cat which stands atop a dog which stands atop a donkey.  It has something to do with a German fairy tale where this unusual group of animals scared away some thieves who were breaking into a house.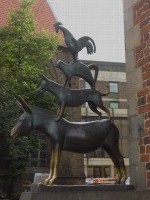 A famous statue of fairy tale characters in Bremen
Did you know Robinson Caruso came from Bremen?  The town is quite proud of its fictional son and even a house on the Art Deco street is named for him.  They say it's a testament to the spirit of adventure.
This art deco street was supposed to be demolished by the Nazis who considered it profane.  Town citizens protested and it was saved.  Actually for art deco it's not too bad.
After looking around Bremen we headed for the nearest hardware store, Bauhaus, to get the makings of a splint for Brian's bike plus spares.  The word "bau" seems to be German for tree.  So I suppose a "bauhaus" is a lumber house.  These, along with their competitor Baumax, are German equivalents of Home Depot and Lowes.  These hardware stores are massive.  You can find almost anything you could possibly need especially if it's metric.  We've already resolved to replace our broken 13 mm wrench before leaving.  Too bad we had to buy so many 8/9 mm wrenches.
Heading on we passed through a bunch of cute towns with a lot of corn fields between.  Verden was probably the cutest of all towns we passed through.  We attempted to visit their cathedral, but we happened to pull up right when an orchestra was setting up  All these men and women in black were filing into the church, setting up, tuning up, and getting ready to play.  We decided this wasn't a good time to visit.
We pushed on almost reaching Nienberg.  We were in a dinky village that had no stores, one restaurant, and a pizza place.  We ate pizza.
Section 4
Nienberg to Bodenwerder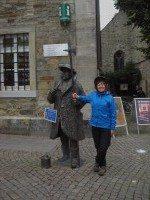 Caryl with the night watchman
August 26 to August 29
Rain.  The weather reports had been predicting all day rain for some time and they were spot on.  So our choice was ride on in heavy rains, not see much of anything, get soaking wet, have a really uncomfortable ride, and then stay in a hotel somewhere up river.  Or stay right in Nienberg, find a dry place to spend the day, and wait till tomorrow when, supposedly, the weather was to get better.  We chose to stay put.  After all, we want to see the towns in this section of the Weser, not just hurry through trying to get to the next town and a dry hotel.
Nienberg is one incredibly cute town.  It's one of those towns that it seems only the Germans can do right.  If you were to take this town and place it in Disney's Epcot Center it would fit right in.  It's cute, clean, neat, perfect. 
It has multicolored, pastel houses with those fancy gables combined with a perfect ratio of those pretty half timbered multi-storied houses.  There are several pedestrian streets that are paved in bricks.  The lamp posts all have hanging baskets of flowers and there are artistic statues everywhere.  One statue represents a glass blower, he holds the glass tube with a large jug just coming out of the mold.   Another represents an asparagus seller and several people washing the skinny vegetable.  This area is big on asparagus and they even have an entire museum dedicated to it.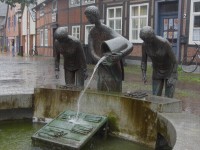 Washing asparagus in Nienberg
Yes Nienberg definitely comes in very high on the cute town list.  We expect the towns further upstream will be even better.
It was so nice being in a warm dry hotel for the night. That made the next day seem so rough.
Rain, rain, rain.  That's the only way to describe this day.   All day long we were riding either through a heavy drizzle or downright pouring rain.  So much for that weather report. 
We did begin the day with a quick tour around the town of Nienberg and then we headed on.  We passed through several towns that were in no way as cute as Nienberg so there was little reason to spend much time.  That is until we got to Stolzenau. 
It was just about lunch time.  So we located a nice looking cafe with outdoor seating and a good overhanging awning.  A piece of pizza bread and soda were perfect lunch food.  I guess our seating was so nice looking we soon had another 6 bike tourists also stopping for snacks.
Before we left the dry patio of the cafe the light drizzle turned into a downpour.  We tried to wait it out, as did the other tourists.  But the rain won.  In the end we had to go on.
Through the rain we plowed.  We took a short break at a covered picnic area where another bike touring couple joined us for a short time.  The rain wasn't going to stop anytime soon. 
In Petershagen we commiserated with two more bike touring couples.  Everyone had been having a just plain wet, not fun kind of day.
Just before the city of Minden we came upon a barrier across the path.  One couple standing there told us it was just due to slight flooding.  What we actually found was a landslide.  It came from right about under a house foundation.  The mud had been cleared, but they were obviously worried about more slides. 
The level of the river was quite high.  In some places it was within a couple inches of actually breaching the bike path.  This clearly had not been your ordinary amount of rainfall.
We finally arrived in Minden and began our search for a hotel.  It was just too wet, we were just too soaked to try to camp.  But finding a suitable place was difficult.  The hotel near the train station we'd been aiming for looked real dicey.  We finally wound up out in the suburbs in a very pleasant hotel that had a good grill just down the street.
It may have been a crummy day, but at least it ended nicely.
Minden is a small city that at first we weren't to excited about.  That's in part because the first place we looked at was around the train station which is not your best part of town.  In the morning, when the sun was finally shining and we found our way to the old town center, it proved to be quite a pleasant place after all.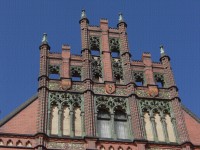 One of the many architectural styles found in Minden
The old part of Minden has an incredible mixture of architectural styles many of which we've seen in different parts of Germany.  Half timber houses sit next to those houses with fancy gables and pastel stucco which stands next to a modern brick building.  It's almost a showcase for all these different styles. 
There are several museums and churches you can see.  But we just wanted to wander around for a bit and then move on upriver.
The day was actually rather nice, for a change.  It was sunny, although clouds were gathering for an afternoon rain shower.  We were able to ride as far as Bad Oeynhausen without having to don the rain gear.
Bad Oyenhausen is a famous spa town.  It has two lovely old bath houses plus one of Kaiser Wilhem's palaces all centered on a beautifully landscaped garden.  Flowers were still in full bloom and the trees were still green, but a few yellow leaves here and there did warn of fall's imminent arrival.  A wedding party was taking advantage of the few hours of sunshine to get photos by the large fountain in front of the palace.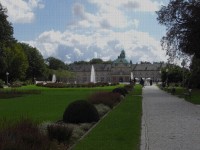 Kaiser Wilhem palace at Bad Oeynhausen
Unfortunately the sun didn't last.  Before we even left the city rain was once again falling.  Periods of rain and then sunshine accompanied us all the way to the campground at Rinteln. 
The previous few days had certainly been wet.  There'd been so much rain that many of the rivers were flooded.  The bike path in Bad Oeynhausen had been flooded and was now covered in mud in a few spots.  The local newspapers showed front page photos of flooded streets in such places as Hanover.  Clearly this is an unusual set of storms.  In theory there is supposed to be just a few more days of sun mixed with rain and then finally the sun will prevail.  We aren't holding our breath.
What do rats, children, and Hameln have in common?  That would be the famous Pied Piper, that magical master of music who lured the town's rats into the river and the children to who knows where.
In spite of, or perhaps because of, its relation to rats, the town of Hameln really is another one of those cute German towns.  It's filled with block upon block of half-timber houses and has a magnificent church.  The clock on the church has a set of piper, rat, and children statues that go around in circles at certain hours of the day. There is a statue of the piper and one of the children.  You can even take the rat walking tour.  Just follow the little critters painted on the sidewalk bricks.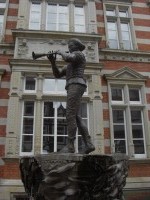 Statue of the Pied Piper in Hameln
The town takes great delight in everything rat.  Stuffed, carved, blown rats are for sale in all the stores.  There's even a very large golden rat atop one of their bridges.  The piper gets his fair share of attention as well.  They even put on a short Pied Piper play every Sunday at noon in summer.  It's good business.  Unfortunately we missed the Sunday play by about 1/2 hour.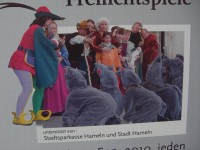 Ad for the Pied Piper play put on every Sunday in summer in Hameln
For this reason alone Hameln has become an international tourist destination.  Who would have thought rats could make you so popular.
Section 5
Bodenwerder to Kassel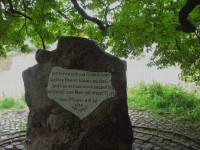 Joining of the Fulda and Werra to form the Weser at Hann Münden
August 30 to September 1
The day began with some sun but quickly degenerated into another day of rain.   In theory this was to be the final rainy day.  We shall see.
We didn't stop to see much as it was just too wet.  All sorts of bike tourists were passing us going the other way all looking absolutely drenched.  Imagine you plan your 2 week bike trip and wind up spending the entire time in rain.  Also, by this time the continual rain and stalled cold front had made the temperatures drop a lot.  Daily temperatures were just barely reaching 12 degrees C.  That's chilly.
We got just as far as Höxter and decided the best course of action would be to stop early.  It was supposed to rain all night so we concluded it would be best to get the tent set up before the rain set in.  It proved to be a very wise decision.
We shall forever remember our ride up the Weser as one very wet experience.  Finally, after 4 days of rain we awoke to a day of sun and clouds.  The front that had been stalled over west and central northern Europe for nearly a week had finally moved toward the east.  The temperatures were quite a bit colder, but at least there was no rain.
This was also the day we finished riding the Weser radweg.  It was so nice to be able to complete it on at least a dry day.  
To start the day we began with a quick tour through the town of Höxter.  These towns on the upper Weser have some remarkable houses in their old quarters.  They're quite high, usually about 6 floors.  Each successive floor stands about 6 inches further out toward the street than the floor below.  Each floor is progressively smaller as you reach up to the peak of the roof.  We've seen this style before in other regions of Germany.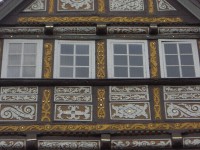 Typical painted house along the Weser
Here this construction style has been taken to new heights.  The wood that defines each floor is intricately carved and painted resulting in some magnificently colored creations.  There are several such buildings in Höxter and some seem like they're trying real hard to outdo their neighbors.  It's a good thing electrons are easy to come by as there were so many great photo opportunities.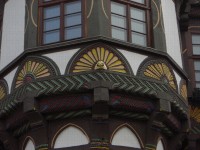 Sample of a carved and painted building in Höxter
The ride was mostly on bike paths for the day.  It was fairly flat with just one or two short sections having a few hills.  The trail hugged the river most of the way.  That's the nice part about taking river routes through the hills, you can enjoy the views of the hills without the effort riding up and down them.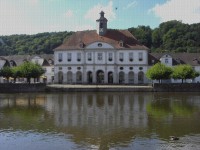 The rathaus at Alt Karlshafen
Alt Karlshaven was the last major town for a while and made for a good lunch stop.  This town has taken their former harbor and turned it into a city lake and park.  What a good idea.
Beyond here until we reached Hann Münden the towns were teeny tiny.  A Benedictine Kloster at Bursfeld was the major attraction along the way.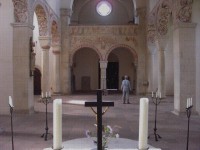 Inside the Benedictine Cloister
The Weser splits into the Fulda and the Werra at the town of Hann Münden.  This is where the Weser radweg comes to an end and the Fulda and Werratal radwegs begin.  There is a stone monument at the intersection of the two rivers.
If there is a town that can be classified as amazingly cute it's Hann Münden.  This old town is absolutely stuffed full of old half timbered houses, some of which have that stepped and painted appearance we'd seen all along.  There are hardly any new buildings in the old town core at all.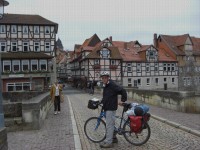 Brian at the bridge into Hann Münden
There are two very tall towers which are all that remains of their former town wall.  The church, rathaus, and palace all add to the ambience of the town.  We can see why this is a real tourist draw.
We had just over 30 km remaining to reach the large town of Kassel where we needed to decide what to do next.
With the weather turning colder and wetter, we wanted to move further south faster than originally planned.  So instead of riding toward Koblenz we wanted to take the train.  The best day to do that would be on the weekend when we could take advantage of the weekend special rates.  That meant staying around Kassel for a couple of days.
Kassel does have a few good things to see.  We took the hefty climb up to their famous Hercules statue.  It's high on the highest hill around.  At the foot of the building is a Wilhem's palace that now houses an art museum. It is one spectacular building. 
Tumbling down from the Hercules statue to the palace is a special fountain.  It's a series of artificial waterfalls and ponds all made from the local tuffa rock.  Probably in days gone by they ran the fountain every day.  Nowadays it runs only 2 times per week and only for an hour.  Unfortunately we weren't there on the right day.  It would have been so nice to see it.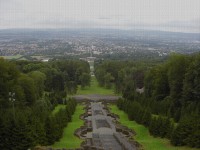 Looking down at Kassel and the tuffa fountain from the Hercules statue
Also on the hill are the ruins of an earlier, Medieval castle called Löwenburg.  These ruins are very much your typical castle structure complete with towers, turrets, crenellation, gates, etc.  They're quite impressive from the outside.  Once inside the courtyard, though, they look a lot smaller.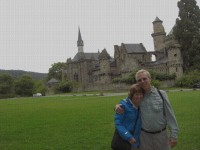 At the Löwenburg castle ruins in Kassel
One other palace in Kassel is called the Orangerie.  This lovely, pastel colored palace sits in the middle of a large Baroque garden.  Today it houses a restaurant and science museum.
With two days relaxation, plus laundry and other chores done it was time to catch the train to Koblenz where we would ride the Rhine upriver.
APPENDIX A – ROUTE
Germany
August 20 - Ostsee Radweg thru Avendorf, Großenbrode, Lütjenbrode, Sütel, Neukirchen, Kraksdorf, Siggen, Süssau, Rosenfelde, Dahme, Kellenhusen, Rotenhuse, Lensterstrand, Grömitz, to Neustadt. 75.65 km
August 21 - Ostsee radweg thru Neustadt, Sierksdorf, Haffkrug, Scharbeutz to Timmendorfer Strand.  Main road thru Hemmelsdorf, Bad Schwartau, to Lübeck.  42.96 km
August 23 - Train to Hamburg, Bremen, Bremerhaven.  Ride to Nordenham, 13.76 km
August 24 - Weser radweg to Bremen 76.55 km
August 25 - Weser radweg to Drakenburg, 86.34 km
August 26 - Weser radweg to Nienberg, 21.31 km
August 27 - Weser radweg to Minden, 74.18 km
August 28 - Weser radweg to Rinteln, 55.32 km
August 29 - Weser radweg to Bodenweder, 60.72 km
August 30 - Weser radweg to Höxter, 52.19 km
August 31 - Weser radweg to Han Münden 73.23 km
September 1 - Fulda radweg to Kassel, 36.44 km
APPENDIX B – CAMPSITES, HOTELS
Germany
August 20: Südstrand Camping at Neustadt (17.00 €/night + .50 €/shower)
August 21: IBIS hotel in Lübeck (85 €/night)
August 22, 23: Camping Nordenham (13.70 €/night incln2 showers)
August 24: Ibis hotel Bremen Center (69 €/night)
August 25: Wassersport W- Weser e.V. Drakenburg (9.00 €/night)
August 26: Hotel Dat Wählige Rott in Nienberg (72.00 €/night)
August 27: Gasthof Zum Kühlen Grunde in Minden(72.00 €/night)
August 28: Campingwohnpark am Weserangerbad in Rinteln (13.50 €/night)
August 29: Camping Fort (13.00 €/night)
August 30: Wesercamping Höxter (11.00 €/night + .50 €/shower)
August 31: Han Münden campingplatz (16.00 €/night + 1.00 €/shower)
September 1, 2, 3: Fulda-Kassel Campingplatz (15.50 €/night)
REFERENCES
Lonely Planet Central Europe 2010