EUROPEAN TOUR 2010 PART II - GREECE
Peloponnese, West Coast
May 21 to June 5, 2010
Start  58,513 miles (93,622 km):
End 58,957 miles (94,331 km) cumulative
Video Map
TEASERS

Pass by Antikythira and Kythira en route to the Peloponnese

Stop by the ancient city of Korinth

One nice day riding and one not so nice on the way to Patras

It's a good cycling route up the west coast but few services

Take the scenic route to see the Meteora via car

Corfu looks a lot like a Venetian town with some England mixed in
Section 1
Gythio to Korinthos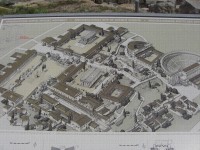 Map of Ancient Korinth
May 21 to May 24
The 7 hour ferry from Crete to Gythio runs just one day per week.  Since we really wanted to avoid having to go into Piraeus we had to make this ferry  So we set the alarm a good 2 1/2 hours in advance just to be sure we got up in time.
Once aboard, the ferry ride is actually rather pleasant, that is if the seas are calm.  We made 2 stops along the way.  The first was at the tiny island of Antikythira.  This miniscule island hosts just a few dozen houses and a single road.  With weekly ferry service, it's truly a place for getting away from it all.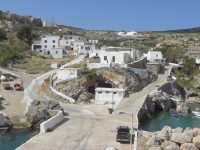 The tiny town on the tiny island of Antikythira
The second stop was at the larger island of Kythira. This island has several towns and a whole network of roads.  Also, it has more ferry service to the Peloponnese so it isn't quite so isolated.
After another 2 hours sailing we arrived at the busier port town of Gythio.  Immediately we recognized this rather pleasant small Greek town.  It was here back in 1999 that we watched waiters brave heavy traffic to cross the street to deliver food and drinks precariously balanced atop their round little metal trays.  It's amazing the things that come back to mind when you revisit a place.  We headed west just a few km over a small hill to camping Meltemi, the very same campground we stayed in back in 1999.
Back in 1999 we spent a full month taking our time traveling around just the Peloponnese.  We had such a good time exploring the olive groves, ancient sites, towns, and basically stopping everywhere along the way.  This time we decided we wanted to try to focus on seeing places we haven't visited before, other regions of Greece.  So we would not be stopping at all the ruins along the way and we would not be taking day rides through the olive groves.  Instead we'd head directly north to get ourselves to the west coast of mainland Greece.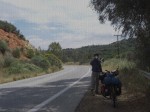 Headed north from Gythio to Sparta.
No matter where you ride in Greece, it is a very hilly experience.  Just north of Gythio the first thing you do is climb some 900 ft before descending 200 ft to get to Sparta.  North of Sparta you now climb up to 3200 ft elevation and then descend 1000 ft to get to Tripoli.  This is just typical Greece riding.  It's rough.  So if you ever want to ride Greece you'd better be ready for climbs.
Leaving Sparta early in the morning we began the 28 km of continual climb under an increasingly stormy looking sky.  Much to our surprise we'd been experiencing what we thought was a rare event for Greece in May, afternoon showers.  This particular afternoon as we were climbing over the mountains it really started coming down.  It was even quite cold.  So we found ourselves an overhang in front of a tiny store/bar and waited until the rain subsided just a bit.  The little store owner seemed a bit surprised to see us but paid us no heed.
Once the rain let up we had a rip roaring ride down to the plain where the city of Tripoli lies.  Now came a choice.  Find a hotel to stay at in Tripoli or continue back to the coast at the town of Astros.  We chose to continue to the coast.
What a grand choice that was. The road leading from Tripoli to Astros passes through a lovely canyon all the while dropping the 2200 ft needed to reach sea level once again.  The road still twists and turns its way downhill.  But a new section is currently under construction that will short circuit a lot of the tightest curves. 
The canyon is gorgeous and looks oh so much like southern California.  In fact every time we've been to Greece we've felt right at home with the terrain.  The hills are semi arid and instead of having live oak trees they're covered with olive trees.  Both have a very similar gray/green appearance.
Once back at sea level we found ourselves headed north along a road that hugged the coast.  We had several short climbs and descents as we made our way toward the modern town of Argos.  There was blue waters on our right with great views toward the nearby peninsula off in the distance.  Traffic was light as it was a Sunday so the riding was just about perfect.  We meandered our way into Argos.
Argos is another of those new cities built right over the top of an old city.  In this case the ruins from the old Roman forum and theater have been unearthed and now straddle the road right in the middle of the city.  To one side is the theater.  It's one of the largest in all of Greece and supposedly held up to 20,000 people.  On the other side is the forum with fountains, public squares, gymnasiums, and other such building ruins.  We found the remains of the drainage ditch rather interesting as it had 3 channels and was covered by a triple arched brick cover.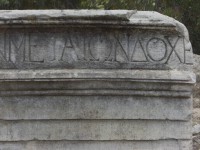 Old Greek lettering at Argos
Argos as well as many other of the ancient sites around Greece were once visited by what was probably the world's first travel guide writer, Pausanius.  Back in around 150 AD this fellow wandered around much of Greece plus some of Turkey and Africa.  He basically toured the cities and wrote a description of what he saw.  He witnessed these cities right in their heyday when the fountains actually flowed, the theaters had performances, the statues still resided in the temples.  He wrote it all down in a 10 volume set.
Today these books are invaluable to archeologists.  They give not only descriptions of buildings, monuments, and other structures but also information about the builders and sponsors for particular projects along with a few legends and myths to go along.
Pausanius' 10 volumes of writing are still available.  Wouldn't it be interesting to create a new set where you go visit the present day places he once visited and attempt to recreate a modern version of his travels.  Much of what he wrote about is probably buried.  But still, just to contrast the two time periods.  Maybe it should be made into a documentary film, "In the footsteps of Pausanius."  Good for the History Channel or something.

After a night stopover near the ruins of Mycenea we continued over the last hill to Korinth.  Here is where, to all practical purposes, the Peloponnese peninsula was rearranged into an island by the addition of a canal.
Actually we have to wonder if this particular canal might rate as the world's longest construction project.  By longest we mean from the initial ground breaking ceremony to actual completion.  The idea of cutting a canal between the Ionian and Aegean seas at the Corinth Isthmus was originally proposed by Periander, tyrant of Ancient Corinth, at the end of the 7th century BC.  It was Roman emperor Nero who in 67 AD actually began digging.  He held a big ground breaking ceremony complete with golden pickaxe.  The project was soon halted by the invasion of the Gauls.
The canal was finally completed by a French company between 1883 and 1893.  Hence the time from first shovel turn to finish was 1826 years.  One very long lasting engineering project.
We had seen the canal once before and basically its one very deep ditch.  So we felt no real compulsion to see it again.  We had not yet seen the ancient site of Corinth.  So after dropping the gear at the campground we took the uphill road to the ancient ruins to have a look around.
Ancient Corinth was one of Greece's richest cities during the 6th century BC.  This was mainly due to its position on the Isthmus along with its sister port Kenchreai on the Aegean Sea.  When Periander was unsuccessful in digging a canal they built a paved road on which they slid cargo from one sea to the other.  Of course the two ports extracted a nice fee for doing this.
Corinth was destroyed in 146 BC for rebelling against Roman rule and was then rebuilt by Julius Caesar in 44 AD.  Thus with the exception of the temple of Apollo everything you see is from Roman times.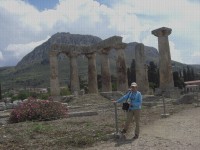 Temple of Apollo at Korinth
Ancient Korinth is a marvelous site to visit.  Signs take you on a journey that is supposed to mimic the steps of Pausanius as he ventured through the city.  We found the Lecheon road and the Lower Peirene Fountain to be particularly interesting.  The fountain still has water flowing and the road is remarkably still well paved.  Drawings on all the signs really help you envision how the buildings once looked.  In the end we were glad we chose to see the ancient city rather than revisit the canal.
Section 2
Korinthos to Patras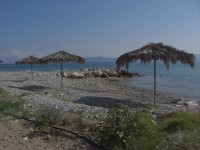 Lovely beach on Korinth bay
May 25 to May 27
From Korinth to Egio it is possible to find a route that almost always hugs the water.  You can follow a beach road until you are just west of Korinth and then hop on and off the old main road to keep as close to the water as possible.  Even though this area of the Peloponnese is far busier than any other area we've seen so far, this one section of road can be rather pleasant.
That is at least today it is.  There is now a brand new 4 lane highway that takes most of the heavy traffic away from the old road.  So our first day riding to Egio was most enjoyable.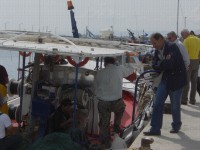 Shopping for fish along the Korinth bay
We had an incredibly scenic ride going through several small fishing villages.  Each has a cute old port plus the usual little churches and some old town flavor.  Services were plentiful.  There were lots of places to stop for drinks and food.  Finding a toilet along the way wasn't quite so easy and we had to get real creative.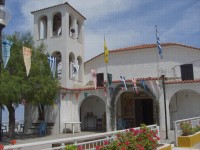 Cute church on way to Patras
Further west of Egio, however, the traffic really started to build.  What made things particularly difficult were all the construction trucks.  This section of the new highway isn't quite completed.  They're changing the old road, adding 2 more lanes to the new road, building bridges, and even pulling up the railroad track and resetting it as a new standard gage line. 
It happened that the construction trucks needed to use the old road.  So all day long until we finally managed to find a continuous side road, we had to deal with cement trucks and dump trucks not to mention buses and cars.  That was not a particularly pleasant riding day.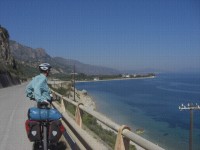 Lovely views on the road to Patras
It was so nice to finally see the towers of the new bridge that crosses the mouth of the Korinth Bay come into view.  This new bridge is close to 3 km in length and is the longest cable bridge in the world.  It was opened in 2004 and should have replaced ferry service.  But much to our surprise ferries do still run across the mouth of the bay and still carry a lot of traffic, mostly trucks.  We would be crossing that bridge in a couple days, but for now we wanted to take a day off.
We checked into the pleasant Rion campground.  This is the grassiest campground we've seen throughout Greece.  The facilities are a bit old and worn, but that grass was such a nice treat.
We wanted to spend one day in Patras mainly to go see their brand new archeological museum.  It's supposed to be Greece's second largest, second only to the one in Athens.  Best of all at this time the entrance fee was zero, nada, zip.  Such a deal.
First we wanted to see if there was any way we could take a ferry to the Ionion island of Kefelonia and then a second ferry to the island of Lefkada.  It turns out the Kefelonia to Lefkada ferry might only run in August.  Lefkada has now been connected to the mainland with another new bridge.  So buses are the main way to get there.  Too bad.  This would have been a great way to go.
We then went in search of the museum.  It wasn't that easy to find.  You take bus number 6 and supposedly ask the bus driver where to get off.  The only thing is if your bus driver doesn't speak any English you're out of luck.  In fact it seemed no one we asked on the bus knew anything about this new museum.  So the locals mustn't be all that interested.
We finally took a guess and just jumped off the bus.  We got lucky.  With a few more questions we learned we were just a couple blocks from the museum.  Not bad.
It was getting late and the museum closes at 3 PM.  So we had just a couple hours to visit.  Fortunately it turns out that only 2 rooms of the museum are complete.  There was one room with a very good display and discussion of funerary items from Mycenea through Roman. 
We learned that they believed that a person's soul doesn't go to the underworld until the body fully decays.  So that's why they included everyday items in the burial chamber.  It was stuff needed during this temporary transition.  Once the body is down to just bones the burial site gets reused.  The old bones are unceremoniously pushed aside to make way for the new.

The second room contains several mosaic floors recovered in the Patras area, pottery and bronze items, plus the foundations of several ruined buildings.  We really liked the beautiful marble bath they had.  Back in the early 90s when we first visited Patras we recall visiting an in-situ Roman site where we marveled at the fact there was this incredible mosaic floor just sitting out in the elements.  We now have to wonder if that floor has a new home in this museum.  Hmm, wonder if we have any photos from that time somewhere.
Section 3
Patras to Igoumenitsa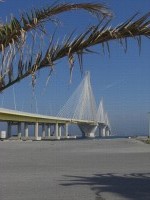 The new bridge across Corinth bay
May 28 - June 1
Leaving Patras in the early morning we quickly learned that you do not attempt to pass through the toll booth at the end of the bridge.  This causes the alarms to go off and the toll collector to get rather excited.  Instead you have to push along the rock path along side the ramp.  Hey, how would we have known.  It's not like there are any signs saying bikes go this way.
We hadn't planned on a very long day.  Just around 40 km to the town of Messolongi.  There was one good hill involved so this distance was plenty.  We took a hotel room in the nice Hotel Avra with a patio overlooking the main square.
Messolongi was the biggest surprise we've had in Greece.  The town is located in a flat plain, one of the flattest areas of Greece we've seen.  As a result this town has become the most biker friendly we've seen anywhere.  The hotel owner told us that every household has an average of 4 bikes.  Everyone from every age group rides bikes around town.  So this made the town of Messolongi one of the best for bike tourists to get around.
In Greece in the evening town squares come alive.  From about noon to 5 PM they are virtually dead.  The sidewalk cafes have rows and rows of empty chairs.  This is siesta time.
Oh but at night everyone comes out.  The kids will play all over the square, usually around the fountain.  Adults will park themselves in their favorite cafe chairs and nurse the same cold cup of coffee for hours on end. 
We're now seeing a new trend.  Asians have come up with the idea of packing a rolling luggage cart full of junk made in China.  They stroll the squares in the evening trying to sell the junk to folks sitting at the cafes.  The old Greek guys seem to take particular delight in making the Asian show all their little tidbits yet we've never seen them buy anything.  It must be just pure entertainment for them.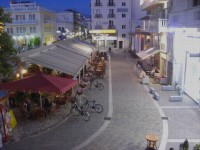 Central square at Messolongi
We perched on our patio for as long as we could stay awake.  When we finally called it quits at 11 PM, the Greeks showed no signs of slowing down.  It reminds us of the Argentineans.
North of Messolongi the road winds inland for just a bit with a pretty good climb along the way and then a good descent to the bay near Astakos.  Astakos seemed like a pretty nice town that has one good hotel, a small supermarket, several beachside restaurants, plus ferry service.  This is where you would likely find a ferry to the island of Ithaki.  so if you really wanted you could potentially take a ferry from Patra to Kefalonia, Kefalonia to Ithaki, and then Ithaki to Astakos.  But then you'd miss the biking town of Messolongi.
This is a rather remote coastal road, relative to Greece that is, as there are very few service towns.  In fact between Astakos and Paleros there is exactly one tiny town, Mitikas.
The campground at Mitikas is one dismal affair.  It's one of these Greek style places which has been filled with essentially permanent campers.  The problem with these types of campgrounds is that all too often the permanent campers get run down, have piles of junk all over, or are just plain messy.  Also, they tend to take all the best spots.  So we really tend not to like these types of campgrounds.
But, even this isn't enough to turn us off.  You can have a campground full of permanent campers and, if the facilities are nice, it's still an OK place to stay.  The campground at Mitikas, however, was not very nice.  The showers and toilets were dirty, filthy, so filthy we didn't even like to put anything on the counter or floor.  It was fun trying to juggle toothpaste, dental floss, toothbrush, comb, soap, and all that usual stuff.
The fellow who owns the campground is a very nice guy.  In fact, he didn't charge us a cent for the night.  So you might say the camping cost about what it was worth.  We did have the use of a table and chairs, which we had to clean off, under a very nice roofed shelter.  So all in all we got by.
Mitikas is one very cute town, but very laid back.  Towns just further north have really gotten into the fancy resort mode.  Mitikas is still very much just a locals kind of place.  There is a small hotel and a few rooms available.  Yet it is a town still steeped in its traditional ways.  During the hours between 3 and 5 PM don't even think of finding any store open.  Find yourself  a place to wait and just enjoy the ocean views.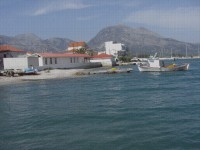 The sleepy town of Mitikas
Route E55 is really an ideal biking road.  There is almost no traffic and fantastic scenery between Astakos and Paleros.  There are, however, some really nasty hills until you get past that last one just north of Astakos.  Off shore there are all sorts of islands to look at.  So while this coast may have many characteristics of the California coast it also has something besides lots of water to look at.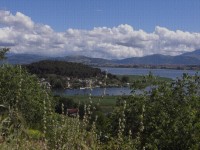 North along route E55
Between Aktio and Preveza lies the mouth of the Amvrakikos bay.  Until 2002 you used to take a ferry to cross.  Now there is a brand new tunnel.  That's great for regular traffic, but maybe not so nice for bikers. 
We approached the tunnel a bit worried.  Could we get across.  The night before we'd been doing some internet searching to determine exactly what bikers could do.  We did find the tunnel authority's information site.  Under their information about hazardous cargo they do mention in almost correct English, that some sort of transport for bikes is provided.  It wasn't clear if you had to make advance reservations or if it cost anything.
Arriving at the tunnel entrance we noted that off to the side was the tunnel control building.  With a short stop inside to ask for a lift and another few minutes wait we soon found ourselves being carted across in a small pickup.  The driver dropped us off right at the other end, pointed us in the direction of the campground, said good buy, and was off.  Not a Euro did it cost.  That was far easier than we had expected.
We spent another day and a half riding up to Igoumenitsa arriving a day earlier than originally planned.  We had thought to camp at the micro resort town of Parga, but one look at the very hilly route in that direction and the much flatter route in the direct to Igoumenitsa direction, we decided to make it a longer day and push on.  That was a good choice as it gave us 4 days to See Corfu and get over to see Meteora.
Section 4
Meteora, Corfu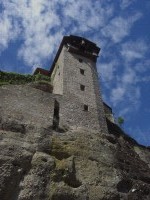 Monastery at Meteora
June 2 - 5
In central Greece just at the foothills of the Pindos mountains lies a unique geologic feature.  There you find eroded pinnacles standing hundreds of feet high.  It's a sight that is common in the American southwest, but not very common in Europe.
As we usually find with these types of geologic environments, this region was once a sea bed.  It rose up due to plate tectonics and then gradually wind and rain eroded the mountains away.  In areas where the capstone is stronger and takes longer to weather, these strange pinnacles form.  Long ago these peaks were given the general name Meteora which is derived from an ancient Greek word meaning hanging in the sky. 
If you look at the sides of these pinnacles you see sandstone with tons of embedded, rounded rocks.  These are the types of rocks you see in river beds or in river deltas.  The previous underwater nature of this land is clearly evident.
What makes this particular area so unique are the buildings that have been built atop the pinnacles.  When the ottoman empire ruled Greece, orthodox monks took refuge amid this strange landscape.  At first they slept and lived in the many caves on the sides of the cliffs.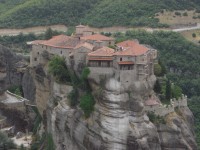 Monastery Varlaam at Meteora
Over time the monks moved to the tops of the pinnacles building large monasteries that envelope the entire tops of the peaks.  Access was through ladders that could be drawn up for protection.  Later wenches with rope nets for hauling up goods were added.  Today there are roads and steps cut into the cliffs making modern access easier.
Each monastery usually includes a central courtyard surrounded by what were the monks quarters.  They each had a church whose interior is completely covered in paintings.  Originally there were 23 monasteries.  Today only 6 are still occupied.  The rest are in ruins and are basically accessible only to climbers.  The monasteries that can be visited are St. Nikolaos, Rousanou, Metamorfosis, Varlaam, St. Trias, and St. Stefano.
To get to Kalambaka, the town near the Meteora, we decided to rent a car in Igoumenitsa.  There is a brand new highway that crosses northern Greece that is fast, efficient, and absolutely nondescript.  Instead we took the old road. 
Once out of Igoumenitsa you are immediately faced with a nearly vertical rock wall going over 2000 ft high.  The road slowly snakes its way around gradually climbing up and over this rock wall.  There's a short descent to Ioannina and its lake and then another windy climb up to Katara pass. It was an amazing drive over some spectacular scenery.  It took around 5 hours, the return drive on the highway took around 3.  Unfortunately with the new highway it's likely that the old highway may no longer see any maintenance.  The snow removal equipment has been removed and in several locations the road is already falling apart.  Too bad, as it is quite a scenic drive.
On the day we visited Meteora Rousenanou Monastery was not open.  They seem to have revolving days where they're closed so that at least 4 or so are open every day.  So we started the day with the climb up to St. Nikolaos.  This is the smallest of the remaining 6 monasteries and one that requires a fair bit of climbing to get to.  We liked it because it is so much smaller and because it doesn't see the tour bus traffic that the larger monasteries get.  When we were visiting there were only another 4 to 5 people there.
After this we took a walk up to Rousanou just to see what we could see.  Then it was on to Metamorfosis and Varlaam, the two most visited monasteries.  These two were packed with visitors.  Just getting in to see the interior of the churches was a challenge.  And all the tourist trinkets for sale on the outside was a bit tacky.  The mobile food wagon came in handy as we needed to get something for lunch.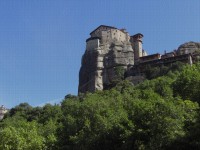 Metamorphosis monastery viewed from Varlaam
Next we were off to St. Trias.  This one requires the most amount of effort to access and, consequently, is one of the least visited.  It also doesn't have a lot of things to see in its interior.  But it does feel a little more remote that the other two and if you're a 007 fan, it was here that some of the final scenes of the 1981 "For Your Eyes Only" were shot.
Finally, St. Stefano is one of 2 monasteries run by nuns.  This building and gardens appear to be in much better condition than those run by the men. Also, the paintings inside their church have been completely rejuvenated.  It is something to see these paintings in their full new colorful glory. 
Although it seems the church paintings all have a very similar theme.  In the anteroom there are paintings that cover every type of martyrdom imaginable.  Think of some way a saint can be tortured and killed and it'll be painted there.  As you enter the door to the main church you will always see some dragon looking thing with its mouth wide open breathing fire while the damned souls plunge into the depths of its jaws.  Quite graphic.
Inside the church you'll find all the saints lined up on the walls extending way up into the top dome where the face of Christ looks downward.  If you look back over the door you'll see the body of Mary, we assume it's Mary, lying in state as more saints look on.  So the message seems to be that if you get yourself martyred via one of the methods in room 1 you get to sit in eternal bliss in room 2.
We headed back to Igoumenitsa on the next day taking the new highway.  This was clearly one difficult engineering feat to accomplish.  Here the mountain ridges seem to go in a north/south direction.  This road was built so that it crosses all of these ridges.  To do this they built tunnels.  There are tunnels of several km in length one right after the other.  You begin to feel that most of the road is actually underground.  Fortunately with the new rotary tunnel digging equipment that they built for the "chunnel" building such a tunnel isn't as hard as it used to be.  It has to still be incredibly expensive, though.
We returned to Igoumenitsa with one day left to go out to see Corfu City.  For some reason I had expected Corfu to be one of those islands with the whitewashed buildings with blue dome roofs.  Not even close.
As we approached Corfu we were amazed at just how much the city looks Italian.  It turns out Corfu spent about 400 years under Venetian rule and as usual they left their trademark architectural style.  In addition for about 60 years Corfu was under British rule.  So that would be where the octagonal bandstand in the middle of the park came from. Now Corfu is under Greek ownership.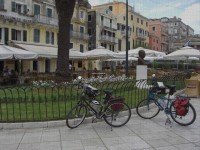 In the very Venice looking Corfu
There are plenty of things to see in Corfu.  But we decided to just spend the day wandering around the streets looking in the windows, watching the people, and gazing out at the sailboats plying the blue waters.
Now it was off to Italy and then Dubrovnik, or at least that's what we were trying to do.  We'd made advance, prepaid reservations on what we now learn is the worst ferry line of all.  We would not recommend Ventouris ferry lines for all the money in the world.  They are absolutely awful.
First this is not your most spiffy ferry company.  In fact it seems to be set up more as a truckers ferry.  It's got old rust bucket boats that have tons of vehicle space but very little roaming room for passengers.  Basically a dump.
The ferry was supposed to leave at 8 AM.  We arrived at 7 AM to check in. The ferry arrived at around 9 AM. We boarded at about 10 AM and proceeded to spend the rest of the morning and on into the afternoon waiting at the dock to depart.  We originally had a 5 1/2 hour window between our arrival and our departing Jadrolinija ferry in Italy.  We went way past that time and even as I write this we are still waiting to depart.  So we may end up spending a full day sitting on this rust bucket ferry.  Never, ever would I recommend Ventouris ferries.
APPENDIX A – ROUTE
May 20 - To ferry in Kissamos, to camping in Gythio, 16.12 km
May 21 - Route E961 to Sparta, 50.30 km
May 22 - Route E961 to Tripoli, road through Stadio, Rizes, Doliana, Astros, to Paralio Astros, 95.80 km
May 23 - Main road through Xiropigado, Kiveri, Mili, Argos, to Mikines, 39.45 km
May 24 - Old road to Leheo, 55.82 km
May 25 - Old road paralleling E65 to Krathio, 67.34 km
May 26 - Old road paralleling E65 to Rio, 60.51 km
May 28 - Across bridge, Route E55 to Messolongi, 40.56 km
May 29 - Route E55 to Mitikas, 91.54 km
May 30 - Route E55 to Kanalia, 64.63 km
May 31 - Route E55 to Plataria, 70.72 km
June 1 - Route E55 to Igoumenitsa, Rental car to Kalambaka, 10 km
June 3 - Rental car Kalambaka to Igoumenitsa, Route E55 to Plataria, 7.5 km
June 4 - Route E55 to Igoumenitsa and back, ferry to Corfu, around Corfu, 27.26 km
June 5 - Route E55 to ferry, 7.27 km
APPENDIX B – CAMPSITES, HOTELS
May 20: Camping Meltemi in Gythio (€17/night)
May 21: Camping Peologia near Mystras (€13/night)
May 22: Camping Astros at Paralia Astros (€10/night)
May 23: Camping Atreus at Mykonos (€12.60/night)
May 24: Camping Blue Dolphin at Korinthos (€14.50/night)
May 25: Camping Akrata Beach at Paralia Porovitsa (€12.90/night)
May 26, 27: Camping Rion at Rio (€15.00/night)
May 28: Hotel Avra in Messolongi  (€45/night)
May 29: Camping Ionion in Mitikas (€0.00/night)
May 30: Camping Monolithi in Kanalia (€17.50/night)
May 31: Camping Kalami Beach in Plateria, (€12.00/night)
June 1, 2: Meteora Garden in Kalambaka (€17.00/night)
June 3, 4: Campig Kalami Beachin Plataria, (€12.30/night)
REFERENCES
Lonely Planet Greece 2010