European Tour 2010 III- Croatia
EUROPEAN TOUR 2010 PART III - Croatia
Dubrovnik to Rijeka
June 6 to June 21, 2010
Start 58,957 miles (94,331 km):
End 59,366 miles (94,985 km) cumulative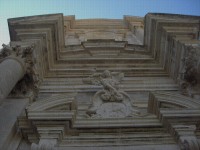 Looking up the front of the cathedral in Dubrovnik
Video Map
TEASERS
| | |
| --- | --- |
| | See Dubrovnik once again after 19 years. |
| | Walk Dubrovnik's walls, rebuilt better than ever |
| | Pass by Europe's longest medieval fortress walls |
| | Stop by the world's oldest still operating salt plant |
| | Enjoy marvelous scenery along Croatia's Dalmatian coast |
| | Split, definitely not the city of 20 years ago |
| | Stop to visit old towns such as Trogir and Sibenik |
| | Chat with the security officer at the Pag bridge |
| | Slog up and down those oh so steep hills |
| | Just a few more islands, Rab, Krk, and Cres |
Section 1
Dubrovnik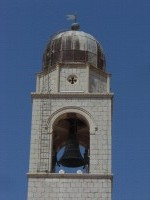 Bell tower in Dubrovnik
June 7 to June 8
One June 25, 1991 the Croatian government declared its independence from the Yugoslavia federation.† Almost immediately after that bombs started falling.† Some of the cities most damaged were the current Croatian capital, Zagreb, plus Vukovar.† But another city that came under siege was Dubrovnik.†
Shells started falling In Dubrovnik by October 1991.† Dubrovnik was considered an important target mainly for its port facilities in addition the the large tourist attraction the city itself makes.† The Serbs systematically sank every boat in the harbor.† They blockaded the roads and blew up the water supply.† Basically from that point on until 1995 Dubrovnik was a city under siege.
In the end some 68% of buildings in the old town sustained some sort of damage, usually the loss of the roof and sometimes a fire.† Some 2000 shells hit within the core of the old town, not to mention how many hit outside the walls.† Fortunately the Croats had taken the precaution of removing most citizens, especially the children, and only the defending soldiers remained.† Due to this advance planning only some 200 people were killed, mostly young men.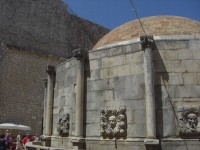 Onofrio fountain in Dubrovnik
Many of the historic structures were damaged despite some protections.† The carvings on the famous Onofrio fountain were protected with sandbags which seemed to do a good job.† The church facades were boarded up with plywood.† But still, damage was extensive.
Since then Dubrovnik has undergone a massive reconstruction.† Their famous wall was repaired, the clock tower not only repaired but now has gone digital, and all those old lichen covered roofs have been replaced with new bright orange tiles.† Theyíve used traditional techniques and materials for the reconstruction work so as to make the city appear as it did before the bombing, although a bit cleaner and newer.† Itíll be a long time before the town once again gets its ancient appearance.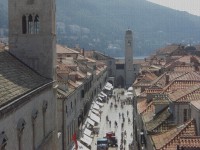 Looking up the Placa in Dubrovnik toward the new clock tower
We had a very personal interest in seeing how the Croatian Dalmatian coast and Dubrovnik in particular have recovered.† It just happens that we were in Dubrovnik in June 1991 when that declaration of independence was made.† Oh how much things have changed.
At the end of June 1991 virtually all tourism to then Yugoslavia dried up.† Almost no one, except us few crazy bike tourists, was going to Yugoslavia.† We stayed in the nearby Solitude campground and were essentially the only people staying in this 3000+ person camping.† The town was quiet with few people roaming the streets.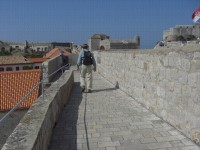 On Dubrovnikís wall
We made a point of walking the wall just as we had back in 1991.† In that year we were just about the only people up there.† Of course that didnít prevent them from collecting a fee for the walk.† Although it was more like a couple bucks per person rather than the $12 today.
The views from the wall have changed little, with the exception of a lot of brand new roofs.† The red tiles look far more uniform in color then they did 19 years ago.† The western side of town still has a bunch of ruined buildings overgrown with weeds.† This much hasnít changed.† In general the houses seem in better condition, many of which have had a face lift to repair war damage plus ravages of time.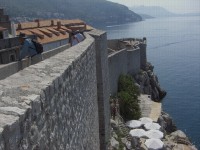 Seaward view of Dubrovnikís wall
In 1991 the main street, the Placa sported just a few shops and restaurants.† Many places were closed probably due to the fact there were no tourists to serve.† Today the Placa and many other corners of town are overflowing with tourist shops, restaurants, rental rooms, and even one grocery store.† Not to mention tons and tons of tourists.
Dubrovnik has become a major Mecca for tourists.† They come by the bus and cruise ship load.† The big campground, now completely renovated, is full.† The population of the old town must literally swell to over 10 times its normal size each summer day.
This is very much a different Dubrovnik than what we visited 19 years ago.
Section 2
Dubrovnik to Split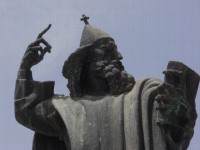 A statue of a scholar in Split,(looks like a wizard)
June 9 to June 12
Having spent 1 1/2 days in Dubrovnik, explored the city streets, and walked the wall it was time to move on.† From here we would be retracing our old steps, backward, with a few side routes not taken before.
One of the first things we did was stop at the new Konzum supermarket down by the ferry port.† Now this was definitely a major change.† In 1991 large supermarkets were essentially unknown in Croatia.† We distinctly remember seeking out food stores over the entire length of our journey down the coast.† The only thing we could find were what we would call a mini-market.† They were tiny affairs.† Then if they happened to have 3 rows of shelves at least 2 would be filled with chocolate and alcohol.† Finding anything fresh was a challenge.† Yogurt, fruit, and fresh pastry was hard to find.
Not any more.† Every town now seems to have at least one reasonable sized market, Plus, Konzum, CBA or other.† Refrigeration is now the norm.† Itís so much easier to get cold drinks, milk, cheese, and even specialty items. Thereís almost always fresh produce as well.† Nowadays there may still be 2 rows of chocolate and alcohol, but there are far more rows with real food.† Oh and the stores are now air conditioned.
The next thing we noticed was the road.† The old narrow road has been supplanted with a new much wider road.† A brand new bridge has been built over the narrow inlet just north of Dubrovnik.† Although we decided to take the easy loop around the inlet anyway.† The new road now skips over the coastal towns instead of going through them.† In addition, a lot of the sharp curves have been straightened and the ups and downs smoothed.† Itís a very nice road.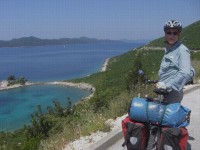 On the new road North of Dubrovnik
Even that was not enough.† They have built a new four lane highway just inland a bit.† Currently it goes almost as far as Ploce.† But plans to extend it to Dubrovnik are still in work.
Heading north out of Dubrovnik there are still quite a few ups and downs.† Also, in early June the weather is starting to get downright hot.† The road hugs the feet of the mountains which make a precipitous drop right into the sea.† Itís a spectacular coast the likes of which we have seen only in California.† Although unlike California here itís very humid.
Riding in the heat and humidity can quickly sap even the heartiest rider.† At 8 AM itís still reasonably pleasant.† By 10 AM itís starting to get uncomfortable.† At noon itís miserable. This makes it rather slow going.
The coast of Croatia is dotted with some 700 plus islands.† In addition there are several very long peninsulas.† One such peninsula, Peljesac, we did not ride last time.† So we decided to try something different this time.
There was one thing we did remember from before.† At the base of the peninsula we spotted the longest Medieval wall weíd ever seen.† It appeared at one shore and climbed straight up the hill out of sight.† We had no idea what we were looking at before.† Now we do.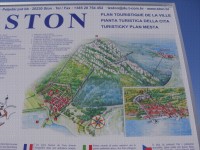 Artist rendition of Stonís wall
It turns out this wall connects 2 old towns, Ston and Mali Ston.† Mali Ston actually was part of the defensive system.† They wanted to protect Ston because it has a very important salt works.† I say ďhasĒ because the old salt works are still in operation and are the oldest salt works in the world.
Back in Medieval times salt was literally worth its weight in gold.† Its main use was as a preservative in addition to a spice.† Hence salt was treated with utmost care and protected just as if it were gold.† Itís hard to imagine something we so take for granted today being that valuable.†
So to protect this old salt works they built this 5.5 km long wall.† The wall is still intact, some of it being renovated in fact, and is the longest Medieval defensive wall in all of Europe.† Itís no wonder we thought it was so extraordinary back in 1991.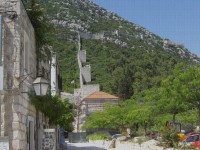 Stonís wall as it is today
One issue with riding either the islands or Peljesac peninsula is that the roads do not hug the coast.† In fact it seems that they take the roads right up onto the spin of the islands and run them lengthwise from one end to the other.† This, of course, means riding up some pretty good hills, a tough thing to do on a hot humid day.
It was while riding along the spine of Peljesac that we came across our first ever Croatian bike tourist, Maxit.† He was on a one week fast trip from Sarajevo to Korkula doing over 100 km each day.† After that he had to return home to Zagreb to take the wife and kids on a different vacation.† His wife likes to ride bikes around the city but doesnít want the rigors of a long distance tour.† Life must be tough when your partner doesnít like to do what you like to do.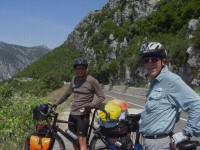 Brian with our first Croatian bike tourist
One of the many surprises weíve had about the new Croatian coast is the fact that it is now considered a real bike touring route.† Nearly every day as we headed north weíd pass at least 2 other bike tourists.† Back in 1991 there were absolutely zero, zip, nada.† There are even a few day riders out and about.† Now thatís a real change.
To return to the mainland from the Peljesac peninsula we descended through a pretty canyon to the small harbor town of Trpanj.† Unfortunately weíd just missed the ferry by about 15 minutes and had a 1 1/2 hour wait for the next.† Time enough to wander just a little and then find some shady spot.
Trpanj has one very unique looking harbor.† Just offshore are some ragged, uplifted volcanic rocks.† A few trees grow on the rocks and the locals have placed a statue of Mary or some saint on it.† They added walls to either side of this rock to create an enclosed harbor with openings on both sides.† Unfortunately you need a boat to get out to this jetty so we couldnít take a closer look.† This makes for one very picturesque town and harbor.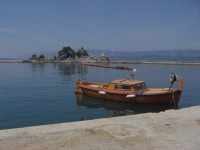 A lovely harbor at Trpanj
The ferry dropped us at the not so pretty town of Ploce.† This was once a major port facility that looks hardly used these days.† The town is full of those ugly concrete tower buildings that were constructed back in the 60s and 70s.† We just headed right out of town.
The coast between Ploce and Split is one of the more spectacular sections of Croatian coast. Here the rugged mountains drop right to the ocean and the road is etched into the side of this mountain just about the whole way.† Tourist facilities have sprung up like crazy and, in fact, they now call the section north of Makarska the ďMakarska RivieraĒ.† Everybody wants to be the Riviera it seems.
Here is where we stopped at our first of several old Communist style coastal vacation resorts. ††The communists would build these gigantic resort villages outside the towns specifically to keep the tourists away from the villagers.† These villages would have several huge hotels, restaurants, gigantic camping grounds, plus everything else you could possibly want or need during your few weeks vacation.
Back in 1991 we stopped in many of these huge vacation villages.† Since there was about to be a big war, they were pretty much boarded up and shuttered.† Typically weíd be just about the only people in the campground and only one of the several hotels would even be open.† Considering this was just about in high tourist season it was rather creepy.
Today many of these huge facilities have been bought by private companies.† Usually the facilities have been completely renovated.† Although the hotels still have that ugly 70s concrete appearance.† This first campground had new bathrooms but the rest of the buildings were still rather run down.† This didnít seem to be a campground that the foreign tourists visit very much so it may never get much of a face lift.
The next day took us right to Split where we found a completely renovated campground.† In fact one of the new bathrooms was still under construction.† From here it was an easy bus ride into Split where we spent the afternoon.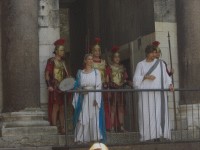 Diocletion welcomes us to Split
We were welcomed into the city of Split by none other than the Emperor, Diocletian.† All right it wasnít really Diocletion and they put on this act every day to whatever tourists happen to pass by.† But it does point out the fact that Split owes its existence to this one roman ruler.
Diocletian (AD 245-313) had his retirement palace built here from 295 to 305.† It was a combination palace and fortress.† He even had an octagonal mausoleum built for his eventual demise.
The palace was rectangular (215m X 181m) with one wall literally on the water.† There were 4 square corner towers and several half round towers against the 3 landward walls.† In the center of each wall was a gate named for a metal, Golden, Bronze, Silver, and Iron.† The buildings in the center were divided into royal residences, temples, workshops, and state rooms.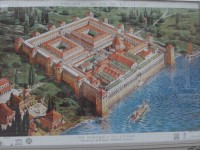 Artist rendition of Diocletionís palace
In the 7th century when the Slavs were attacking, the folks in the nearby town of Salona moved into the fortress walls building new smaller homes within the walls.† In fact some of the residents living there are descendants of these very same people.
Over time as Split came under the rule of the Byzantines, Croatians, Venetians, Ottomans, and Austrians the palace was altered significantly.† The round towers were removed.† Many of the interior buildings were either torn down or modified and incorporated into other buildings.† Even the palace walls became part of the newer buildings.† So today you have to look closely to see where the old Roman structure leaves off and some newer structure begins.† Even the once uniform sea front wall is now a hodge-podge of styles.
The parts that appear most Roman are the original entrance to the royal apartments, where Diocletian makes his daily welcome speech and the mausoleum.†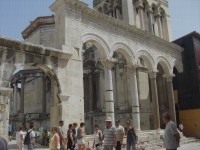 Entrance to the royal residence as it appears today
While much of the palace has changed little since 1991, out front by the waterís edge has changed a lot.† This water front used to be the center of transportation.† Ferries would dock there and buses stopped out front.† There were cars, scooters, and pedestrians everywhere.† It was a zoo.
Today this area has been turned into a pedestrian mall.† Itís been repaved and landscaped and looks very nice.† The effect is to give this area of town a much calmer feel.† As a result we found we enjoyed Split much more this time around than we did the first time.† It didnít feel quite so busy.
Section 3
Split to Rijeka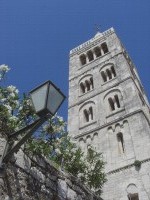 One bell tower in Rab town
June 13 to June 20
The coast north of Split up to Pag island isnít nearly as dramatic as south. However, it does have a lot of beach communities.† As a result it now has a booming tourist industry.† All along the route in virtually every town youíll find rooms for rent, new hotels, renovated old hotels, those huge tourist complexes, mini auto camps, plus restaurants galore.† We still remember in 91 it was difficult finding a restaurant in the small towns.† We had to look for small, usually hand written, signs of a knife and fork.† Oh how that has changed.
The first really touristy town we came to it Trogir.† Its small old quarter sits on a little island with just a couple of bridges for access.† Its fortress is just about as perfect looking medieval fortress as you can get.† Otherwise its narrow streets and cobbled walks look very similar to most old towns in the area.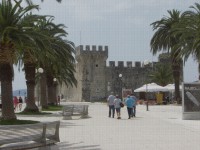 Trogirís very medieval looking fortress
The next big tourist draw is Sibenik.† Itís main claim to fame is their cathedral.† Another world heritage site, it is thought to be the largest church built entirely of stone.† There is no brick or wood supporting structure whatsoever.† Itís really something to go inside and see this big vaulted stone roof overhead.† Although Iím not sure Iíd want to be inside during an earthquake.
The outside carvings are quite remarkable.† There are 71 carved stone heads mounted on the frieze, one up by the roof and another further down.† Each and every head is unique and some of the expressions are remarkable.† One can only guess that the carver used local towns folks as models.† So itís really something to see these ordinary citizens from so long ago frozen in time.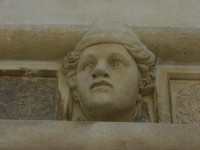 One of Sibenik cathedralís carved heads
We also scrambled up through the maze of small alleys to look at the fortress on the top of the hill.† We were surprised to find it is fairly expensive to enter and we understand there isnít much to see except for the view.† So instead we wandered around the adjacent cemetery which has almost the same view.† Surprisingly many of the interred were placed there fairly recently.† So even though itís a very old cemetery, itís still in use.
We continued north along this somewhat less exciting coast until reaching the busier city of Zadar.† This city of over 200,000 people is spread out for miles mostly along the coast.† There is a small old town core that we decided to skip as we didnít want to endure the high traffic and narrow roads.† Today there is a new ring road that goes around the city and it also happens to have a very nice, wide bike path.† Getting around town actually proved to be much easier than we originally anticipated.
We now headed inland a bit to cross the peninsula and gain access to the main road to the island of Pag.
Pag is now connected to the mainland via one very high bridge.† Today there is a older fellow who stands security watch at the bridge 24 hours a day to prevent sabotage.† But we had to wonder if this isnít just a make work program.† We bet once he retires that little box at the end of the bridge will forever be vacated.
As you enter Pag from the south side you are struck by just how desolate it looks.† Itís a series of low hills covered in rocks with no trees.† Having a backdrop of the steep mountains on the mainland makes the island seem even more stark.† Down by the sea on its southern tip lie the dramatic ruins of an 800 year old castle. The bridge watchman told us thereís another set of ruins at the north end of the island as well.
Pag town is just bout half way up the island.† What a pretty town.† Itís got a nice harbor, a couple of pretty churches, and a nice square.† What we found really remarkable was just how clean the streets in the walking downtown are.† Theyíre paved with marble blocks and we saw not one spec of trash.† Now we can tell weíre really in the north European influenced section of Croatia.
You have 2 choices when leaving Pag town.† One is to climb a 1000 ft hill to cross over the spine of the island and then climb it again to cross back.† Or you can take the dirt road that goes north along the coast.† The dirt road wasnít on any of our maps.† But the tourist office did have a map showing bike routes which did have that road.† The dirt section was a little rough, but nothing a good old mountain bike canít handle.† Taking this route we arrived at the turnoff for the ferry before noon.† We made the fateful decision to head on rather than go to the nearest campground.
That proved to not be the best of choices.† Croatia in incredibly hilly and it seems that going island hopping involves even more climbing than staying on the mainland.† We had 4 short steep hills to climb to get to the ferry landing and one very long steep climb after getting off the ferry.† Of course it was again super hot and humid.
Our map indicated a dot representing towns at both ends of the ferry landing.† In reality there isnít any town.† On the Pag island side thereís just the ferry ticket office.† Thatís it.† On the other side there are a few houses and a couple snack kiosks which charge absolutely criminal prices for little drinks.† And thereís a tough 1000 ft climb on the sunny side of the hill to do.
We sat under the umbrella of one of the kiosks that was just being repaired for the summer season.† It was a family affair with parents, son, and grandfather all working to get things in order.† They didnít seem to mind us borrowing the shade of their umbrella and a seat for a couple of hours.† Finally, when the temperatures dropped at least a couple degrees C in the afternoon we pushed on up the dreaded hill.
Weíve noticed that Croatia has a strange way of doing their ferry landings.† In Greece it seems the ferries usually land directly at the major town on the island.† This doesnít seem quite the case in Croatia.† On Pag, Rab, Krk, and even Cres the ferry lands at some out of the way location usually on the opposite side of the island from the town.† To get to town you always have to make a steep climb out of the ferry landing.† To get to the next ferry landing thereís another climb as you go back over to the other side of the island again.† Just getting onto and off each island usually entails a 1000 ft climb each way.† It really gets tiring after a while.
The island of Rab is a major tourist destination.† Itís quite popular with Austrians who have been coming to the island for years.† The old town is now filled with the usual tourist shops and restaurants.† Itís quite crowded in summer.
Rab old town sits on a small peninsula that juts out into the ocean.† Itís got a long harbor that is perfect for all the excursion boats that now wait for customers.† Sitting atop the spine of the peninsula are a line of churches 4 of which have tall bell towers.† These make up the trademark view of the town.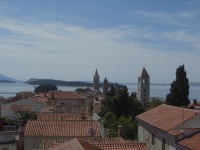 The bell towers of Rab all lined up
Throughout town are signs giving brief histories of the different buildings and streets.† They usually have photos or drawings showing what that particular site looked like years ago compared to what it looks like today.† Thatís probably one of the more interesting ways to do a history sign.
After a short tour of town we headed on north to the not so old town of Lopar† Here is where you catch the ferry to the island of Krk, yes there are absolutely no vowels in this name.† The ferry used to take the shortest route directly to Krk.† But today it goes a longer distance so that it reaches the same landing as the ferry to Cres.† Itís run by a different company than the giant Jardrolijna ferry company so in the tug of war to see which common landing to use we suspect the giant company won.† There are just 4 ferries per day and we made sure we caught the one at 2 PM which immediately connected with the much shorter ferry over to Cres.
Cres is one very hilly island.† Right off the ferry landing you immediately begin an 8 km 1500 ft slog over the crest of the island.† Itís then an equally long downhill ride to Cres town itself.† Of course weíd have to climb right back up that hill to get to the next ferry.†
Cres island is long and skinny.† Itís sister island, Losinj, actually used to be part of the same piece of land.† The Romans built a small canal that effectively broke Cres into 2 islands.† The northern Cres is far quieter and attracts fewer tourists than the southern Losinj.† Cres town is actually quite a pleasant place to visit.
While looking around we started chatting with a fellow hawking boat excursions.† He was amazed that not only are we Americans but that we are traveling on bike.† He says you almost never see Americans† in Croatia and certainly not on bikes.† He wanted to know why we were there.† We told him we were here before and we liked it so we came back.
He happened to spend time in the states back in 1995.† He lived in Chicago, Richmond, and then Denver.† He wanted to be a falconer, so for that reason he went to Richmond.† Interesting choice of hobbies.
Once again getting off Cres entailed another 1500 ft steep climb and getting onto the mainland was another 1000 ft climb.† Itís Croatia, itís hilly.†
At the top of the hill on Cres we looked to the west and out to sea we spied a massive black cloud.† There was thunder and lightning and the rain was pummeling down onto the water.† It was very dramatic but also worrisome.† We were at the top of the island crest with little cover and we wanted to get down.† So we let Ďer rip as we roared down as fast as possible.† We got to the ferry landing where, this time, there actually was a kiosk for food and cover just as the rain started to pour.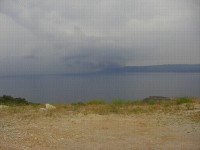 One nasty looking storm heading toward Cres and us
Our timing was just about perfect.† We waited as one ferry departed under a pouring rain and only left on the second.† As we crossed the sky started to clear and the rain began to abate.† By the time we got to the other side the rain was almost stopped.† There were just a few sprinkles that accompanied us up the steep climb and gradual descent toward Rijeka.
A massive front was crawling across all of Europe dropping major amounts of rain along the way.† It was slow moving usually leaving behind 2 days of drenching rain in its wake.† This storm finally caught up with us when we were camped near Rijeka.† Overnight we had one of the heaviest multi hour rains weíve ever experienced.
By this time we were really tired from all the heat and hills.† So this storm provided us with a great excuse to spend some time doing not much of anything.† Every now and then itís good to just veg out.
Weíll head to Italy after the weather clears.
APPENDIX A Ė ROUTE
Croatia
June 6 - Ferry to Dubrovnik
June 9 - Route E65 to turn off to Ston, Side road through Ston to Prapratno, 70.00 km
June 10 - Main road on Peljesac peninsula to turn for Kune, side cutoff by Kune, Main road to Trpanj, Ferry to Ploce, Rt 8 to Zaostrog, 72.90 km
June 11 - Route 8 by Makarska to Baksa Voda, 43.67 km
June 12 - Route E8 past Omis to Stobroc, 47.93 km
June 13 - Back streets thru Split, Rt 8 thru Trogir to Seget, 44.69 km
June 14 - Route 8 to Sibenik, 52.90 km
June 15 - Route 8 past Biograd na Moru to Sv Filip i Jakov, 62.19 km
June 16 - Route 8 to Zadar, back road direct to Razanca, 46.51 kn
June 17 - Pag island main road to Pag, east coast Pag back road to meet back with main road to Novalja, main road to ferry, ferry Ziglieri to Prizna, Route E65 to turn off to Rab ferry, ferry to Rab, Main Rab road to Rab city, 93.20 km
June 18 - Rab main road to Loper, ferries to Krk and Cres, ferry acces road and main road to Cres town, 34.15 km
June 19 - Cres main road to ferry landing, main road to Medveja, 50.88 km
APPENDIX B Ė CAMPSITES, HOTELS
Croatia
June 6: Ferry to Dubrovnik
June 7, 8: Camping Solitude in Dubrovnik (153.50 KN/night)
June 9: Camping Prapratno near Ston (86.00 kn/night)
June 10: Caming Vitter at Zaostrog (109.00 kn/night)
June 11: Camping Baska Voda at Baska Voda (139.80 kn/night)
June 12: Camping Stobroc near Split (117.50 kn/night)
June 13: Camping Vranjica-Belvedere near Seget(105.40Kn/night 5% CCI)
June 14: Camping Solaris at Sibenik (144 kn/night)
June 15: Autocamp Filip in Sv Filip i Jakov (110 kn/night)
June 16: Camping Planik in Razanac (70 kn/night 5% CCI)
June 17: Camping Polvodoro II near Rab (115 kn/night)
June 18: Camping Kovocine nesr Cres (118.70 kn/night 10% CCI)
June 19, 20, 21 kn/night 10%CCI): Camping Medveja near Rijeka (kn
REFERENCES
Lonely Planet Croatia 2010