Off to Scandanavia

Section 1

St. Michael to Hallein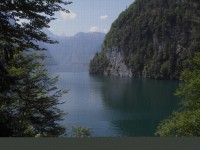 The Königsee as seen from the viewpoint
July 10 to July 11
There was no way we had the energy to ride over the pass going from St. Michael to Radstatt and then again over to Bischoshofen on the Salzach river.  Not a chance.  When you get to the point where your legs muscles hurt just walking up a few steps you know you're absolutely beat.
So we determined we'd take the bus and train.  It was a fairly easy ride back to the town of Tamsweg and we had a couple hours wait until the 1 PM bus for Radstatt. 
To our surprise the bus that showed up was just an oversized van.  We'd been expecting something much bigger.  The bus driver seemed rather upset as well.  Although we weren't sure exactly what the issue was.  He was just in the process of loading the bikes into the middle of the seats on the van when a second bus pulled up.  This was what appeared to be a normal city style bus and it had a sign saying it was headed to Radstatt.  This was the correct bus.
We clambered aboard, piled the bikes into the space normally reserved for the baby carriages, paid our 18.20€ and were off for a 1 1/2 hour ride on this city bus.
What a ride it was.  To get to Rastatt requires passing over one more Alpine mountain pass.  And what a spectacular pass it is.  It's got those high, rugged peaks that we really enjoy viewing.
As usual in Europe the pass has a plethora of services available.  It's a big ski area and there are restaurants, hotels, chair lifts, and all sorts of tourist attractions.  It seems to us that you can not find a pass in Europe that has not been developed with at least one restaurant plus a chair lift.  It must come as quite a shock to Europeans when they first go over a pass in the Rocky Mountains.  We rarely have a restaurant at the top.
The bus dropped us at the train station with just a few minutes to spare before the train arrived.  We quickly purchased 2 people tickets to Bischofhofen plus 2 all day bike tickets. 
Now on the ticket machine there are options for buying bike tickets for one day, one week, or one month.  We paid for the 1 day ticket.  Yet when the conductor checked our tickets he told us that this particular ticket was only valid for the urban train, not intercity.  That would have cost 10€ rather than 5.  He let it pass this time but we still haven't figured out how you can buy one of these bike tickets out of the machine.  Maybe it's not possible.
It was Saturday afternoon and hot and muggy.  So once in Bischofhofen we found a shopping mall, grabbed cold drinks and plunked ourselves down on a bench to wait for cooler temps and for the stores to close.  In Austria the stores will close at 5 PM on Saturday.  So you'd better stock up on food for the next 1/12 days before then or you'll be eating all your meals out.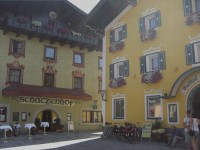 The main square in Bischofhofen
We headed just a bit down river to a campground located right on that Salzach river.  The Salzach goes right through Salzburg.  This particular campground was one of the more unpleasant we've seen in Austria.  Normally it wouldn't be so bad.  It's grassy and has some nice riverside sites.   But its main problem is that this was the start of peak season.  This campground was one of those stop over places that fills to capacity at night only.  And to top it off it had woefully insufficient facilities.  For all the campers there were exactly 3 toilets for men and women and 1 shower each.  Our campsite was a good 2 minute walk at least to the toilet.  It was not at all comfortable.
Beyond Bischofhofen The Salzach winds through a narrow gorge as it leaves the Alps headed for the  Donau river.  Riding through this gorge was quite a highlight of the Salzach river radweg.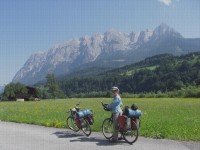 Mountain views as we headed down the Salzach River
So we were thinking that a really great 2 week Austrian bike tour would be:
a. Fly into Vienna and take the train and bus to the pass at Obertauern
b. Ride down from the pass to Radstatt and then on to Bischofhofen
c. Continue down the Salzach to Salzburg
d. Continue down river to the Salzach/Donau river junction at Passau
e. Ride down the Donau to Vienna
With this tour you'd get a good overview of all Austria has to offer and it'd be mostly downhill or flat.  Of course if you really like climbing hills you can do it in the opposite direction.
Just imagine trying to visit Salzburg smack in the middle of high tourist season.  Just imagine trying to negotiate it's winding streets while trying to avoid the swinging arms of dozens of Julie Andrews wannabes.  Imagine jostling and shoving around all those package bus tourists who unload every morning and jam the streets to capacity.  Back in 1999 we visited Salzburg for 4 days in September and even at that time of year it was a crowded city.  Imagine it in mid July.
No thank you.  That's not our cup of tea.
So we decided to stop our down river trek at the nearby town of Hallein.  From here we would turn west and head directly into Germany.
Section 2
Hallein to München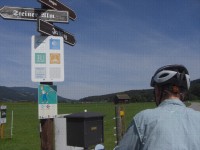 Looking at all the different radwegs along the Bodensee-Königsee radweg
July 12 to July 21
Running along the southern edge of Germany is a route called the Bodensee-Königsee radweg.  It crosses along the toes of the foothills of the Alps having a lot of heavy duty climbs and descents along the way.  In the maps the route heads west to east.  So naturally we started out going east to west.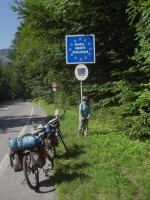 Back in Germany once again
The radweg begins, or ends, at the mountain lake called the Königsee.  This is a long, narrow lake jutting into the mountains that was clearly originally glacier made.  It is a pretty lake surrounded by steep mountains and since it lies mostly within a national park not all its shoreline is developed.  It reminded us a little bit of Lake McDonald in Glacier National Park.
Berchtesgaden, the touristy entry town to the Königsee national park
As with so many natural sites within Germany, the Königsee actually is quite developed and civilized and has been for a long, long time.  A road leads right to the end of the lake where there is a huge, and expanding, parking lot.  You pay to park naturally.  Right here you'll find a McDonald's restaurant.  How they ever managed to get permission to build on that site we'll never know.
As you walk toward the lake you pass through a row of Alpine looking buildings all filled with stores selling tons of tourist junk.  Some things being sold made sense, the usual souvenirs.  But we saw one store dedicated to selling just cheap watches.  We had to wonder just how much of the stuff being sold is really made in Germany.
Beyond all the stores you finally come to the shoreline of the lake.  Now in the US national parks such as Glacier there are boat tours of a lake there'll usually be just one boat.  Maybe, just maybe there'll be two.  Here there were probable at least 8 big tour boats that go out onto the lake all day long.  In addition you can rent canoes, paddle boats, and row boats.  So this lake is by no means an uncrowded experience.  You'll have plenty of company.
We headed out along a couple km trail to one of the main viewpoints.  The part of the lake you can see from the town is just a small bay.  You need to go beyond this, down a trail or on a boat, in order to see the rest of the lake.  It was a nice little walk and the views of the lake are stunning.  But we have to admit we tend to prefer the more isolated lakes of the US Rocky Mountains.  Those are the lakes that you really have to work at to get to.
Leaving the Königsee and all its tourists behind, we once again headed back north and away from the high Alpine mountains.  The route at this point is following along the rolling foothills of the mountains past open green fields, cute Bavarian villages, and tall onion dome steeple churches.
The houses were the stereotypical Bavarian/Swiss chalet style with the white stucco, brown porches, and lots of flowers.  It almost seemed there was a rivalry between owners as to who had the most flower bedecked porches.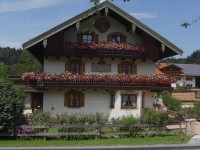 A very typical Bavarian house
The towns all have their main square surrounded by pastel colored buildings often having elaborate paintings on the walls.  The center of the square will boast an old town fountain and often some tall pillar with a statue to some saint on top.  The square garden is always meticulously maintained.  One thing you can say about these Bavarian Germans, they sure do take care of their gardens both public and private.
Always somewhere in town you will find the Maypole.  This seems to be a Bavarian unique tradition that extends from Germany into Austria.  It seems the poles are erected every spring during some big spring fest.  They can be as simple as a stripped tree log with a small pine tree strapped to the top to a pole bearing special medallions relating to crafts or other town activities.  The poles can be plain wood, painted blue and white candy striped, covered with carved bark, have a wreath of pine around the top, be topped with a little pine tree, have just a few metal medallions attached on the sides, have dozens of fancy 3D wood medallions.  Fancy or simple it seems every Bavarian town has one of these poles smack in the center somewhere.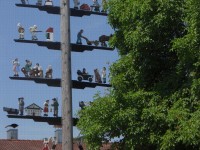 Part of a Maypole.  I like the fellow with the green car on the right.
not too far past the town of Anger we passed what is called the stiftskirch St. Peter and Paul.  From one side it appears to be one of your typical dome steeple, white stucco affairs.  But this seems to be a much bigger church than normal.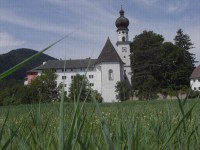 Stiftskirche St. Peter and Paul
The stiftskirche sits in an ideal location on the shore of a small lake.  Rather than being just a single church building it appears to be an entire compound.  There's a central courtyard with what could easily have been monks quarters surrounding it if it were a monastery.  The main church is on one side.  The décor of the church is plainly Baroque.  It has a stunning decoration hanging from the center of the ceiling that really sets it off.  Although many of the churches along the way begin to look alike, this particular one was unique enough to warrant several photos.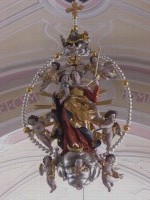 Interesting decoration hanging in St. Peter and St. Paul
Beer is a regular institution throughout Bavaria.  After all this is where the Biergarten really finds its home.
We understand that the biergarten has its origin with the breweries.  They used to store the beer in their shaded gardens.  Folks would then come around to buy the beer and decide to sample right there.  Soon the owners were adding table, chairs, food, and other services making the biergarten essentially an open air restaurant.  So while England may have their pubs, Bavaria has their biergartens.  And you'll find them absolutely everywhere.
This is also where you'll find a brewery in almost every other small town.  There are also many brewery museums scattered about.  Of course every one costs several euros to visit and since any signs and explanations would only be in German we decided not to participate.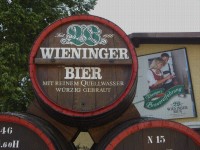 Ah beer.  Favorite drink of Bavaria.
The radweg continues along small country and often forest roads.  The hills were steep and many.  This is, after all, a route that goes across the foothills rather than along them.  So when we had just climbed up one rocky steep road to find we weren't in the right location and had to go back, we weren't exactly thrilled.  Actually this was a detour.  The original route was blocked.  But we weren't sure.  So we rode back down the hill, passing 3 old ladies who were out for a hike a second time.  We got to the blocked road and realized we were in the right direction after all.  So back up the hill we went, passing the 3 ladies for the 3rd time.  They were really getting a kick out of our back and forth.  Fortunately this was the top of the hill and from here it was just downhill all the way into the town of Bad Tölz.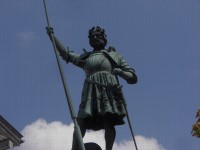 Quite a statue in Bad Tölz
Bad Tölz is located just about 50 km south of the large city of München.  Our original plans had been to continue on to the Bodensee.  Because we would be staying within the Schengen visa zone for over 3 months we needed to do something to make our stay legal.  This would require getting a temporary German residence.  An office in Waldshut past the Bodensee had told us they could do it.  So we had thought of going on to Waldshut.
With all the hill riding plus delays back in Greece we were running about a week behind our plan.  We wanted to get up to Scandanavia before August so we'd have at least the full month when, hopefully, the weather would be good.  Also, we were getting tire of riding hills and we had a lot of tasks that needed attention.  Continuing on to Waldshut just seemed out of the question.  So we turned north and headed to München.
We had so many things to do and find.  We had to call the foreign residence office in Starnberg to make an appointment to get a residence permit.  They also had said they could give it to us.  This  was made for 9AM on July 21. 
Then we were looking to replace a broken Nalgene bottle, ripped and yellowed Ortleib map pockets, and a clip for the GPS.  These were 3 things that we expected to be very difficult if not impossible to find.  We got lucky, we found all three in a store called Shusters, one real find.
It was a lot of work getting all these odds and ends taken care of and it took close to a week to do.  So we decided it was time to take the fast route to Denmark.  We rented a car for one day and drove like crazy to the German town of Flensburg.  From here we'd take on Scandanavia and begin the second half of our summer biking adventure.
APPENDIX A – ROUTE
Austria
July 10 - Mur radweg to Tamsweg, bus and train to Bischofhofen, Taurenradweg to Pfarrwerfen, 25.59 km
July 11 - Tauren radweg to Hallein, 41.51 km
Germany
July 12 - Rt 159 to back road to Rt 160 and Germany border, Rt 305 to Berchtesgaden, Bike trail to Königsee and back, Königsee-Bodensee radwegbto Piding, 56.45 km
July 13 - Königsee-Bodensee radweg to Bergen, 51.95 km
July 14 - Königsee Bodensee radweg to Bad Feilnbach, 65.46 km
July 15 - Königsee Bodensee radweg to Bad Tolz, 72.31 km
July 16 - Königsee Bodensee radweg back to Bad Tölz, Isar radweg to Munich, 63.78 km
July 20 - Isar radweg to Grünwald, Raflring Müchen to Rt 95, Bike path to Starnberg, roads to Ambach, 49.93 km
July 21 - Bike path to Starnberg, back roads thru Perchting, Drößling to Seefeld, back roads thru Unering, Perchting to Starnberg, back to München same way, 77.46 km
July 22 - 9.00 km
APPENDIX B – CAMPSITES, HOTELS
Austria
July 10: Camp Vierthaler in Pfarrwerfen (12.80 €/night)
July 11: Camping Auwirt in Hallein (17.80 €/night)
Germany
July 12: Campingplatz Staufeneck in Piding (17.00 €/night)
July 13: Campingplatz Wagnerhof in Bergen (18.00 €/night)
July 14: Tenda camping park in Bad Feilnbach (19.50 €/night)
July 15: Camping near Bad Tölz (15.75 €/night)
July 16 - 19, Campingplatz Thalkirchen in Munich (15.40 €/night)
July 20: Gastcamping Hirth in Ambach (18.00 €/night)
July 21: Campingplatz Thalkirchen in Munich (15.40 €/night)
July 22: Hotel Etap in Handwitt (54.00 €/night)
REFERENCES
Lonely Planet Central Europe 2010