GREAT DIVIDE BIKE ROUTE SECTION 4
Dillon, CO to Platoro, CO
Sept. 1 to Sept 16, 2000
32,383 miles (52,231 km) cumulative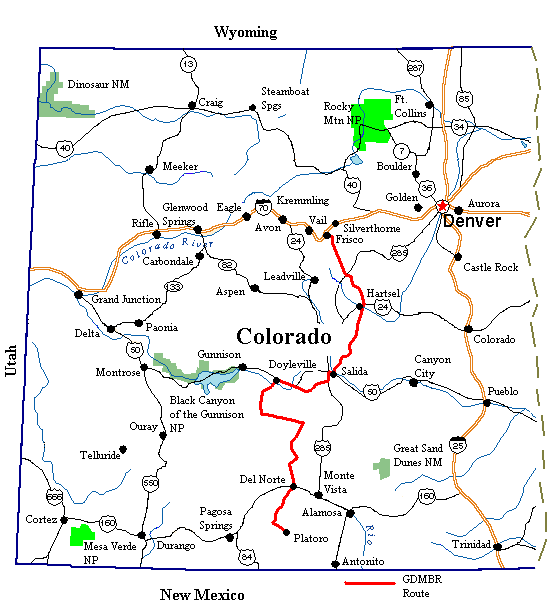 Teasers:
| | |
| --- | --- |
| | Rail beds and rail remains graces our route to Como |
| | Nutty people drive out into nowhere with no map |
| | Salida is a nice town for a breather |
| | Another rail bed to Marhall Pass, if only they all could be |
| | Failed attempt at the Marshall to Monarch trail |
| | Meet rustic rancher Larry and his hoard of dogs |
| | How many ways to kill a generator and its owner |
| | Casa de Madera Sports in Del Norte is a must stop |
| | Meet Niles, a Argentina to Montana rider |
| | Iron mountains and creeks and a huge superfund clean-up |
"We shall never be content until each man makes his own weather and keeps it to himself."
Jerome K. Jerome, "On the Weather," The Idle Thoughts of an Idle Fellow (1889)
GDMBR Day 43 - To Kirkland Campground, Section 4 Map A
Boy did we get a late start. One thing lead to another and before we knew it it was 1 PM and we'd only gotten as far as Breckenridge. First there was a broken spoke to attend to. Normally we'd fix it ourselves giving it an approximate truing using the brake pads for alignment. However, there would be only one more bike shop, in Salida, before Silver City, NM, a distance of well over 500 miles. Over the years we've often found that once a spoke breaks the tension of a wheel gets screwed up and soon more and more spokes keep on breaking. Therefore, we decided to give the wheel a proper truing with the hope it would last until New Mexico. Then there was shopping, food at the grocery store, odds and ends at Wal-Mart, some camping supplies, gas, and lunch.
Next we ran into another long term biker, Scott from St. Louis. Now Scott was just 1 1/2 months into one unusual tour. He tells us that back in 1904 there were a couple of fellows, one news reporter and a photographer, who, for some unfathomable reason, decided to take a tour throughout the US, which consisted of only 48 states and territories at that time, touching on every one. At first they considered several modes of transportation; horse, foot, and wagon. They finally settled on bicycles. These weren't today's fancy twenty something speed mountain bikes. These were single speed, super heavy, 1904 style, safety bikes. They each carried one bag suspended under the top tube within the triangle and a handle bar bag into which they somehow manage to cram everything they needed. We need to remember that in the west the only roads were basically wagon ruts and walking trails. In fact, the last recorded wagon train crossing on the Oregon Trail was in 1912. So their route was primitive to say the least. The towns they visited were mining camps or rail supply depots. Just imagine the town of Denver in 1904. The entire trip took 1 1/2 years to complete. They wrote a book we'd like to read, "Around the United States by Bicycle," by Charles Murphy.
Scott, from St. Louis, has decided to recreate this bike ride using modern bike gear and modern roads. He makes comparisons between what the 1904 bikers experienced and what exists today. I'm sure there are some towns whose inhabitants today are only ghosts. Other towns have become major cities, Denver for one.
Our final delay of the day was another one of those violent afternoon rain storms. This time we had just barely started the climb out of Breckenridge. Again we got lucky. A hillside lodge provided shelter for the 1/2 hour or so that we waited out the storm. I just know that sometime our luck will run out and we'll get absolutely drenched. But, for this day we stayed dry.
It was mid afternoon by the time we finally started the real climb up Boreas Pass. Fortunately this was one of the easiest 2300 ft. climbs along the whole route. Back in the 1880s a railroad was built between the mining towns of Denver, Leadville, Como, and Breckenridge. The last train ran in 1938, tearing up the tracks behind as it went, and a few years later the county regraded the old rail bed turning it into a dirt road. This road, over Boreas pass, is a well graded, smooth, 2% gradual climb and another 2% descent. An easy grunt compared to the rest of the mountain passes. There's even interesting things to see along the way; Baker's tank, a reconstructed water tank for the railroad, the reconstructed depot and mail hut right at the pass, and the renovated stone round house at Como. Too bad we were so late and had to rush down the pass.
GDMBR Day 44 - To mile 1517
Having headed off route 2 miles and many hundred feet downhill to the campground we were not about to reclimb that dirt road just to continue on the old railroad bed. Instead we chose to take an even rougher dirt road through the valley for a couple miles to meet up with the rail bed a bit further down. So it wasn't exactly on the GDMBR route, but it was off-road dirt riding just the same. It even included one stream crossing that the other route didn't. I'd have to say it was even more "off-road" than the actual route. We'll count it as part of the GDMBR just the same.
It was downhill to Como and then rolling hills to Hartsel and beyond. There were no trees, just open "elbow room" as the map called it. The winds were howling out of the southwest for the entire day and there wasn't a tree or shrub tall enough to stop or slow it. It was a headwind for the whole distance. A strong, gusting headwind. From Como to the intersection with the busy Rt. 24 the road was smooth and traffic reasonably light especially considering it was a busy holiday weekend. But, Rt. 24 was just a continual stream of cars and we had to turn right directly into that strong headwind. It was only 4.5 miles to Hartsel, but it felt like a hundred miles by the time we pulled in.
Water. That ever essential liquid was not to be had for free in Hartsel. Due to the drought their wells were low and their wells are always nonpotable anyway. Fortunately the Hartsel Merc sells gallons of drinking water for a not too unreasonable price, $.85. They're friendly people in the Merc and I'm sure they'd give free water if they could. So we bought 2 gallons and the usual ice cream treat and headed on into the headwind once again.
Someone was really planning for a major development just south of Hartsel along County Rt. 50. Overgrown dirt roads that dead ended into the hills run everywhere. A few houses have been built edging up into the few tree topped hills. But, for the most part these roads lead nowhere. They all have green with white lettering street signs bearing such strange names as Nipmuck Terrace. Perhaps these folks had hoped to cash in on the big bucks being realized in places like Steamboat and Silverthorne. However, without the advantage of a local ski area, there isn't much to attract potential buyers. As Brian said, "Would you want to live here." No. It was a grandiose, real estate scheme that seems to have reached a dead end. However, the side roads did provide us easy access to a quiet campsite amid a small aspen grove with great views of the surrounding hills.
GDMBR Day 45 - To Salida, 2 days rest
We got about 6 miles down the road before the winds once again picked up. Headwinds again. So even though the climbs weren't all that tough, we would still be completely drained at the end of the day just due to headwinds. At least it was cool and overcast in this 9500 ft. high valley. So even though we were just crawling along at a snail's pace and working hard to fight the winds, we didn't need nearly as much water as we'd feared. Thank goodness for small favors. The road surface was reasonable and the hills just short rollers leading up to one last major steep climb before the huge descent into Salida. If it weren't for the winds it wouldn't have been all that tough a day.
We were stopped by the road taking a drink and trying to decide where we could stop for a snack in a sheltered place. Behind us comes an old, light blue Jeep. It slides to a halt next to us and the woman calls out, "Do you know where we are?" Brian replies, "We know where we are, but not where you are." They were looking for something called the Ute trail and wanted to head for Hartsel, exactly the opposite direction they were going. It always amazes us that time and again people will pull up to us to ask directions. Why in the world would they be headed out into these remote areas without a good map is beyond us. It'd be so easy to get lost, run out of gas, and be stuck. I'd be willing to bet they don't carry water, emergency camping gear, or anything to get them out of a sticky situation. People sure do dumb things.
The last climb over the watershed divide just before an amazing descent to Salida was one super tough grunt. Part was a pusher, at least for Brian. His arms are a lot stronger than mine and he finds pushing up those super steep sections easier than trying to pedal. I find that it's just too hard on my arms. My legs can push up almost anything as long as I can keep my balance and as long as the wheels don't slip. Once that happens, however, forget it. There's no way I can get started again. So I just kept huffing at an astounding 2 mph. One thing about this route, one gets very, very good at balancing on a super slow moving bike.
Reaching the top we were treated to one of the most astounding views. Unique among all the states, Colorado is home to over 40 mountains with peaks exceeding 14 K ft. The mountain range that greeted us, the Sawatch, are graced with 6 of these peaks. Starting from the south there's Mt. Antero, 14,269 ft., Mt. Princeton, 14,197 ft., Mt Yale, 14,194 ft., Mt. Harvard, 14,414 ft., La Plata Peak, 14,361 ft., and Mt. Elbert, 14,433 ft. Mt Elbert is the second highest peak in the entire continental U.S. From our vantage we could see that the clouds were just barely scraping over the tops of the tallest Mt. Harvard and Mt. Elbert. What a sight, this mammoth range of treeless peaks stretching as far as we could see both north and south with a lush green valley in the middle. We were able to enjoy the view for the long, long descent right into the town of Salida where we promptly found a campground. Over the next week we would be climbing no less than 3 greater than 10,000 ft. passes. So a long 2 day rest was an absolute must.
GDMBR Day 46 - To Marshall Pass, Section 4 Map B
Salida is said to have one of the largest historic downtown areas in all Colorado. Even still it really is only a few blocks length and width. There are many interesting old brick buildings lining the main downtown business area. We saw one from 1889 and another from 1903, dates carved in stone on the face of each building. The houses in the immediate area of the business district look like architecture from the 1920s and 1930s. Blocky looking buildings with highly sloping roofs and the big porch out in front. I was reminded of my grandparent's old neighborhood in Buffalo, NY. Businesses in the downtown area run toward what I would call the old hippie tastes, a lot of art galleries, coffee shops, and outdoor sporting goods stores. You get the feeling the town is being preserved as a look back to the past while the main, modern business has been relegated to the Rt. 50 bypass. Out there you find the modern hotels and motels, fast food restaurants, family diners, and the Wal-Mart supercenter. So at least we did find plenty of services to gather together enough supplies for the next 6 days out in the boonies.
Another railroad grade? No way. Couldn't be. Yet there it was. Another major pass climb over an easy railroad grade. By the time we had ridden the 5 miles up to Poncha Springs and then another 4.5 miles to the start of the dirt road to Marshall Pass we had already climbed at least 1000 ft. It was an easy grade on pavement that would have been an absolute piece of cake if it hadn't been for the usual westerly headwind. From this point for the next 24 miles or so we had just a long gentle climb up the 2 to 3% old rail grade. It curls around lake O'Havar which is .5 miles and a good 300 ft up off the route, then winds its way up the sides of the mountain finally peaking out at the pass. Here the railroad engineers dug a trench into the pass which I hear used to have a wooden snowshed cover over it. There used to be 35 men living at the pass whose job was keeping the rail line open and the trains running.
There's evidence of the old railroad everywhere. At one point the modern dirt road rests on a series of rail ties now lying embedded within the dirt road surface. If you watch the road carefully you'll catch glimpses of old rail spikes and even old fashioned hand made nails. There's evidence of water tanks, sheds, loading platforms, and other rail related buildings all along the route. It's an historical railroad fan's paradise. For us, we were just thrilled to have a 3800 ft. climb that was so easy. We're not expecting our next 4000 ft. climb out of Del Norte to be nearly so simple.
There is a trail going from Marshall Pass the 10.5 miles over to the much higher Monarch Pass. It's a 10 mile section that combines the Continental Divide National Scenic Trail and the Colorado Trail. It takes you across the mountain ridges through some open alpine meadows affording some of the most dramatic mountain views in southern Colorado. In addition, it's quite popular as a technical mountain bike trail. Most people get a shuttle ride up to Monarch, ride over to Marshall, and then down the railroad grade back to Salida. We decided to spend an extra day on the pass to try to ride the crest trail from Marshall Pass to Monarch Pass and back. No this is not an easy ride. It's quite technical having large boulders and roots for most of its length. Also, when going Marshall to Monarch there's a good elevation gain of close to 1000 ft. One more difficulty in completing the trail on this particular day were the afternoon thundershowers that had been ravaging the Colorado mountains for weeks. They were always accompanied with lightening and were often quite violent. We knew we would have to ride over and back in about 4 to 5 hours if we were to be under cover before the afternoon rain. It would be a challenge.
Well, we pushed and dragged the bikes up the hills, over the boulders, across the loose rocks for close to 1 1/2 hours. It was definitely tough going especially for 2 people who are not practiced in the art of technical mountain bike riding. Finally, at about 4 miles out, Brian was flipped off the bike and landed smack on his right knee. Ouch! It didn't seem too serious, but it did swell noticeably and stiffened. Bending his knee to pedal the bike became rather painful. So we turned around and headed back, walking the entire way as Brian could not ride. We arrived back at camp at about 1:30 in the afternoon just in time to slip under cover as the afternoon rains came down 2 hours earlier than normal. We've concluded this is a trail we'll have to consider coming back to do at a later date, when there aren't afternoon showers and when we don't still have 900 miles more distance to complete on a tour. If we don't have to worry so much about destroying the bikes or getting really injured there'd be a lot less incentive to be so cautious. In the mean time, we still have the GDMBR to complete.
GDMBR Day 47 - To mile 1611.3
Stormy skies with blotches of sunshine greeted us in the morning. There was a crisp bite in the air and a chilling wind from the north. Leaves on the aspen trees were showing their fall colors, rusty orange to sunny yellow. Jackets were a must for the long 16 mile gradual decent to the town of Sargents. Fall was in the air. There's something about the change in season from summer to fall that one simply feels deep down. You don't need a calendar; just the subtle change in temperature, shortening days, color on the trees and every ounce of your body will tell you, summer's over. Time to get out the winter woolies.
There was only about 1/4 mile to the top of the pass, the blasted out notch that used to have the wooden snow shed, and then we had a glorious 16 mile, gradual descent along the smooth old railroad bed right to the tiny town of Sargents. Along the route we were treated to fabulous vistas of the 12,000 ft. and higher surrounding mountain peaks. The dark green slopes were now dotted with bits of yellow and orange where small stands of aspen had changed color. It wouldn't be to long before those small dots would become orange and yellow covered hillsides. Much of the road follows the route of the meandering Marshall Creek. Although it's rather hard to call it just a creek anymore. It's literally lined with beaver dams, one after the other, cascading the entire length of the creek until it leaves the forest. They are amazing feats of natural engineering, some being over 30 ft. in length and 3 to 4 ft. in height. There were so many that the creek was literally standing still behind all those beaver ponds. Water from one dam cascades into the next pond downstream. There must be at least 30 or 40 beaver clans living on this one creek. Beavers may have been on the brink of extinction at one time, but certainly not any more.
Sargents is clearly a former rail service town as evidenced by the large water tank rusting away at its center. It appears to have been quite prosperous at one point as it even has what appears to be a grand old brick government style building. Today it now is pretty much a purely residential community housing, I suppose, ranch workers and commuters to the much larger Gunnison just 30 miles further west. Its only commercial facility for travelers on the busy Rt. 50 is an old style gas station/grocery store, and cafe. There are also 3 very basic rooms for rent that seem to be favorites of the hunters. The grocery store is teeny tiny carrying mostly snack food, sodas, ice cream, and a few other items. You'd be able to make some sort of meal from what they had available, hot dogs and beans for instance, but certainly nothing gourmet. The cafe serves mostly burgers and pies, although you can get grilled ham and cheese as well. We went for a tummy busting burger called the "sloppy", hamburger patty on a roll smothered with chili and cheese. That along with a side order of home fries and we were well fueled for the rest of the day. Although the prices are quite steep, $5.00 for each Sloppy. The owners seemed to be reserved, nice but not the down-home welcoming types. Oh well, they're just running a business not trying to be everybody's pals. I just think that if we were in a car we probably wouldn't have stopped.
There were 12 miles down the paved Rt. 50 with a great tailwind before the turn at Doyleville which is basically 4 houses at an intersection. The road was fabulous, unlike almost any Colorado paved road we'd seen so far. Just this year they'd been repaving major portions of this section and much to our surprise they've added a huge, Wyoming style shoulder. There's room enough for 3 bikes abreast let alone one. We'd been expecting no shoulder or at most a gravel one, so this was a pleasant surprise.
The left turn at Doyleville took us up over scrub covered hills, along a green grass filled valley, past lots of large ranches. We'd ridden about 5 miles and decided it was time to start looking for a campsite. That's not an easy task when all the grassy areas are fenced off by the ranches and the hills are all scrub covered. So we continued on and on, going an extra 5 miles and climbing right to the top of the ridge between Doyleville and Rt. 114. Finally, off to the right, we spotted a small cluster of pine trees, the first trees within close access to the road we'd seen since the turn. There was even a vague 2 track trail leading down the hill into the trees. Ah ha, we thought, here's our potential campsites. True enough, just 1/4 mile off the road, barely into the trees we found the remains of 2 separate campsites. Remains being the tell tale rock fire ring and a cleared spot just large enough for a tent. It was a reasonable campsite with great views, what more could we want.
All day long we'd been watching dark clouds skid across the sky heading generally southwest to northeast. But, we'd been lucky. They'd floated on past our current position to drop their burden of water over the much higher mountains at our back. However, our luck was not to hold. Once again we found we'd just barely gotten the tent up and secured when the rains began to fall. We covered the bikes, dove inside, and listened to the radio while lightening and thunder played all around. Within an hour, the usual time span, the storm had stopped, the sky had cleared, and it had become downright cold. Off in the distance towered the rocky peaks of the high Colorado mountains. When the clouds cleared and the sun shone on these crags we could see a new dusting of snow. Summer's clearly over.
GDMBR Day 48 - To Luders Creek Campground
He came rattling up the road in an ancient, light blue, ranch pick-up truck with no less than 5 ranch dogs standing precariously on the side rails of the truck bed. It's one of those trucks that looks like it's ready to growl it's last rumble and die right where it sits. Yet somehow it manages to keep on running year-after-year. Larry, the old rancher sitting at the wheel, looked about the same as the truck. He was a rough, tough, tobaccy spittin, rancher with blue eyes that have paled with age, wild gray hair, and a well worn, white straw cowboy hat. Like his truck, Larry also seems to be the kind who keeps going and going. We'd just stopped at the corner of a steep switchback just before finishing the climb up Cochetopa Pass when he brought his rattlin truck to a halt and commented, "Taking a break."
It'd been an easy ride so far. Downhill from our campsite on more smooth road, a little over a mile of pavement, and then an unbelievably gradual climb on another great dirt road through more scrub lands to just within a couple miles of the pass. Then we hit that sharp switchback and a steep climb. Larry told us that this county road used to be the main Rt. 114 going between Gunnison and the San Juan valley until they built a newer road just a bit further north. This would explain why it's so wide and has such a gentle grade. In addition, the San Juan valley is the largest high valley in the Rockies. Roads leading up to the surrounding passes have short, gentle climbs. But, once beyond the valley and passes, it's a steep downhill no matter which way you go. Larry told us that this Cochetopa pass is one of the gentlest along the entire length of the Continental Divide.
Larry, the rancher, has been around these parts all his life. Currently he's running cattle on the west side of Cochetopa pass on leased land from the Forest Service. He happened to be out checking on his cattle which were standing all around us. The cows were behaving themselves this particular day. They were all where they supposed to be. However, Larry said the dogs were mad because they didn't get to chase any cows. I guess they live for cow chasing. Larry was also a game warden at one time. He grinned as he explained how he'd delight in writing big tickets for certain violations. His favorite, having a loaded gun near a vehicle. Evidently most accidents with guns happen around vehicles. Particularly, they lean a loaded gun against a truck, it falls over and goes off. Bye-bye hunter. He also delighted in giving tickets for hunters who are hunting while drunk. He even gives the new, young game wardens trouble. One time one of them wanted to check his guns. He says, "Fine. And after you check my guns I'll check yours. Cause I was game warden long before you were out of diapers." That particular warden never did check Larry's guns.
Larry is partial to the hikers and bikers along the Continental Divide trail. From where we stood the CDNST entered the road just up the hill a way, followed the road around the switchback loops, and headed off into the woods again down in the valley. Larry has a fence and gate up on the trail, one he uses to access his leased grazing lands. Each spring he takes his truck on up the trail, cleans the trail off along the way, and unsticks the gate. It tends to rust shut every year. It's sure nice to know that some of the ranchers aren't anti-bicyclists. Motorcycles, on the other hand, he'd just as soon do without. He says, "It wouldn't be so bad if they stayed on the roads and trails. But, they'll take those durn ATVs up any hill they see just to see if it'll do it." He says he's amazed they actually let motorcycles on the Colorado and CDNST trails. ATVers seem to be getting a bad reputation with just about everyone, except other ATVers that is.
Now Larry's been in this area of southern Colorado forever and he's been a rancher for just about as long. So you'd think he'd know something about the southern Colorado climate. He told us that each fall it gets real cold. Usually before September 3rd they'll have their first hard freeze. Then it'll get sunny, hot, and dry for about another 30 days before winter really sets in. On this day he looked off the the west and said, "It ain't gonna rain today." He was right, it didn't. In fact for the next several days the sun came out, it got warm in the afternoon, and then real chilly at night. But, at long last that cycle of afternoon thundershowers came to an end. So it was beginning to look as though we'd manage to get through the high elevations before seeing the snow fly, that is if our luck with the weather holds.
Larry started up his ancient, rattle trap truck, which much to our surprise started right up. As he drove off the cadre of dogs in the back started up a chorus of song. The last we saw of the gang, Larry's arm was waving out the window and we heard the gruff rancher voice yelling, "Shut up back there."
From where Larry left us we had just a short climb to the Cochetopa pass where a plaque commemorates the historic stage line that used to pass through here. Then it was downhill to Luders Creek campground, a nice tree covered campground adjacent to a wide open field. It doesn't have a water pump, or at least the old Baker Mfg. Monitor hand pump was missing its handle. There was, however, a nice spring surrounded by a fence to keep cattle out located at the back of the campground. So we had everything we could possibly want, table, pit toilet, and spring water all for just a donation.
GDMBR Day 49 - To Storm King Campground, Rio Grande NF
The woods are lovely, dark and deep.
But I have promises to keep,
And miles to go before I sleep,
And miles to go before I sleep.
Robert Frost, Stopping by the Woods on a Snowy Evening, 1923
You would think that being out in the middle of the woods that you could expect a nice, quiet night with nothing but the occasional howl of a coyote breaking up the stillness. Normally that's what we experience. However, on this night we encountered one of the worst "outdoorsmen/hunter" types ever. Luders Creek CG is small, a total of only 6 sites. Three of these were already occupied by hunters, we took the forth, and the other 2 closer to the road remained empty. One of the hunter groups had a trailer and 2 very large tents. Another had a larger trailer, 2 trucks, a flatbed trailer for equipment, and an old jeep. This second group were the smartest as they all wore bright orange vests and hats so they wouldn't get accidentally shot. The third group, consisting of 3 men wearing the stupid green camouflage outfits, were staying in what looked like a homemade 5th wheel RV. They had an enormous truck to tow the RV and an old jeep that was loaded into the back of the RV for travel. This third group were the ones who were the trouble.
When we had arrived at the campground everyone was out in the woods doing their hunting and shooting thing. It was dead quiet, just what we'd hoped for. In the evening, when everyone was back at camp, the second and third groups turned on generators. Generators are not something we go out into the wilderness to listen to. Close up they can be so loud you have to yell to speak over them. At a few hundred feet distance they sound like overgrown lawn mowers. Usually when in a public campground RVers with generators will run them only for a few hours in the evening while they are doing things that require a lot of power. At 10 PM they always turn them off, at least up until this night. The second group with the trailer did turn theirs off. The third with the 5th wheel did not. On and on it droned as the clock ticked to 11 PM, 12 PM, 12:30 AM.
Finally I could stand it no more. I got up, dressed, walked over, and banged as loud as I could on their door. When a man wearing the stupidest looking boxer shorts and a khaki colored T-shirt answered, I yelled, "Could you please turn that thing off. It's too loud." Yelling was the only way to be heard above the noise. He replied, "It's running our furnace." "Don't you have blankets in there.", I piped back. "Uh, yes." "I'm sleeping on the ground in just a sleeping bag and I'm warm.", I shot back and left. Did he turn it off? No way. So I lay in the sleeping bag all night, listening to the drone of the machine, thinking of all the nasty things I could do. Let air out of the jeep tires, put sand in the gas tank of the generator, figure out a way to let the oil out, unplug it from the RV, just turn it off, leave a note saying they're they're just a bunch of wussy old women. By morning my head felt like it'd been pounded by a hammer all night long, the sound version of Chinese water torture. In all our years camping we've never encountered anyone so inconsiderate, stupid, brain dead, rude, and just plain mean. May we never encounter someone like that again or I may be inclined to take action next time.
We had a great downhill from the campground. First a smooth dirt road and then about 6 miles pavement, all with a tailwind. Then, a right turn lead to the long and sometimes quite steep climb up to Carnera Pass. It's one of those climbs where it starts out with a nice gradual 3% climb, then has a good mile of around 8%, then another few miles gradual, another mile or so steep, gradual, and finally one last steep grunt to the top. All things considered, we find this kind of climb much more tiring than just a continual 2 to 3% grade. That, combined with a night of no sleep, and I was ready to take the afternoon off. We pulled into Storm King Campground, which, by the way, does have a water pump in summer months despite what the maps say, and took an afternoon nap.
GDMBR Day 50 - To Del Norte, 2 days rest
We hadn't seen much washboarded roads since leaving Wyoming. So we were a little surprised to find a lot of washboard on this segment. As we progressed downhill into the amazing canyon just below the Storm King Campground, the washboard got worse and worse. This is a popular road and the dirt is more of a loose sand rather than the hardpacked clay found in the higher elevations. We had 3 miles of pavement as we headed toward the town of La Garita and then more rough washboarded road as we turned away. We didn't leave the washboard until just before we left the primary gravel roads to go rolling up and down the fun 2 track 4X4 NF route 665. With weeks of smooth riding, I'd almost forgotten how much rough washboard can rattle your teeth, almost forgotten but not quite.
It's quite a ride of contrasts from storm King CG into Del Norte. You start the morning amid tall pines and aspens. Head down the canyon through pinion and juniper forests. As you ride up Old Woman Creek road you head out through desert scrub with just pockets of pinion and juniper scattered about. Finally you descend into the tree lined Rio Grande valley. The 4X4 NF route 665 is a great treat. It's an easy to ride, roller coaster dirt road for much of its distance. There are only occasional rocky spots, locations where the road goes up and over old volcano lava flows. Here the brown dirt is replaced with black lava rocks. Even these locations are easy to negotiate with a loaded bike. Views are tremendous. There are red canyons and cliffs all around, each one unique and inspiring. We'd heard that a lot of riders will stay on the wider, easier to ride, and shorter gravel road into De Norte. But, they're really missing a treat. Stick to the route and you'll be in for some special experiences.
Del Norte is a nice, little town spread for about a mile along the not too busy Rt 160. It's a great place to rest. Fortunately, the RV park that used to be closed is once again open and charges a reasonable fee of $10 per tent. There's just about anything you could want in town. Casa de Madera sporting goods, owned by a man named Alex Coleville, is a definite stop. What a wonderful man. Our water filter had broken and we were all set to buy a new one from him. Instead he let us call the manufacturer who authorized him to make the replacement from one he had in stock. It meant he lost a sale, but we'll be recommending his store to everyone we meet. He keeps a register of all bikers and rock climbers who pass through, will give all kinds of advice on things like where to find water, even lets you camp in the empty lot next to the store if you so want. Everyone in town knows Alex and they're quick to tell you, "Go see Alex Coleville, he'll help you out." He's the kind of man who'll do what's right even if it doesn't seem to make good business sense. It's nice to have folks like him around.
There are also 2 very good grocery stores in town, Jack's just down the street from Casa de Madera, and Scaffs, the larger store further east on Rt 160. There are several restaurants, none particularly that noteworthy, the National Forest office where they'll gladly try to answer questions about where to find water, an interesting county museum, one and only one laundromat, and a library with 2 internet access computers you can use as long as you want until someone else stands in line. The only thing missing was a hardware store. Oh well, we'll have to wait on that.
GDMBR Day 51 - to Mile 1723
This was it, the day we'd been waiting for with some trepidation over the entire length of the trail. Right out of Del Norte we turned left on Pinos Creek Rd and start the long 4,000 ft. climb to the summit of Indiana Pass, elevation 11,910 ft. It's the highest pass and the highest climb along the entire length of the route. We'd also heard that it was also one of the toughest. It's not one of your old rail bed grades. At first the climb was relatively gradual along a paved route. After 11 miles we'd just barely left the dry, scrub lower hillsides and entered the juniper and pinon pine forests. Then the pavement stopped right at a ranch with a huge, green metal barn. The road immediately headed up at a leg busting slope. It didn't quit either. For the rest of the ride up to the pass we would spend most our time cranking at a slow 2 mph pace, just creeping up the hill. Having to carry 5 gallons of water and 6 days extra food didn't help the climb one bit.
Part way up, just before we left the pavement, we met our second person going from south to north. Niles Guthrie, a slim man in his late 20s with flaming red hair, beard, and moustache, was wearing well worn brown pants and green T-shirt. It was clear he'd been on a long journey, longer than we'd imagined at first. Last year just before October he'd boarded a flight for southern Argentina and then started heading north. He'd ridden through Argentina, Chili, Peru, Ecuador, even Columbia. Then through Central America and Mexico. His plan now was to ride the GDMBR to Whitefish and then head over to Seattle where he'd finish out his year long tour. Being in the process of planning a South American adventure of our own for next winter, we naturally had a variety of questions. But we also had to question his sanity of heading north on the GDMBR so late in the year. Right now the weather is great. But, if our calculations are correct, he will be trying to cross the Cascade mountains in November. There's no way you could get me to do such a thing. I guarantee he'll see a lot of snowy weather. He was headed to Del Norte and the RV park. We wished he had shown up a day earlier as we would have loved to sit and talk more about his experiences. But, we had to move on in our separate directions. After exchanging email addresses we said, "Good luck" and pushed on upward.
Once we started up the hard slope we quickly left the juniper and pinon pines and the lower elevation aspens to find ourselves amongst the high pine forests. Views of the surrounding mountains and the valley below grew better and better the higher we went. Fall colors were starting to really show. The dots of yellow aspens had grown to large golden groves. After about 7 miles hard peddling we found a nice campsite on a ridge with fabulous views. We'd concluded that riding only part way up the pass and finishing the next day would be a wise approach. So we stopped early, pitched the tent, and took the rest of the day off.
GDMBR Day 52 - To Stunner Campground
The day started early with a rush hour. At least 5 cars passed by our campsite in the space of no more than 15 minutes, which is a rush hour for the Forest Service. We soon followed their upward path. We had no more than 4 miles up the nice, smooth dirt road to reach the top, Indiana Pass. It was brisk and chilly up high, but the sun was shining bright. We hoped dropping down would put us back into warmer weather.
There is a strange sight that greets the visitor to Indiana pass. To our right loomed a monolithic mound of broken gray rock called Grayback mountain. The slender spire of a radio antenna stood defiantly on its peak. To our left were sweeping views of alpine meadows, pine and aspen covered slopes. In front were these bizarre looking, contoured slopes butting up against a drastically scarred mountain side. The slopes were covered with manicured green grass having been recently seeded and covered with straw. Rather than looking much like a natural landscape it looks more like the contoured slopes bordering the gash of a highway. This is a superfund clean-up project that is supposed to clean up the remains of a former, large copper mine called Summitville. We're not entirely sure what "clean-up" means. It'll take millennia for the contoured slopes to even begin to look natural and I doubt they'll even attempt to return the scarred hillside to a natural appearance. Perhaps it just means trying to place a cover layer over the cut rock in an attempt to prevent chemicals and heavy metals from flowing into the streams. Although the streams flowing through the mine are pretty disgusting. They're covered in a multicolored slime and smell of various chemicals. We wondered, will the cleanup project work? What evidence do they have that the efforts they're pursuing now actually are effective? What cost are we paying? How does the cost of clean-up compare with the value of ore removed? These are a lot of questions that will probably never be answered. They'll just spend years moving a bunch of dirt around, go off and leave their work behind, and it'll be future generations to decide if it all was worthwhile.
Summitville itself remains but a ghost town situated on an alpine hill overlooking the mine/superfund site. Gone is the hustle bustle of former mining days. All that remains are 2 neat rows of gray boarded houses. They're empty, windows missing, walls opened with holes, roofs filled with gaping holes. Only the noise of the wind blowing through the openings and the distant whine of the earth movers reverberates across the the meadow now. It's hard to imagine what the town would have been like back in its heyday. The townsite will remain after the earth movers have gone. It will slowly fall apart and rot into the ground. Eventually I imagine only memories will remain.
Despite having climbed up and over the pass, the climbing for the day was far from complete. Our road continued climbing past the Summitville townsite, then dropped to an intersection where we made a sharp left onto a much rougher and bumpy road. We then had to climb up and down a series of rolling hills , bypassing Elwood Pass, to finally bump our way down a steep descent to Stunner Campground. It wasn't a quick descent as the road was rough and rocky requiring constant concentration to negotiate. My hands were numb and arms mighty tired by the time we arrived in Stunner Campground.
A mountain of iron is the best description of the view we witnessed the entire ride down to Stunner. To the right is an enormous mountain that is streaked in colors from light pink, to orange, to maroon. It really is a mountain filled with iron. Streams flowing from this odd hill are all colored orange, rocks in their stream beds also are covered in orange. There's nothing living in these waters as they are horribly contaminated. But this is a natural contamination of heavy metals. Consequently no superfund clean-up will ever occur here. Finding drinking water does become a bit of a chore, however. The pump in Stunner Campground produces nonpotable water and has had the handle removed. Water in the stream is not potable. I wouldn't even want to try filtering. It took a 1.5 mile ride over to Globe Creek and back to find good water. Globe Creek is a clean spring spewing from a broken rock hillside. Other than that, water is difficult to find around Stunner.
GDMBR Day 53 - To Mile 1778, End Section 4, Map B
Men travel faster now, but I do not know if they go to better things.
Willa Cather, Death Comes for the Archbishop, 1927
We just had one short 700 ft climb up to Stunner Pass and then lots of steep downhill into the rag tag looking town of Platoro. The road switchbacked across a hillside covered with golden colored aspens. The mountain sides were awash with colors of green, gold, and rusty orange. It was just about peak leaf season. Beautiful colored leaves clung delicately to the branches just awaiting a stiff breeze to blow them away. One windy cold front and the hillsides would become bare. Below we had a grand view of Platoro, a town that is far larger than what we had been expecting, and the river that created this fantastic canyon through which we were riding. Unfortunately the road sucked. It was dry, dusty, very washboarded, and had tons of traffic all seemingly hurrying to go somewhere. With gorgeous scenery all round, it's no fun having to suffer through such a crummy road.
Platoro's not much more than a bunch of rough and ready shacks spread about the northern end of the valley just under the dam for the Platoro reservoir. Even the two lodges in town look rather hodge podge, although their interiors are quite nice. We stopped in at both to see what sorts of groceries we could find and came away shaking our heads in complete shock. $7.12 for a box of Ritz crackers was a bit more than we could stomach. This was not a place we'd be spending much money or time. A bit further down the road we passed the Rocky Mountain Lodge. Once again a check of the food prices left us shaking our heads. Unfortunately we did need to buy a few items, a can of vienna sausage, 2 cans of soda, and a bag of chips came to an astonishing price of $6.48. Thank goodness we'd endured the huge climb up Indiana pass carrying an extra heavy load of food.
Even Forest service campgrounds were exorbitantly priced in this area. Each one we passed has been turned over to contractors. The net result is that the campground facilities and services stay the same, the cost just doubles. If you think about it, the forest service has simply added another layer of management and we all know that the more layers there are the more costly it become. It's extortion, pure unabashed extortion. We refused to succumb to such highway robbery. Instead we found a suitable site next to Elk Creek just outside the campground gate. Screw the contractors, screw the Forest Service. We refused to pay.
Appendix A - Route
Sept 1 - 37.38 mi to Kirkland Campground
Sept 2 - 46.58 mi to mi 1517
Sept 3 - 38.75 mi to Salida
Sept 6 - 23.68 mi to Marshall Pass
Sept 8 - 40.52 mi to mi 1611.3
Sept 9 - 24.98 mi to Luders Creek CG, Rio Grande NF
Sept 10 - 29.52 mi to Storm King CG, Rio Grande NF
Sept 11 - 35.13 mi to Del Norte
Sept 14 - 19.57 mi to mi 1723
Sept 15 - 26.67 mi to Stunner CG, Rio Grande NF
Sept 16 - 31.96 mi to mi 1778
Appendix B - Campsites or hotels
Sept 1 - Kirkland Campground
Sept 2- Side of road at mi. 1517
Sept 3, 4, 5 - Riverside Motel and Campground, Salida, CO
Sept 6, 7 - Marshall Pass
Sept 8 - Off road at mi 1611.3
Sept 9 - Luders Creek CG, Rio Grande NF
Sept 10 - Storm King CG, Rio Grande NF
Sept 11, 12, 13 - Del Norte RV Park
Sept 14 - Side of road at mi 1723
Sept 15 - Stunner CG, Rio Grande NF
Sept 16 - Just outside Elk Creek CG, ria Grande NF