NORTHWEST TOUR 2011 PART XX -
Colorado 2
Montrose, CO to Durango, CO
September 26 to October 1, 2011
Start 67,927 miles (108,683 km) cumulative:
End 68,129 miles (109,006 km) cumulative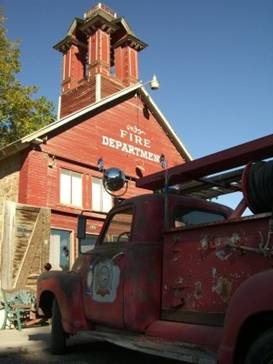 The firehouse and old engine at Ridgway, CO
TEASERS
The view riding east from Montrose canít be beat.
There are two tough climbs from Ridgway to Telluride.
Telluride has one beautiful ski area.
Trains made some amazing climbs in this area.
Every town here seems to have been founded on mining.
What was a Galloping Goose?
The Anasazi also had a lot of villages through this region.
Durango home to one of the most famous steam engine rides.
Done for the 2011 season.
September 26 - Wow!
We planned a short day out of Montrose.† In part because we werenít planning any rest days until we finish in Durango.† But also because the camping spacing seemed to dictate a short day.† We had no plans for more wild camping, so we needed to find suitable campgrounds.
Heading south out of Montrose you spend the first two miles going past every store imaginable.† Target, WalMart, Home Depot, Sports Authority, etc.† If you need supplies hereís where you stock up.
Just past the Target the stores end and the ranch lands begin.† Thereís even more corn fields which do seem out of place in Colorado.
Much of the road is new, wide, and has a huge shoulder.† The section with no shoulder was being rebuilt as we passed, which meant riding through some construction.†
The grade is incredibly shallow.† In fact, by the time we arrived at Ridgway State Park it was hard to believe weíd climbed 1000 ft since town.† It felt even more gradual than a narrow gage railroad.
The best part was the scenery.† Montrose sits in a wide valley† just to the east of the San Juan Mountains.† If you look at a map youíll see a string of wilderness areas lined up in almost a horseshoe through the highest peaks.† There are about 5 total and they encompass some of the ruggedest landscape in the lower 48.† We explored only a tiny portion on our CDT hike.† We vow someday weíll come back to hike some more.
Ahead of us for the entire day we had a great view of these peaks.† Still covered with an amazing amount of snow, these are the most captivating mountains of the southern Rockies that we know of.† With just 5 more riding days left for 2011 this was a perfect place to end.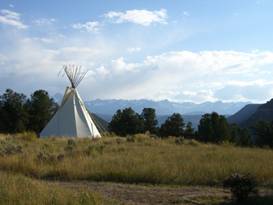 Fabulous scenery around Ridgway State Park
Ridgway State Park surrounds just the Ridgway reservoir.† It has a few walking paths around the lake and campgrounds but doesnít extend much beyond.† There are 3 campgrounds with hundreds of sites.† This must be one very popular boating and fishing spot in summer.† The lake is within the pinon pine and juniper forests, a definite sign of being at higher elevation than Montrose.
Facilities are quite good.† There are a lot of covered tables, some tent pads, electricity in most sites, showers, laundry, and vending machines.
Magnificent scenery surrounds Ridgway State Park
Best of all are the views from the upper campsites.† Looking east you can see right into the Big Blue wilderness in one direction and the Mount Sneffels wilderness in another.† Itís a million dollar view for just $22.† And in the slow season you feel you almost have it all to yourself.
Sept 27 - Prettiest mountain town
The town of Ridgeway just a few miles beyond the lake is a cute old town.† Itís quite small having just a single grocery store and a couple block long old town section. Evidently they do a lot of restoration work for the historic railroads as the Galloping Goose from Telluride and the steam engine from Cimmaron were both being restored there.
Quaint historic Ridgway, CO
One block of Ridgeway has been converted into antique and art shops.† Plus the one really cool fire station house.† The old fire house is now the town museum with a beautifully restored engine out front, complete with rubber hoses.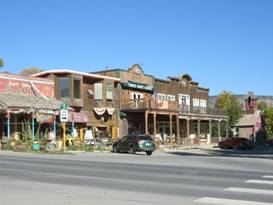 The historic section of Ridgway, CO
An historic firehouse and engine in Ridgway
We had two good climbs to complete for the day.† From Ridgway we immediately tackled the first.† Itís a 2000 ft climb over Dallas Divide.† Dallas Divide isnít really a pass.† Itís a climb over the shoulder of a foothill coming down from the mountains.† We were aiming to get to Telluride which is on the opposite side.† So no matter how you go you must climb over lots of shoulder ridges.
Since it was early in the morning and we were well rested this climb wasnít too bad.† Then we were treated to a fast downhill to Placerville whose name obviously comes from the old mining days.†
The mercantile and liquor store at Placerville, CO
At Placerville thereís a small general mercantile and liquor store.† Thatís it.† We thought this store was expensive at least until we got up to Telluride.† Then we really found out what expensive is.
We followed along the river at a fairly level grade for quite some distance past the town of Sawpit.† This oddly named town appears a bit more substantial than Placerville.† The road can be fairly busy and thereís no shoulder.† Down by the river there appears to be dirt tracks and sometimes a road following along the top of the old rail bed.† We donít know if itís continuous or if itís in good riding condition.† But itíd be worth investigating.† Ah another rails-to-trails project.
A few miles after Sawpit just after passing a turn off to a big mining operation the serious climbing starts.† We had just a few miles to climb the 1000 ft to Telluride.† The road makes a direct, steep 7% grade climb up Lawson hill.†† This being our second climb with a total of 3000 ft for the day, it was slow going.
The railroad actually once did go to Telluride.† To get up this hill it had to take a long loop down where the road to the mine now goes.† It swung for miles around near Ophir and came back at a much lower level than the road now takes.† The rail grade is still visible and some of it is now used as a hiking/mountain biking trail.
At the intersection is Mountain Home.† This is a modern town that has a gas station whose prices are outrageous.† We grabbed some drinks as we needed a rest, but I would avoid getting anything else there.
Telluride now has a nice 4 mile long paved bike path that goes from Mountain Home right to the center of town.† Itís great to be off the road.
Telluride was a remote mountain mining boom and bust town.† We recall hearing rumors that when getting off the train the conductor would say to the miners, ďto hell you rideĒ.† Hence the town got its name, or so weíve heard.† It makes a good story but weíve no idea if itís true
Mining was big in Telluride in the 1880s and 1890s.† But when the mines played out the town very nearly died.† In the 1930s the Forest Service and the town worked together to develop the ski area.† This brought this remote town back to life and now itís a very well heeled place.††
We had the opportunity to ski at Telluride just once and this has to be the most spectacular ski resort we know.† Telluride is tucked way back in a deep mountain valley.† There are rugged peaks on three sides.† When you take a lift to the top of the ski run you have an unparalleled overview of these peaks.† Covered in fresh snow, itís a view thatís hard to beat anywhere.
The historic part of town is as cute as can be.† It has 8 blocks of historic buildings.† The 3 to 4 blocks of commercial buildings made of brick or stone.† They line a very wide main street from which you can see the towering mountains all around.†
Looking around historic downtown Telluride
There are also several blocks of these cute old wood houses.† Most are in good repair.† Some need work. Theyíre tiny, usually have a little porch, and are now being painted in multiple pastel colors.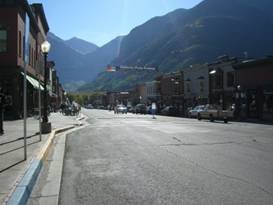 Morning in historic downtown Telluride
Telluride has a city park that has a small campground.† In summer it must be impossible to get in.† This time of year no problem.† For a person age 59 or older the price of $10 canít be beat.† Showers are pricey though.
Sept 28 - Last pass
After going over Boreas Pass out of Breckenridge we noticed that there doesnít seem to be the same kind of devastation from the pine beetle as further north.† We think it may be because this far south there arenít so many lodgepole pines.† These may be firs or spruce rather than pines which would explain it.† What we know is from central Colorado northward the pine forests have died in massive amounts.† So in this area it is nice to see mostly green mountainsides without all those dead trees.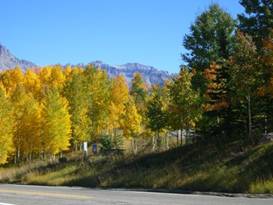 Aspens changing color near Telluride
There are also more aspen trees in this area.† They were just beginning to change color.† Aspens tend to turn yellow in shades ranging from golden to bright yellow.† We were about a week early for the peak.
Some color change on the road to Lizard Head Pass
Right out of Mountain Home we climbed a good 500 ft or more and then made a short drop to Ophir.† From the road there are great views toward the Lizard Head wilderness to the south.† This wilderness contains 3 of Coloradoís 14,000 ft peaks plus several hiking trails that go around them.† If youíre looking to complete all of the 14K footers, this is a good place to quickly bag 3 of them.
Looking toward Lizard Head wilderness on the way to the pass
We had another 7% climb for much of the way to our final pass of the year, Lizard Head Pass.† At an elevation of 10,222 ft this was also one of our highest.† The pass was named for a rock thatís supposed to look like a lizardís head.† You need a really good imagination.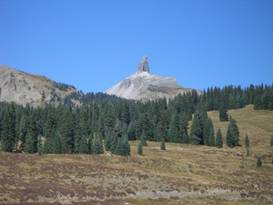 Does that rock look like a lizardís head?
Our last pass, the 10,222 ft Lizard Head Pass
The train used to go up to Lizard Head Pass via a lot of extra loops.† Some of the rail bed is now a bike trail which would avoid part of that 7% grade.† We learned this only when we saw a couple bikers arriving at the pass.† Ah well, next time.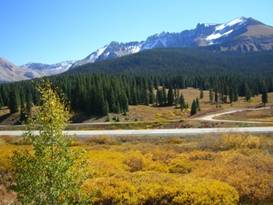 Mountains and color change at Lizard Head Pass
From Lizard Head itís downhill essentially all the way to Cortez.† OK, no road is ever all downhill, but this one comes fairly close.
Along the way is Rice.† Like Telluride, this used to be a big mining area for lead, copper, zinc, and silver.† It had 5,000 people, 26 saloons, 2 churches, plus several stores.
Unlike Telluride, Rico did not gain the advantage of a ski area.† As a result once mining died out the town shrank.† Today apart for a couple cafes and bars thereís only a gas station/mini mart.† Folks must have to go all the way to Cortez or Dolores for real shopping.
We bypassed the nice Good Sam RV park and continued on to Stoner.† Thereís a good museum we wanted to see in Dolores so to have the time to stop in we needed to get as close as possible.
Stoner was supposed to have campground.† We found it but it was a major disappointment.† It didnít look open.† The kid at the house seemed to not know what was going on.† ďAre you open?Ē, we asked.† ďIt seems so.Ē he replied.† ďAre the showers open?Ē, we asked.† ďI donít think so.Ē, he answered.† We gave up and headed down the road not at all sure where weíd camp for the night.
Even though we were supposedly in National Forest, everything by the road is private property.† We had a hard time finding a camp site. Finally we turned up a side road heading toward Dunton and into the forest lands.† Up about 3 miles we found a former campground now just a trailhead.† You werenít supposed to camp, but it was getting dark.† We camped anyway.
Sept 29 -† Ancient peoples
Dolores was a fairly easy, gradual downhill run of about 18 more miles.† This long narrow town was once a major train depot.† The trains came down from Lizard Head Pass, went through the middle of town, then swung east hugging the hills to the town of Mancos before going on to Durango.†
The downtown has a few of the old railroad mementos.† Thereís a nice train station now turned into the town museum.† Thereís an old warehouse facility across the street now used for offices.†
In front of the depot is one of the few remaining Galloping Goose.† There are supposedly only 2 left, one here and one being renovated in Ridgway.† We saw both.
A photo of the Galloping goose set up as a snow plow on the Ophir trestle
Outside of the Galloping Goose in Dolores
This Galloping Goose was open.† The front looks like an old bus that was sawed off leaving only a couple rows of seats. The added back section has more seats.† Itís a very simple construction of wooden slats covered with metal sheeting.
Inside the Galloping Goose in Dolores
The Galloping Goose were the last ditch effort to save the railroad.† They ran 6 of them going through Rico, Ophir, Telluride, Sawpit and Placerville.† They carried passengers and some cargo.† But by the 1950s the new roads were built, trucks, busses, and private cars were taking the same routes.† Tourism on the Galloping Goose was increasing.† But it wasnít enough.† By 1951 service had to stop.† The rails and ties were torn up.†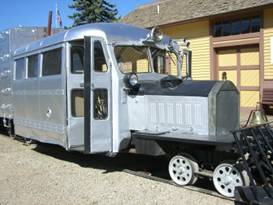 The restored Galloping Goose in Dolores
Itís too bad.† If it had just lasted another 10 years thereíd be a tourist attraction as popular as the one in Durango.
The most popular place in town for lunch is the Burger Depot.† It has just a few tables inside plus a couple outside.† The ladies there do whip up some great burgers and fries not to mention a monster burrito.† We left there feeling adequately stuffed.
Just outside Dolores is the Anasazi Heritage Center.† This is Mesa Verde style cliff dwelling country.† Throughout this region there are ruins of many villages dating from around 400 BC to 1400 AD.† These people lived in pithouses built on the flat lands or in stone houses built into caves in the mesa cliffs.† What type of house they built varied by the time when they built.
What is particularly interesting is that these people migrated from place to place depending on the climate.† A protracted period of cold, 2 generations of time, forced them to move lower and south.† Many decades of hot, dry drought made them abandon some villages.† Here, more than any other place, you can see evidence that the climate has always been changing and sometimes at a very rapid pace.† Itís not some unique modern phenomenon.
In 1984 the McPhee dam was built on the Dolores river.† Before the lake flooded the ancient sites, archeologists went in on a rescue dig.† They extracted over 2 million artifacts.
The Anasazi Heritage Center was built to house and display these artifacts.† Itís built in a manner that suggests the arrangement of some of the old stone houses, an arc shaped building with a central courtyard.† There are actual foundations of some of the ancient buildings on site and down a walking path nearby.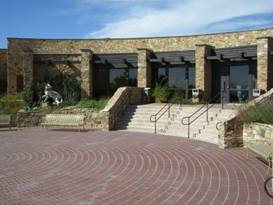 Courtyard of the Anasazi heritage Center near Dolores
Inside are some very nice displays discussing not only the Anasazi culture but the concept of rescue archeology as well.† The full size replica pit house is really nice.
Replica pithouse at the Anasazi Heritage Center in Dolores
We only had an hour or so to look around as we still wanted to ride to Mancos.† We didnít get to hike the paths or see the movies.† Weíll have to put it on our list of places to return to.
We headed off on the direct shortcut to Mancos avoiding the extra miles and descent of going into Cortez.† To the east we saw dark clouds rising up.† We were still seeing summertime afternoon thunderstorm type weather.† When the thunder started we took refuge on a church porch.†
After a while the minister or caretaker showed up to check us out.† His recommendation was, if we wanted to get to Mancos before the storms rolled in it was best to get moving now.† We took off.
The map said there was an RV park in Mancos.† It also said you could camp in the city park.† We couldnít find any campground and there was no indication you really could use the park.† So we opted for a hotel.† And the pizza at Mancos Pizza was really good.
Sept 30 - Finish
There comes a point in every long bike tour when we conclude weíve had enough for the season.† We just get to the point where we donít want to struggle up another long hill.† We donít want to sleep on the ground any more.† We want more light than just a little headlamp.† We want a heater, roof in the rain, a toilet right there.† I hit that point the day I flipped off the bike.† Between that and being weak from not eating and fighting a stiff wind into Hartsel I just felt I couldnít go on.† But I bucked up and continued on.
About a week later we now reached our final day of riding.† I had managed to continue on even riding over several more passes.† This last 28 miles into Durango would be our last for our 2011 tour.
Of course our last riding day couldnít be done without another long hill.† As we continued that long climb and we came around each new corner we kept wondering how much more climbing there could possibly be.† When we get to that point where a short 1000 ft climb feels like three times that, itís definitely time to stop.
This last section of riding follows the Dominiguez Escalante trail.† These two Franciscan friars traveled throughout the southwest looking for a way to connect Mexico City to San Francisco.† They werenít successful but they did map a lot of this area.† A sign along the way talks a little about their trip.†
What it also mentioned is that this low rise is typically a snow free route to go between Durango and Cortez.† Hence itís always been a good travel route.
After the final climb we had one last screaming downhill into the large town of Durango.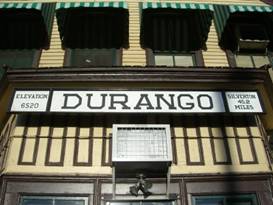 Our last town, Durango CO
Just north of Durango is the nice United Campground.† Itís located right on the train tracks.† In fact the tent sites are on one side and the RV sites on the other.† So each morning we got a great view as the train chugged through.
The Durango Silverton steam train chugs through our campground in the early morning
The campground is right on the free trolley line making getting into town a breeze.† It was the perfect place to spend our last couple nights on this bike tour.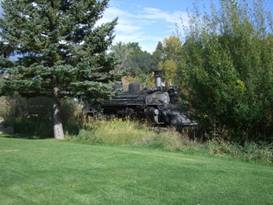 A quick view of the famous Durango Silverton steam train as we entered town
Oct 1 - Durango, train town
Durango is a town that was founded to support the railroad.† Trains came in from the south and headed over the passes to Silverton.† From there three lines continued into the mountains where the large mining operations were located.† There were mines and refineries located in Durango for processing all that ore.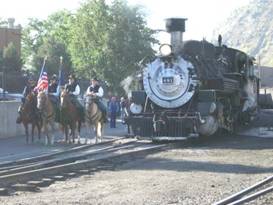 Some role playing cowboys at the Durango train station
As the mines played out and trucks took over freighting, the legs of the railroad were closed.† The line headed south closed.† Lines running out of Silverton into the mountains closed.† Only the trains running from Durango to Silverton remained.
The famous Durango Silverton narrow gage railroad
Even this last section came very, very close to shutting.† Fortunately a single man saved this historic line.† He bought the remaining section and gradually turned it into a major tourist draw.†
The second morning train departs for Silverton, CO
Starting with a ridership of only about 3,000 people, it has grown to to having over 150,000 each year.† In summer they run up to 6 trains a day.† In winter this drops to just 1 or 2 daily trains that go only part way.† Winter must be an incredible ride as you go into a steep canyon where thereís no roads.† Imagine how it must look with all the snow on the ground.
Durango almost lost itís famous train in 1989.† At night when all six engines were resting in the round house a fire started.† Being tinderbox dry, the wood roundhouse was quickly engulfed.† Firefighters had trouble even locating the hydrants underneath all the snow.† It was a total loss.
But they would not let their beloved trains go silent.† The round house was rebuilt.† It was also enlarged to provide a working round house for the 6 engines and another 8 or so bays for a museum.† Plus they added a state-of-the-art machine shop that they used to repair and rebuild those six fire damaged engines.
Engine number 42 in the Durango Silverton narrow gage museum
The museum is free.† Inside youíll find a couple of engines that are not in regular use, a caboose that actually does get used in winter, a box car where you can see a movie about the history of the Durango train, and lots of railroad memorabilia.
Looking around the inside of Caboose number 0500, still in use in winter
If youíre a model railroad fan, thereís a huge example to delight your fancy.† It was donated from the estate of a fellow whoíd just about got it set up.† The main thing missing was the scenery and time setting.† So the museum staff chose the 1950s.† Youíll see all sorts of 1950s styles including a working drive-in theater, thanks to modern digital picture frame technology.† Itís really fun.
A tiny engine puffs its way around the large model railroad in the Durango museum
The best part of the museum is being able to stand in the middle of the round house, out where all the tracks radiate from the central turn table.† On one side you can see the 6 open bays where the current train work is done.† These are covered in black soot.† The museum bays are all clean.† Itís rare indeed to be able to stand in a working steam engine round house where you can listen to those dragon like engines hissing and popping as they cool.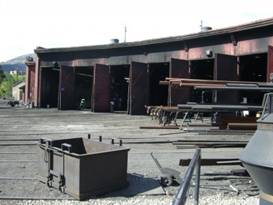 The working round house in Durango
Visiting Durango was great.† We spent most of the time seeing the museum, watching the train, wandering along the new riverside walking/biking path, and looking in the windows of the late 1800s buildings.
Standing in the center of the round house of the Durango Silverton narrow gage railroad
Now our bike tour came to an end.† It was time to wave goodbye to the many bike routes weíve followed and goodbye to the Rocky Mountains.† Time to return to our camper life.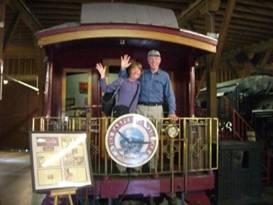 Ta ta for now
APPENDIX A Ė ROUTE
Sept 26 - Hwy 550 to Ridgway, 25.52 miles
Sept. 27 - Hwy 550 to Ridgway, Hwy 62 to Placerville, Hwy 145 to Telluride, 45.83 miles
Sept 28 - Hwy 145 to just pass Stoner, 56.65 miles
Sept 29 - Route 145 to Dolores, Route 184 to Mancos, 42.42 miles
Sept 30 - Route 160 to Durango, 32.09 miles
APPENDIX B Ė CAMPSITES, HOTELS
Sept 26 - Dutch Creek Campground Ridgway State Park ($22/night + $1/shower)
Sept 27 - Telluride City Park ($10/night + $3/shower)
Sept 28 - Trailhead camping near Stoner ($0/night)
Sept 29 - Mesa Verde Motel Mancos ($58.75/night)
Sept 30 - United Campground of Durango ($30.21
night)
REFERENCES