Sisters to Baker City
May 12 to May 18, 2011
Start 63,273 miles (101,237 km)  cumulative:
End 63,519 miles (101,630 km) cumulative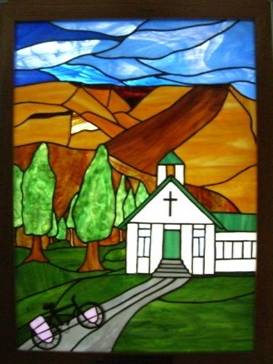 Lovely stained glass at Dayville church

TEASERS

Pass by the Bearly There Ranch

Check out the Mitchell store which really is open

Learn about ghosts in the Dayville Mercantile

Enjoy the hospitality of the Dayville Presbyterian church

Wait our another storm in John Day and Prairie city

What's that wagon on the the hill

Three passes and more rain and snow

Struggle into Baker City against a headwind

May 12 - Bearly There Ranch

By the time the route crosses the "deep canyon" you've dropped in elevation to where the juniper and piñon pine forests begin. We've seen these types of forests all the way from the southern border to as far north as Washington, Montana, and beyond. 

These forests are punctuated by fairly widely spaced scraggly looking juniper trees and occasional tall pines.  Junipers look more like overgrown bushes.  The under story consists of prickly brittle brush, Mormon tea, and other gray looking plants.  They're all very drought tolerant.  In southern states these forests typically occur around the 5000 ft range and not below.  In Oregon they're found at the 3000 ft elevation.  Also it seems the junipers are significantly larger.

Great views back toward Sisters

Juniper and piñon pine forests can be pleasant to hike through when it's not too hot and as long as there's a good trail.  Trying to bushwhack through all that brittle bush in searing heat can be downright painful.

The valley in which Redmond and Prineville are located is actually quite scenic in spring.  The areas surrounding the creeks and rivers are irrigated and very green.  There are table top buttes all around and off in the distance you get fantastic views of the Sisters, Mount Jefferson, Mount Washington, and other snow covered peaks.  The contrasts of brilliant blue sky, white mountains, green forests, and reddish brown ground is striking.  Spring is definitely a good time for this section of ride.  I'd hate to do it in the searing heat of summer.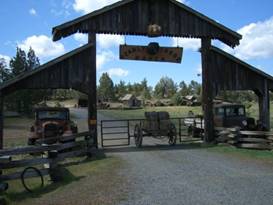 The Bearly There Ranch

Just before Redmond you pass by the Bearly There Ranch.  It's not a real ranch.  It's one intrepid person's idea of a fun tease.  This person has taken a bunch of old wooden buildings, mining equipment, and other pieces of antique ranching tools and spread it all out in the form of a tiny town.  Here and there he's used the rusted hulks of some old 1920s trucks as large flower pots to add color to the display.

Look around Bearly There Ranch

Entrance is free, just close the gate behind you.  This would be a great place for kids to explore.

Just a bit further you'll find a bunch of reindeer at a ranch that calls itself the "Santa Project".  Again you can watch for free, but I wouldn't recommend touching.  They may bite.

A short drop in the road after an easy 20 miles brings you to Redmond.  This town of 25,000 has everything you could possibly want or need including a Fred Meyers, the largest WalMart Supercenter in this region, restaurants, bike shop, and hotels. 

Another 19 slightly rolling miles down a newly repaved hwy brings you to Prineville.  This town of just over 10,000 also has plenty of services including a large Rays grocery, Grocery Outlet, and a BiMart which is sort of a mini WalMart.  When you're headed east you need to pick up supplies here as it's over 80 miles to the next supply town.

Just 7.5 miles further east is the very pleasant Ochoco County Park.  The campsite is situated on a hill overlooking a reservoir which evidently has great fishing.  The campground hosts presented us with 2 freshly pan fried trout complete with tartar sauce to have with dinner. 

Tent sites are scattered among those widely spaced juniper trees.  The bathrooms are heated and the showers are wonderful.

View of Ochoco County Park

May 13 - Mitchell store is open

We climbed gradually to Ochoco Pass first in large juniper forests then in dense Ponderosa pine, Douglas fir, and true fir forests.  Fire suppression since 1900 resulted in too much build up and now it's a big fire hazard.  They try to thin where possible.

Douglas firs are interesting.  The bark is deeply furrowed.  Get close and sniff.  It smells like vanilla.  Although if you go around sticking your nose into too many trees people will think you're nuts.  You can tell Douglas fir by the cone.  Each scale looks like it has the backside of a tiny brown mouse sticking out.

View atop Ochoco Pass

As usual the last bit to the pass was a grunt.  But then came the long glorious 7 miles of downhill run.  The land was much drier on this side and within just a few short feet elevation loss we were back in juniper land, much smaller junipers here.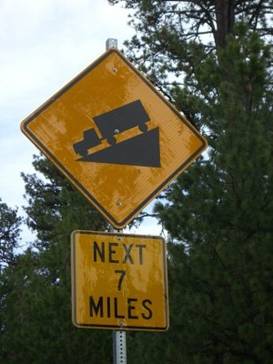 We just love these signs

There are wonderful rock formations all around.  Jagged cliffs of layered rocks that have eroded away at various rates for millions of years.  This is quintessential western landscape at its finest.  We were delighted to have great weather to see it.

Downhills always seem to end too quickly.  All too soon we reached bottom and started a short 3 mile up ride to Mitchell.

We'd heard thru the ACA addenda that the Mitchell store was closed.  So we came prepared.  It so happens that's not correct.  The store was reopened in December and carries plenty of good supplies.  So we carried all that food over the pass for no reason

Look around Mitchell, OR

Mitchell actually is a surprisingly well serviced town.  There are 2 cafes, a restaurant, 2 motels, store, drive thru coffee house, tire shop, feed store, card lock gas pump, furniture maker, juniper mantle and column maker, and a rock museum.  What more could you need.  Best of all in the main part of town the buildings are the original wood board and batten with false fronts and front porches.  Real western.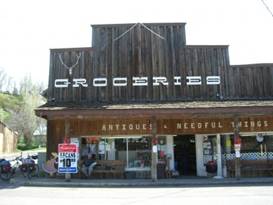 At the reopened Mitchell Store

May 14 - Sanctuary in the storm

Every weather site we'd looked at on the internet said that there were major storms rolling in.  They were supposed to hit John Day in the early morning.  So when we awoke to see blue sky we were pleasantly surprised.  Although this did mean we needed to bust butt and get over the next pass before that changed.

There's a short 6 mile steep climb up to Keyes Creek Pass and then a truly long and wonderful cruise down to the John Day Fossil Beds National Monument.

At Keyes Creek Pass

At the pass the difference between east and west sides is remarkable.  It appears much wetter on the east side as there are once again lots of Ponderosa pines.

Once you get near the end of the downhill you're running through an absolutely stunning canyon for about 12 miles or more.  At the national monument you turn right and climb toward Dayville.  We've visited the fossil beds museum previously so didn't stop again.  With bad weather coming we didn't necessarily want to push our luck.  To see the museum you'd turn left and head downhill for another 2 miles.

Now the road passes through Picture Canyon, a place where the John Day River has cut a narrow gorge through the rock layers.  When you break out of the canyon you are now in open pasture land that surrounds the little town of Dayville.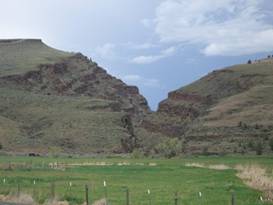 Picture gorge near John Day

We headed to the Dayville Mercantile to get lunch and dinner supplies.  What a fabulous store.  The owner tells us it was built in 1896 and has been a store, continuously opened, ever since.  He is the 10th owner.

Part of Dayville, OR

He also says it's haunted.  He witnessed the ghost twice himself.  He was looking at his security monitor when he saw the ghost cross the back of the store.  He looked up and no one was there.  He searched all over and saw nothing.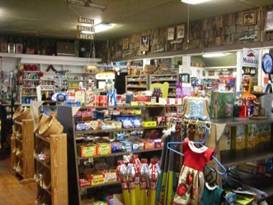 The well stocked Dayville Mercantile

Inside the Dayville Mercantile

His daughter stayed in the back apartment for some time and she tells of music starting up in the top floor dance hall in the middle of the night.  It was loud enough to wake her up.

Another renter, named Dave, awoke to the sound of a voice telling him, "Dave, you must go."  Not just once, but several times.  The owner had his daughter, who gets along fine with the ghost, tell this spirit to leave Dave alone.  It's been quiet since.

So if you're ever in Dayville, stop in at the Merc and ask about the ghost.

Thunder, lightning, and a torrential downpour hit Dayville before we could depart.  So we sat it our under a covered carport at the Merc.

Taking shelter from a torrential downpour

Once things settled down and before we could leave town we had several people tell us about staying at the Presbyterian church. These folks have been hosting bikers ever since that original 1976 Bikecentennial bike tour.  They have a large room where you can eat and sleep on the floor, a full kitchen, shower facilities, washer and dryer, and even a computer.  All this available for just a donation.  They say they get thousands of bikers staying every year.  In fact, the donations have enabled them to buy a new fridge, stove, microwave, computer and internet access, plus washer and dryer.  It's a win-win situation all around.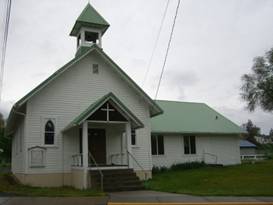 Dayville Presbyterian church

The great Dayville Presbyterian church

May 15 - Slow down a few days

There's a long valley heading east from Dayville gradually climbing to the next series of mountain passes.  There's one town between John Day and Dayville, Mt. Vernon.  I suppose it was named after George Washington's home in Virginia.

A little more of Dayville

There's not a whole lot to be found in this Mt. Vernon, a mini mart, outdoor store, cafe, laundry, and a couple really down and out motels.  Just outside of town is the very nice Clyde Holiday county park which, normally, would be a great place to stay.  Today, however, it looked rather wet. and we heard it flooded over night.

Here's what's in Mt Vernon

John Day is about 800 ft higher in elevation than Dayville.  However, if you're a car driver you probably don't even notice the climb.  For a biker, riding uphill into a headwind, makes it all too evident that you're going up.  Also, if you look closely you can see that the trees on the hills are getting taller and the vegetation a bit more high elevation in appearance.  That's not to say it's very lush, however.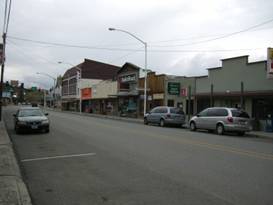 Downtown John Day

Flooding is everywhere.  With the combination of a warm first day and huge torrential downpour, the snow was melting at a fast pace.  The John Day River is flowing at an extremely high and fast level, full of chocolate brown muddy water.  All the side creeks are equally high, covering the bases of stream bank trees by at least 3 to 4 feet.  We heard that the local high school was flooded.  We passed a business that was sitting in a large pond.  Houses were being sandbagged. 

John Day is one of those old mining towns.  It's named for the river which, in turn, is named for the man who explored this region.  John Day never lived here.  But his trials and tribulations as he wandered through were the stuff of legends.

At the height of its mining days, John Day had some 10,000 inhabitants many of which were Chinese miners.  One Chinese man was the local herbal doctor.  One day he packed up, locked the door to his little cabin, and walked away.  Later, when they went in to investigate, they found the cabin completely in tact.  Inside are hundreds and hundreds of jars, boxes, and packets of Chinese herbs. 

No one knows entirely what's in these packages.  They did get one Chinese fellow to identify some 200 of them.  But the rest remains unknown.  Better not to meddle with this stuff.  Leave it as a state museum.

Everyone we asked said the weather was supposed to remain awful.  Rain was expected for the night.  We could have stayed in the local campground.  With the ground already saturated and temps expected to go into the 30s we decided to hotel it for the night.  We've stayed in the tent in these types of nights before, but we don't have to.  A warm night in a hotel would be much better.  As it happened, it rained all night long.

May 16 - Only a short ride

The weather just was not cooperating.  It rained all night long adding to the already flooded John Day River and its feeder creeks.  And we were expecting another 2 to 3 days crummy stuff.  So rather than trying to brave the three passes we knew we'd have to cross to get to Baker City, w  just took it easy.

Flooded feeder creek to the John Day River

We hung around the library, took a long lunch, and then late in the day mosied on up to Prairie City, an easy 15 mile ride.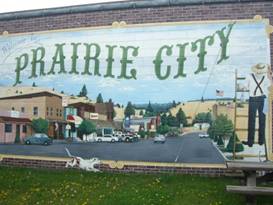 A nice mural at Prairie City

Prairie City was another gold boom and bust town that managed to hang on, barely.  Like so many of these old gold boom towns most of the original wooden structures are long gone having succumbed to fire, rot, or just replacement. In their places you now see old stone buildings, modern structures, or just blank parking lots.

A view of Prairie City, OR

Finding a fully intact mining town with the original wooden buildings is very rare indeed.

The best original building in town has to be the old rail station.  It's been carefully preserved and now serves as a museum, complete with a surrounding campground.

May 17 - 3 passes, rain, snow, and hail

As you leave Prairie City the road takes a long, snaking climb toward Dixie Pass.  On a ridge of the hill you may think you're seeing things.  A conestoga type wagon sits in an easily seen location.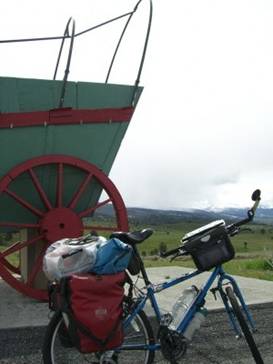 New versus old transport at the wagon information kiosk

In reality this huge green wagon with its bright red wheels is a visitor information kiosk, not a real wagon. 

At a unique viewpoint east of Prairie City

We were climbing the first of what would be 3 passes for the day.  The first, Dixie Pass is just over 5200 ft.  Due to all the bad weather there was quite a bit of snow.

In the snow at Dixie Pass

From Dixie the road makes a steep descent in a very cold valley.  We watched our thermometers drop steadily from 63 degrees to 44.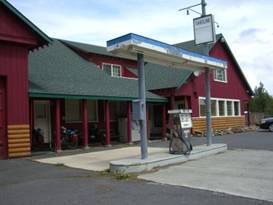 Austin Jct store and cafe

Just before starting the next climb you come to Austin Jct, basically just a store/cafe, and then Austin, about 4 houses total.  Then it's another 800 ft climb to Tipton Pass.

All about the Tipton Pass rail depot

When Prairie City was a booming mining town there was a railroad that ended right in town.  This train came over Tipton Pass where a large depot was located.  Here they had a couple wyes where the helper engines were turned around.  Near the pass is a short trail that takes you down to the site of the rail bed where the trains went back and forth to climb the steep slope.

Between Tipton and Larch pass is one more 800 ft dip in the road.  For quite a while you run an easy downhill along the north fork of the Burnt river, which was overflowing this time.  As we looked to the south we saw another black cloud approach.  We quickly took cover inside the shed used by the road department to store gravel for the winter.  Soon once again we were deluged by rain, hail, and a bit of snow.  Nasty weather.

Taking shelter in a road department gravel shed

Once this rain was done we finished the climb and cruised down past Sumpter toward Phillips lake. 

Great views near Sumpter, OR

Sumpter was another old gold mining town.  In this case it used dredges to mine the creek bed.  At one point there were 3 huge dredges scooping up the stream bed rock and debris, sifting out the gold, and depositing piles and piles of leftovers.  These dredge piles run for miles and miles downstream from Sumpter.

Dredge piles near Sumpter, OR

In Sumpter you can see the last remaining dredge.  It actually operated until 1954 and is remarkably well preserved.  We visited it just a few years ago and didn't need to see it again.

May 18 - Headwinds to Baker City

Winds were howling at about 20 to 30 mph from the northwest as we made the last 18 miles into Baker City.  Soon after leaving the lake you leave the pine forests behind, make a long turn to the north, and enter the broad valley.  With a heavy headwind, it was a struggle all the way.

APPENDIX A – ROUTE

May 12 - Trans Am bike route on Hwy 126 thru Redmond and Prineville to Ochoco County Park, 46.07 miles

May 13 - Trans Am Bike route to Mitchell, 40.25 miles

May 14 - Trans Am bike route to Dayville, 37.72 miles

May 15 - Trans Am bike route to John Day, 33.31 miles

May 16 - Trans Am bike route to Prairie City, 15.97 miles

May 17 - Trans Am bike route to Phillips Lake near Sumpter, 48.57 miles

May 18 - Trans Am bike route to Baker City, OR, 23.3 miles

APPENDIX B – CAMPSITES, HOTELS

May 12 - Ochoco County Park ($5/night per person)

May 13 - Lions Club Park at Mitchell (free)

May 14 - Presbyterian church in Dayville (donation)

May 15 - Americas Best Value Inn ($54.50/night)

May 16 - Depot museum & RV Park in Prairie City,($12 /night, $1.75/shower)

May 17 - Phillips Lake Rec Area near Sumpter, ($12/night)

May 18 - Mtn View RV Park in Baker City ($19.92/night)

REFERENCES

Adventure Cycling Association Transamerica Bike Route Section 2