Baker City, OR to Grangeville, ID
May 19 to May 25, 2011
Start 63,519 miles (101,630 km)  cumulative:
End  63,791 miles (201,066 km) cumulative
Part of an 1899 steam tractor in Council

TEASERS

Old fashioned farm equipment of all sorts

All about Halfway's name

A rest day riding 24 miles up Hells Canyon

Bicycle Oregon, what's that about

Railroad grades can be fun but rough

Cool steam engines in Council

Monuments to the first Nez Perce battle at White Bird

Endless switch backs on the old White Bird Hill road

May 19 - Sunny, tail wind, down river yipeeeee!

If you ever wanted to see just about every sort of old fashioned farm and ranch equipment there ever was just head out of Baker City on route 86 and look to your right.  You'll see a huge field filled with all sorts of equipment.  The rancher flies a banner saying "Power of the Past."  We don't know if he charges admission, but it'd be fun to crawl around some of these contraptions.

Odd assortment of equipment near Baker

A bit further east of Baker City, sitting high on a hill is the new $10 million Oregon Trail Interpretive Site.  It sits above a rise known as Flagstaff Hill.  Here, due to terrain, the Oregon Trail wagons were forced into just a few lines following single file.  As a result, the old trail ruts are still visible.

Oregon Trail Center near Baker City

The interpretive center was designed to look a bit like old mine buildings and once inside you get striking view of the valley.  Inside they have a huge life size diorama of a scene of the emigrants complete with sound effects.  A second series of rooms explains the entire emigration event in more detail.  It's well worth a visit which we did a couple years ago.

After the short climb over Flagstaff, our path leaves the Oregon trail and heads north rejoining the Powder River.  For many miles we cruised along easily down river with a wonderful tail wind.  The sky was clear, the temps warm, we had a tail wind going on a long steady downhill.  What more could you ask for.

For the night we stopped at the Hewitt Holcomb County Park located on the Brownlee reservoir.  Water in this "lake" was probably a good 30 to 40 ft low.  We were told that the water management team is concerned about the upcoming snow runoff.  There's been heavy snowfall all winter.  So they're saving space.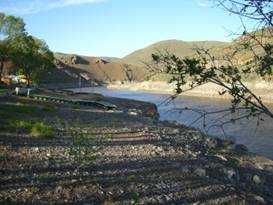 An arm of the very low Brownlee reservoir

The very low Brownlee reservoir

 

May 20 - North America's deepest gorge

Back in the days when lumbering was big you'd find these odd looking beehive structures at every mill.  They're iron cones with a metal mesh top.  They were used to burn excess lumber and dry cut lumber.  They were used into the 1970s.  Today all over the northwest you will find the hulking remains of these burners.  In fact there's one right near Halfway.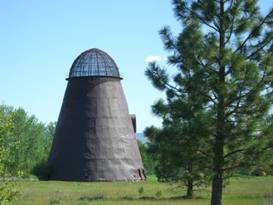 An old beehive burner near Halfway

An old beehive wood burner

Partway to the Hells Canyon gorge you pass by the town of Halfway.  Such a strange name has to have a good story.  Actually the first post office/store was located approximately half way between Pine and Cornucopia.  The store owner submitted a request to open a post office with the name Midway.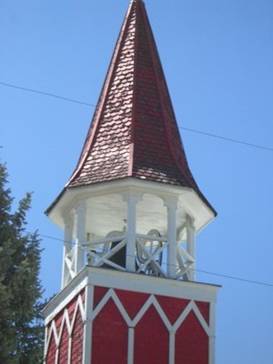 Bell tower at Halfway's church

The request was granted but the name changed to Halfway.  When the store/post office was moved they didn't bother changing the name.  So it stuck.

Until the dot com boom, that is.  There was some sort of grant or reward given for a town to change its name to Xxx.com for a couple years.  Halfway agreed and was known as halfway.com for a short while, at least until the dot com bust.

Here's part of Halfway, OR

From Halfway it's a fairly easy downhill ride to the Copperfield campground.  This is a very nice, grassy campground with free hot showers all at a reasonable rate.  But you'd better come prepared with food as there's not much nearby.

May 21 - Hells Canyon

One of the most amazing aspects of riding the west is the variety in the terrain.  This is where micro climates abound.  Every valley has its own climate. 

Near Richland everything looks kind of desert dry.  There are almost no trees, lots of brown grass, and sage brush.  Go over the hill to Halfway and you're in a lush valley that's green and full of trees and spring flowers.

Continue on down to Hells Canyon and you're back in a desert world.  There's endless variety.

A look around Hells Canyon

Hells Canyon is located on the border between Oregon and Idaho just south of the twin towns of Clarkston and Lewiston.

It's here that the mighty Snake River carves a deep gorge through the earth.  At about 8,000 ft in depth, this is the deepest canyon in North America.

Much of the higher river is dammed creating enormously long lakes, such as the Brownlee reservoir.  If you had a boat you could probably explore one of these lakes for years.

Below Hells Canyon Dam the river is left wild, designated a wild and scenic river.  It's a favorite spot for people to take jet boat rides which is probably the best way to see the most dramatic parts of the canyon.

For us bikers, the best we could do was ride up the road toward the Hells Canyon Dam.  We didn't go the entire way, which would have been some 48 miles round trip.  This was supposed to be a rest day.  So we didn't want to do too much additional riding.  We did ride half way and then fought a strong headwind going back.

May 22 - Out of the canyon

In summer, August, when many of the west bound Trans Am bikers get to Hells Canyon, it certainly must deserve its devilish name.  It can be hot, very hot.  Temps of over 100 degrees can easily make doing that steep climb out of the river bed difficult at best.

Water spills over Brownlee dam

In spring, especially this particular spring, it's actually a very pleasant ride.  You follow along the the Brownlee creek for several miles and then take one quick switchback before reaching the 4,100 ft pass.  It's a steep grade, probably at least 6%, for most of its length.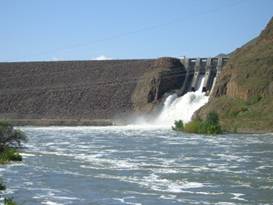 Spring runnoff over the Brownlee Dam spillway

As you get higher you leave the desert river region behind and once again enter a cool pine forest.  Then there's an amazing long downhill for the last 17 miles just about all the way into Cambridge, ID.  It's a nice ride, in spring.  It'd be tough in summer.

Looking around Cambridge, ID

In Cambridge you find one of the many Oregon bike symbols located at the small park directly under the water tower.  Here is where you camp.  It has a covered picnic area, toilets, trash, and one of those great ole timer weather rocks.  Yup if that rock is wet, you know it's raining.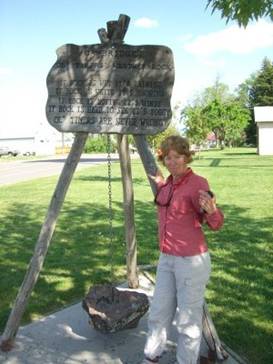 The weather rock at Cambridge

Cambridge's weather rock

Bicycle Oregon is an annual group bike tour event.  We happened across them one time as we were riding up to Crater Lake.  We were toughing it out going up hill loaded while they were cruising down hill unloaded.  Each year thousands of bicyclists gather to ride from town to town all over Oregon and into a bit of Idaho if they're doing Hells Canyon that year.  Where they pass, they leave one of these yellow bike symbols.  The towns along the route benefit by donations given by the organizers plus the added business.  One fellow told us that Cambridge netted some $12K one year.  Not bad.  You can see why townswould compete to have the route pass through.

May 23 - Choo choo, railroad grade

In western Idaho they've converted an old rail bed to a hiker/biker/equestrian trail.  It extends 85 miles from Weiser northward to just past Tamarack.  We hopped on at Cambridge.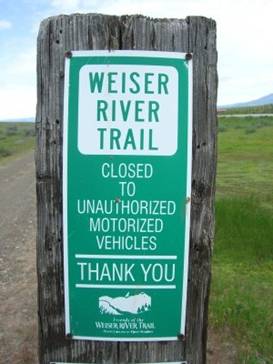 Sign for the Weiser River Trail

Crossing a bridge on the Weiser River

This north section of the trail passes thru Council where you can pick up supplies.  Most of the trail is dirt or rock.  Often it is tough riding and really only suitable for bikes with 1 1/4 inch tires or larger.  Mountain bikes are best.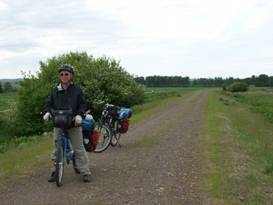 On the dirt Weiser River trail
The trail uses a lot of the old trestle bridges to cross and recross the Weiser river.  Those are great bridges to investigate.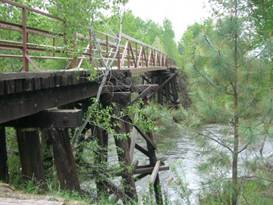 Weiser River trail trestle bridge

The stop in Council is well worth it and not just for the supplies.

A look around Council, ID

It's a one main street, zero stop light town sporting 2 markets, a couple cafes and motels, a coffee house, museum, and ubiquitous saloon.  The row of buildings lining one side of the street sport the typical western style front porches and square false fronts.

The town is situated at a jog in the main highway.  At one corner there is a small park that contains 2 really cool old 1800s steam tractors.  They're in reasonable shape as they were fully restored and steamed into position in the 1950s.

As you look at these magnificent contraptions you just can't help but wonder if they really were more efficient than horses.  Imagine having to stoke up the boiler before you even started moving.  We see why they invented modern gas farm equipment.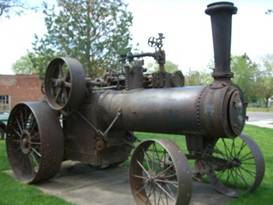 An 1899 Case steam tractor at Council

Really neat 1899 steam tractor

When we returned to the Weiser River trail we had another 15 miles or so of bouncing and banging along.  It's a fun trail but the surface could be better.

All along we continued to climb soon entering pine forests again.  We aimed for the Evergreen USFS Campground which lies next to route 95.  Not realizing that the trail has access to the camp, we climbed back onto the road at an overpass. 

Three more miles to camp remained and of course it rained.  So we pulled in and took over one of the pit toilets.  Fortunately this early in the season they don't smell.  So they actually make a descent place to dry out.  Later in the summer, don't even think about it.

May 24 - Little Salmon River

Within another 1 1/2 miles of bouncing on the Weiser River trail we'd had enough.  With over 46 miles into a headwind to do we needed to move faster.

There was just another 7 miles of climbing left and then a downhill into the large lush valley containing the town of New Meadows.

Our lunch stop was brief.  As we headed on out of town we heard a loud hisssss from Brian's rear tire.  Another flat.

Now we'd been watching that tire we bought off that fellow's bike back before Sisters.  It came on the bike, probably an el cheapo WalMart mountain bike.  The tire was virtually brand new when we got it.  Never before have we seen a bike tire wear so rapidly.  It'd been less than 2 weeks and already the tread was essentially gone.  We'd been hoping it'd last to Grangeville where we wanted to find a replacement.  But no luck.  We had to install our spare.

On the road again we soon passed a small kiosk noting the location of the 45th parallel.  So from now on we'd be closer to the north pole than the equator.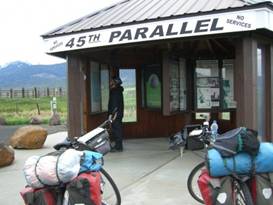 On the 45th parallel

At the 45th parallel

Once the road joins the Little Salmon river we had mile upon mile of gradual downhill following the rough rapids of the river. There's great kayaking here as attested to by the crowd of boaters gearing up to try some nasty looking rapids.

Little cafe/store at Pollack

This is a Big recreation river.  Jet boat rides and white water rafting are big adventures.  Also there's salmon fishing.  Even though the fish are just barely arriving, motor homes and trailers are already lining up for the best camp spots.  Soon there'll be shoulder to shoulder salmon fishers trying to snag the big ones.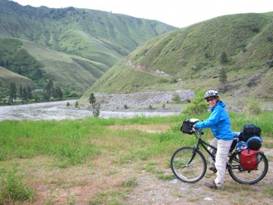 Overlooking the fast flowing Salmon River

Riggins is one tourist town that caters to this recreation seeking crowd.  It's single main street is lined with motels and eateries.  There are -lenty of adventure outfitters ready and willing to set you up.  Just bring cash.  It's Not busy yet.  Just wait for the next weekend.  Memorial Day!

May 25 - Switchbacks up White Bird hill

Before the creation of the road that now parallels the Salmon River there was almost no access between southern Idaho and the northern panhandle.  These river canyons on the south and west plus the rugged mountains to the east kept transportation to a minimum.  The road, built in 1921, changed all that.

For miles it hugs the shore of the wild Salmon river, the longest undammed wild and scenic river in the US. 

Gradually the shear cliffs give way to more gentle sloped hills.  Incredibly this Salmon river is the very same that passes through the town of Salmon on the east side of Idaho.  Once it enters a canyon just north of that town, it passes through wild areas where the only access is via foot or horse.  It comes out at this end a much, much bigger river.

By the rushing Salmon River

As with so many of these western rivers their canyons were formed by millions of years of water cutting down through the rock.  It's just amazing what the power of water can do.

Information about the Salmon River

The road leaves the Salmon River at the tiny town of White Bird.  Once this town was located right on Hwy 95.  It grew to have several cafes, a store, motel, RV park, and gas station.  Now the new Hwy 95 and most of the traffic bypasses the town.  So the town now consists of just a couple of cafes, the store, and the rundown motel.  A once thriving community lost to road relocation.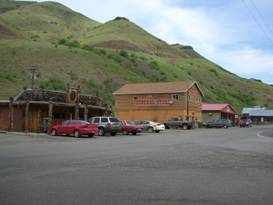 The town of White Bird

White Bird does have a bit of history with the Nez Perce wars.  One of the several battles was held on the hill just east of town.  It is here that O.O. Howard suffered his main defeat.  The Nez Perce waited, ready for anything, but hoping for peaceful talks. Unfortunately the soldiers were over anxious.  They ran in, guns blazing, only to be shot down by the well placed braves.  Some 35 soldiers were killed.  None of the braves died.  It's this battle that got old Howard and the military all in a snit.  So even with popular support leaning toward the Nez Perce, they pursued relentlessly.

Today there are several monuments mostly dedicated to the US soldiers who were killed.  Only more modern signs talk about what the role this battle held in the greater Ne Perce wars.

The old Hwy 95, however, still remains and that's what the bike route follows.  This road snakes up the hill with multiple 180 degree switchbacks.  It achieves 3000 ft elevation gain in only about 8 1/2 miles.  It's a bit of a grind.   Yet when we topped out to spend about 1 mile on the new highway we realized just how much easier this ribbon of switchbacks is compared to the straight up route.

Looking down on the switchbacks out of White Bird

Once at the top of White Bird Hill we got a commanding view of the plateau that holds Grangeville.  From this vantage you can see far to the east to the mountains that will be our next obstacle.

Looking toward the flat valley  around Grangeville

It was a nice cruise down to Grangeville.  This small farming community has the look and feel of a place out of the 60s and 70s.  It's small, quiet, and personable.  You can actually get to know your neighbors here.

We took a hotel for the night.  Another major storm was due in, complete with near freezing temperatures.  So a warm, dry place to stay fit the bill.

APPENDIX A – ROUTE

May 19 - Trans Am bike route to Richland, 43.23 miles

May 20 - Trans Am bike route to Copperfield CG at Hells Canyon, 30.24 miles

May 21 - Up and down Hells Canyon, 24 miles

May 22 - Trans Am Bike route to Cambridge, ID, 39.78 miles

May 23 - Wieser River alternate thru Council to Evergreen USFS Campground, 37.44 miles

May 24 - Trans Am Bike route to Riggins, 47.79 miles

May 25 - Trans Am Bike route to White Bird, old hwy 95 to Grangeville, 49.51 miles

APPENDIX B – CAMPSITES, HOTELS

May 19 - Hewitt Holcomb County park near Richland ($11/night, $2 shower)

May 20, 21 - Copperfield CG at Hells Canyon ($10/night)

May 22 - Town park in Cambridge, ID (Free)

May 23 - Evergreen USFS Campground near New Meadows, ID ($10/night)

May 24 - Village Rv park in Riggins, ID ($15/night $3 shower)

May 25 - Gateway Inn in Grangeville, ID ($69.55/night)

REFERENCES

Adventure Cycling Association Transamerica Bike Route Section 3