Grangeville, ID to Missoula, MT
May 19 to June 1, 2011
Start 63,791 miles (102,066 km)  cumulative:
End 63,964 miles (102,342 km) cumulative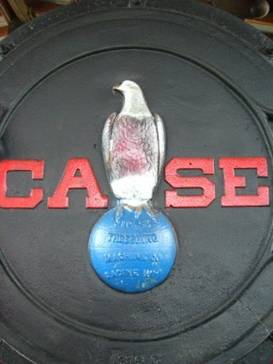 Front of a Case steam engine at Ft Missoula

TEASERS

A wild downhill ride from Grangeville

Join the Nez Perce trail

Lochsa river is flowing fast

Look at all the snow on Lolo pass

More rain on the ride to Missoula

Learn about forest fire lookout towers

Finally see Ft Missoula

Rest and regroup

May 26 - Downhill and then slowly uphill

After a night of absolutely pouring rain, we awoke to partly cloudy skies that were gradually getting brighter.  Staying in a hotel for the night did prove to be the best decision.

Grangeville is a small farming town with just over 3,000 people.  They service the surrounding ranches and hence seem to have more services than you'd expect for such a small town.  It's got one long main street with all sorts of stores.

Grangeville seems to sit on a large ledge.  As soon as you leave on Rt 13 toward Missoula the road drops at a very rapid rate.  What a rip roaring downhill.

Briefly you enter the Nez Perce reservation where you find the little town of Kooskia.  Kooskia has a surprisingly large food store.  We'd loaded up on food not expecting much from such a small town.  But that proved to be unnecessary.

Here's Kooskia, ID

Here we turned right to start the long, long climb up to Lolo pass.  We'd first cruise along the Clearwater River, then branch up the Lochsa before making the last steep climb to the pass.  It was over 66 miles of near continuous climbing.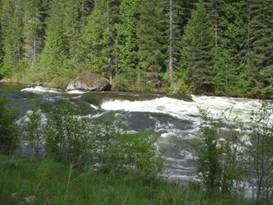 Major rapids on the Locsha

With all the rain, the rivers in this area were running extremely high.  Some of the rapids along the Clearwater looked almost downright dangerous.  Yet there still were rafters and kayakers out braving the elements.  You need a lot of skill for this kind of environment.

Amazing rapids on Clearwater River

This Rt 12 follows what the signs call the Nez Perce trail.  This is in commemoration of the Nez Perce flight in 1877.

In this year the US government decided to put the Nez Perce on a reservation.  This reservation was minuscule compared to their traditional grounds and was in unfamiliar territory.  Many of the tribal groups were being torn away from their traditional homelands.

As the groups were gathered together for the move several of the young warriors, upset with how they were being treated, attacked and killed some white settlers.  This horrified one of their young leaders, Chief Joseph. 

He decided to take his group and try to flee the army.  He thought if he could go someplace else, like Canada, they could find safety.  Little did he realize just how determined the US government was to get them moved into that reservation.

Thus began a 1200 mile chase where Chief Joseph with a large group that included young, old, women and children managed to outsmart O. O. Howard for months.  They tried so hard to flee.  At one point they even came face to face with tourists at the newly created Yellowstone National Park.

They weren't successful.  A mere 24 miles from the border they were finally surrounded and caught.  With so many of his people dead, injured, lost, and starving Chief Joseph declared he would never fight again.

Years later Chief Joseph joined the Buffalo Bill Cody Wild Wild West show.  The show took him and many of his band to Europe to perform.  After returning Chief Joseph said if he'd known how many people there were in the east and in Europe he never would have tried to fight in the first place.  It was then that he realized just how outnumbered his people really were.

We stopped in Apgar campground just past the store at Lowell.  It was a pleasant evening but rained all night long.  So much rain this year.

May 27 - Sun, rain, sun, rain all day

Put the rain gear on and the sun pops out.  Take it off and it starts to rain.  We call this one of our Fernanda days in honor of the gal we met about 15 years ago on our ride down from Alaska.  She declared she knew how to control the weather simply by taking off or putting on her jacket.  We've concluded she may be right.  We wonder what our weather gal is doing now.

The Lochsa River cannot be forded on foot or horse in spring and likely not in winter either.  It makes a formidable barrier for anyone wishing to enter the Selway-Bitterroot wilderness just to the south.  Hence there are now several well constructed and high pack bridges.  One of these is likely used by the Idaho Centennial trail which travels some 900 miles north/south cross the state.  We're considering doing some or all of that trail soon

One of the many pack bridges

As you continue climbing along Rt 12 toward Lolo Pass you pass by an historic forest ranger station complex.  It's open for visitors from Memorial to Labor day weekends.

The historic ranger station along rt 12

There are a lot of old log style buildings here.  Stables for horses, houses for rangers, a visitor center, and storage sheds.  This station was and is used to supply the backcountry ranger huts.  So it is well equipped.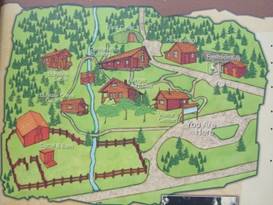 Map of the historic ranger station

Map of the historic ranger station

Just as we left the station a very chilly drizzle began.  Down the road a short way was the not-yet-open Jerry Johnson campground, named for the nearby mountain peak.  As the sheriff told us earlier that day "gates have no meaning for you" so we just cruised right on in. 

It was a cold, wet night.  So with the campground closed, but the toilets open, clean, and not smelling as yet, we made it a night in the toilet room.  It was warm and dry and not too uncomfortable. 

We are really wishing the weather would improve.

May 28 - Last major climb to Missoula

Just where Route 12 leaves the Lochsa river and begins the last steeper part of the climb you will find the small Lochsa lodge.  One thing to keep in mind about these backcountry resorts, they're not exactly what you'd think of as being a resort.  They're rustic affairs, to say the least.  Cabins usually have just beds, tables, and chairs.  Toilet and showers, if even available, will be in a separate building.  Don't expect luxury.

Loscha lodge at Powell Jct

Locsha Lodge has a teeny, tiny store at its gas station.  You can manage to put together a meal if you're not particular.  They do now have a brand new restaurant facility which we didn't eat in.  There are perhaps 8 or 9 small cabins plus a larger group gathering cabin where it appears they put together their rafting trips.  There's a restroom/shower building, a couple porta potties, and some staff buildings.  That's it.  That's the extent of the resort.

Very near the Lochsa Lodge is the location where Lewis and Clark spent a night after having crossed Lolo pass.  From there they climbed the ridge to the north as the river bed was too choked with trees.  This wss when the expidition was having their worst experience.  By the time Chief Joseph followed the Lolo trail it had been greatly improved  making it much easier for pack horses.  Now we have a luxurious paved road.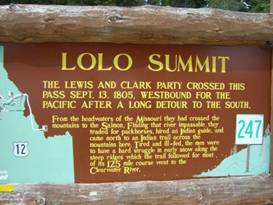 Lewis and Clark's crossing at Lolo pass
Just as we were leaving the lodge another west to east biker came hurrying up the road.  This fellow started in Astoria and is headed to New Jersey.  He is going amazingly fast, about 120 miles each day  We've always found that young single guys seem to ride long, long days.  It seems sitting around a lonely campsite at night with no one to talk to isn't very appealing.
We are noticing now that we're getting closer to June we're starting to see more and more bike tourists.  Likely this will abate for a while as we work our way to the Ice Fields Parkway.  But it most definitely is becoming biking season, even if the weather doesn't agree.
With just a 6 mile steep climb we crested our last pass for quite a while, Lolo pass.  They've had a visitor center at this pass for decades.  In 2003 they built a brand new center that has some interesting displays about Lewis and Clark plus the Nez Perce flight.  There's also a great 3D model of the surrounding mountains.  Oh so many backcountry places to explore.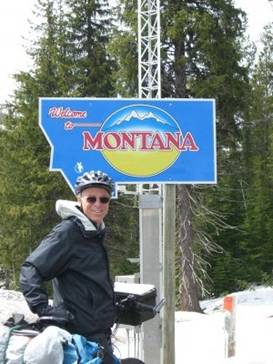 Entering Montana at Lolo pass

Snow at Lolo Pass

It's been a cold and wet spring.  One man at the visitor center told us that it'll warm just little to start the snow melting.  But then it'll rain/snow again just adding to the already very high snow pack.  Rivers are already full, especially to the east where everything runs into the Missouri and then Mississippi.  The Fort Peck dam is running its spillway for the first time since 1997.  The Crow reservation is flooded along with several other towns.  And yet the major snow melt hasn't even begun. 

If it should suddenly get hot, look out.

May 29 - Dodge rain drops

Memorial Day weekend was due to be another wet one.  Something like 3 more inches in the valleys and 18 inches of snow at the peaks.  We spent our time riding the last few miles into Missoula dodging the worst of the rain squalls.

Along the way there are a couple sites of interest.  One is Fort Fizzle, a sarcastic name given to a roughly built set of earthen works intended to stop the Nez Perce.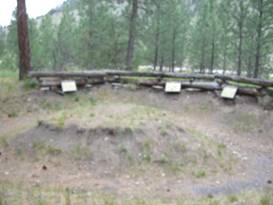 Recation of the trenches at Ft Fizzle

In July 1877 the Nez Perce were coming down from the Lolo pass with O. O. Howard in hot pursuit.  Howard, however, had sent a message ahead to a Captain Rawn who was with troops in Missoula constructing a fort.  Rawn gathered his few men plus some 200 local volunteers to meet the Nez Perce just west of Lolo.

Interestingly the idea of building trenches, and the beginning of trench warfare, came from the Civil War.  Then they fought in the open which usually dessimated the troops.  By 1877 they were training the men to dig in.  Although one soldier, having finished digging, climbed to the top of a hill and then declared in disgust that you could see all the way to the bottom.  Location, location, location.

The volunteers built a series of shallow trenches and log fencing in the form of a rough set of bulwarks.  The Nez Perce, hearing of the group, stopped some 4 miles further west to request a parley.  Chief Joseph did not want to fight.  He just wanted to pass peacefully. 

Fearing reprisals against their farms and families, many of the volunteers went home leaving the army with insufficient forces.

Fort Fizzle site near Lolo

Scouts for the Nez Perce had discovered an easy route over the nearby ridge out of sight and shot of the troops.  They entered the Bitterroot valley to the north and then casually made their way south toward Lost Trail Pass often encountering the civilian volunteers going to and from the rough fort.

Unfortunately for Chief Joseph and his band they really did not comprehend the communication links of the US military.  They were used to the idea that each tribe was an independent entity not really interested in what your relations to another entity was.  The concept of a single communicating unit spread out across the continent that could call up troops from where ever needed was totally foreign.  If he'd known that he probably would have taken the absolutely fastest shortest route to Canada possible.  Instead he wandered south even going through Yellowstone National Park.

We arrived in Missoula early in the afternoon despite sitting out several drenching downpours.  Now it was time for a rest and to check over the equipment.

May 30, 31 - Missoula

Missoula is a great place to regroup.  It's one of the largest towns in this northern region, a college town, and very well equipped.  You can find about everything you could possibly need.  We resolved to take a couple days off to rest and recoup.

We have visited Missoula on several different occasions.  Each time we've been on bikes and did not take time to actually see anything in town.  Guess we were in too much of a rush.

This time we decided to at least go see the old fort.  Fort Missoula was created back in 1877 when that very same Capt. Rawn was doing the construction.  It was obviously a very important fort judging by the quality of the remaining buildings.  Officer's quarters are very large stucco affairs lining the parade grounds.

The fort is no longer used by the military.  That's not to say it's abandoned.  Some buildings are used by the Forest Service.  One is a city heritage center.  One a mental institute.

Here is also where you find the historical museums.  There's a military history section, this was a fort after all.  Plus a local history section.  This includes the lumber industry.

The lumber section is, as you'd expect outdoors.  They start with a forest fire lookout tower, proceed to a lumber train, a saw mill, and a bunch of machines used for lumber harvesting, such as road graders.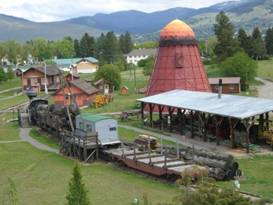 Nice view over Ft Missoula history museum
The fire lookout was interesting.  You can climb up to have a look at the living and working quarters.  Plus you get a great overview of the rest of the exhibit below.
There's a small cabin, once used by fire rangers, where they go into the development of the lookout towers.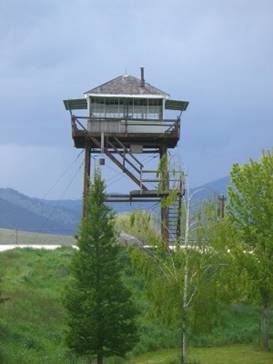 An L4 fire lookout tower at Ft Missoula

They started out by sending rangers out to the woods to climb mountain peaks where they'd keep watch.  Their accommodations were just tents.

They found often peaks weren't high enough.  So some had to climb a tree using a rickety ole ladder.  Sometimes a platform was built in the tree.

Eventually cabins were built by the tree platforms for better living conditions.

L4 fire lookout tower

Around the 1920s they came up with a lookout tower kit.  Labeled the L4, it consisted of a single room with large windows on all 4 sides.  It included a bed, stove, table, chairs, map table, plus fire direction finder.  It could easily be assembled on site on the bare bedrock, a tall rock foundation, or a wooden tower.  At the height of lookout tower use some 1,000 of these were in place in Montana's forests.

Inside the L4 fire lookout tower

In the last years they were contracting with windmill manufacturers to build tall steel structures.  As you can imagine the rangers weren't too excited about these in a lightning storm.

The entire lookout system was created due to major fires in the summer of 1910.  It must have been a particularly hot, dry year.  There were 1200 fires which burned over 3 million acres.

In the early days of the lookout there really were no forest fire fighting teams.  When the lone lookout ranger spotted smoke he hurried off to where it was and tried to put it out himself, all the while hoping another ranger showed up.  Think that did a lot of good?

Further on in the Ft Missoula historical park there is a large area devoted to the lumber industry.  There is an entire shed filled with large grading equipment.  These would be used to build the roads in the forests.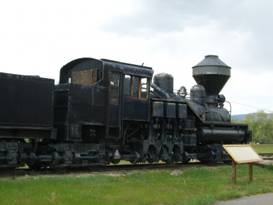 Unique Shay style steam engine at Ft Missoula 

There's a replica lumber mill, one of those bee hive burners, a lot of equipment for dragging the logs, and rail equipment, of course.  One particularly interesting thing was an unusual Shay style steam engine.  This unique engine has three vertical cylinders on one side.  These have gear drives that power all of the wheels on the starboard side.  This engine is suppose to be better for rough terrain.  With all wheels under gear drive we can see why.

Unique Shay style steam engine

More on the Shay style steam engine

With the museum getting close to closing for the night we had just enough time to stop in at their train station.  Early on in train travel stations were pretty rustic affairs, drafty, cold, not comfortable.  As railroad companies tried to draw passengers to their service they built better, more refined stations. 

This one was  moved from the town of Drummond when rail service was discontinued.  Whats nice is the way they have the stations aligned with that Shay engine in the distance looking like it's just arriving at station.

Drummond rail station at Ft Missoula

There's a lot more to see at Ft Missoula and we hope that the next time we come through we'll be able to see some more.

APPENDIX A – ROUTE

May 26 - Trans Am Bike route to Apgar USFS campground past Lowell, 56.52 miles

May 27 - Trans Am Bike route up Rt 12 to Jerry Johnson Campground, 46.27 miles

May 28 - Trans Am Bike route up Rt 12 to Lolo Creek Campground, 42.28 miles

May 29 - Trans Am Bike route to Missoula, Mt, 27.94 miles

APPENDIX B – CAMPSITES, HOTELS

May 26 - Apgar USFS campground near Lowell ($8.00/night)

May 27 - Jerry Johnson Campground near Powell Jct (?/night)

May 28 - Lolo Creek Campground near Lolo ($10/night)

May 29, 30, 31 - El Mar KOA in Missoula, MT ($29.96/night)

REFERENCES

Adventure Cycling Association Transamerica Bike Route Section 3