Jasper, AB to Williams Lake, BC
June 21 to June 28, 2011
Start 64,615 miles (103,384 km) cumulative:
End 64,963 miles (103,941 km) cumulative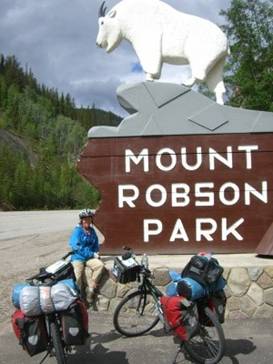 Entering Mt Robson Park
TEASERS
Ride over the lowest pass in the Canadian Rockies.
Who was that yellow haired fellow anyway?
There's a cool bike/hike in Mt. Robson Park.
Hustle down the very remote Yellowhead Highway.
Down to the southern end of Wells Gray Park.
The mosquitoes are out with a vengence.
Just how did those towns get distance oriented names.
Beat the stampede.
June 21 - Summer!!
The Yellowhead Pass is the lowest in all the Canadian Rockies.  It stands at an elevation just around 4000 ft.  The approaches on both sides are very gradual and easy.  Once on the western side there's just another slight climb to a rise south of Valemount then a long gradual descent that goes all the way to Kamloops and beyond.  Then why didn't this pass get the first railroad?
There were probably many factors but we suspect the primary was that it was just so far to the north.  So the Kicking Horse Pass was the first. Eventually Yellowhead Pass did get not just 1 but 2 railroads and even today there are two parallel tracks in addition to the modern paved road.
It's hard to believe but the name "Yellowhead" or "Tete Jaune" was the nickname for, of all people, an Iroquois.  His name was Pierre Bostonais and he was actually fair haired.  He must have had some real odd ancestry to come out a blond.
He spent time in the northwest exploring and trapping and as a result the pass, the highway, and even a town or two carry his nickname(Yellowhead Highway, Yellowhead Pass, Tete Jaune Cache).  Just think, being an ambitious french speaking First Nations fur trapper got you such fame.
For a biker leaving Jasper the climb to the pass is about as easy as can be, if you have either no wind or a tail wind.  There's only about 200 ft of rolling climbing before the pass and then an equally gradual descent.  Of course, we had a headwind which necessitated turning the pedals a lot going both up and down.  We just can't seem to win with the weather this year.
At the pass the road leaves Jasper National Park and enters Mt. Robson Provincial Park.  Mt. Robson is the Canadian Rockies highest peak.  For the longest time it remained unconquered by climbers.  A Reverend Kinney kept trying but never quite got to the very peak.  He made 3 different attempts, the last getting him to within 50 meters of the very top.  Evidently the conditions at the top can be extremely treacherous.  We know there are a lot of folks who really love mountain climbing.  It's just not our cup of tea.
Instead we wheeled down from Yellow Pass making a short stop at the very scenic Moose Lake.  This is a long skinny lake having great views of snow capped peaks at both ends.  However, we still hadn't seen a single moose.
Towards the end of the park section of the road there is a visitor center which carries a combination of park information and tourist information.  There is also a store/restaurant/gas station.  But as usual it is horrendously expensive.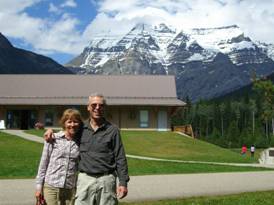 At Mt Robson on a nice day
The views from the visitor center toward Mt. Robson are stunning and we were lucky enough to have a very rare nice day for getting a photo.
Mount Robson Visitor Center and viewpoint
One activity you can do fairly easily is take the hike up to Berg Lake.  This is a very popular pack-in trail.  At its end you will be at a high alpine lake with a fabulous view of its very own glacier.  However, usually it's not something you can do in a single day's walk.  If you bike half the distance, lock your bikes where your must stop riding, and walk up and back you can do it in a single, long day.  It's strenuous but well worth the time.
June 22 - Lots of space, no towns
Two days in row of fairly good looking weather felt almost like a record.  True we've had strings that are longer, but not by much.  This is still not the best of weather and we're beginning to wonder if all summer will be wet.
Once we left the Mt Robson campground there was a bit more downhill until we reached the intersection with route 5.  This highway going south is known as the Southern Yellowhead as the main Yellowhead goes north to Prince Rupert.
Starting on the Southern Yellowhead
Heading south the first town, and the last for a very long distance, is Valemount.
The town of Valemount, BC
Valemount is very much a highway service town.  Strung out along the main Route 5 are several hotels, motels, a couple gas stations, the visitors center, some RV parks, and a few restaurants. The main part of town extends perpendicularly away from the highway.  In town you'll find a hardware store, bakery, internet cafe. more hotels and restaurants, plus the main grocery store.  The store was adequate.
Folks in this town make their living probably from either the highway service or logging.  There can't be much else.
Once we left Valemount there were miles and miles of wilderness roads with hardly a building along the way.  There were a few scattered houses in Albreda, a town that's not even on our maps.  Other than that it's just woods, hills, river, and snow capped mountains. 
Oh and maybe a bear.  We were cruising along at a point where the road bed was a bit higher than the surrounding land, maybe 6 ft.  Down alongside the road was a nice sized black bear.  It looked at us for a couple seconds,  Then rose on its hind legs, made a quick about face, and ran off into the woods.  I guess it didn't want to get acquainted.  That was it for wildlife.  Still no moose.
After a long 65 miles hard riding we finally decided to call it a day.  Finding a place to camp was a bit difficult.  We finally found a pullout that had some sort of tank containing helicopter fuel.  The surrounding pad was reasonably clean and, being a cleared area, mosquito free.  What we hadn't expected was the sudden storm.
As dinner was downed, we watched the sky to the south get darker and darker.  Once we climbed in the tent the wind suddenly picked up.  It howled across our little spot, blowing the awning to the side, ballooning the bike cover. 
The bikes fell over.  We scrambled out of the tent to make a quick adjustment.  Then we heard a snap.  The pole holding the awning broke.  We quickly stuffed the bikes under the awning to give it support and cover the bikes.  Then jumped back into the tent and spent the rest of the night dealing with an absolute downpour.  It was a wet, wet night.
Well, new repairs were now needed.
June 23 - Repairs
The morning came with a steady downpour.  Well, we could afford to wait a while.  So we relaxed in the tent until well past 9 AM.
Finally we concluded that we needed to get up and get moving.  Just as we started packing up the rain quit for a very brief spell.  We had just barely enough time to pack, eat a quick bite, and ride the few remaining miles into Blue River.
Not too long after we settled into the gas station/mini market/fast food joint it once again started to rain.  So we sat for a spell, and sat, and sat.

Looking around the highway area of Blue River, BC
By mid afternoon we wandered over to the nearby campground and checked in.  The Blue River Campground has a nice covered kitchen/TV place that provided a perfect location for cooking dinner and repairing that awning.  So even though we didn't wind up riding nearly as far as we had originally intended we at least got everything back to normal.
June 24 - What an odd reception at Avola
We were up and at it early.  We expected another day of off and on rain and we wanted to get as far as we could this day.
One thing about riding along the Yellowhead Highway far to the north is that there tends to be very few service towns and what services they have tends to be quite limited. 
Originally this particular river corridor was served only by the railroad.  The towns, such as they are, were mainly intended to be rail service towns.  They probably sprang into life when the railroads were being built
The modern highway was not built until around the 1960s.  Gradually a few services have been built but usually only in a select few towns.  Valemount has a good selection of hotels, restaurants, and supplies.  So does Blue River.  The other towns between Valemount and Clearwater have very little to offer.
If you were to continue northward to Prince George things are even more thinly spaced.  Here the highway does not follow the railroad that closely.  The towns are located near the rails, not near the highway.  So for 288 km between McBride and Prince George there are literally no towns on the highway at all.  If you're on a bike that makes things very difficult.
We really wanted to make it all the way to Clearwater, if we could.  But that meant one long 68 mile day which is always tough on a mountain bike.  We were willing to give it a try.
By lunch we made it to the first town along the way, Avola.  Avola sports one hotel, a small gas station/minimarket, a cafe, and a pub whose hamburgers are claimed to be "world famous".  We stopped at the minimarket to get some lunch supplies.
Here's what you'll find at Avola, BC
What a strange reaction we got from the station attendant.  When we arrived we attempted small talk.  "It's a nice day." Brian commented meaning that it was not raining for a change.  The response, "No it's not."  And we got barely another word out of this fellow.  Talk about surely.  Wow.  If he's the boss he surely doesn't want to improve his business any.

We headed down into town proper and found a covered spot by the old town schoolhouse now converted into a library.  Naturally it rained all the while we were eating lunch.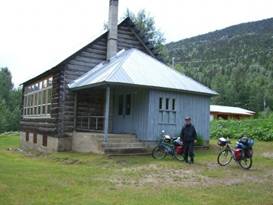 Lunch at the old schoolhouse in Avola
Not too much further down the road is a very nice rest area where we pulled off for a while.  It looked like another downpour was coming so why not wait a bit. 
While sitting about I took a quick shot of one of the bear proof trash containers.  Yes this may sound strange but there's a reason.  One trick we've learned over the years is that if you're in bear country and don't have any good food storage capability and there happens to be one of these trash containers around, voila instant ad hoc bear locker.  It may seem odd but it works.
A tip for storing food in bear country
Onward we went once the skies cleared again.  We hurried along with the wind at our backs and an almost continual downhill run, a very gradual downhill.  Reaching the town of Birch Island we considered stopping for the night.  But we had just another 6 miles to go and as we've always learned, if you've got a tail wind take advantage of it for the next day you may have a head wind.
We rolled into Clearwater at 8:30 PM with a season record distance of 68 miles.  That was more than enough for one day.
June 25 - Mosquitoes galore
Clearwater, BC is most known for being the main access and supply point for the Wells Gray Provincial Park.  This particular park isn't one of the most visited but is is famous for canoeing and kayaking.  You'll see cars loaded with every manner of paddle craft roaming up and down the road.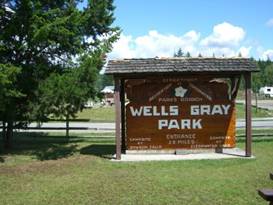 Entrance to Wells Gray Prov. Park
There is also a plethora of waterfalls in the park along with some good hiking opportunities.  You can stop at the visitor center in town to get all sorts of information on where to go.
The visitor center at Clearwater, BC
The town itself seems to be divided into 2 different areas.  The newer section is strung out along the main highway.  Here is where you'll find the gas stations, hotels, campgrounds, fast food, and other restaurants.  The older part of town is located on a side road.  This is where the grocery store, banks, pharmacy, and other shopping is to be found.  This grocery store was the best we'd seen since Jasper.
Shopping at Clearwater, BC
We weren't planning to ride very far this particular day.  Having done 68 miles to get into Clearwater in the first place we weren't up to another 50 mile day which is what we'd need to do to get out of the Thompson river valley.
So after lunch we rode on down the road at a leisurely pace going just as far at Little Fort.  For a short while we were riding along that side road that town sits on.  It appears this is the old highway and possibly it can be followed even further south.  But, not being sure, we returned to the new highway after a couple miles.
The highway is fairly busy at this point.  There are more towns, more houses, and consequently more cars and trucks.  The shoulder, thankfully, is wide and in good condition.  Otherwise it would not have been a pleasant ride.
Just before Little Fort is a nice, tidy little motel/RV park/cafe.  It's kept meticulously clean, the rooms are modern and spotless, even the bathrooms in the RV park are just great.  The tent sites sit on a large grassy lawn overlooking the river.  We were the only campers there that night. So the bathrooms felt very private indeed.
Opposite the motel are the unusual pillow laval rock formations.  This is where lava bubbled up under galcier ice forming unusual rounded mounds.  We'd read about it in the Clearwater visitor center so we knew what to look for.  They're very odd looking.
The very nice Riverside motel, RV park, cafe at Little Fork
It would have been the absolutely perfect except for one small thing, or should I say thousands of small things. Because of all the rain this spring and now with summer temperatures starting to rise the mosquito population is skyrocketing.  The mosquitoes were swarming.  This was where those mosquito coils we'd been carrying since Missoula really came in handy.
As evening came on and one final drizzle moved eastward we were treated to one of the most spectacular rainbows we've seen in a long time.  Even the rare violet stripe was brilliant.  Despite the bugs, it was a very nice evening.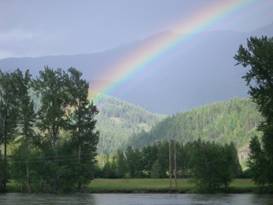 What a rainbow over the Thompson River
A wonderful rainbow over Thompson River
June 26 - If you're not dirty you're not doing anything
At Little Fort we needed to turn right and start a long climb out of the river valley.  The main paved road climbs at a steady 8% grade for over 8 miles gaining over 2000 ft before descending toward 100 Mile House.

There is, however, and alternate route that's not quite so steep. 

This is the old route 24 now known as the Eakin Creek Road.  Just after the new route 24 has begun the steep climb this old dirt road takes off the the south.  It climbs over the nose of a ridge and then descends to the creek.  From this point it's a reasonably gradual climb to the top where it passes a lake and rejoins the new road.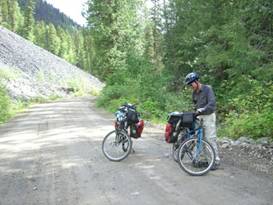 Along the dirt Eakin Creek Road

The dirt alternate is in very good condition.  However, on our ride through they'd just finished grading part of it and the loosened dirt had turned a muddy in all the rain.  This mud, of course, gets caked onto everything requiring a good dosing of water to get it off.
The road follows very closely along the creek bank.  Being an older dirt road there are a few steep climbs and some rollers especially as you approach the top.  But it seemed a much easier ride up than the new road.  Besides the creek was quite pretty and the lake at the top makes for a good picnic spot.  It's evidently good fishing as well.
In fact, the entire route 24 is known as the fishing route.  There are dozens of lakes in this region most of which have at least dirt road access and primitive rustic camping.  The longest lake along route 24 is Lac des Roches, so named because of all the islands it's supposed to have.  We only saw one.  Perhaps you need a boat to see the rest.
A rest stop at Lac des Roches between Little Fork and 100 Mile House
We actually managed to ride further than we thought we would especially considering the 2000 ft climb.  But we were still pushing to get to Williams Lake before their famous Stampede began, so the extra distance was necessary.  We located a very nice campground right on the shores of Sheridan lake and called it a night.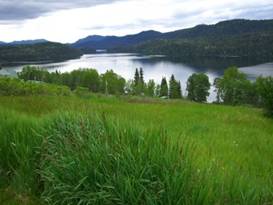 Pretty Sheridan Lake
June 27 - Skiing anyone?
Route 97 is more widely known as the Cariboo Gold Fields trail.  Back in the days of the Barkerville and Klondike gold rushes miners, ranchers, and suppliers followed a trail running northward from Illooet. 
At first this was no more than a trail out in the wilderness.  But as time wore on and more travelers wandered up and down this trail services started to develop.  They usually consisted of some small house or ranch where food, lodging, and supplies could be obtained.
These stops started getting such imaginative names as 70, 93, 100, and 150 mile house or 108 mile ranch.  Soon almost everything along the road was named based on its distance from Illooet, 103 Mile Lake for example.  Even businesses are name for their distance, 111 mile excavation services.
Most of the old road houses no longer exist.  In some instances towns have developed where the "house" used to stand.  And in a few cases the old buildings still remain.
One such town is 100 Mile House.  This is one of the larger service towns on the Cariboo Gold Rush route.  It has 2 large supermarkets, several restaurants and hotels, plus a visitor center that boasts a "goose free zone", a fenced off area that is free from goose poop, and the world's largest cross country skis.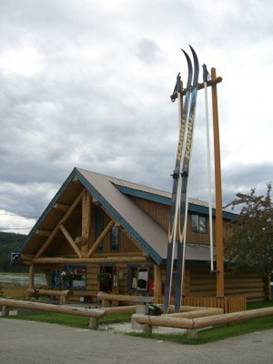 Dig these skis
World's largest X country skis at 100 Mile House
Now looking at these skis, they certainly are remarkable.  However, they're also not usable, that is unless you have the world's largest cross country ski boots to go with them.  So if you have a pair of skis that really can't be used, should they qualify as the "world's largest". 
Ah heck, why not?
Turning north at 100 Mile House we for once were blessed with a strong tail wind.  It seems this entire spring we've either been in rain or, when not raining, pushing against a head wind.  For the first time in quite a long time we had no rain and a rip roaring wind push.
We cruised up to 108 Mile Ranch where the rest area is also a small museum.  They've got the original road house, a new church, some old farm equipment, and even a fairly late model logging truck.  It's a pretty good little museum.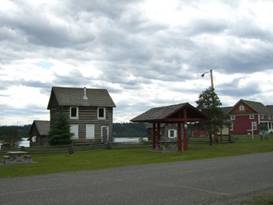 Museum and rest area at 108 Mile Ranch
108 Mile Ranch Museum and rest area
Another hour or so and we breezed past Lac la Hache, Axe or hatchet lake in English.  Supposedly it was named for a French fellow who lost his hatchet in the lake while trying to cut a hole for ice fishing.
The boundaries of the community of Lac la Hache extend the full length of the eastern shore of the lake, 19 km or 12 miles.  Thus they proudly proclaim that they are the longest community of the Cariboo.  Don't expect to find a lot of shopping, restaurants, and motels along this length.  There area only a few, mostly located at the southern end.
At the northern end we rolled into the Lac la Hache Provincial park which, just as we found on the Thompson River, was awash with mosquitoes.  The park operator was telling us this year has more mosquitoes than she's ever seen here.

Get out those coils once again.
June 28 - Just missing the Stampede
Back in 1907 the railroad finally reached this region of BC.  For some reason the planners skipped the town of 150 Mile House and, instead, went to the west of Williams Lake through existing ranch lands. 
The arrival of the first train was highly anticipated.  Rumors went around that there was to be some kind of cowboy/rodeo festival on the ranch lands near the rail station.  Soon crowds of cowboys gathered ready to show off their riding, roping, and racing skills.  There were contests, dances, bar-b-ques, and just a 3 to 4 day long party.
The next year a small banker had moved into town.  Recognizing that for a town to grow and thrive it had to become "someplace".  Having that rodeo as an annual event seemed like just the ticket.  So he sponsored the stampede for the next year and it has grown bigger and bigger every since.  It is now one of Canada's largest professional rodeos. 
In 2011 they were having their 85th annual Stampede.  It's a 4 day long event held during the July 1 Canada Day long weekend.  They expect huge crowds.  Huge by northern Canada standards means 12,000 people.  We'd been warned by several people that this little party can get downright rowdy at times, a lot of drinking going on.  Plus all hotels would be full and charging extortionist rates as well.
We had managed to arrive just 2 nights before the start.  There was still room in the campground and things hadn't quite gotting up and running.  The contestants were camped in various fields all over the place.  The horse corrals were full.  There were posters and rodeo memorabilia all over.
We would stay 2 nights and get out of town before things really got going.
APPENDIX A – ROUTE
June 21 - Canada route 16 to Mt. Robson, 55.02 miles
June 22 - Canada route 16 to Tet Jaune Cache. Route 5 south to near Blue River, 65.95 miles
June 23 - Yellowhead highway south (route 5) to Blue River, 16.12 miles
June 24 - Yellowhead highway south (route 5) to Clearwater, 68.02 miles
June 25 - Yellowhead highway south (route 5) to Little Fort, 17.81 miles
June 26 - Route 24 to Eakin Creek Rd, Eakin Creek road to Route 24, Route 24 to Sheridan Lake, 44.52 miles
June 27 - Route 24 to  Fawn Lake Rd to Horse Lake Rd to Rt 97 to Lac La Hache, 47.68 miles
June 28 - Route 97 to Williams Lake, 32.42 miles
APPENDIX B – CAMPSITES, HOTELS
Currencies listed in Canadian dollars, exchange about $1.025 USD = $1 CND
June 21 - Mt Robson Meadows, ($21/night)
June 22 - Roadside 14 miles north of Blue River ($0/night)
June 23- Blue River campground ($24.90/night)
June 24 - Clearwater KOA ($32.40/night)
June 25- Riverside Motel/Campground in Little Fort ($16.80)
June 26_- Loon Bay Resort at Sheridan Lake ($28/night, $1/shower)
June 27 - Lac la Hache Prov Park ($16.00/night)
June 28 - Stampede Campground in Williams Lake ($16.80/night, $1/shower)
REFERENCES