Port Hardy, BC to Vancouver, BC
July 8 to July 15, 2011
Start 65,282 miles (104,451 km) cumulative:
End 65,429 miles (104,686 km) cumulative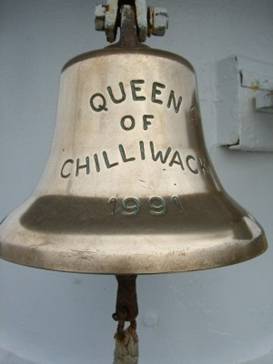 Bell aboard our ferry Queen of Chilliwack
TEASERS
Why would Ocean Falls, BC have such a huge abandoned hotel?

Imagine going shopping from a north BC coastal town.

To ride North Vancouver Island again or not, that is the question.

Tire number 5.
See wood statue carving constest entries at Campbell River.

Devour fish and chips with a great estuary view.

Overlook a few antique planes at th Comox airforce museum.

Pass by the huge paper mill while ferrying to Powell River.

Stop by to see curiosities at Powell River's attic style museum.

Suffer more rain as we ride down the "sunshine" coast.

Into Vancouver to make new plans for the rest of the summer.
July 8 - Ferry ride
On Friday morning the rain stopped for just a few minutes at around 4:45. We took this little break to quickly gather up our gear and get packed.  No sooner did we get the tent picked up then it started drizzling again.  That was our moment.  It came and went in a flash.
We headed for our early morning ferry once again dressed head to toe in waterproof stuff.
At 6:30 AM we joined our fellow ferry passengers at the "muster" location by the COOP in Bella Coola.  Being the only bicyclists, we were allowed to proceed ahead.  This gave us the chance to grab the best seats on the boat, a perk for being environmentally friendly the traffic director told us.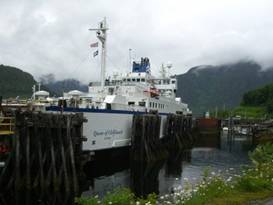 Our ferry from Bella Coola, Queen of Chilliwack
The Bella Coola government wharf is a very small affair.  It probably holds at most 50 vessels.  There are a few sailing yachts and many fishing boats.  The fishermen were up with the sun already headed outbound or checking out their nets.  With the shear green mountains dropping precipitously into the sea, it's beautiful sight.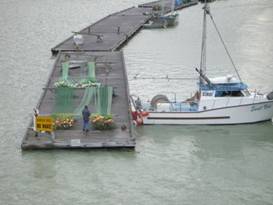 A fisherman works on his nets at Bella Coola
The wharf at Bella Coola
The surprisingly small ferry embarked at 8 AM on schedule and it was no where full.  That was a surprise as we'd been told the Northwest Discovery route is normally booked solid.  Not this year.  We'd now have a full 24 hour journey around the Canadian western inside passage.  A cheap form of cruise you might say.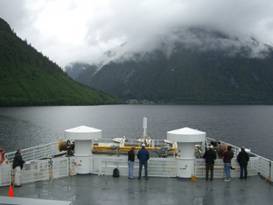 Wonderful view from the ferry
On board the ferry to Port Hardy
The inside passage deep up the arm where Bella Coola sits is narrow with steep, steep very lush mountains on both sides.  This year there was even snow at some remarkably low elevations for this time of year.  When you think of the scenery of the inside passage this is what comes to mind.
Some views of the fantastic inside passage seen from the ferry
Being the Friday southbound ferry, we made 3 extra stops.  The first is another tiny town tucked way up the end of a fjord, Ocean Falls.
Ocean Falls is now split, there's the new town which is about 4 km from the old town.  The ferry docks at the old town.  There are about 30 year round residents and 70 summer only residents in the new town.  There's a store that's only open 3 days a week and a saloon.
On the approach to Ocean Falls
The old town seems to be mostly abandoned.  The first thing you see in the old town is the huge vacant, decrepit building.  We were told it used to be a hotel, a huge hotel that dwarfed everything else in town.  We just could not believe that this tiny town had this huge hotel.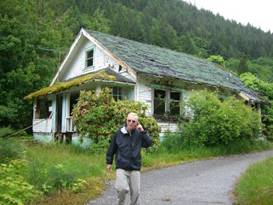 Checking out the abandoned houses at Ocean Falls
To the side of the hotel is a small group of abandoned houses that clearly were company built.  There's a tennis court, a building that looks like former offices, a large boat house, a tiny church, another large high rise, and what looks like an abandoned store or workshop.  Only a couple of the buildings are in use.
This used to be a paper mill town.  The hotel was used by temporary workers brought in to support the  mill. evidently at its height there were some 5,000 people living and working here part time.  When the mill closed in 1980 the town just died. 
Ocean Falls reminds us so much of those old mining ghost towns in the Rockies only newer.  Every silent building has a story to tell.  So many pieces of peoples' lives are left behind.  We even saw an old floor lamp sitting beside a piano.  If walls could only talk.
There wasn't much to see or do but the ferry stopped for a full 1 1/2 hours.  So why not take a wander.  We'll likely never be back.
pretty ocean view as a fishing boat glides by
Several hours later we stood on deck watching the ship smoothly gliding into the dock at Sheerwater.  With a loud bang we crashed right on in.  Oops.  So that's what that big bumper in front is for.
Sheerwater was, during W.W.II a station for about 1000 airmen.  When the war ended and the base was decommissioned and a local yacht repair facility sprang up.  You can now see the docks filled with all sorts of pleasure boats. This is a far more lively town than Ocean Falls and it would have been nice to have a look around.  But we only had 10 minutes and once again we were docked a few km away from town central.  So there was no getting off.
Arriving at Sheerwater
The final stop was Bella Bella.  Again we were several km outside of this town as well and the only thing visible were a few port facilities.  So rather than get off we spent our time watching the many bald eagles soar and swoop.  A First Nations fellow told us that if you go to the dump you're likely to see over 40 of the birds.
You could hear the call of the bald eagles from many places along the shore.  Once you hear the cry of these eagles you'll never forget it.
Ray, the First Nations fellow, lives in the town of Klemtu, an equally difficult water town to get to.  He and his wife were on a simple shopping trip, one that requires about 3 days to complete.  He came by water bus to Sheerwater then caught the ferry.  His wife was meeting up with him in Bella Bella.  He'd stay on the ferry overnight.  It's expensive, he says, but it's far more expensive to rely on the local shops in Klemtu.
Ray is an artist whose Native paintings are evidently demanding a pretty good price.  He's currently getting a very good commission to paint both sides of Klemtu's new ferry terminal.  He was an interesting fellow to chat with.
As night came on all the regular ferry travelers pulled out their big queen size air mattresses and prepared their beds on the floor.  The entire ferry soon became one big dorm room.  We had our little air mats and sleeping bags tucked into one nice comfy corner.  Turn the lights out and we were set for the night.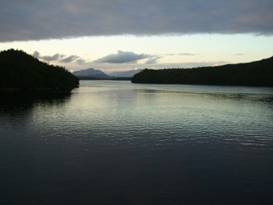 Sunset from the ferry
July 9 - Let's get further south
Awaking at the early hour of 6:30 AM we had 2 1/2 hours remaining on the ferry ride. 
We were already next to the northern most tip of Vancouver island.  Here the number of islands, coves, and inlets that you could explore on a boat seems endless.  This is where we'd love to have a sailing yacht.  Maybe someday.
The mountains near the water are now reduced to more rolling hills.  Snow covered jagged peaks can be seen only further back from the shore.  With a fairly calm morning, it was a pleasant tranquil ocean scene.  Thankfully it wasn't raining.
We rolled off the boat and headed into Port Hardy proper for lunch and to decide what to do next.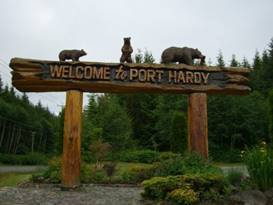 Entering Port Hardy
Coming into Port Hardy
The northern part of Vancouver island is about as sparsely populated as all that remote riding we'd been doing for weeks.  If you head south on the main island road you only pass Port McNeil and the tiny town of Woss.  It would be another 4 days of remote, serviceless riding to get to Campbell River.
It's also significantly warmer and drier further south.  After nearly 2 months of nothing but rain we were more than ready for summer dry weather.  We just needed to go to where it's happening.
Finally we've already ridden this section of road before.  It's pretty, but not overly spectacular.  In fact much of it is just another long ride between rows of trees.  We've never ridden the Sunshine Coast as yet.  So we'd rather spend our time there than on Vancouver Island.
With all this in mind we decided to rent a car and drive to Campbell River.  This way we could concentrate on riding where we haven't gone before and get to a place where towns and services are far more common.
This was a good choice.
July 10 - Ah the coast
Tire number five.  Yup we needed another tire.  After dropping the car at the airport and having a nice chat with the fellow who cleans and rents the vehicles, we headed out.  Brian immediately felt a big whump, whump from his rear tire.  The tire we bought in Missoula had developed a serious bulge just while sitting in the car.  What's with tires this year?
Back north to town we went, Brian bouncing all the way.  Fortunately Campbell River is a large town, the largest we'd seen in many weeks.  The Canadian Tire store had a nice selection of 26" tires so getting a replacement was easy for a change.  Our spare will remain just that, a spare.
Campbell River is the first major town you come to as you head southbound from Port Hardy.  Prior to it the road passes through mile upon mile of forests.  There's not a lot of civilization in North Vancouver Island.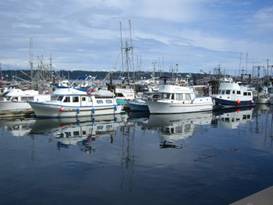 At the harbor in Campbell River
Campbell River has everything you could want.  Lots of restaurants, hotels, camping, food stores.  It also has a fairly large pleasure and commercial port.  The harbor area is very picturesque.
Looking at the large commercial fishing harbor at Campbell River
Campbell River is starting to become biker friendly.  There are new bike paths in town as well as one that follows along the water.  With all the cars on route 19A it was nice to have that path for a while at least.  The path passes by several parks, large and small, where you can find water, toilets, picnic tables, and sometimes a wood carved statue or totem pole. 
On this particular day we passed by several wood carvings at a larger park.  The town was having their annual carving contest and we had the chance to look over the entries.  The horse was really something.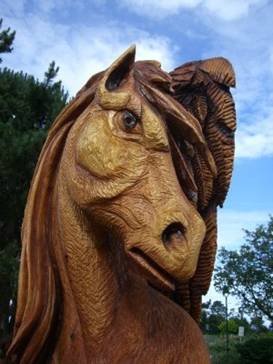 The horse wood carving at Campbell River
Wood carvings at the annual Campbell River carving contest
After so many weeks of light traffic and widely spaced services it was so nice to pass by restaurants and food stores all day.  It's nice being in the boonies for a long time, but getting back to civilization certainly has its merits.
Route 19A hugs the coast as far as Oyster River.  That is such a pretty ride.  As the road heads inland the turn off to Miracle Beach campground is found.  The campground was alive with campers.  This was one of the first times all summer we encountered the summer crowds.  It's the 2nd week in July.  We have just 6 weeks till the end of August and everything quiets down again.  It'll be a long 6 weeks.
July 11 - Another ferry
Oh how nice it is to ride easily for a few days.  The road on Vancouver Island has just minor hills and the distance to Courtney wasn't all that far.  After all that tough riding up north this feels almost like relaxation.
We took a quick look around Courtney.  This town has a main street about 2 blocks long that is lined with touristy kitchy stores.  Along the highway is where you'll find the chain stores, restaurants, and motels.  Since we weren't looking for anything other than cold drinks we felt no need to spend much time browsing.
To get to the ferry we would ride along the dike road to Comox and then up Pritchard Rd to the ferry. 
The dike road travels right along the estuary for several miles.  Along the way are several mobile eateries; seafood, steak sandwiches, and coffee.  We were told that the one called Porches made some really good, really greasy fish and chips.  Not only was that right on, the view from the stools was grand.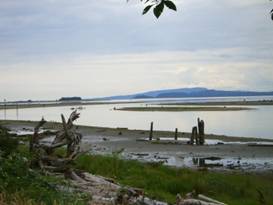 A lovely view of the Comox estuary
Lunch at the seafood shack Porches with a great view
Comox is much smaller than Courtney and we just found it much more enjoyable.  It has a single, short shopping street with a small indoor mall.  There seems to be an unusually high number of seasoned citizens about which makes us wonder if this is a big place to retire to. 
We grabbed some drinks and headed for the harbor for a few minutes. 
At the harbor park you'll find yet another example of a totem pole.  These wood poles are all over western BC. 
Originally these were intended as memorials for the deceased.  They were carved and erected during some elaborate ceremony then left to decay over time.  The figures were intended to tell the person's lineage or history. 
Modern poles are used for decoration.  They'd often painted so that they'll last longer and just have a series of characters that may or may not tell a story.  They've become very common these days.
One totem pole at the Comex harbor
On the way to the ferry we passed by the Comox air base.  This Base was originally created back in 1942 during W.W. II.  They tell stories of the first crew disembarking from a boat in Comox on a hot July afternoon and then marching the few miles to the base.  Hot, dry, and July seem such an anathema this year.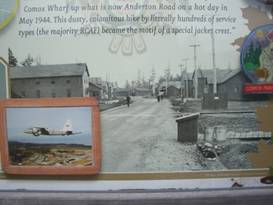 The old Comox airbase in 1942
Over the years the base was decommissioned and recommissioned many times.  Today it serves as a base for search and rescue.  There's a small museum you can visit if you're not hurrying for a ferry.
A quick stop to look at planes at the Comex Airforce museum
Ferry prices in Canada have been soaring.  Our guide book was updated just 2 years previously.  Yet in that time fares have increased over 20%.  In addition they are now applying a "fuel surcharge".  So fare prices have effectively gone up almost 30% in about 2 years.  Of course this is so that the current director can retire with over a million dollars annual salary plus a fat pension.
In any event for us to ride the Sunshine coast rather than stay on Vancouver Island will cost around $35 USD extra.  Sure hope it's worth it.
As the ferry approaches Powell River you can see the huge pulp and paper mill over the port railing.  This mill had its humble beginnings yet managed to grow to be the largest in the world.  One of their main products is newspaper.  In fact one of their customers in 1912 was, surprisingly, the Bakersfield Californian.
Powell River is a town that grew mainly because of the mill jobs.  Even the lowest paying mill job pays better than anything else in town. Town folk have become complacent.  After all there'll always be good jobs at the mill.  No need to work hard on developing tourism.
But times are changing.  Now, for the first time, ebooks are outselling paper books.  Traditional newspapers are dying, being replaced by electronic versions.  Those mill jobs just might not survive after all.  So Powell River needs to start thinking differently.
Arriving at Powell River 
There is a nice campground just on the north side of town.  Such a treat, camping within walking distance of a supermarket.  We could easily get used to this.
July 12 - Attic style museum
Powell has one single very small museum.  It's located near the beach and campground in an octagonal shaped 1960ish looking building.  This is one of what we like to call an "attic" museum.  Literally it looks like people emptied out their attics and donated what they found to the museum.  In fact, the fellow taking our $2 admission fee even said that's where their stuff came from.
Look around Powell River museum
These types of museums usually are crammed full of a most amazing hodgepodge of things.  Some are unusual, often they're just different versions of items found in other similar "attic" museums.  In this instance perhaps the most unique item was a paper strength and elongation tester formerly used at the large paper mill.
More of the Powell River museum
The main problem we have with these sorts of museums is they just don't tell a story.  If you're interested in gaining a little insight into the history and culture of the town and region, you won't get it.  The items will be assembled in groups, sometimes labeled sometimes not.  But there's just no rhyme or reason to the display.  Often there are items included that just don't contribute or don't seem to have any relation to the town's history.  In this particular museum there was one photo of an older couple that had absolutely no label at all.  I know they don't bring in a lot of revenue and are usually staffed by volunteers.  But apart from occasionally finding a few curiosities, you often wonder if it's worth the time.
Ah well, at least it only cost $2, we were waiting for some more rain to end, and we weren't planning to ride very far.  So why not?
Leaving Powell River
For a very short distance the road passes through the quaint old town of Powell River.  You get nice views of the water and islands beyond.  At a pullout there's another of those tall, painted totem poles that seem to be everywhere.  Sometimes it seems their carvers are always trying to out do the next guy.  They're really nice.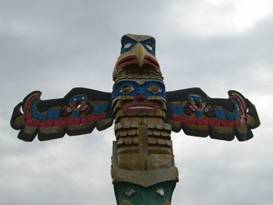 An eagle atop the totem pole outside of Powell River
Another totem pole south of Powell River
Soon after leaving Powell River the road climbs into the hills a bit.  So even though it appears as though you're right on the coast you don't actually see any water, except for rain that is.  What you see is a road that runs between a long row of trees.  More trees.  This wasn't what we'd expected at all.
Since we had a late start we went only as far as Saltery Bay and the Provincial Park.  We were so surprised to find it nearly empty.  It's located on Mermaid Cove, so called because of the sunken mermaid statue, and is supposed to be a diving Mecca.  Yet no one is coming.  The crummy weather must be keeping folks away.
This campground looks like it's in a rain forest.  It has heavy undergrowth, big tall trees, lots of moss everywhere.  Do you think it might be wet occasionally?

July 13 - Oh what rainy day
Oh was it raining when we got up.  One of those absolutely drenching mornings where just trying to get the tent packed up is an ordeal.  Fortunately we did have a small covered area in the campground under which we could get some packing done.  It was the former wood pile cover now used just for the 2 bear resistant garbage bins.  Even so, everything was soaked by the time we got it packed.
We were just 1/2 mile away from the ferry landing. How wet can you get in just 1/2 mile riding?  Completely soaked.  Fortunately our various well worn pieces of rain gear are still keeping us somewhat dry on the inside.  Most importantly, the shoe covers keep the shoes pretty much dry.  Otherwise it would take days for them to dry.  A few minutes to get soaked, days to dry.  What a bargain.
The 50 minute ferry took us to Earls Cove.  Rather than head out immediately in the still pouring rain, we decided to wait an hour or so.  We'd been finding that typically it rains like crazy in the morning and then stops sometime in the afternoon.  We were hoping this would happen again.
The ferry from Saltery Bay to Earls Cove not he sunshine coast
We had really wanted to go out to a place called the Skookumchuck Narrows.  It's an unusual location in the fjord where the narrowing of the water combined with the effects of incoming and outgoing tidal water causes heavy rapids.  Kayakers love to ride these rapids back and forth during high tide.
High tide was supposed to occur about 1/2 hour after we got off the boat.  There's an hour window either side for seeing the rapids effect.  But to get there requires 6 km ride off route plus 4 km one way hiking on a dirt trail.  With all the rain we were willing to bet the trail was not just dirt, but a muddy bog.  With all the wet, muddy campgrounds we'd been slogging through in the past many weeks, we decided we just didn't need to tackle a wet muddy trail.
Instead we went over to the nearby seafood shack and had a long leisurely lunch while still hoping the rain would quit soon.  Much to our delight it actually did at least slow down.
Once we headed on down the road there were several rather steep hills to surmount plus a nice run along the shores of a pretty lake or two.  But still few if any views of ocean.
There are two major towns on this section of the Sunshine coast, Sechelt and Gibsons.  Sechelt's unusual name is ripe for an interesting use.  It's pronounced like seashell with an added T.  So of course one inventive real estate agent goes by the slogan "She sells Sechelt by the seashore."  You won't forget that very soon.
We decided to stop at Sechelt for the night.  We could stay at a nice commercial campground located right next to a supermarket and pay $22 for the night or go on to a Provincial Park to spend $16 for nothing but a pit toilet in a very soggy forest.  The commercial park won.
July 14 - Vancouver
The final few miles to the last ferry were still inland with no views to the ocean.  In Gibsons we did find one road to cut down to, a very steep drop, that did run for a bit along the sea with some very good views.  But all in all we were rather disappointed with the Sunshine Coast ride.  It's just too much a ride between the trees.  Although to be fair perhaps it would have been better if there actually had been sunshine rather than so much rain.
We were surprised to find that for the final ferry we didn't have to pay the standard $31 fee.  Evidently all ferries coming off the section of coast from Earls Cove to Gibsons are free.  You only pay one way.  So at least going to this coast only cost us about an extra $31 rather than the $62 we'd been expecting.
Major ferry landing at Horseshoe Bay near Vancouver, BC
Horseshoe Bay is a small harbor located just north of Vancouver.  It's a pretty harbor that is full of pleasure boats and is surrounded by steep tree covered mountains.  There's a pleasant bay side park and several restaurants, shops, and hotels.  This bay has been a tourist spot for ages.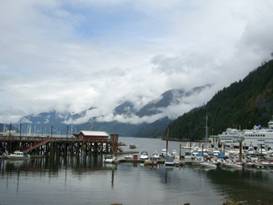 Horseshoe Bay harbor and ferry terminal
Although the huge ferry terminal is a bit disruptive.  There is a 4 lane highway of often backed up traffic waiting to roll aboard the large ferries that depart for the Sunshine Coast and Vancouver Island.  I suppose those visitors back in the 1930s would be rather shocked at this.
Another look at Horseshoe Bay
Horseshoe Bay is the start of the mainland portion of the Trans Canada Trail, a coast to coast route.  Unfortunately it's not a very good beginning.  Once you're off the boat you have to ride up that 4 lane highway, joining another 4 lane highway from Whistler.  You're going up a steep hill and at one point the shoulder goes away. 
You only need to be on the highway for a few miles.  But it's one very uncomfortable few miles.  You would think that if they really wanted to create a good Trans Canada Trail they could at least come up with a better way for bikers to get past this small section.
It was a relief to get off this highway.  But then the route takes you up and down a bunch of small but steep hills  through some very wealthy looking neighborhoods.  We finally gave up on their route and took to the much flatter Marine Drive going right through the center of downtown North Vancouver.  More traffic but fewer hills.
We checked into the first rate Capilano Campground.  It's located right at the north end of the Lions Gate bridge and has some fairly nice facilities.  But it is extraordinarily expensive.  In fact it's probably the most expensive campground we've ever stayed in as tenters.  It's even more expensive than the priciest we found in Europe. 
We sure are finding Canada to be unbelievably expensive.
July 15, 16 - More rain, what to do
Rain, rain, and more rain. We started in rain back in early May.  We rode to Montana in the rain.  We headed to Jasper in more rain.  It continued to rain through our ride to Bella Coola.  It's still raining along Vancouver Island, the Sunshine Coast, and again in Vancouver.  And the weather forecast is for another 10 days to 2 weeks more rain.
That's it.  We've had enough.  It's time to go somewhere where there is sunshine.  The question is, how to do that and where to go.
We needed to go back east.  We needed to get back over the mountains on the rain shadow side.  But that's very difficult with mass transit.  Taking trains in the US or Canada is very expensive.  Taking a bus requires boxing the bikes and still is very expensive.  Renting a car for a one-way trip in Canada is also very expensive.  But, renting in the US isn't so bad.
So with several hours computer searching we came up with a plan to rent a car from Bellingham, WA to drive to Sandpoint, ID in a couple days.  This should hopefully get us enough east to see sun for a change.
More rain poured down throughout our stay at Vancouver.  We didn't do a whole lot.  Just played on the computer and rested.  We took a short loop ride on the seabus and busses to have a look at the city. 
Vancouver is a city with a lot of high rise buildings.  It easily reminds us of any European city.

But when we look at these kind of cities where so many people are squeezed into tiny apartments with people above, below, and both sides of them we ust can't understand it.  We crave space.  I'm a small town girl.  I grew up with a large yard on all four sides of my house.  The idea of living in so close quarters is just beyond anything I could ever do. 
City life is not for me at all. 
We spent our time just relaxing around the campground for a couple days waiting for the weather to improve enough for us to ride to Bellingham without getting too wet.  That was just okie dokie with us.
APPENDIX A – ROUTE
July 8 - Hagensborg to Bella Coola, 11.72 miles
July 9 - Port Hardy ferry terminal to airport, 12.94
July 10 - Campbell River airport to city center, Route 19a to Oyster River, 25.14 miles
July 11 - Canada route 19a to Courtney, Dike road to Comox, Pritchard road to ferry at Little River, Ferry to Powell River, 27.55 miles
July 12 - Route 101 to Saltery Bay, 20.04 miles
July 13 - Route 101 to Wilson Creek, 38.35 miles
July 14 - Route 101 to the ferry, Trans Canada route to N. Vancouver, 23.42 miles
APPENDIX B – CAMPSITES, HOTELS
Currencies listed in Canadian dollars, exchange about $1.025 USD = $1 CND
July 8 -  Board ferry
July 9 - Elk Falls Prov Park ($16/night)
July 10 - Miracle Beach Prov Park ($28.00/night)
July 11 - Wilingdon Campground in Powell River ($18.50/night, $1/shower)
July 12 - Mermaid Cove Prov Park ($16.00/night)
July 13 - Creekside Campground ($22.00/night)
July 14, 15, 16 - Capilano RV park in N. Vancouver ($42.83.night)
REFERENCES