NORTHWEST TOUR 2011 PART XVIII -
Wyoming, Colorado
Lander, WY to Dillon, CO
September 7 to September 16, 2011
Start 67,276 miles (107,642 km) cumulative:
End 67,650 miles (108,240 km) cumulative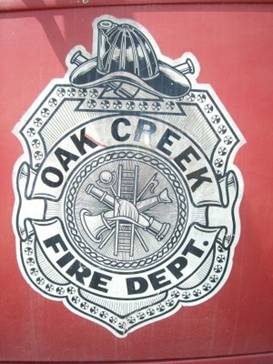 The Oak Creek fire department crest
TEASERS
Taking shelter under bridges and running on a sinking tire
There's a modern uranium ghost town in Wyoming
On the emigrant trail again at Split Rock
The Great Divide Basin, three time's enough
Take the dirt or go on the TransAm
We happen across a veritable generous minimart in nowhere
Back in Steamboat again
Let's try a route through coal country
The first dusting of snow in high country arrives
September 7 - Shelter under bridge
We left Lander reasonably early figuring it'd be easy to go the 40 miles to the rest area where we wanted to camp.  Getting past the route 28/287 intersection was quick and rolling along the hills to the Beaver Creek was equally quick.
Then the weather started to change. Off in the distance was a long curving line of dark clouds.  Rain was descending and there was lightning.  Not a single place to shelter was in sight.  We got as far as the Beaver Creek.  There we took shelter under the bridge to wait it out.  And we waited and waited and waited.
Taking shelter under the Beaver Creek Bridge
Once the lightning and thunder quit we headed on down the road.  There were still dark clouds everywhere and we had a long 1000 ft climb ahead.  But at least the scary, dangerous electrical stuff had quit for a while.
Upon cresting what is called the Beaver Rim we again found ourselves in a rain situation.  We hustled the last 6 Miles to the Sweetwater Station rest area.
Black clouds loomed ahead.  We could see curtains of rain headed our way and we had just a few hundred feet to go.  I rode over one Bump and suddenly heard a psssssssst.  I had a fast flat.
We pedaled like crazy barely making it before my tire was completely airless and a downpour started.  We got so lucky.
The Sweetwater Station rest area is one of our top notch Wyoming rest stops.  It has green grass, covered picnic tables, kids play area, and their special energy efficient toilet buildings.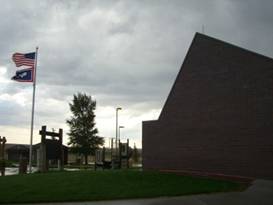 One of Wyoming's great rest areas
Here is one of Wyoming's really nice rest areas
Sweetwater Station is located along what was the Oregon, California, and Mormon emigrant trails. Inside the toilet building there's a map that shows some of the landmarks along the trails. 
The station sits just 35 miles east of South Pass where the wagons actually crossed the divide.  The sign at the rest area says some of the emigrants couldn't tolerate the open, treeless expanses while others really liked the views.
After the emigrants came miners.  Gold miners came first.  The latest were the uranium miners.  These last ones created their very own modern ghost town, formerly called Home on the Range now Jeffrey City.
You can get a lot of historical and wildlife information just visiting a Wyoming rest area.
Sept. 8 - That blasted basin
It started as a nice morning to ride with good temperatures and no rain.  However, a strong headwind picked up in the afternoon making those last few miles really tough.
As we pulled out of the rest area we noted the Willies Handcart center on our right.  Our map had said that there was camping at the center with toilets and a covered picnic table.  We thought they had meant the rest area, but in fact there really is a center.
The Willie hand cart center near Sweetwater Junction
When the Mormons headed west along the trail many of them were essentially penniless immigrants from Eastern Europe.  They had no money to buy the oxen and wagons that other emigrants used.  So they designed a wooden handcart that the individuals literally rolled by hand across the plains and deserts of the west.  Imagine pulling one of these incredibly heavy carts over a thousand miles across rugged terrain in all kinds of weather.  And we thought we were tough riding our bicycles on paved roads.
Within 20 miles of the rest area we went by the uranium boom and bust town of Jeffrey City.  In the 80s it had around 4000 people, a bar, liquor store, gas stations, cafes, large school, churches, everything.  But the accident of Three Mile Island brought about its demise.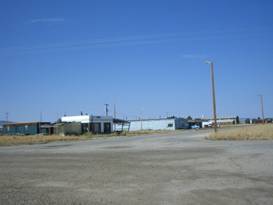 Modern ghost town of Jeffery City
Uranium mining became taboo and the town died.  Folks left in droves even hauling their houses away.  Now there are just over 100 people, one cafe, and an attempt at a motel, plus lots of boarded up buildings.
Boom and bust uranium town of Jeffrey City
Back on the Oregon, California, Mormon emigrant trail we soon passed a major landmark along the trail.  
as the emigrants traveled westward they would see in the distance various landmarks that marked their progress.  Often these are the same landmarks originally used by the natives during their journies.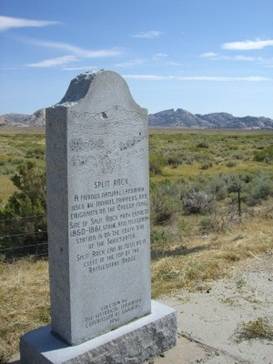 Split Rock monument with the rock behind 
Split Rock just east of Jeffrey City is one such landmark.  It is a rather unusual looking mountain with a deep cleft in the top.
A monument to the Split Rock emigrant trail landmark
At one spot in the road you can pull off to read a monument about Split Rock at a location where the unique split is most visible.  Further east just up a rise is a Historic Site that has signs discussing a bit more about the trail.  You can't see the split here but you can hike about in the desert a bit if you wish.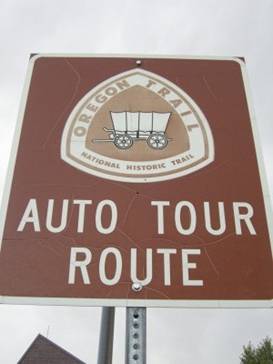 On the Oregon trail auto route
The Split Rock historic site
Not only did emigrants follow this trail, this is also the route the famous Pony Express followed.  One of the original Pony Express stations was located just below Split Rock.  This expensive venture lasted just a mere 18 months and wound up losing its investors over a million dollars, back when a million really was worth something.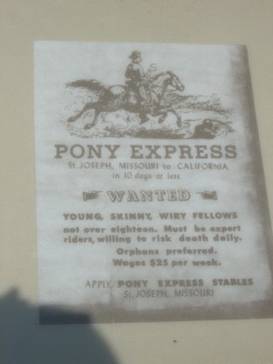 Job requirements for Pony Express riders
At the historic site they show one of the advertisements for Pony Express riders.  I especially like the part about being an orphan.   one of the more famous riders was old Bill Cody who had one long and colorful career.
At Muddy Gap you turn south.  The store at the intersection isn't much and has exorbitant prices.  We bought drinks and ice cream.  But if we weren't on bikes we'd pass it by.
The very expensive Muddy Gap store
Soon we passed over a low pass and entered the Great Divide Basin proper.  This unique part of the Continental Divide  is where it actually splits to surround a basin.  The water that falls within the basin stays in the basin.  Actually it evaporates away. 
The basin a wide, open expanse of desert punctuated by a few rocky hills. In many places the soil will turn to sticky mud at the slightest hint of rain.  There seems to always be a high wind which luck would dictate is in our face.  
We've ridden across it and hiked across it and we just don't like it one bit.  We swear this will be the last time. 
Completely pooped after a good long day's ride we pulled off onto a dirt track running into this desert and set up camp for the night.
Sept. 9 - Back in oil country
With only about 10 miles to go the next day we rolled into Rawlins very early.
Over the years that we've been passing through Rawlins it has been gradually adding amenities for travelers.  Originally it had just a few older motels.  Now the modern chain hotels are springing up at the west and east exits for town. 
Even though there are now a lot of hotels, often their full.  Rawlins is one of the main towns for folks working the oil fields around central Wyoming including out on that Great Divide Basin.
There area a couple things to see in Rawlins including the county museum and the old State Penitentiary building.  We've already seen both.  We just did some shopping and took the rest of the day off.
Sept. 10 - Which way to go
We thought long and hard about which route to ride, the TransAm or the GDMBR.  We've never ridden this section of the TransAm which is all pavement and a shorter distance to Kremmling.  The GDMBR would avoid riding next to the highway, has a lot less traffic, and goes through Steamboat Springs. 
What finally persuaded us was the predicted wind direction.  It was supposed to be out of the east.  Since the TransAm spends 25 miles going east, we opted for the GDMBR.
This route goes essentially straight south out of Rawlins.  It's paved for 25 miles with several more miles of pavement being added when we rode by.  Fortunately on Saturday there were only a couple machines running so it wasn't too bad.
Overview of Rawlins as we headed south out of town
Once we left the pavement and construction behind the loose rock dirt goes over a series of climbs as it traverses from creek to creek.  The shear number of small, steep ups and downs makes this one of the harder sections on the GDMBR.  The fact that they just graded the road and that there was a high number of vehicles during to hunting season and a wedding made it even tougher.
At about 40 miles out of Rawlins we pulled over on a side road for a drink.  As seems to happen all too often that was when a truck pulled up.  The driver asked if we needed anything, water, gatorade, snacks.  We've learned long ago you never turn down food in the middle of nowhere.
He got out and proceeded to dig into various pockets producing all sorts of goodies.  He was a veritable 7/11.  Good thing we had the extra snack as there were still a bunch of ups and downs left.
45 miles south of Rawlins we finally enter trees
At 45 miles we finally start getting into forests.  This was just in the nick of time as thunder and lightning storms were rolling by.  We took shelter in an aspen grove for about an hour.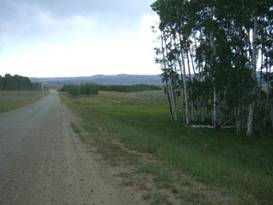 Leaving the treeless lands behind south of Rawlins
We completed just another 5 miles and we'd had enough.  We grabbed some water at the first stream we came to and headed off on a side road to camp.
Sept. 11 - Aspen alley again
Frost coated the tent in the morning.  It had been a very rainy night and cold temps greeted us in the morning.  Still we needed to get going early.  Colorado is still getting those afternoon lightning storms and we may need to hold up and take cover at any time.
Just a few miles up the road we passed through Wyoming's famous Aspen Alley.  It's a short section of dirt road bordered on both sides by tall aspen trees.  It's only about 1/4 mile long but we always look forward to it.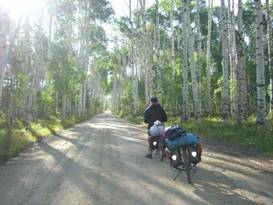 Aspen Alley south of Rawlins
Soon we hit the pavement of route 70 and the long downhill run to the Little Snake River and Colorado.  Well that's it for Wyoming for this year.
Looking toward the mountains of Colorado
All too soon we were back on dirt and doing those oh so tiring up and down rises between creek beds.  Our legs were really starting to burn.
At least this time the weather was reasonable.  The last time we rode here in 2008 we got hit with a thunder/lightning/snow storm.  It was freezing.  This time there are dark clouds and a few sprinkles.  We can live with that.
The historic Summit Creek Ranger Station
We got as far as the Summit Ranger Station and just had to call it quits for the night.  The Ranger Station is an old 1930s cabin now used as a work center.  It's in very good condition and is listed on the national register of historic places.  Out back there's a memorial tree to Dean Leonard.  Planted in 1939 it's now suffering from a pine beetle infestation.  It won't last long.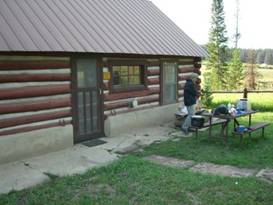 Having dinner at the Summit Creek guard station
Sept. 12, 13 - Back in Steamboat
We had only 2.7 more miles of climb on dirt to Columbine in the morning.  Then mostly down to Steamboat Springs.  Along the way we made a short stop at the nice little store at Clark.  It's got a fairly good selection of groceries, but it is a bit expensive.  Since it was early we just grabbed a cold bottle of milk to drink.
Quick stop at the store in Clark, CO
Steamboat Springs is in the Yampa River valley.  It's a ski town in winter and a favorite town for accessing the mountains in summer.  Tubing on the river in summer is a big pass time.  With the town's free bus service it's easy to see why.
The valley has become a place where very pricey homes are being added every year.  They dot the hillsides overlooking the fields of wheat below.
The town has a quaint historic section filled with nice restaurants and shops.  But it now also has a WalMart and City Market which are the best places for getting supplies.
After all those tough up and downs on the dirt roads out of Rawlins we were so glad to pull into the Steamboat Campground.  We've really gotten to know this place quite well.  It's not in as good condition as when it was a KOA.  But it's still not bad.
We spent the entire next day just taking the Bus around town, getting supplies, and resting.
Sept. 14 - Here comes fall
Rather than take the GDMBR all the way to Dillon we decided to follow a route we've never done before.  We started out as usual, following the bike path to River road and then on to state route 131.
Here we turned right to begin the about 30 mile gradual climb to Toponas.  The road begins with a wide shoulder but soon narrows.  Although it looks like their adding new width to an additional 2.8 mile stretch.
The road follows beside the railroad abd passes through a canyon where the remnants of a coal mining operation can be seen.  When the trains ran on coal this area developed into a major coal supplier.  Business slumped when trains went to diesel.  But after the 1970s gas crunch coal once again brought this area back to life.  Today you can see long, long trains filled with coal coming from the Twentynine Mile mines.  Colorado gets some 35% of their electricity from coal.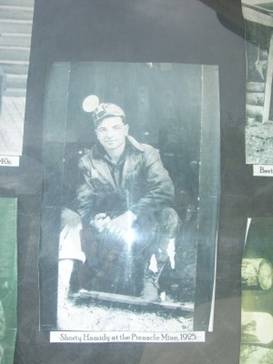 A coal miner from 1925
Looking at some coal mine remains around Oak Creek
Unlike the GDMBR, the road route passes through several small towns.  The first was Oak Creek which to our surprise actually does have a few businesses, cafe, bar and grill, pharmacy, motel, and market.  We weren't expecting anything so this was a pleasant surprise.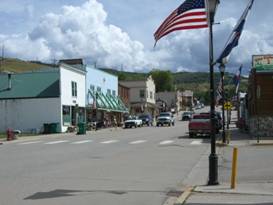 The town of Oak Creek, CO
Downtown Oak Creek with more businesses than we expected
Oak Creek also has an interesting small museum display in a little park.  The highlight is a huge dredger thing.  This was towed behind what must have been an equally large truck.  It removed the upper layers of dirt and rock so the coal could be accessed.  Just imagine what it took to cast this monster piece of iron.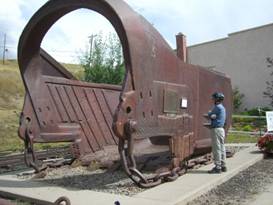 Checking out huge coal mine equipment in Oak Creek
The interesting coal mining display at Oak Creek
Just a few miles further is Phipsburg.  This little town doesn't have much with the exception of a modern ranch supply store.
Nine miles further is Yampa, named for a plant used by the natives as a major food source. 
Yampa has an incredibly wide main street that to this day is unpaved.  Old photos of town show that it's always been this way.  There's a row of old street lights right down the middle of this dirt street which you can see in an old photo at an information kiosk.  This road used to be lined with wooden businesses, but today only a few remain.
Looking at Yampa's incredibly wide main street
Remarkably there is a nice modern Oak Tree Inn and Penny's Diner.  While talking to one of the waitresses we remarked that these hotels seem to be on some really odd places.  Turns out the Oak Tree Inn is run by the railroad.  They use it primarily for housing employees when they're away from home.  They reserve a set of rooms for staff and then sell the rest.  So that's why you'll find this nice hotel in such strange places as Yampa, CO, Bill, WY, and Low Moor, VA.
Dark clouds were building all around except where we were standing.  So we pressed on the next 9 miles to Toponas.  Here we stopped in for drinks at the little store, one of those places so crammed full you're bound to find anything you want if you look hard enough.
As we sipped our drinks, sitting in the plastic Adirondack chairs, watching those dark clouds floating around the owner quipped, "You'd better pedal hard to get out of this high country.  Snow's coming."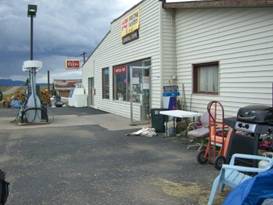 The little store at Toponas
The little store at Toponas
He was right, at least for the mountain peaks.  But the current weather forecasts were showing an Indian Summer in the offing.  So we think we may have just enough time left to get to Durango, maybe.
We headed up state route 134 toward Gore Pass to reconnect with the GDMBR.  We found a small pullout and set up camp just in time for that rain to finally catch up with us.
Sept. 15 - Snow
Well this was it, the end of summer as we knew it.  The first cold front with snow in the upper elevations hit.  With any luck we'll have a long Indian Summer to take us through September 30 and the end of our planned tour.  But from now on we can expect colder and colder temperatures.
Our campsite was located just off the road in a clear area slightly west of Gore Pass.  It had rained all night long and was continuing to rain all morning.  We ate breakfast and then just lay in the tent waiting for a break in the weather.  We didn't need much.  Just enough time to hurry over the pass and down to Kremmling.
We lay in the tent and waited, waited, waited. The weather was awful and the temperatures were continuing to drop.
Finally not too long after noon we had a break just barely long enough to get everything packed and ready to go without getting too wet.  We saddled up and rode as quickly as we could.  We still did get wet, but not entirely soaked.
Kremmling is one very small town.  It has a nice new supermarket that seems to have been built more to support all the new homes built in the hills than just the town itself.  We were amazed to see just how many houses there are in the hills overlooking town.
It also now sports 2 new hotels, the expensive Allington Inn and Suites and the more reasonable Cliffside Inn.  There's also the Easton Hotel that is housed in one of the original 1800s wooden buildings.  This also has hostel rooms that run for $15 which would work for single tourists.  Two other motels in town seem to be closed.  There area also a couple bars, a Mexican restaurant, Subway sandwich shop, a bakery restaurant, and a Dollar store.  Otherwise I guess most folks go shopping up in Silverthorne.
As we zoomed down the hill toward town, with some ominous looking dark clouds following us all the way, we looked toward the south.  There on the tips of the taller mountains we could see new dustings of snow.  That's it.  The first snowy storm of the season.
We decided to check into a motel rather than tough it out another night in the cold, wet rain.  It was a good choice in the end.
Sept. 16 - More rain
We took the shortest route to Silverthorne rather than take the dirt GDMBR route.  The GDMBR is about 10 miles longer and a much tougher ride.  Plus with all the rain the road may well be quite muddy.  We'd take the pavement.  It's much easier.
Although it is easier, state route 9 is a lot busier.  Unlike the wonderful Wyoming roads, Colorado roads rarely have any shoulder at all.  We've scanned the bike map published by the Colorado Department of Transportation and there are almost no roads with big shoulders that they consider bike routes.
We had to ride on this skinny road for about 10 miles before we could turn off on the Green Mountain Reservoir road.  At the site of the dam there's a sign describing the dam project.  That sign is now located behind concrete barriers and the security guard won't let you stop to read the sign.  So why don't they move it?
This little side road has very light traffic and goes for about 10 miles.  Then we were back on route 9 with its high traffic and skinny shoulders.
Just when the GDMBR route rejoins the TransAm there's a new road with a nice wide shoulder.  This took us the last 15 miles or so into Silverthorne.  What a relief.
We had a bit more rain, which added more snow in the high country.  It was not a particularly nice day.  In addition, there is almost no camping in the Dillon area.  So we had previously made a reservation at the very nice La Quinta Inn, probably the nicest hotel we've stayed in all summer long.  Ah it's nice to have a bit of luxury for a change.
APPENDIX A – ROUTE
Sept. 7 - Route 287 to Sweetwater Junction rest area, 38.83 miles
Sept. 8 - Route 287 to Muddy Gap, past Lamont to 20 miles north of Rawlins, 66.41 miles
Sept. 9 - Route 287 to Rawlins, 20.44 miles
Sept. 10 - Route 71 to county road 401 to FR 801 to FR 872, 51.01 miles
Sept. 11 - FR 801 to state hwy 70 to county route 129 to Summit Ranger Station, 44.91 miles
Sept. 12 - County route 129 to Steamboat springs, 33.01 miles
Sept. 14 - Bike path to county route 14 to state route 131 to Toponas. State route 134 to camp, 51.14 miles
Sept. 15 - State route 134 to state route 9 to Kremmling, 24.70 miles
Sept. 16 - State route 9 to Green Mountain Reservoir, around the lake and back to route 9 to Silverthorne, 40.54 miles
APPENDIX B – CAMPSITES, HOTELS
Sept. 7 - Sweetwater Station rest area ($0/nights)
Sept. 8 - Wild camp in desert ($0/night)
Sept. 9 - Quality Inn, Rawlins ($64.95/night)
Sept. 10 - Wild camp on FR 872 ($0/night)
Sept. 11 - Summit Creek Ranger Station ($0/night)
Sept. 12, 13 - Steamboat springs campground ($27/night)
Sept. 14 - Wild camp in Routt National Forest ($0/night)
Sept. 15 - Cliffside Inn at Kremmling ($75.69/night)
Sept. 16 - La Quinta Inn at Silverthorne ($75.96/night)
REFERENCES