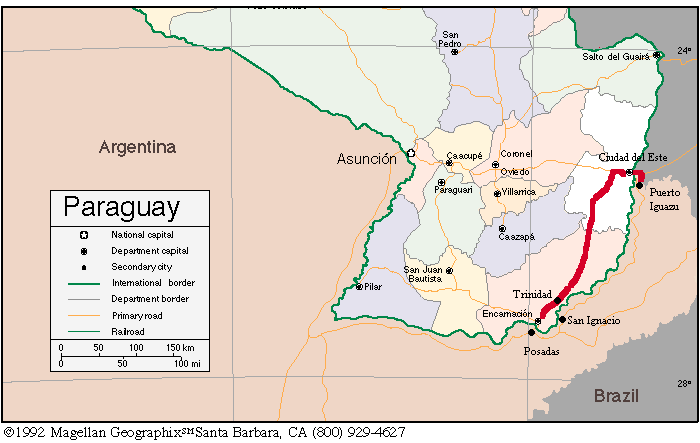 Note, Paraguay for most of the year is extremely hot and humid which makes for real unpleasant riding. We were there in mid April, the equivalent of mid October in the north hemisphere and it was still unpleasant. As a result we won't have particularly fond memories of our biking experience there. The only time when riding would be pleasant is in the dead of winter, about June or July. Then it could be a rather enjoyable and pretty, although not spectacular, ride.
Puerto Iguazu, AR to Ciudad del Este, PA
Going via the Paraguay route first requires getting around the Brazil city of Foz do Iguacu and then through Ciudad del Este. The bridge between Argentina and Brazil is extremely wide with huge shoulders. In fact, the road all the way from the turn off to the bridge in Argentina and the turn off toward Foz in Brazil has wide shoulders the entire way. Riding across this bridge is no problem. You get your exit stamp from Argentina on the Brazil side of the bridge. If you are heading onto Paraguay the same day you don't need any Brazilian stamps at all.
Soon after crossing the bridge and passing through Brazilian customs, where you will have to ride your bike through a pond filled with some sort of disenfectant, you come to a T intersection, right going to the falls, left to the city. Go left. You will climb a long hill and then a long downhill. Soon you will arrive at another large intersection. There is a big Mufato supermarket on this corner and the road signs indicate that you go left to go to downtown, Itaipu, and Paraguay. Ignore these signs and go right instead. You will be on Av. Parana. This is a wide, 4 lane divided shade-covered road with enough width on the sides for parallel-parked cars. This makes a wide shoulder for riding. This entire road skips the frantic downtown area. Continue straight on Av. Parana until you come to a large intersection with signs pointing toward Paraguay. Again this is a 4 lane divided highway. This takes you right to the bridge.
Your choices for crossing the bridge are to ride or to walk on the fenced in pedestrian walk. If traffic isn't bad and cars aren't lined up to cross the border, try riding. It's a 3 lane bridge so cars have plenty of room to get by. Otherwise the pedestrian walkway is sufficiently wide for you to walk your bike. Once through the Paraguay border crossing you will probably want to head 2 blocks to the right to get off the main street. On a weekday there will be a lot of traffic and pedestrians on the main street, the one 2 blocks over is a lot quieter. Note, the very best day to make the ride from Puerto Iguazu to Ciudad del Este is Sunday as the hundreds of small kiosks and stores in Ciudad are closed which means no pedestrians and almost no traffic.
Make sure to stop in at the tourist information office at customs to get a country map. It has a lot of good information for all the major roads including locations of restaurants, hotels, and campings. The map is free and is better than the maps sold in Argentina. There seems to be some good bike shops in Ciudad del Este, one block off the main street. Check at the visitor's information center for exact location.
Ciudad del Este to Encarnacion
Route 7 out of Ciudad del Este is a large 4 lane divided highway. It has wide, paved shoulders. However, they have regularly spaced speed bumps designed to keep cars from driving on the highway. It's possible to ride around a lot of the speed bumps, but some extend all the way across the shoulder and you'll have to go into the traffic lane to avoid them. There's a lot of traffic on this road. It seems like the city of Ciudad del Este extends all the way to the intersection with route 6, at least there are buildings all the way. There are restaurants and a store at the intersection which is located 30 km out of Ciudad del Este.
Route 6 is a 2 lane road with a similarly speed bump wide shoulder. Traffic is still heavy on this road, especially trucks. You can ride in the traffic lane, but jump onto the shoulder when a truck comes barreling by.
Scenery is mostly cleared, large farm fields extending over gently rolling hills. The formerly large forests and jungles were cleared long ago. It looks a lot like riding through Indiana. The hills seem to become steeper and higher the further south you go. There are huge granaries along side the road. You'll recognize them by the big, aluminum tanks. Also in a few spots between Naranjito and Tomas R. Pereira there are some tent towns, little shanties built from logs and black plastic. One of these towns also has a few wooden buildings that actually reminds us of a U.S. western mining boom town that is still alive.
At km 228 on Rt. 6 you pass a small town with gas station, small grocery store, and small restaurants. At km 208 you go through Santa Rita, a long spread out highway town. There are 3 hotels, 2 less expensive ones north of town and the Hotel Strafenberg in town. Hotel Primavera costs about $16 US with breakfast and has private bathrooms, a/c, and TV in each room. Santa Rita has several groceries and restaurants. There is a bike shop, but we didn't check it out. Parts are probably extremely limited.
For the first 35 km south of Santa Rita there are plenty of grocery stores, gas stations, comedors, and even 2 very basic hotels, one 20 km out and the other 30 km. San Alfredo at km 180 is a fairly good sized town with good facilities.
Things become scarce from km 173 to km 139. At km 139 is another long stretched out highway town, Naranjito. It's not as big as Santa Rita. It has grocery stores, gas stations, and restaurants but no hotels. Again there is another space of not much until Tomas R. Pereira at km 120. Here you'll find all services including, a very basic hotel and bike shops. The hotel El Dorado is located on the south side of town, off the main road 1 1/2 blocks. A sign on the road points to the hotel. The price was about $10 for a double room with private bath and a/c.
At about km 96 you pass a town with grocery services. There's a hotel at the intersection that goes off to Pirapo, km 76. Note that there's just the hotel/restaurant. There are no groceries.
From around km 70 until you get to Bella Vista the road deteriorates a lot. The shoulder becomes overgrown rubble and the traffic lanes have pot holes. Drivers in Paraguay, in particular truck and bus drivers, are some of the worst we've seen. They'll run you over before considering putting on their brakes. Be prepared to jump for the bushes.
There's the very nice and expensive hotel Papillon in Bella Vista. Price is around $36 for 2. There's supposed to be a second, less expensive hotel 2 km further south from Papillon, but we didn't spot it. Groceries and restaurants are available at Bella Vista.
Hohenau has both a hotel and a campground. The sign pointing to the hotel is located on the southern edge of town just as you're headed down a steep hill, on the left side soon after the nice town plaza. The hotel is located off the main road. The Camping Manantial is located about 3 km south of town. This has to be the nicest campground we've found in all South America so far. It's German run, has 2 absolutely spotless and large pools one for wading and the other for diving, amazingly clean bathrooms, a clean restaurant, and picnic tables that are amazingly tiled. Price with use of the pool is about $3 per person.
From Hohenau to Encarnacion will take you over several more sizable hills. The shoulder stays fairly nice until just before Encarnacion. Then you'll find a few sots where it's been worn away. But, in general it is pretty good all the way. Traffic, of course, really picks up as you get closer to the city. Be extra careful of cars coming in from the right side and making right turns in front of you. They do it without warning. There's a nice hospedaje just outside the Trinidad ruins. You'll pass the Hotel Tirol in Capitan Miranda where you can also find groceries and restaurants.
Once in Encarnacion, you'll make a left at the McDonald's restaurant to get onto Av. Irrazabal. Just a few blocks down, Av. Irrazabal continues straight and the 4 lane divided Av. Japon angles to the right. You'd need to turn right before coming to this intersection in order to get to the bus station.
Encarnacion, PA to Posadas, AR
Getting across the bridge between Encarnacion and Posadas is an adventure in itself. You cannot ride or walk on the bridge. If anyone tells you that you can, they're wrong. So you have a few options. You could try to take the local bus across. This is a small bus and getting your bike and gear aboard may be impossible. Also, when you get to Argentina you have to take everything off because you have to have your passport stamped and luggage inspected. The bus doesn't wait for this to happen.
You can take a long distance bus if you happen to be going on to somewhere in Argentina. Again at the Argentina border you will have to take your baggage off the bus to be inspected only in this case the bus does wait. You won't have to take off the bikes.
You may even consider trying to hitch a ride with a pick-up truck, but that may take a while to get a willing person. Or you could hire a taxi to take you across. You'll have to disassemble your bike to do this.
Finally, supposedly the officials may give you a ride, or at least that's what some of the guide books say but we didn't give that a try. It's not an easy bridge crossing no matter how you go.