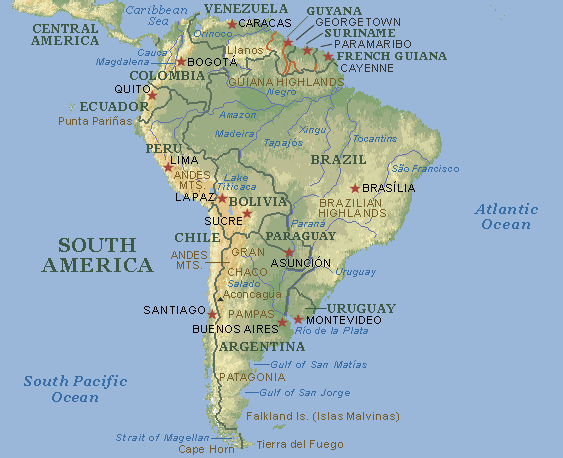 The world is a book, and those who do not travel, read only a page.
St. Augustine
South America we shall visit not once, but twice. It's a large continent deserving multiple visits. We begin with a brief 3 month tour through the eastern countries of Uruguay, Paraguay, and Argentina. It's a loop starting at Montevideo and ending at Buenos Aires. If all goes well, we shall return in September, 2001 to tackle the difficult Lima, Peru to Tierra del Fuego route along the high peaks of the Andes. Let us begin with our first South American adventure.
Newsletters - Winter 2001
Newsletters - 2001, Winter 2002
Bike Touring Comments
Disclaimer: These are routes that we happened to ride while visiting South America in the year 2001. We're not necessarily giving them any particular recommendation, we just went that way and have decided to provide notes for anyone who may decide to go that way in the future. Also, we make these notes from memory at the end of each day. Our memories may not always be entirely accurate. So if you find anything that's not correct we apologize. Since we are not planning to write any book or official publication, these notes are less detailed than one may expect from a professional publication. However, we hope to at least provide some useful information.