SOUTH AMERICA WEST ADVENTURE PART 4 - CHILE NORTH
Mendoze, Argentina to Iquique, Chile
March 18 to April 14, 2002
Start 37,831 miles (61,019 km), end 38,561 miles (62,196 km) cumulative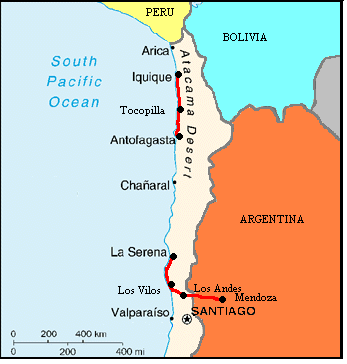 Teasers:
| | |
| --- | --- |
| | So this is what airplanes were invented for. |
| | Wander shady cosmopolitan Mendoza, Argentina. |
| | It's a long, uphill slog against the wind to Uspallata pass. |
| | Admire one of Chile's road work marvels, the caracoles. |
| | Los Vilos, a great place to relax, good views, good cabins, good food. |
| | Try hard not to talk politics with Swiss bikers. |
| | So what is the difference between picso and wine? |
| | La Serena is it. From here we bus to Antofogasta. |
| | Nothing grows, nothing lives in the driest desert in the world. |
| | Only the sea yields life. |
| | The tragedy of the Chilean coast revealed. |
| | Tour the towns that nitrate built, Antofogasta, Tocopilla, Iquique. |
"Without water the desert is nothing but a grave."
Mildred Cable, with Francesca French, The Gobi Desert (1942)
It truly is startling to hop on a plane one morning and by afternoon completely erase 3 1/2 months distance by bike and go from temperatures close to freezing to comfortable. This is exactly what we did. With the changes in the Argentine peso flying within the country has finally become affordable. Our choice for getting from Ushuaia to Mendoza was to spend up to 4 days riding a string of buses, changing at Rio Grande, Rio Gallegos, and Comodora Rivadavia or spend about 8 hours taking 2 flights. Prices would have been within about $20 U.S. of each other. The flights won hands down. So on the morning of March 18 we climbed aboard an Aerlineas Argentina flight and by 8 PM we stepped out onto the tarmac at Mendoza. There is a reason airplanes were invented.
Mendoza is located about 1000 mile almost directly due west of Buenos Aires and 300 miles east and slightly north of Santiago, Chile. It's on the west side of the tallest of the Andes mountains nudged right up against the foothills. Aconcagua, measuring around 6900 meters above sea level, is the tallest peak in South America. It reaches these staggering heights just west of Mendoza amidst many similarly tall peaks. Snow is ever present at these elevations. Of course, climbers flock to the mountain every year during climbing season, December to March 15. Our objective was simply to ride over the Uspallata pass which is said to be the most beautiful pass in all South America. A not-to-be-missed ride.
The city of Mendoza is one of the first founded in Argentina. San Pedro de Castillo was tasked with surmounting the pass just to the east of Santiago de Chile and establishing a fort and town. Spain had been having trouble with the indigenous peoples in the area and wished to establish a strong hold from which they could subdue them. In 1561 Castillo established his little town on the banks of the Rio Parana. As usual it had the central square surrounded by about 4 equally sized square blocks.
Over the next 300 years Mendoza continued to be the major stopping point along the supply route between Cordoba, Buenos Aires, and Santiago, Chile. It grew, slowly, spreading with its square blocks along the shore of the river. The most famous event to happen in the city during this time was the arrival of General San Martin. It is in Mendoza that he assembled his troops to begin his campaign across the Andes and on up to Lima where he met up with General Bolivar.
Exactly 300 years after its founding, to the year not day, Mendoza was hit by a major earthquake that quite literally flattened the entire town. Pictures taken following this event show almost nothing left standing with the exception of parts of collapsed walls and one church. Instead of rebuilding over the old town, the town elders decided to move the central plaza, and consequently the entire town, about 1 km south west. The reason they gave was that they were going to start a new community to meet the needs of the new era. Whatever. In reality the old part of town had gradually become marginalized and no longer useful. In addition, occasional floods in the river caused major damage. Hence the need to move away from the river bank.
After its inception the new town quickly grew up to and well beyond the limits of the old town, still keeping the same square block arrangement. The old cabilda on the original town plaza became a meat butchery for a while and, when sanitary conditions became too bad, a fruit and vegetable market. Finally in the 1980s, the fruit market was closed and demolished, a major archaeological dig was performed in and around the plaza, and finally a new plaza and museum opened. It's a very nice plaza and well done museum.
Meanwhile, the rest of Mendoza has grown into a major metropolitan area with a vibrant downtown shopping district centered around the new plaza. Government offices have actually been moved further south to newer buildings and the old offices now house schools and incidental government functions. The streets are wide with equally wide and easy to negotiate sidewalks. Big trees line every street making for a nice, comfortable shady town. The best time to wander is during the laid back hours of 1 to 4:30 PM when the stores close their doors and only the sidewalk cafes and restaurants are open. The evenings are hectic as shoppers rush from store to store looking for bargains.
The climate of Mendoza is much like the Napa valley of Southern California. Consequently, surrounding Mendoza are vineyards, hundreds of hectares of vineyards and dozens of wineries ranging from the gigantic to little family run places. Some 80% of the arable land of the region is dedicated to vineyards. The remaining is used for orchards and other fruits and veges. This is possibly the biggest wine producing area of all South America. Wine quality can be extremely good for the more expensive brands, or pure rot gut for the cheap stuff sold in paper cartons. Of course, expensive in this case may mean anywhere from $5 to $15 pesos, or about $2.50 to $7.50 U.S. at this time If you wish to visit Argentina's vineyards, Mendoza is definitely the center to come to.
With the financial difficulties in Argentina and the sudden change in the value of the peso, we suddenly found Argentina to be an amazingly affordable place to visit. Prices that until December seemed in the range of U.S. rates were dropped to less than 1/2 essentially overnight. In Mendoza right in the middle of the main shopping area we located a nice 2 star hotel with private bath, a huge room, cable TV, phone, and an enormous breakfast. Cost would normally have been $45 pesos per night for 2 people. However, they were having a special. Pay for three nights, get the fourth free. This made the price of this hotel a whopping $33.75 pesos per night, or at the exchange rate at this time $14.61 per night! We found an internet cafe charging $.75 pesos per hour. That's $.32 U.S. Imagine being able to buy a bottle of cheap wine for about $.44 U.S. and really good wine for about $1.50. Restaurants were cheap, groceries were cheap. The only things that seemed to still be expensive were all imported items, such as the Shimano rear derailleur we finally had to buy to replace the one that got clobbered along Lago del Desierto. We'd have to say to anyone having even the slightest thoughts about visiting Argentina, this is the time to go. Do not delay. Prices will surely climb again once the Argentine economy is back on track.
Although for the Argentine people this new, market driven peso is really a bitter pill to swallow. Prices for some internally made goods have risen substantially fueling the inflation the government was hoping to avoid. In addition, just as we suddenly found the dollar value of prices to be less than half than the year before, the general population also found the dollar value of their net worth to be less than half. Most people we met seem to realize that this whole process is a necessary yet painful step. However, there are some protesters stirring up some trouble. We did happen to see some of the famous "pot bangers" in Mendoza. There were a surprisingly small number of women, just enough to make a line one person deep across one of the roads. They stood there banging away making quite a racket while the majority of people in the area either watched or ignored them. Their efforts don't appear to have caught on all that much.
We spent 3 days in Mendoza mainly getting everything back in shape after the rough southern Chile riding. We visited the one museum, found the Wall-Mart Supercenter where we could find a few American made goods that are hard to find in South America, fixed the bikes, and ate a lot of big meals. We never did make it to one of the many wineries and didn't really feel the overwhelming need to do so. We've seen dozens of wineries throughout the world and they are not a particularly big interest for us. We'd rather spend our time making sure the bikes work. Although people will probably wonder, you mean you spent 3 days in Mendoza and didn't visit one single winery?
Aconcagua, highest peak in the Andes
March 22, 23, 24, 25 - Mendoza, Argentina to Los Andes, Chile
Leaving Mendoza wasn't too bad. We'd planned to take the southern, completely paved route to the town of Uspallata and then continue on Ruta 7, west toward the pass at the Chilean border. A second, northern route also arrives at Uspallata. However, it is mostly unpaved and climbs quite a bit more than the southern route. After so much difficult riding in the southern regions of the Patagonia, we opted for the easier route.
Traffic was extremely heavy on the 4 lane, divided Ruta 40 running south of Mendoza for about 17 km. Although, the drivers weren't overly bad or aggressive, which is a surprise considering this is Argentina, land of horrible drivers. Fortunately, soon after crossing the Rio Mendoza, which looked like nothing more than a huge, dry gravel bed this time of year, we were able to head off on some quieter, country lanes. People were friendly and helpful, often giving us directions even through we really didn't need any. Soon we returned to Ruta 7 to begin the long, slow climb of more than 3000 meters up to the pass. It's a climb that would take us 4 days to complete. We weren't in an especially big hurry and we'd heard this is supposed to be one of the most spectacular passes in all South America. After all it does go right by Aconcagua, the highest peak in the Andes and the western hemisphere.
Our first night was spent in the nicely maintained, shady, and at this time virtually empty ACA camping in Potrerillos. As we set up we realized just how much we'd missed this kind of camping. It'd been nearly a month since we'd stayed in a very nicely equipped camping with tables, hot showers, lights in a quiet location and without having to wear 5 layers of clothing to keep warm. The temperature was perfect, the ambience perfect, the noise nearly zip. Hotels are nice once in a while. Wild camping has its good points as well. But, there's still something to be said for staying in a regular campground especially in the off-season. It's comfortable, just plain comfortable.
Our second night was spent in another comfortable camping in the little town of Uspallata. Potrerillos was one inky dinky town having just 2 campings, one bitsy store, a restaurant or two, and one hotel. Uspallata, on the other hand, is an actual town. A highway service town, in fact. It has a string of pricey, tourist restaurants along the highway, several hotels, two campings, and three small grocery stores. It's a rather clean town with its main shopping street shaped in a T, two sides of which are the east/west highway. It is centered in the midst of a wide, lush valley that has been filled with imported European deciduous trees. Compared to the barren, red surrounding hills, it's a nice green oasis. Like most small towns in Argentina, it slumbers between noon and 8 PM after which it really comes alive. We had to take this opportunity to partake of one last Argentine steak dinner, some of the best beef we've ever tasted.
Our third night was spent camped out on the porch of a closed restaurant at a what appeared to be permanently closed ski area. This ski area had only 2 little chair lifts, one rope tow, and no real trails. They get you up the hill. You come down any way you like. Certainly not a Vail. We spent the better part of the early evening sitting on the porch reading and cooking dinner all the while nervously eyeing the caretakers who were taking their evening stroll up and down the site. "Would they kick us out?" we wondered. Nope. They only said "buenas tardes" and continued on their way. We had to bet they'd seen many a bike tourist camped somewhere on the grounds before. It's the only place for miles on end where you can find shelter from the winds. I suppose as long as bike tourists continue to treat the place with respect, not leave litter or do any damage, we'll be welcome to stop for the night. We just hope future bike tourists continue to behave themselves.
Climbing up to Uspallata pass from Mendoza is certainly not steep. There are a few spots where perhaps the slope reaches 8 percent. Only at the very top did we see trucks huffing and puffing up the final slopes and that was where the elevation is approaching 10,000 ft. Usually the slope is around 3 to 5 percent. The slope of the road often is not much greater than that of the abandoned rail bed tracking along next to the road. It's the winds that are the killer. For the first 20 km after Uspallata we cruised along at a good 16 km/hr pace up the gradual slope. The road quickly leaves the green valley of the river and heads out across a barren plain toward a crease in the mountains. Gradually the walls of the river formed canyon encroach on both sides, narrowing to a mere km width. It wasn't until we were well within this canyon that the winds hit with a fury. One minute we were sailing down a hill and across a bridge. The next we were whipped across the front by hard headwinds. Our speed dropped instantaneously from 16 km/hr to 7 and stayed that low right up to the international tunnel, some 60 km later. This would be a fine pass, easy to climb, if it weren't for those damnable winds. Otherwise, it's just a pure endurance test.
The Tunel Cristo Redentor stands at 3185 meters elevation right under the international border between Chile and Argentina. It's 3.2 km in length and by-passes the long, zigzag old pass road that used to climb the additional 1000 meters to the top of Uspallata pass. This route has long been a major thoroughfare across the Andes. In Inca times foot trails were used to scale the mountains. In one location they passed over a natural bridge formed by deposites from a mineral spring that grew out over the river. This is still a popular stop along the route known as Puente del Inca. Remains of Incan outposts along the route remain today. Later the Spanish used this same route to pass goods from Santiago to Mendoza, Cordoba, and Buenos Aires. Ruins of old Spanish outposts can still be seen. This was the route by which San Martin took his army across the Andes and on to Lima, Peru in 1817. Signs along the way give details about his battles and camp locations. In the late 1800s the railroad passed this way. Ruins of the train supply and water stops still remain. Finally the modern road came. First it was a rough and narrow paved road that followed the contours of the landscape including the last zigzag up to the pass. Later is was improved to today's modern, wide 2 lane road that supports semi truck traffic today. Today's road passes through the 30 year old Cristo Redentor tunnel, which happens to parallel the original railroad tunnel.
The name, Cristo Redentor, comes from the statue placed at the top of the original pass road in 1903. This statue of Christ was placed at this spot along the Chilean Argentine boundary to commemorate the border agreement made between the two countries. The wording of the agreement essentially says that Chile gets from the mountains to the Pacific and Argentina gets from the Atlantic to the mountains. The question always remained as to how you interpreted the line in the mountains. Chile thought it should follow the line of the watershed. Argentina thought it should follow the line of highest peaks. This difference of opinion has led to numerous disagreements some of which have nearly lead to acts of war. You can still find mine fields in Chile south of the Torres del Paine park which were put in place during one of the last major crises in 1976. So despite the fact that this statue claims that the mountains would sooner crumble than Chile and Argentina come to blows over territory, the process by which the two sides have finally come to terms has been long and treacherous.
Uspallata pass is located just about at the center point of the Andes when considered from north to south. It also happens to be where the highest peaks can be found. All around the pass the mountains soar to dizzying altitudes of well over 6500 meters (21,450 ft). The highest peak in both American continents can be seen from the highway. Aconcagua tops out at an incredible 6959 meters (22,965 ft). Yet despite this distinction seeing this mountain from the road fails to yield the same impression of massive height as does the shorter Denali up in Alaska. This is because so many mountains surrounding Aconcagua are of similar height that it doesn't stand out as anything extraordinary. Whereas Denali really dwarfs everything around. Denali really does produce a more fantastic vista. Although, perhaps we are a bit prejudiced. Or perhaps it's the fact that we could only see the bottom of Aconcagua as the rest was shrouded in clouds.
We stood at the rather interesting gate structure positioned just before the entrance to the tunnel. Cold wind whipped across the open, treeless high alpine valley. Behind us stood the small, ramshackle town known as Las Cuevas. It consists of no more than about 5 wooden structures lining each side of the road and only 2 or 3 are occupied by small restaurants. In front was the two tunnels, the new one for the wide road and the old one formerly used by the railroad, an old railroad station now used as another restaurant, the pay station for the tunnel and the last Argentina border checkout station, the old rail bed, and the new road. Passing under the gate, which looked a lot like a wooden version of the entrance to a castle, was a wide, dirt road. This road snaked in a tight switchback pattern straight up the side of the canyon gaining a full 1000 meters elevation in a mere 8 km. We could see little white vans carrying small tour groups far up on the mountain wall gradually making their way to the top. Somewhere off in the distance is the statue of Cristo Redentor perched among the mountain tops, but there was no way we were going to trudge with our bikes up that horrendous hill just to visit it. The views were just as good where we stood.
We rolled up to the pay station, turned in one last sheet of paperwork allowing us to leave, and then waited. Within minutes a little white truck came whipping out of the opposite end of the tunnel. We loaded up the bikes, climbed in the back seat, and were off for a 5 minute ride to the other side. And then, downhill at last.
What a downhill it is. While the climb from the east is slow and gradual, the climb from the west is fast and steep, unbelievably steep. Chile has come up with the most unusual road to get vehicles up and over this climb. It consists of a snaking set of 29 hairpin curves that stair step down the side of this steep mountain. We know it's 29 not because we counted them, they're numbered. You wind down numbers 29 through 20, take a short break as you curve around a high Andean valley which in winter sports a ski area, and then snake down the remaining 19 to the bottom. Standing at the top of the last 19 affords a view that is comical. You can see all the zigzags spread out before in a grand staircase. Semi trucks will be sporadically spaced along the staircase, some going left, some going right, some going up, some going down. They drive 1/4 km, turn 180 degrees, and drive another 1/4 km before making the next turn. They call these curves the caracole (snail), but I think serpiente (serpent) may be more appropriate. We've never seen any road quite like it before and probably never will again, at least not one with so much heavy traffic.
We had to wonder, if they had to go through so much effort to get modern trucks up and down this hill just exactly how did they get the train over the same route back in the 1800s? Our curiosity was quickly answered when we looked at the rusted, abandoned rail tracks. In addition to the two rails, spaced at narrow gauge width, there was a third set of saw toothed cogs in the middle. It was a cog railway that went on for km after km up this steepest section of mountain. It gently curved its way beyond the caracoles far up into a side valley and then returned to meet the road once again at the base of the caracoles all at a slope far, far greater than any normal train could handle. I would be willing to bet that when it was in operation this was the longest cog railway in the world. It's a bit of a shame that all remains is in rust and ruin. Otherwise it'd make for quite a rail journey.
We hadn't planned to ride all the way to Los Andes in one day. The 88 km was much farther than we really wanted to do following the tough climb against the wind. But the ride down the canyon proved to be far easier than expected. Before we knew it we were passing by small farms lining the road, little villages, lots of houses. Opportunities for wild camping became scarce. Besides, we were enjoying the ease of the ride. So we flew on down to town and took a small hotel room for the night. So much for our first true Andes crossing.
Ocean at last
March 26, 17, 28, 29, 30, 31, April 1, 2 - Los Andes to La Serena
Los Andes, a town of about 60,000, is located about 60 km north of Santiago and just 50 km west of the 4 lane Pan American highway. It is a wealthy farm community surrounded by vineyards and fruit orchards. In days past it was also a major rail terminus for trains going over the pass, south to Santiago, and north through the desert. The old round house where the engines were stored still stands just at the northern edge of town center. The main road we'd ridden in on became a divided road in town with a well maintained center green space/park. The plaza, some 3 more blocks south, is neat and well landscaped. The town is filled with old colonial style houses dating from the time when Los Andes was a main stopover on the route to Argentina. We stopped in Los Andes for one day for the purpose of taking one last day visit into the city of Santiago.
The morning we left Los Andes had to have been one the most enjoyable and easy we'd had in ages. We cruised along the easy, flat road often bordered and shaded by old eucalyptus trees or the old adobe walls of colonial villages. Vineyards and farms lined the streets when not in towns. The road was wide, had light traffic, a nice shoulder, and in some spots a bike path. Services were widely available. It was easy riding, so easy. I could have continued on in that manner for days.
But, all good things do come to an end. All too soon we were once again back on the 4 lane divided Pan American highway with all its truck and vehicle traffic. This would be our road all the way to La Serena. We entered the highway at around km 81 measured from Santiago. From this point north for about another 30 km or so is the final most northern bit of the central valley that extends all the way south to Puerto Montt. Once the road goes up and over the El Melon pass we left the central valley and entered the north central region. This isn't the desert. It's more of a transition zone where sufficient rain occurs to keep eucalyptus trees and short native scrub bushes alive yet not enough to yield vast forests. The eucalyptus are planted in regularly spaced rows obviously being used for some sort of cash crop. We have no idea what productive use they may have. Finally, after about 1 1/2 days riding from Los Andes, we caught our first glimpse of the Pacific ocean. This would be the scenery over our left shoulders most of the way to La Serena and again from Antofagasta to Iquique. We do always feel a certain sense of satisfaction and homecoming when returning to the sea.
Los Vilos is a small, workingman's resort town situated on a wide, curving sandy beach about 230 km north of Santiago on the Pan Am. Within the bay is a small flotilla of little yellow fishing boats which take refuge behind the concrete dock. Restaurants serving up tasty seafood and fish dishes line the nicely maintained costenera road. Across the bay is a huge, ugly dock for some mining company. While we visited, a large ship pulled up for loading. So this dock and its facilities clearly are still in use. Los Vilos has plenty of food stores, fruit markets, meat markets, and other supply facilities making it a great place to load up for the resource limited trek onward to the Termas de Soco, another 150 km north.
In off season Los Vilos houses a permanent population of around 9500. In summer, tourists flock to this village swelling its population by another 20,000. We happened to arrive in off season and, consequently, hotel and cabana prices were rock bottom. We found ourselves a great 2 bedroom fully equipped cabin with a 180 degree view of the stunning, island filled bay for a mere $20 per night. The cabin was so comfortable, in fact, that when we awoke to pouring rain on our second day we decided to stay a third night. We both needed to get over the colds we'd brought with us from Argentina anyway, as good an excuse as any other.
It seems you can buy almost anything you could possibly desire along the road from Santiago to La Serena right from the seat of your bicycle. In the south there's fruit and veges of all kinds. Continuing north there is cheese, bread, little dried fishes, pastries, candies, drinks, and whole goats. Yup, just pull your bike over and order one up. Out will come a lady carrying the cleaned carcass of a full goat, head excluded. She even stands out by the highway holding it up for all passing cars to see. It's quite strange to see this woman standing by the side of the road with this dead goat hung out across her chest. I suppose one thing that is guaranteed, it's fresh.
Beyond Los Vilos the environment continues to get drier and more deserty. Groves of eucalypti that had been fairly prevalent further south now only existed in the lush river valleys. Hills were covered with brown grasses, cactuses that looked very similar to saguaro or cordon covered the north facing slopes, funny green scrub filled in between, and large boulders were everywhere. If you had dropped us down on this highway with no fore knowledge we would have guessed that we were standing on I8 in Arizona or New Mexico, it's that similar. The only difference was in the composition of the traffic along the highway, far more buses than you'd find anywhere in the U.S. and far fewer cars. Along our left shoulder we had fantastic views of the blue Pacific ocean which gave the entire scene a more Baja California feel. Dark blue waves splashed up onto jagged black volcanic rocks lining the ragged coves. White spray launched into the air. It's a beautiful coastline with almost no inhabitants. Imagine trying to find that on the U.S. west coast. HA!
The road climbed up several hundred feel, headed out over a hill ridge, then descended into another lush river valley. Valleys in these regions are an entirely different world than the hills. They have tall trees, green grasses and bushes, and often small farms. Almost as if a small slice of the lake country were chopped off and moved to border the river. It's in the valleys that the small towns congregate. It's also in valley Lamari where we found the nice Camping and Termas Socos. What a great way to spend an afternoon. As the sun glared down on the surrounding desert hills we played in the blue swimming pool and relaxed under the big eucalyptus trees. Bike touring should always be like this. Now if only we could keep the Swiss bikers from talking politics.
What is it about European bikers? We've met a lot recently. It seems half of Switzerland must be in South America on a bike somewhere or other. Certainly the majority of bikers we've met this year have been Swiss. It happened there were two more we'd met on the road just south of the camping and who were also staying for the night. These two were traveling extremely light, two rear bags each and that's about it. They never "wild" camp in the middle of nowhere as they never carry enough water or food. It seems a little restrictive to us as some of the best campsites we've had were far from water and food sources. But, each to their own style.
Anyway, not too long after striking up a conversation the fellow announces, "You know we don't like Bush." Naturally this lead into a conversation about politics, kept as short as possible. Yet it seems that when ever we get a descent conversation going with some European before too long the subject of the current president comes up. It happened with Clinton and it still happens with Bush. It's not as though we bring up the subject of, say, Tony Blaire and our opinion of him among Europeans. We don't feel it's appropriate for us to give such an opinion since he's not our Prime Minister. So why is it the Europeans feel they have the right to berate whoever the current U.S. president is to us. Quite frankly it's none of their business and from now on we're going to make that very, very plain.
For our last camping night along the Los Vilos to La Serena road we found an amazing spot on a cliff overlooking the little town of Tortalillo just about 20 km south of La Serena. This crescent shaped, sandy bay houses several very expensive housing complexes along its shoreline along with the more primitive and reserved original settlements. Stuck out into the bay is a rather mushroom shaped artificial island on which a very tropical looking set of cabanas has been set. We wondered how this little island could survive any big Pacific winter storm. Our campsite, just off the main highway hidden behind a rock outcrop, had full views of both the exclusive housing complexes and this mushroom island. Nighttime brought a panoramic view of a pastel colored sunset. A million dollar view all for nothing.
But before camping we needed a few supplies. Brian stood waiting by one of the concrete pedestrian overpasses that surmount the highway. These overpasses are a regular occurrence along the entire length of Ruta 5 from Puerto Montt on north. Anyplace where there may be a substantial settlement, one of these overpasses has been built and usually metal, covered bus stops sit on each side at the end of the ramps. We'd used these overpasses on many occasions to get from one side of the highway to the other or just for their brief bit of shade. So while Brian waited, I wandered into the bitty town of Tortalillo to see what extra groceries I could find. It's not much of a town, perhaps 20 to 30 little concrete block houses. Some houses are also little stores where they sell sodas, fruit, snacks, yogurt, and other odds and ends of food items. It was only a 5 to 10 minute walk into town and back, but the extras I found were good to have.
Anyway, as I approached Brian's position out on the highway I heard this strange rumble,. At first I wondered if there were some unusually large truck coming down the highway. Within seconds I realized that this was one of those events we'd grown to know quite well while living in California, an earthquake. It was quite a large quake. The other quakes I'd experienced were just large enough for me to feel the ground roll. You get sort of a strange feeling of vertigo and then it's over. Only one time, when I was at work at 6 AM do I recall really feeling much more. This earthquake in Chile was the first time I actually heard the ground rumble. Across the highway one woman became quite upset and started running up and down the side of the road. A man with his wife and daughter just on the ramp to the overpass immediately called them back to solid ground and then tried to calm the upset lady a bit. He also pointed out the electric lines over my head which I hadn't noticed before. He definitely had a cool head, a fellow I'd like to have around in a crisis. The rumbling passed quickly. Nothing fell down or cracked. So once again the coastline returned to its quiet calm, perhaps a few mm higher or further north. We did have to wonder where the quake was centered and how large it really was. We can now officially say we've done some real rocking and rolling in South America.
Colonial or not colonial, that is the question
April 3, 4 - La Serena to Antofogasta
La Serena, located 470 km north of Santiago on the Pan Americana highway, is one of Chile's oldest cities. If you look at the buildings you certainly would get the impression that it is very colonial indeed. It was founded in 1544, sacked by the Diaguitas, and refounded in 1549. So certainly it would have a lot of colonial remnants, or so you would think. In reality few of the buildings you see today actually date from much earlier than 1940. It's only an edict passed by President Valdivia in the 1940s that kept the newer constructions in the same style as the older, true colonial buildings. They called it the La Serena Plan. It established rules for new constructions, called for the construction of several new government and municipal buildings, and even set aside several green areas for parks. So even though it's a bit of a phony antiquity, it does give the town a nice and unique atmosphere.
La Serena is also famous for being one of the cities that was sacked and burned by pirates in the 1500s. After Sir Francis Drake completed his round the world expedition, the way was open for future "pirates" to loot, plunder, and cause general mayhem all along the coast. There were some 17 different pirate vessels of different nationalities operating along the Spanish shipping lines, 6 were working the Pacific coastal cities, and 2 hit La Serena. The mayor of the town was so concerned about the pirate situation that he even made the request to move the town further inland, a request that was denied. La Serena's citizens started to leave in so many numbers that the mayor passed the edict that no one could leave without his permission. At least today La Serena is getting back some of the goods from the foreigners in the form of tourist dollars.
In addition to the old town, which is a rebuilt colonial style, there are new and modern hotels strung out along its impressive sandy beach. The entire stretch from la Serena to a full 14 km south in Coquimbo high-rise hotels look out over the ocean. One can only imagine how busy and crowded the beach must be in summer. This time of year, the hotels stand mostly empty, the beach virtually devoid of people. If you wanted a good bargain on a beach resort, April is definitely the time to visit. Yes, traveling in off-season is the only way to go.
Just east of La Serena stretching some 200 km up toward the Argentina border is the very fertile Elqui valley. It's long been a good location for all sorts of agricultural products. However, it's particular specialty is a Chilean unique drink called pisco. Pisco is a type of brandy that is distilled from the very sweet muscatel grapes. You can buy it in bottles with alcoholic ratings up to 50 proof. The main difference between pisco and wine made from the same grape is that pisco is distilled then fermented as opposed to just the fermentation process used for wine. Usually it is drunk over ice, mixed with soda water, or in a drink called a pisco sour. Pisco sour mixes lemon and lime juice with a little pisco to yield a drink that tastes remarkably like a margarita.
Since pisco could almost be considered the national drink of Chile, we decided that we had to visit at least one pisco plant. We chose the large Capel cooperative located just outside the small town of Vicuna which is just an hour bus ride east of La Serena. We chose this plant not only because it's one of the largest and was convenient, it also happened to have the bottling line. Assembly line machines always interest us. The entire process for producing the different grades of pisco seems to be:
1. Grade the grapes for their sugar content
2. Dump them in the presses
3. Let juice, seeds, and skins sit in large steel tanks at a cold temperature for around 6 hours
4. Strain off the juice
5. Distill the juice for about 12 hours at 100 degrees C
6. Put it all in large wooden casks to ferment for many months
7. Bottle it and ship it
The one thing that surprised us was that the assembly line seemed rather inefficient. Grapes are usually delivered in small trucks. As long as there are trucks coming in, the presses operate. In between there is a lot of time spent waiting. At the bottling site, there were 6 men assigned the task of putting the boxed bottles in large cartons, one man to put glue on the cartons, and 2 men seeing that the cartons were shut and taped properly. In a more efficient operation these activities would all have been overseen by 1 or 2 people just making sure things got done correctly. Certainly not 9. Although, labor in Chile is much cheaper than in the U.S. They do bottle some 36 million bottles per year, so it is a fairly high production facility. The highlight of the tour is, of course, the tasting. Two little sips of pisco sour and their ultra sweet dessert wine was all you got. You have to buy to get more.
From the first day of our journey, back in November, we had already decided that there was no way we were going to ride the entire length of the Atacama desert. It would be weeks of riding through dry, barren landscape with scarce water and supplies along the way. We've done enough desert riding and had no desire whatsoever to spend so much time doing more. There were other things we'd rather be doing, such as riding around Lake Titicaca. Even with 6 months in South America, time was growing short and we needed to get moving north. So a bus it would be. We'd bus from La Serena to Antofagasta. Many cyclists have recommended that we ride at least a little of the Atacama desert, the world's driest place, and we'd heard that the section from Antofagasta to Iquique was the best. So that'd be it. That's all the true desert riding we wanted to do. After 2 days in La Serena, we climbed aboard one of the luxury coche cama, meaning bed coach, buses for a long 12 hour ride on north.
Where surf meets dirt, and nothing else
April 5, 7, 7, 8, 9, 10, 11, 12, 13 - Antofagasta to Iquique
Antofogasta is a town built by nitrate. In fact, all of the little towns in existence along this most northern Chilean coastline were built by various mineral industries. Back in the mid 1800s Chile and Peru vied for control of the rich nitrate deposits found up higher in the Atacama desert, about 30 or so km off the coast. A treaty had been signed around 1876 that allowed Chile and Bolivia to share in the wealth produced by mines between the 23rd and 25th latitudes. In 1879, Bolivia levied taxes on Chilean exports, an act which lead to the Pacific war and eventually to Bolivia's complete loss of a coastal access. During these times a plethora of small port towns were built, Antofogasta, Taltal, Tocopilla, Mejillones, Cobija to name a few.
At its peak some 350 nitrate mines operated in the desert. Each grew into a a small company town, called oficina, having houses, stores, theaters, and hospitals in addition to the mining and processing buildings. They were completely self sufficient communities built in one of the most arid regions of the world all just to extract Nitrate, a product used mainly for fertilizer. Ground nitrate was shipped by rail to one of the numerous coastal ports and then shipped worldwide.
Many factors lead to the collapse of the nitrate industry not the least of which was the invention of synthetic nitrate products. The industry was teetering on the verge of extinction when the worldwide depression of the 1930s hit. This was the final straw. The majority of the nitrate mines closed leaving a large string of abandoned oficinas and much smaller and less important ports behind.
Mining does remain a principal source of income for the entire Antofogasta region, although today it is primarily copper. Up in the foothills near the town of Calama, some 2 hours drive from Antofagasta, is Chuquicamata, the world's largest open pit mine. Much of the mine's products are still shipped through Antofagasta or Tocopilla. As a result, Antofagasta has grown from a tiny port berg into a large city, the largest of the second regions. Over 200,000 people live in this modern city strung out along the bay and up into the brown rocky hills.
Antofogasta has a distinctively English influence in its architecture. This is because the early mining industry was developed by the English under direction of English engineers and technicians. Nineteenth century churches, houses, government buildings, and even the Big Ben style clock in the town square all look very English. Considering the bleakness of the surrounding hillsides, Antofogasta looks like a virtual oasis. Water, a precious resource for the entire Atacama desert, must be shipped hundreds of km from sources high in the Andes. Otherwise the city could not exist. Once you get just beyond the last building of the town, there is nothing but dirt and rocks.
Legend says that it has never rained in the Atacama desert, at least not since rain measurements started being taken. In reality, rain does come to the desert, occasionally. By occasionally this means every few years of so. This rain, however, occurs over very short periods of time and in small localities. It's more of a local shower than a true overall rain. Weather recording stations are few and far between in the desert. So the probability of one of these small showers happening right on top of a rain gauge is extremely slim. It has yet to happen. Since there is virtually no rain, no water at all, there is no vegetation at all on the hillsides, zip, zero, nada, squat, nill. There are no insects, no reptiles, no birds, no mammals. Nothing, nothing, nothing. Hills are just covered with rock and sand. Color variations occur only where there is a different layer in the dirt, volcanic versus igneous versus sedimentary. What is perhaps the strangest thing about this desert is the fact that not only is there no water there aren't even any dry arroyos that would give an indication that there had been water flowing in the past. All you see in the upper Atacama are long, low, rolling hills of dirt. The coast, fortunately, has more interest due to the continual pounding of the sea against the rocky coastline. One and only one river in Region 2 actually descends from the mountains all the way to the coast, the Rio Loa.
Ruta 1 north out of Antofogasta up to Iquique is one of Chile's latest additions to their inventory of paved roads. The current president, Ricardo Lagos, wants to eventually extend the pavement south to Tatal. Whether or not he accomplishes this remains to be seen. But, in light of all the other road improvement and building projects underway, I wouldn't be surprised if this section gets put on the back burner for a while. North of Antofogasta the road skirts around the long, looping bay about which the continually growing city sprawls. The city's northern extreme, some 12 km away from the center, even now has several new housing developments under construction. Eventually the entire bay will probably be surrounded by city.
Following the bay, the road rises slightly to cross over a wide peninsula and then rejoins the coast about 60 km north. The road is extremely flat yet the terrain is mountainous. Barren mountains of this essentially dead desert drop to a narrow, sandy shelf which extends out into the sea. This shelf is usually only about a km in width, just wide enough for a nice flat road to exist. Winds are supposed to come directly out of the west, but in our honor nature decided to give us a bit of a frontal component. Headwinds always make a flat road seem like a constant climb.
This is one strange landscape. The mountains are a little rounded and this shelf almost appears to be the work of water erosion. There are even a few spots that look suspiciously like former streams. Yet where would the water come from? Perhaps those occasional rains that are too localized and short-lived to appear as a measurable amount of rain cause them. In some spots there are jagged black rocky mounds poking up through the more reddish/brown sand. Clearly these are former volcanic fissures. Opposing the hills is the flat, slivery calm waters of the Pacific ocean. The road sits so low when compared to the water it's hard to tell where the mirage ends and the water begins. There's not a sound to be heard. No buzzing of bees. No chirping or squawking of birds. No howls of coyotes. Just the wind in your ears. This is definitely a strange environment.
This is also a region of one of the most amazing geological features in the world. It is along this northern Chilean coastal region, within a mere 150 to 200 km from the shore, that the highest Andean peaks are found. Many reach up to elevations over 6000 meters. It is also along this shore that the Pacific plate is diving to its deepest depths, over 8000 meters, again just about 100 km off shore. Adding all this up you come up with an elevation difference of over 14,000 meters (46,200 ft). Just think. Within a few hundred miles the land changes elevation by close to 8.75 miles from cold mountain peak to sunless ocean bottom.
If you stand on the coast you're not going to see those 6000 meters directly from where you sit. As the Pacific plate pushes up against the South American continent, it is causing multiple buckles all along the shore. The first set of hills, right along the coast, rise to just 1000 meters or so. Next comes a short span of valley lying at about 1100 meters altitude. There's a second range of mountains, again at higher elevation, and another valley. Finally there is the truly high mountain range. There are three separate mountain ranges caused by buckling waves. Too bad. Wouldn't it be quite something to sit at sea level and be able to see right to the top of those 6000 meter peaks. Only in an airplane.
The northern coastal area of Chile was once part of Bolivia. Bolivia laid claim to a small strip of land extending down from their high altiplano right to the coast. Remains of this original Bolivian claim can be seen in the form of two unusual ghost towns. Unlike ghost towns of the U.S. which are typically former mining boom towns, these two ghost towns were Bolivia's main ports. They are big ghost towns having large expanses of stone mortared walls, remains of buildings, water towers, cemeteries, and even a huge old hotel in remarkably good condition in one. Cobija and Gatico both thrived for just a brief period. Neither was a particularly good port, not having a very well protected bay nor good access to the upper inland valleys. Consequently after Chile gained control of the region, both lost population quite rapidly. Finally an earthquake combined with tsunami spelt the end for both. Today just a few fishermen occupy Cobija. They sell their goods at a kiosk by the road. Just 2 families eke out an existence in Gatico. These two ghost towns do make for one very unusual campsite complete with fabulous seaside vistas and overviews of the tumbled walls and buildings.
Not quite half way between Antofogasta and Iquique is the mostly industrial town of Tocopilla. It's a scruffy, nondescript town of about 25,000 inhabitants that crawls up the side of the close lying mountains. It's made even more ugly by the existence of a huge power plant located right on its southern edge. The plant provides much needed power for the mines located up in the hills. It's not a particularly pleasant town, just a place to stop, get food, clean up, and leave as quickly as possible. It's one most interesting feature are all the wooden buildings in the older, downtown area. Wood is quite a surprise to see in this region that is essentially devoid of all plant life.
Tocopilla had one more strange surprise in store. The next morning we headed out of town, north on Ruta 1. The road climbed over a few hills that appeared to be ancient lava flows. Curving around the bay we got one last look at this uninviting city. After about 20 km, as we approached a 1 km long tunnel bored through one of those rugged fingers of the mountains, we spotted a very odd field on our left. Sections of the slopes leading down to the water had been raked clean of all the extra top surface rocks leaving just a soft surface of golden sand. Thick, white chalk marks were used to mark these cleaned areas. At one end of each white outlined area was a rather circular area that looked like it was covered with black asphalt. In fact, it was more like a thick, black sand. Surrounding these circular pads there sometimes were these deep, white sand lined pits. At first we couldn't figure out what the heck this was, until we saw the sign that is. It happened to be the Tocopilla Golf Club. Unlike any golf course we'd ever seen before, this one was simply one very large, 18 hole sand trap. I would think it'd be murder to play. Although I suppose anyone playing a few rounds on this would soon be an expert at dealing with sand traps on more conventional golf courses.
Nicely paved Ruta 1 continues along that narrow shelf lying between the coastal range and the ocean. Climbs only occur where the road needs to go around a rocky point. The old, unpaved road twists and turns around rock and every inlet while the newly paved road takes more direct routes up and over the point. We watched the progress of that old road and breathed a sigh of relief. Thank goodness for this new road. The scenery doesn't change a whole lot, barren, brown mountains reaching down to rocky coves or long, sandy beaches. Yet it is still quite spectacular.
There is an added treat. Those locations where the shore is lined with ragged, volcanic rock there is a vast array of tidal pools just waiting to be explored. While the hills of the desert are nearly lifeless, this ocean teams with an amazing variety of life forms. We spotted large crabs scrabbling across the rocks. Oh only if we had the skill to catch a few. Within the tide pools there are star fish, ones with 5 legs and others with a full circle of legs, clams, limpets, seaweed, muscles, barnacles, little fish, and a lot of sea life I can't identify. On shore are a large number of sea birds that live off the sea. As well as lizards pelicans, and vultures.
At night the sea gave us a splendid show. There are some forms of plankton that are phosphorescent. When tumbled around in a frothy wave they give off a pretty baby blue color. A bright blue splash of color suddenly appears in the midst of black water. It grows rapidly to form a long line of baby blue just off the shore. As quickly as it appeared, it disappeared leaving one to wonder whether you'd really seen it at all. A few minutes later another blue splash appears and disappears. We've seen this type of display only once before, in San Diego, on one of those rare occasions when a similar plankton washed into shore. It is thoroughly spellbinding. Definitely the one road to take through the Atacama desert has to be this coastal route. It, at least, is spectacular and interesting.
There is, however, one great tragedy along this road. With the pavement of the road and the even newer rebuilding and resurfacing, beaches that were once far distant from the main cities of Iquique, Tocopilla, and Antofagasta are now easily reached. Unfortunately northern Chileans have not learned how to properly dispose of litter. If they have a picnic on the beach, all rubbish gets left behind. They'll even take household trash and leave it on the beach. Every night as we searched for a campsite near the water we found ourselves trying to find the spot having the least visible amount of trash. There was everything imaginable; car parts, bicycle parts, plastic bowls, burnt-out remains of steel belted radial tires, bottles both plastic and glass, and the utmost disgusting dirty disposable baby diaper. This entire 416 km of spectacular coastline is rapidly becoming a 416 km long trash dump.
The most tragic discarded item we found on the coast was not inanimate. Out among one of the sand dunes stands a little dog house, pink paw prints painted on a rust colored house and the name Coty over the door. We wondered what a dog house would be doing among the dunes, until we saw the dog that is. It was a rather cute little dog; small, white with big floppy ears. It watched us set up camp and then crept closer trying so hard to get near. It wasn't begging. It just seemed to want company. Late in the evening a van pulled up to the little house and the man left some food and water. Yet for the rest of the day the little dog has to spend sitting inside this pathetic house all alone. It even slept close to our tent that night just to be close to something living. Now we are not particularly fond of dogs. Far too many chase us with bared teeth, stick their slobbering noses in places we'd rather they not be, or they sit staring at our food hoping for a bite while we try to eat. They're mostly big time pests. But, this particular doggie was one we really felt sorry for. How cruel can a person be who leaves this poor, little dog out in the desert all alone day after day. The man should be forced into such isolation himself. That'd teach him.
19th century luxury in the desert
April 14, 15 - Iquique, Chile
Iquique has long been a settlement of some sort. Before the Spanish arrival it had a small group of coastal Chango Indians who maintained a vibrant trade with civilizations of the altiplano. The regional museum in town shows some of the evidence of Tiwahnaku and Inca influence. During the colonial era silver was an important product extracted from the nearby Huantajaya mine. What really got the town growing was the shipment of the region's mineral and nitrates through Iquique's port. Everything was brought down by rail to the port and then shipped worldwide. While the poor laborers worked away up in the hot, dry highlands, nitrate barons built luxurious mansions in town. Today, after the collapse of the nitrate boom, Iquique is far less dependent on nitrate shipment than it is on fish products. Fishmeal is now one of its major export products.
Selling imported stuff to Peruvians, Bolivians, and Argentines is the other main economic force in Iquique. To spur economic development, the government declared the entire Region I to be a "zona franca", that means free zone. Goods of all kinds are shipped in and sold import duty free. The idea is mainly to sell to foreigners especially those from the neighboring countries. Chileans who live further south will actually have their cars inspected as they cross from Region I to II to make sure they don't bring back too much. The main center for shopping is the covered shopping mall nicknamed the Zofri. Here you can buy all sorts of junk ranging from electronics, food, clothes, and perfumes. Around this mall are auto parts shops, auto dealers, and a wide variety of other stores. If you really want to see a feeding frenzy of shopping, this is the place to come. However, we found prices weren't all that great, at least not when compared to places like Wal-Mart in the U.S. We wandered around for hours and weren't not overly impressed. We did manage to find a one dollar watch to replace the one I'd left at the beach. Anyway, it is the Zofri and its $3 billion U.S. worth of trade that contributes most to Iquique's low unemployment.
Today, Iquique is a rapidly growing city with a current population of around 160,000. It's located a little over 300 km south of Arica, Chile's most northern city, and the Peruvian border. Many of those fabulous wooden mansions built by the nitrate barons still exist. They're usually in the Georgian style, popular around the turn of the century. A typical house has 2 stories both of which are fronted by porches with long vertical columns. Ceiling heights are typically twice that of today's house style. Many of the second floors are not enclosed. They're just an open area covered by a roof held up by those columns. We had wondered where the wood came from. Most of it turns out to be Oregon pine, imported from, you guessed it, the U.S.A. Many of these unique houses have been restored and converted into offices, hotels, and restaurants. Others have as yet to feel the loving touch of new paint. There does seem to be a major restoration effort underway. So perhaps someday the entire downtown will shine with 19th century splendor.
One active restoration project is the conversion of the one street fronted by the majority of the 19th century houses into a pedestrian mall. They're adding brick and wood paving, nice period style lamps, fountains, plants, and even a horse drawn trolley. Albeit it'll be one short trolley, only about 3 blocks long. But it should be a nice touch.
Stretched along the coast toward the south is the high-rent district and beach resort area. The long sandy beach arcs around the bay for a full 2 to 3 km. It is fronted by a nice green belt/park where half of Iquique seems to spend their Sunday afternoons. Across the main road are multiple expensive and very fancy high-rise condominiums, each trying to give their residents as much ocean view as possible. It is in this region where you find the fancy malls and stores, high cost restaurants, large cineplexes. It's where the wealthy live, shop, and dine. Yet not all of Iquique is so fortunate. Toward the east away from the ocean and up on the hill overlooking the city the low income housing sprawls. Little concrete block houses having one or two rooms each look like an obvious collection of government public works. Iquique may have one of the lowest unemployment rates in the country, but it still has a lot of working poor.
Sunday in Iquique is a quiet day and, apart from strolling up and down the beach walk, it is difficult to find anything to do. We'd already completed the walking tour, visited the Zofri, been to the fancy shopping district. Now what? We tried to take the short harbor cruise. In high season this would be a packed little trip. In April, there were hardly any takers. Of course, the captain and crew didn't help. Rather than telling all the potential customers who happened to wander by that the boat will leave at 11:30 AM if there are at least 10 passengers, he just told people he'd be leaving at maybe 11, maybe 11:15, or maybe 11:30, or whenever enough people showed up. So potential passengers would wander by, wait for a little, and then leave. We waited and then left. So much for the harbor tour.
The only museum open on Sunday was the Palacio Astoreca. Formerly one of the largest nitrate baron mansions, today it is preserved as a museum and gallery. It is a fascinating house. Immediately upon entering you find yourself in an enormous room, double staircase on the opposite side, and a huge stained glass ceiling overhead. Everything is made from a dark stained pine. Off this big room are several smaller rooms containing furniture from several different periods ranging from Louis VI to Art Nouveau. Supposedly there are about 20 rooms on the main floor, most of which are closed to the public. The equally large upstairs houses an art exhibit, a display of shells, a display of the history of the native Indians, and a few more rooms furnished in period style. The whole house provides a brief glimpse into the lifestyle of the rich and powerful of early Chilean history.
Well, so much for our ride through the Atacama desert. We'd had enough. Seeing the rest of this dry, dry land on a bcycle did not interest us one single bit. It was time to move on to Arica and our last few days roaming around Chile
Appendix A - Route
March 22 - 71.42 km Ruta 7, Ruta 40, side roads, and Ruta 7 to Potrerillos.
March 23 - 52.77 km Ruta 7 to Uspallata
March 24 - 64.02 km Ruta 7 to Los Penitentes
March 25 - 92 km Ruta 7, Argentina, Ruta 60, Chile
Chile
March 27 - 117.35 km Ruta 60, Ruta 5
March 28 - 71.47 km Ruta 5 to Los Vilos
March 30 - 114.82 km Ruta 5
March 31- 39.69 km Ruta 5
April 1 - 83.09 km Ruta 5
April 2 - 36.11 km Ruta 5 to LaSerena
April 5 - Bus to Antofogasta
April 7 - 69.31 km Ruta 1
April 8 - 69.16 km Ruta 1 to Gatico
April 9 - 52.14 km Ruta 1 to Tocopilla
April 10 - 71.81 km Ruta 1 to north of Punta Arenas
April 11 - 72.41 km Ruta 1 to north of Rio Seco
April 12 - 77.02 km Ruta 1 to north of Los Verdes
April 13 - 21.57 km Ruta 1 to Iquique

Appendix B - Campsites or hotels
March 17, 18, 19, 20 - El Horcones hotel, Mendoza
March 21 - ACA camping in Potrerillos
March 22 - Camping in Uspallata
March 23 - Los Penitentes ski area
Chile
March 24, 25 - Hotel Los Andes, Los Andes
March 26 - Side of road after La Ligua
March 27, 28, 29 - Cabanas Villa Carina, Los Vilos
March 30 - Side of road along Ruta 5
March 31 - Camping Termas de Socos
April 1 - Road side near km 445 Ruta 5
April 2, 3, 4 - Residencial Jofre, La Serena
April 5, 6 - Hotel Frontera, Antofogasta
April 7 - Side of road, Ruta 1
April 8 - Gatico ruins
April 9 - Hotel Atenas, Tocopilla
April 10 - Beach site off Ruta 1
April 11 - Beach site off Ruta 1
April 12 - Beach site off Ruta 1
April 13, 14 - Hotel Cuneo, Iquique